FOOTBALLERS Forever Associated With Certain Items Of Food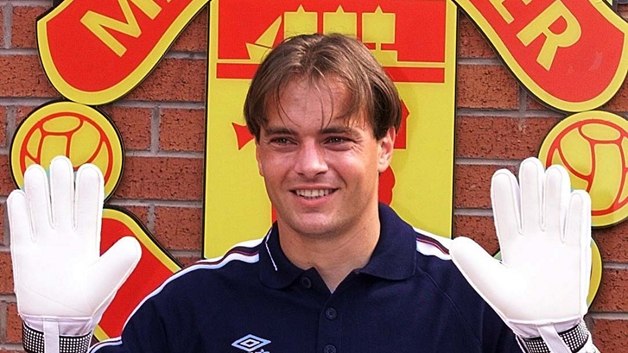 "Mark Bosnich was a terrible professional," claims Sir Alex Ferguson in his autobiography, which was launched in a small room above a Salford pub last week, to mass indifference.
"We played down at Wimbledon and Bosnich was tucking into everything: sandwiches, soups, steaks. He was going through the menu. I told him, 'For Christ's sake, Mark, we've got the weight off you. Why are you tucking into all that stuff?' We arrived back in Manchester, and Mark was on mobile phone to a Chinese restaurant to order a takeaway."
And with these words, Mark 'Sniffer' Bosnich achieves membership of the exclusive Footballers Forever Associated With Certain Items Of Food Club.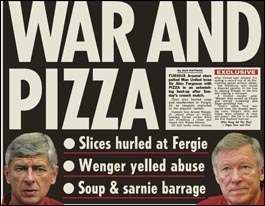 There could even have been another, had Fergie revealed the identity of the culprit to blame for 'Pizzagate', when a row between himself and Arsene Wenger in 2004 culminated in carb carnage. "The next thing I knew, I had pizza all over me," recalls the red-faced recently-retired ruler of Old Trafford. He says he did not see who threw it, but that Cesc Fabregas has been suggested to him. And that's good enough for us, so Cesc is hereby inducted, along with his missile of choice.
Arsene Wenger remained typically inscrutable this week: "I don't know about food throwing. I did not see if something was thrown – you'll have to ask someone else, because I don't know."
When Cesc arrives, he will find another Arsenal old boy awaiting him…
Chips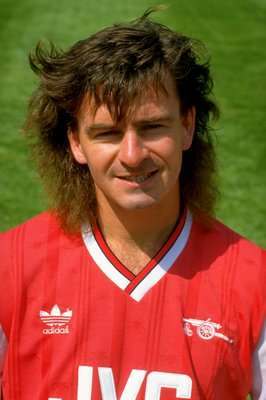 In 1986, 'Champagne' Charlie was arrested outside the Confusion Bar in Ibiza, for an unusual twist on the usual footballers' fracas. Scottish holidaymaker Lori McElroy alleged that Nicholas stole a chip from her, and then broke her jaw in the ensuing argument. Nicholas was found guilty but continued to deny any wrongdoing.
Chips would haunt Charlie years later, when working as a pundit for Sky. Anchorman Jim White, presumably assuming his mic was switched off, referred to the Celtic fans' chorus of The Fields of Athenrye with a reference to the Irish potato famine.
"Oh here we go again, the tottie famine," said Jim.
"Aye, and they're all eating chips while singing this," replied Nicholas, to the displeasure of the Bhoys' worldwide army of millions.
Roast dinner with all the trimmings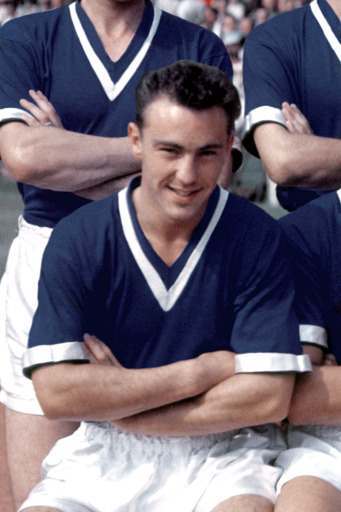 Terry Venables remembers breaking into the Chelsea team as a youngster and playing alongside the legendary Jimmy Greaves. Greavsie was only three years older than Terry, yet he was already a superstar, and would soon move to AC Milan. He lived near Venables, and would give him a lift to matches. The first time this happened, Jim explained that he usually stopped for lunch at a café, so they went in and Venables – already at the vanguard of modern practices – ordered steamed chicken. He was shocked to see Greaves polish off a massive plate of roast beef with Yorkshire pudding, veg, and roast AND mashed potatoes. This he followed up with a large bowl of stodge and custard. "I always have this," he said. Venables says Greaves proceeded to score a hatful of goals that afternoon. But then, he usually did.
Speaking of dinners, an honoury mention must also go to erstwhile Orient manager John 'bring yer fu*king dinner' Sitton, for his legendary televised half-time rant…
Lasagna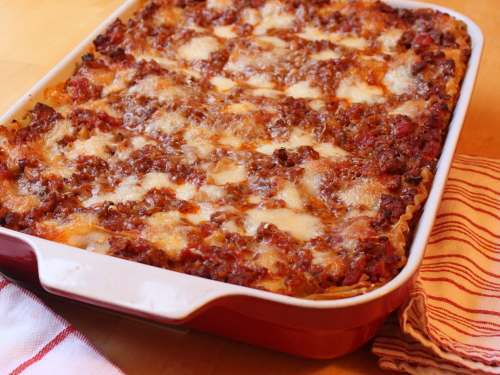 Martin Jol's Tottenham side of 2005-06 will be remembered for their valiant but ultimately unsuccessful assault on the final Champions League spot. To make it worse, it was arch-rivals West Ham who ruined their party by beating them 2-1 on the final day. And to put the tin lid on it, it was Arsenal who pipped them to fourth.
The defeat was blamed squarely upon a lasagna which had been served to the players at the London Marriott in West India Quay, where the players aere staying before the game. Ten players went down with a mystery illness, assumed to be food poisoning, although the hotel was cleared of any wrongdoing.
Pies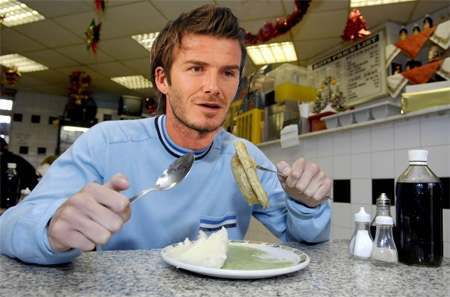 David Beckham, as reported here recently, is a lifelong pie and mash fan, and even went to the lengths of taking the Spurs players and backroom staff to lunch at a local emporium during his brief stint training at the north London club.
But when it comes to meat-filled be-crusted comestibles, one man is synonymous: chunky Mick Quinn, whose candid autobiography is rhetorically entitled Who Ate All The Pies?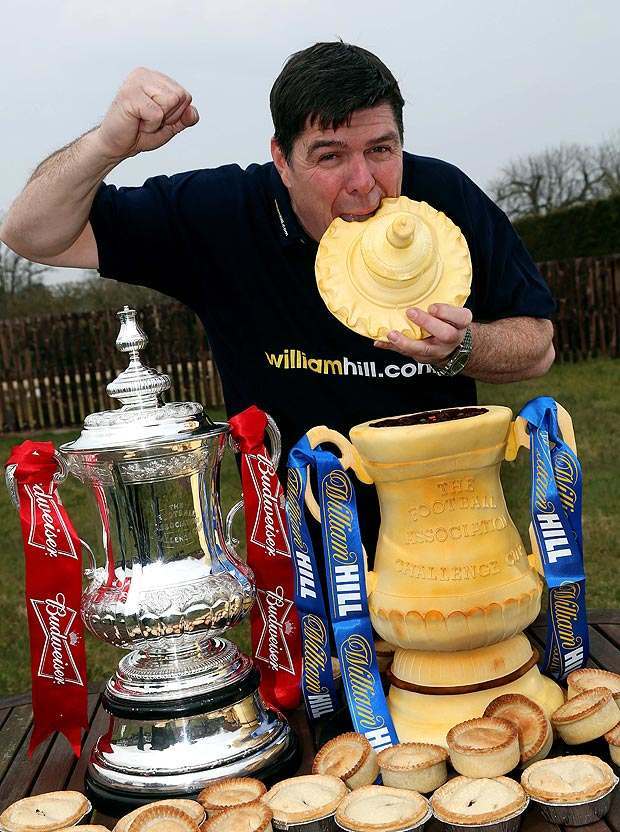 The scouse goal-machine once picked up a pie that was thrown at him from the crowd and ate it, to the amusement of all. He has been known to repeat the story from time to time in the course of his broadcasting duties.
Mars Bars
Paul Gascoigne's love of the 'iconic' chocolate brick was well known, and when he turned out for Spurs against his former club Newcastle United the Toon fans bombarded him with said confectionary. Whereupon Gazza 'did a Quinny' and chomped enthusiastically.
Testicles
Mention 'testicles and football' and the connection is obvious: Wimbledon FC – although this is nothing to do with Gazza's bollocks and everything to do with the defunct club's owner Sam Hammam, who introduced the novel forfeit of eating sheep's gonads as part of the 'Crazy Gang' disciplinary code.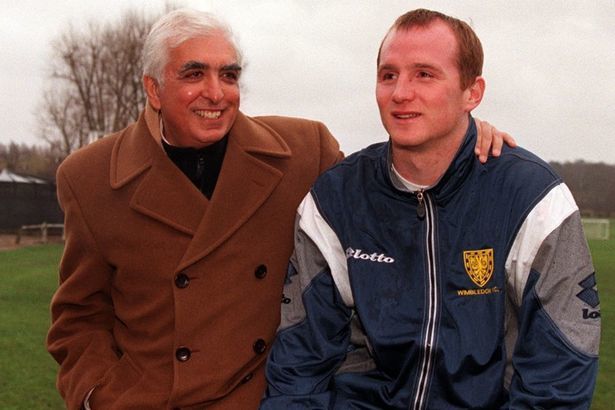 Crisps
No contest…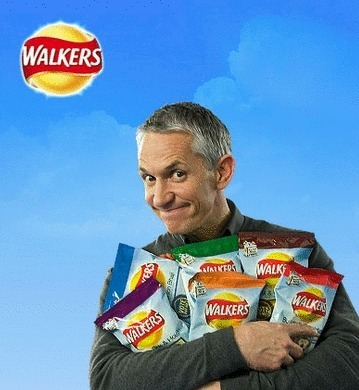 Sandwiches
It would be easy to just post a picture of Roy Keane, who indirectly coined the phrase "prawn sandwich brigade" during a mini-rant about Manchester United's gentrified supporters.
Yet Keano's comments are trumped by events at Grimsby, where Town's Ivano Bonetti was supposedly injured when manager Brian Laws threw chicken wings at him. The sandwich-based truth is slightly different.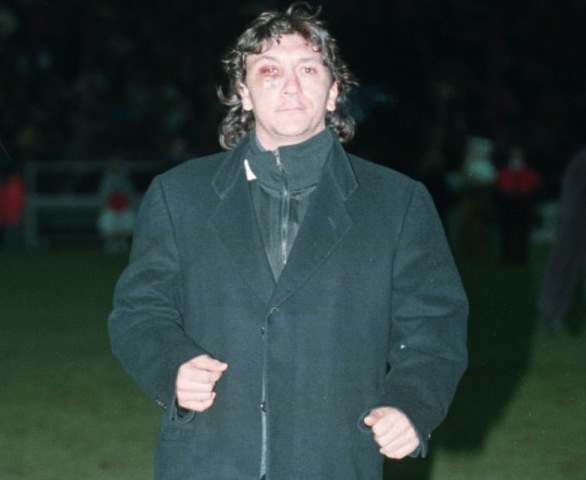 Laws says that Bonetti hurled sandwiches – and a punch – at him, and that he merely retaliated in kind: "I've no idea where the chicken leg or wing part of the story came from! It almost put a bit of humour to it, but we felt it was best to leave things be and put things right later on. That incident gets brought up quite a lot and people laugh at it now – and I do as well – but at the time it wasn't very funny or nice to be involved in. It was an incident which unfortunately spilled out into the press and all hell broke loose at the time."
McDonald's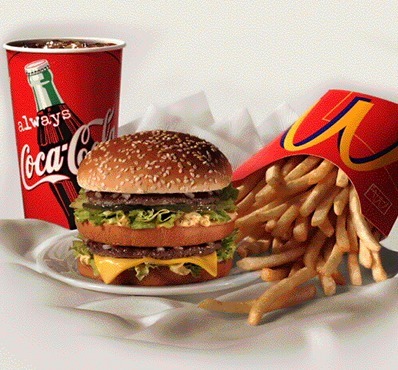 The restaurant of choice for footballers seeking a pre-brawl snack, as patronised by Lee Bowyer (pictured here fighting with team-mate Kieran Dyer). Bowyer was convicted of affray at the Isle of Dogs branch…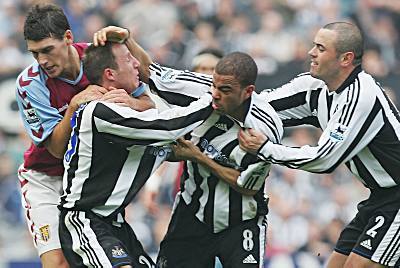 And Joey Barton, back home in Liverpool…
Oranges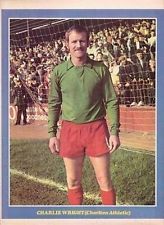 Charlton Athletic keeper Charlie Wright is fondly remembered for his tendency to wander behind his goal and chat with supporters. Legend has it that once, while accepting an orange from a fan, the opponents scored.
Salad cream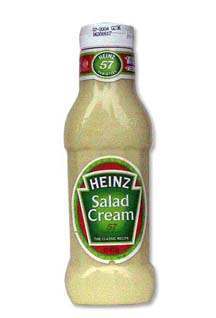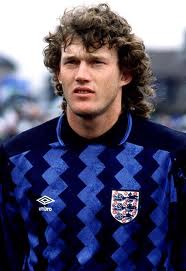 Step up, Dave Beasant. If you can, that is.
Beasant missed two months of the 1993-94 season after knocking over a jar of salad cream which fell onto his foot, causing serious injury. Some say it was mayonnaise, but unfashionable salad cream took the rap.
Bananas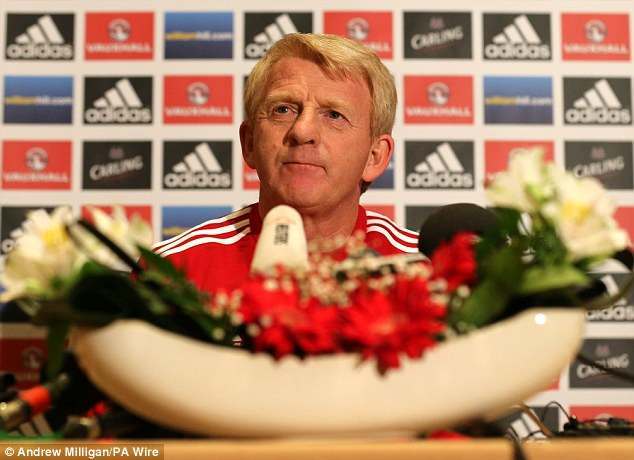 Eternal spring chicken Gordon Strachan (pictured here with the world's largest banana split) famously lives on a diet of the curvy peely fruit. "Gordon couldn't spell banana when he was 20," says former team-mate Alex McLeish "He ate pork pies then. But we had a teetotal right-back called Stuart Kennedy who brought in books about the diets of Ivan Lendl and Martina Navratilova. That's when we started good eating habits."
Unfortunately, the enduring image of footballers and bananas is less savoury. John Barnes was famously snapped back-heeling a banana thrown at him by the Goodison faithful in 1988.
"I don't remember doing that," he said later. "I mean the picture is there but bananas back then were common. The reason it all came to the fore is because I was playing for a high-profile club like Liverpool. For six years before, that happened every week, but because it was a small club it wasn't highlighted. In terms of me being angry and wanting to fight people in the stands though, it never happened, I consider those people to be ignorant, so how could they affect any part of life or any part of my demeanour."
Supplied by Anorak Publishing Ltd.