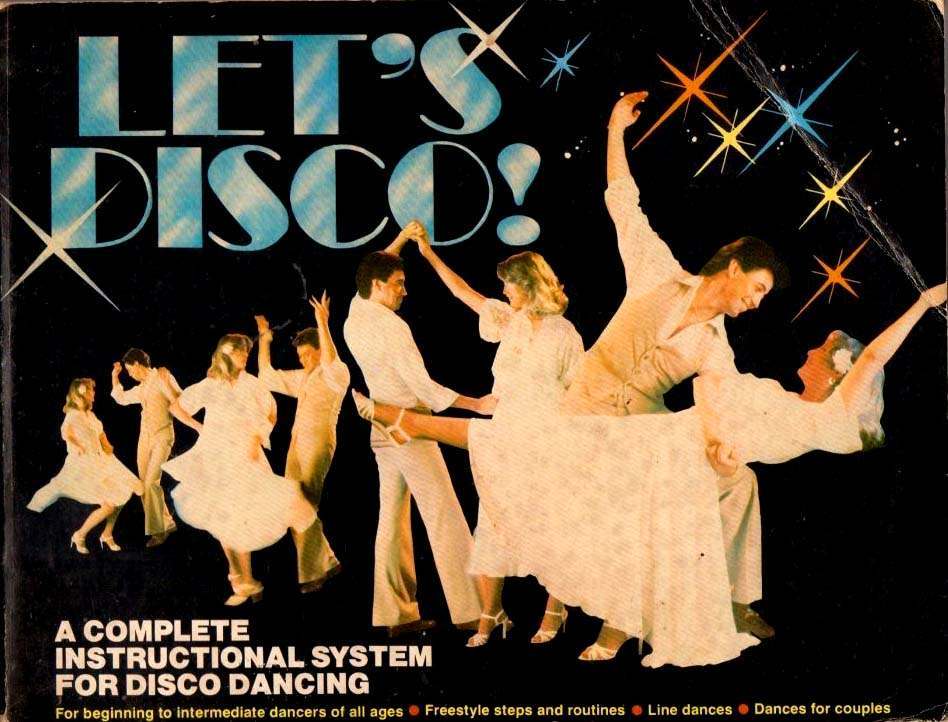 It started as an underground gay nightclub movement in urban America; and it used the Philadelphia sound and Sly & the Family Stone funk as its soundtrack.  It was never meant to be a global phenomenon.  I'm sure the gay nightclubbers in their small, low-budget clubs in the early to mid-seventies living below the radar would have never imagined this lifestyle would soon explode upon the mainstream America. But explode it did.  Once Van McCoy released "The Hustle" and Saturday Night Fever hit the cineplex, disco became big business.
Overnight, shelves were full of disco merchandise – books, lunch boxes, toys, magazines, comic books, and, of course, a tidal wave of disco records.  Here's a look at some of these items during disco's short reign in the US.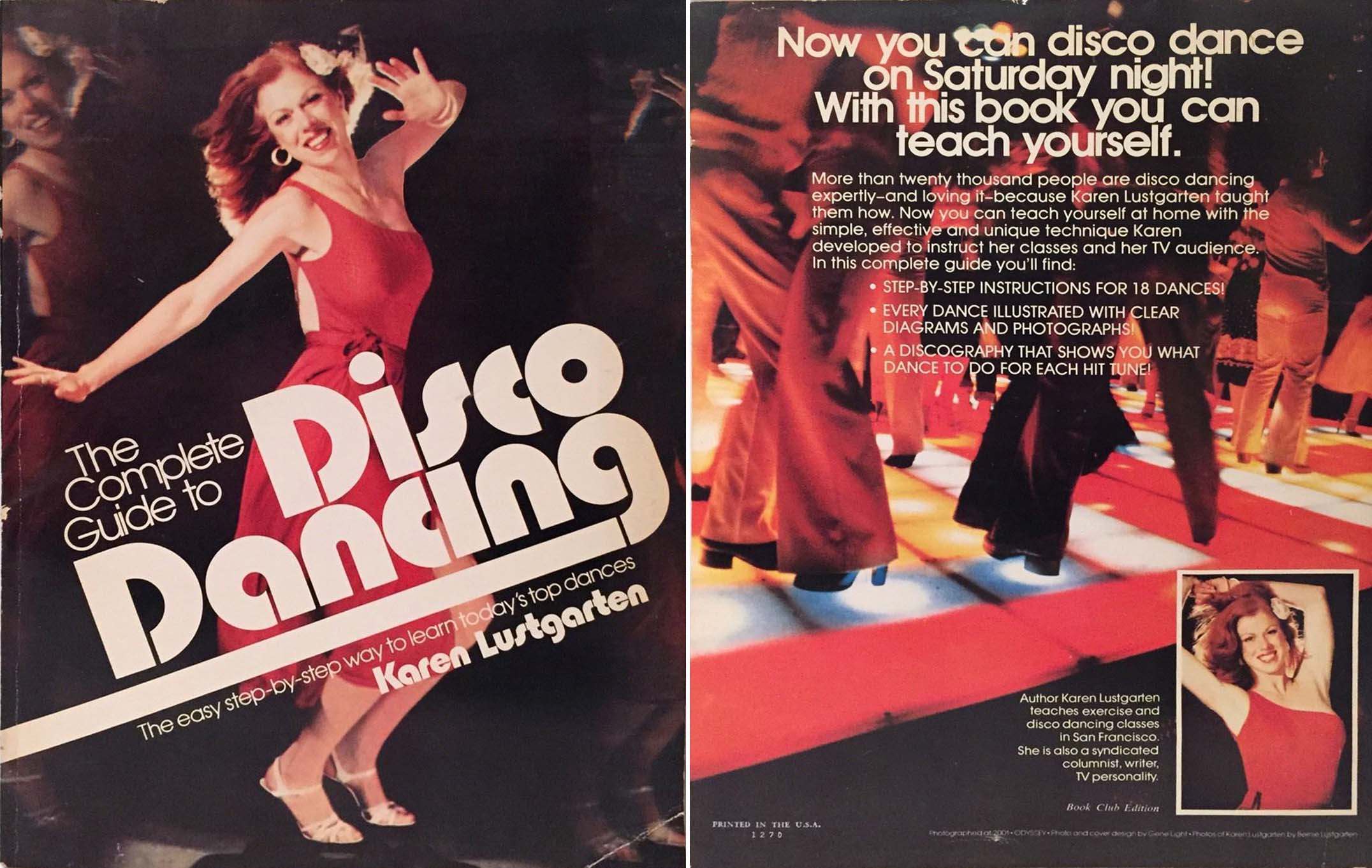 "Lustgarten"  – the perfect name for a a disco specialist.
Once disco hit, you had millions of men and women unfamiliar with this new style of dancing.  They were ex-hippies – raised on the herky-jerky mid-60s "dancing", and rock music that came after didn't exactly require dancing skills.  Beatlemania and Woodstock more or less just required you to jump wildly or just get stoned and let the drugs guide your appendages.  This disco thing actually required technique!  Thus, a ton of Boomers lined up for lessons and a tidal wave of instructional guides hit the shelves.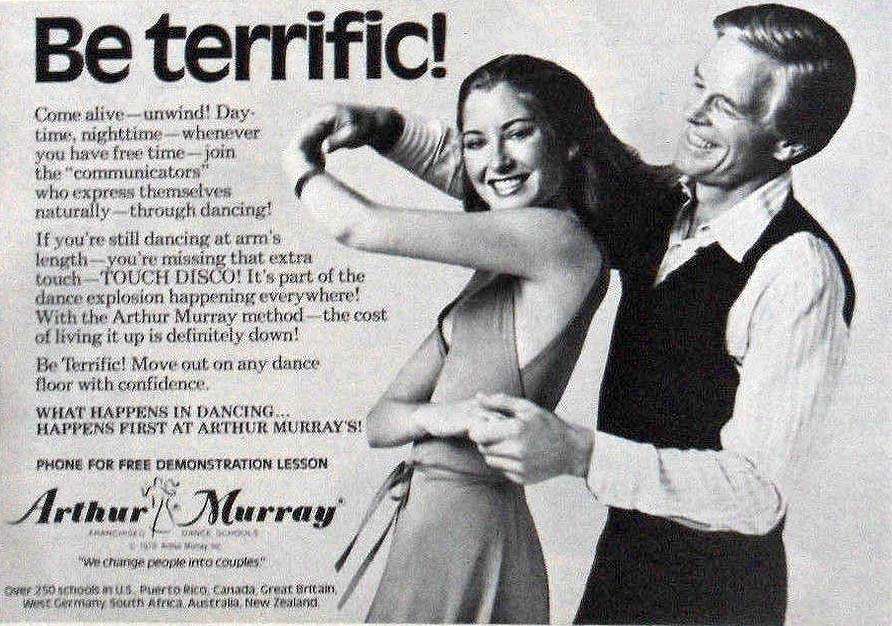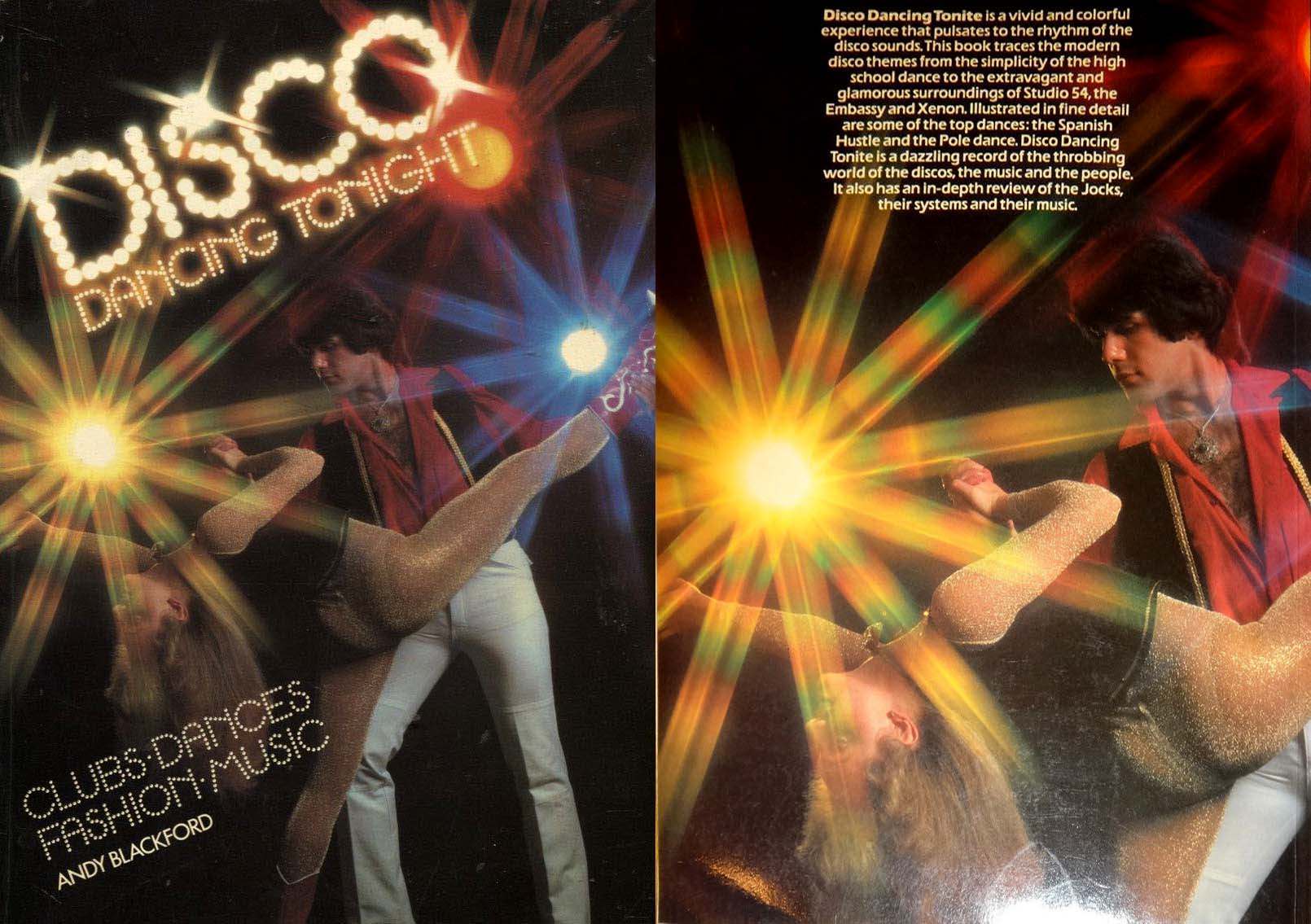 What in the Seven Hells of Disco is this chick wearing?  It looks like, instead of pants, she's just wearing a sparkly pantyhose….. and are those her panties underneath, or just a tan line?  Enquiring minds want to know.
Anyway, the books weren't just about dancing instruction.  There was a whole culture that needed to be understood.  One doesn't just waltz into a disco uninformed.  You had to do some research and prep-work so as not to appear a disco-noob.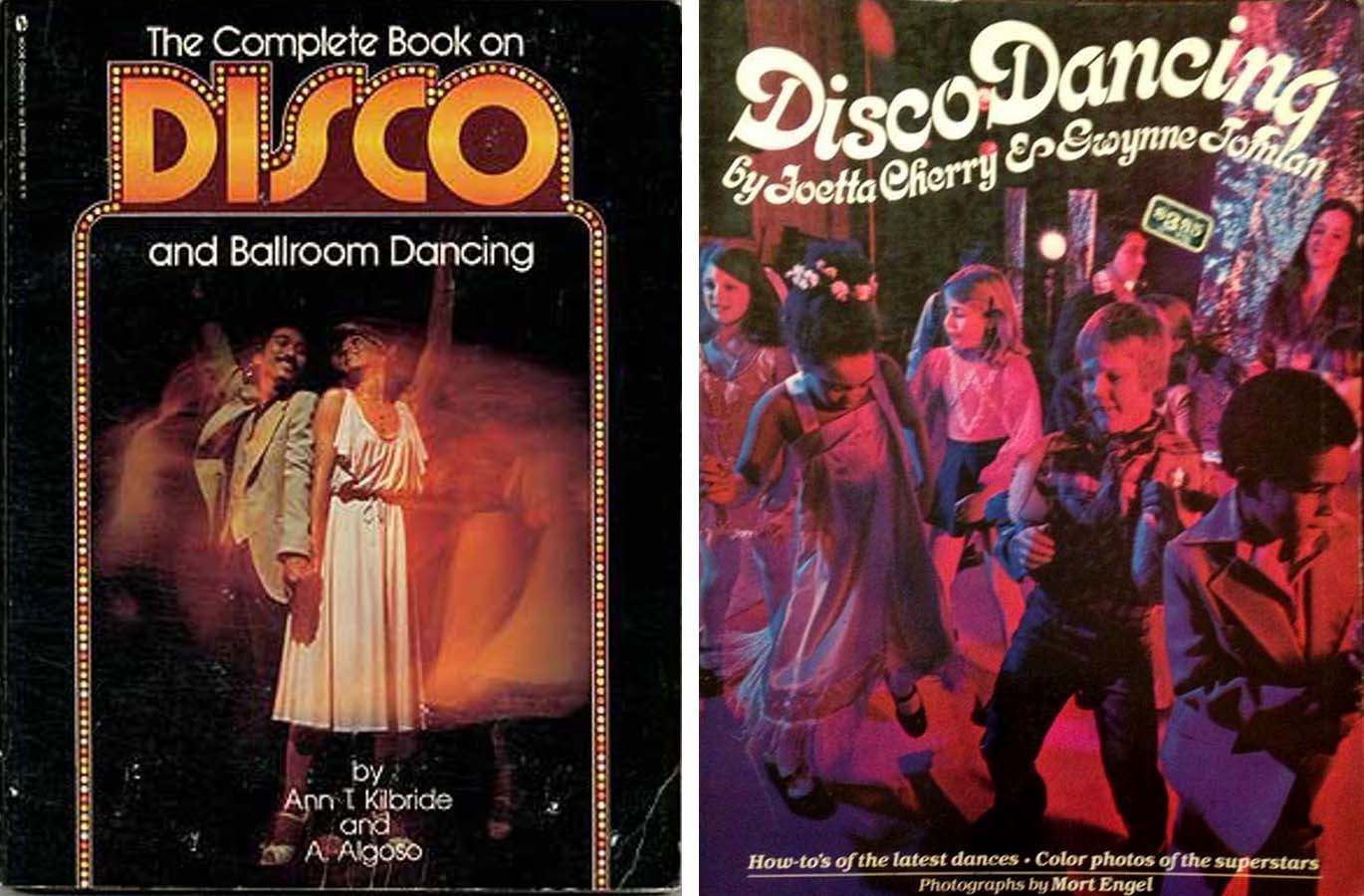 I don't quite understand the cover selection for the book on the right.  It's a how-to book "of the latest dances" with "color photos of the superstars"…. and it features a bunch of 8 year olds.  Go figure.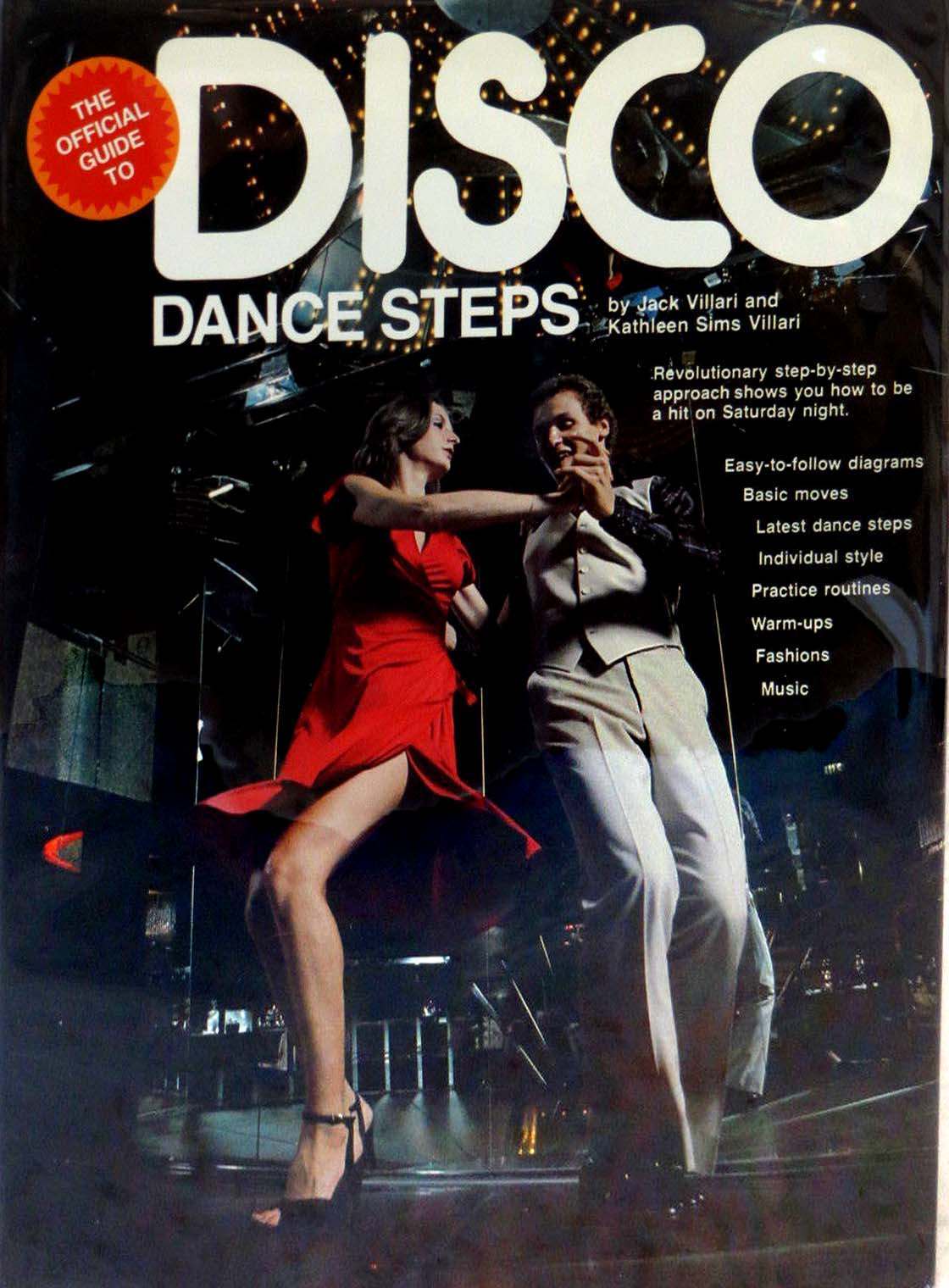 You'll note the disco experts are wearing a very specific "uniform".  God forbid a Boomer enter a disco wearing the attire from just a few years back: blue-jeans, hush puppies and a T-shirt.  No.  This required a very deliberate wardrobe selection… and you're going to need a guidebook for that as well…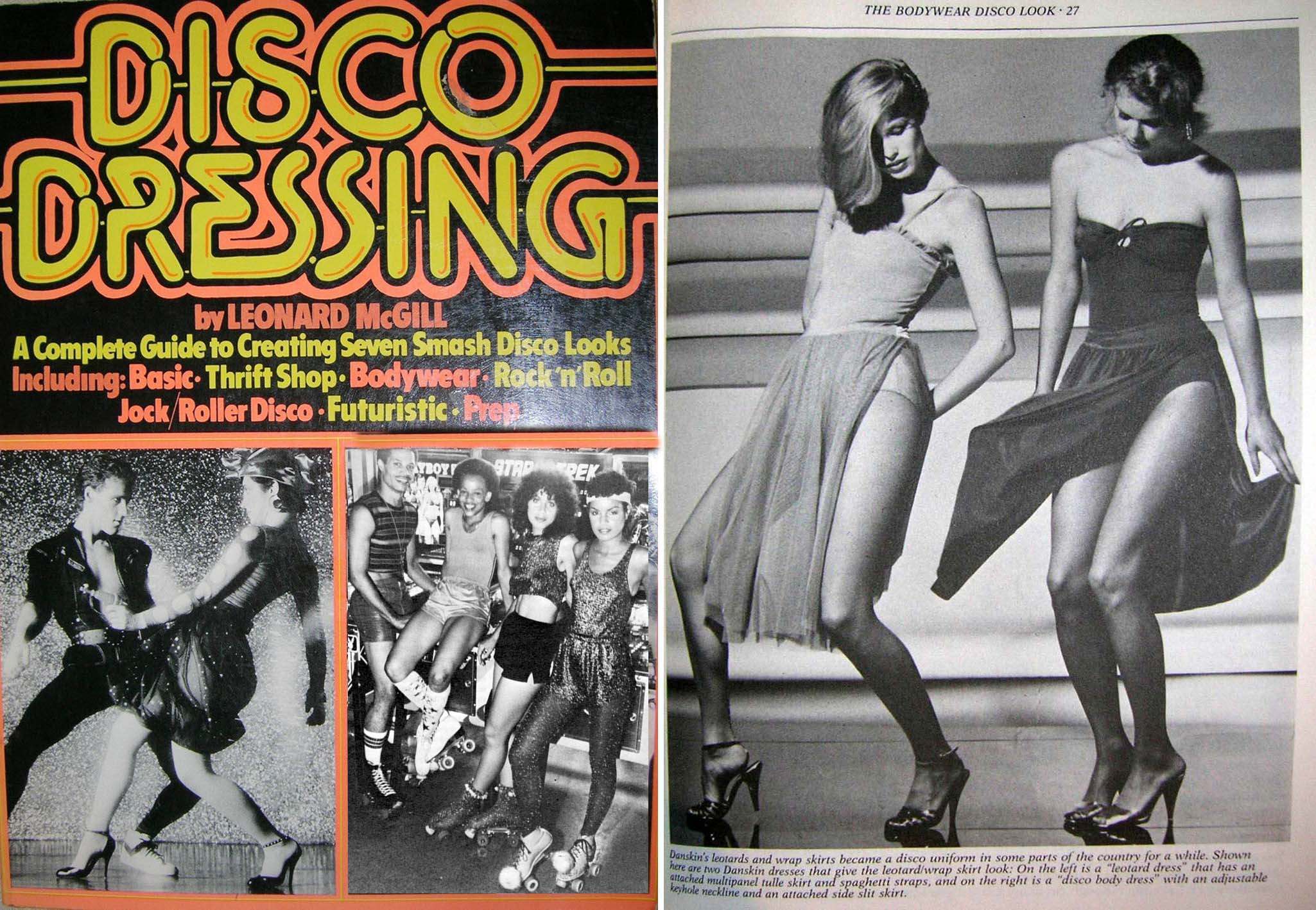 Here's a guidebook from 1980 with a sample page illustrating just how to garb yourself when hitting the disco.  But where to find such clothing?  Don't have a disco fashion outlet in Tulsa, Oklahoma? No worries – there's always catalogs to get you "disco ready"….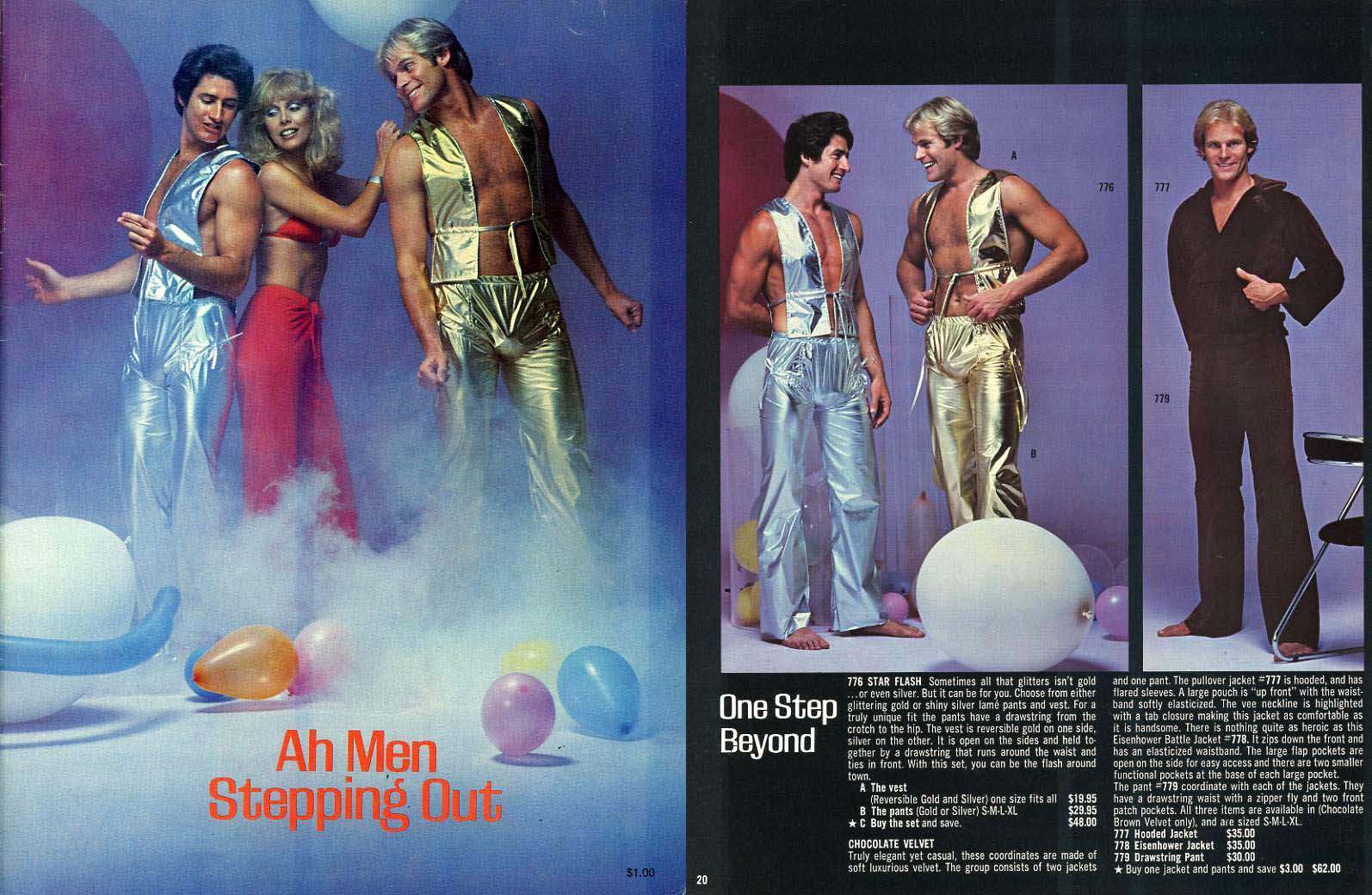 There was the Ah Men catalog for – you guessed it – men.
Ladies, have no fear.  There were catalogs a'plenty for you as well…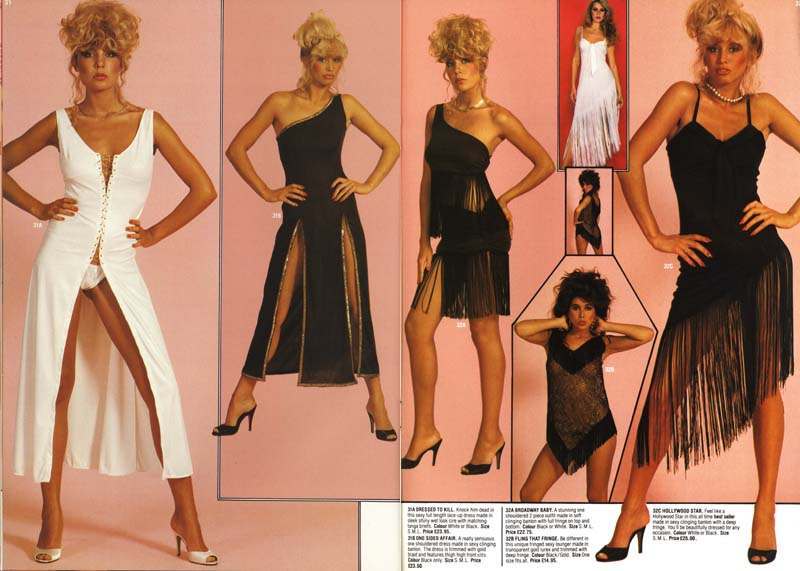 For more of this, check out  The Tacky Splendor of Sleazy Disco Fashion Catalogs.  Trust me – you will be glad you did.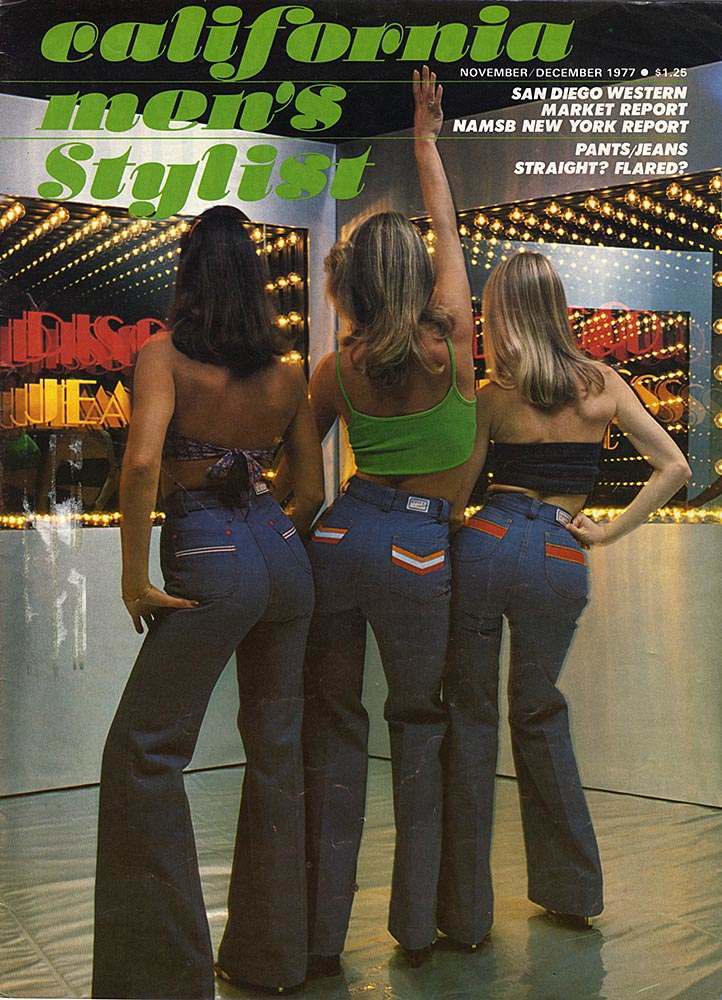 As this cover illustrates – even your ordinary blue-jeans could be made disco-ready with a little bedazzlement.  It was all about the flair.
Of course, by 1980 they were selling disco gear in Sears catalog.  It didn't take long for disco fashions to hit the racks of even the mom-and-pop boutiques of Middle America.   As the Newsweek cover below demonstrates, this was cultural phenomenon that had been growing exponentially since 1976…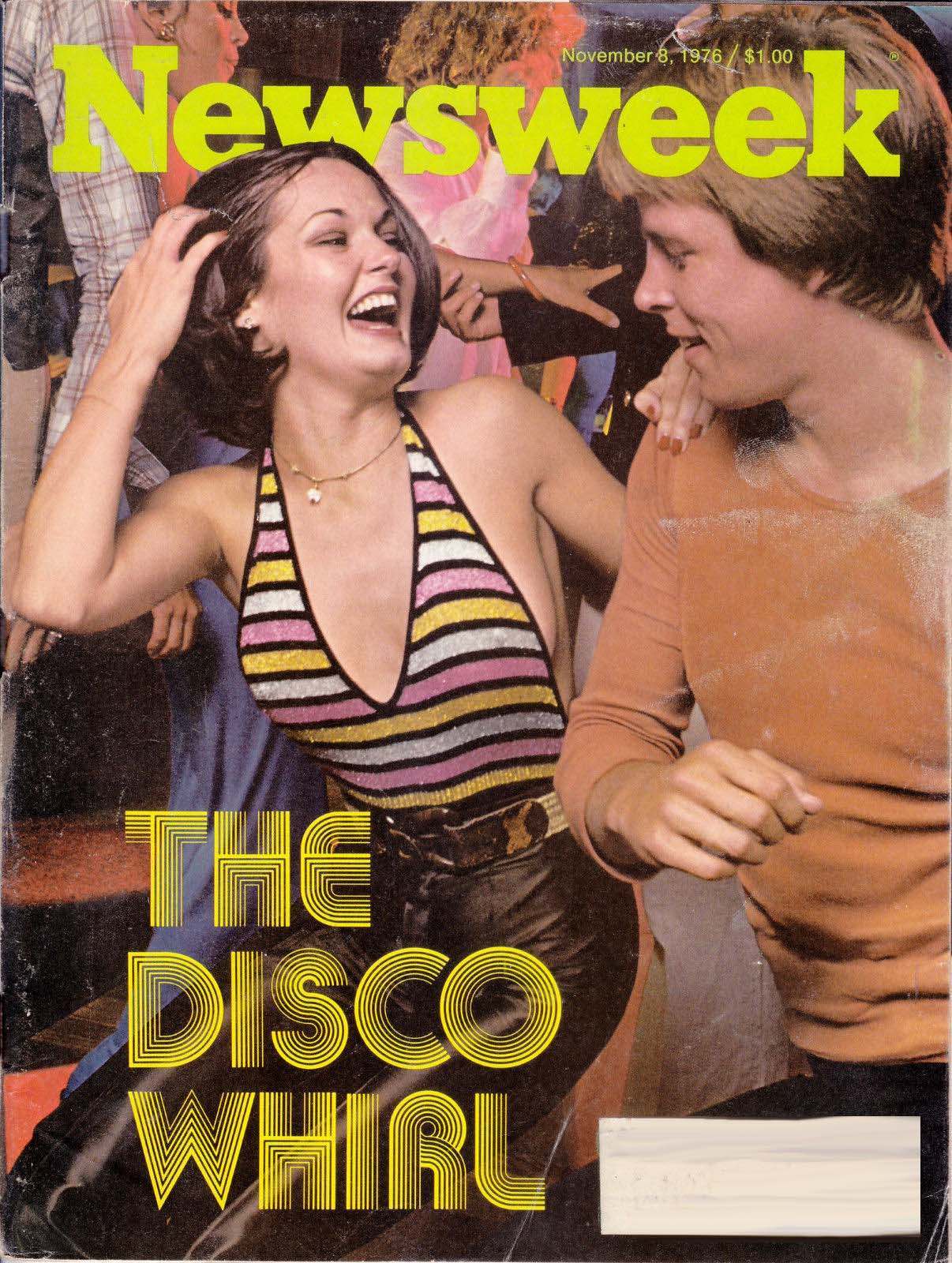 Yes, she's braless, and yes his eyes are directed precisely to where you think they'd gravitate.  As I've said many times before (but it bears repeating), the Boomers were by far the largest generation in American history, and they were all reaching sexual maturity at the same time…. at a time when the counter-culture had all but erased any taboos and moral tollgates.  Disco was about sex as much as it was about music…. which makes all the more odd when it winds up on kids lunchboxes….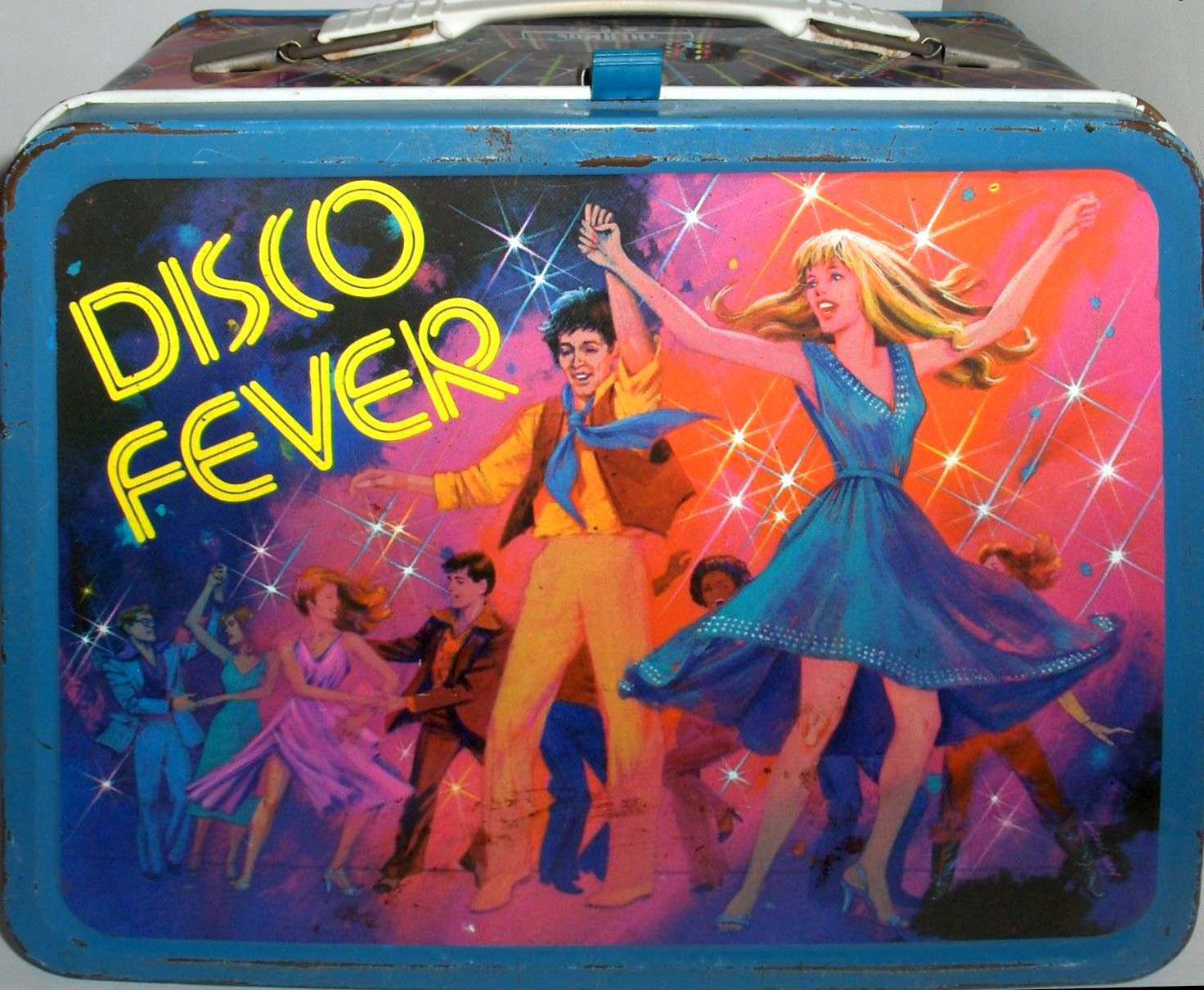 …. and children's products…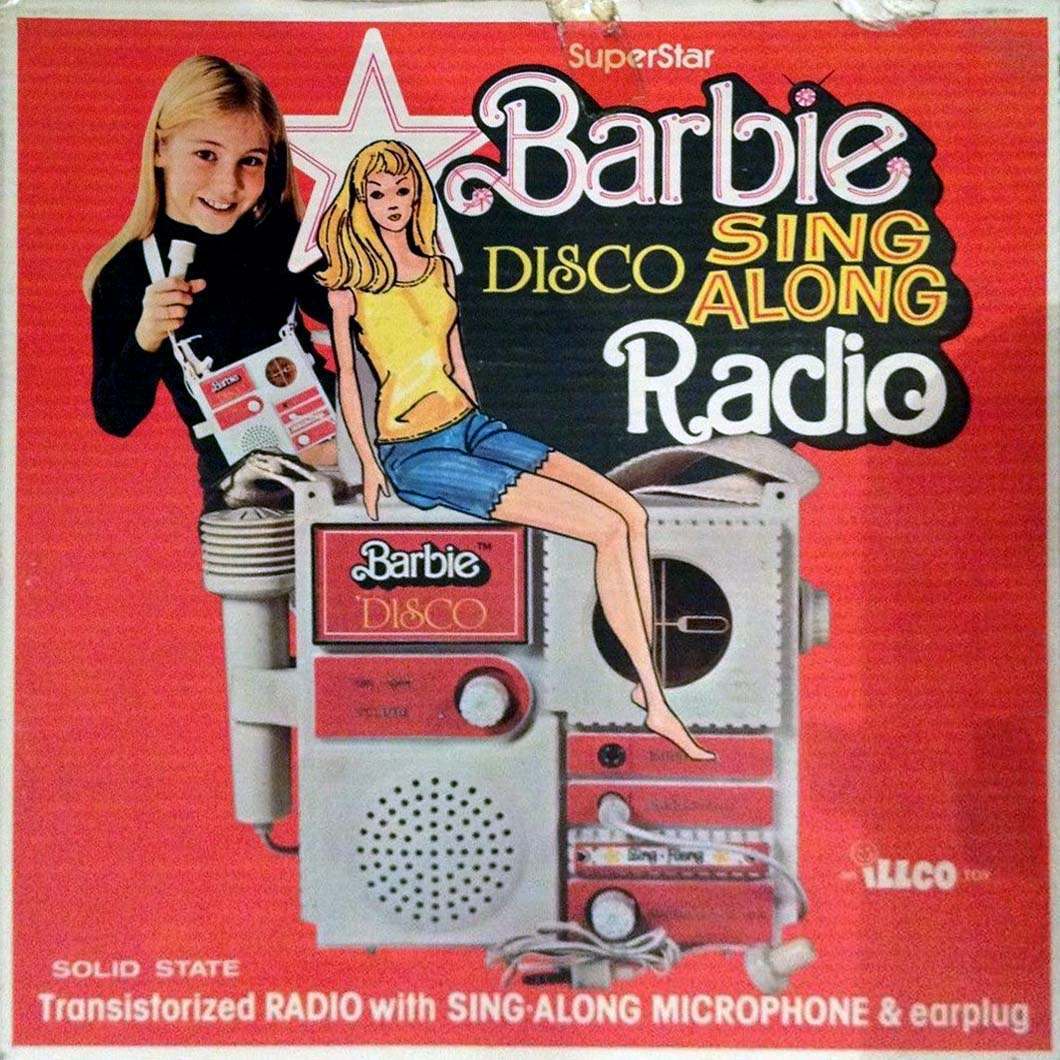 You might say that when a fad reaches the level where it's popular among kids, the end is near.  It was the same for psychedelia – once it's infiltrated the grade-school set, the "coolness" factor is over.  The Barbie disco microphone was a warning sign for disco – the clock was ticking.
More bad news for disco – it was even winding up in comic books…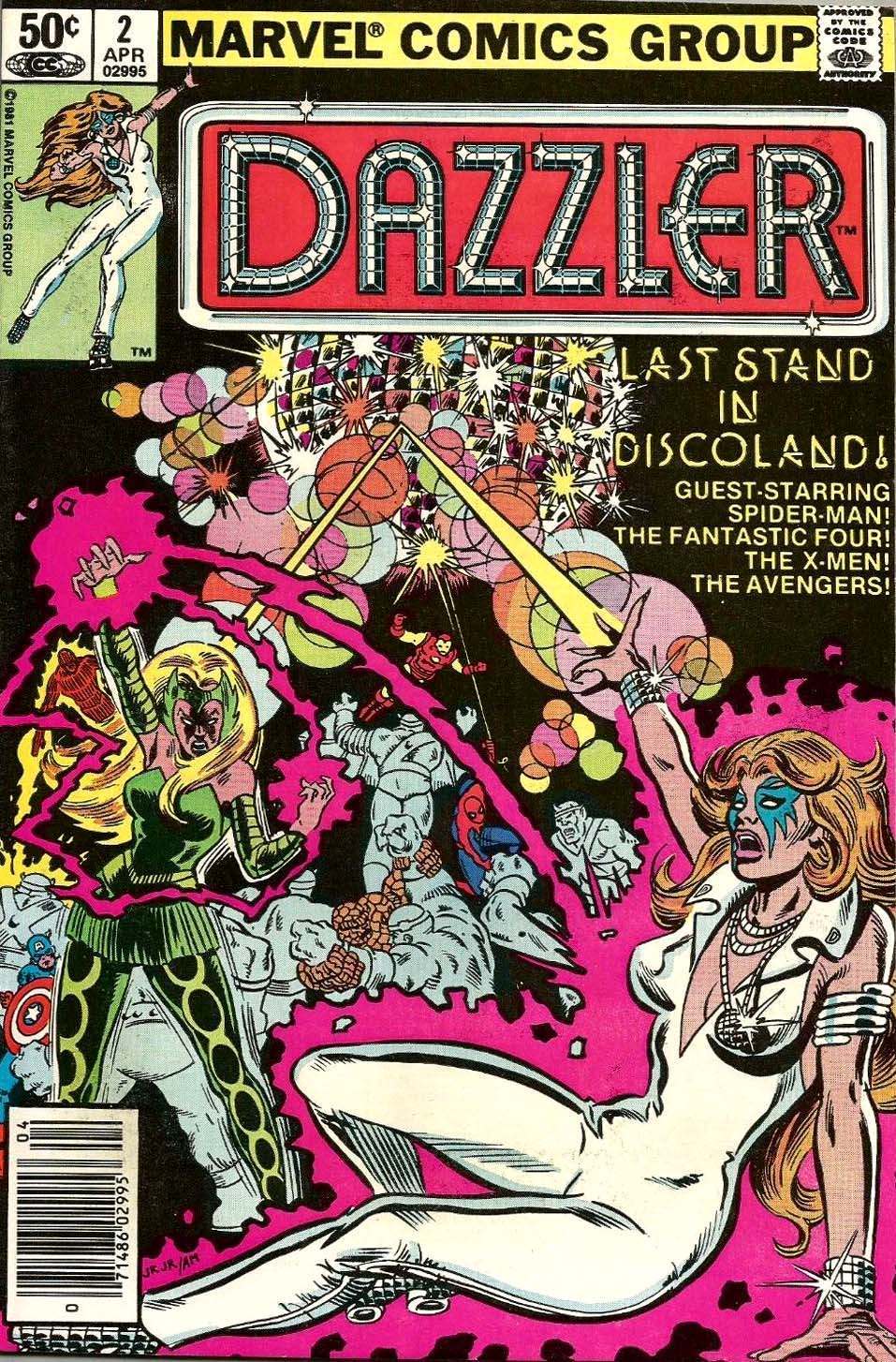 Indeed, Dazzler was created specifically as a disco superhero.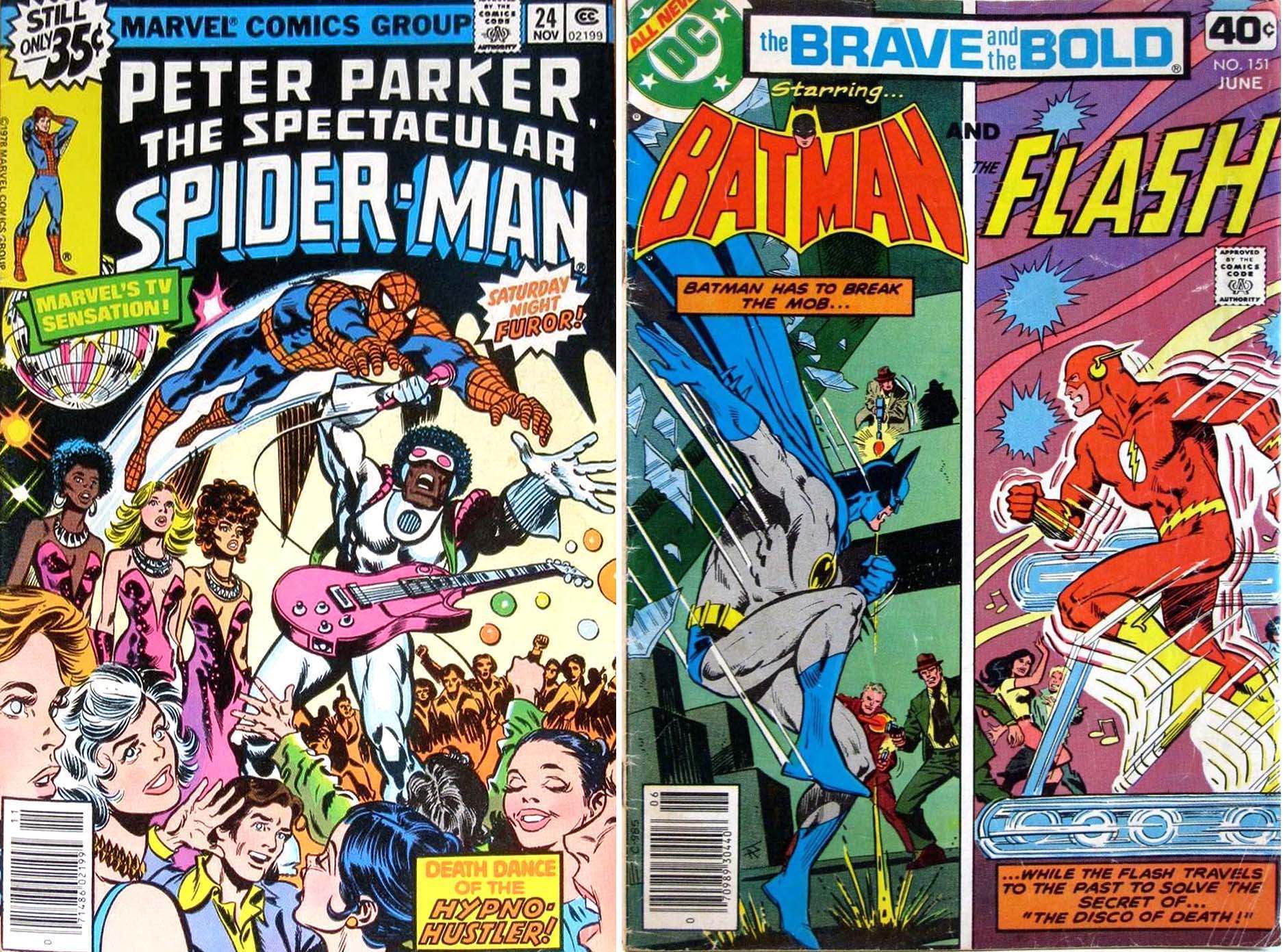 (L) "Saturday Night Furor" and (R) "The Flash travels to the past to solve the secret of… The Disco of Death!"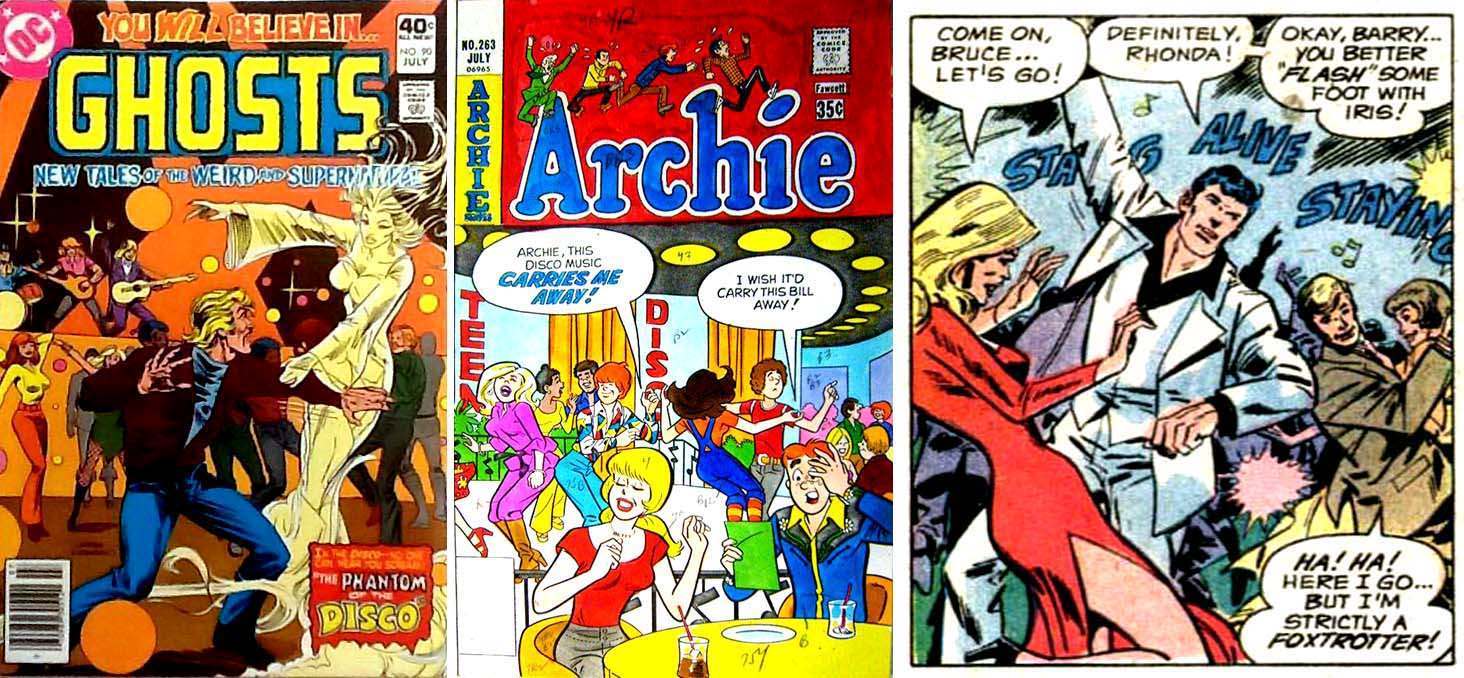 (L) "The Phantom of the Disco", (M) "Archie, this disco music CARRIES ME AWAY!" and (R) Bruce Wayne gettin' down at the disco.
Let's take a moment here to pause and reflect.  An inner-city underground gay nightclub scene has somehow wound up on comic books and Barbie merchandise.  To give you an idea just how deep disco has penetrated the American consumer's world, I give you this….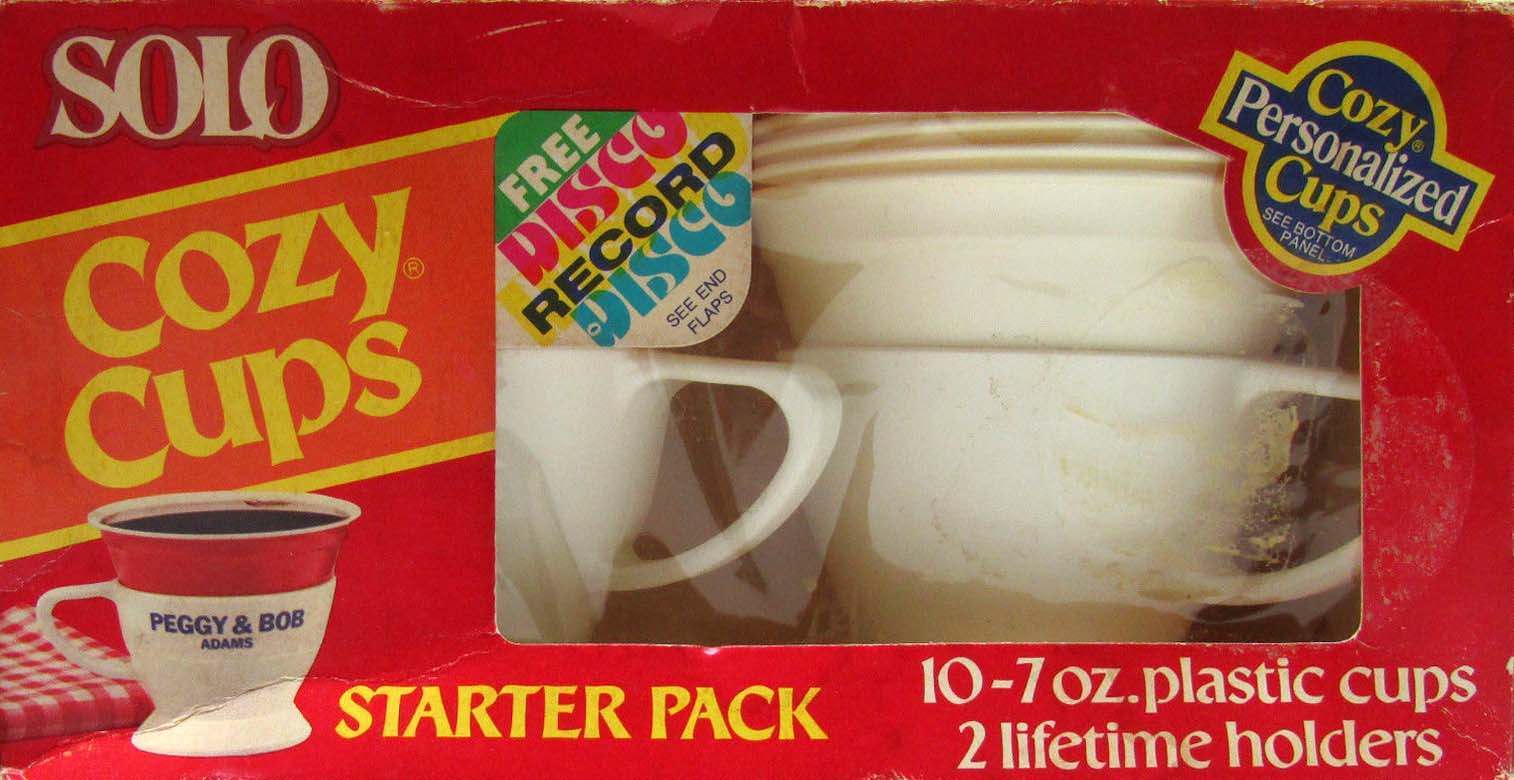 Disco records are literally coming free with a box of disposable coffee mugs.  Let that sink in a moment.
It seemed that disco could help sell anything and everything.  America had Disco Fever, and Madison Avenue was quick to ride the disco gravy train…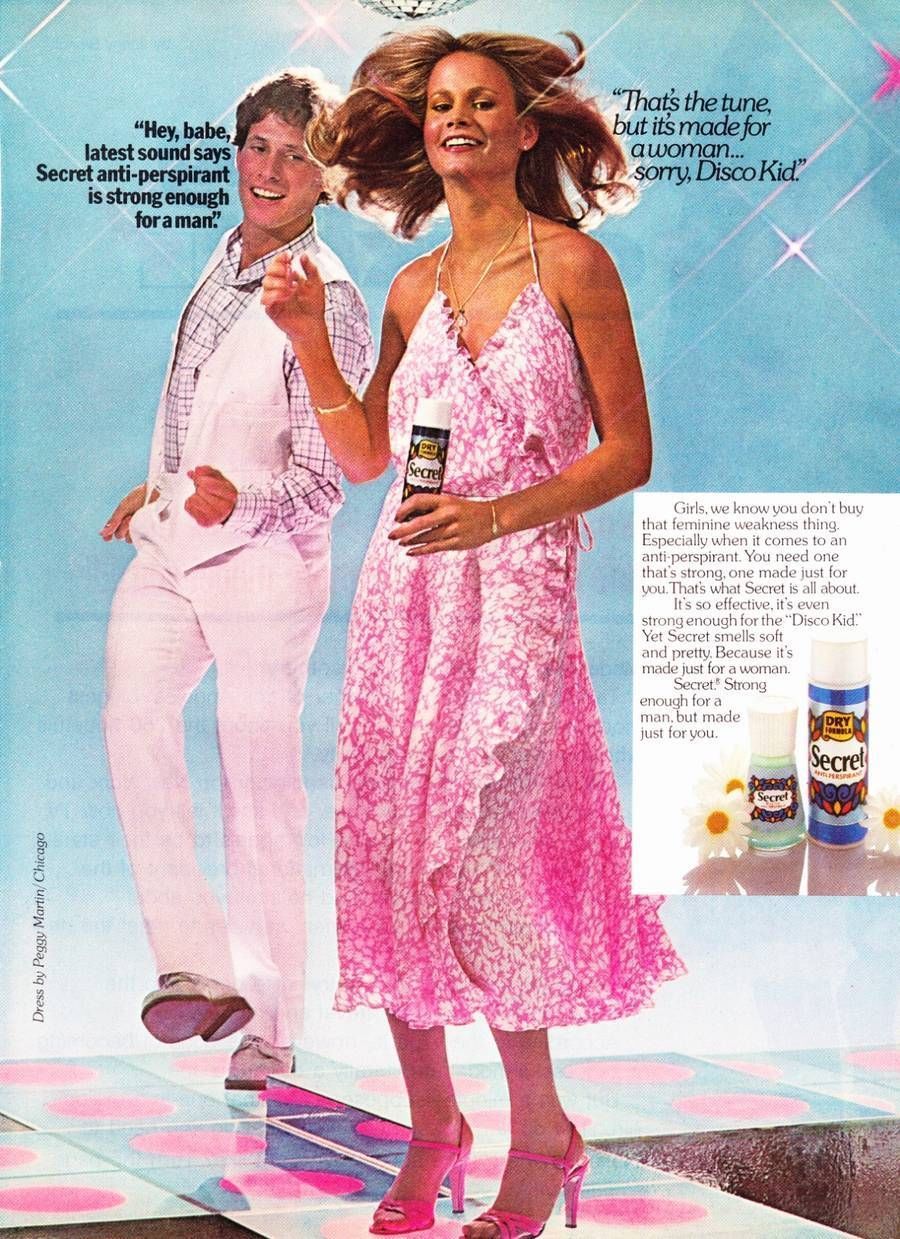 "Hey babe, latest sound says Secret anti-perspirant is strong enough for a man."
"That's the tune, but it's made for a woman… sorry, Disco Kid."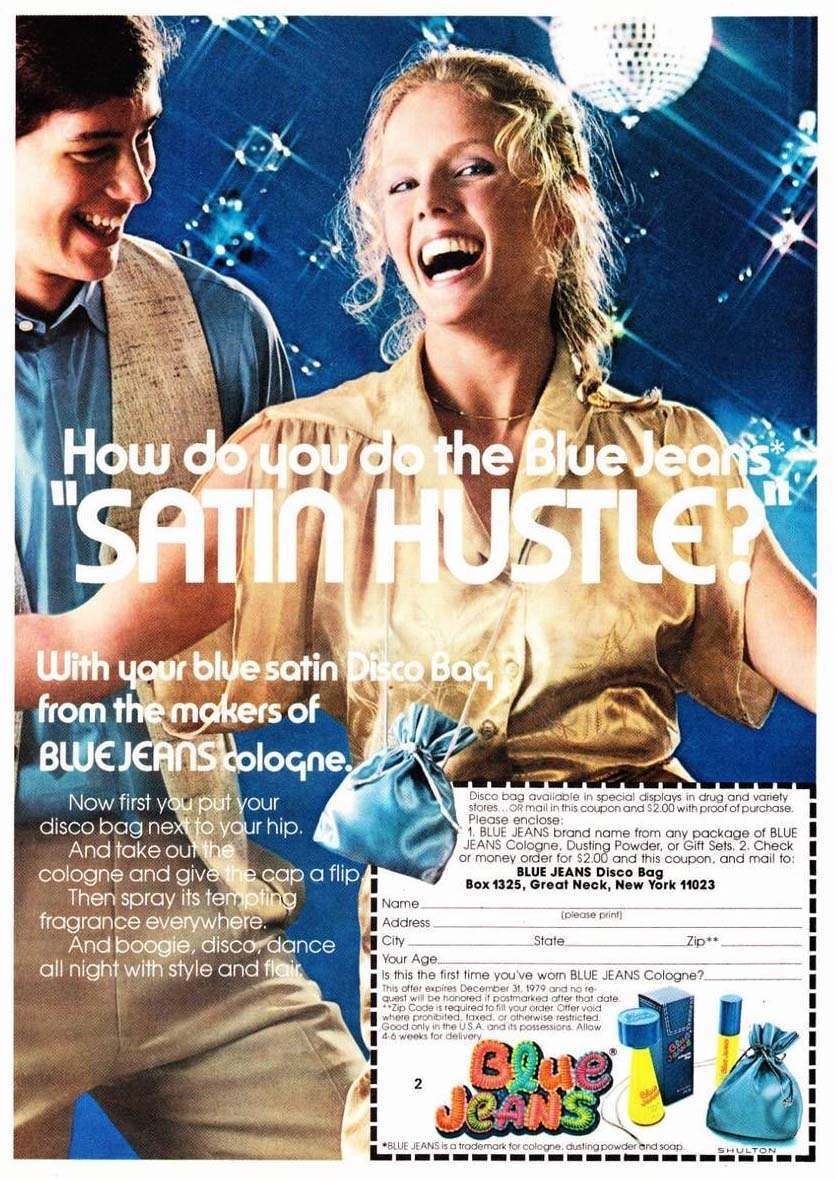 "Now first you put your disco bag next to your hip.
And take out the cologne and give the cap a flip.
Then spray its tempting fragrance everywhere.
And boogie, disco, dance all night with style and flair."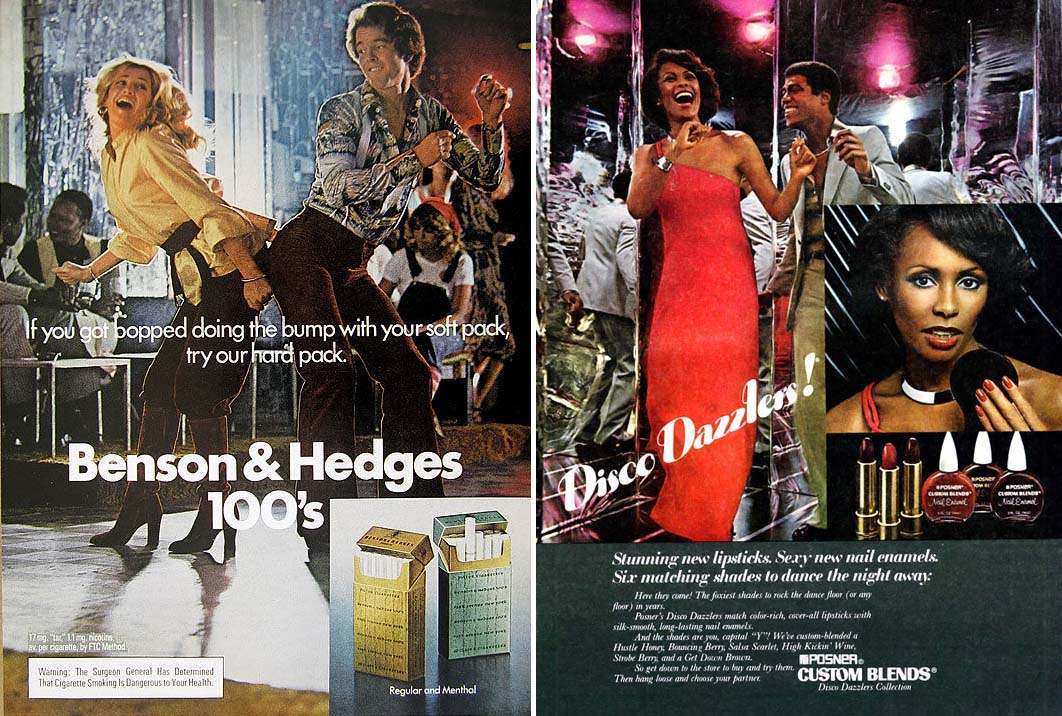 From tobacco (L) to lipstick (R), disco could sell it.
As you might imagine, if disco can sell products on the shelf, it could also sell a movie.  After the insane success, of Saturday Night Fever, an endless stream of disco-clones hit the theaters.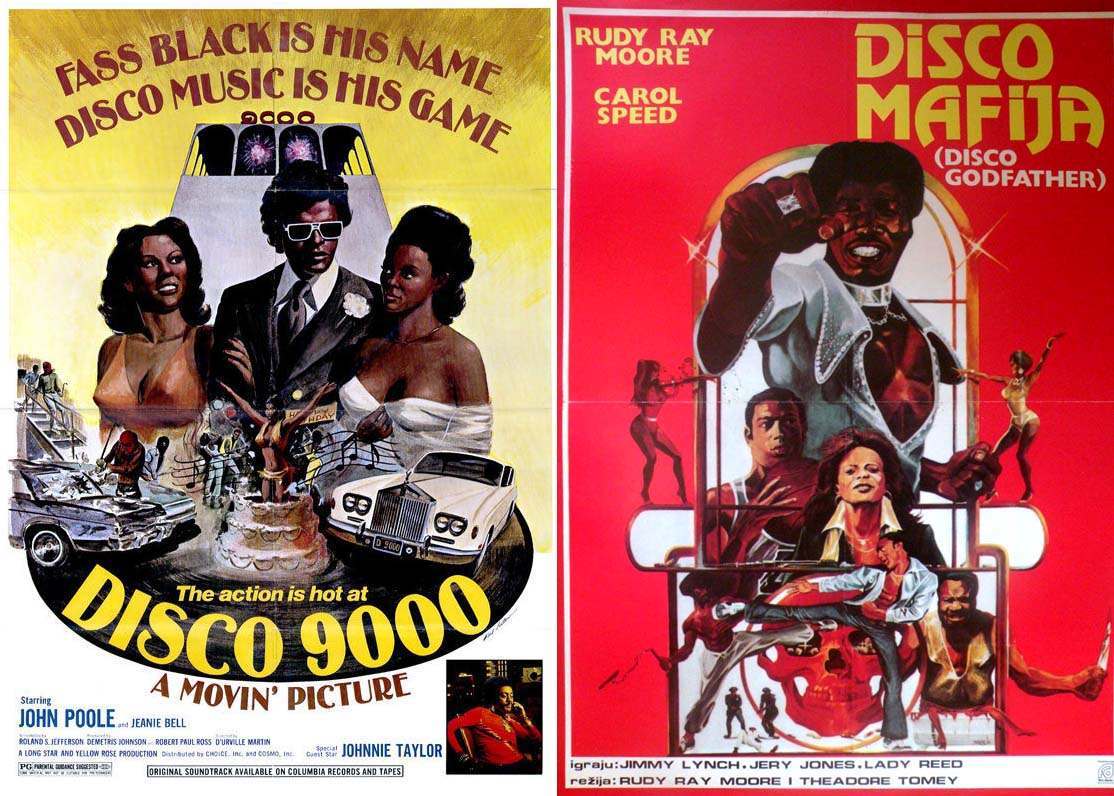 Can't Stop the Music, The Apple and Thank God It's Friday were the big budget Saturday Night Fever knock-offs.  However, there were countless other films hopping on the disco bandwagon: Disco 9000, Disco Godfather, Skatetown USA, Xanadu, Roller Boogie… the list goes on forever.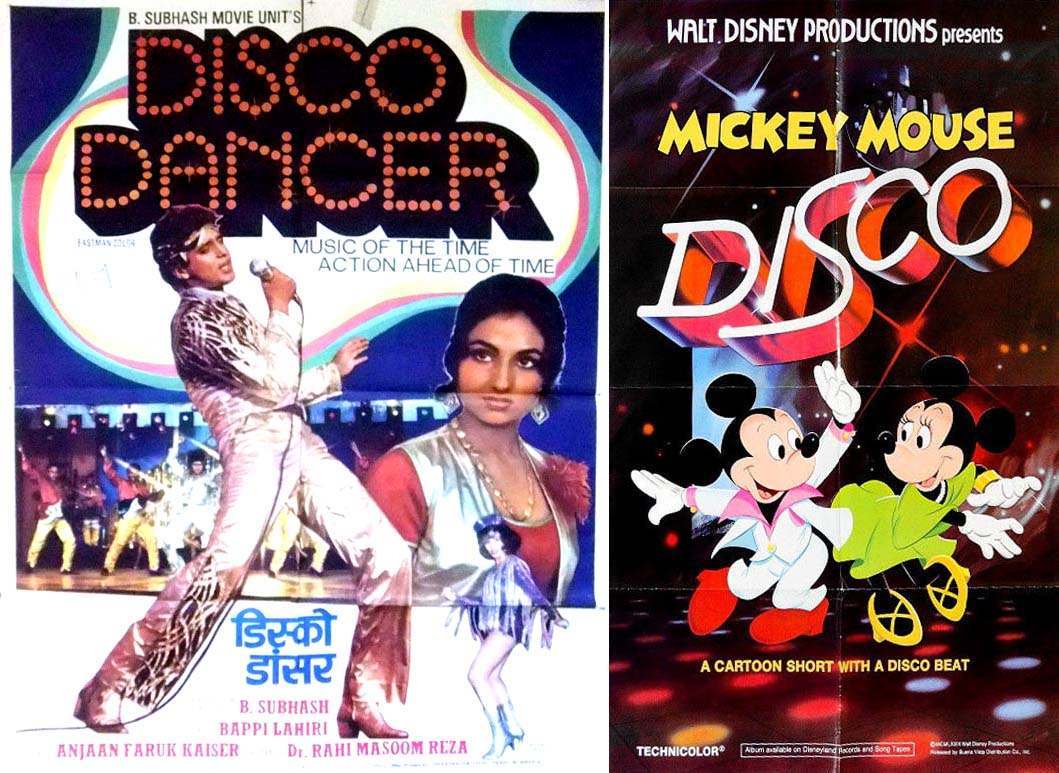 And disco infiltrated the small screen as well…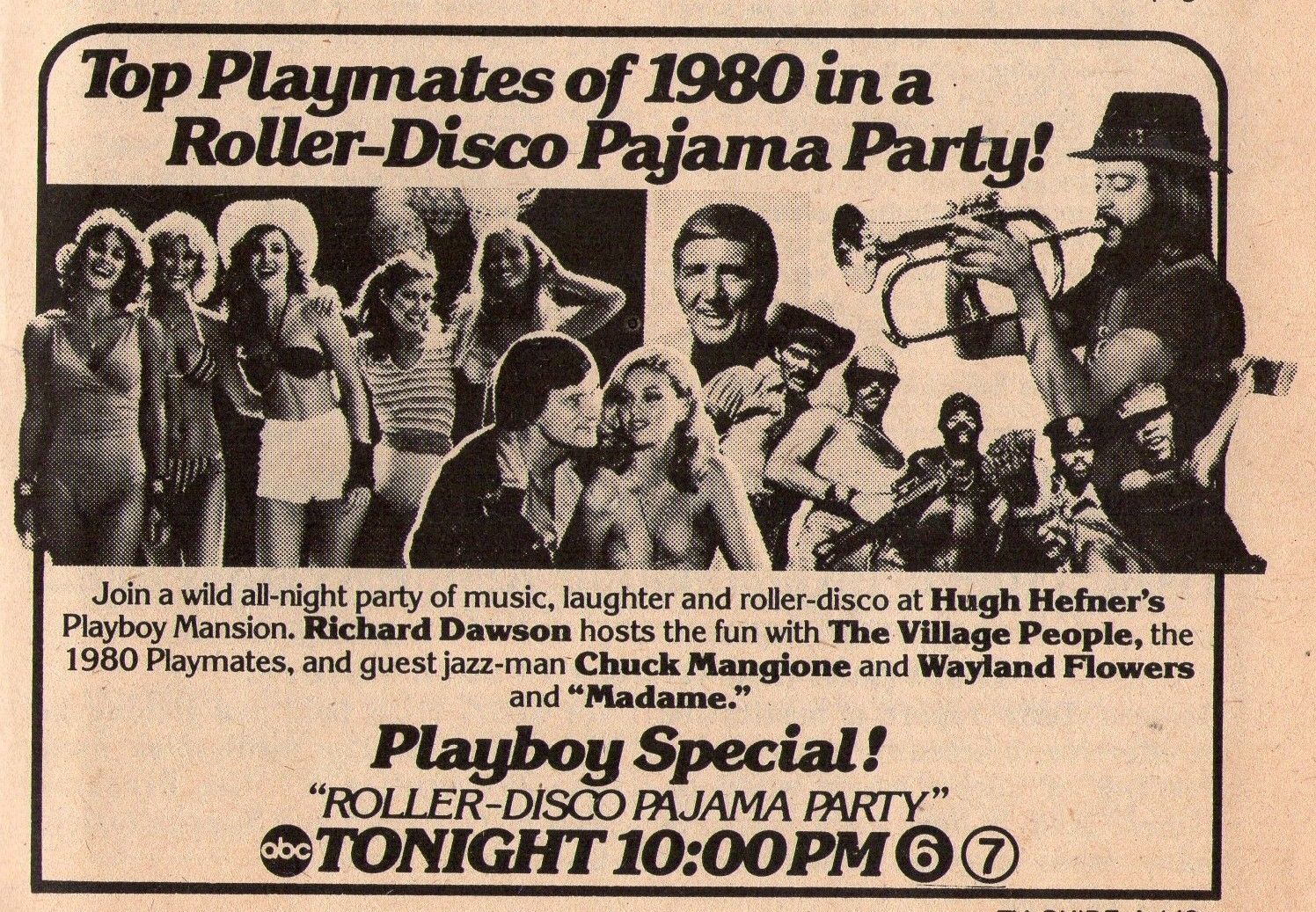 I think it goes without saying that things had gotten out of hand.  The 1970s weren't known for doing things in moderation.  Perhaps as with the unlimited sex and drug use, all this disco was taking its toll.  Jet magazine asked in 1979, "Is Disco Dangerous to Your Health?"…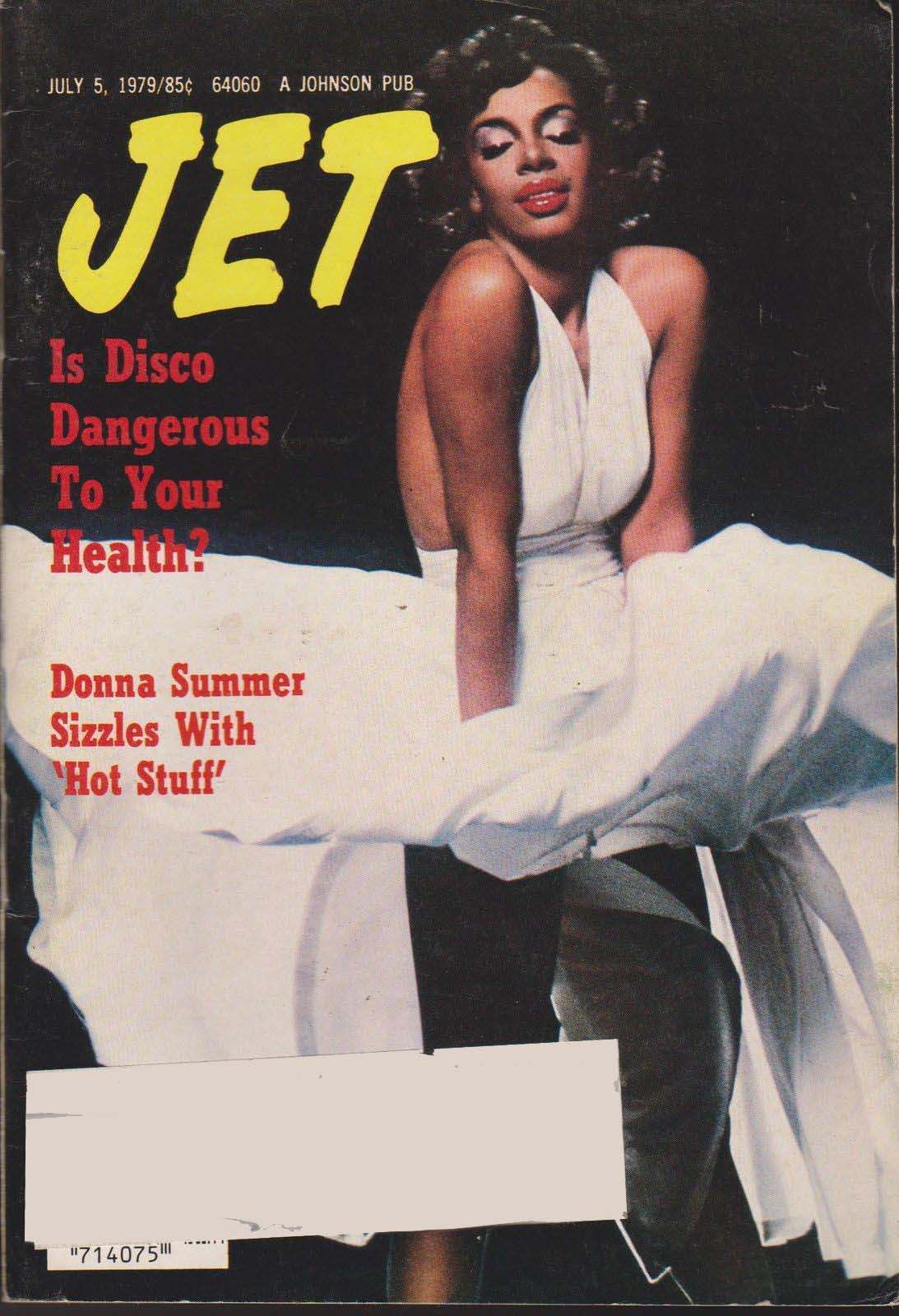 As you might imagine, the article doesn't live up to the headline.  However, the article does spell out the disco obsession nicely….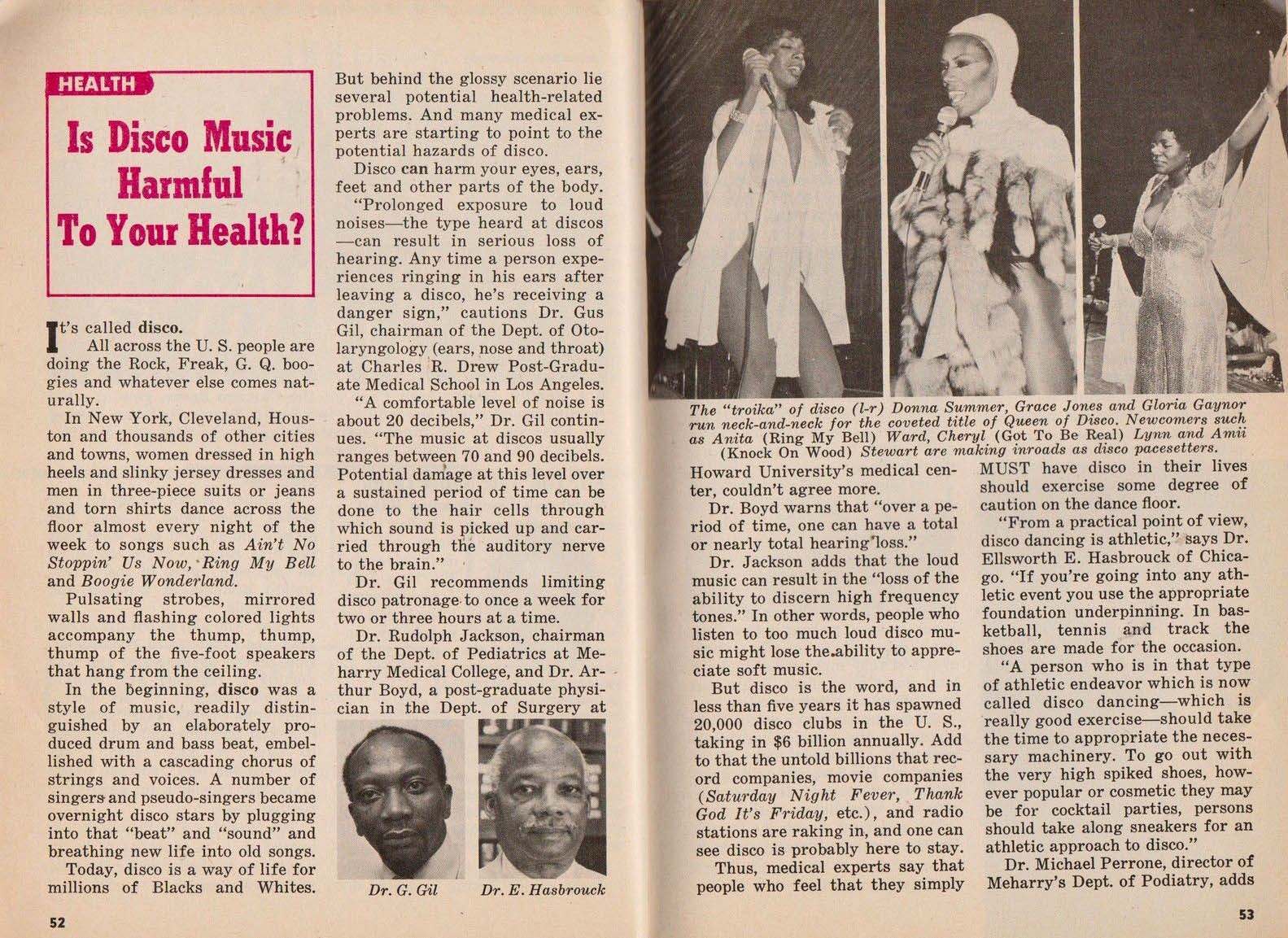 "But disco is the word, and in less than five years it has spawned 20,000 disco clubs in the U.S., taking in $6 billion annually.  Add to that the untold billions that record companies, movie companies, and radio stations are raking in, and one can see disco is probably here to stay."
Alas, disco was not here to stay.  Around 1982-3, a massive disco backlash began.  Disco records were publicly burned and "Disco Sucks" buttons and T-shirts were fashionable.  Disco had reached a point of maximum saturation, and died in a supernova explosion, expelling cocaine, glitter and polyester into the far reaches of the galaxy.   Once the smoke cleared, America found itself in a world of MTV, AIDS and Ronald Reagan.   With the end of disco, came the official end to the 1970s lifestyle.
While it seems we've ended on a negative note, we haven't even touched on the music itself.  Stay tuned for a tour of some of the more outrageous and interesting disco records to come out of the 1970s.  See you there!