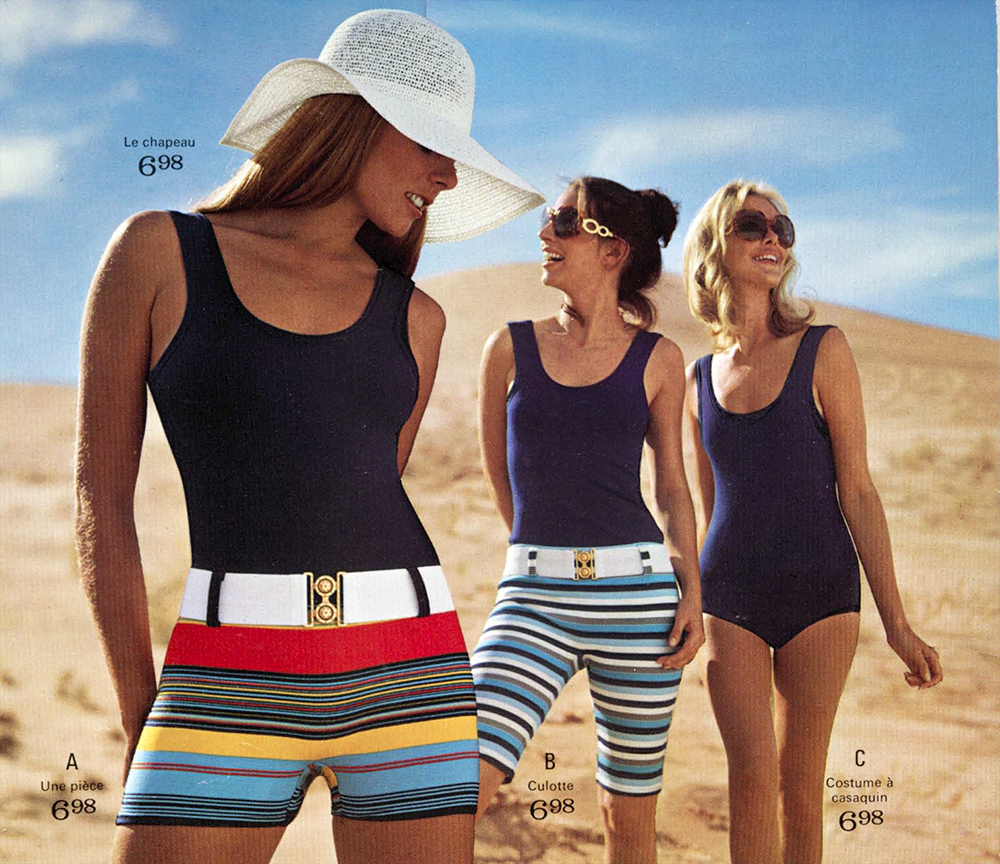 The "Summer of Love" is four years past; the swingin' seventies have arrived – and with it, comes the trademark fashions of the decade.  It's an acquired taste.  As someone who lived through these years, I spent the next couple decades trying to forget it, before finally accepting the singular glory that is seventies style.  Let's have a look at the ladies' fashion pages from Canada's 1971 Eaton's catalog – and decide for yourself whether it's thumbs up or down. Enjoy.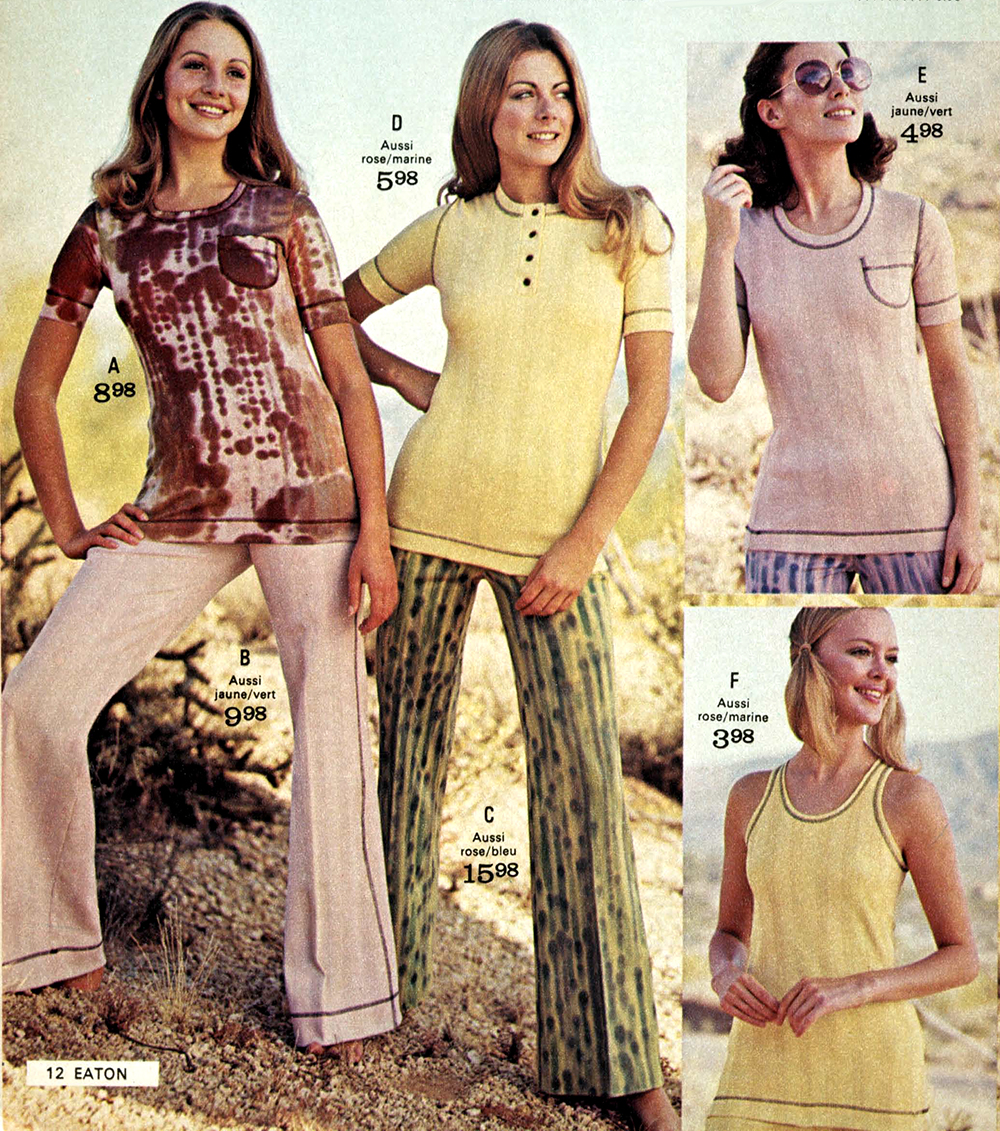 Dig those groovy wide-leg green pants.  What sort of pattern is that – vegetable?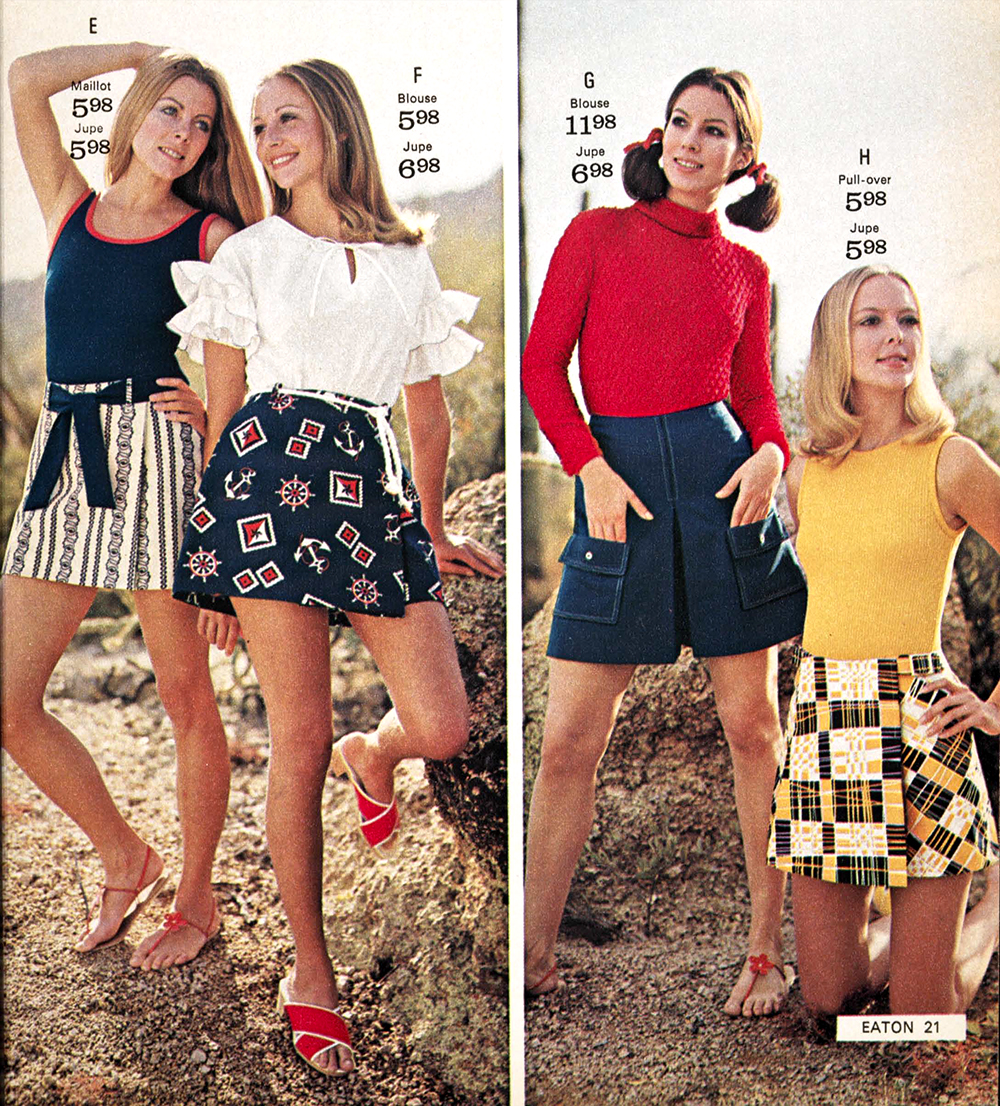 Remember "bodysuits"? That's how women achieved that look of a slim, form-fit top with no bulge or wrinkles around the waist – the "top" was actually a bodysuit.
For the uninitiated, this advert (below) from a 1972 issue of Vogue illustrates the bodysuit perfectly.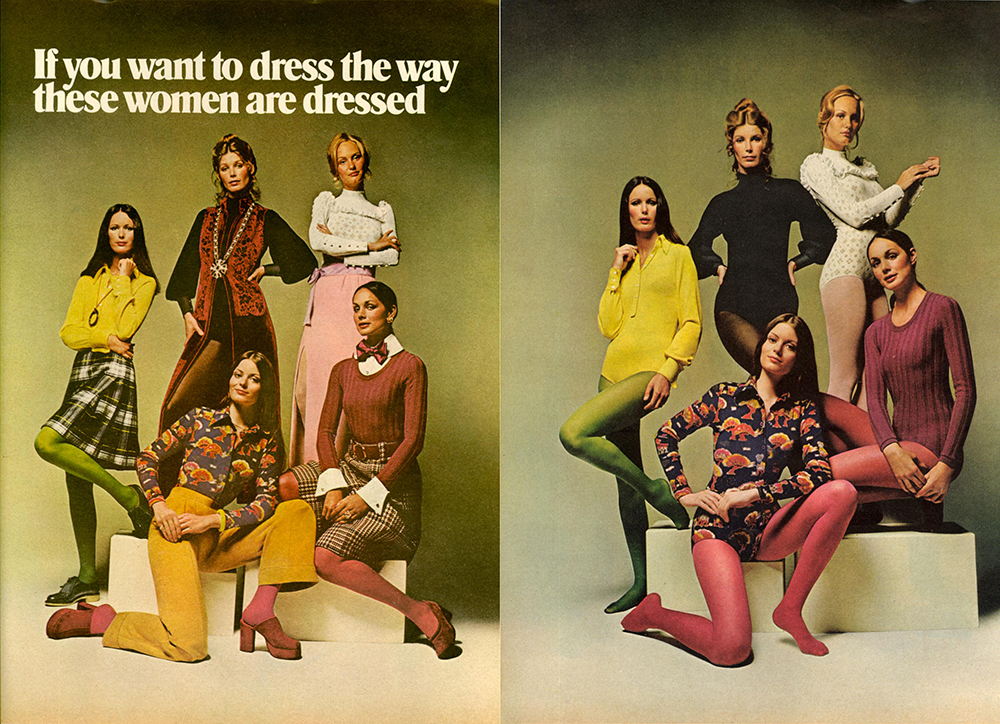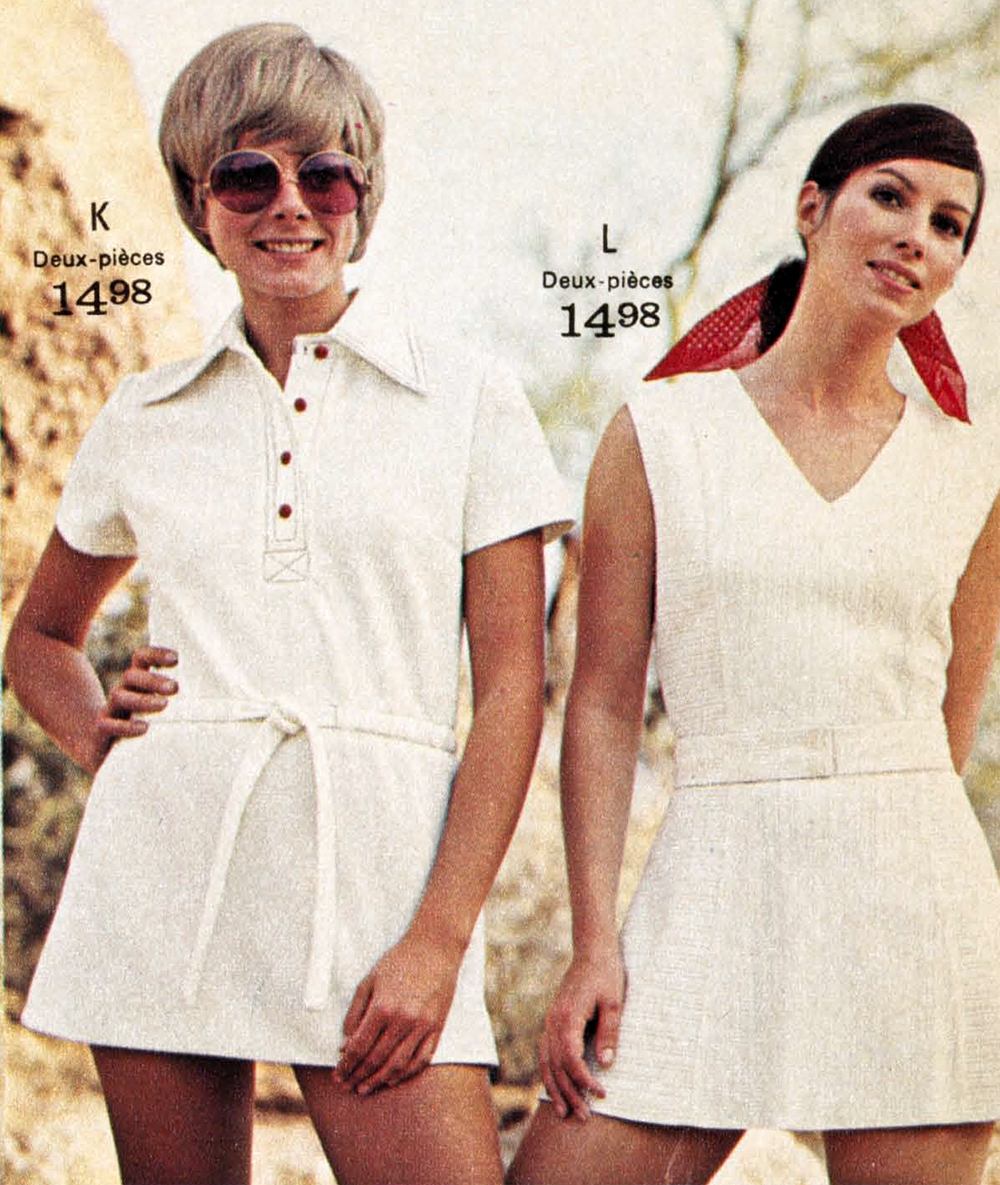 Big gaudy glasses and high hem-lines; it was a great time to be alive.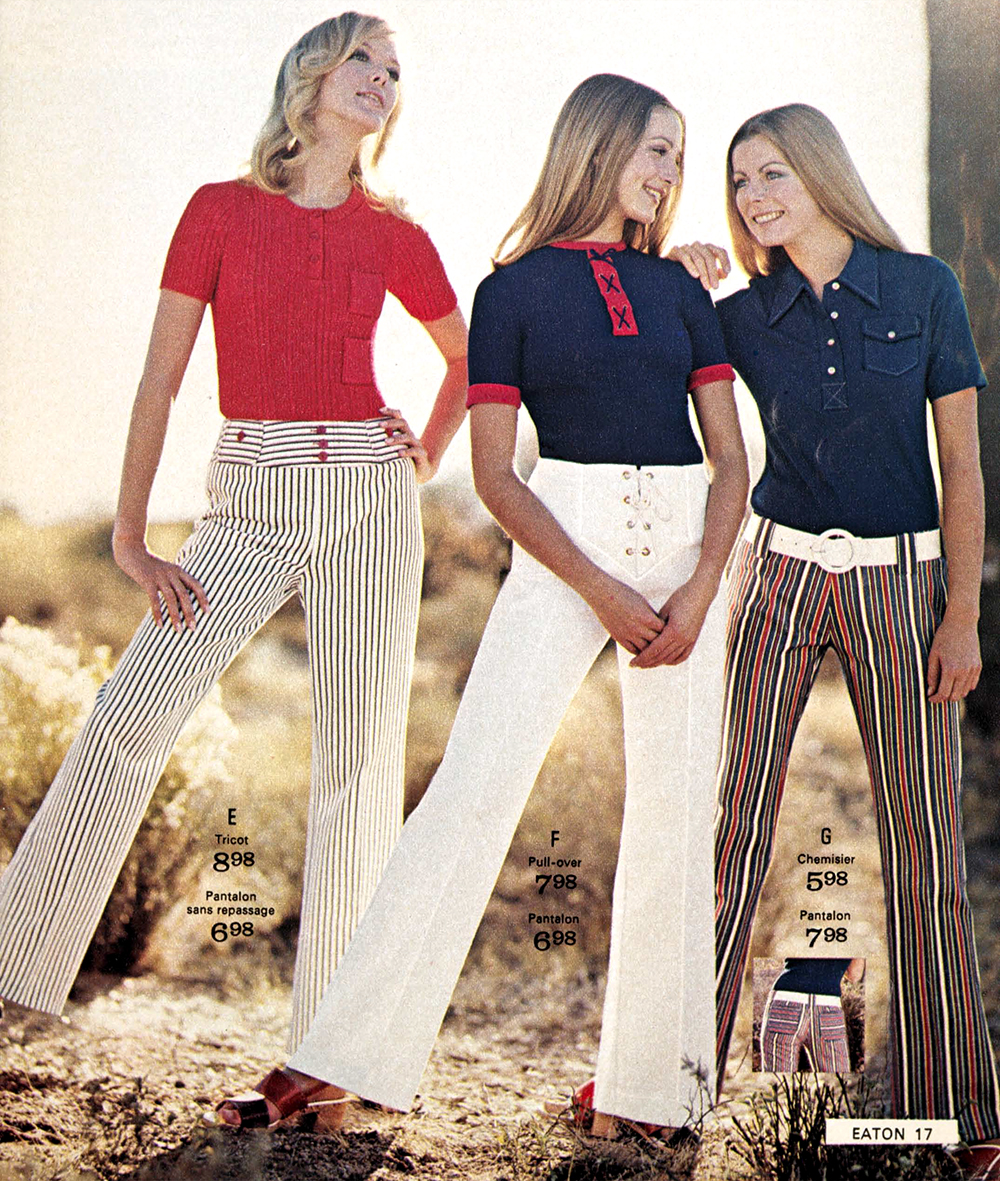 Remember those striped pants?  They were in fashion for only a year or so, but everybody had a pair.  If you've seen The Partridge Family, you know they were a Cassidy favorite.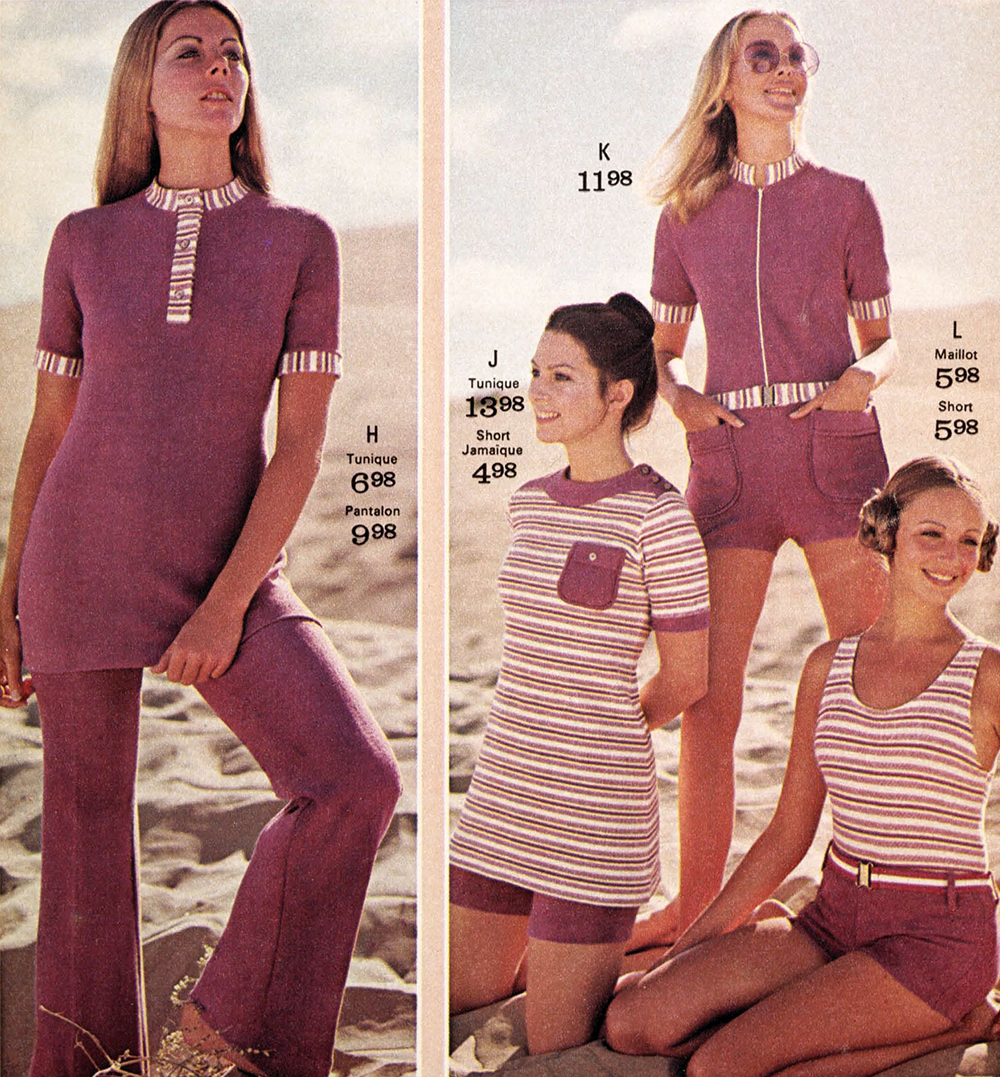 Grape was "IN" in the Summer of 1971.
And I think it's only appropriate to have Helen Reddy's "Summer of '71" playing in the background as you look at these pages.  Listen to Helen "I Am Woman" Reddy sing about hanging with friends and tripping on mescaline one wonderful summer…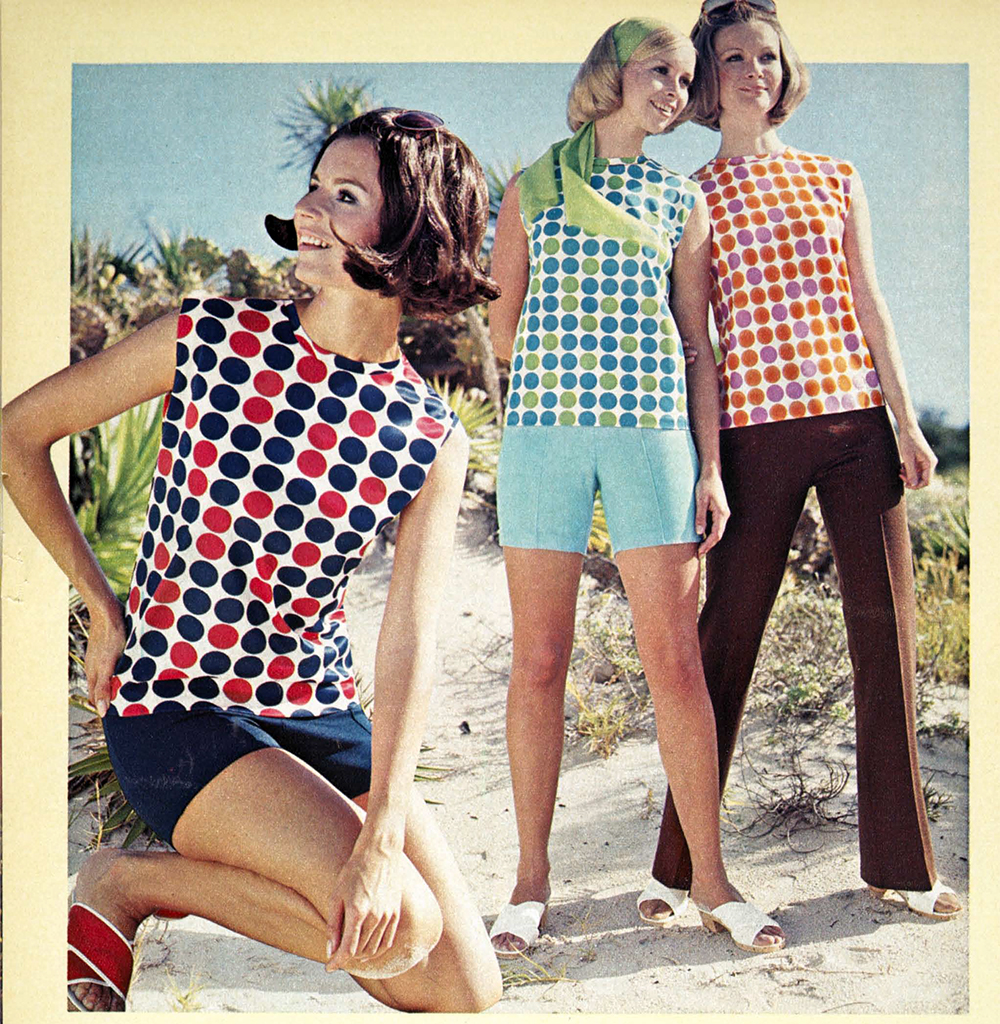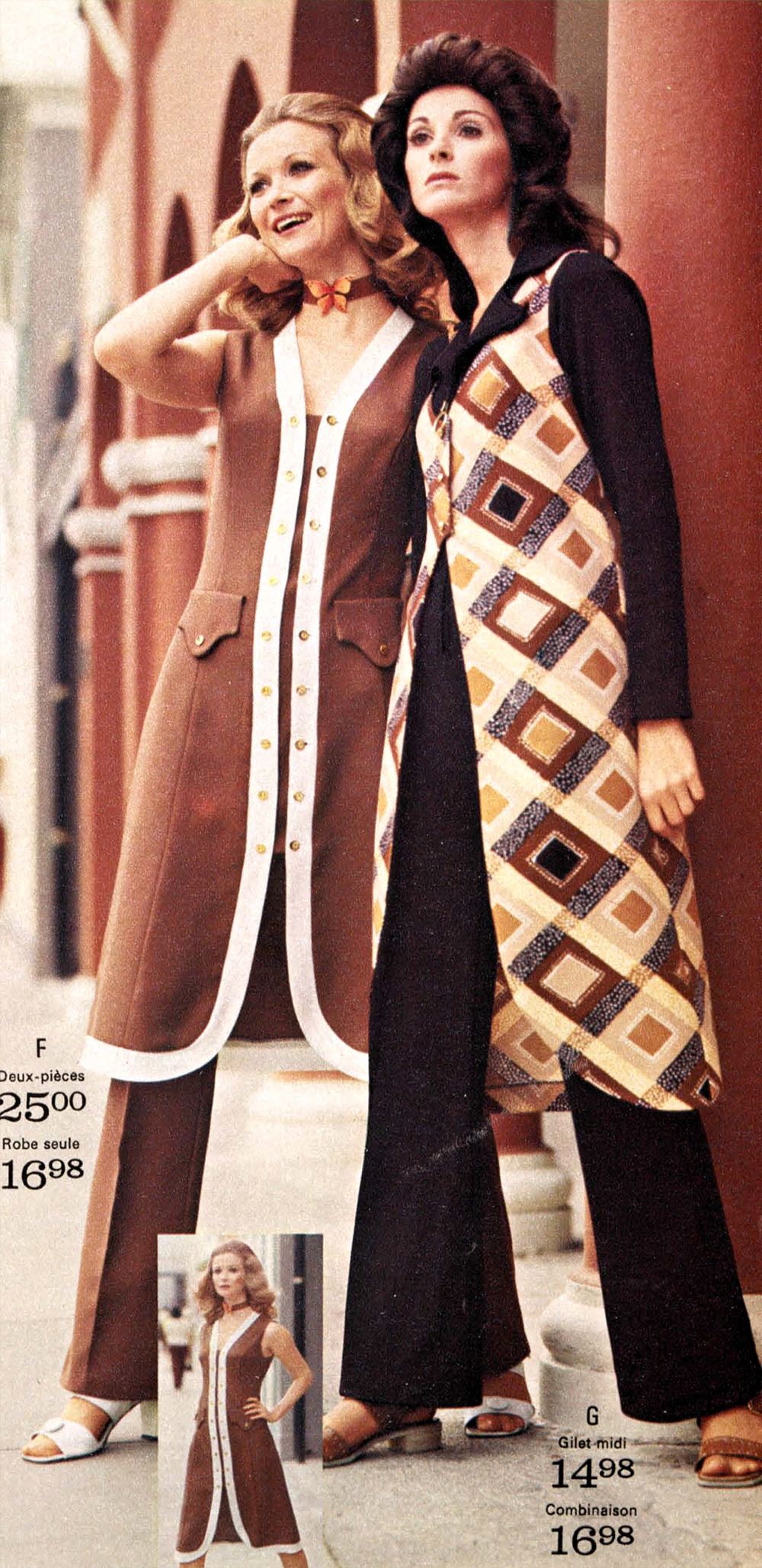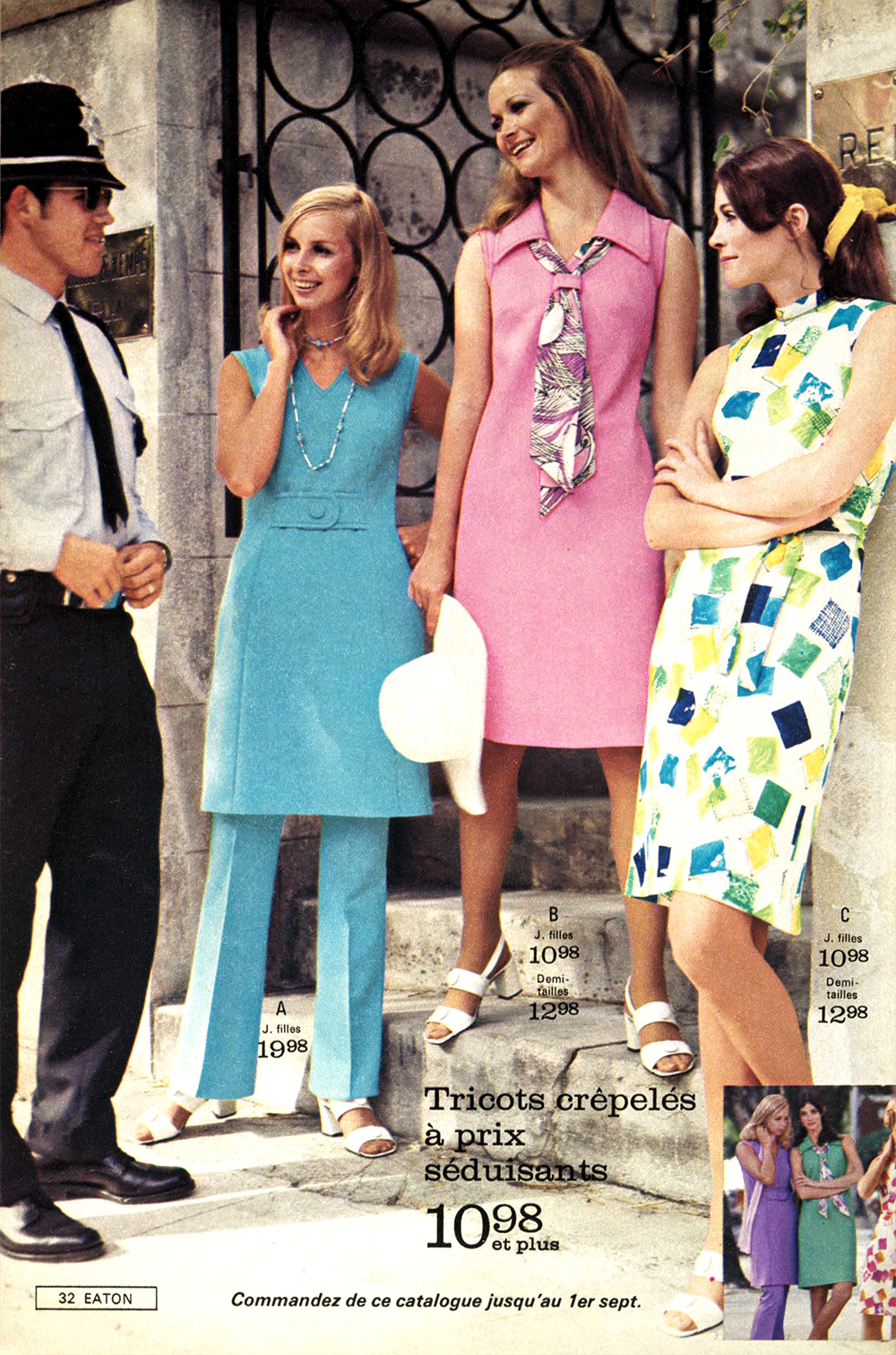 This officer clearly thinks he's getting lucky… and considering it's the swingin' seventies, odds are in his favor.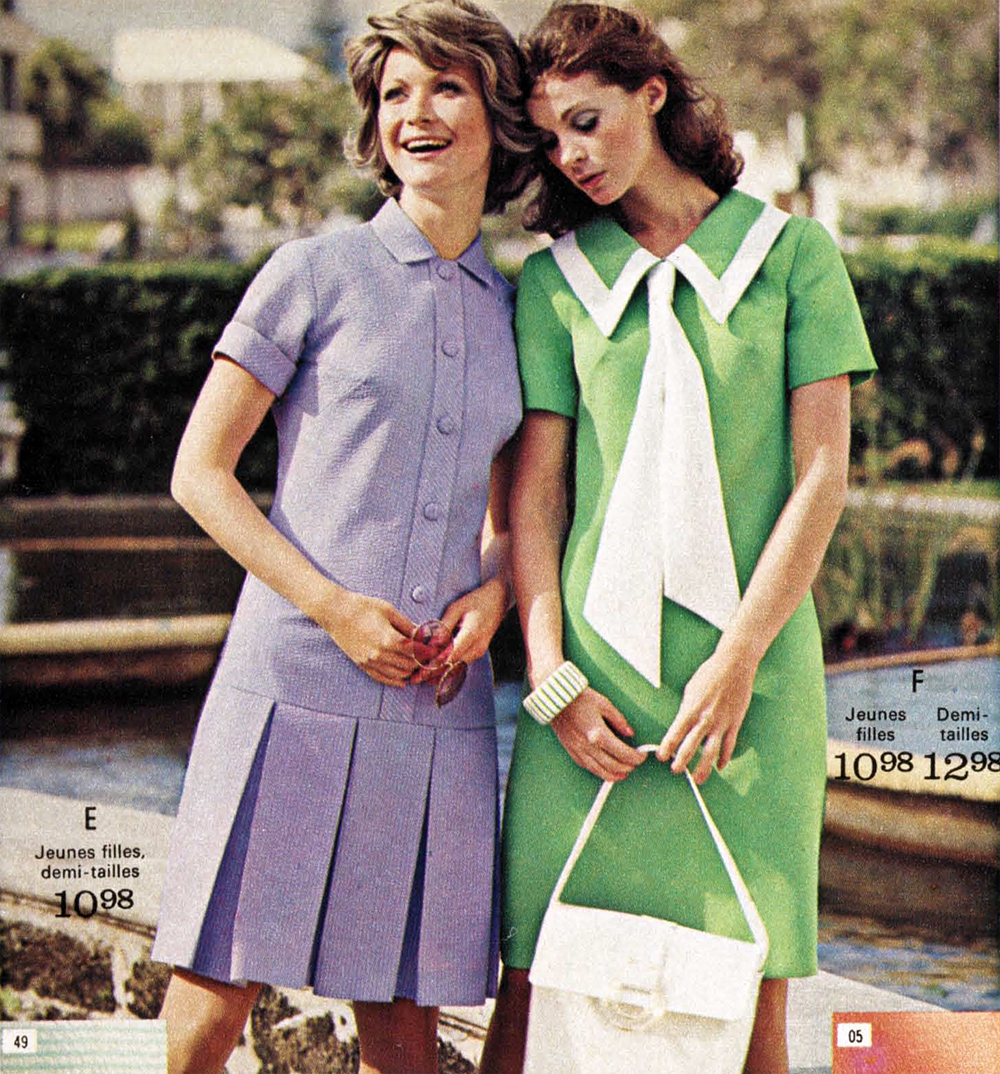 Girl in Green: "Don't deny our love. You know you feel it too."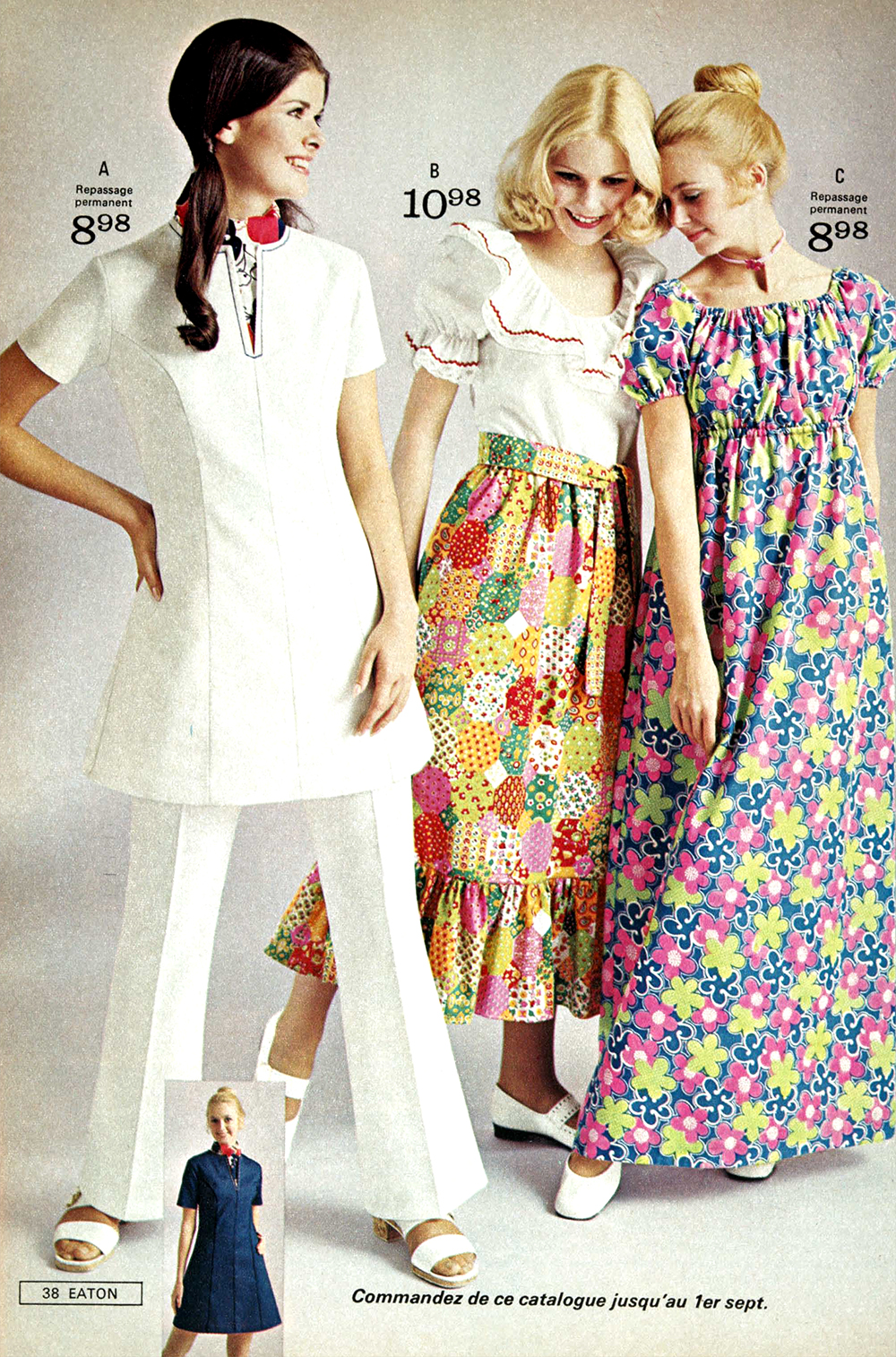 Girl in Floral Dress: "Don't deny our love. You know you feel it too."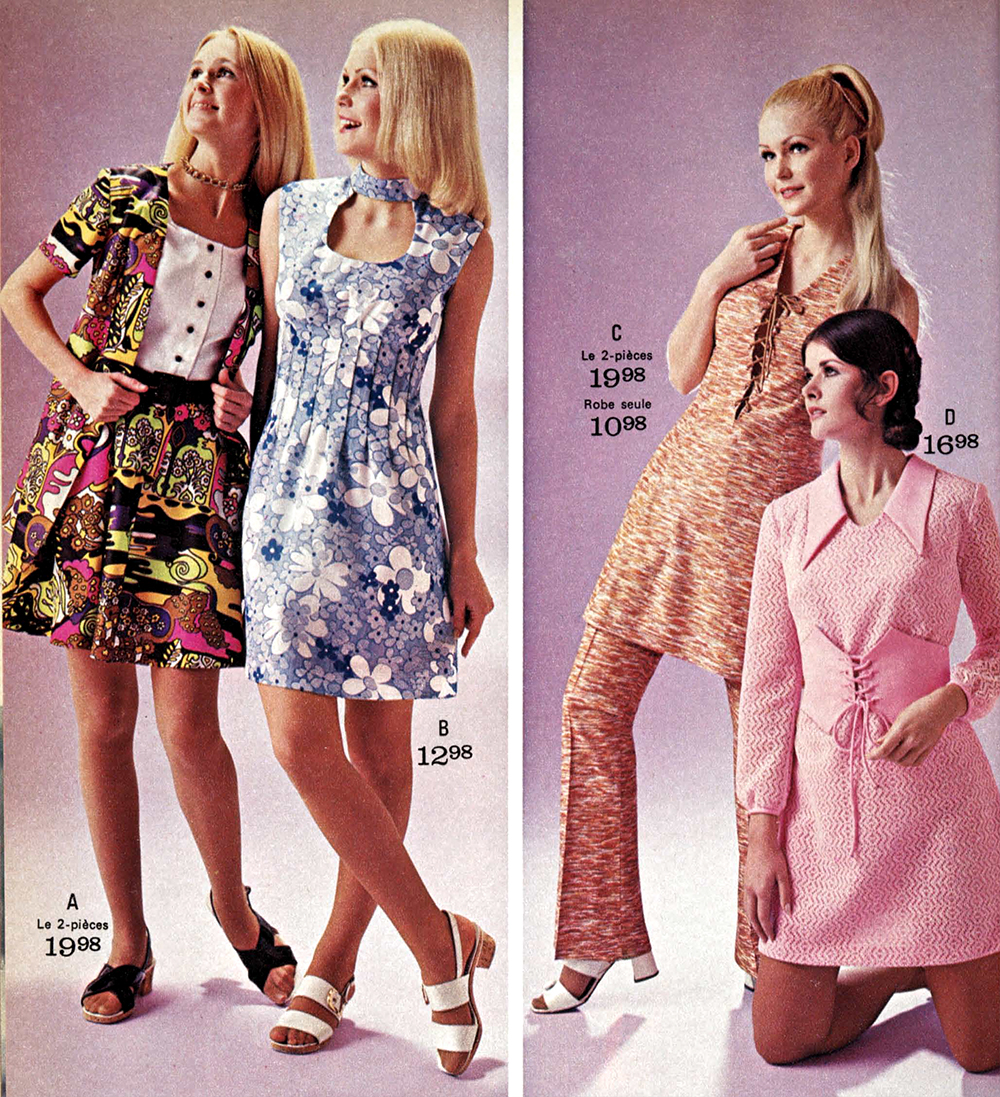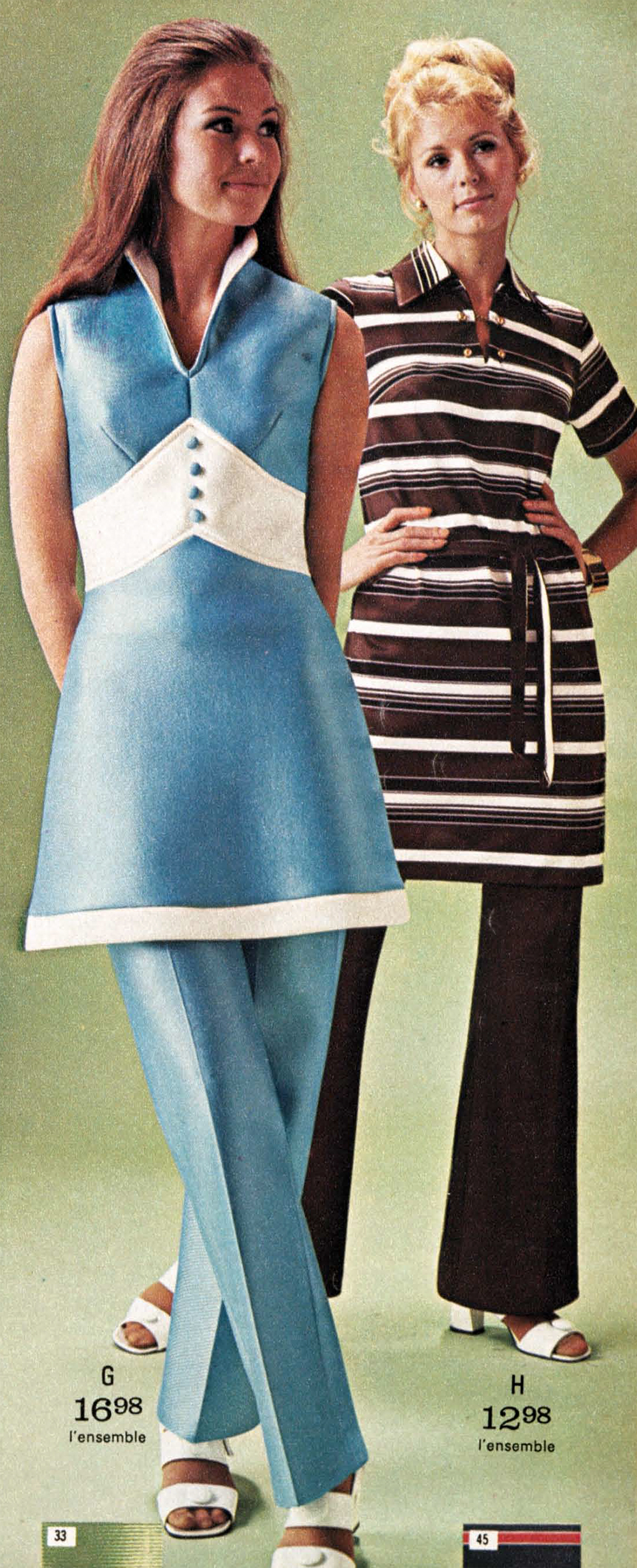 That blue outfit looks like something from the future – very Buck Rogers-esque.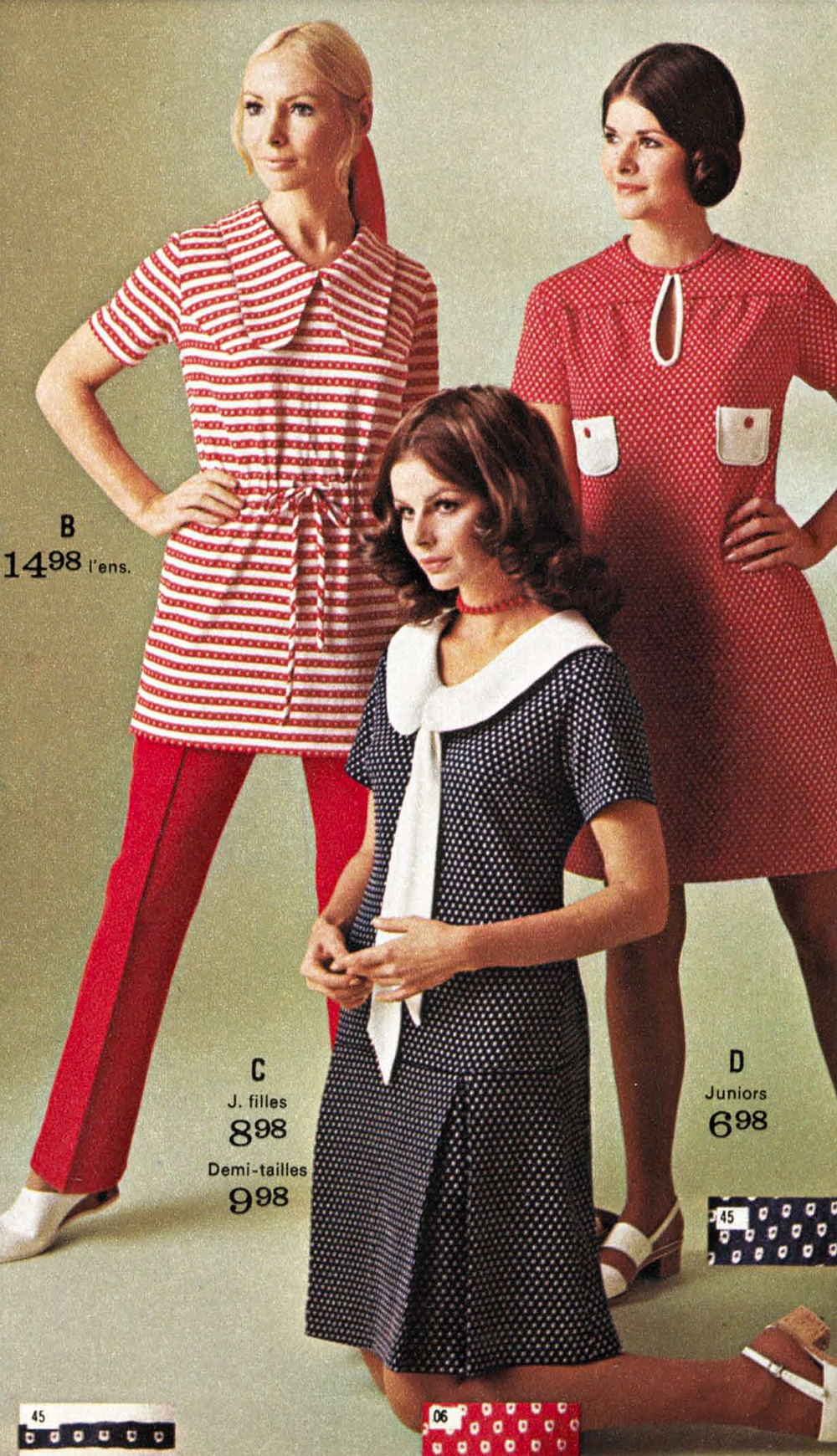 Take note how many of these ladies are sporting the Princess Leia style hair-buns.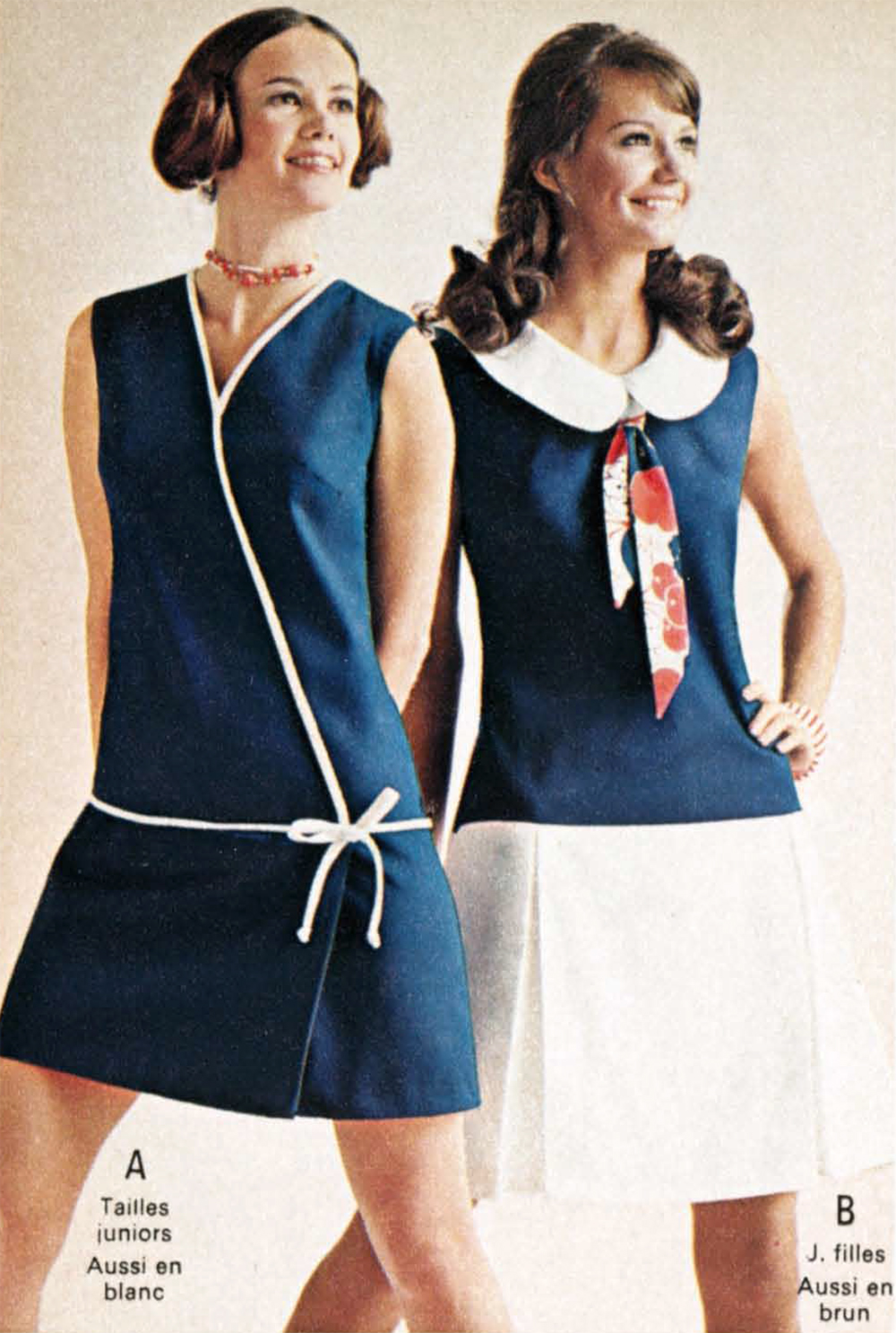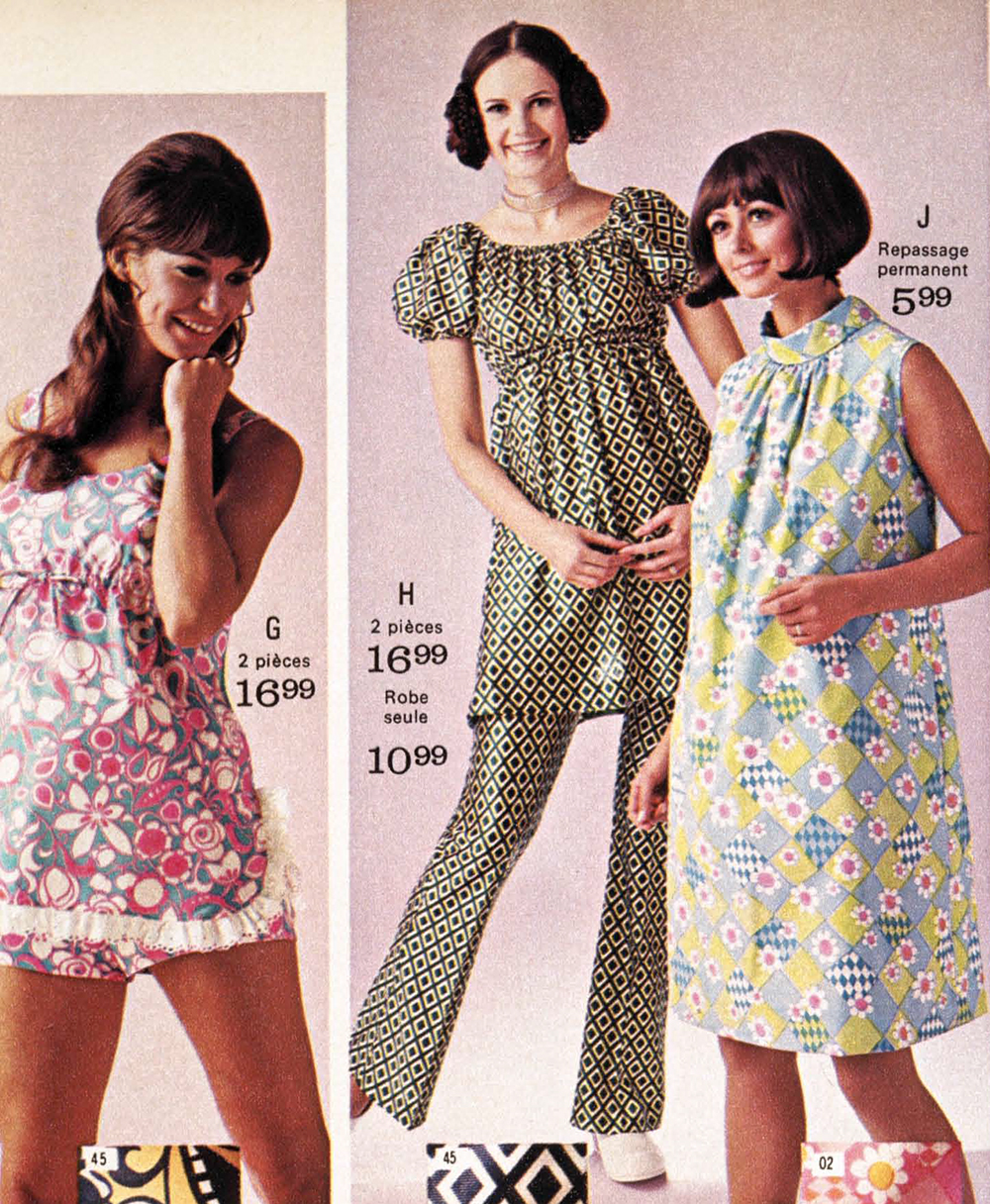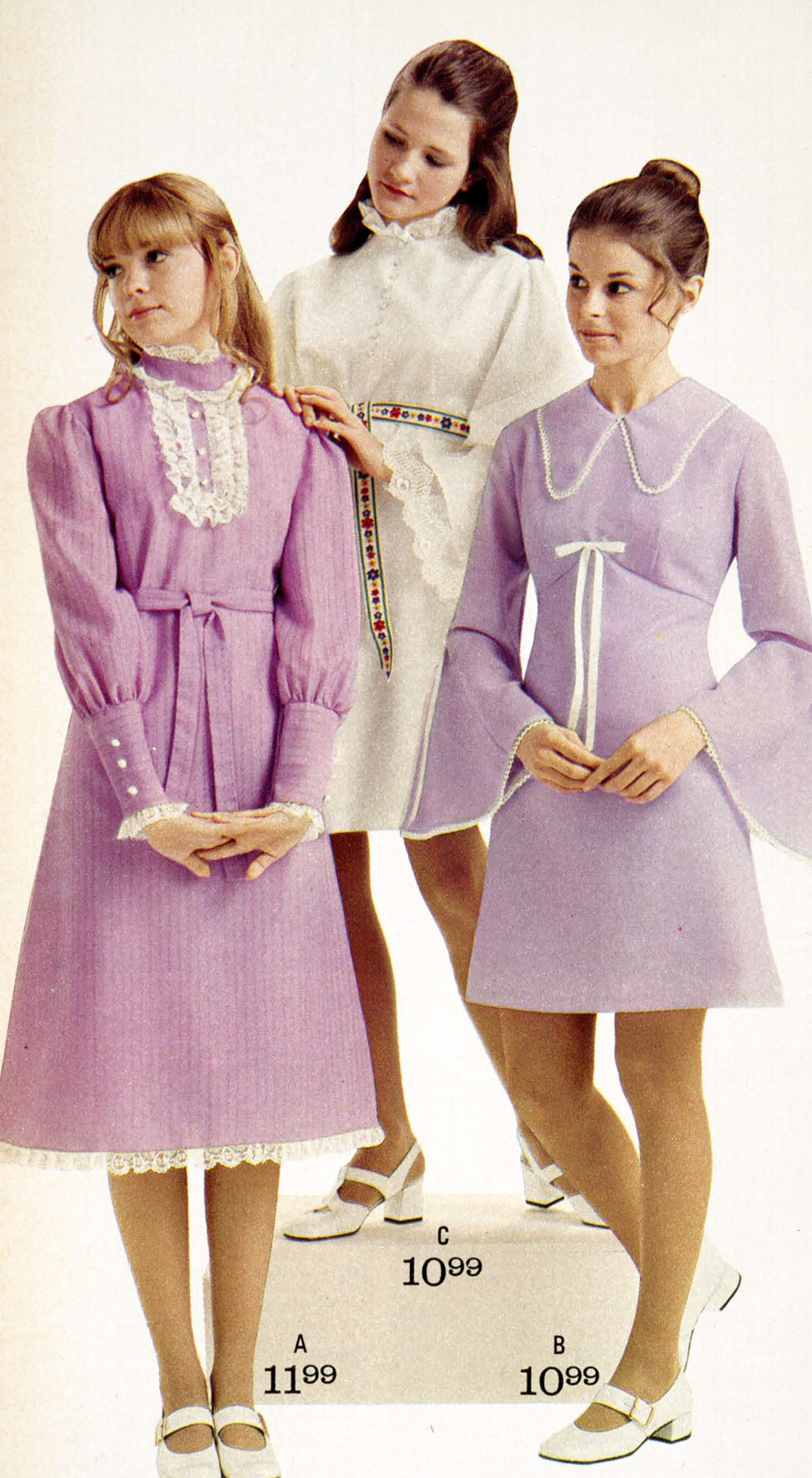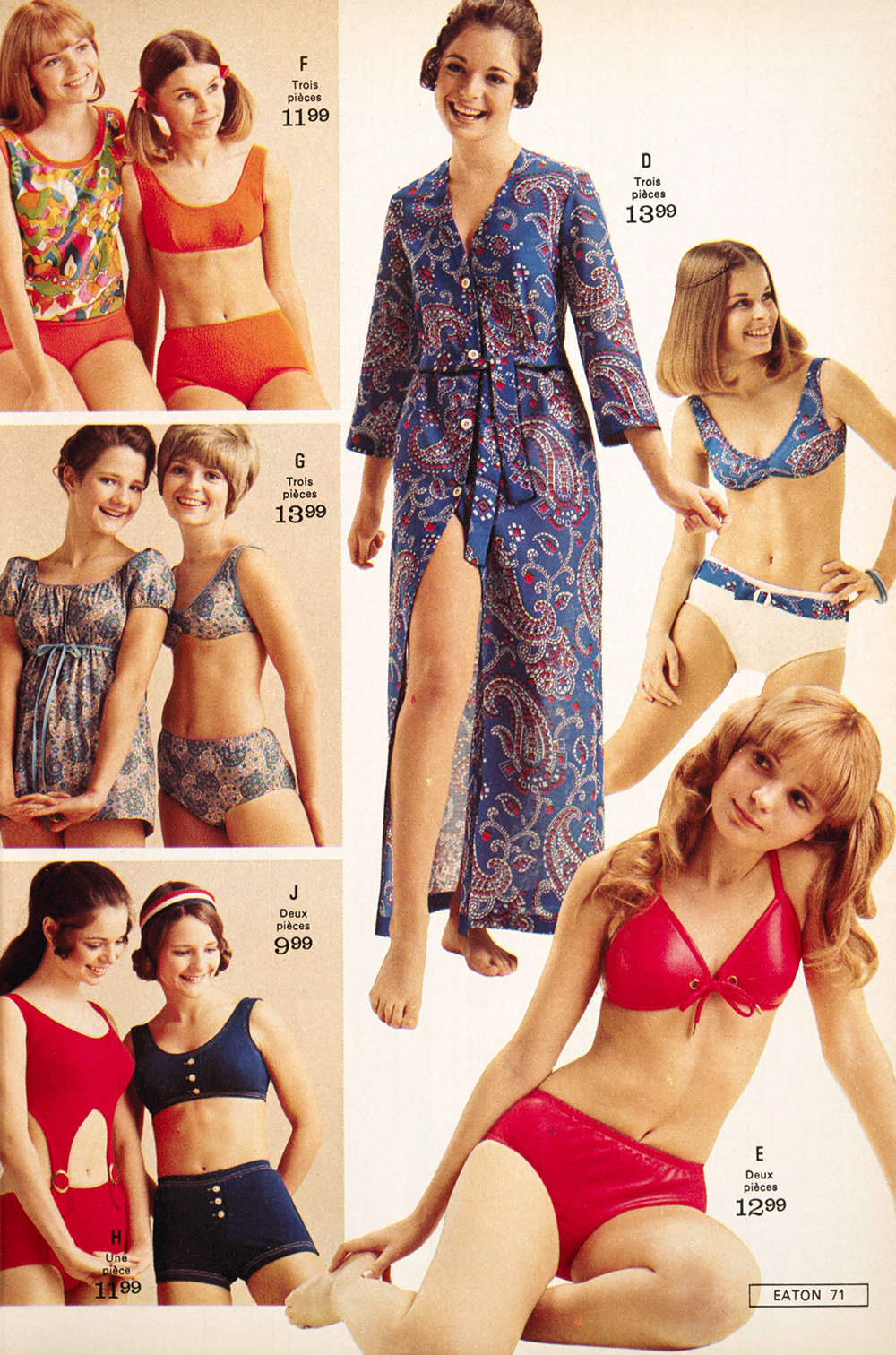 The bikini bottoms certainly were high-waisted in 1971.  Give it a couple years – it'll be much, much lower.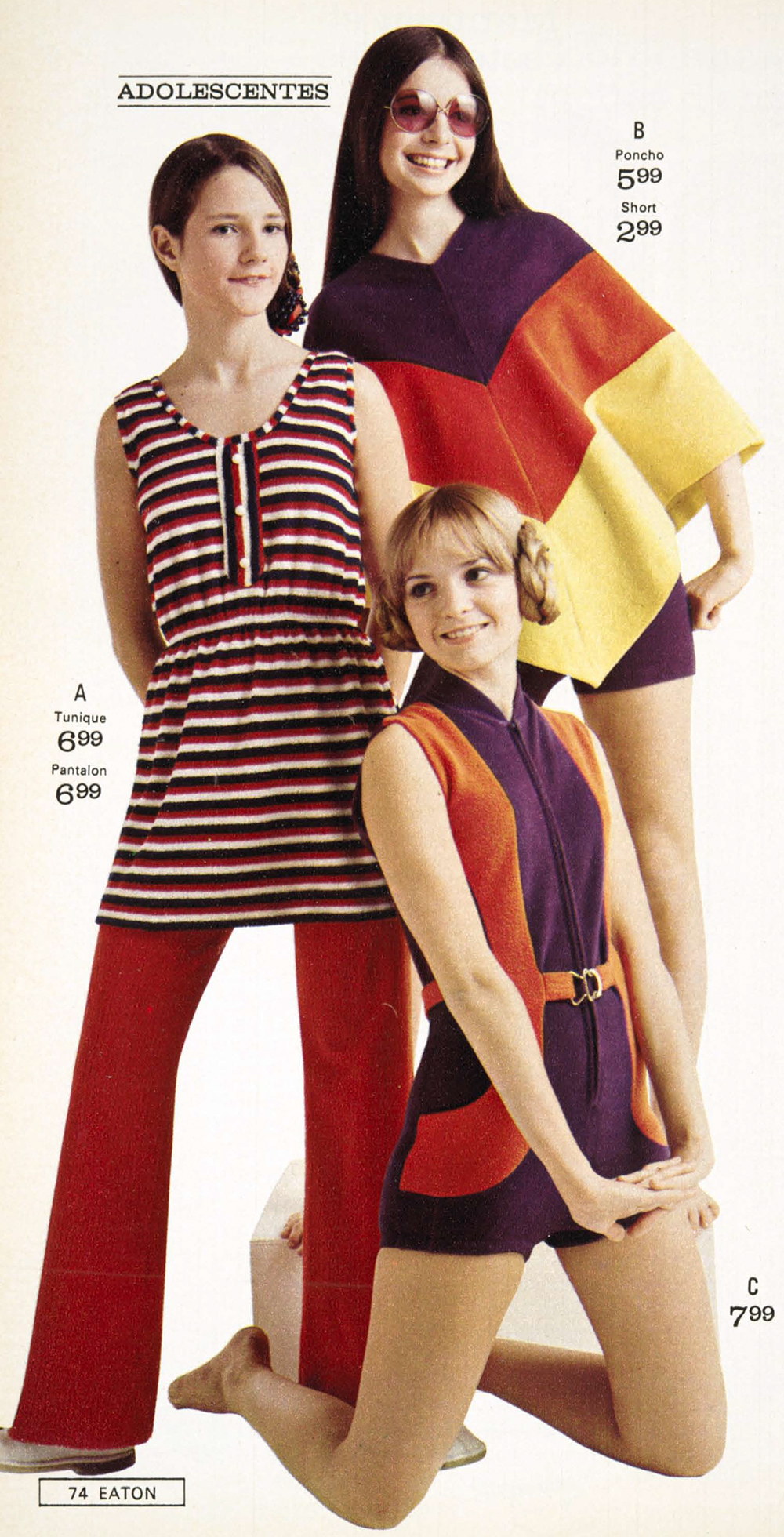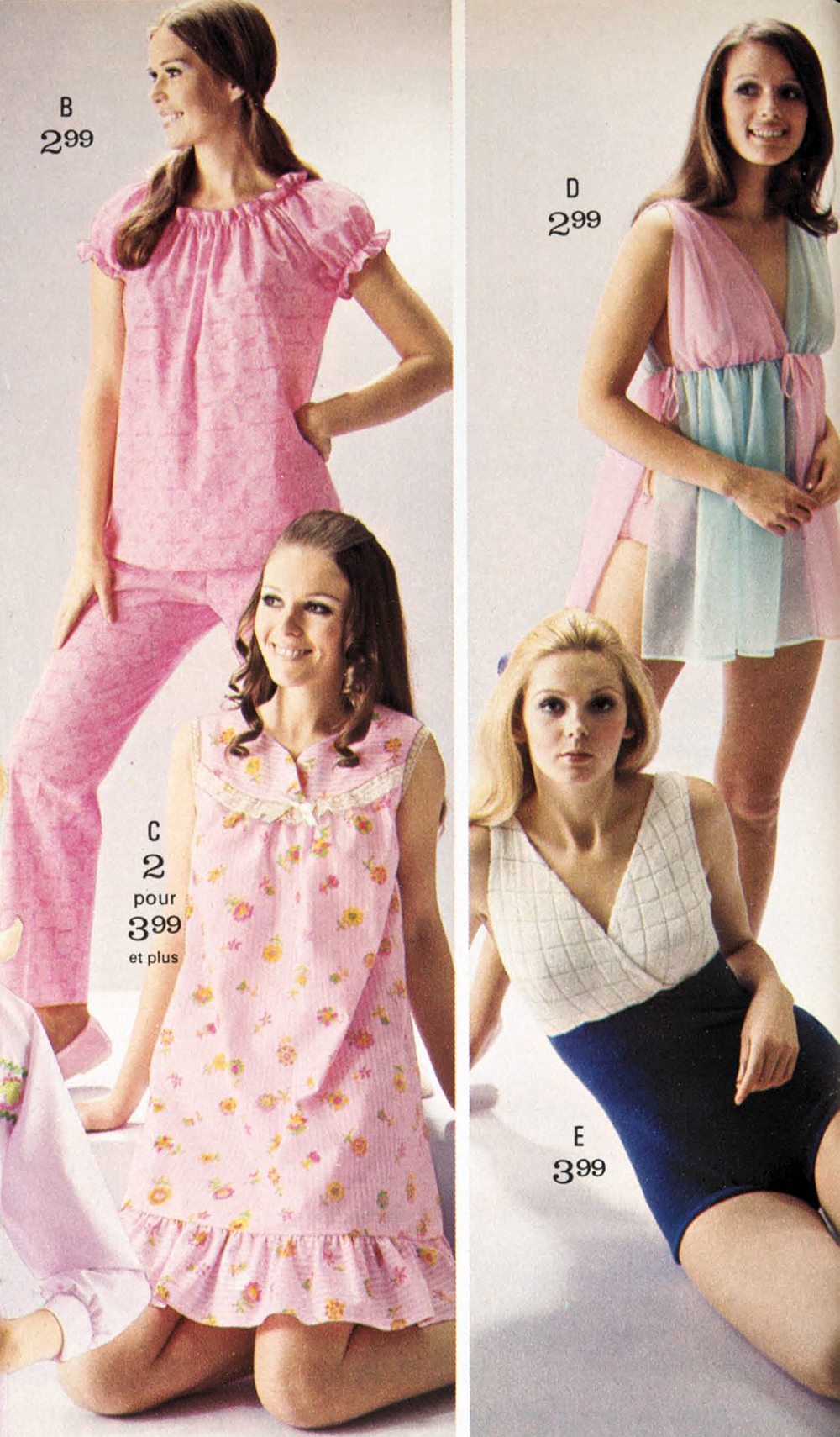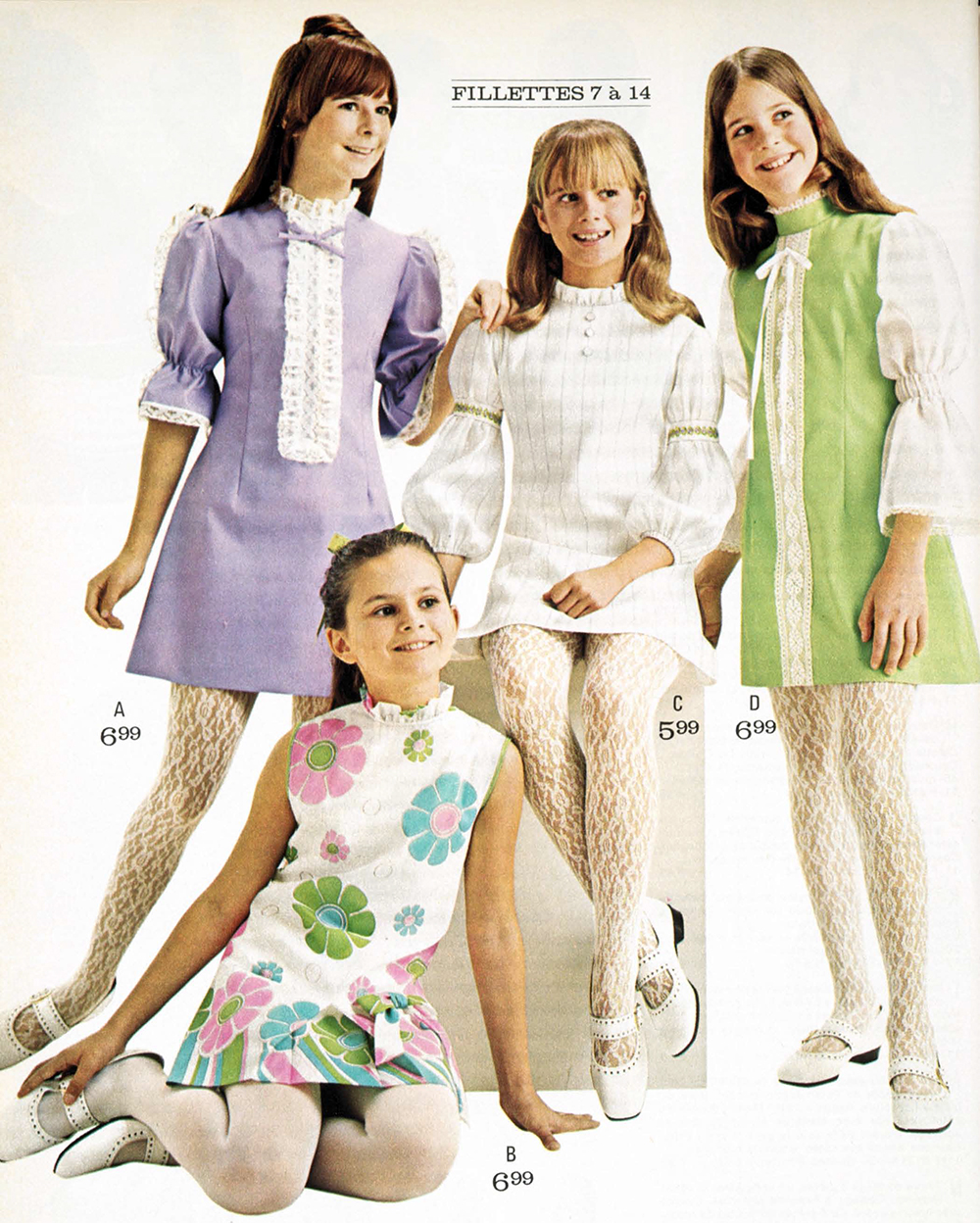 Well, we've reached the kids' section – time to wrap things up.  I don't know about you, but this tour through '71 had me longing for these fashions once again.  What do you think – a tacky look, best left in the rear-view mirror, or a unique and flattering style that would be a welcome return?