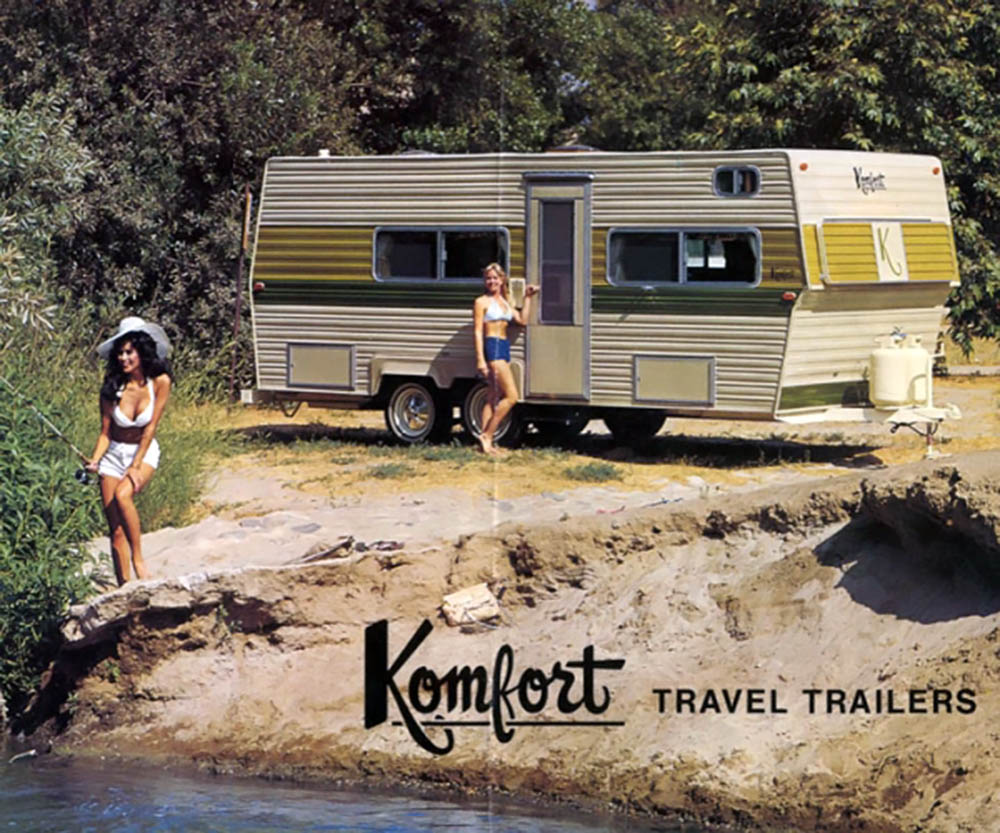 The marketing strategy of the 1970s could basically be boiled down to two steps: Step (1) feature your product, Step (2) add a gorgeous lady – and "presto" you have a successful advertisement.  At a time when men still held the pocketbook when it came to big purchases, it made sense to inject a little sexiness into your travel trailer brochure. As this brochure attests, Komfort knew exactly how to sell the sizzle.
This brochure from the 1970s features two lovely ladies modelling Komfort's new trailer with spice and pizzazz aplenty.  Let's have a look…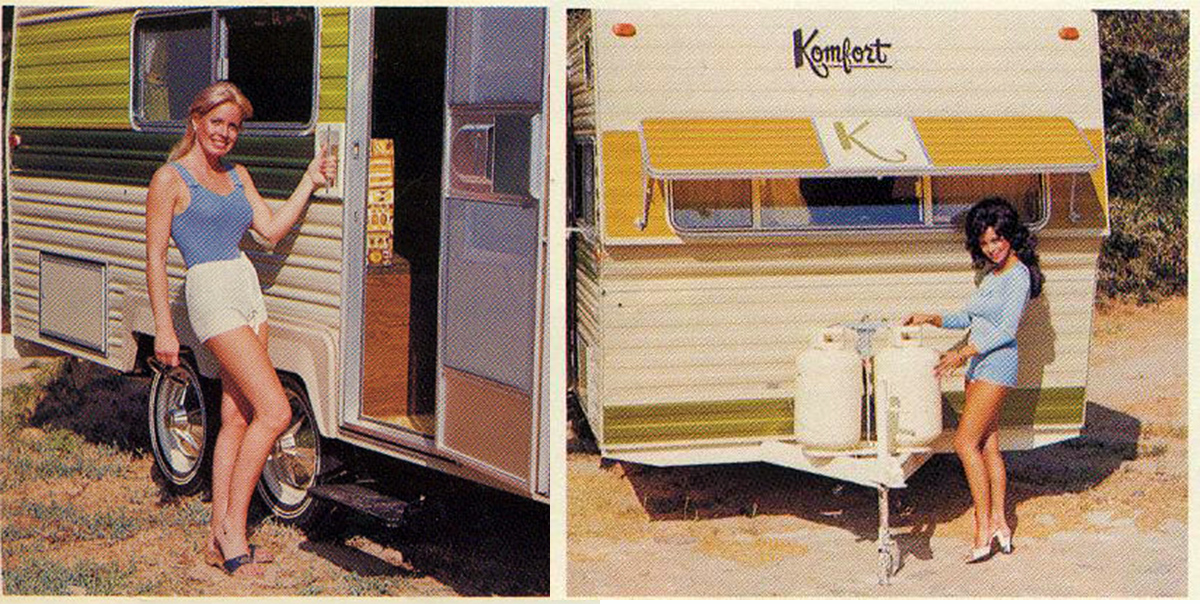 (L) This is less an RV brochure, and more the first few minutes of a 70s porn.  (R) They said it couldn't be done, but somehow she managed to make propane tanks sexy. Bravo.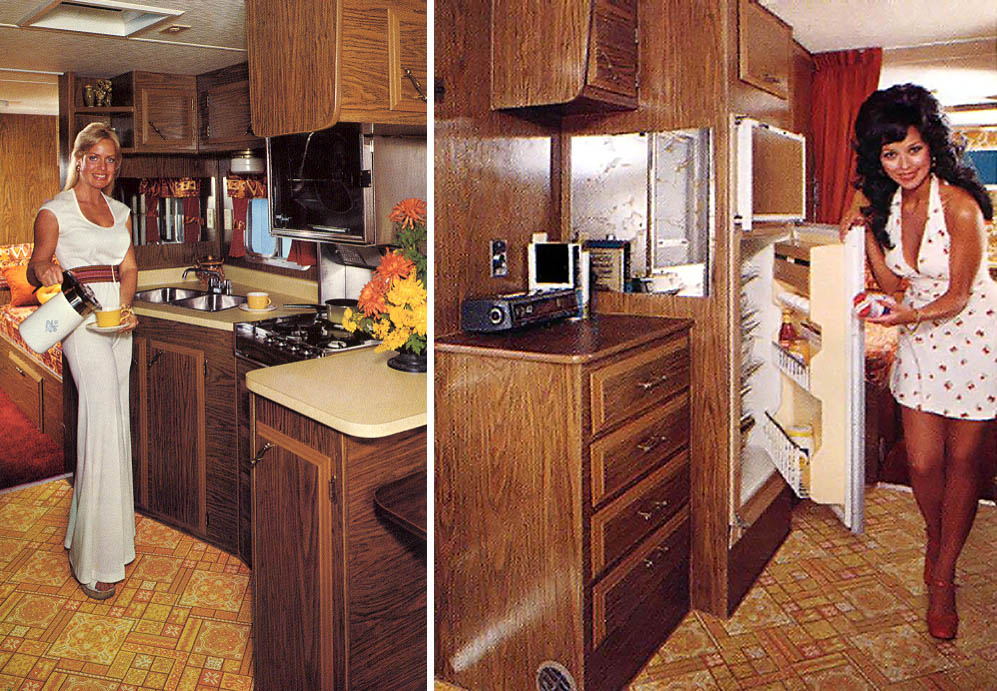 The gaudy linoleum and ubiquitous wood paneling says "go", but the camper tramps say "stay".  These gorgeous ladies beckon us with their coffee, condiments, and come-hither stares.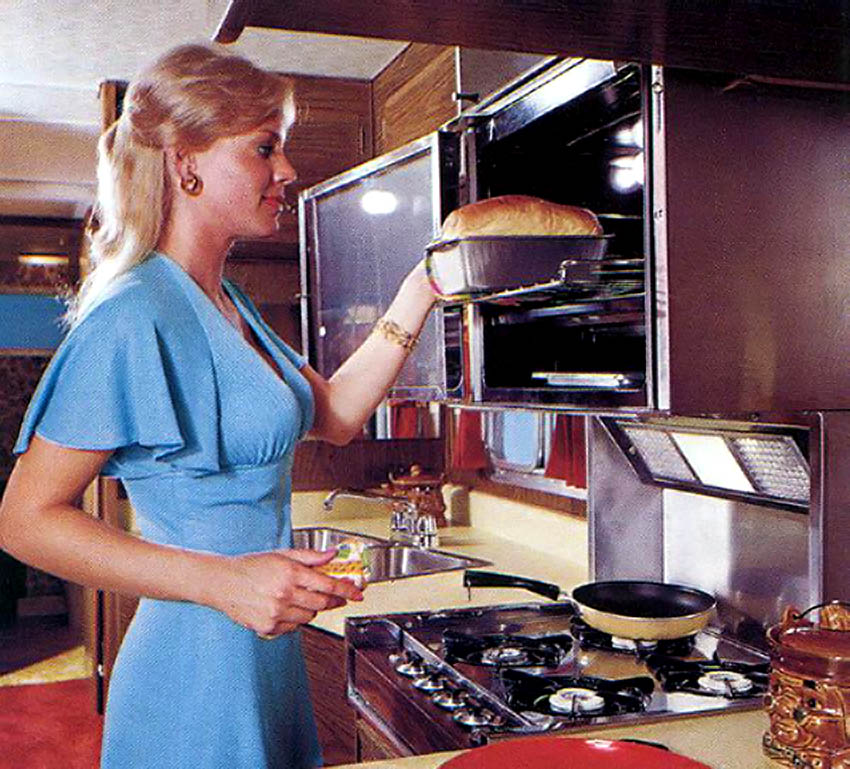 Baking bread in a polyester disco dress; the man who calls this RV his own, is truly living the dream.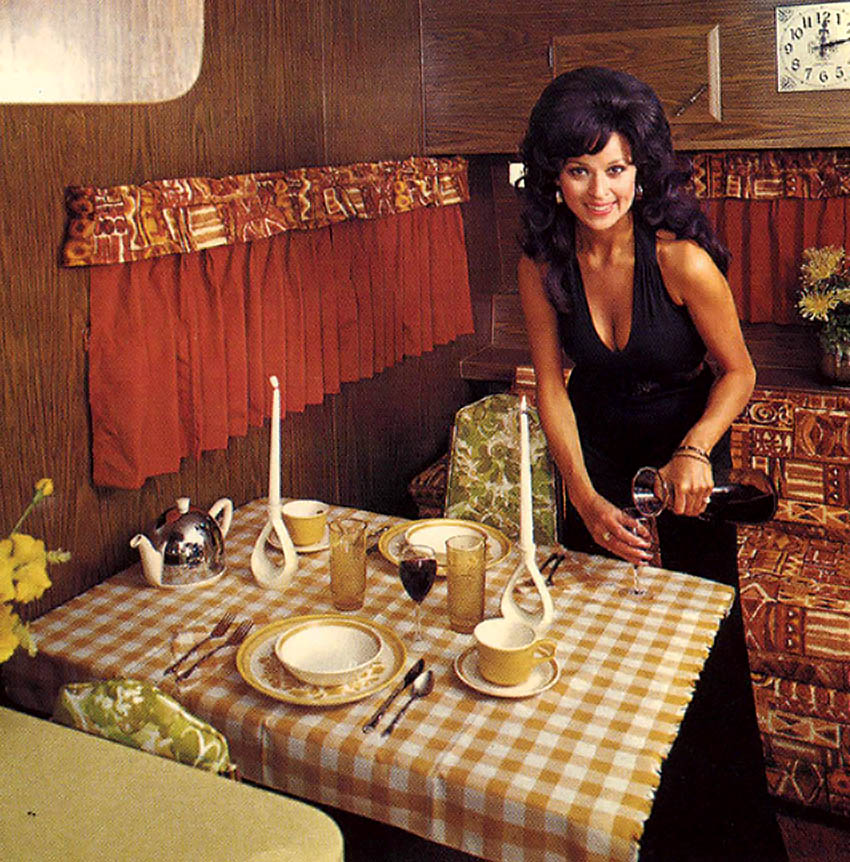 If you look closely at the tea kettle, you'll see the reflection of the happiest man in the world.  Let's face it, 1970s RV's were just shaggin' wagons for "respectable adults".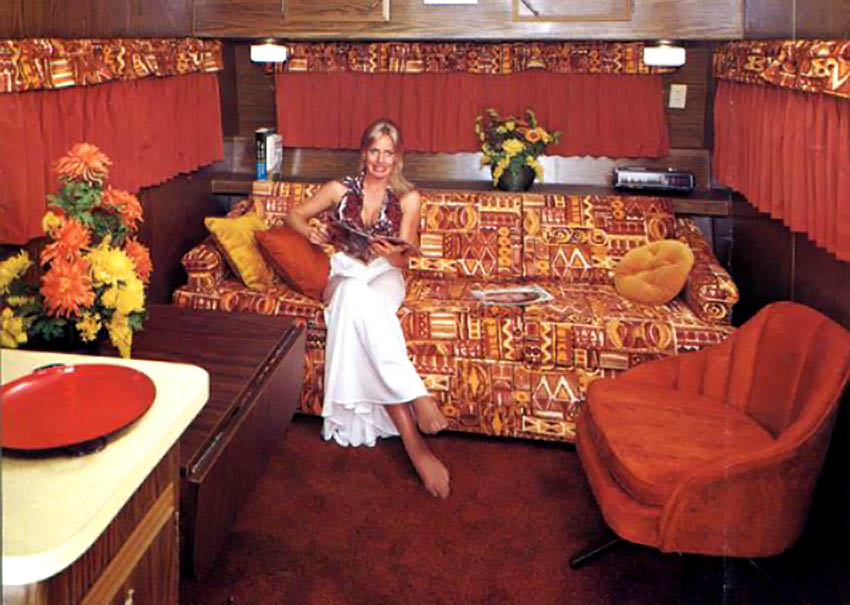 After dinner, it's time to relax amid a sea of Burnt Orange and Harvest Gold – favorites of the 1970s.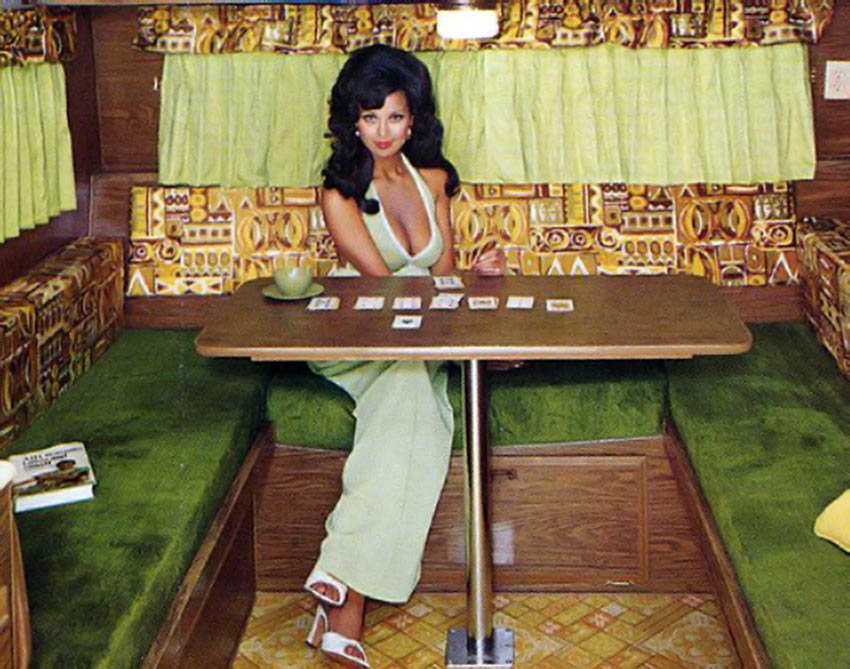 RV = Recreational Vehicle.  And what was the favorite recreation of the 1970s?  Oh, yeah – now this brochure makes sense.
Time for a shower…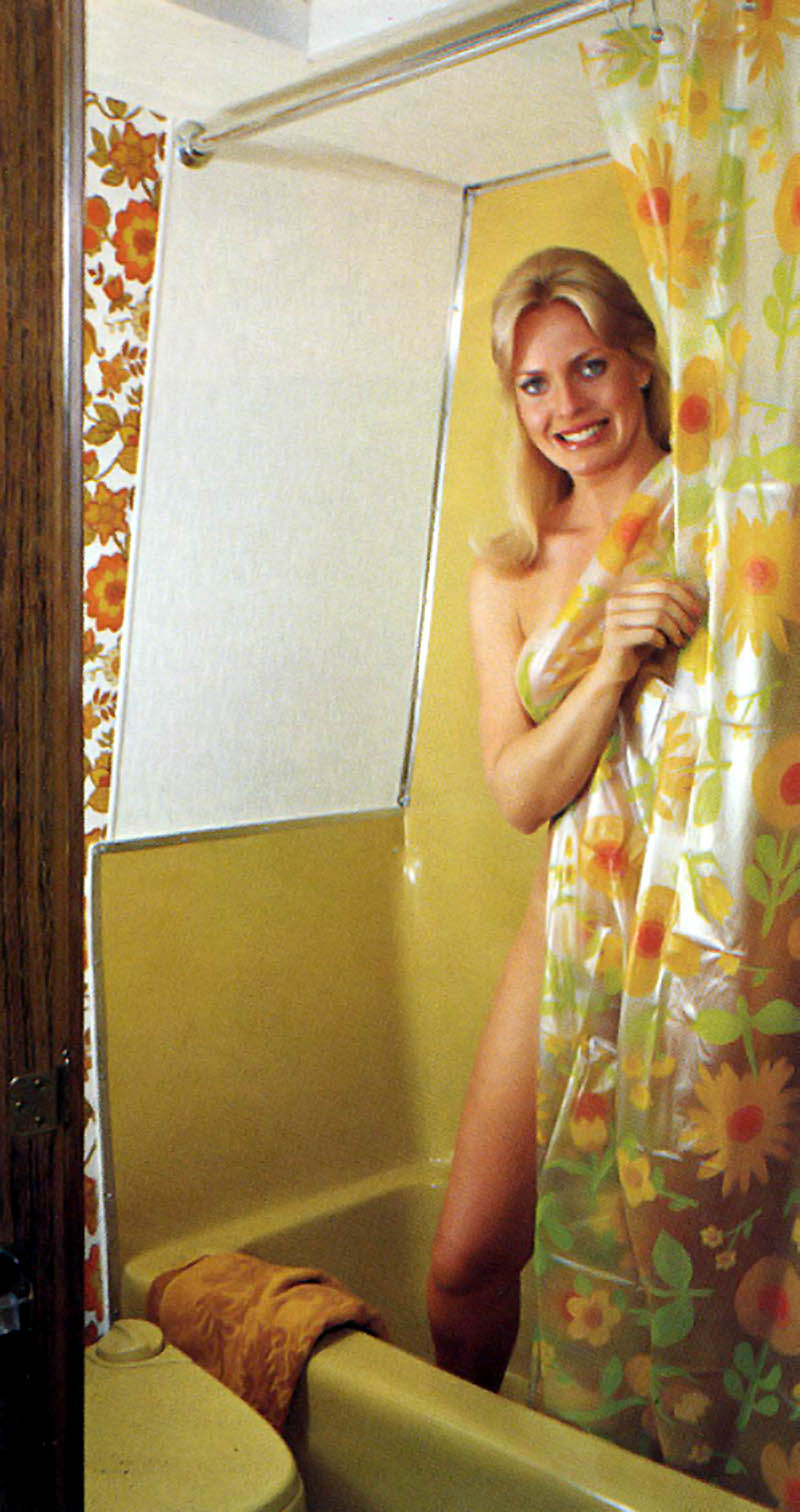 You're a liar if you say didn't lean in close and squint to see behind that shower curtain.  Suffice it to say, it appears our blonde model isn't wearing anything except lip gloss.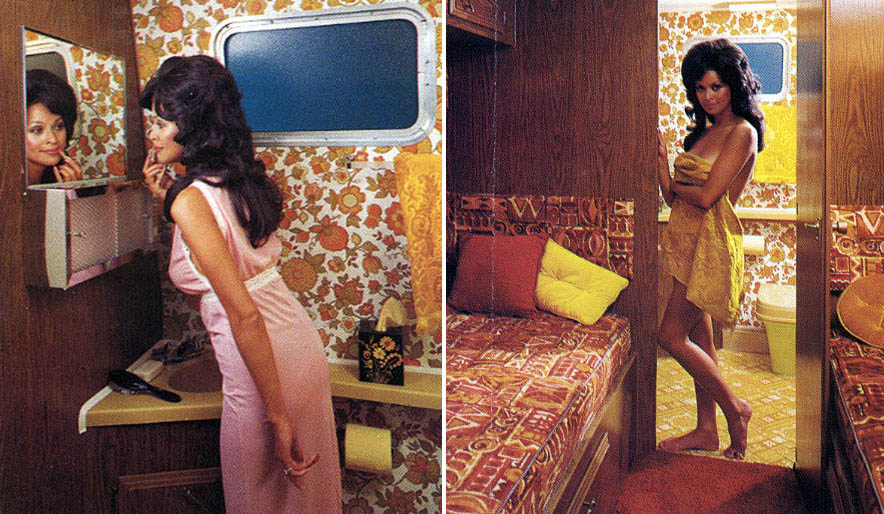 Bedtime.  At last, we can move on from bread making to love making.  We've played cards, drank wine, and showered – now it's time to consecrate our new Komfort travel trailer.  Good night!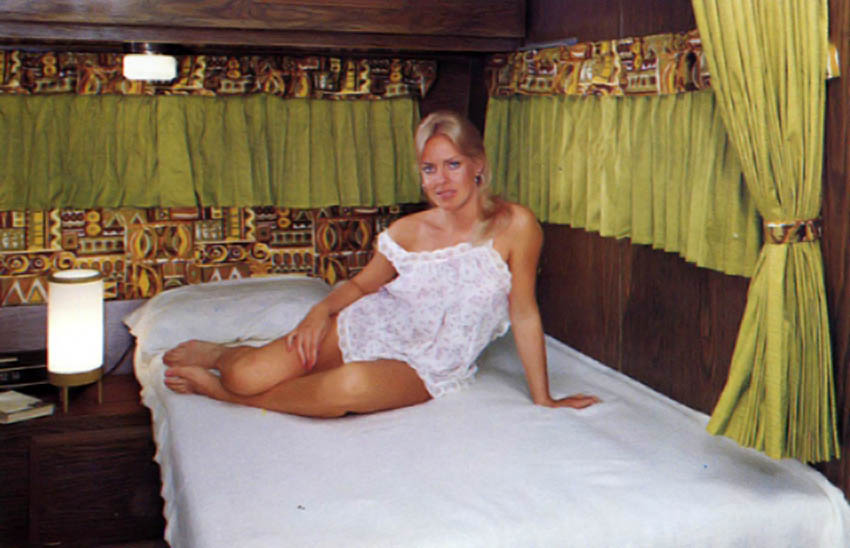 A big tip of the hat to Retrocrush.com which first brought this wonderful brochure to light way back in 2004.