In 1934, the New York Police Department finally let women officers carry guns. The first female cop to fire one in the line of duty was undercover officer Mary Shanley (born Ireland 1896 – died New York 1989), who shot her Colt Official Police revolver to warn a suspect on 53rd Street to stop running or else.
"You have the gun to use, and you may just as well use it," she said.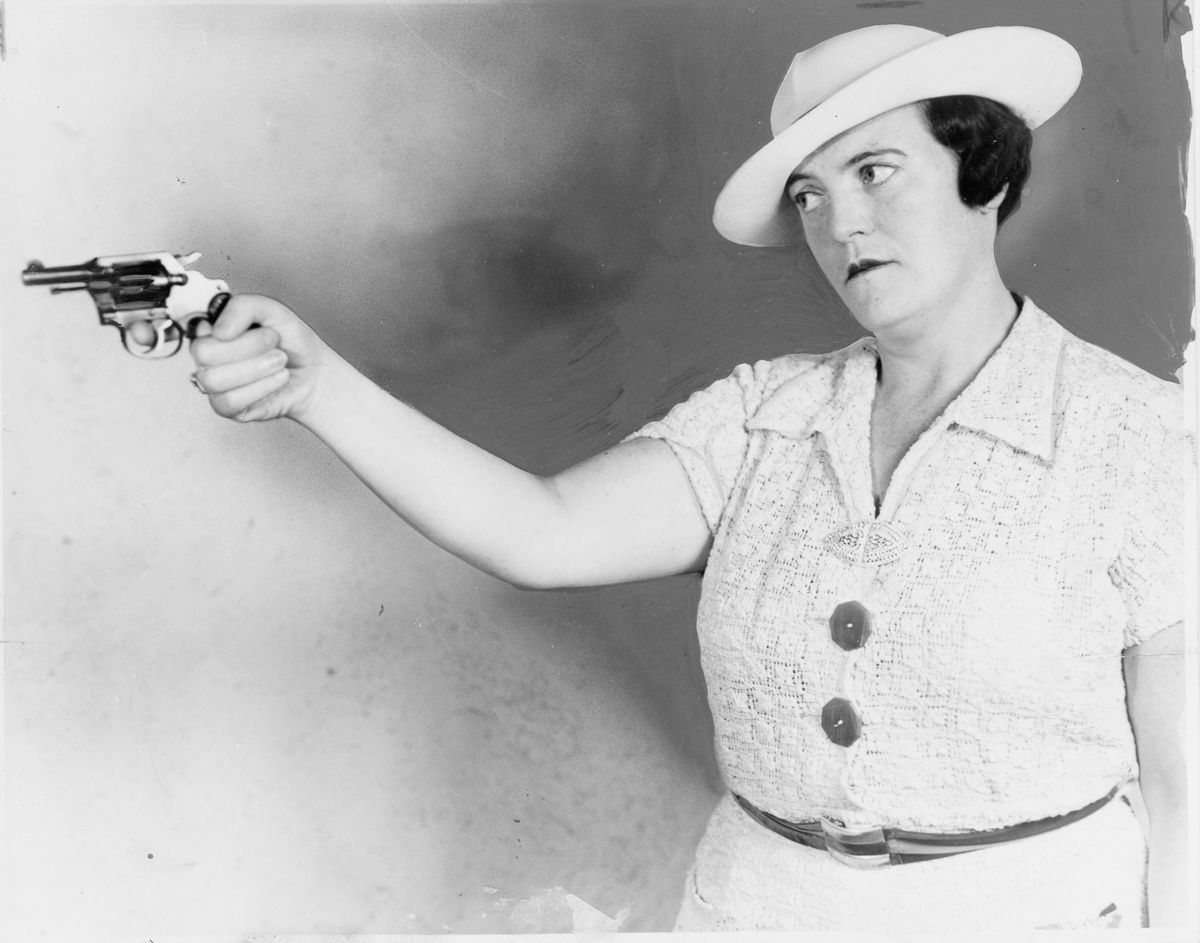 "Deadshot Mary", as she came to be known, joined the police in 1931 and by 1939 had risen to the rank of Detective First Grade – she became only the fourth woman to make the rank.
The New York Times wrote of her in 1938:
In more than seven years on the police force Miss Shanley has had considerable experience with man-catching. Sometimes she has had to use her .32-caliber revolver. Once she used her leather pocketbook to knock down her quarry… Mayor La Guardia once praised her for demonstrating "not only keen intelligence and fine police work but also courage at a moment when courage was needed."
Mary Shanley would co-opt civilians into her efforts, often taking along her niece to pose as a mother-daughter team while browsing for shoplifters in Macy's department stores.
She posed as a worshipper during Mass at St. Patrick's Cathedral. Dressed in black suit, black hat and glasses, Detective Shanley saw the light: a female pickpocket had taken cash from a woman kneeling in prayer. Shanley fired two shots to stop the woman from fleeing.
The Panama City News Herald (Panama City, Florida) profiled her work on February 4, 1939:
When Mary Shanley mingles with the well-dressed shoppers in a Fifth Avenue store or with the pushing housewives in a 14th Street bargain basement, she is one of them. If she stood out from the crowd, she wouldn't be any good at her job.

For she is Detective Mary Shanley of New York's pickpocket squad, who always carries a .32 revolver in her bag and is the only woman in New York police history ever to reach the rank of second grade detective.

"Detectives assigned to the pickpocket squad aren't given leads," says Detective Shanley, who has red hair and hazel eyes and looks as though she might be a college physical education instructor, "so I start my day by dressing to suit the neighborhood I have decided to work in."

All day long, she wanders through department stores, stands in theater lines, and pushes her way into crowds. Five times a day she reports to the department by telephone.

When anyone looks suspicious, she follows him or her, as the case case may be. Usually it's a her, for Detective Shanley does her work where there are crowds of women.

"I can usually tell in 20 minutes whether a suspect is legitimate or not. Often when I have a hunch there is something phony about a woman, I trail her a whole day without seeing her try anything funny. If that happens, I trail her home, and then look for her picture in the police files. If I find it, I keep after the woman until I catch her at work."

Detective Stanley has, among the arrests to her credit, the names of 12 of the country's slickest female pickpockets.

Arrests aren't always made without a chase or a struggle. Just a few weeks ago shopping crowds were startled to see a woman, pistol drawn, chasing a man in and out of Fifth Avenue traffic. It was Detective Shanley, after a criminal of many arrests. She got him, too.

Detective Shanley likes her job. "It's exciting," she says. "Right now, especially so. For I'm being sent to London this week. I'd die if I had to go back to working in an office."

It's the first time a woman detective has even been sent to Europe on a case, and Mary Shanley is as excited as any woman would be over a trip abroad.
Mary Shanley was such a common presence in the newspapers it's a wonder every villain in the city didn't know her face. Here are some reports on her work:
Patrolwoman Mary Shanley ordered two suspicious characters, neither of them weaklings, into the lobby of the Longacre Building in Times Square shortly after 10 o'clock last night. They complied, for everything in the policewoman's mien indicated determination — even the firm grasp of her right hand on her service pistol.
– New York Times, 25 Sep 1935

Policewoman Seizes Two Men Without Aid; Arrests Two Sturdy Suspects on Broadway.

Detective Mary Shanley of the pickpocket squad added another "pinch" to her record yesterday. This time, however, she had to fire two shots to accomplish the deed. Detective Shanley, who is a brunette weighing 150 pounds
– New York Times. 12 Apr 1936.
Shopping crowds on Fifth Avenue in the lower-Fifties were treated to the spectacle of a woman, pistol in hand, chasing a man down the avenue yesterday afternoon. They were unaware that the woman was Detective Mary Shanley of the pickpocket squad, performing :her regular duties.
– New York Times. 10 Jun 1937.
And in the Brooklyn Daily Eagle:
"Gypsies welcome, says court, if they stop fortune-telling" – Brooklyn Daily Eagle. 26 October 1933.
This report from the Brooklyn Daily Eagle. 7 Mar 1950 stands out:
"Woman detective captures youth on rampage with gun"
The 54-year old Shanley took on a mentally ill 22-year old man who had burst into Macy's with a gun. As customers ducked for cover, Shanley appeared behind the man aiming her own pistol. She told him "Drop that gun, boy." His revolver clattered to the floor.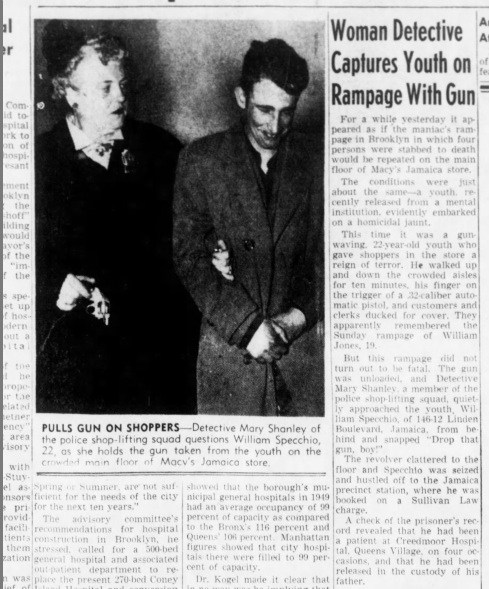 Mary Stanley's record was not unblemished. In 1941, she fired her gun while off-duty and drunk at the Spanish Rail saloon bar in Jackson Heights, Queens. The New York Times reported: "Mrs. Mary A. Shanley Fires Shot in Barroom After Drink Is Refused."
According to the paper, Detective Shanley, in the company of her bulldog, Jiggs, was insulted by a man drinking at the end of the bar with some friends. She brandished her gun and shot in his direction, narrowly missing him. She was arrested and charged with "conduct unbecoming an officer and overindulgence in intoxicants".
She was demoted from first-grade detective to policewoman and placed under suspension, but returned to duty after only a month. She was promoted to detective again later.
Deadshot Mary Shanley retired from the force in 1957.