Across the centre spread in an issue of underground paper IT, Bubbles worked with Hawkwind lyricist/vocalist Robert Calvert to create a cut-out-and-keep tarot card pack using titles and lyrics from In Search Of Space tracks. The pack of cards was also thematically linked to the 24-page Hawkwind Log booklet the pair produced for ISOS, and there are references to newer songs including Silver Machine, which would provide the west London space-rock collective with their breakthrough hit the following summer.
Such playful methods of engagement were hallmarks of Bubbles' work, particularly in this period.
For example, Bubbles' design for the debut album by Chilli Willi And The Red Hot Peppers a few months later featured a colour-yourself sunset and a cut-out bowtie insert. There were also inserts incorporating a self-assembly paper geometric dome and a silver laminate pyramid in spring 1972's Glastonbury Fayre triple-LP package.
Around that time, Bubbles used a Hawkwind feature for another underground paper, Frendz, to create a series of layouts with photographer Pennie Smith which comprised the cut-out panels of a kite. Much later, of course, he instituted such exercises as the build-your-own-poster music press advertising for Elvis Costello's 1977 LP My Aim Is True.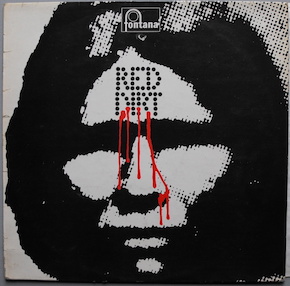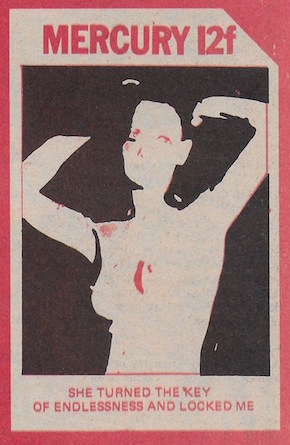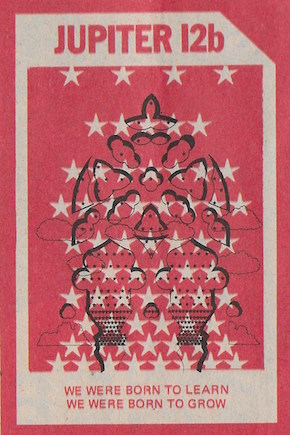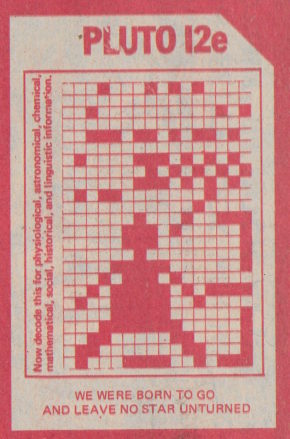 Plundering imagery from comic books to Eastern mysticism for the pack, the self-referential Bubbles even détourned his own work for certain cards, utilising graphics applied to other projects and prefiguring design approaches he would take in the future.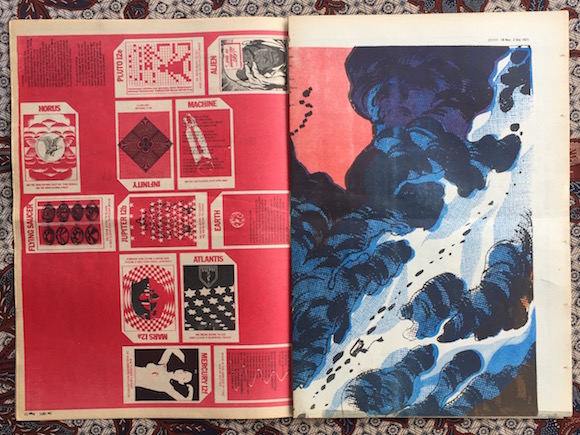 Wrapped inside the tarot card double page spread was an environmental awareness fold-out poster backed by adverts, including one for In Search Of Space.
With text referring to concerns about the ecological impact of industrial society by 1980, an illustration, credited to "B. French", depicted a bare-breasted figure on a spaceship playing a chord on a giant organ amid an apparently catastrophic explosion. This again is linked to the Hawkwind Log, the subject of which is a visit by a spaceship to earth in 1985, by which time our planet has under4gone a serie sof environmental catastrophes.
The comic book trope of a figure zipping through space was used by Bubbles within a couple of months in two more elements of the Glastonbury Fayre packaging: the Silver Surfer cover of the clear vinyl envelope which contained the constituent parts, and the poster of a gnome-like figure escaping the void and exclaiming: "Great stellated icosaduo-decahedrons! What kind of magic mushroom was that?"
Copies of the 2010 second edition of my book Reasons To Be Cheerful : The Life & Work Of Barney Bubbles are becoming scarce. The final signed copy I am putting up for sale is here.