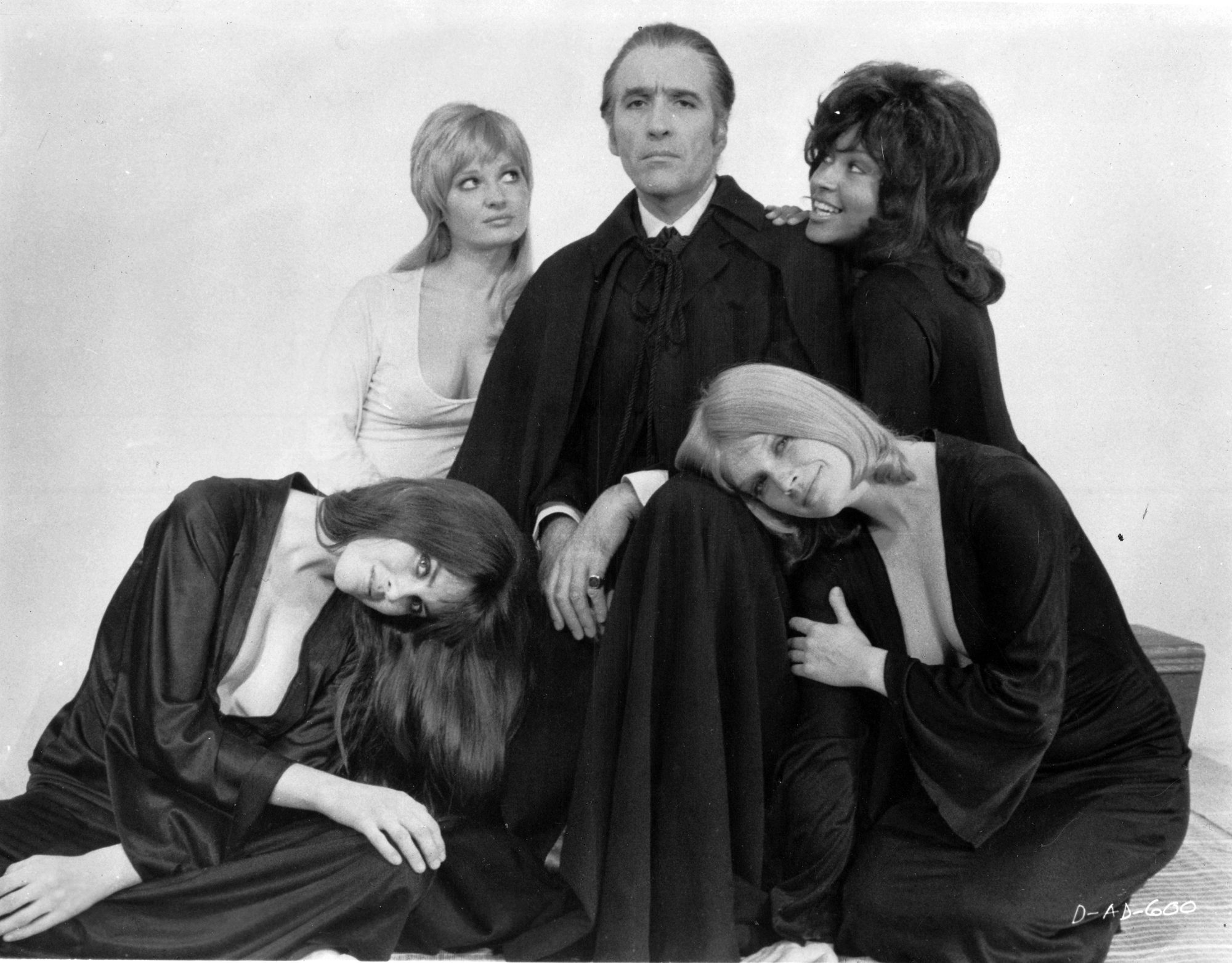 We've presented you before with guidebooks to the women of A Man Called U.N.C.L.E. (The Women from U.N.C.L.E.) and Star Trek (Beam Me Up Totty: The Babes of Star Trek). Now it's time to tackle perhaps the greatest babe catalog of them all: "The Hammer House of Cleavage"…. er, I mean "Horror".  Only the Bond movies hold a candle to the bodice popping Hammer lineup.
You remember these flicks: The most memorable being the Christopher Lee/Peter Cushing films, always featuring at least one well-endowed gal.  We've presented you with them before; however, it's time to dive in  methodically, being as comprehensive as time will allow.  Are you up for it?  A warning: Cleavage saturation levels will be reached.  Proceed with caution.
1. Stephanie Beacham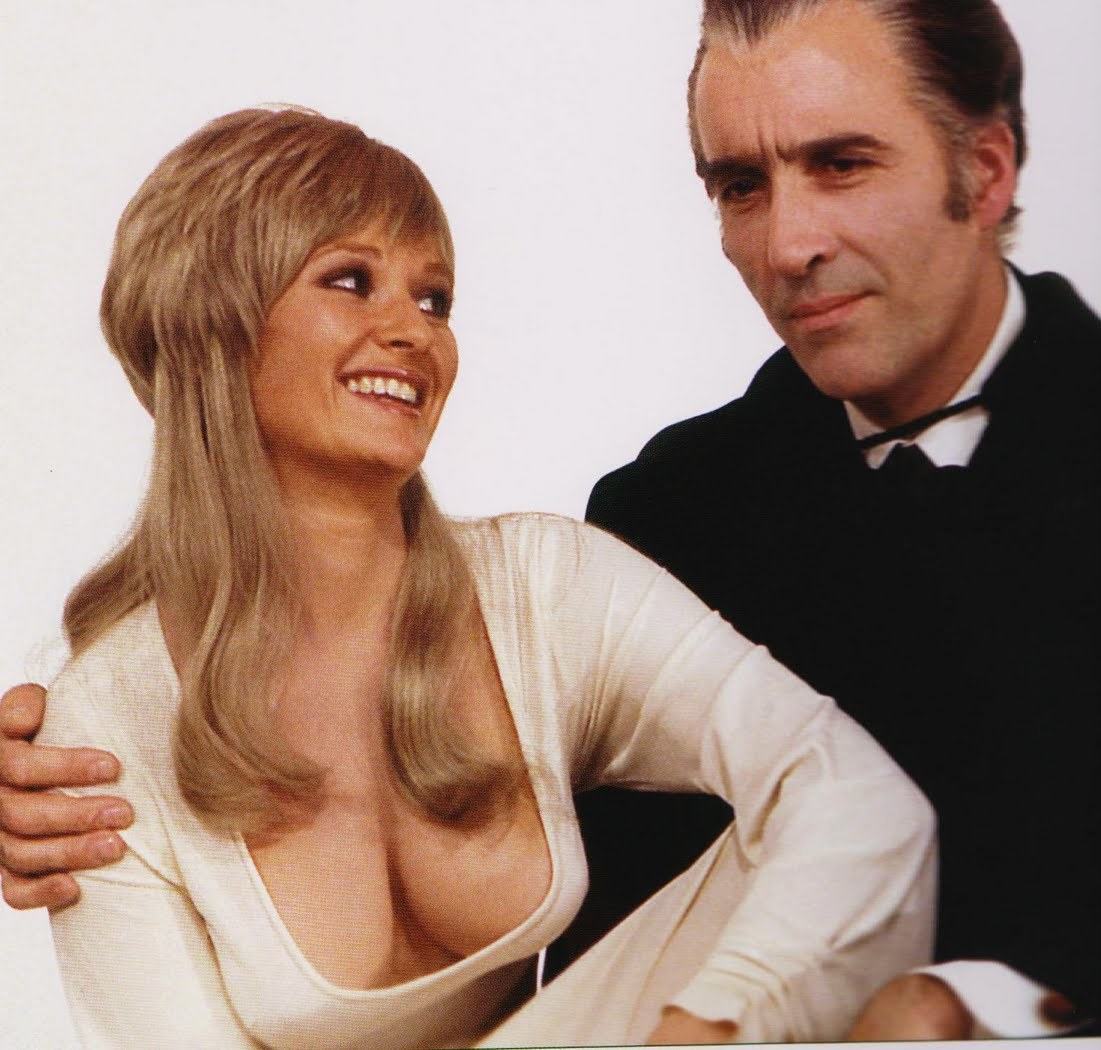 Hammer Film: Dracula A.D.1972 (1972)
After her Hammer days, Beacham moved on to The Colbys (1985) a spinoff of Dynasty.  Unfortunately, during this time her nude photoshoot for Playboy surfaced, and she lost a very lucrative cosmetics deal.  Despite this, she says the only thing she regrets about the nude pictorial is the ugly wig she wore.
Also of interest, Stephanie has been nearly deaf most of her life (partially in one ear, completely in the other).
2. Pippa Steel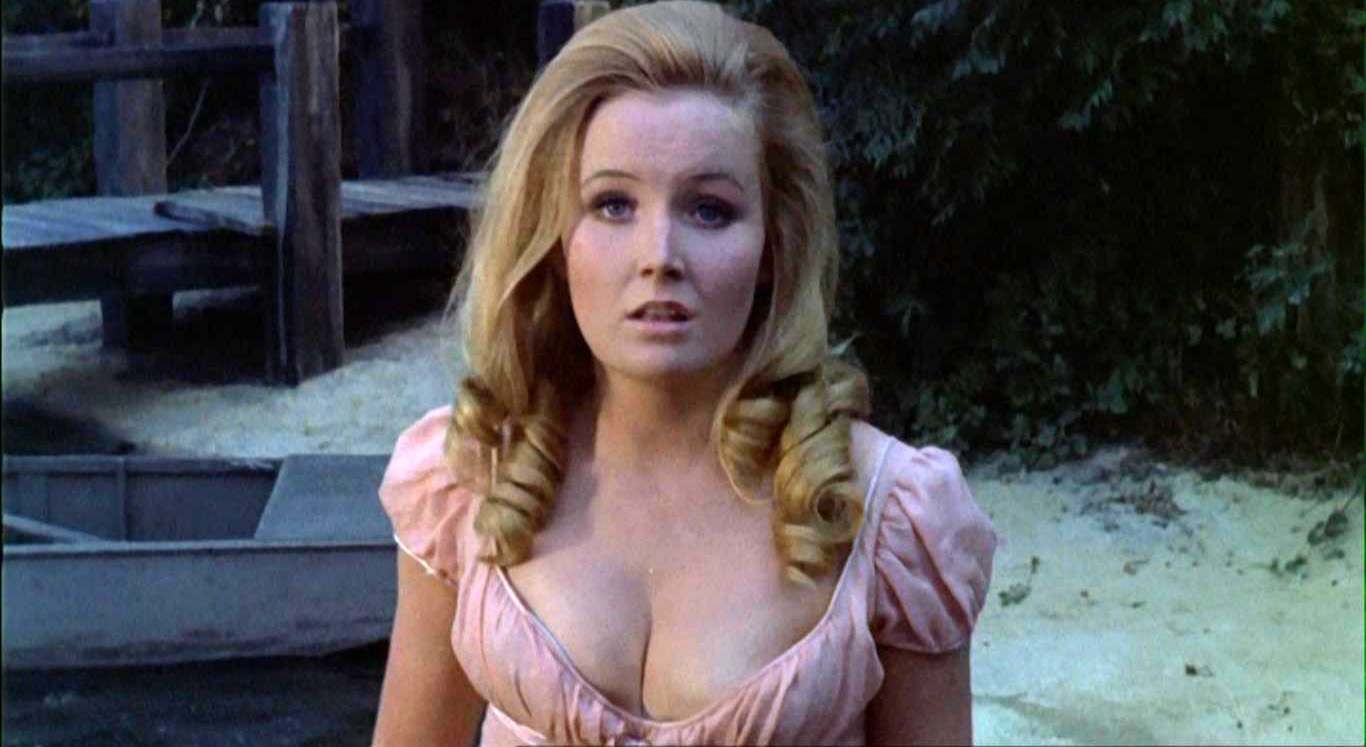 Hammer Films: The Vampire Lovers (1970), Lust For A Vampire (1971).
Pippa got out of the acting biz entirely in 1978 and decided to start her own catering business with her husband.  Sadly, she died of cancer at the young age of 42.
3. Linda Hayden
Hammer Film: Taste The Blood Of Dracula (1970)
The following year, Linda bared all in the non-Hammer horror flick Blood on Satan's Claw (1971), then continued the trend of disrobing in a series of raunchy British comedies: Confessions of a Window Cleaner (1974) and the subtly titled Let's Get Laid (1978).
4. Valerie Leon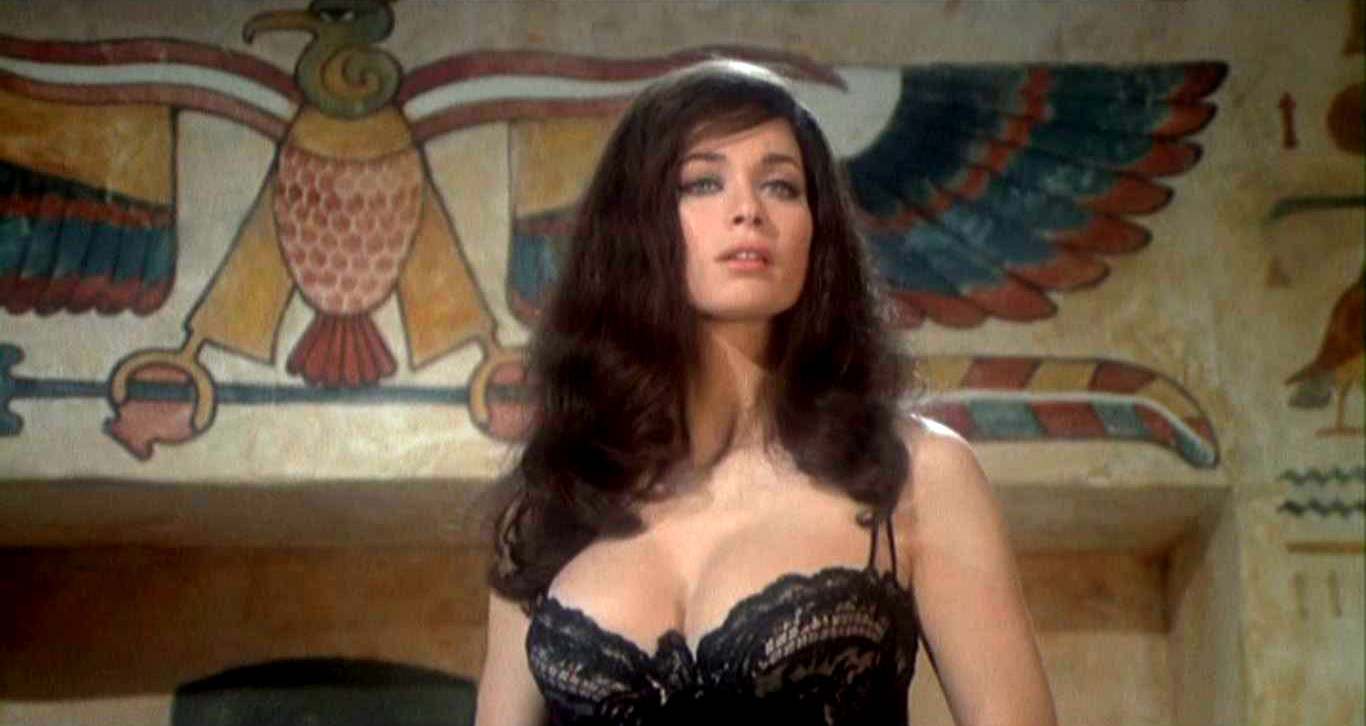 Hammer Film: Blood of the Mummy's Tomb (1971)
Sure, she's probably best remembered for her seveb Carry On films and her role in The Spy Who Loved Me, but I'll always remember her best from one of Hammer's greatest, Blood of the Mummy's Tomb…. of course, who can forget her Hai Karate commercials?
5. Jenny Hanley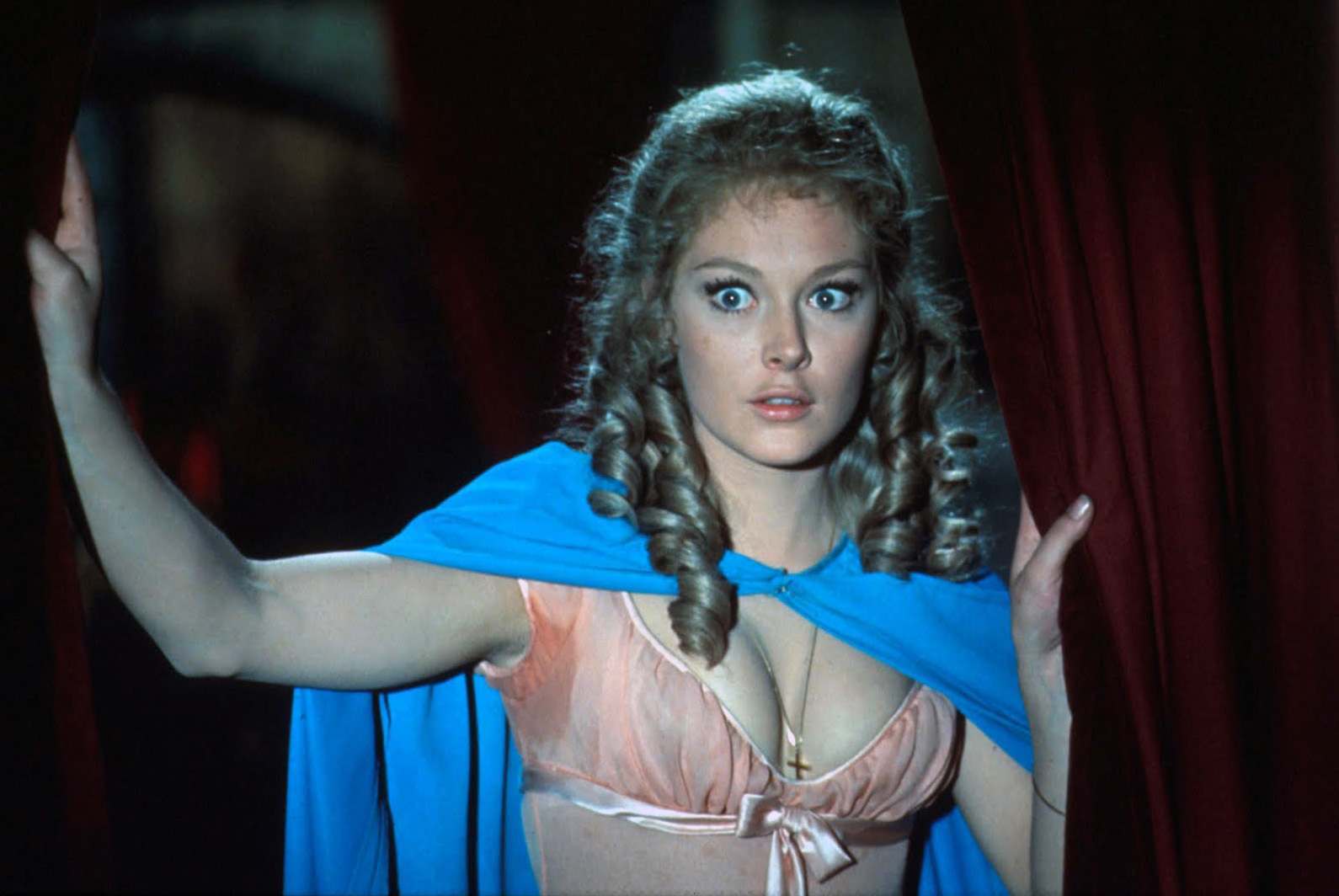 Hammer Film: Scars Of Dracula (1970)
Had a brief role as The Irish Girl in On Her Majesty's Secret Service (1969) and popped in and out of British television in the 1970s and 80s.  In Scars of Dracula her voice is actually dubbed – her voice was considered too "low and grown up" for the innocent young character she played.
6. Kate OMara
Hammer Films: The Horror of Frankenstein (1970) and The Vampire Lovers (1970)
Kate would go on to further success on Dynasty (as Alexis' sister) and Doctor Who.  In the Hammer films, she had a bad habit of being dead/unconscious on her back for maximum cleavage exposure.
Katie actually began her career as a speech therapist.  Sadly, she passed away from ovarian cancer in 2014.
7. Martine Beswick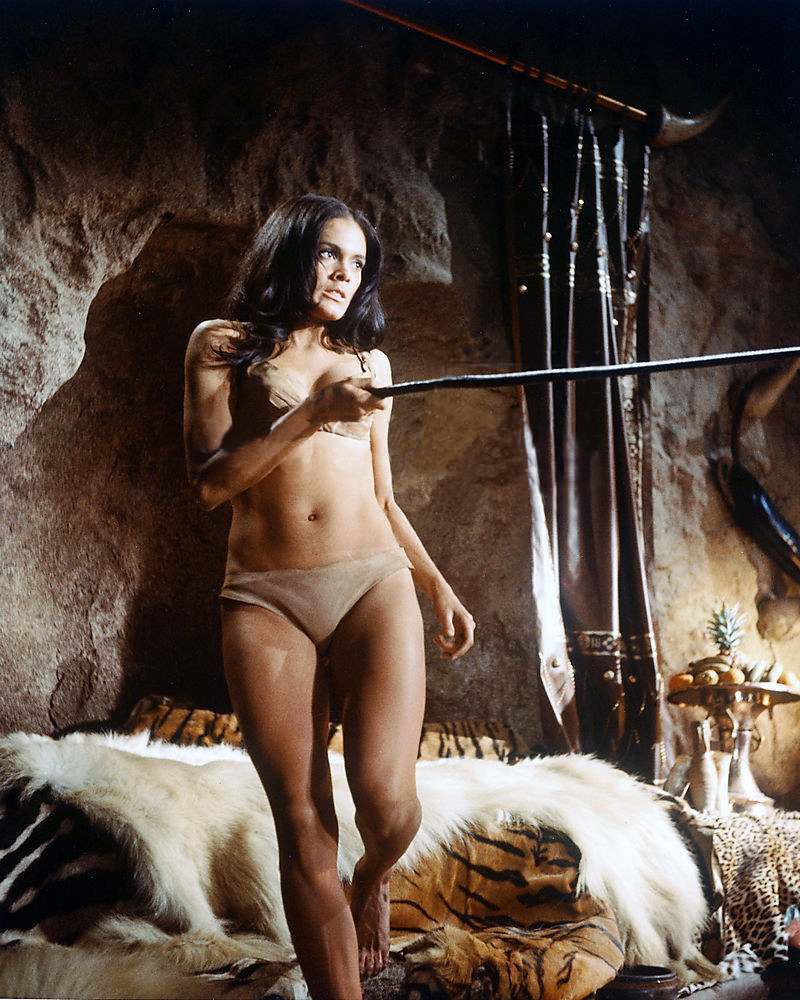 Hammer Films: One Million Years B.C. (1966), Prehistoric Women: (1967) and Dr Jekyll and Sister Hyde (1971)
Martine was Miss Jamaica before landing roles in two Bond films: From Russia with Love (1963) and Thunderball (1965).  She got the part in Dr. Jekyll and Sister Hyde when Caroline Munro turned it down due to a nude scene.  She called Prehistoric Women "the silliest film ever made".
8. Susan Denberg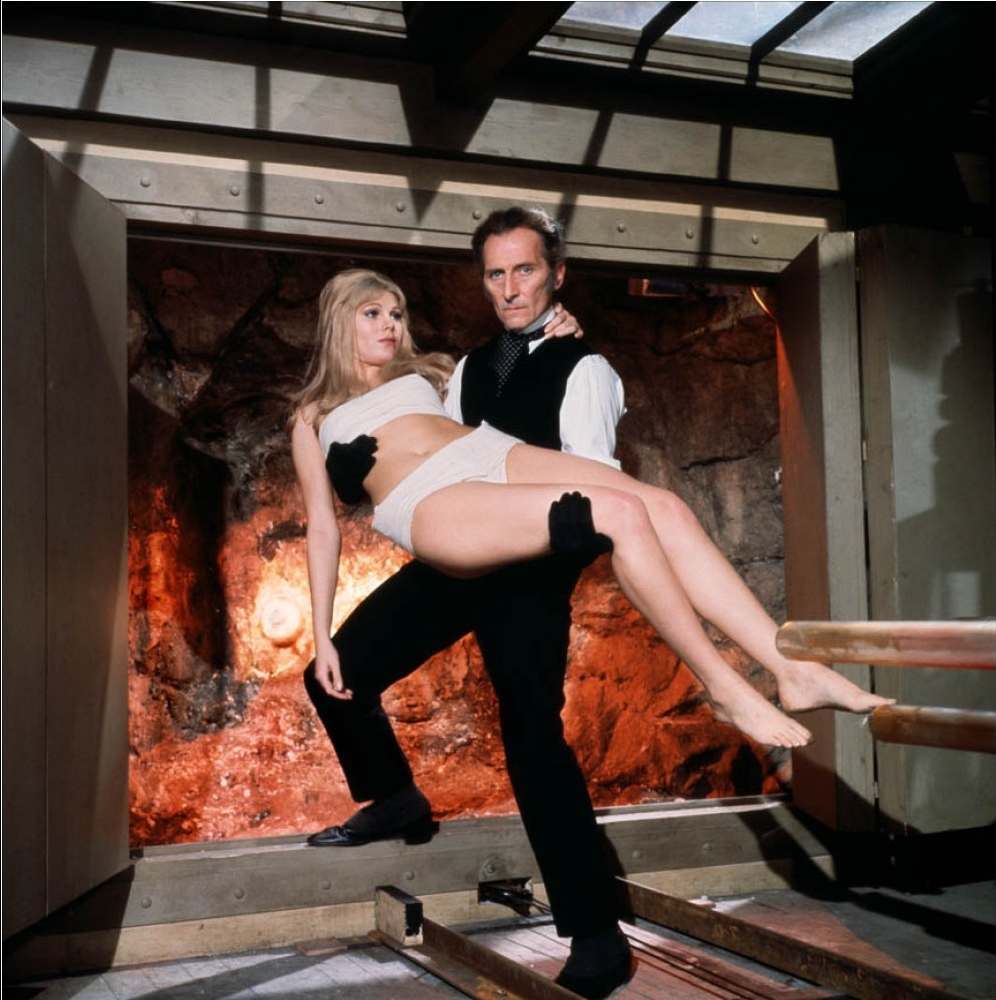 Hammer Film: Frankenstein Created Woman (1967)
She was born Dietlinde Zechner in Germany and became Playboy's Playmate of the Month in 1966. She went on to star in a memorable episode of Star Trek ("Mudd's Women") then got the Hammer role.  Unfortunately, Ms. Denberg had to retreat to Austria to be with her family after hard drugs (including LSD) had taken their toll.
9. Virginia Wetherell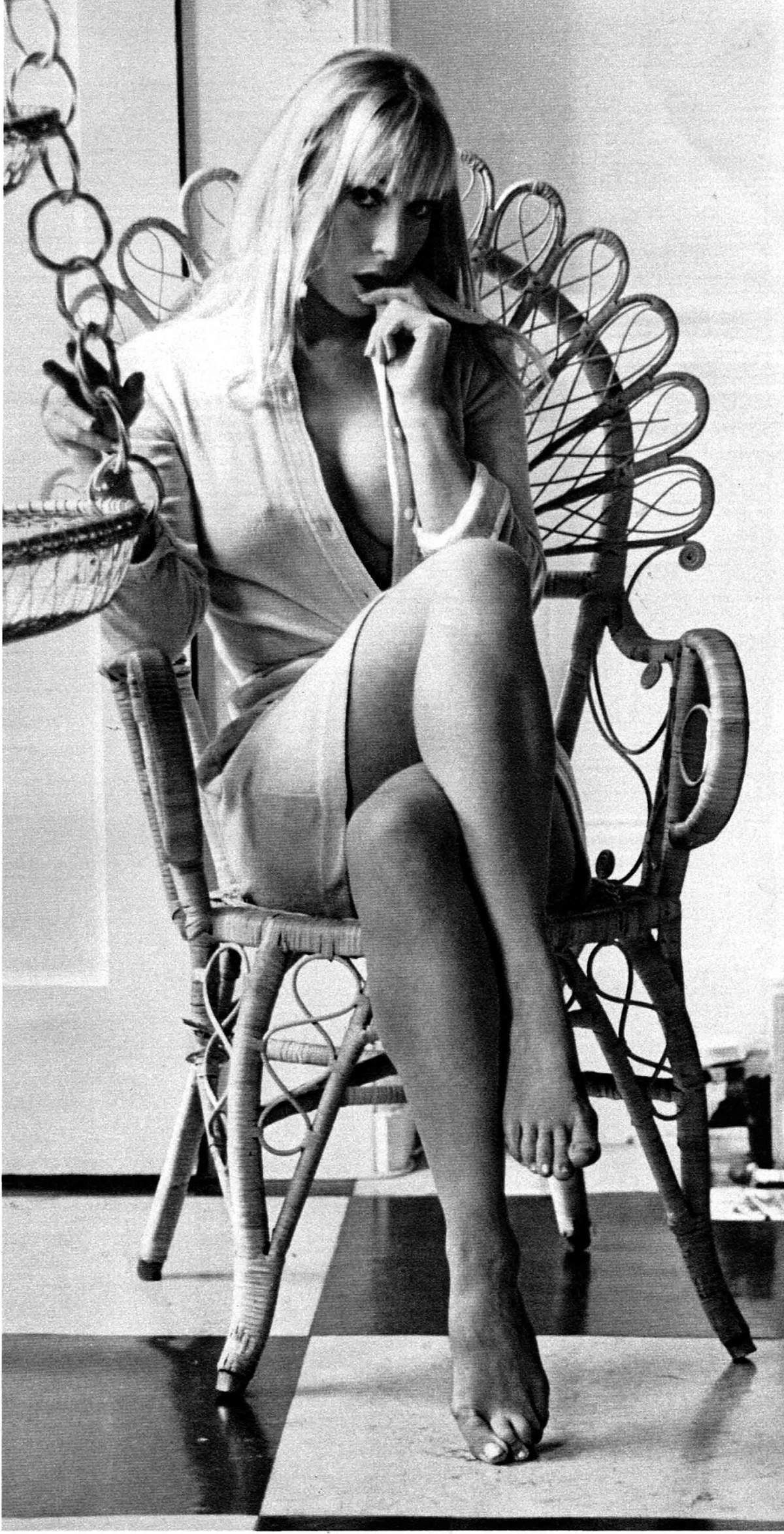 Hammer Film: Dr Jekyll and Sister Hyde (1971)
Plays a prostitute who gets killed in Dr Jekyll and Sister Hyde (1971) and a fairly memorable scene (albeit short and in the buff) as a "stage actress" in A Clockwork Orange.  She currently runs an antique clothing store in London.
10. Ingrid Pitt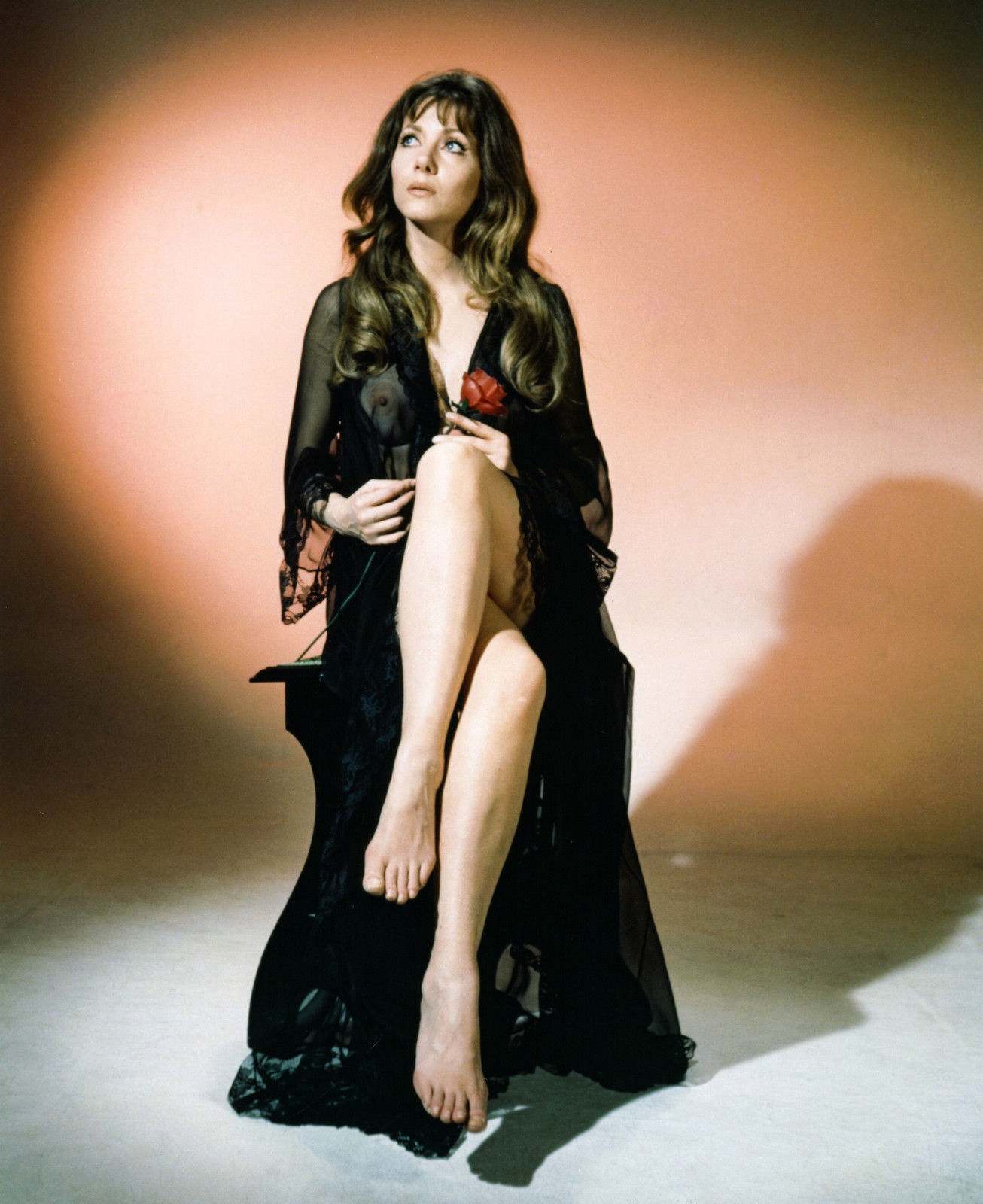 Hammer Films: The Vampire Lovers (1970) and Countess Dracula (1971)
Born Ingoushka Petrov, she spent three years in a Nazi concentration camp before escaping (and marrying the guy that helped her get out).  If you had to pick THE Hammer Horror babe, Ingrid Pitt would be a safe choice.  She strengthened her scream queen status even further appearing in the Amicus horror anthology film The House That Dripped Blood and the classic Wicker Man (and, no, it's not the one with Nicholas Cage).
11. Joanna Lumley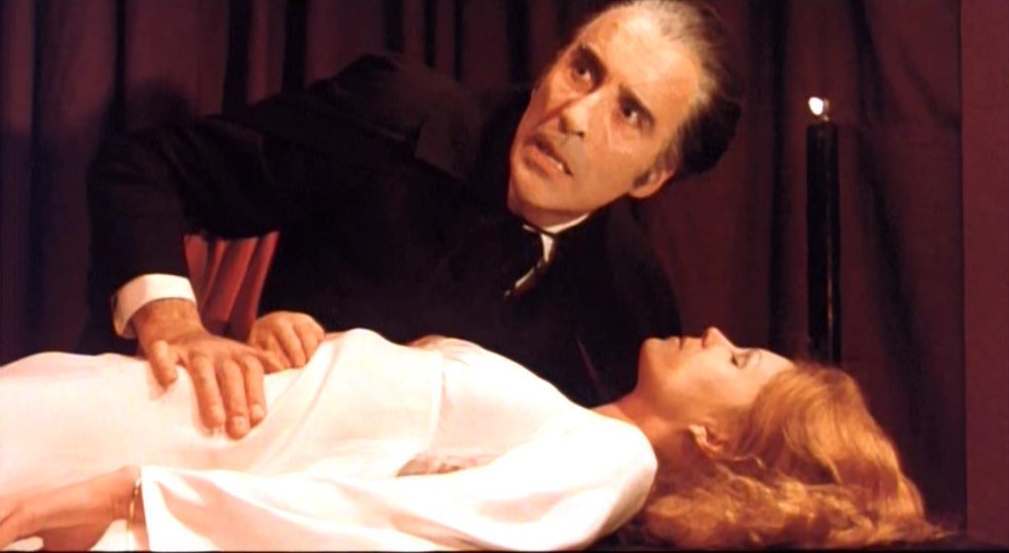 The Satanic Rites Of Dracula (1972)
Who doesn't love Joanna Lumley (Absolutely Fabulous)? Unfortunately, she came on the Hammer scene too late.  The mojo was gone.  Lumley plays basically the same role as Beacham played in Dracula AD 1972; however, the thrill is over.  This film marks the sharp downward turning point for Hammer.
12. Veronica Carlson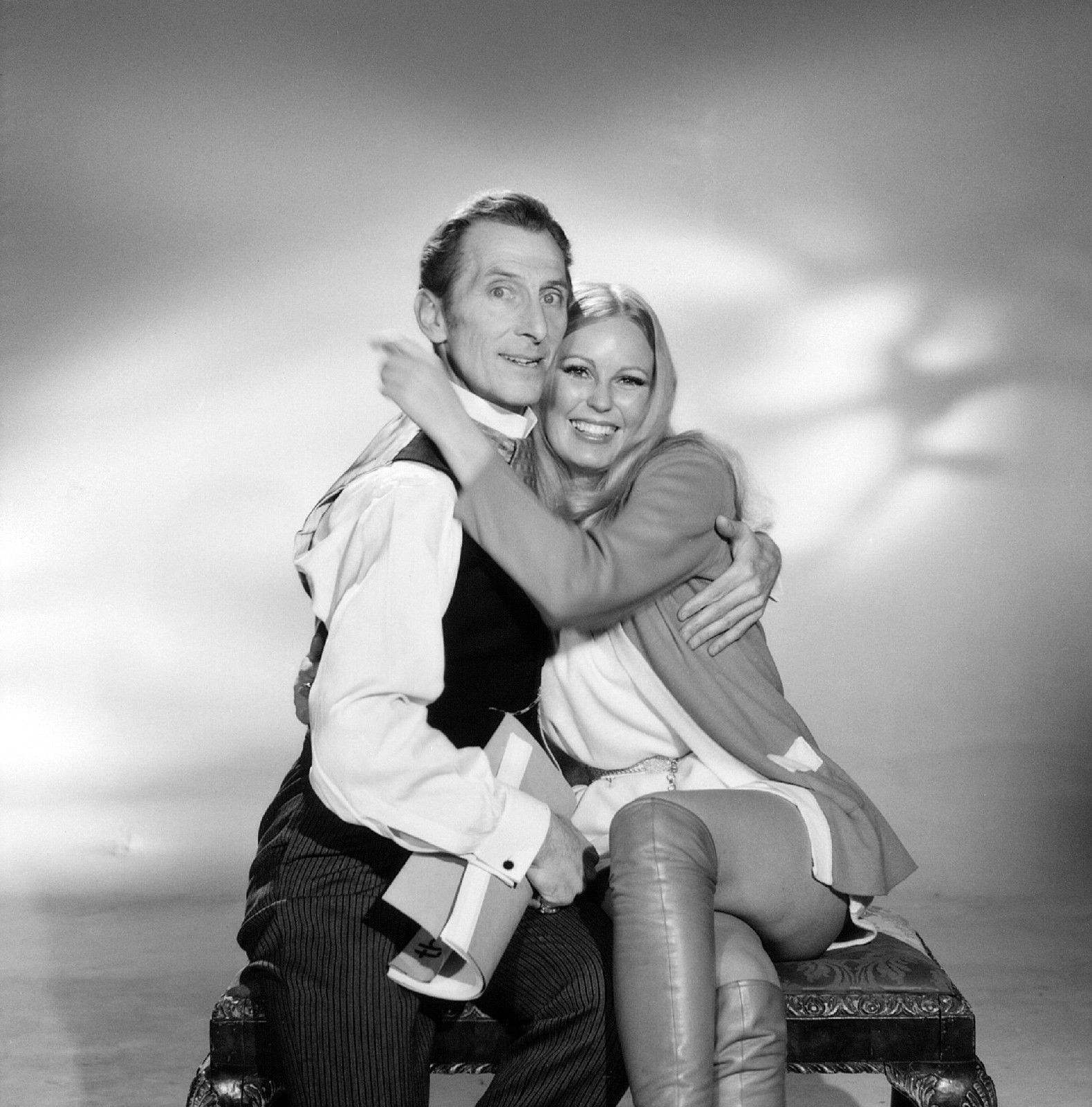 Hammer Films: Dracula Has Risen from the Grave (1968), Frankenstein Must Be Destroyed (1969) and The Horror Of Frankenstein (1970)
Cushing and Carlson look so happy together don't they?  You'd never guess Frankenstein Must Be Destroyed would contain one of the most uncomfortable rape scenes in cinema history between these two.
This is more like it….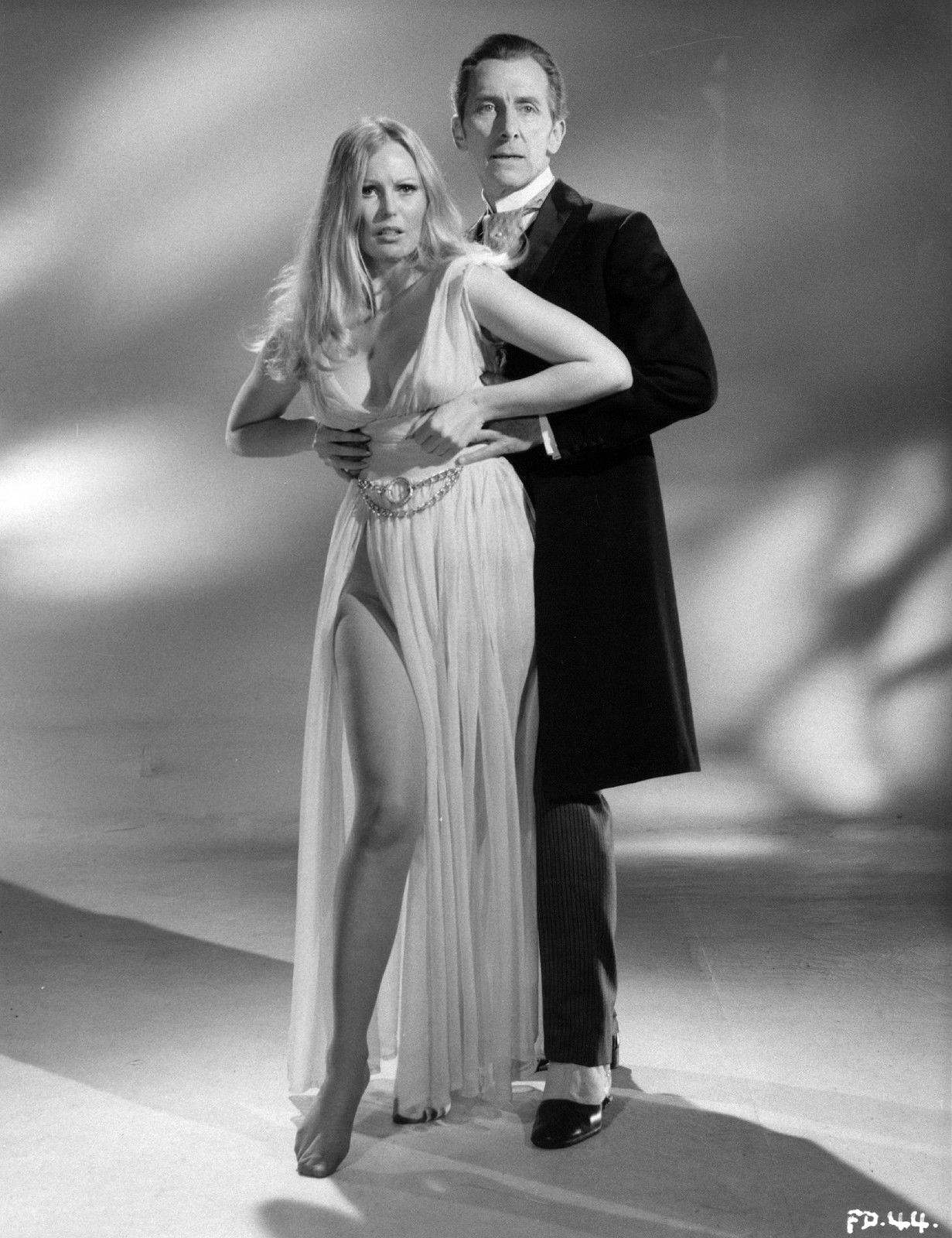 I would have expected Veronica to vault to bigger and bigger fame, but it was not meant to be.  Her star faded, and she retired to Florida where she reportedly is a succesful painter.
13. Madeleine and Mary Collinson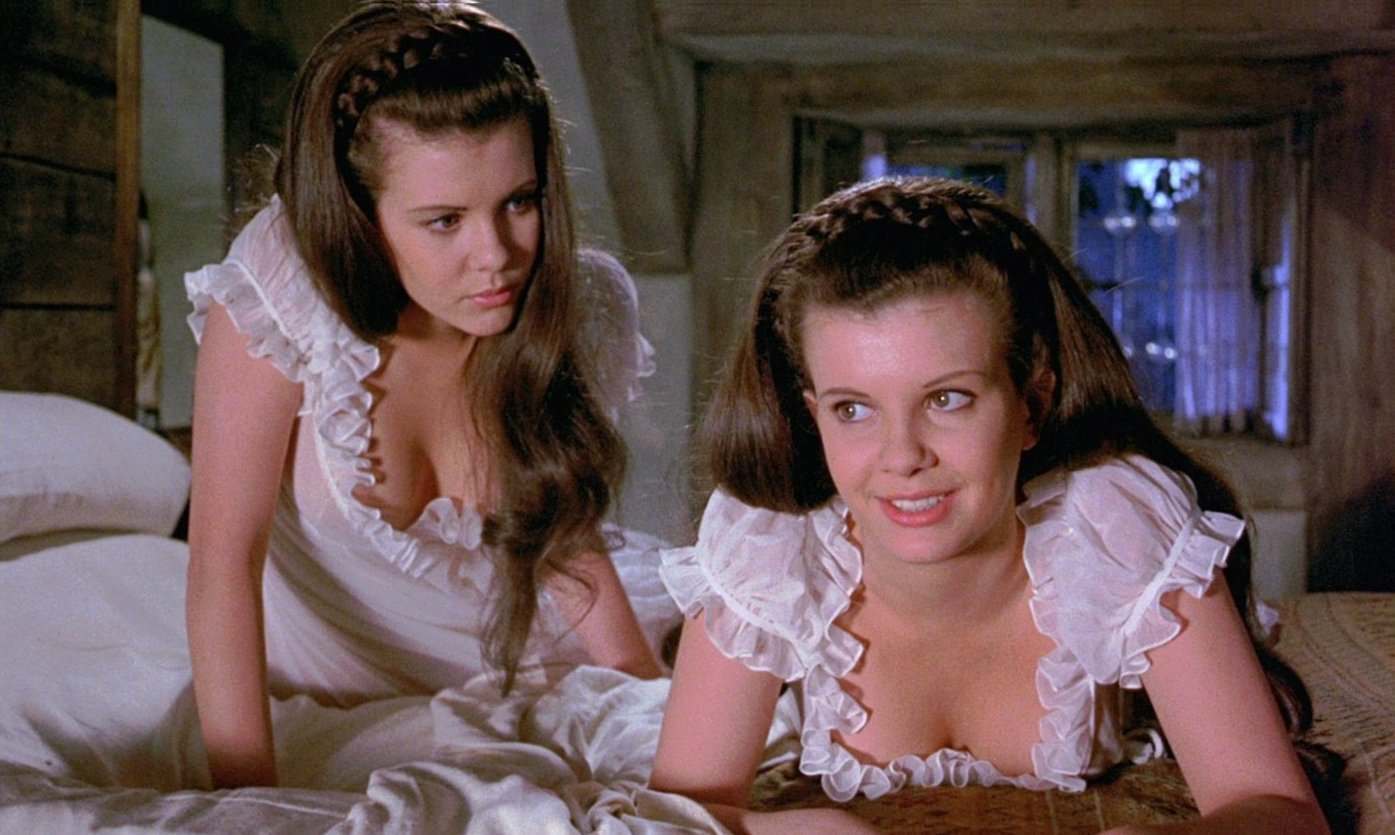 Hammer Film: Twins of Evil (1971)
You see this time and again with actresses from this period: they get naked in a few B-movies, start to get a little bit famous (via a Hammer film, for instance), then "poof" – they're gone.  This exact career path happens for the next entry (Yutte Stensgaard); some low budget flicks requiring nudity, a Hammer film, then "poof".
In the case of the Collinson twins, they had barely made it off the island of Malta before they were getting naked for the camera.  First it was a Playboy shoot then The Love Machine  (1971) and Passion Potion (1971).  Twins of Evil was their big break – even getting an appearance on The Tonight Show.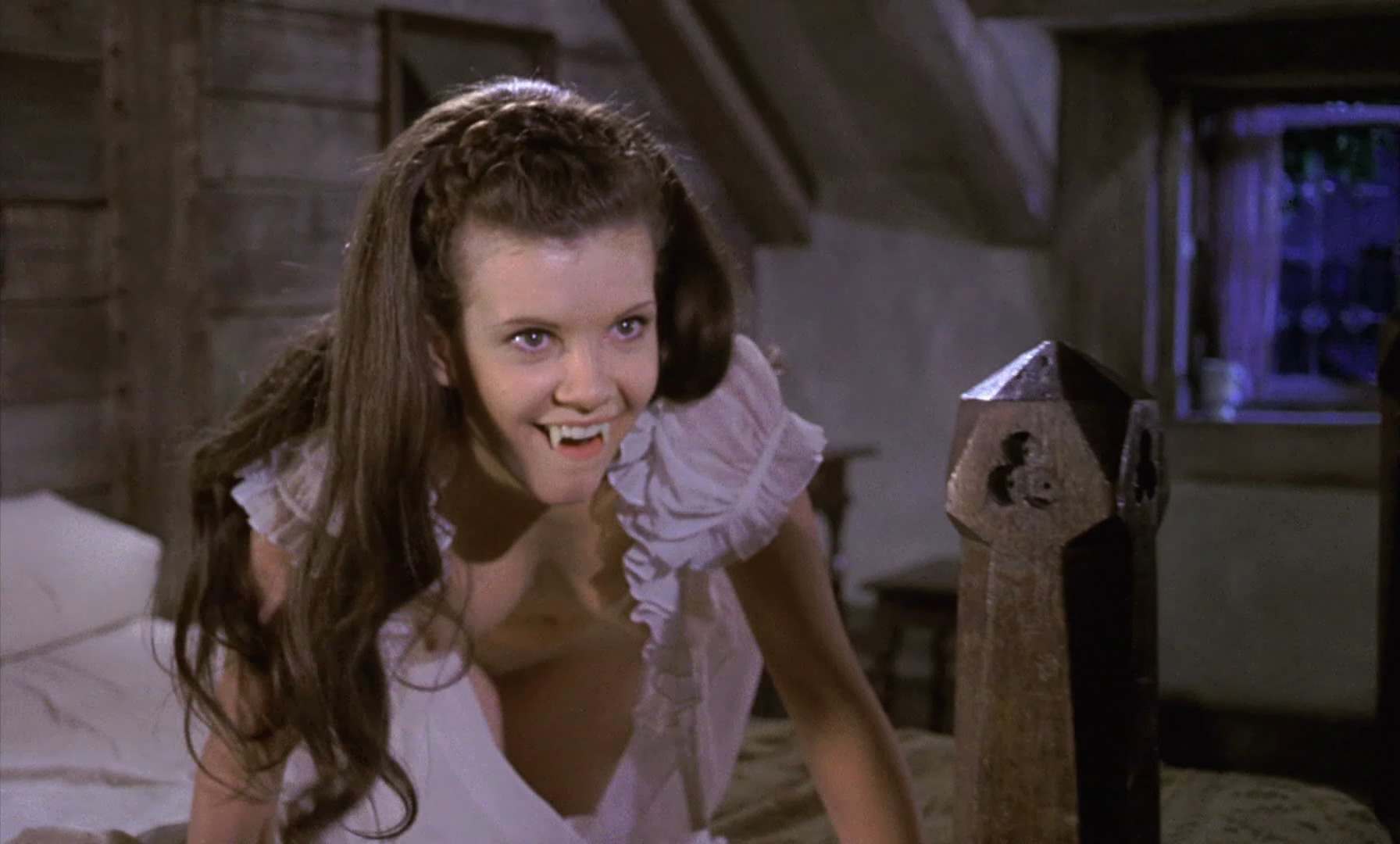 In 1971 there was a tidal wave of Collinson appearances in nudie magazines, plus three films.  But then, I suppose…. regret?  I don't know what happened, because both girls went back to Malta.  Madeleine married a Royal Air Force officer and raised two kids; her twin also had two kids, and both passed the ensuing decades far from the limelight.  Madeleine (pictured above) passed away in 2014.
14. Yutte Stensgaard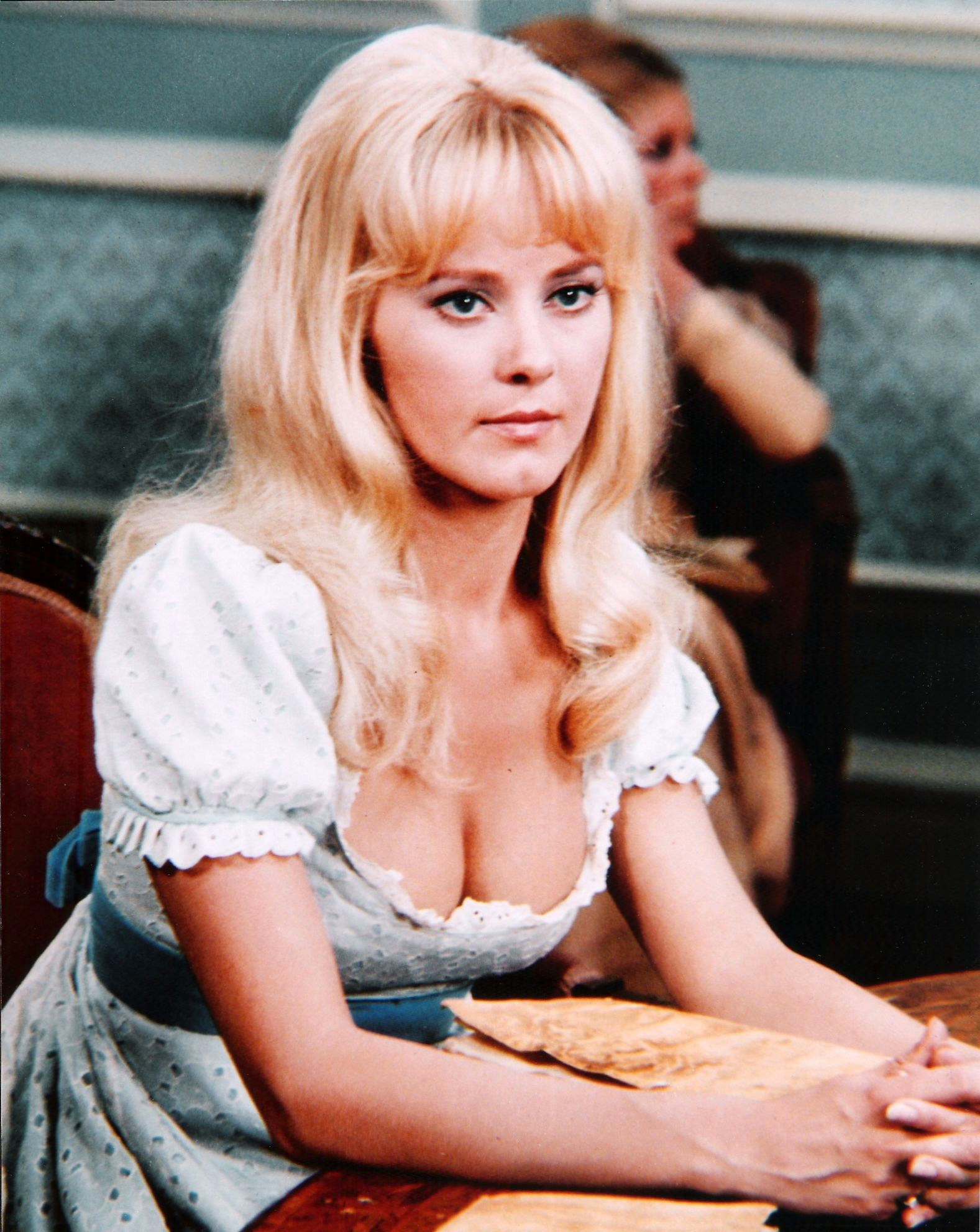 Hammer Film: Lust for a Vampire (1971)
Other than a few other B-movies requiring her shed her wardrobe, Yutte Stensgaard's claim to fame is the lead role in Lust for a Vampire (1971).  Her incredible beauty (and ready willingness to drop her top) made her a cult horror icon, despite this being her only substantive role.  Not long after, it seems poor Yutte had regrets about her film work and couldn't get taken seriously; so, she headed to the US and sold advertising on religious radio.  A born-again christian, she has been very hesitate to comment on (or even acknowledge) her former life.
15. Yvonne Romain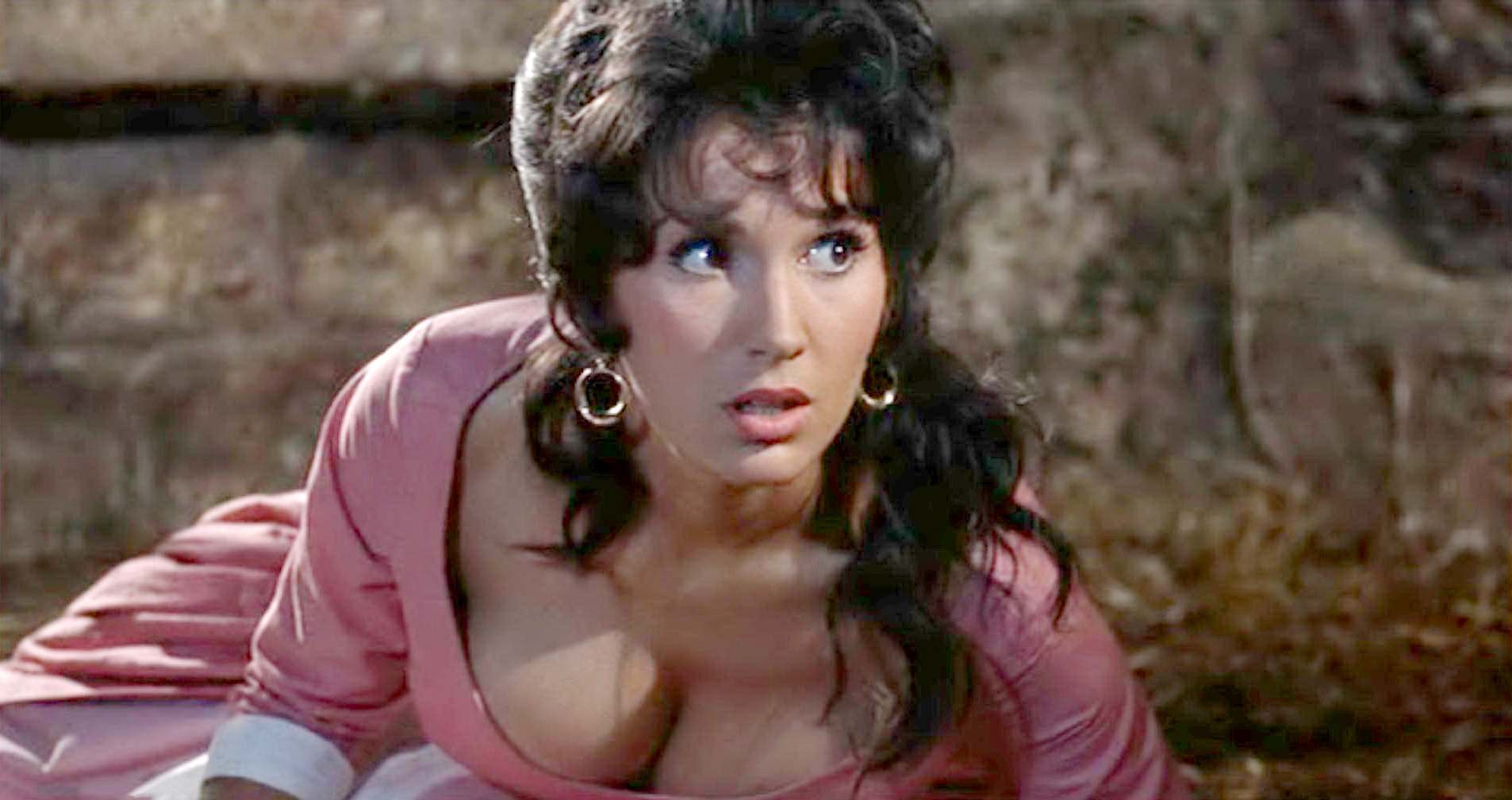 Hammer Film: The Curse Of The Werewolf (1960)
One look at Yvonne's filmography and it's instantly apparent every role is cleavage based.  "Serving Wench", "French Girl", "Servant Girl".. etc.  It's one minor, unnamed role after another, each highlighting abundant cleavage.  Curse of the Werewolf is no exception; except here she gets a meatier role as Oliver Reed's mom.  Trivia: Her husband wrote the lyrics for the Goldfinger (1964) and You Only Live Twice (1967) theme songs.
16. Caroline Munro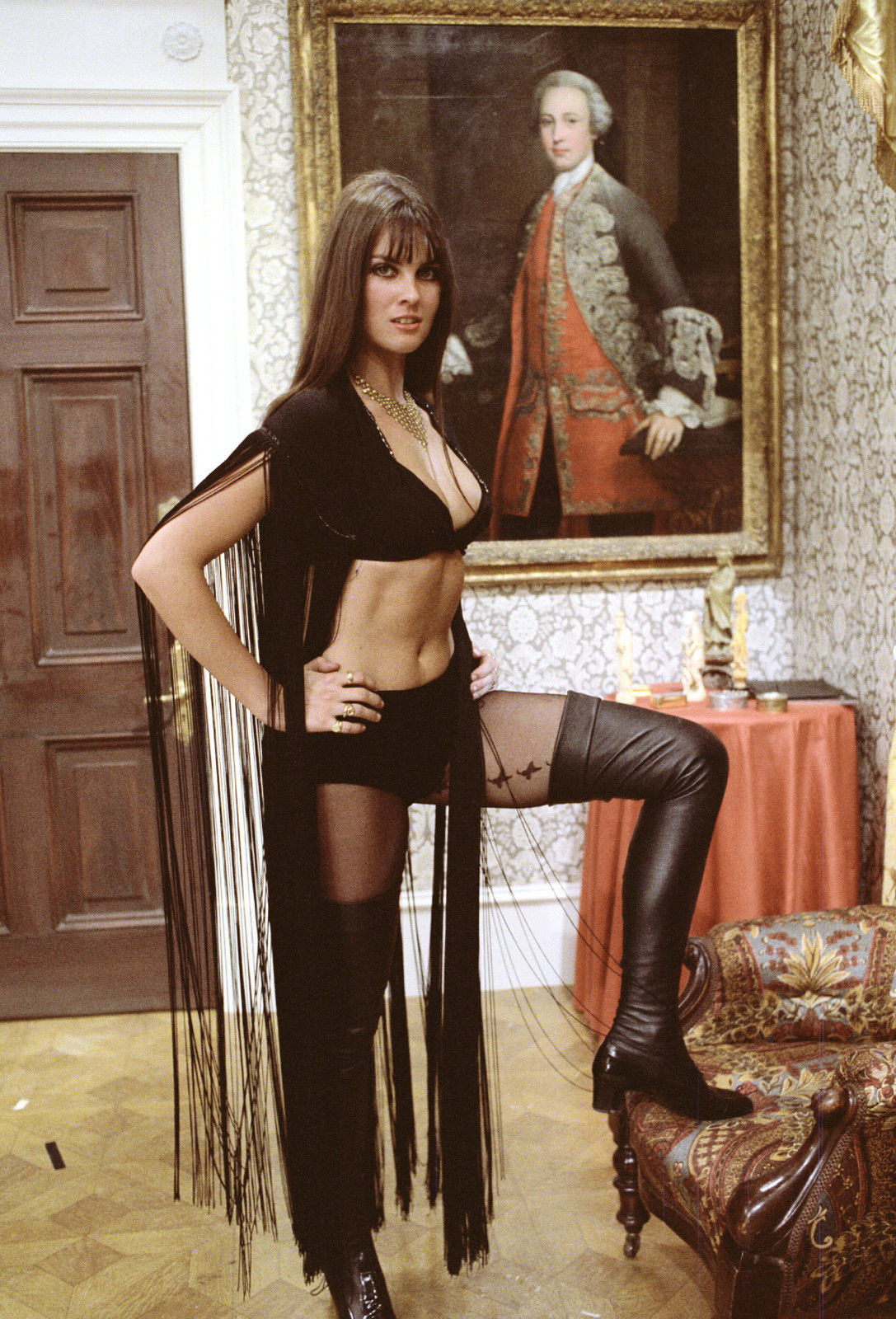 Hammer Films:  Dracula AD 1972 (1972) and Captain Kronos – Vampire Hunter (1974)
Munro was making a straight trajectory for stardom in the mid-seventies with a role in both a Sinbad and Bond movie; but, she chose to stay in Britain close to her family instead of taking it to the next level in Hollywood.  Caroline spent the next few years in B-movies; most notably, Starcrash with David Hasselhoff (1979).  She'd eventually film on American soil, but her ship had sailed.
Although there's certainly more Hammer babes to cover, we'll draw the line here.  Not only have Cleavage Saturation Levels been reached, they've been vastly exceeded.  Until next time.