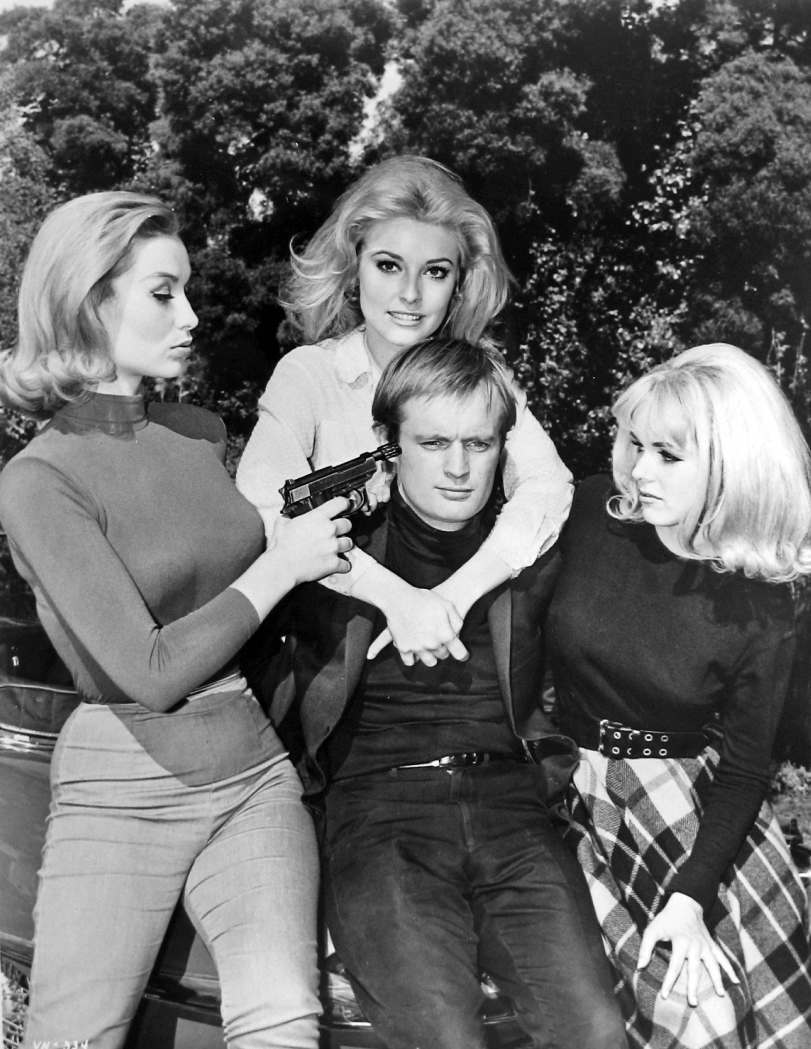 Much is made of the beautiful actresses who've appeared in James Bond films and the countless hotties who showed up in episodes of Star Trek.  However, when it comes to the greatest lineup of stone cold foxes, one franchise stands head and shoulders above them all:  I'm talking about The Man from U.N.C.L.E.
Extraordinary claims require extraordinary proof.  So, step aside 007 and Captain Kirk, here is but a tip of the iceberg of the many, many smoking hot foxes of The Man from U.N.C.L.E. (MFU).

Julie London – sultry songstress with a stack of records sizzling with sexuality.  Captain Kirk may have bagged his fair share of alien beauties, but he could never "boldly go" with a vinyl vixen.

Smoking Joan plays both a countess and a stripper.  Do we even need to go further with this list?

Abbe Lane plays "the most famous belly-dancer in North Africa".

I remember Danielle de Metz from Peter Sellers' The Party, but she was in a million TV shows, from The Flying Nun to Dr. Kildare.

Stefanie Powers is famous for her role as April Dancer, but former Miss America (1959) Mary Ann Mobley also had her shot at the role.  (Many will remember Mary Ann would filled in for Dixie Carter on Diff'rent Strokes as well.)

Nancy wasn't much of an actress, but she was one of the grooviest chicks of the Swingin' Sixties.

Whitney Blake is the mom from Hazel; she's also the real-life mom of Meredith Baxter-Birney (Family Ties).

Greek actress Linda Marsh won a Golden Globe for America, America (1963) and appeared in a ton of TV programs from Perry Mason to I Spy.  She's a bit of a mystery, however, because she also starred in a highly notorious (and unreleased) X rated film called Stop! (1970).

And let's not forget the future Batgirl, Yvonne Craig, who showed up briefly as Solo's dinner date.  Yvonne, would make waves on MFU a few years later…

In the MFU film One Spy Too Many (1966) we get to see a little more skin than we're accustomed to on the small screen.

Nancy is another example of a ubiquitous 1960s TV actress, popping up on Bewitched, Mannix, and Get Smart to name a few.

Senta Berger needs no biography.  Suffice it to say, if you had any doubts as to the preeminence of MFU's featured starlets, there is no longer room for debate.

Marlyn Mason also did her fair share of TV hopping, and has the distinction of appearing on MFU twice – once in Season 1 and again in Season 4…

Marlyn's big screen debut came in 1969 alongside Elvis in The Trouble With Girls:

What fan of 60s-70s cinema doesn't remember Barbara Bouchet?  She was in Casino Royale (1967), which technically was a Bond film, but I don't think it counts.  I remember her from a million Italian crime and giallo flicks – here's her table dance scene from Caliber 9.

Sharon Tate only has 3 lines and doesn't even gate a name (only "Therapist").  But it still counts.

Starred with Elvis in Tickle Me (1965), appeared in Playboy (1966) and married a wealthy Spanish prince.

You can't do a list of the Ladies of MFU without mention of the beautiful Stefanie Powers – looking much better than in her Hart to Hart days with that ultra-perm.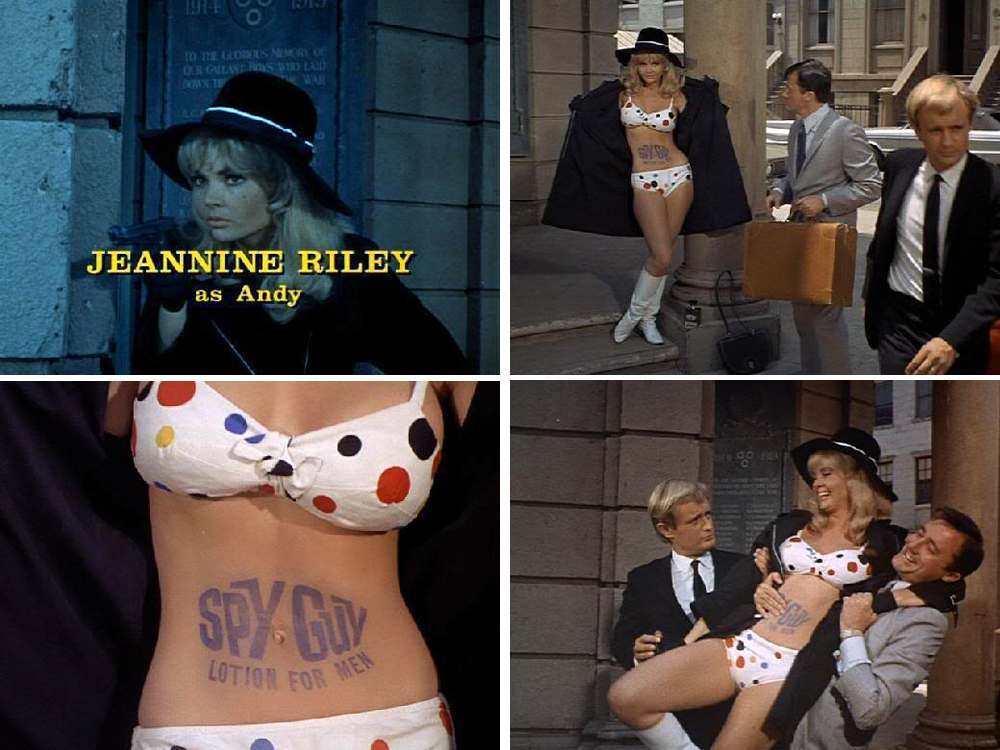 In a rather gratuitous moment, Jeannine Riley (Petticoat Junction) gives us an advert for "Spy Guy Lotion for Men" in a style that screams Laugh-In.

Just after getting the role of mother Joan Bradford in "Eight Is Enough" in 1977, Diana died tragically of breast cancer at age 41. At the time of her death, she was having a relationship with John Travolta, who accepted a posthumous Emmy Award for her that same year.

Many remember Kathryn as the mute alien from the Star Trek episode "The Empath".  Kathryn would go on to find success in soaps.

Leslie had some pretty big film roles in The Manchurian Candidate and Lil' Abner – then it was on to television and getting married to the author of Jonathan Livingston Seagull.

Carol Wayne would become best known as the big boobed Matinee Lady from The Tonight Show with Johnny Carson:

Sabrina Scharf played Sarah in Easy Rider, but she's probably best known as Miramanee from the original Star Trek.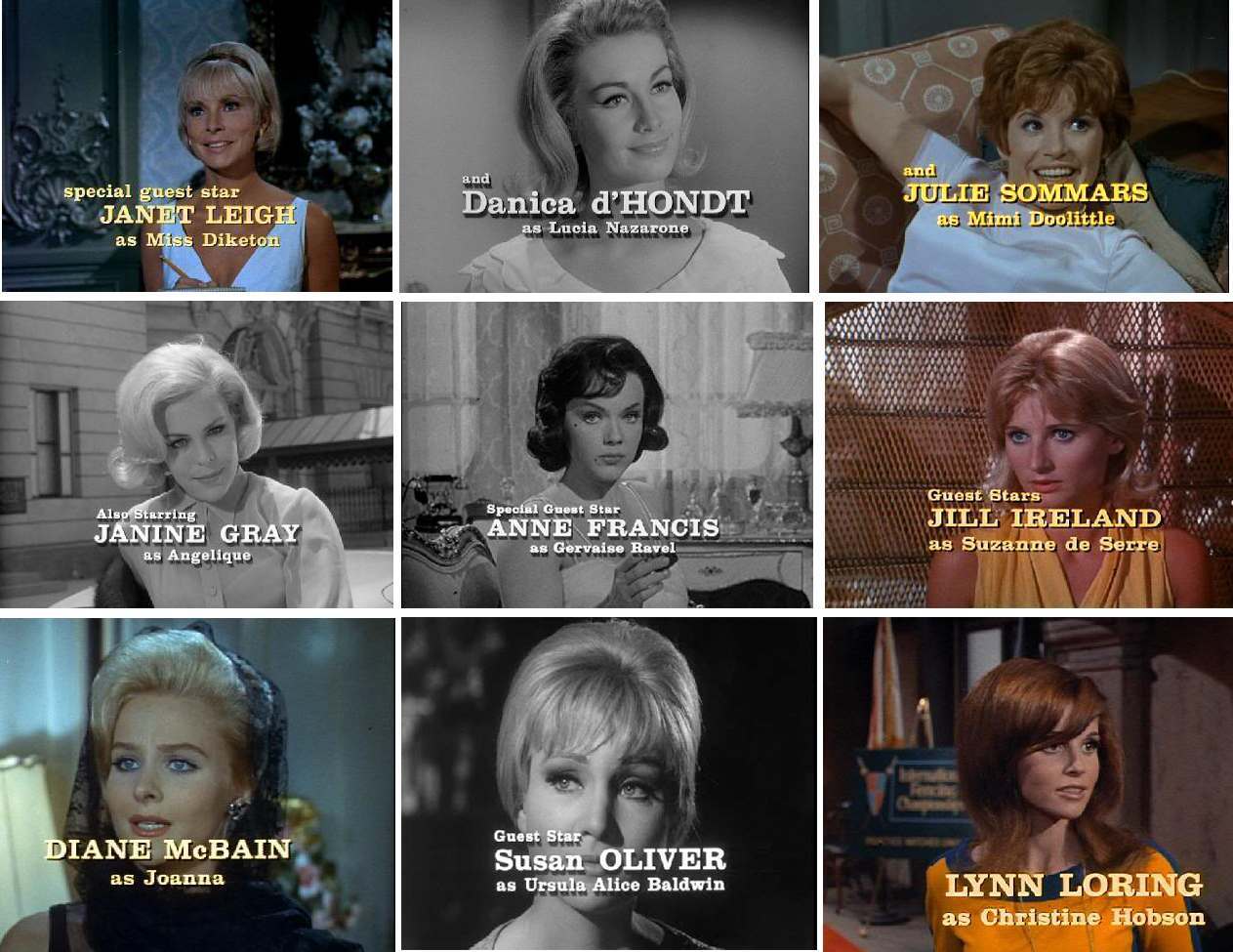 We could certainly go on all day, but I think I've definitively proven my point.  I declare MFU the winner for having the Greatest Babe List in Pop Culture History.  The debate is over.
The End