BEFORE cosmic ordering became the celebrities' guiding light, there was Sun Ra, jazz maestro of Saturn's Angel Race. He was not from Earth. He was from Saturn. Sun Ra was born into Alabama's deep segregation. He was named Herman Poole Blount. But as he said: "That's an imaginary person, never existed … Any name that I use other than Ra is a pseudonym."
Sun Ra was the cosmic leader of  The Solar Myth Arkestra, His Cosmo Discipline Arkestra, the Blue Universe Arkestra, The Jet Set Omniverse Arkestra and all manner of Arkestras. The line-ups changed to reflect his changing music. Right now, the Sun Ra Arkestra boasts over 20 "tone scientists".
The Arkestra were for hire. Take a card: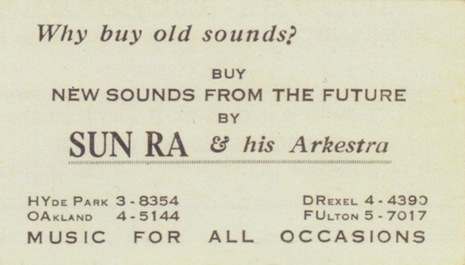 Want to hear him?
Filmed in Chicago & finished in 1959, The Cry of Jazz is filmmaker, composer and arranger Edward O. Bland's polemical essay on the politics of music and race – a forecast of what he called "the death of jazz."
Who was  /is Sun Ra? His website tells us:
Sun Ra was the first jazz musician to perform on electronic keyboards (56), the first to pursue full-scale collective improvisation in a big band setting, and his preoccupation with space travel as a compositional subject predated bands like Weather Report by about 15 years.All this from someone who refuses to even cite the earth as his home planet and prefers to have arrived from Saturn. As Sun Ra once explained it, "I never wanted to be a part of planet Earth, but I am compelled to be here, so anything I do for this planet is because the Master-Creator of the Universe is making me do it. I am of another dimension. I am on this planet because people need me".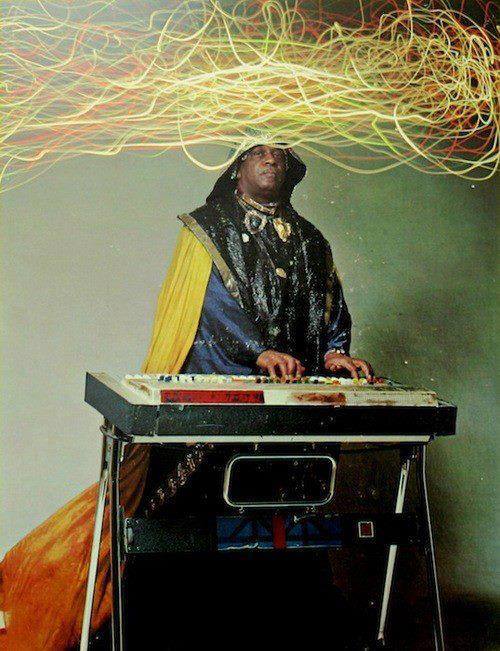 In the half-between world,
Dwell they: The Tone Scientists
In notes and tone
They speak of many things…
The tone scientists:
Architects of planes of discipline
Mathematically precise are they:
The tone-scientists
(Sun Ra)
This is Sun Ra's Rocket Number Nine:
Sun Ra "left the planet" in 1993.
In some far off place
Many light years in space
I'll wait for you
Where human feet have never trod
Where human eyes have never seen
I'll build a world of abstract dreams
And wait for you
Sun Ra Arkestra play Shadow World in West Berlin:
You can subscribe to his "Mailing List from Saturn in this, his centenary year. (Sun Ra was born on May 22, 1914):
There is always change in the air
But there is a different spirit in the wind
A bold and daring soul
From somewhere there
You can read the cosmic comic: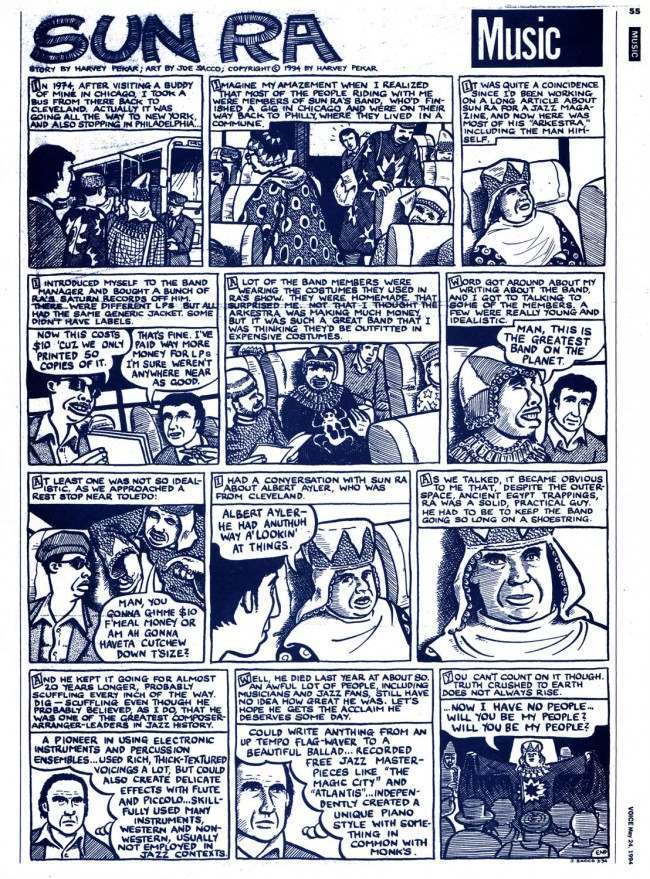 In 1981, Sun Ra shared his wisdom on Detroit TV:
But before that was the film. In 1971, Sun Ra taught The Black Man in the Cosmos at University of California, Berkeley.  Those talks became the impetus behind Jim Newman's film Space Is the Place, starring Sun Ra and his Arkestra. This is how Newman explains the film:
Sun Ra–space-age prophet, Pharaonic jester, shaman-philosopher and avant-jazz keyboardist/bandleader–land his spaceship in Oakland, having been presumed lost in space for a few years. With Black Power on the rise, Ra disembarks and proclaims himself "the alter-destiny." He holds a myth-vs reality rap session with vblack inner-city youth at a rec center, threatening "to chain you up and take you with me, like they did you in Africa" if they resist his mplea to go to outer space. He duels at cards with The Overseer, a satanic overlord, with the fate of the black race at stake. Ra wins the right to a world concert, which features great performance footage of the Arkestra. Agents sent by the Overseer attempt to assassinate Ra, but he vanishes, rescues his people, and departs in his spaceship from the exploding planet Earth.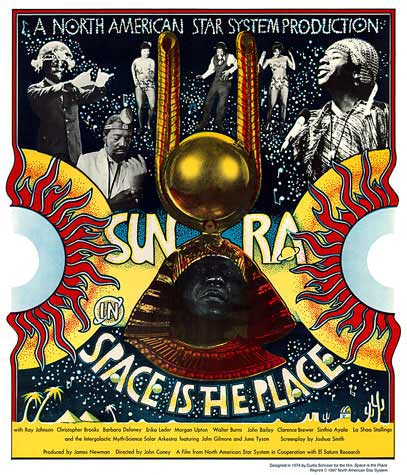 This is the full movie. It is far out: