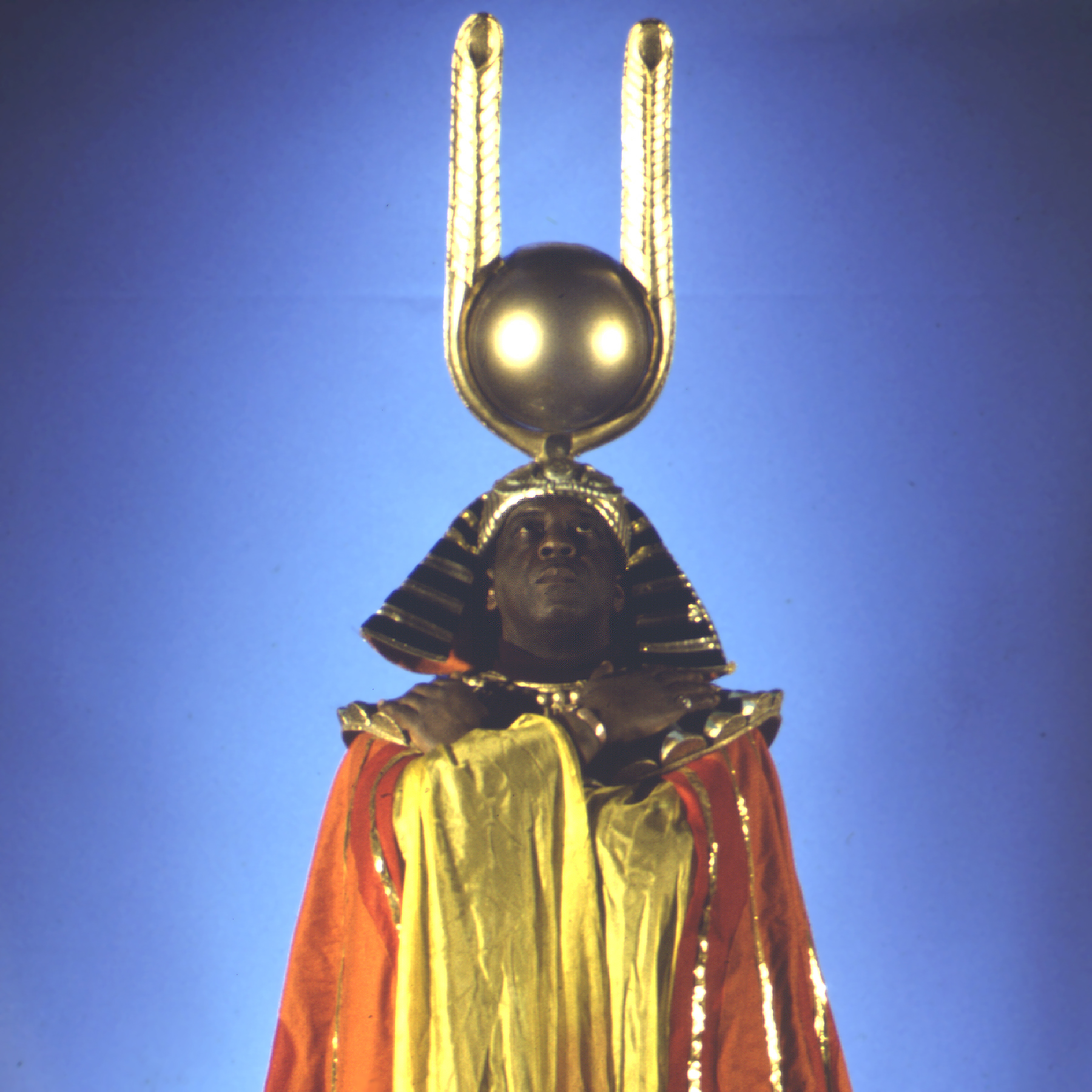 Sun Ra, born Herman Poole Blount, aka Sonny Blount, pianist, composer, philosopher, leader of the Arkestra ("the way black people say 'orchestra'") and the "embodiment of Afrofuturism" said he visited other planets through astral projection and was an alien from another dimension, although born locally on Saturn. I believe him for one simple reason: why not?
What harm done? And much good was done by his thoughtful music. In 1966, Amiri Baraka noted: "Sun-Ra wants a music that will reflect a life-sense lost in the West, a music full of Africa. On one piece the Arkestra moves, behind Sun-Ra, in a long line through the dark, chanting and playing… a totally different epoch is conjured." He wanted to "tempt people to like higher forms of music." Later adding: "The mental impression I want to convey [through sound] is of being alive, vitally alive…to co-ordinate the minds of people into an intelligent reach for a better world, and an intelligent approach to the living future."
Sun Ra's music of idiosyncratic, mystical, poetic, charmed and soulful vibrations, often demeaned as too outlandish, experimental and theatrical to comprehend and thereby enjoy to the full, reached out. (Sun Ra produced over 1,000 compositions on over 120 albums.)
And on at least one occasion, his work helped people afflicted with mental illness. In the late 1950s, Sun Ra's manager Alton Abraham booked his client to perform at a Chicago mental hospital – playing for a "therapy-through-music group" that "included catatonics and severe schizophrenics".
The appeal to Sun Ra was clear. As a child he had decided to "tackle the most difficult problem on the planet. I would see how I was progressing on the mental plane, on the intellectual plane."
His mental wellbeing had been investigated when he tried to withdraw from the Second World War as a conscientious objector. In the military, Sun Ra was appraised by a medic at Camp Marienville, PA, who saw in the "well-educated colored intellectual" a "psychopathic personality". As Josh Jones notes, "ascribing Sun Ra's enlightening, enlivening mytho-theo-philosophy to illness or dysfunction truly does his brilliant mind a disservice". Labelled a reject by the system he wanted out of, a few days after his health report was filed, Sun Ra was discharged.
Sun Ra's mission to find and reflect deeper truths calls to mind the still misunderstood Vince Van Gogh (you know, the "tortured genius" of a million school essays – the artist's lust for life was written off as a product of his"insanity"; reworked  for modern tastes into his being bipolar, psychotic, schizophrenic and manic depressive; it's pathetically limiting stuff). Van Gogh wrote of his own state of mind: "One feels as if one were lying bound hand and foot at the bottom of a deep dark well, utterly helpless… Let us keep courage and try to be patient and gentle. And not mind being eccentric, and make distinction between good and evil."
Sun Ra biographer John Szwed recalls what happened at the hospital show in his book Space is The Place: The Lives and Times of Sun Ra (1998):
Abraham had an early interest in alternative medicine, having read about scalpel-free surgery in the Philippines and Brazil. The group of patients assembled for this early experiment in musical therapy included catatonics and severe schizophrenics, but Sonny approached the job like any other, making no concessions in his music. While he was playing a woman who it was said had not moved or spoken for years got up from the floor, walked directly to his piano, and cried out 'Do you call that music?'" Sonny was delighted with her response, and told the story for years afterwards as evidence of the healing powers of music."
The gig was marked in his song Advice for Medics, featuring Ra's deliberately plunky solo keyboards:
And here: Sun Ra – Cosmic Tones for Mental Therapy:
Let's end with the opening titles to Sun Ra's 1974 films Space Is the Place, a tribute to his belief in Planetism – "ALL things exist, live and rect in relation to space."
Via: Open Culture