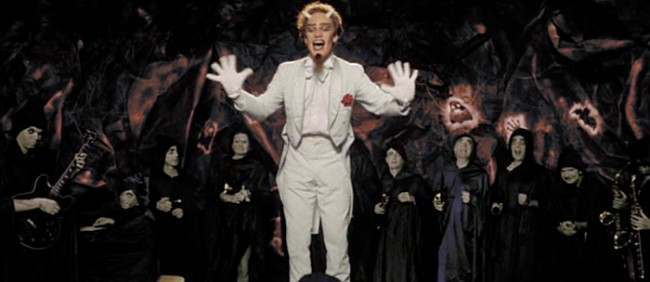 A LOT of people make a lot of films, but sadly not all those films have kick-ass theme songs. This is a crying shame – AN ENORMOUSLY CRYING SHAME – because in an ideal world every film ever made would either begin or end (ideally both) with a song (not an instrumental, they don't count) sharing a title with the film in question. Filmmakers, heed this advice. Why? Why, you say? Well…
– YOU MIGHT FINALLY GET THAT KUDOS YOU'VE BEEN AFTER

The James Bond films endured a lot. They went through six lead actors, loads of directors, several squabbling studios providing umpteen rights issues, a few sexual revolutions, various conflicts ending therefore rendering plot lines potentially irrelevant and 24 fully completed feature films that netted over six billion dollars in box office profits, but they never got a non-technical Oscar. And nobody cares about the technical categories. What the hell is sound design? You don't design sounds, you design pictures, silly. Finally, in 2012, Adele's theme tune for Skyfall got them one of those lovely glistening Ken dolls they'd missed out on for so long.
– YOU MIGHT INADVERTENTLY INVENT AN ART FORM

Nobody's ever going to claim that Dan Aykroyd and Tom Hanks invented the battle rap with Dragnet (City Of Crime) in 1987. It would be ignorant, short-sighted, lazy and ridiculous to claim that Dan Aykroyd and Tom Hanks invented the battle rap with Dragnet (City Of Crime) in 1987. All the same, it's worth pointing out, Dan Aykroyd and Tom Hanks invented the battle rap with Dragnet (City Of Crime) in 1987.
– IT'LL RENDER YOUR FILM IMMORTAL

Ten living people can describe the plot of the film Shaft. About thirty people remember the Samuel L. Jackson remake, but not even the screenwiters could tell you what happened in it. Christian Bale might have been a baddie, unless that was something else. However, Isaac Hayes' theme from the 1971 original not only topped the Billboard charts, it won the Oscar for Best Original Song (also making Hayes the first black recipient of a non-acting award). It's now used any time a sitcom needs a shorthand way of saying a character's a sex machine to all the chicks in montage form.
– POP-PUNK BANDS OF THE FUTURE GOTTA EAT

Without slightly irony-based cover versions of beloved childhood classics, pop-punk bands would have nothing to pad their gigs out with, and would end up penniless. The entire big-shorts industry (an eternally important corner of the economy) would come crashing down, tour van companies would go bankrupt and we'd face a future of global financial ruin. There's a real possibility that, when Limahl wrote the theme tune to The Neverending Story, he saved the world via future pop-punk band New Found Glory.
– MAKING A TELLY SPIN-OFF'S A NO-BRAINER

When a TV version of John Hughes' 1985 classic Weird Science was announced in 1994, there was no question as to what would be used as the theme tune – Oingo Boingo's awesome theme to the film (there are claims that Oingo Boingo themselves dislike the song, which means Oingo Boingo are wrong because it's clearly amazing). The show was in good company, as Oingo Boingo's Danny Elfman is responsible for the (albeit instrumental) themes to The Simpsons, Tales From The Crypt, Desperate Housewives and Amazing Stories. Sadly, the show was utterly, utterly rubbish.
– IT'S A GIANT ADVERT

For a while in the 90s, Will Smith was the undisputed king of the summer blockbuster, helped in no small part by hugely successful theme-song singles essentially acting as enormous adverts. As the Dennis Waterman of Hollywood, Smith's "write the theme tune, sing the theme tune" approach led Men In Black and Wild Wild West to the top of every chart imaginable both in movie and song form, despite Wild Wild West being an absolute stinker. Plus, without Smith's hard work we wouldn't have had the "Come and get your black bin bags" bit in Phoenix Nights.
– YOU CAN KEEP "WEIRD AL" YANKOVIC'S FANS HAPPY

Despite being one of the most celebrated accordion-toting frizzy-haired musical pop-culture parodists around (he's in the top eight, at least), and putting music out since 1983, "Weird Al" Yankovic's output hasn't been huge volumewise – he's released twelve albums in thirty years, with a five-year gap between his last two. Imagine how happy his fans were when, just three months after the release of his 1996 album Bad Hair Day, Yankovic's fans had the opportunity to go to the cinema and see him perform the theme to the Leslie Nielsen film Spy Hard. Really happy, probably.
– GHOSTBUSTERS DID IT

If you're making a film and want to look at a successful one to emulate, look at Ghostbusters. It's excellent, was hugely influential, made a bucketload of cash and is still quoted regularly thirty years later. It was spun off into cartoons, video games, theme park rides and comics, and there have been talks of a third film for aaaaaages. Was the success of Ghostbusters down to Ray Parker Jr's excellent (although possibly copyright-infringing – ask Huey Lewis) theme tune? Not entirely, but it certainly didn't hurt. And, if not for it, the world wouldn't have experienced the surreal wonder of one of Jedward breaking his leg singing it on stage in front of 70,000 people.