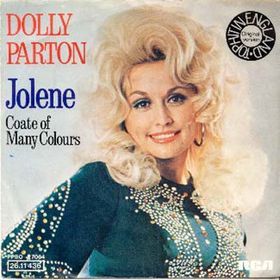 IN 1973, Dolly Parton released the song Jolene. It would become a smash hit.
Mark Wigmore gives some background to the great song:
There are several myths and legends about Dolly Parton's song "Jolene." It's been said that the song is about a bank teller who had been flirting with her husband. There's another story about a ten-year-old girl named Jolene who asked Parton for her autograph after a concert. But the real story is that of Parton striking out on her own after parting ways with her long-time mentor, Porter Wagoner...
Jolene was her first single after Dolly made the decision to embark on her solo career. It was released in October of 1973 and reached the number one position on the country charts in the U.S. and Canada in February of '74. It was also her first song to cross over to the pop charts. "I Will Always Love You" followed suit a few months later. By the middle of 1975, Dolly had five number one hits in a row and a bona fide superstar was born.
But did you know that when played at 33 RPM, it sounds like this:
Spotter: Fraser Nelson