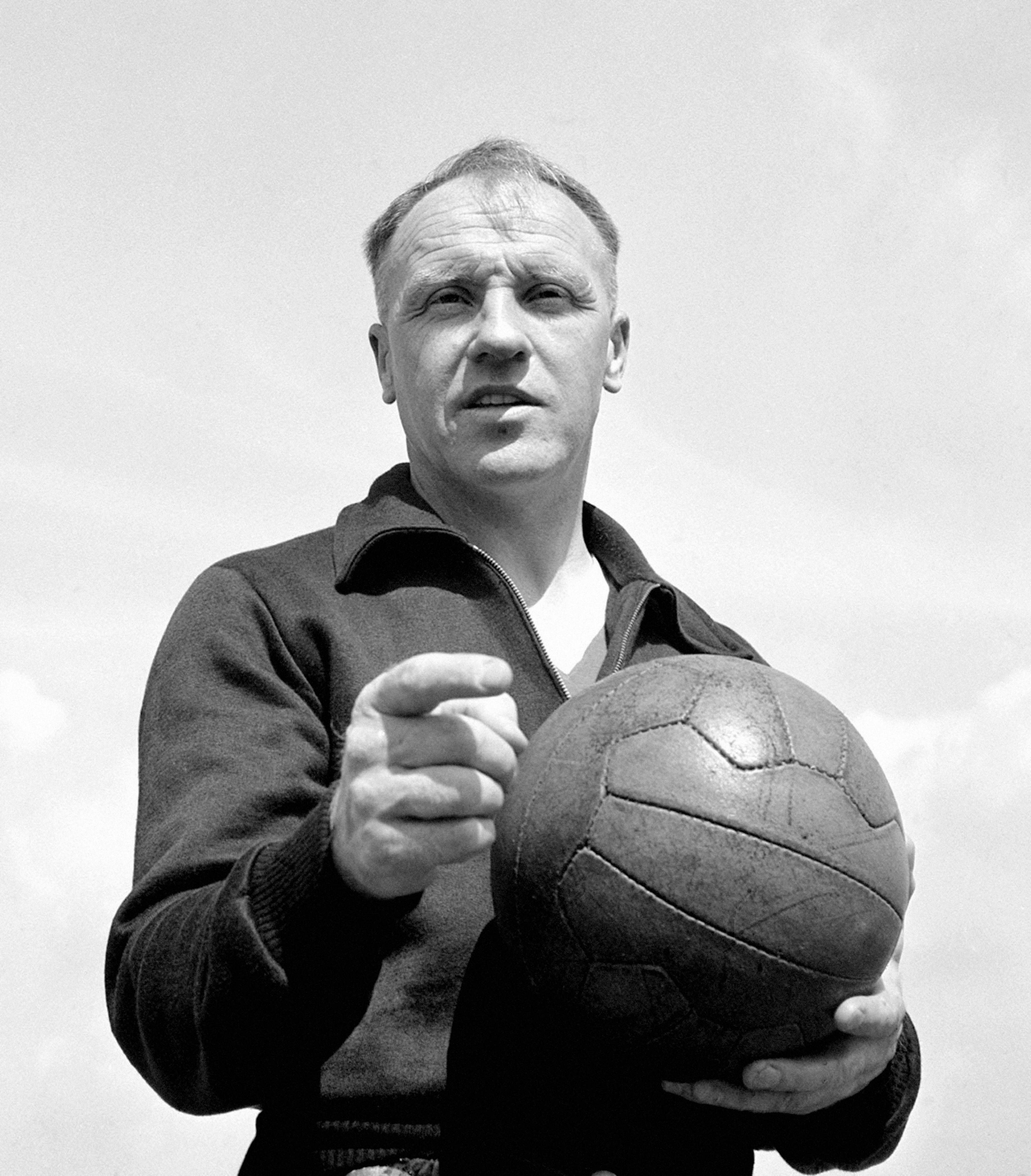 Born at Glenbuck in Ayrshire William "Bill" Shankly became a miner at 15 and played his first games for Glenbuck Cherrypickers named after an old regiment. After two years down the pit he signed for Carlisle United and became known as a 'wing-half' of extraordinary fitness and huge promise – "I played on my toes all the time? Like a ballet dancer" Shankly told Eric Todd at the Guardian in 1969, "it gave me strength in my calves, and I've still got it." After Carlisle he joined Preston North End where he won an FA Cup medal after they beat Huddersfield in extra time.

As a manager he took time to get into his stride and worked at Carlisle again and then Grimsby, Workington, Huddersfield before arriving at Liverpool in December 1959. He started working on New Years day as Huddersfield demanded he worked a month's notice.

Liverpool won the Second Division championship in 1962 by eight points from Leyton Orient. By the time Shankly retired in 1974 (it is said he thought the company looking after his pension was about to go bust) Liverpool had won the League title three ties, the FA Cup twice and UEFA Cup once.

"When people ask me my credentials for being a manager or a coach I have one answer… Bill Shankly. They're my qualifications, the way I was born. And that's all the qualifications anyone needs in the game I'm in. I didn't think it was necessary to take an FA coaching course. I didn't think it was going to make me any better. If I take a course am I going to be a better man six days later because I've got a piece of paper? That's nonsense. Chamberlain came back from Germany with a piece of paper.. . the worst fucking piece of paper we've ever had!!

As manager of Liverpool I got two FA Cup winner's medals, three championships and a Second Division championship, one UEFA Cup, three Charity Shields and six Central League winner's medals… that's 16 in 15 seasons. So I'd like them [FA coaches] to come to my coaching school! I'd have probably failed some of them." – Bill Shankly
At his retirement Hugh McIlvanney wrote for the Observer:
"Bill Shankly is one of the ultimate obsessives, a man who sees birth and death, marriage and the economy in terms of football. Such insularity might be insufferable if he did not have a magical capacity to make us laugh, to give us a glow inside the rib cage. By so ferociously narrowing down his interests he has made himself larger than life."
When he died in 1981 flags were lowered to half-mast on public buildings in Liverpool and a supporters menage hung from a tenement window from a poor part of town proclaiming: "The King is dead."
A football team is like a piano. You need eight men to carry it and three who can play the damn thing.

Football is a simple game based on the giving and taking of passes, of controlling the ball and of making yourself available to receive a pass. It is terribly simple.

If you've got three Scots in your side, you've got a chance of winning something. If you've got any more, you're in trouble.

At a football club, there's a holy trinity: the players, the manager and the supporters. Directors don't come into it. They are only there to sign the cheques.

Pressure is working down the pit. Pressure is having no work at all. Pressure is trying to escape relegation on 50 shillings a week. Pressure is not the European Cup or the Championship or the Cup Final. That's the reward.

A lot of football success is in the mind. You must believe you are the best and then make sure that you are. In my time at Anfield we always said we had the best two teams on Merseyside, Liverpool and Liverpool reserves.

If you're not sure what to do with the ball, just pop it in the net and we'll discuss your options afterwards.

Forget the Beatles and all the rest. This is the real Liverpool sound. It's real singing, and it's what the Kop is all about.