The mid-century palette was vastly different than it is today. Much of what we find advertised in vintage cookbooks and magazines seems nauseating by today's standards. I'm sure the same will be true of our current tastes when viewed fifty years from now. This gastronomic sea change certainly makes for an interesting browse through recipes and food adverts from yesteryear. Here are a few exceptionally foul examples.
MEALS IN A MOLD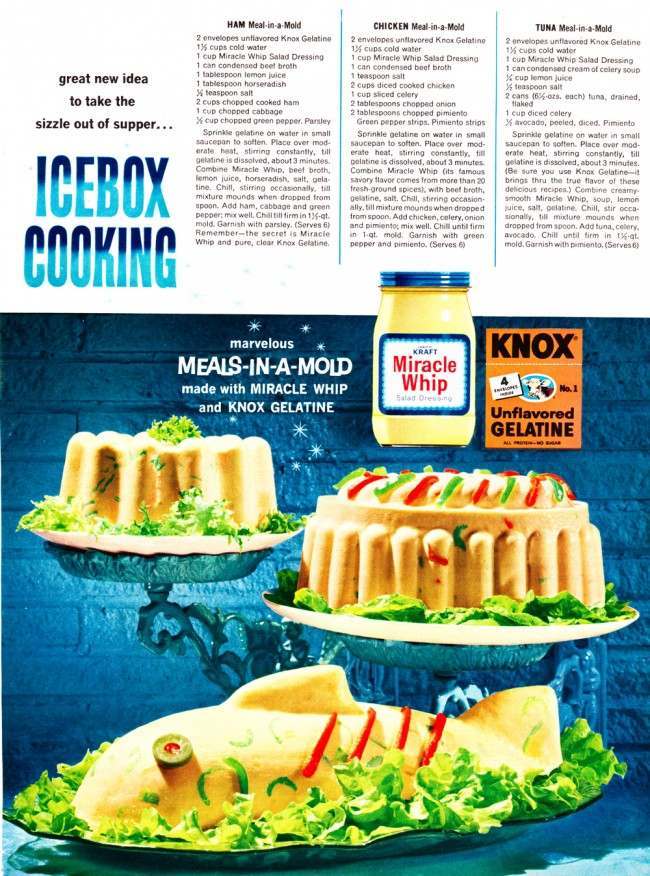 As a general rule of thumb, I prefer my meats not to be suspended in a freakish mold of gelatin and psuedo-mayonnaise. But I'm funny that way. However, I will say the pimiento used for the fish eye is a stroke of brilliance.
BEAN FILLED BURGERS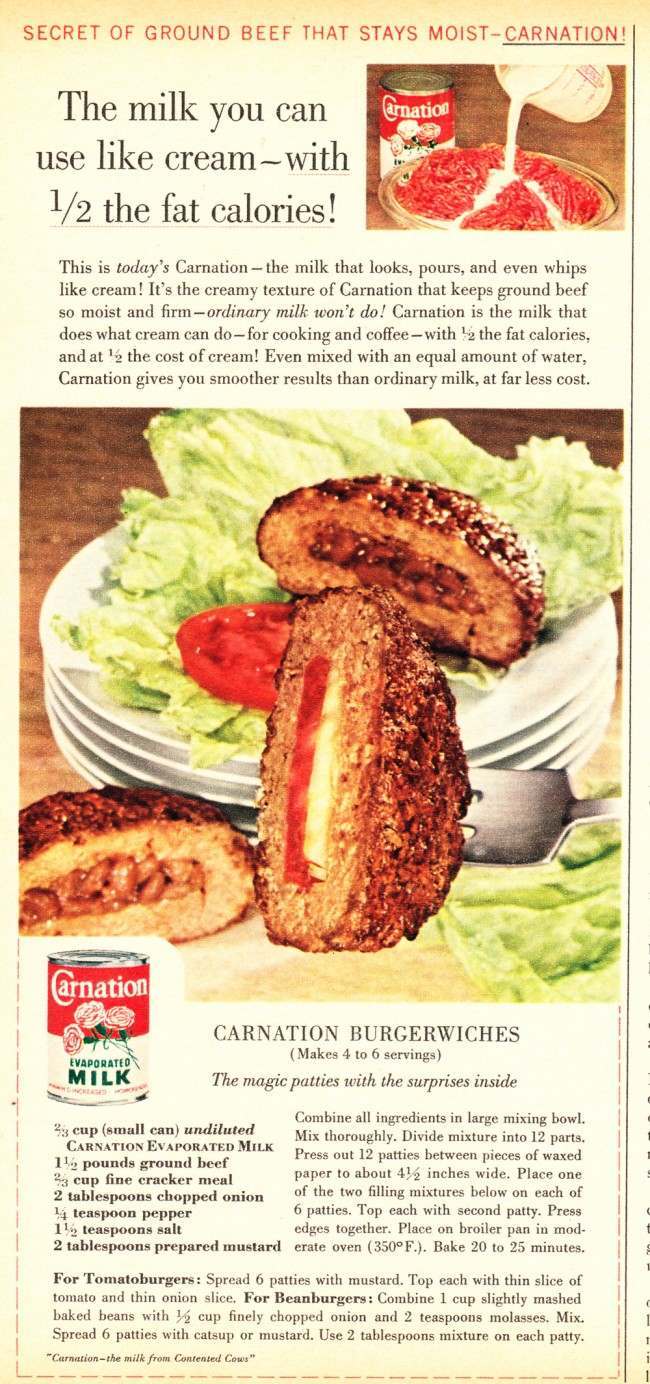 Another rule of thumb to keep in mind: I prefer my hamburgers not to have "a surprise inside". Granted, biting into a burger and discovering a load of beans would be a surprise indeed – but it would be a very unpleasant one. If you should decide to ignore my advice and serve these to guests, please warn them of the "surprise" in advance. When one bites into a burger and is met with the sickening texture of mushed beans, it's a normal reaction to spit it out and begin vomiting. Don't take this personally – they probably just thought there were insect larvae inside.
THE DESOLATION OF CHEEZ WHIZ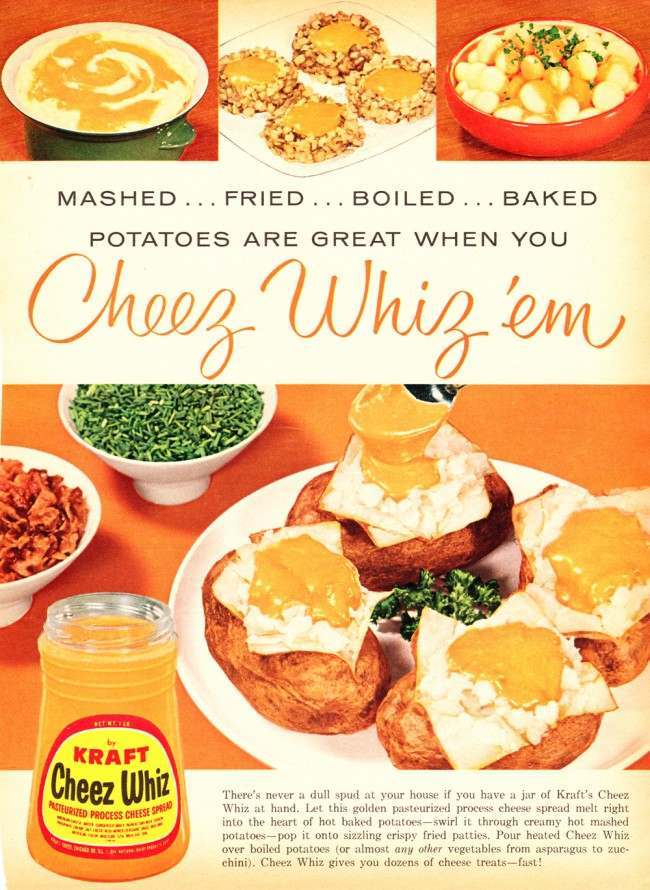 Actually, I'm going to strongly recommend you don't Cheez Whiz'em. In fact, I'm going to insist you put the lid back on the bottle and step away from Cheez Whiz nice and slowly with your hands where I can see them. This isn't a dinner, this is a crime scene. Imitation cheese is freaking everywhere – I've not seen anything like it in all my years on the force. A tragedy.
WHEAT NUTS AND TWIGS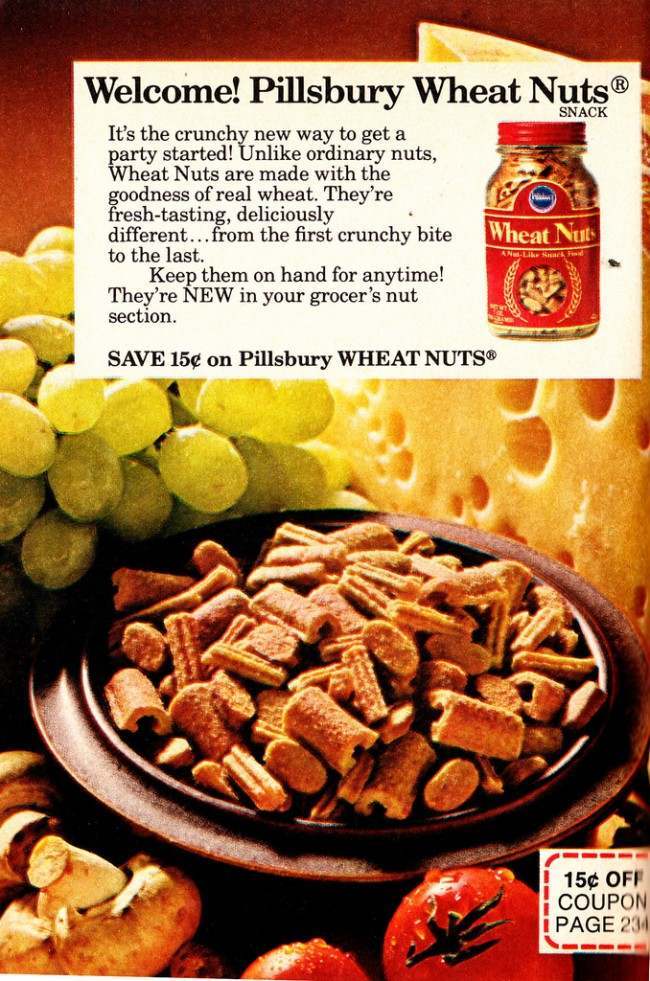 The beauty of Wheat Nuts is that, when you run out, you can just step outside and chew on some tree bark. Now with the taste of raw twine! From the makers of "Colon Blow".
SALAD CREAM ANOMALY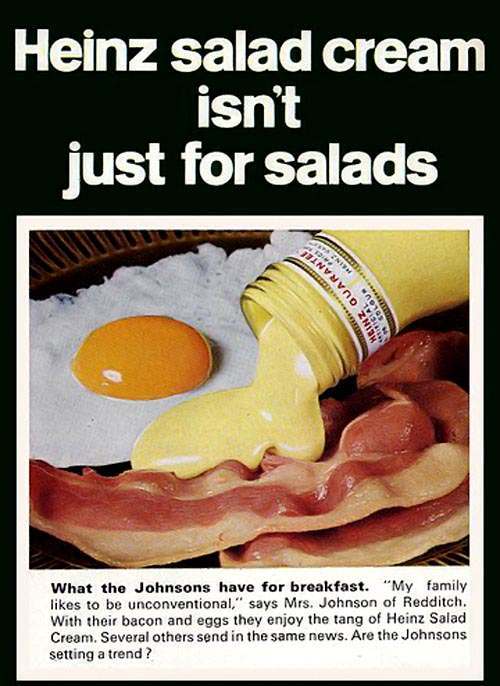 I can actually feel my arteries congeal just looking at this breakfast. I recommend you serve this with a side dish of congealed lard and garnish with a cigarette butt.
EGGS DESECRATED IN CHEESE SAUCE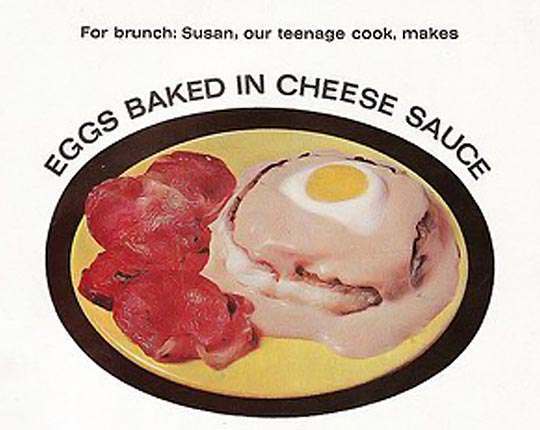 How is it that this cheese sauce is flesh hued? I can't explain my feelings toward this dish except to say that never have I seen a breakfast look more dead. I'm just going to tell you in advance that if I am ever a dinner guest in your home and you set this dish before me on the table, I will scream like a schoolgirl and black out.
BEACHED CABBAGE ROLL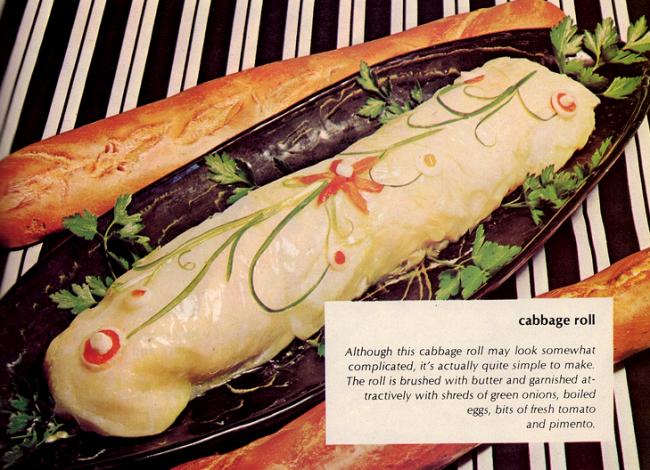 What washed up on shore to die?
DINNERTIME DECOR (OF THE INSANE)

I scanned this from a booklet put out by Coca-Cola from the 1950s called Pause for Living. I include it, not so much because it looks inedible, but as a fine example of midcentury mealtime nuttiness. The table seems decorated for Christmas as well as a bowler's birthday – WTF? And why are there shrimp impaled onto bowling pins? The mind reels.
VEG-ALL GELATINOUS PIE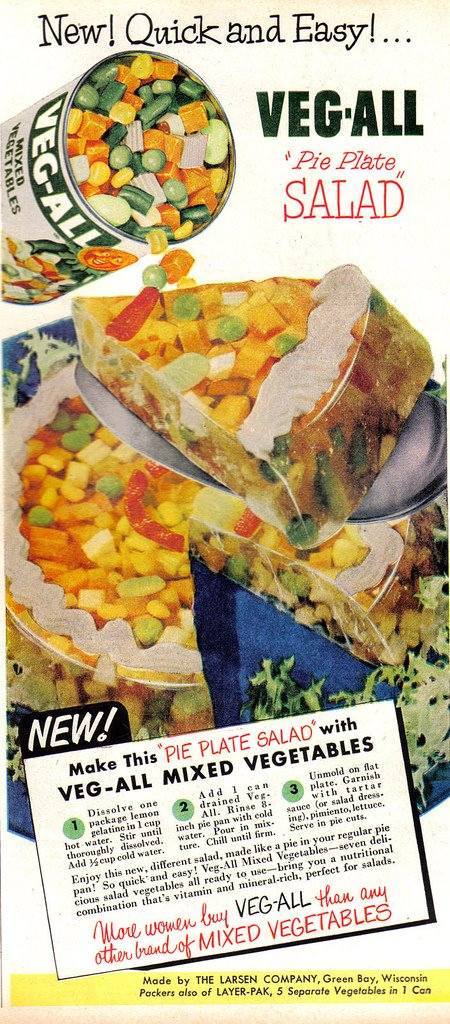 Gelatin was flat-out misused in the 1950s. It seems everything on dinner tables from this time period was suspended in this rubbery matrix.
FOOD CLOTS FOR DINNER

Ham and cat vomit wrapped around a celery stalk. Always a hit with the kids.
But before I go, I think it is only appropriate to leave you with an uncircumcised wiener. Cheers!