Perhaps more interesting than the recipes are the illustrations in these old cookbooks.  Sometimes mouth-watering, but more often stomach-turning, pictures in a vintage cookbook are a mixed bag.  Let's take a tour through 14 cookbooks and see what was on the tables back in those days…
Better Homes & Gardens: Meat Cookbook (1965)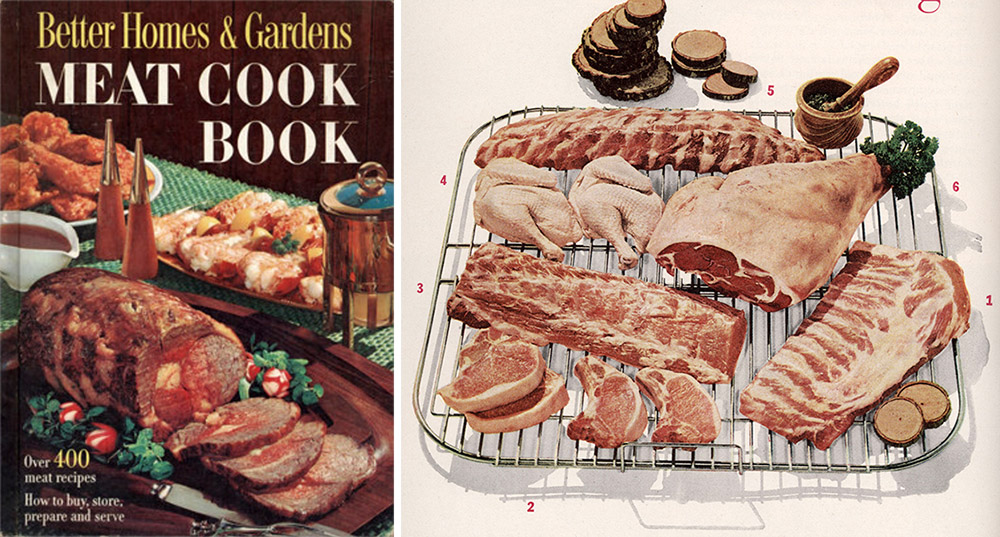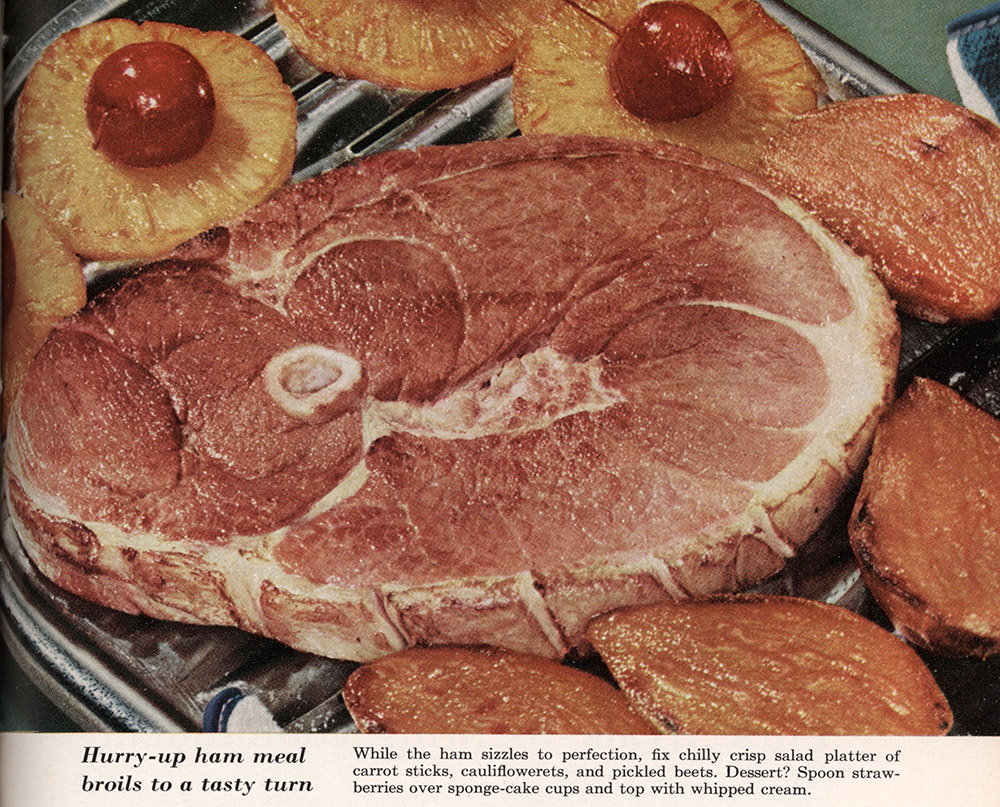 It was all about the meat in those days – and they didn't shy away from close-ups of fat and gristle.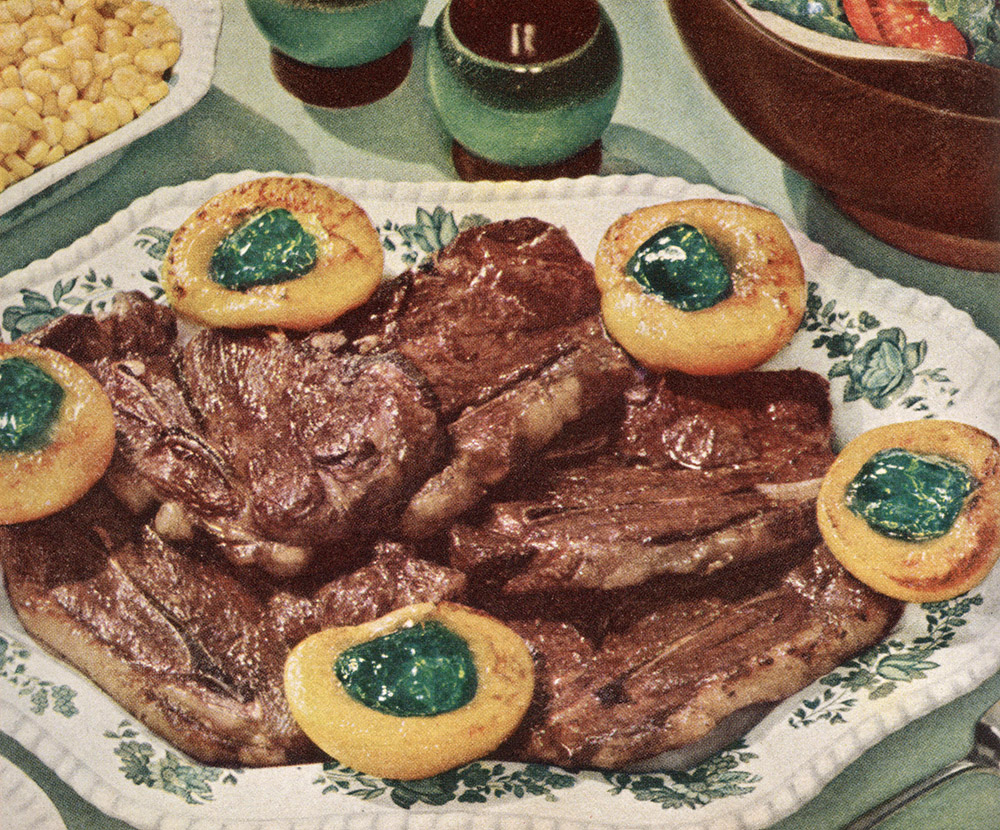 Looking through midcentury cookbooks, you get the impression there were three food groups: meat, gravy and Jell-O.
Family Circle Illustrated Library of Cooking (1972)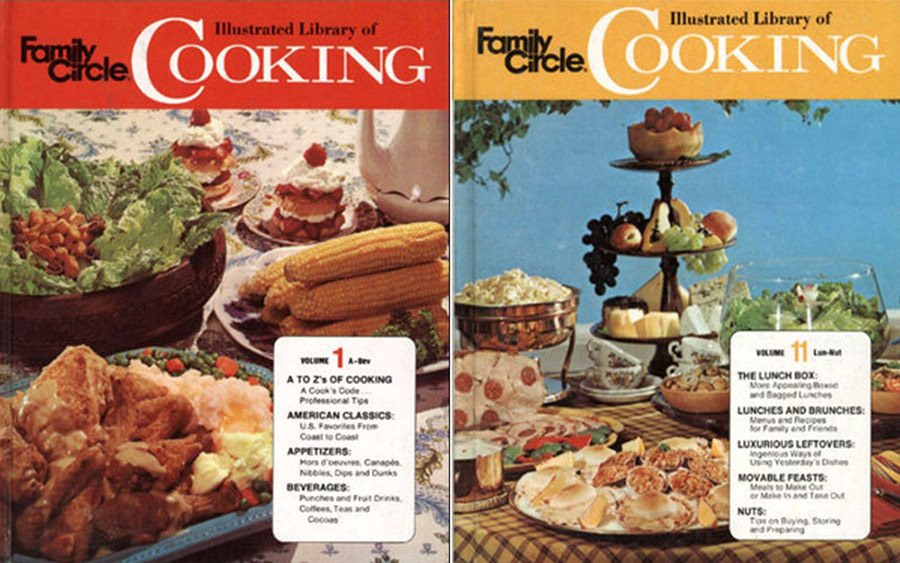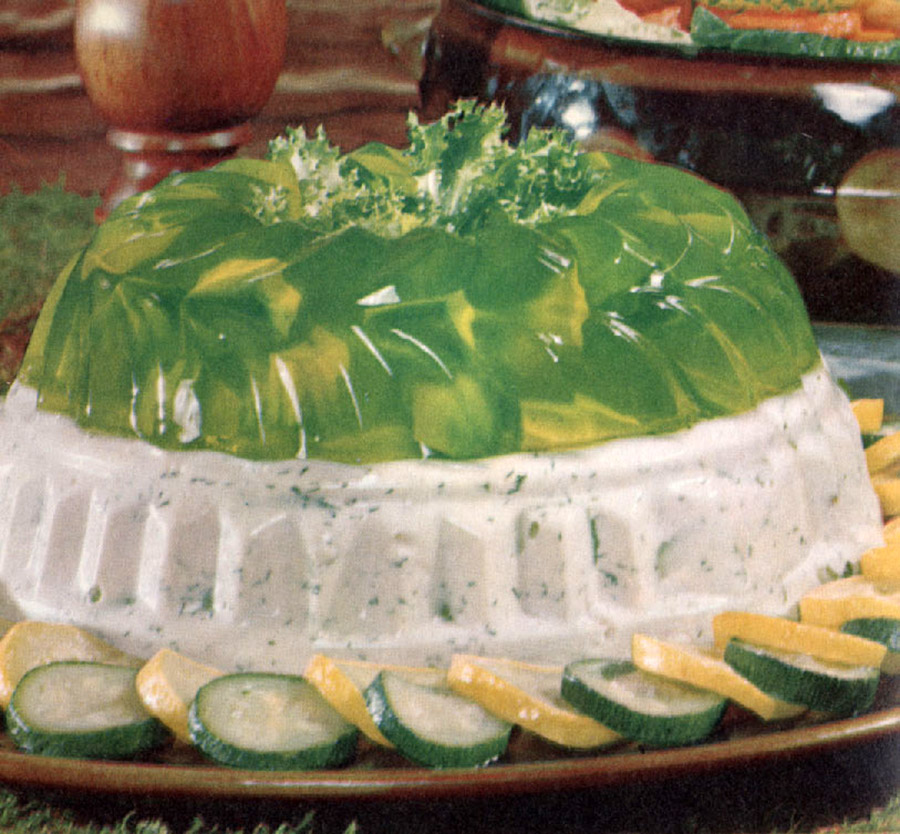 Just in case you thought these might be limes and lemons to go with your refreshing gelatinous treat, think again – these are cucumbers and squash.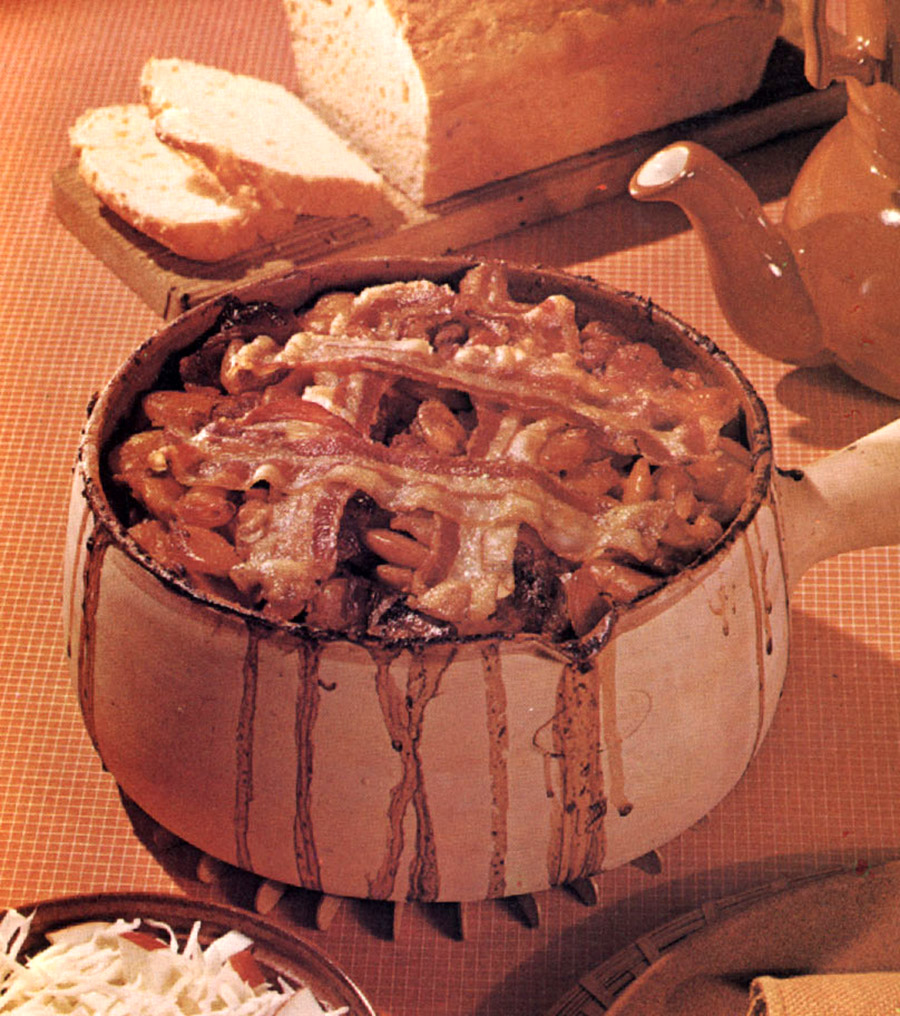 It looks like there's been an accident.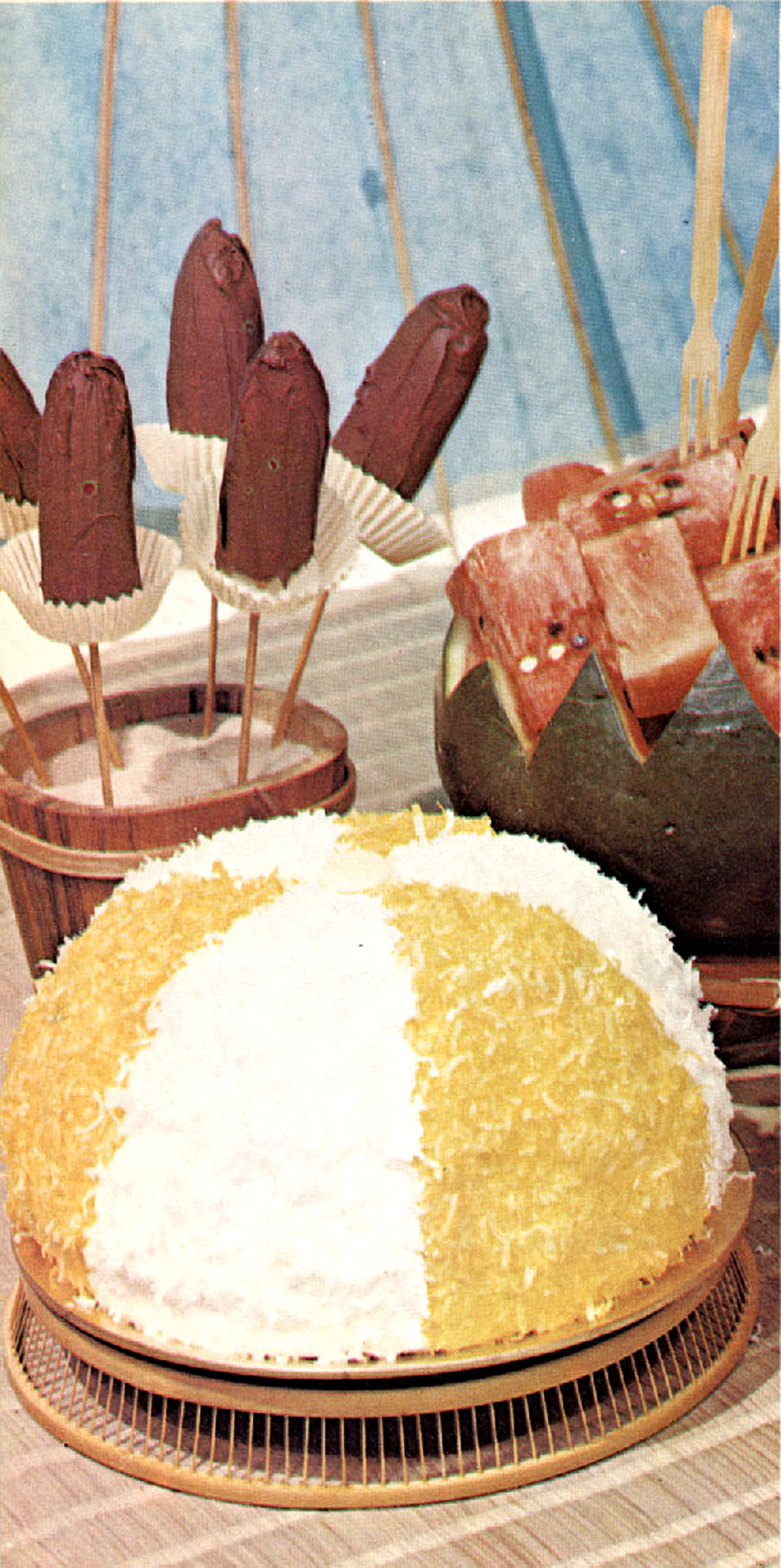 Am I the only one who thinks this looks like turd-on-a-stick?
Better Homes & Gardens: Best Buffets (1963) / Better Homes & Gardens: Lunches and Brunches (1963)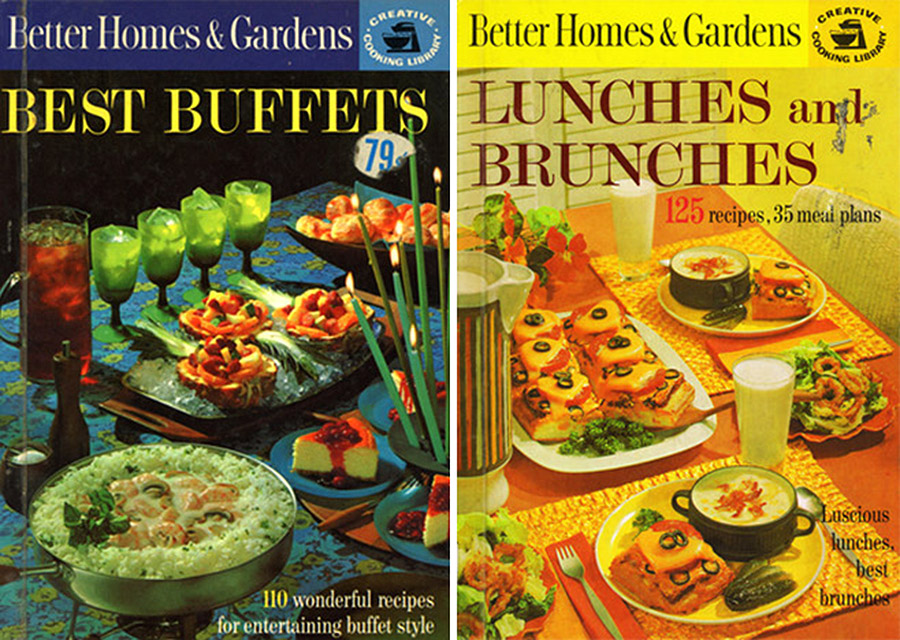 I'm not sure I understand the compass/plant centerpiece, but the food looks quite good.  Having the one weenie in the center of each tiny jug o' beans is a nice touch.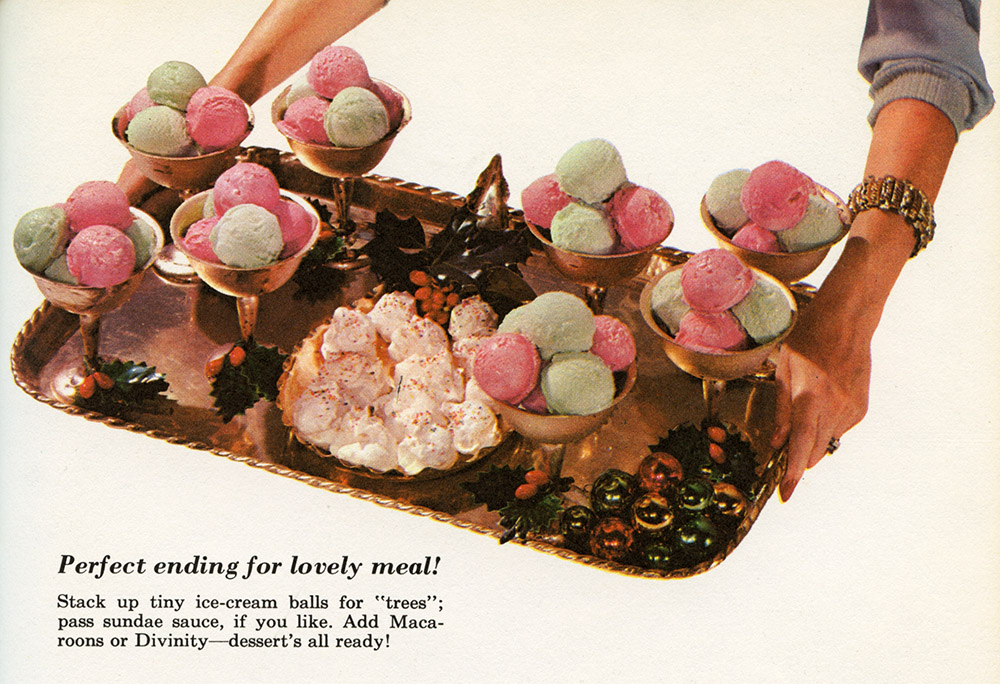 Moving on to the lunches and brunches, we have "a touch of glamour" via Eggs Benedict…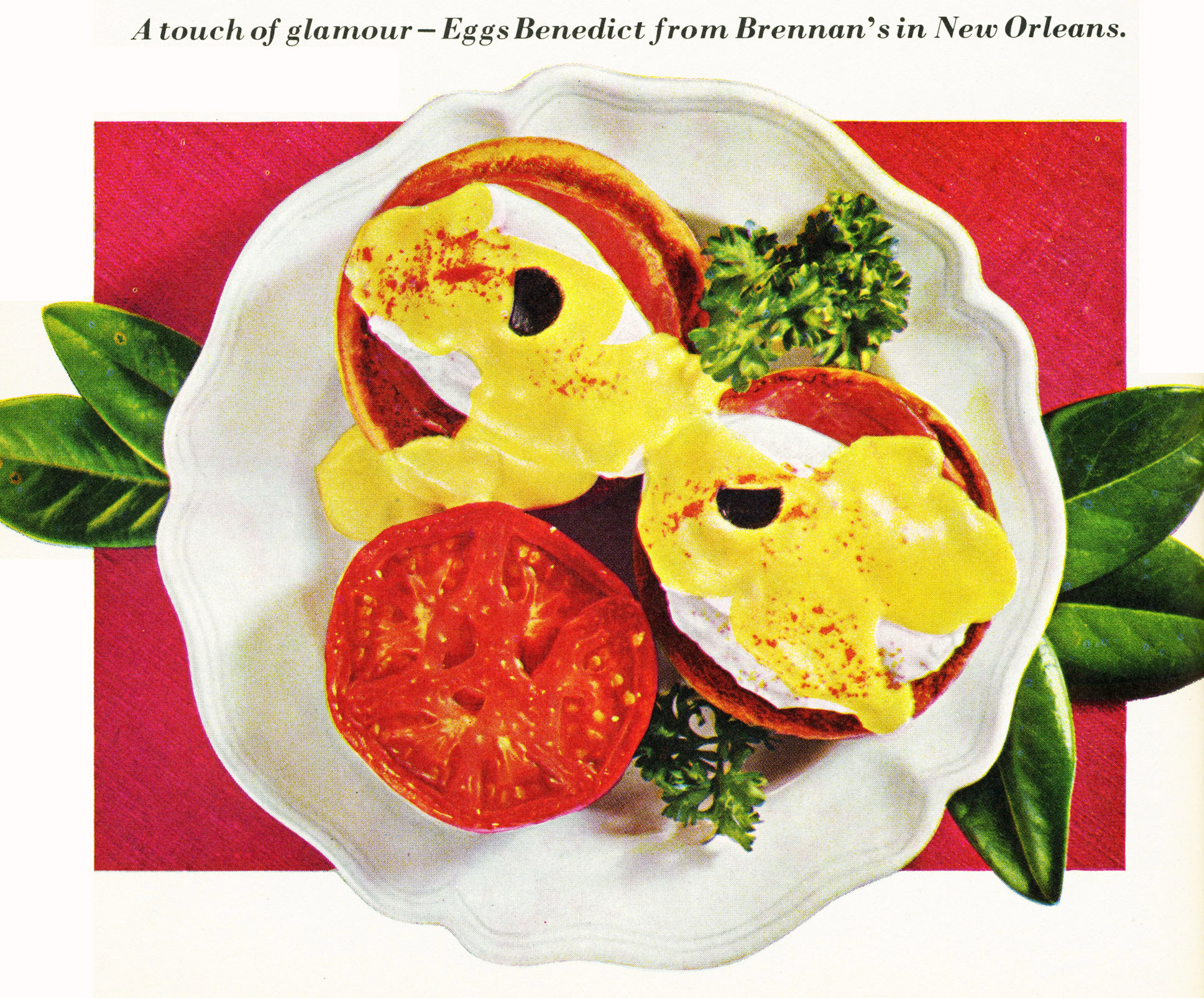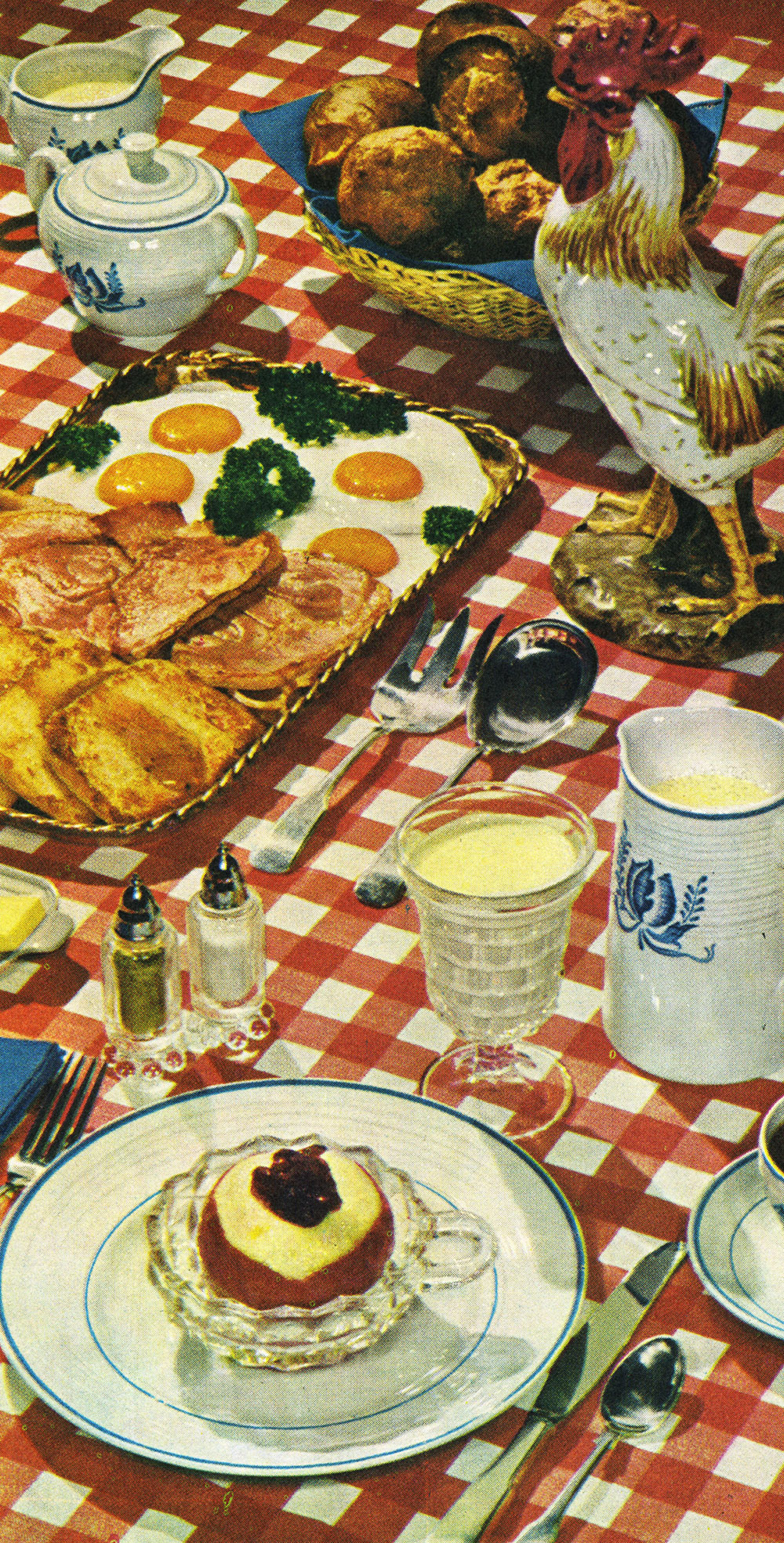 I'm intrigued by what's in the drinking glass – it looks a lot like what's in the gravy boats.  And the bread looks absolutely fossilized.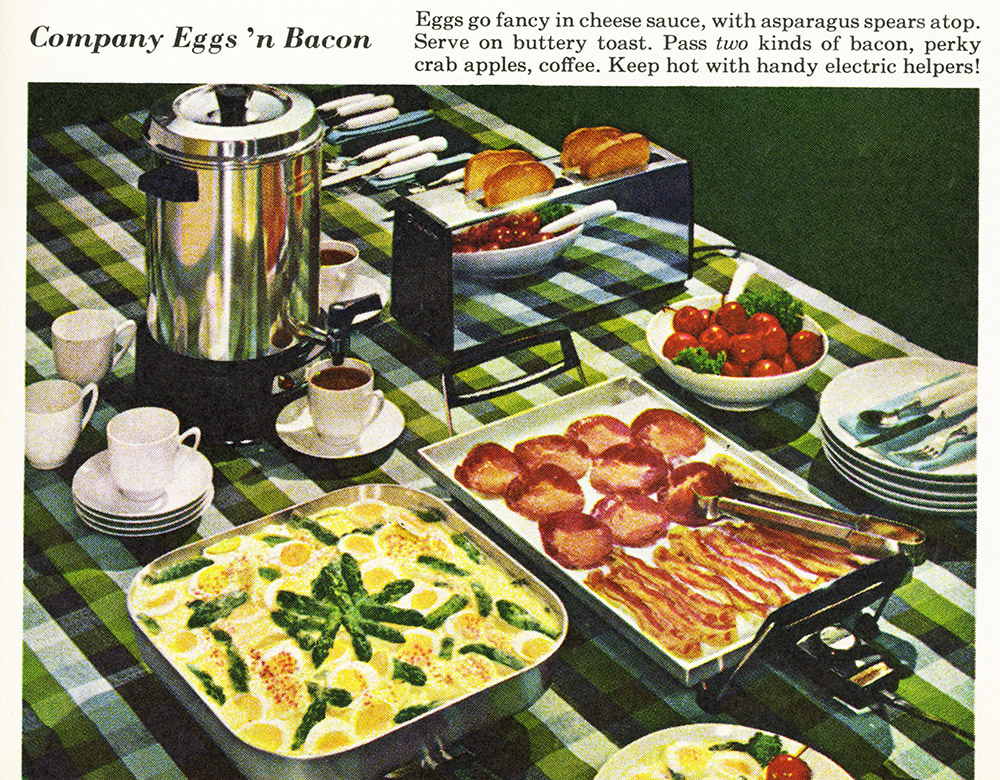 Jesus that's a lot of eggs.  I mean that's 2-3 deep of nothing but egg slices  – then, have a side of bacon and a heart-attack for dessert.
Fondue: The Fine Art of Fondue, The Chinese Wok and Chafing Dish Cooking (1969)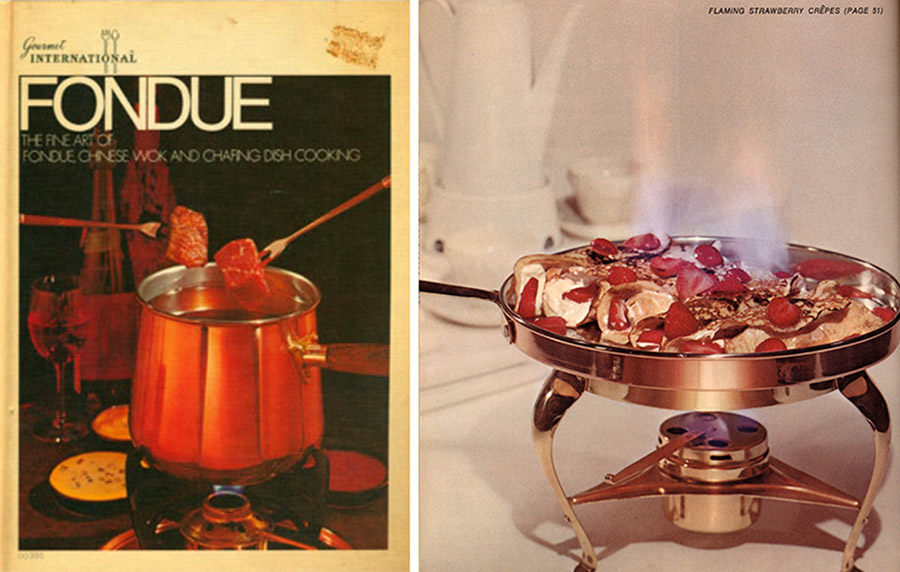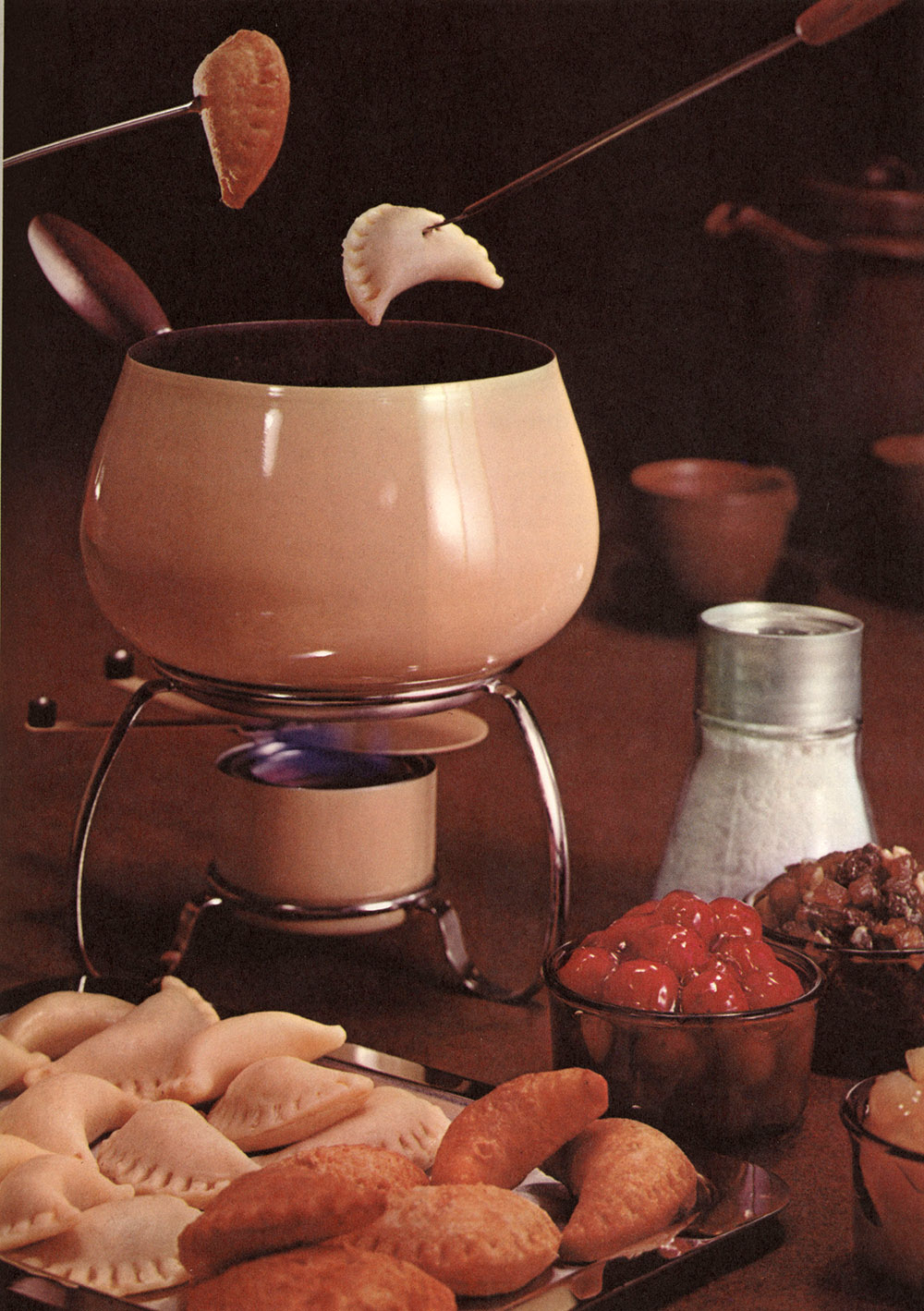 I'm all about fondue… but just dipping things into pots of grease, not so much.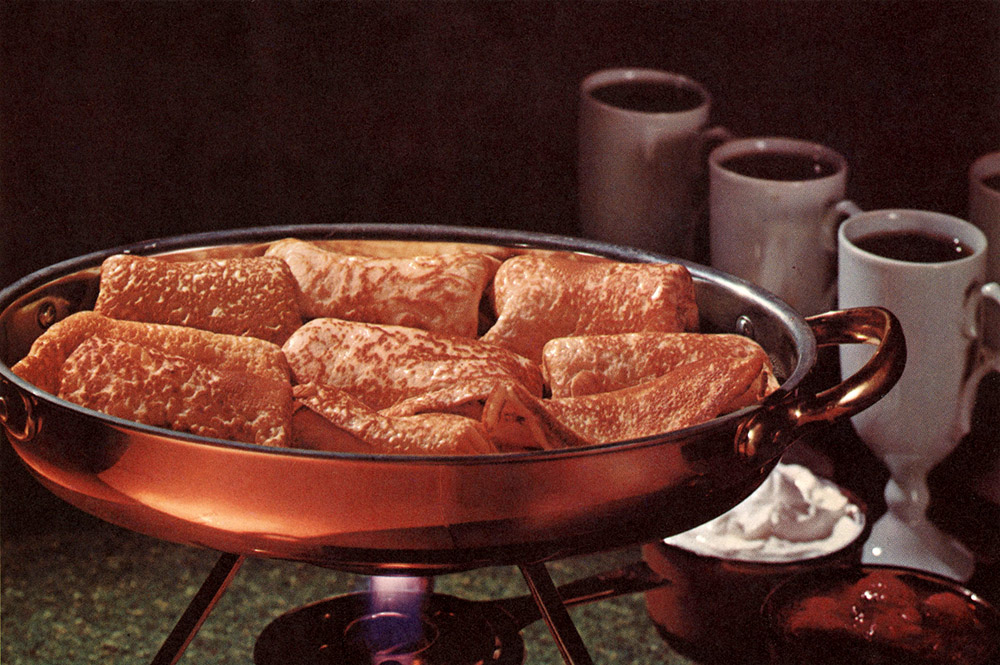 June Roth's Fast and Fancy Cookbook (1969)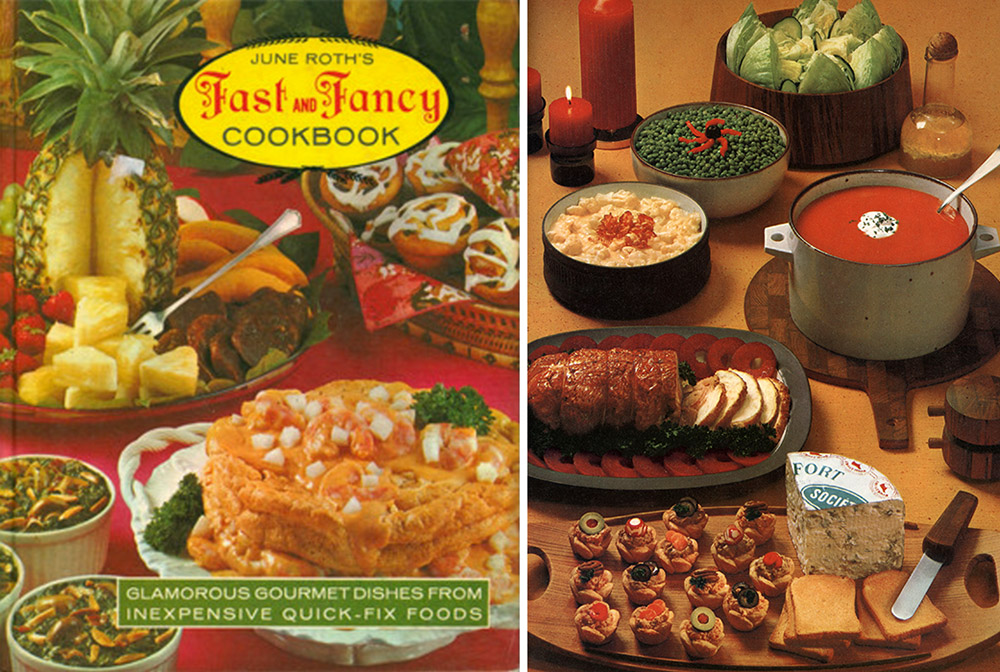 Egad! The orange-ish dish on the cover of this cookbook wins my award for the grossest looking item on this entire list.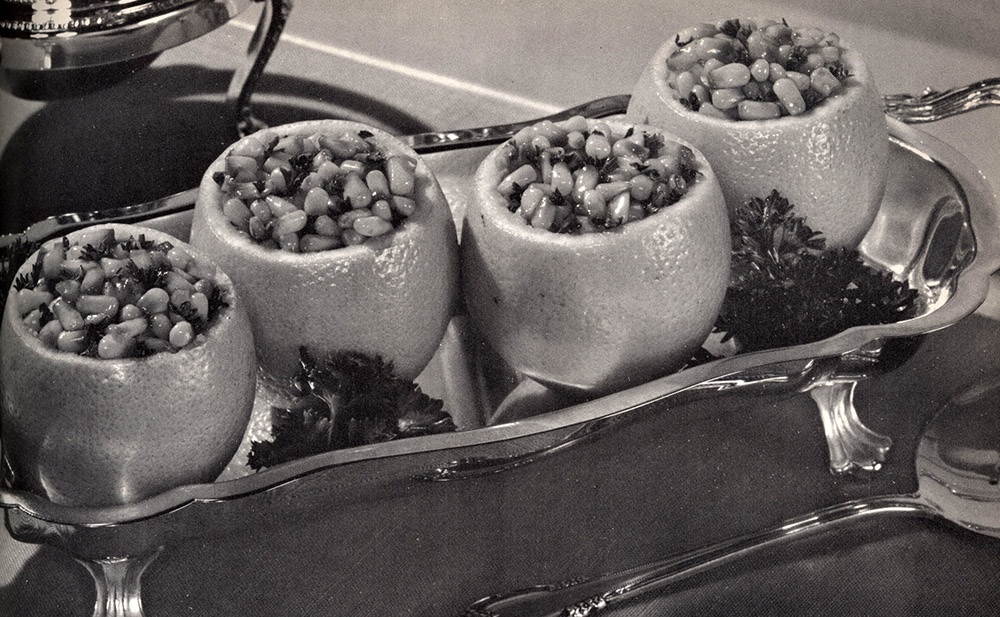 I'm sure this was a delightful treat – but in black and white, it looks horrifying.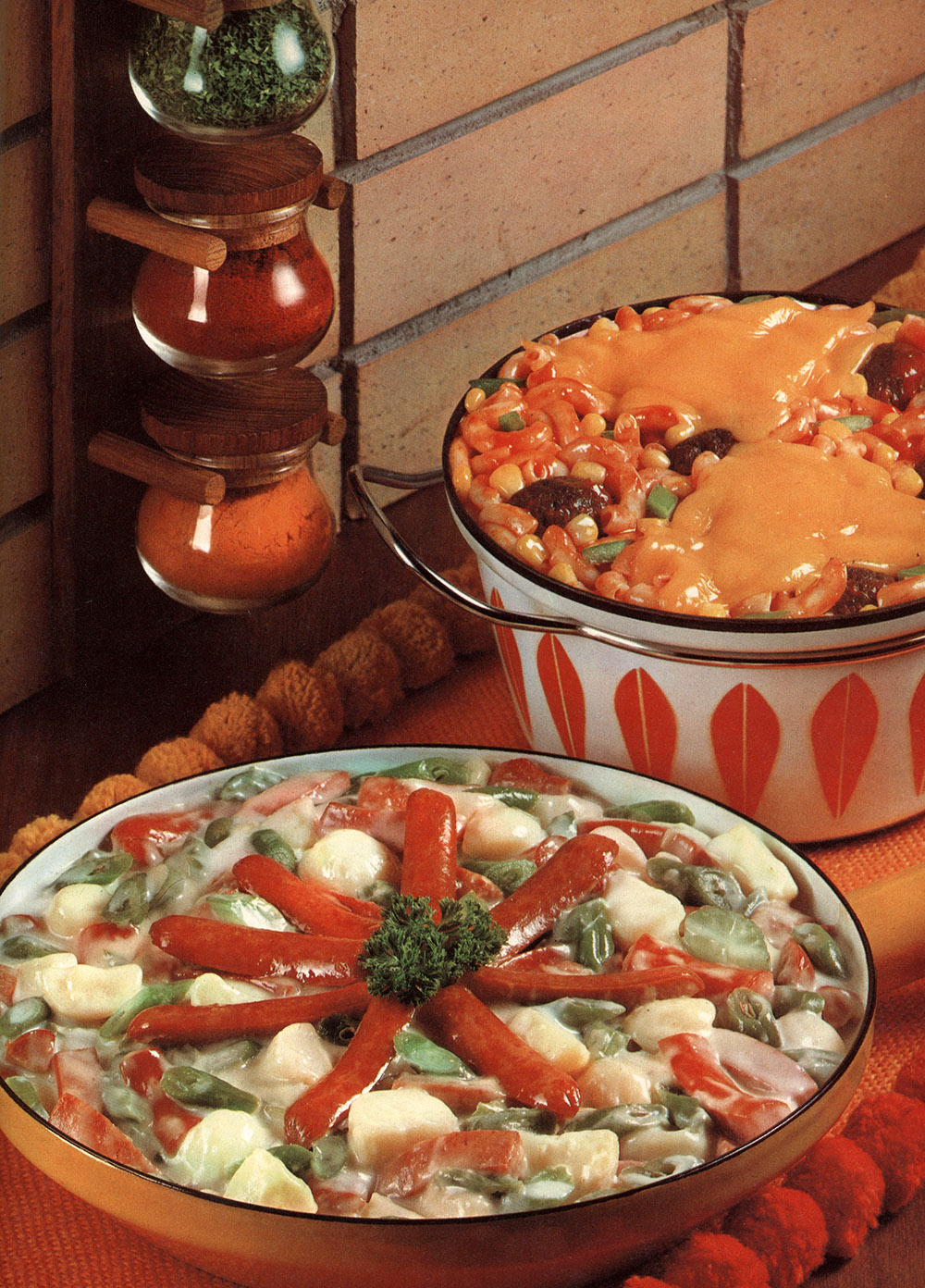 The good: Wieners arranged in a pretty star.  The bad: macaroni that looks like it's bloody. Did somebody cut themselves slicing these wieners, then bleed on the macaroni?
Let's Cook… Outdoors (1961)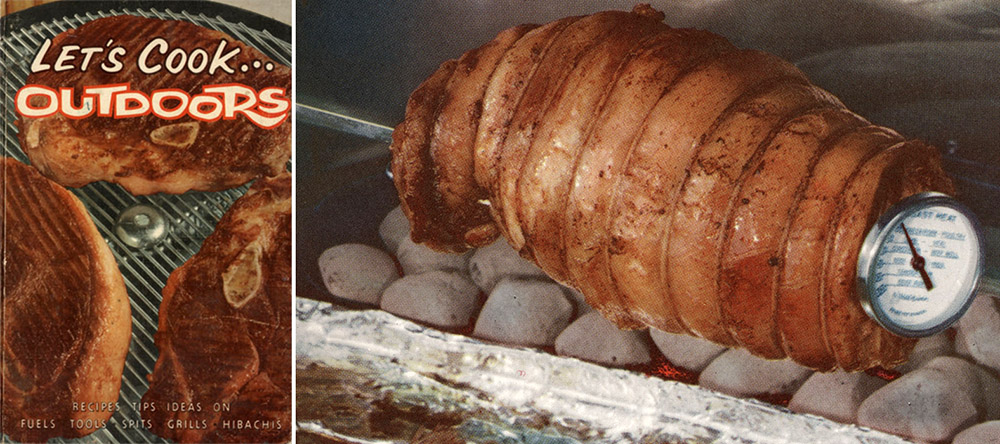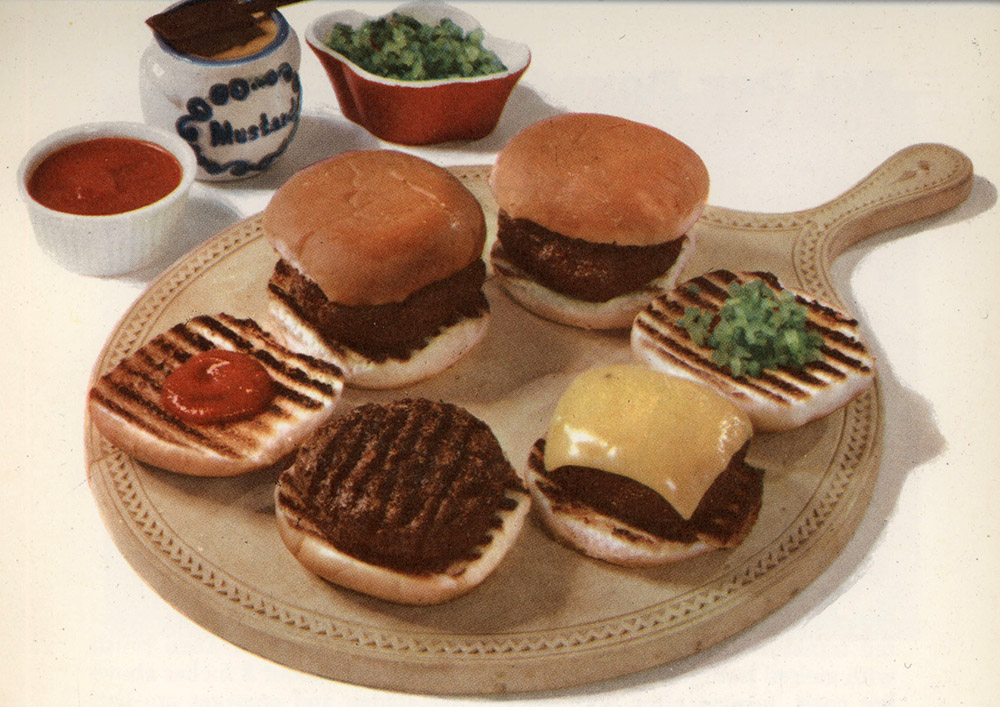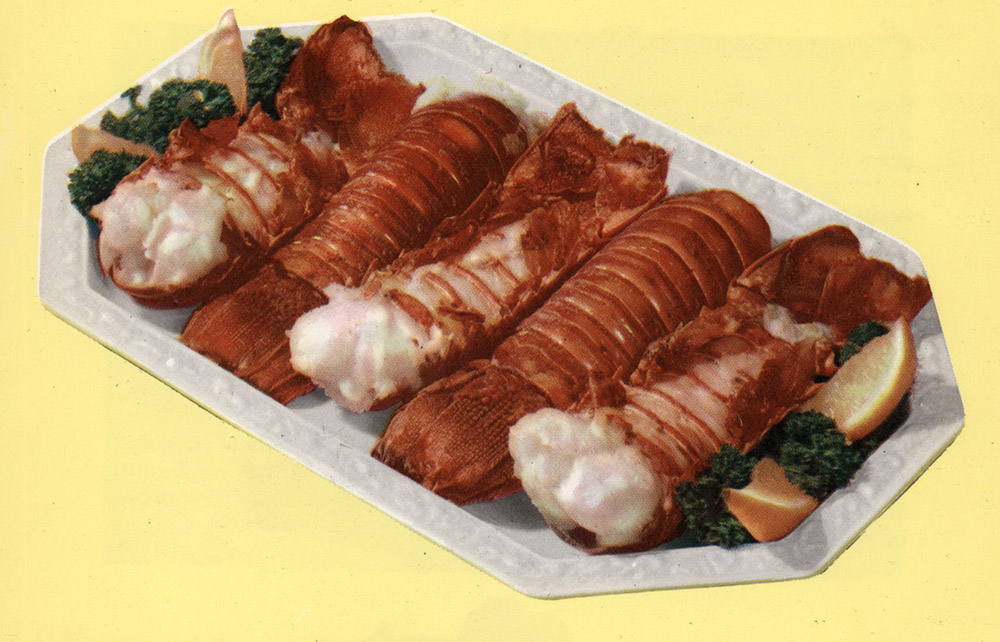 Famous Food from Famous Places (1964)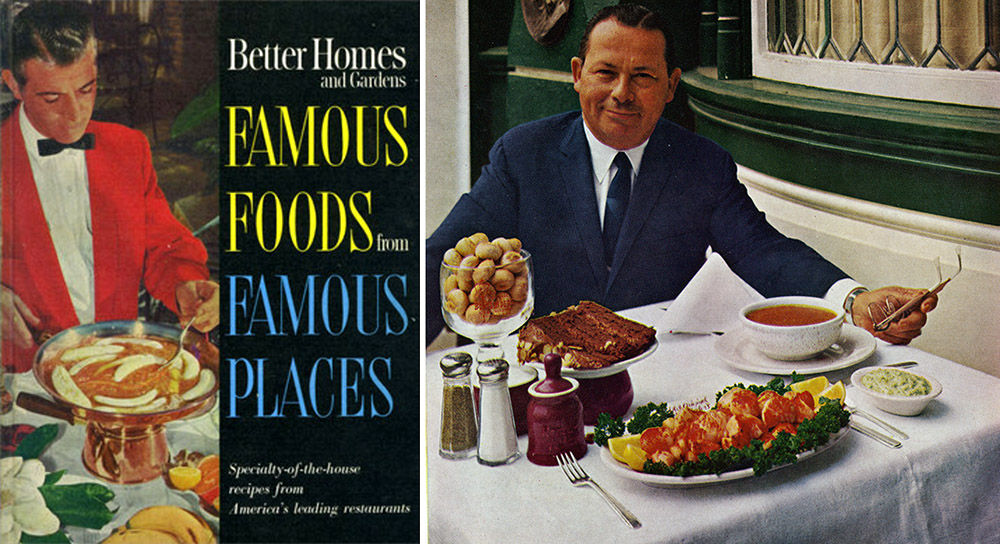 He needs to watch his portion size.  That's a mighty big slice of cake!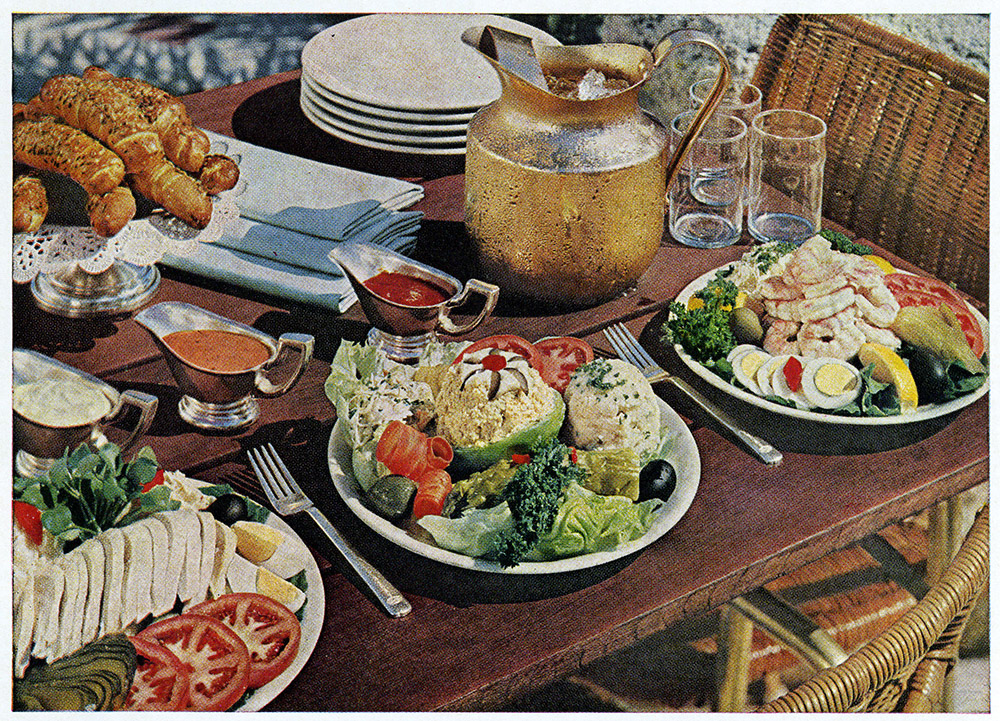 TIME-LIFE Picture Cookbook (1958)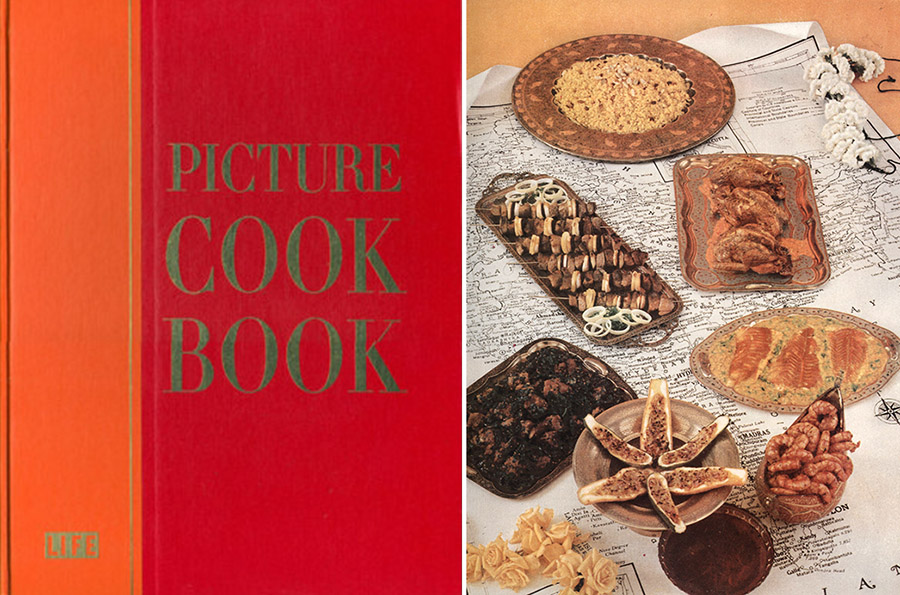 That is the "brownest" looking table of food I've ever seen.  So much for getting your greens!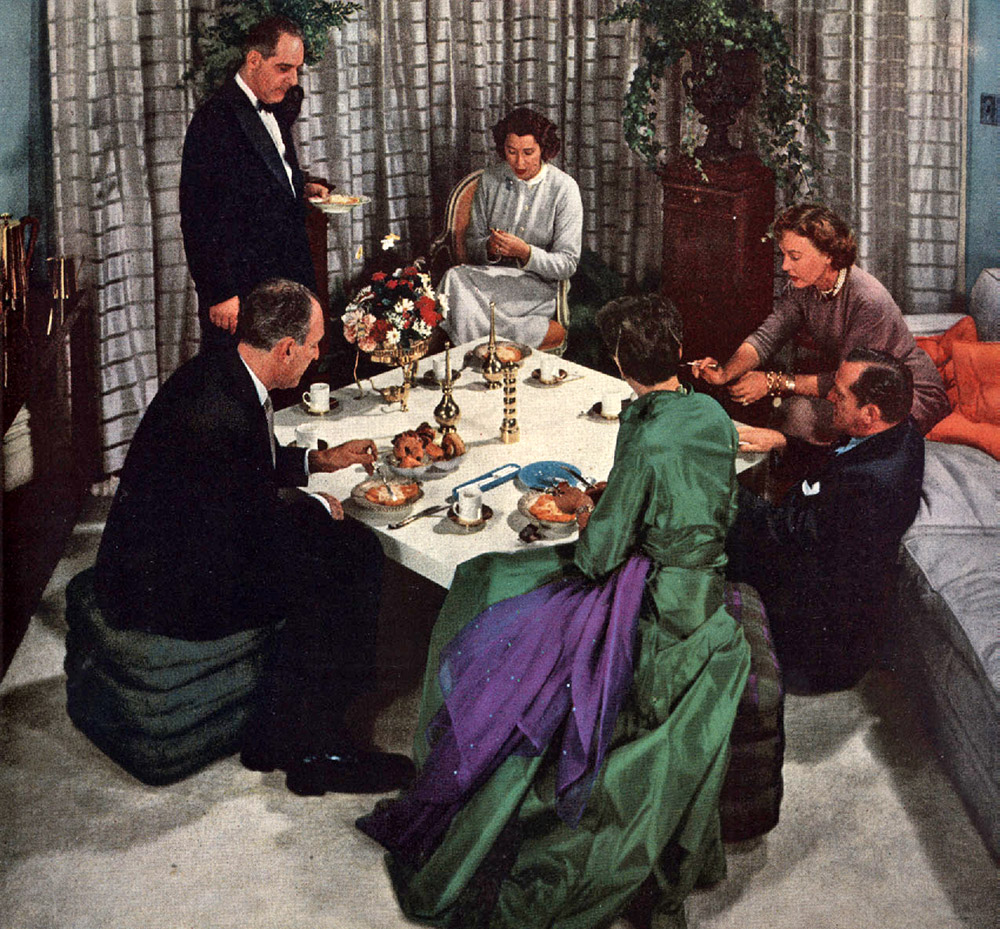 Why are they sitting on couch cushions?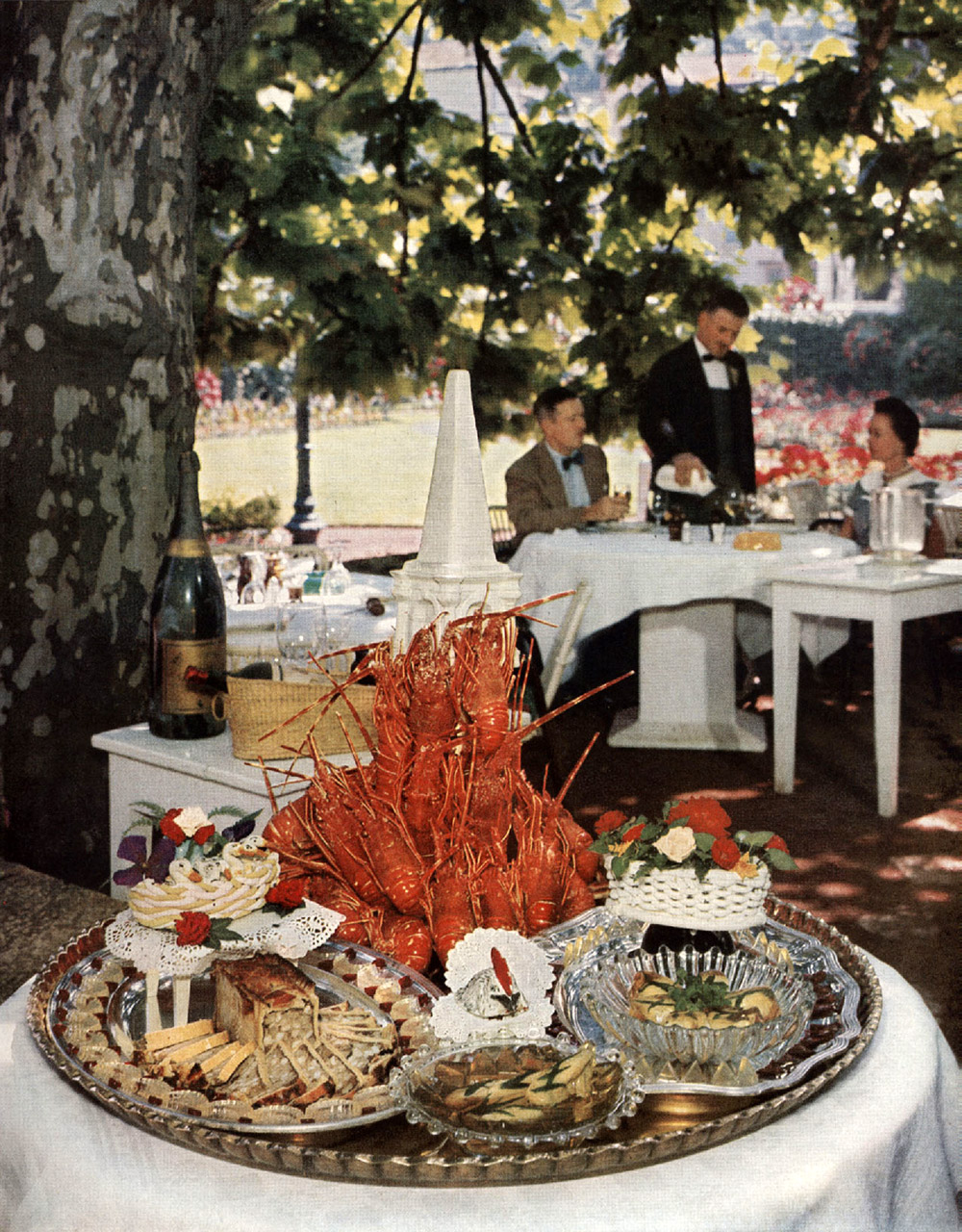 Attack of the mud bugs!  Those crawdads look alive and ready to swarm anyone daring to pick from this table.
Tappan Microwave Cooking Guide (1979)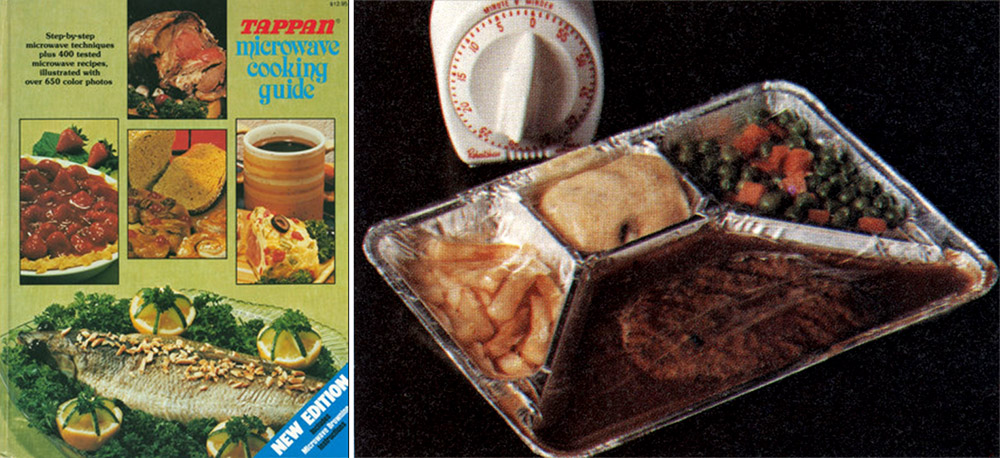 Wait – I thought you weren't supposed to put aluminum in a microwave?  And who microwaves a whole fish?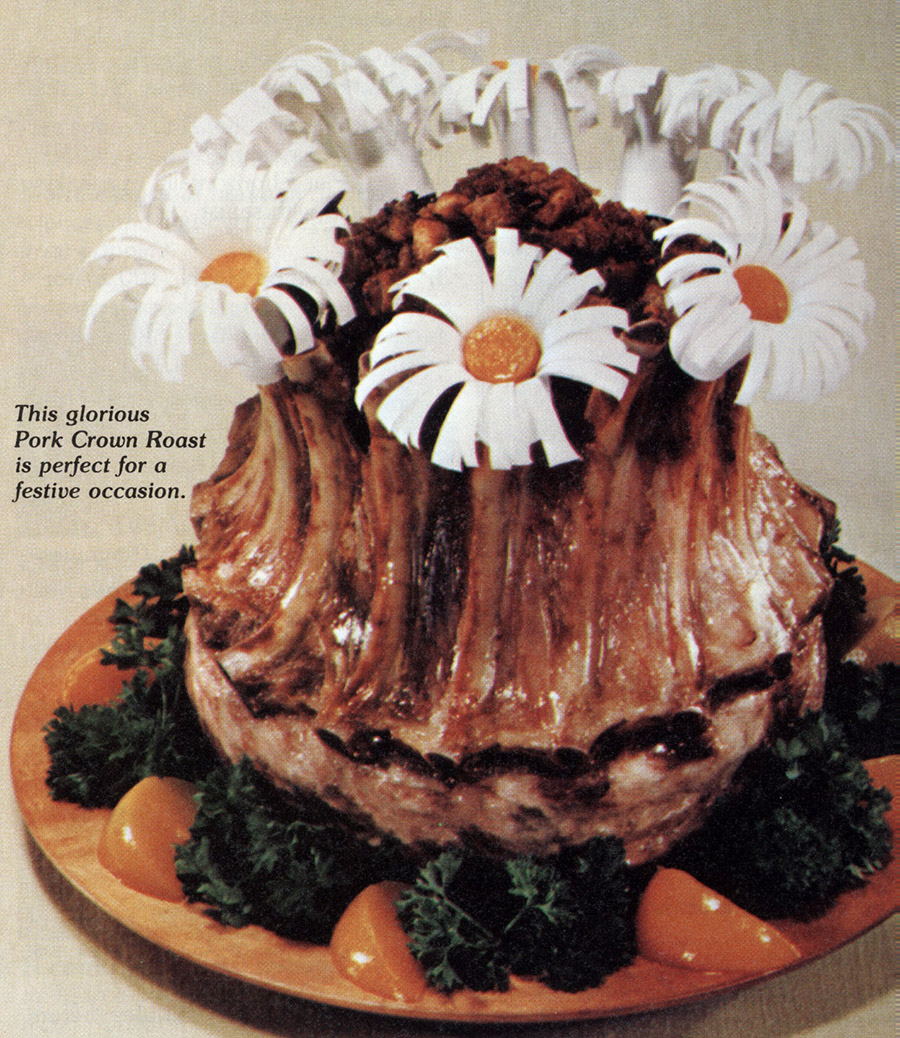 Variety Meats, Veal Dishes, Vegetables (1969) / Wear Ever's Wonderful World of New Method Cooking (1965)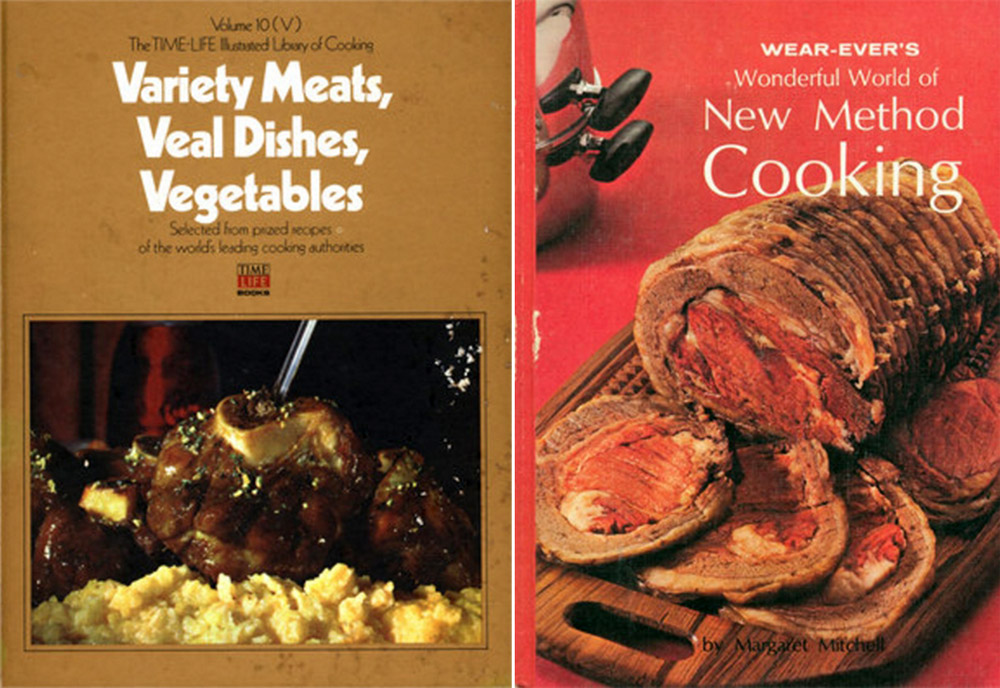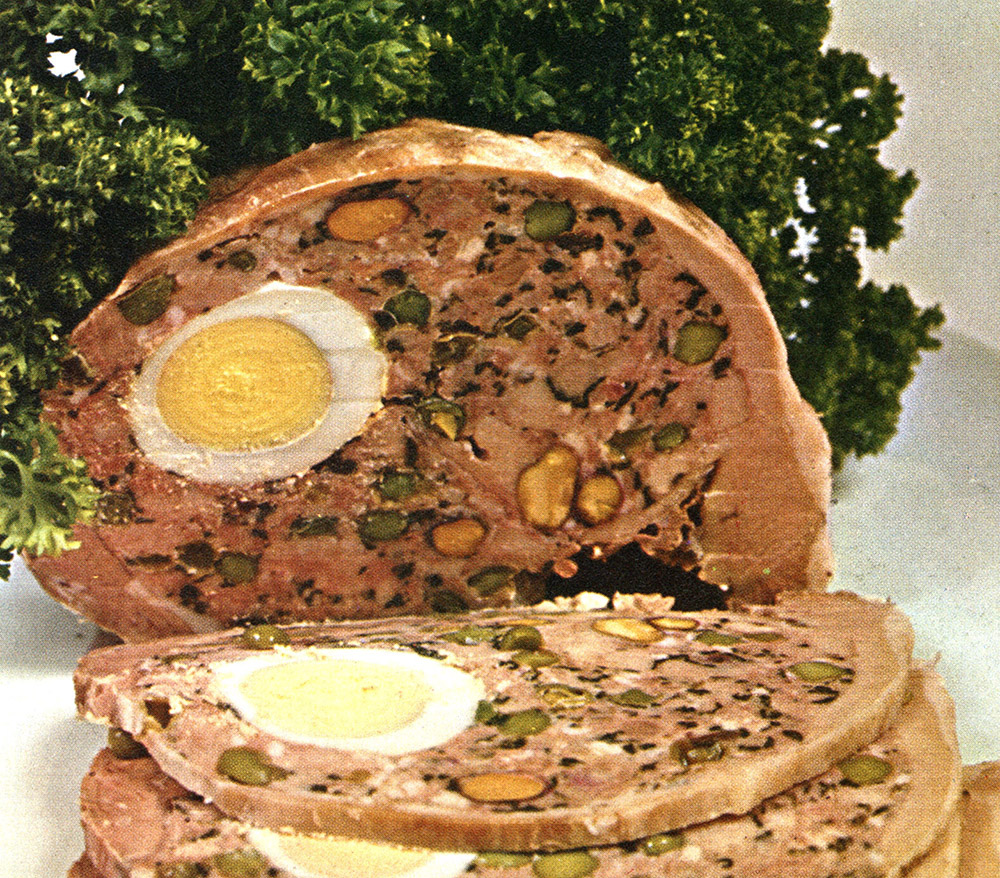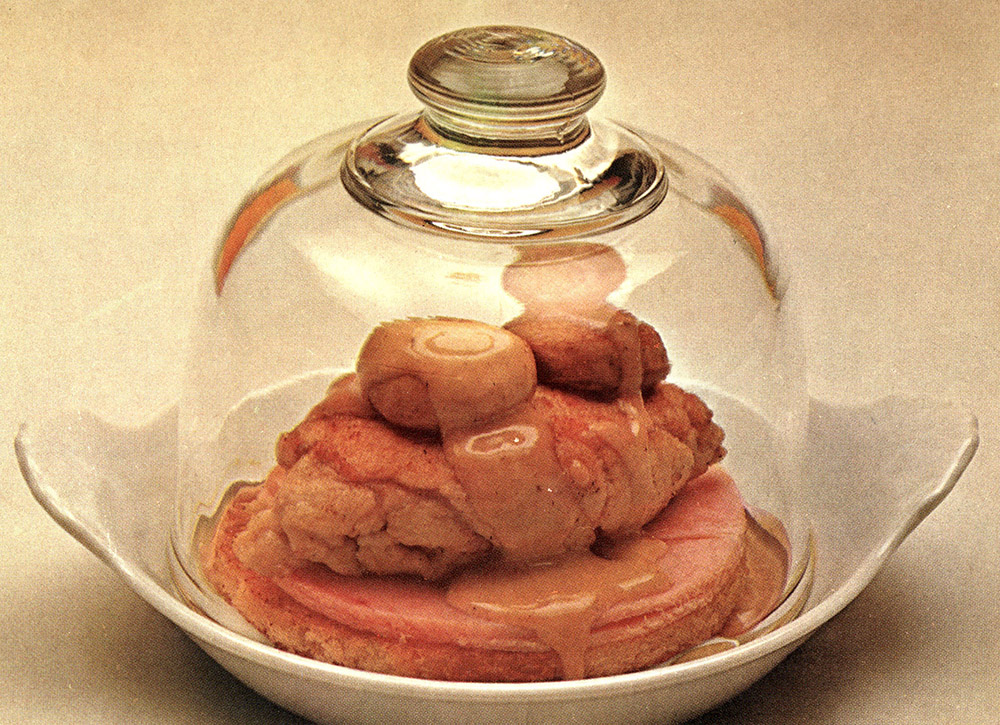 This looks like a science experiment, not a meal.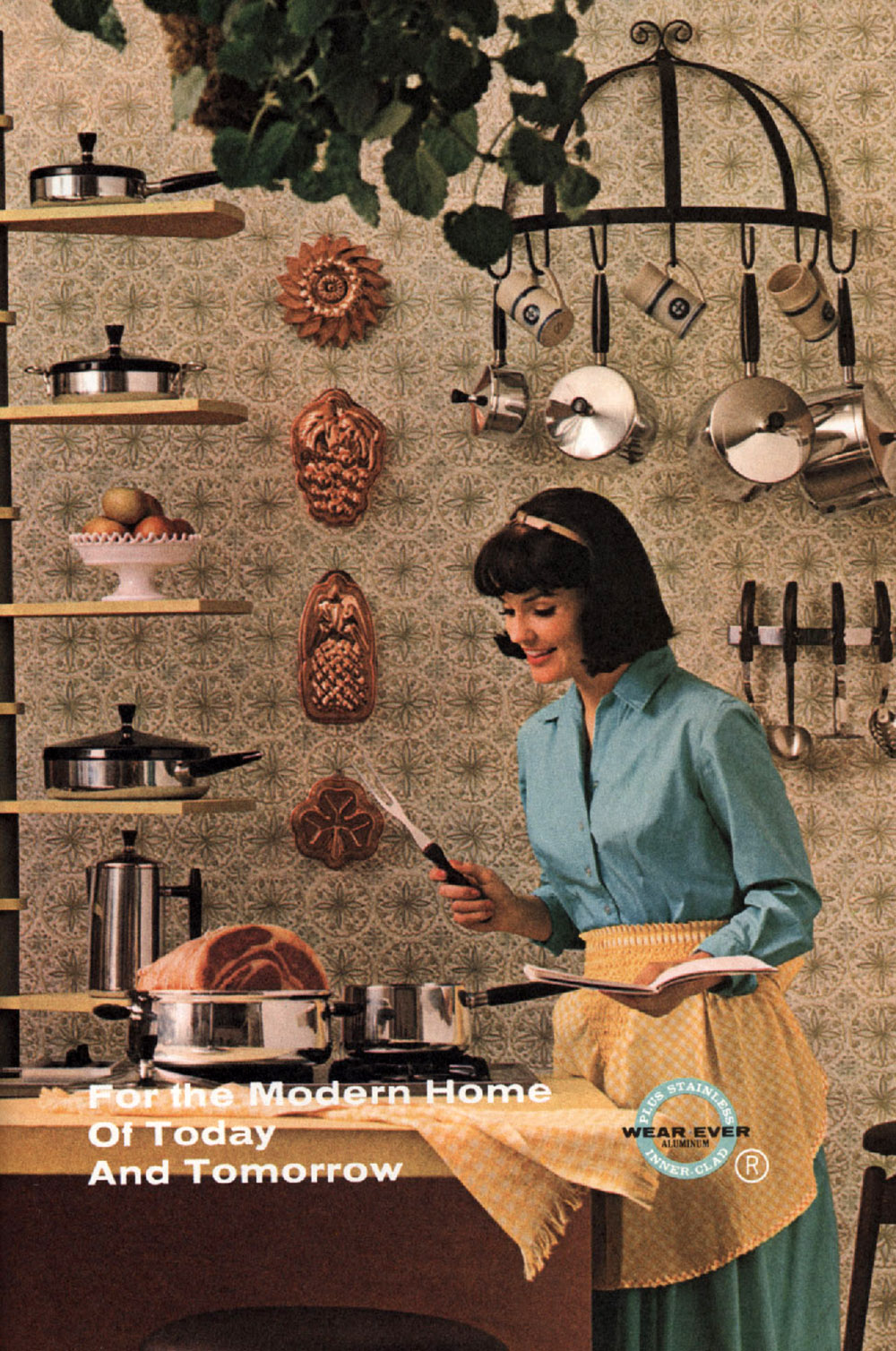 She needs to get a bigger pot.
Travel Your Taste with Kraft Food Service (1978)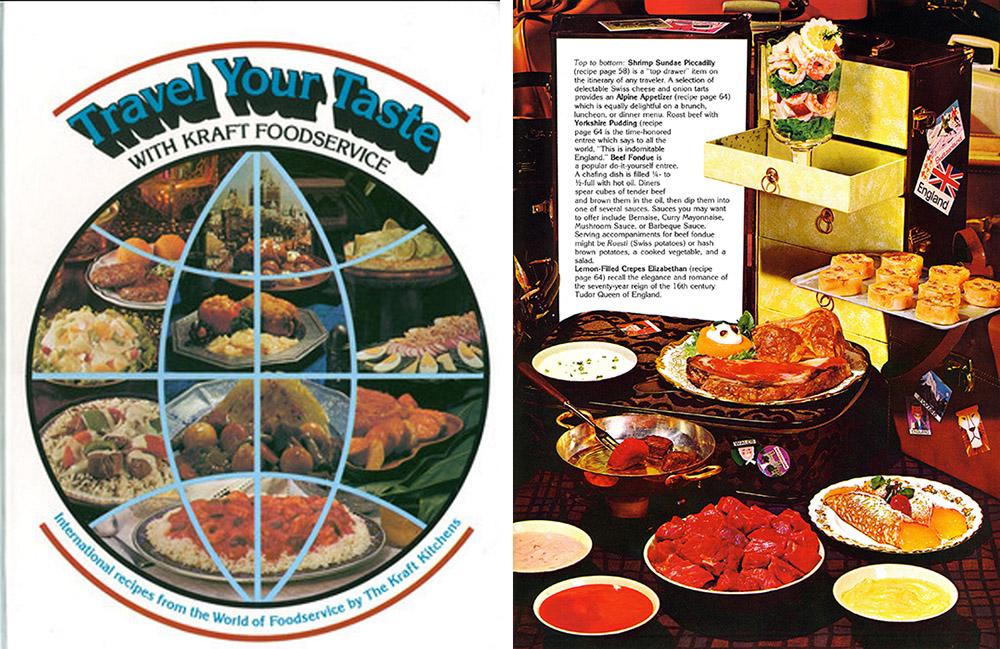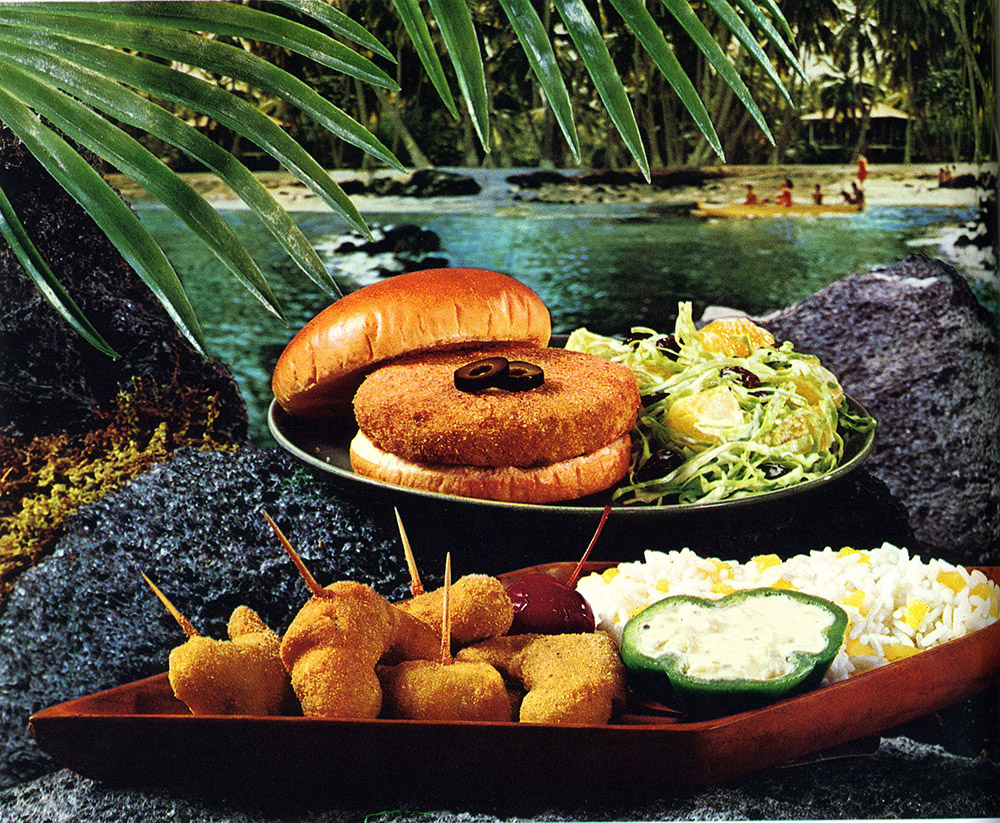 An early example of chicken nuggets.  A paleo-nugget, if you will.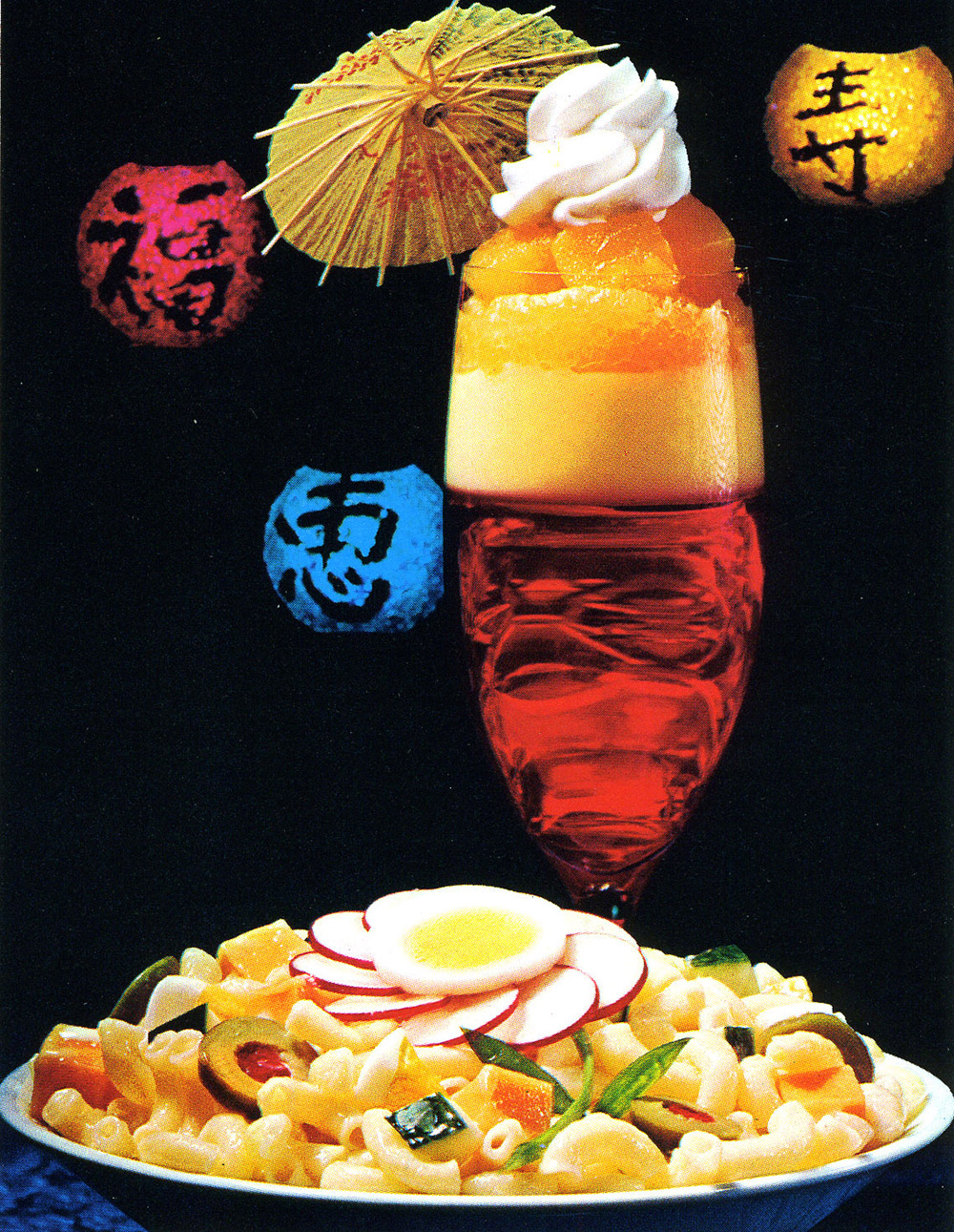 Better Homes & Gardens: Cookies and Candies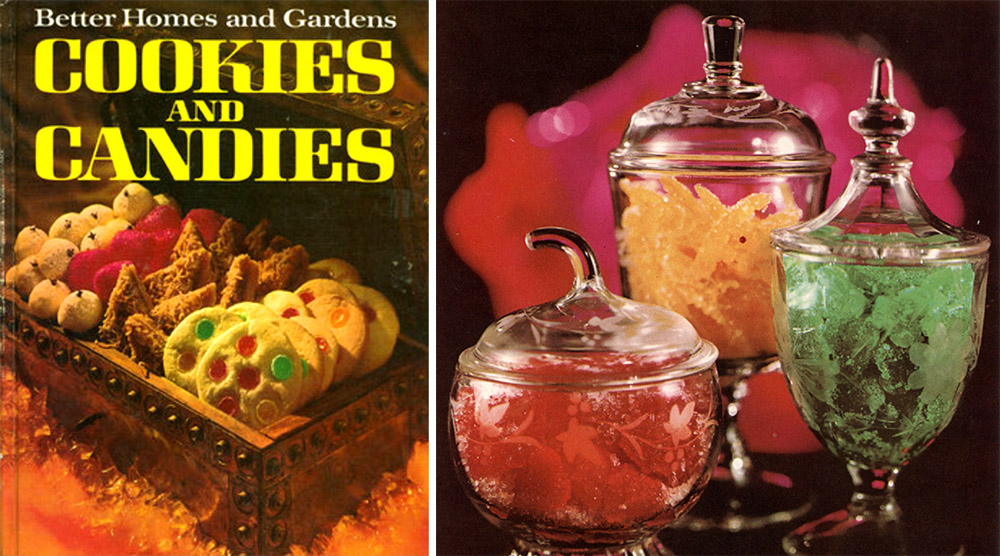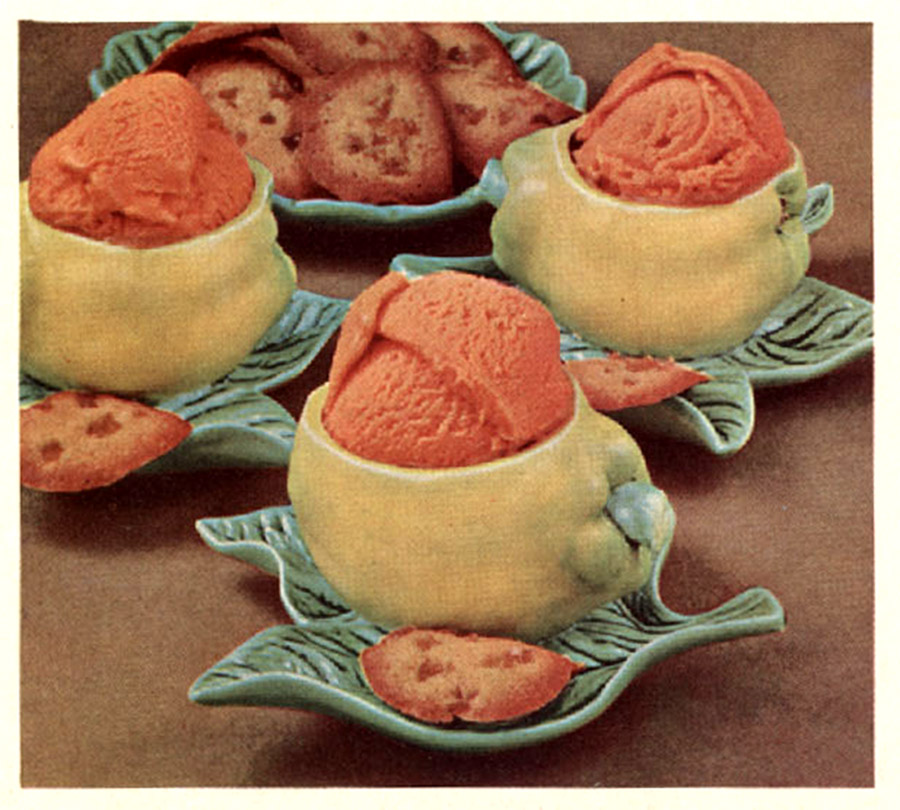 The orange sherbet would be a lovely dessert… were it not for those unpleasant-looking dishes.    And speaking of unpleasant…