BEAVIS and Butt-head are two boys so stupid they once forgot how to wee, who treat dog bites by pouring sports drinks into them, and who believe it's possible to get yourself pregnant. They're the best. Mike Judge's sniggering fartknockers are easily dismissed, but they rule hard. Huh huh. We said "hard".
THEY COULD DESTROY A BAND

1980s glam-rock also-rans Winger were frequently the butt of jokes on Beavis & Butt-head – the boys' weenie neighbour Stewart wore a Winger shirt, and they described the band as "wussies". Apparently this all came from when Mike Judge heard that frontman Kip Winger had insisted that MTV not let Beavis and Butt-head mock his band – Judge got annoyed and made fun of them loads. Winger ended up blaming the band's break-up on the cartoon, but it turned out he'd actually been misquoted the whole time. Sore.
THEY CHANGED THE ENGLISH LANGUAGE
As well as beautiful catchphrases like "I need TP for my bunghole" and "I have seen the top of the mountain, and it is good", Beavis and Butt-head gave the world insults like dillhole, assmunch, buttmunch, ass-goblin, asswipe, dickweed, dillweed, fartknocker, turd-burglar, pecker-butt, bunghole and chode-smoker.
THEIR MUSIC REVIEWS WERE SPOT-ON
On Vanilla Ice: "They're always putting this guy down and making fun of him and saying he sucks and stuff. But you know, he really does suck, and this is one of those times where everybody's right."
On Radiohead: "Sometimes, if I have a boner that won't go down, I listen to this type of music".
On Type O Negative: "I think they're a cross between Megadeth and my butt. I mean that as a compliment. My butt rules."
On Scatman John: "They should have a name for this type of music." "They already do have a name for this type of music, Beavis – it's called crap."
THEY MADE PEOPLE PROUD TO SUCK

After featuring a video by heavy metal band Grim Reaper, Judge ran into several of the members backstage at an Anthrax concert. "I thought I was gonna get my ass kicked," says Judge, "But he said 'I love your show. You trashed my video, but wait til you see the next one – it sucks even more'".
THEY COULD MAKE A BAND HUGE
White Zombie were releasing their song Thunder Kiss '65 for the third time, and not making a huge impact with it, when Beavis and Butt-head discovered it and decided it ruled. "Beavis and Butt-head thought Thunder Kiss '65 was cool and played it a lot" said White Zombie bassist Sean Yseult. "I hate to say we owe a lot to two cartoon characters, but we really do. That show was really cool. Everything that Beavis and Butt-head liked, I liked too so it was cool. It was kinda cool to be in company with the things they approved of." They also championed the hell out of Gwar (who are THE BEST), and had Snoop Dogg (back when he was Snoop Doggy Dogg) on the show a bunch of times.
THEY PAVED THE WAY FOR SOUTH PARK
Until Beavis and Butt-head came along, animation for adults consisted of The Simpsons and bugger-all else. Matt Stone and Trey Parker had started making rudimentary cartoons by the time Beavis and Butt-head was broadcast, but there's no way they'd have ended up with a prime-time slot on a mainstream channel without Judge's show. When South Park blew up, Mike Judge got in touch with Stone and Parker to warn them that success brings a backlash with it. Parker told Playboy in 2000 "He said, 'There's going to be this big rise, and then everyone will hate you. You just ride it out and do your job, you're just a show.'" He also gave them the advice "Don't let people take advantage of you, because they're dumb." Judge voiced Kenny for his sole unmuffled line in the South Park movie, Bigger, Longer & Uncut.
MIKE JUDGE DID IT PROPERLY DIY
"I always wanted to do animation – I did flip books as a kid" Mike told an interviewer in 1996. "But I always thought you needed all the equipment and the money for film and all the sound equipment. I thought, maybe if I'm rich someday. Then an animation festival came to town, and I saw the cels in the lobby and realized a local guy actually did it. So I figured out ways to make films with a $300 camera. I did the lipsynch tracking with a stopwatch and a four-track cassette recorder, and did the music as one piece."
WITHOUT THEM THERE'D BE NO OFFICE SPACE OR IDIOCRACY

After finishing Beavis and Butt-head's first run, Judge wrote and directed box-office-flops-turned-cult-hits-on-DVD Office Space and Idiocracy (as well as Extract, which to be fair is a bit rubbish). Office Space is possibly the best movie about work ever made, while Idiocracy manages to combine really intelligent satire with a lot of people getting hit in the nuts. The dad from Everybody Hates Chris plays the future US President in it, and he's completely amazing. He's a wrestler who keeps grabbing his crotch.
OR THIS

This is the trailer for Judge's new show, Silicon Valley. Does it look good? Yes, it does, it looks really really good.
THEY KNEW HOW TO TURN A CUSS INTO A GAG
When Senator Ernest Hollings, who had never watched an episode, badmouthed the show during an interview, he mispronounced it as "Buffcoat and Beaver" (which is incredibly weird, and sounds really rude, and suggests Senator Ernest Hollings has a dirty mind). This immediately became a running joke, with almost every adult that the boys encountered pronouncing their names differently ("Travis and Bob-head", "Crevis and Bung-head" etc).
MIKE JUDGE HAD A BAD TIME
This isn't really a thing to celebrate, but he's not having a bad time anymore, so that's something. When a five-year-old set fire to his family's trailer, killing his two-year-old sister, his parents claimed he'd been influenced by Beavis and Butt-head's obsession with fire (he hadn't been – the family didn't have cable TV). The ensuing controversy led to Judge being banned from having Beavis say the word "fire", which he hated because it implied some responsibility for the incident on the part of the show. He also had a pretty rubbish deal with MTV, with one director later recalling "MTV robbed that guy, he got nothing". When the show returned in 2011 though, Judge was in more of a position of power, and the full title of the show was Mike Judge's Beavis And Butt-Head. Dude did good.
THEY SPAWNED DARIA AND KING OF THE HILL

Beavis and Butt-head's monotonal classmate Daria ended up getting her own spin-off series, which was awesomely 90s and beautifully observed (plus several of the characters in it were weirdly alluring). Mike Judge also morphed Beavis and Butt-Head's neighbour Tom Anderson into Hank Hill, lead character of King Of The Hill, which ran for thirteen seasons, won tons of awards and was ace. Judge also created The Goode Family a few years ago, about a family of politically-correct liberals, which was sort of rubbish so let's not dwell on it.
THEIR ANIMATION SUCKED BUT RULED AND THEN RULED WHILE STILL SUCKING
The animation in the first series of Beavis and Butt-Head was properly rudimentary – it was hand-drawn, rushed, and the character models took a while to be properly solidified (a bit like the way early Simpsons episodes look like they were drawn in real-time). When the show came back in 2011 they had full HD, really lovely-looking animation, but for the bits where they were commenting on music videos, they re-used the rubbish old animation. Christ knows why, but hey, recycling's a positive thing, right? The poor animation was also a source of inspiration to Matt Stone and Trey Parker, who applied the same DIY aesthetic to their cut-out construction-paper films.
MIKE JUDGE IS A LOVELY DUDE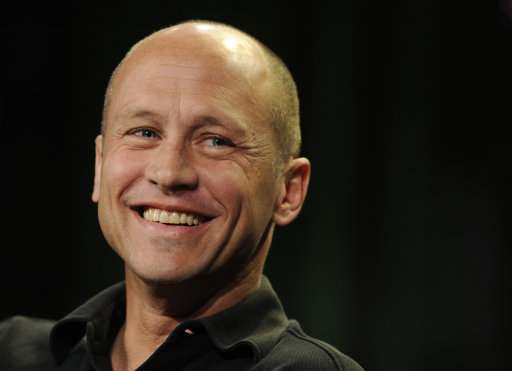 A lot of people that work in telly are vicious sods, but Mike Judge seems to not have a bad word to say about anyone. Describing Matt Stone and Trey Parker's Team America script, he said "I've never laughed out loud as much reading anything", he's described Family Guy as "great", Simpsons creator Matt Groening as having "started it all", and equates old Road Runner cartoons with the moon landing. He also put together a touring festival, The Animation Show, designed to showcase work by lesser-known artists. What a nice dude. Plus he's friends with Johnny Knoxville, and that guy seems to have pretty good taste.
THEY CAN HELP BROKE-ASS ARTISTS BY LAUGHING AT THEM

In one episode of the 2011 season, Beavis and Butt-head comment on a video called It's So Cold In The D by T-Baby. T-Baby is broke as hell – she's not got a record contract or anything, and her song was just a no-budget YouTube video that people thought was funny. She got US$4,000 to let her video be used on Beavis and Butt-head, and will get another $4,000 every year that the show's repeated. She told TMZ "People have been making fun of me my whole life, so Beavis and Butt-head laughing at me is no big deal – I'm laughin' all the way to the bank. It's been the biggest kickoff to my career."