"I attribute capital esthetic and moral values to food in general, and to spinach in particular. The opposite of shapeless spinach, is armor. I love eating suits of arms, in fact I love all shell fish… food that only a battle to peel makes it vulnerable to the conquest of our palate" – Salvador Dali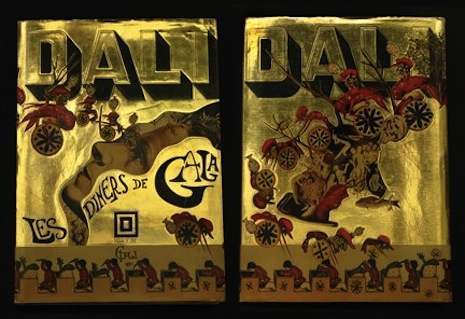 In Les Diners de Gala (1973) Salvador Dali explores his approach to eating. Most reviews of it quote the artist's words from his 1942 autobiography, The Secret Life of Salvador Dali:
"At the age of six,  I wanted to be a cook."
What they fail to add is what he then wrote:
"At seven I wanted to be Napoleon. And my ambition has been growing steadily ever since."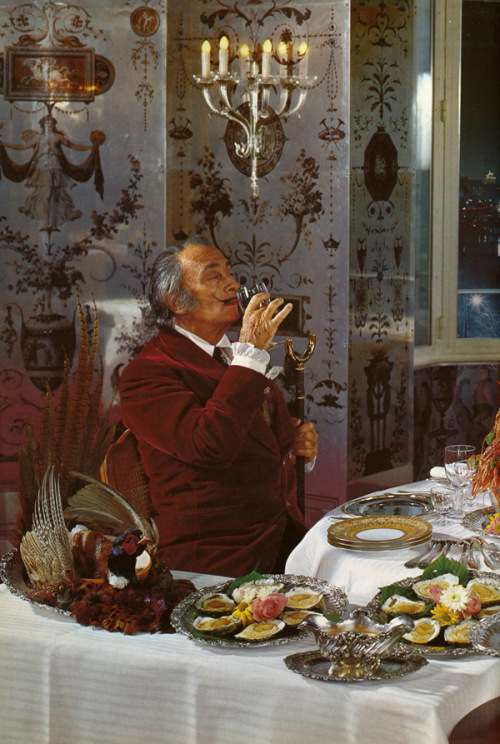 This is not a book about you and your needs. This is book about him. It's split into 12 chapters, each focusing on a different facet of the Dali pallet:
1. Les caprices pincés princiers (Exotic Dishes)
2. Les cannibalismes de l'automne (Eggs – Seafood)
3. Les suprêmes de malaises lilliputiens (Entrées)
4. Les entre-plats sodomisés (Meats)
5. Les spoutniks astiqués d'asticots statistiques (Snails – Frogs)
6. Les panaches panachés (Fish – Shellfish)
7. Les chairs monarchiques (Game – Poultry)
8. Les montres molles 1/2 sommeil (Pork)
9. L'atavisme désoxyribonucléique (Vegetables)
10. Les "je mange GALA" (Aphrodisiacs)
11. Les pios nonoches (Sweets – Desserts)
12. Les délices petits martyrs (Hors-d'oeuvres)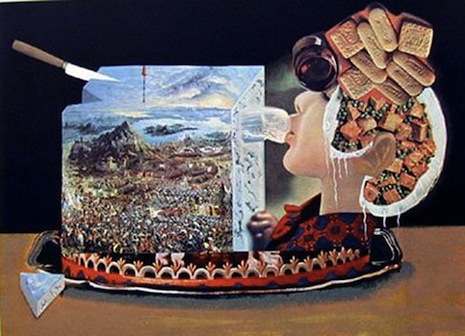 It's all adds up to a fun, odd, gnostic, kitsch and unusual read. The title is a pun on those fine Gala dinners and his wife's name, she being called Gala – note the bawdy reference in Chapter 10 to 'eating Gala'.
This is cooking not for everyone's tastes. It begins with a warning:
We would like to state clearly that, beginning with the very first recipes, Les Diners de Gala, with its precepts and its illustrations, is uniquely devoted to the pleasures of Taste. Don't look for dietetic formulas here.

We intend to ignore those charts and tables in which chemistry takes the place of gastronomy. If you are a disciple of one of those calorie-counters who turn the joys of eating into a form of punishment, close this book at once; it is too lively, too aggressive, and far too impertinent for you.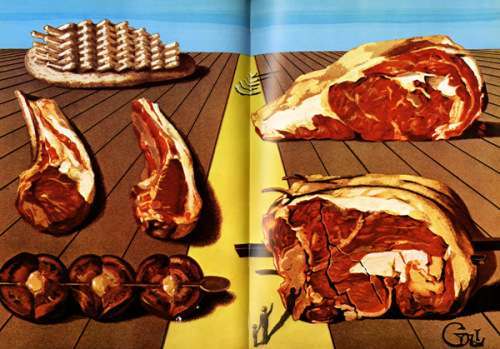 Here's his recipe for your libido – a "pick-me-up":
CASANOVA COCKTAIL

The juice of 1 orange
1 tablespoon bitters (Campari)
1 teaspoon ginger
4 tablespoons brandy
2 tablespoons old brandy (Vielle Cure)
1 pinch Cayenne pepper

This is quite appropriate when circumstances such as exhaustion, overwork or simply excess of sobriety are calling for a pick-me-up.

Here is a well-tested recipe to fit the bill.

Let us stress another advantage of this particular pep-up concoction is that one doesn't have to make the sour face that usually accompanies the absorption of a remedy.

At the bottom of a glass, combine pepper and ginger. Pour the bitters on top, then brandy and "Vielle Cure." Refrigerate or even put in the freezer.

Thirty minutes later, remove from the freezer and stir the juice of the orange into the chilled glass.

Drink… and wait for the effect.

It is rather speedy.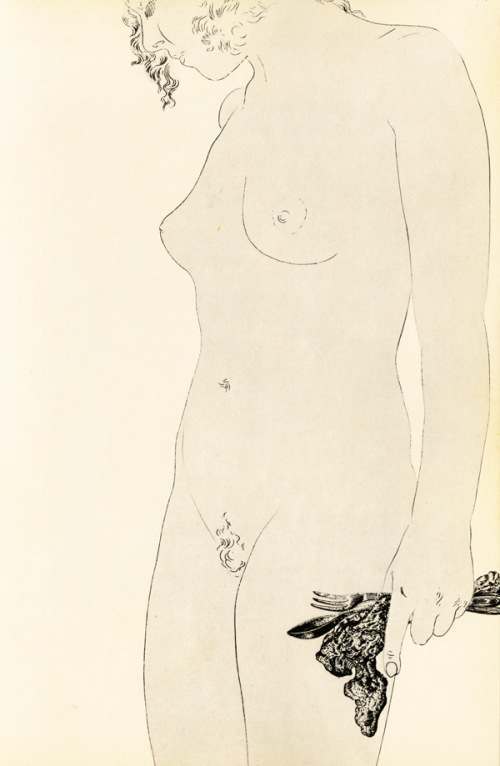 Via: Brain Pickings, Mr Peacock