Roller Derby Kisses: Turning Girls' Roller-Derby Bum Bruises Into Art
"It's only when the heart begins to beat wildly and without pattern – when it begins to realize its boundlessness – that its newly adamant pulse bangs on the walls of its cage and is bruised by its enclosure. To feel the heart pound is only the beginning. Next is to feel the hurt – the tearing of the psyche – the prelude of entry into the place one has always feared. One fears that place because of being drawn to it, loving it, and wanting to be taught by it. Without the need to be taught, who would feel the psyche rip?…. Without the bruise, who would know where the walls are – Kay Larson in Where the Heart Beats: John Cage, Zen Buddhism, and the Inner Life of Artists
Riikka Hyvönen has a photo collection of roller derby girls' butts. She turned the kaleidoscope of pain into 3D art. She says:
"I hope people will see the beauty of bruises. I painted the bums to capture momentary marks that are seen in a completely different light in the mainstream than inside the subculture of roller derby girls."

In roller derby, bruises can be seen as badges of honours. The bruises, usually referred as 'derby kisses' are trophies, which are often photographed and posted online.

"I believe these images are charged with (mental) strength. They show that the player's bodies can take the hits yet overcome the pain and still continue to play. Obviously, I am objectifying these women totally. But I am doing it exactly the way they objectify themselves: their big and strong bums are assets and to be carried with pride."
Captions are the roller derby players' own comments.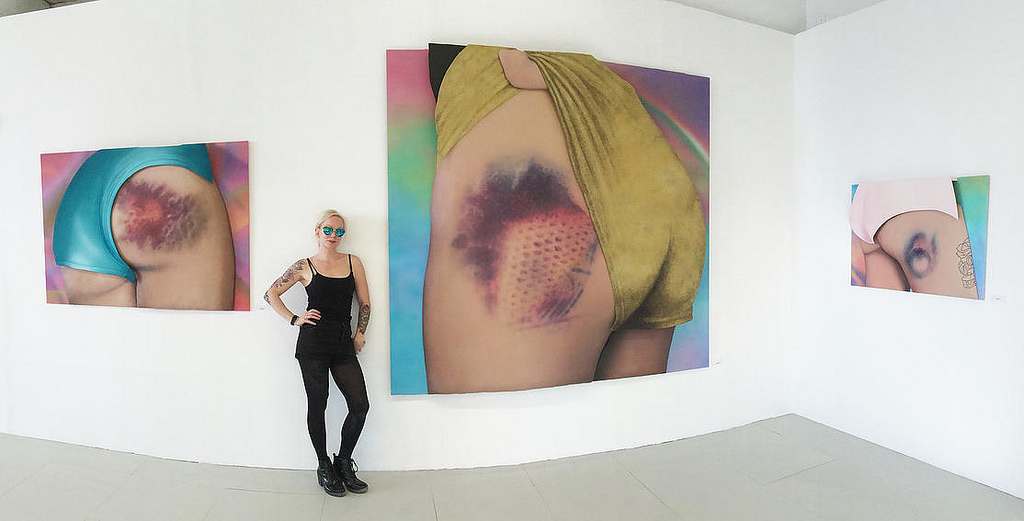 Via: HiFructose