"The main thing you've got to overcome is getting discouraged… writing pros is the hardest thing in the world"
– Ernest Hemingway (July 21, 1899–July 2, 1961)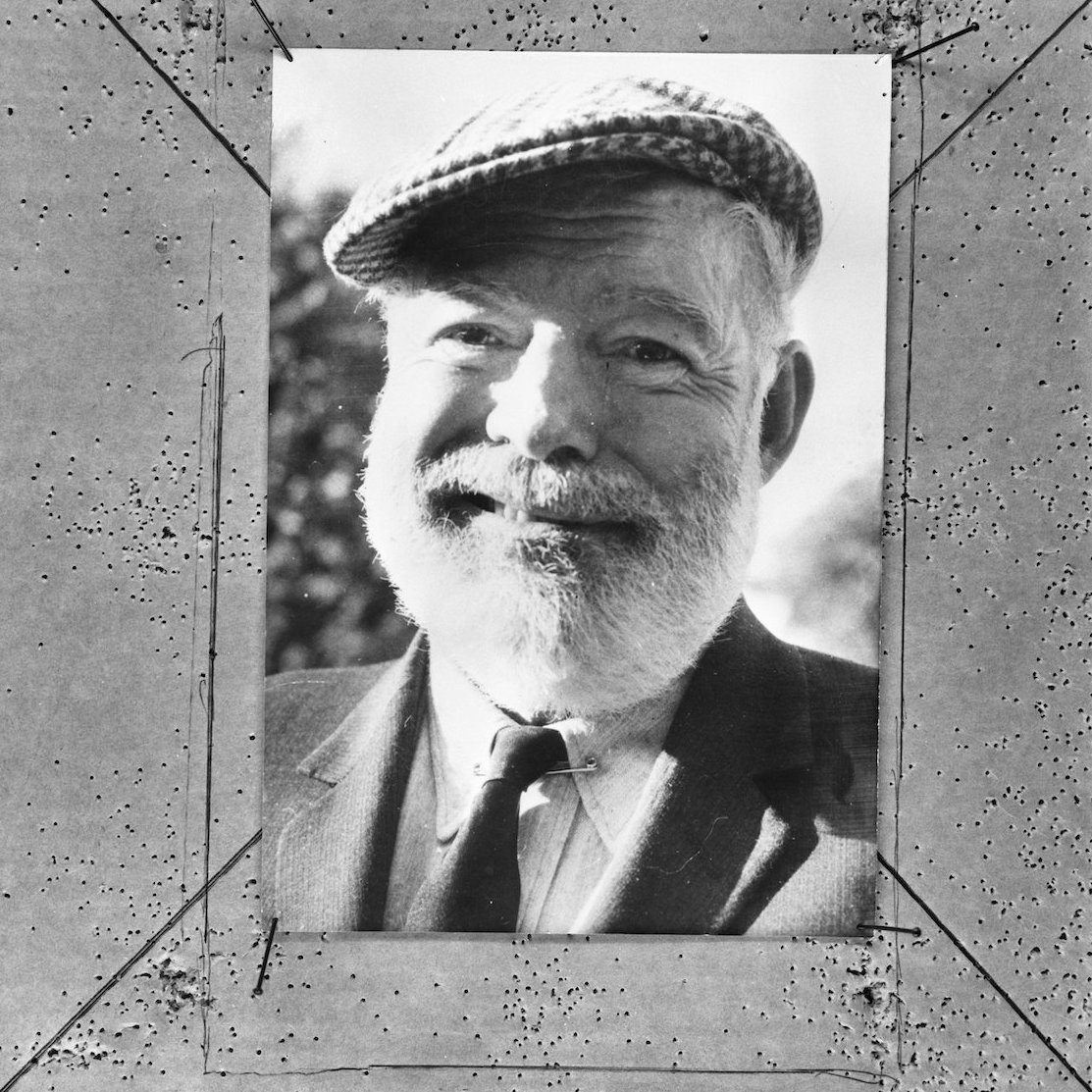 Arnold Samuelson refused to hand over the $5 fee to get his diploma in journalism at the University of Minnesota. The money, he reasoned, would be better invested in helping him achieve learning in the field through an audience with the journalist and writer he admired most. So, he hitchhiked his way from Minnesota to see Ernest Hemingway in Key West.
He took along pair of hair-cutting shears to earn some money on the way and his violin, playing in makeshift orchestras.
"I hitchhiked from Minneapolis down to Key West to meet Ernest Hemingway. I was not invited. I had read one of his short stories, 'One Trip Across' which later became the first part of To Have and Have Not. That story gave me the impulse to travel two thousand miles to meet the writer. At best I hoped he might spare me a few minutes to talk about writing.

"It seemed a damn fool thing to do, but a twenty-two-year-old tramp during the great depression didn't have to have much reason for what he did. I was headed south at a time when the other bums were following the birds north. At least my wild-goose chase had a destination…"
Hemingway liked what he saw. Samuelson stayed with the writer for an entire year, recording the experience in a manuscript  discovered by his daughter after his death in 1981. It was published as With Hemingway: A Year in Key West and Cuba.
During their time together, Hemingway handed Samuelson a handwritten list books and instructed him to read them all. Hemingway considered Mark Twain's Adventures of Huckleberry Finn to be "the best book an American ever wrote", the one that "marks the beginning of American literature". But he admired many others, telling Samuelson:
Here's a list of books any writer should have read as a part of his education… If you haven't read these, you just aren't educated. They represent different types of writing. Some may bore you, others might inspire you and others are so beautifully written they'll make you feel it's hopeless for you to try to write.
Here is that list:
The Blue Hotel by Stephen Crane
The Open Boat by Stephen Crane
Madame Bovary by Gustave Flaubert
Dubliners by James Joyce
The Red and the Black Stendhal
Of Human Bondage by W. Somerset Maugham
Anna Karenina by Leo Tolstoy
War and Peace by Leo Tolstoy
Buddenbrooks by Thomas Mann
Hail and Farewell by George Moore
The Brothers Karamazov by Fyodor Dostoyevsky
The Oxford Book of English Verse
The Enormous Room by E.E. Cummings
Wuthering Heights by Emily Brontë
Far Away and Long Ago by W.H. Hudson
The American by Henry James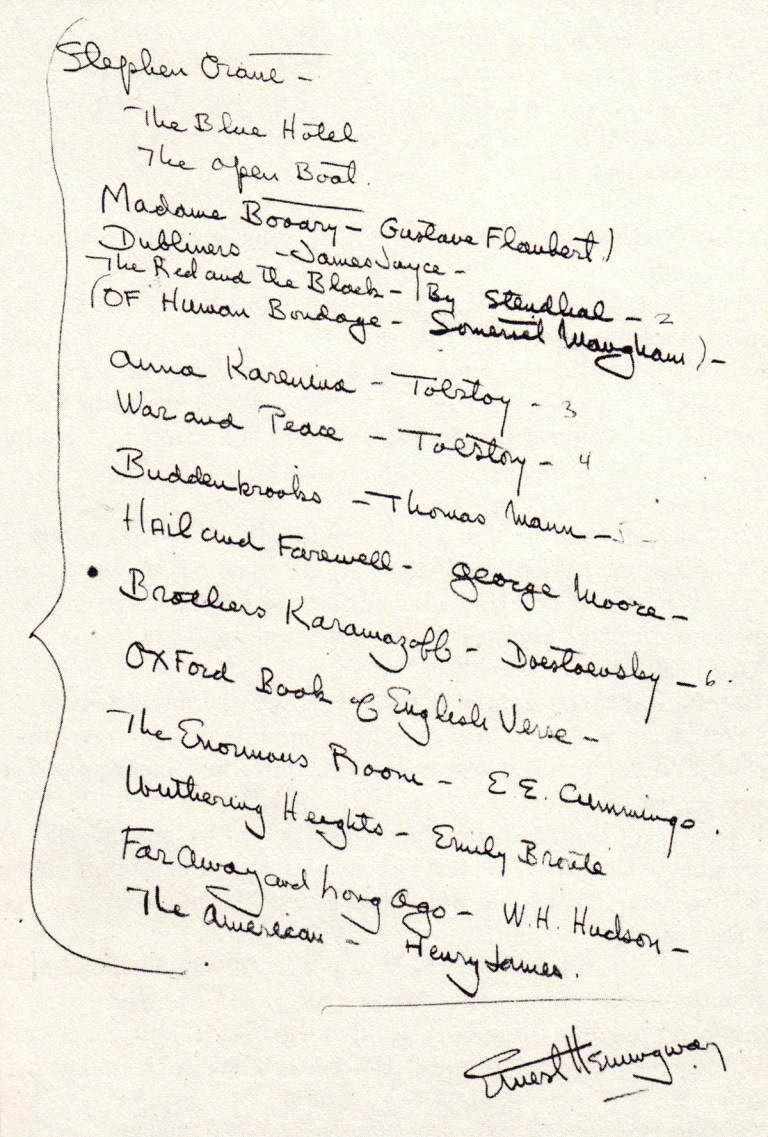 As for writing a book to make it onto a list of the best, well, Hemingway had some advice on that. One key part is to compete only with the dead.
Never compete with living writers. You don't know whether they're good or not. Compete with the dead ones you know are good. Then when you can pass them up you know you're going good. You should have read all the good stuff so that you know what has been done, because if you have a story like one somebody else has written, yours isn't any good unless you can write a better one.
And steal from what you read. Stealing is good. As American filmmaker Jim Jarmusch advised: "Nothing is original. Steal from anywhere that resonates with inspiration or fuels your imagination." Hemingway advocated much the same:
In any art you're allowed to steal anything if you can make it better, but the tendency should always be upward instead of down. And don't ever imitate anybody. All style is, is the awkwardness of a writer in stating a fact. If you have a way of your own, you are fortunate, but if you try to write like somebody else, you'll have the awkwardness of the other writer as well as your own.
So now you're ready to write. You are, as Joan Didion put it, "a person whose most absorbed and passionate hours are spent arranging words on pieces of paper".  But you need time to work and time to rest, as Hemingway noted:
The most important thing I've learned about writing is never write too much at a time… Never pump yourself dry. Leave a little for the next day. The main thing is to know when to stop. Don't wait till you've written yourself out. When you're still going good and you come to an interesting place and you know what's going to happen next, that's the time to stop. Then leave it alone and don't think about it; let your subconscious mind do the work.
Is that where the ideas come from? Is writing expressing things you did not know about yourself, things already within – things that may surprise, amuse and shock you and your readers? Hemingway advised Samuelson to try to figure out what gives you the emotion, so you can make the reader feel that, too."
The next morning, when you've had a good sleep and you're feeling fresh, rewrite what you wrote the day before. When you come to the interesting place and you know what is going to happen next, go on from there and stop at another high point of interest. That way, when you get through, your stuff is full of interesting places and when you write a novel you never get stuck and you make it interesting as you go along. Every day go back to the beginning and rewrite the whole thing and when it gets too long, read at least two or three chapters before you start to write and at least once a week go back to the start. That way you make it one piece. And when you go over it, cut out everything you can. The main thing is to know what to leave out. The way you tell whether you're going good is by what you can throw away. If you can throw away stuff that would make a high point of interest in somebody else's story, you know you're going good.
Writing is hard work. As another American writer, James Baldwin (August 2, 1924–December 1, 1987), put it:
Talent is insignificant. I know a lot of talented ruins. Beyond talent lie all the usual words: discipline, love, luck, but most of all, endurance.
"The only thing I can advise you is to keep on writing but it's a damned tough racket," said Hemingway. "The only reason I make any money at it is I'm a sort of literary pirate. Out of every ten stories I write, only one is any good and I throw the other nine away."
But you need to write ten stories to make one that when you stop is passable. What iff none of the ten make the grade?
Don't get discouraged because there's a lot of mechanical work to writing. There is, and you can't get out of it. I rewrote A Farewell to Arms at least fifty times. You've got to work it over. The first draft of anything is shit. When you first start to write you get all the kick and the reader gets none, but after you learn to work it's your object to convey everything to the reader so that he remembers it not as a story he had read but something that happened to himself. That's the true test of writing. When you can do that, the reader gets the kick and you don't get any. You just get hard work and the better you write the harder it is because every story has to be better than the last one. It's the hardest work there is. I like to do and can do many things better than I can write, but when I don't write I feel like shit. I've got the talent and I feel that I'm wasting it.
Lead image: Ernest Hemingway, via Nationaal Archief, the Dutch National Archives.