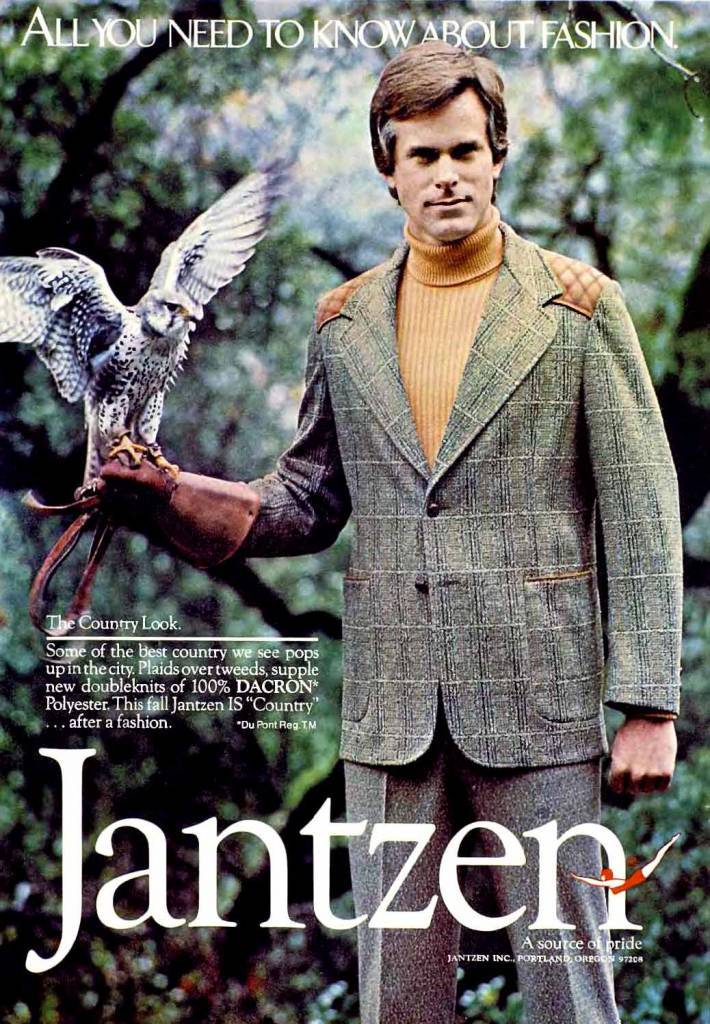 This is clearly the coolest dude who has ever walked the earth. He's got a falcon for God's sake. Even Ron Burgundy didn't have a falcon.
Anyway, here's a potpourri of 1970s men's fashion advertisements spanning from 1970-1975. An abundance of tight high-waisted slacks and a sea of plaid await.
I must say, I'm not in love with the red one-piece jumpsuit.
Don't you love the hep with-it lingo? "For those who rap with today through the soul of yesteryear."
(Note to those that like to get technical: some of these ads are for both men and women.)
"He's sure of himself. He knows what he wants and can afford to pay for it. But he's sure not going to pay more for it than he has to. And he doesn't have to. He's the Rappers man."
The jeans rolled up to the knee, with red socks – I'm diggin' it. But someone should tell the cowboy he runs like a woman.
"But for some strange reason American men have been hiding their shapes behind shirts that are too loose. Too billowy."
I'm sorry but at least one of these photographs would fit perfectly in a pancakes post.
Kind of an awkward advertisement. And, yes, I most certainly have had bad times while wearing Levis.
She's a'lookin' and she's a'likin'.
It takes a second, but she does have a right leg.
My eyes! Those yellow pants – how was this ever a thing?
That looks like Cybill Shepard, but I'm not completely sure. "The Time: Autumn. The Action: Sausalito, California." It doesn't really make sense, but for some reason it makes me want the shoes nonetheless.