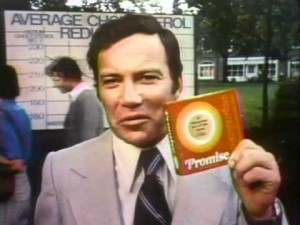 As the captain of a starship, William Shatner has but few peers.
Another prodigious talent of the Shat, however, involves his unswerving ability to expertly hawk a product.
We remember Mr. Shatner today from all the amusing Priceline commercials of recent vintage, but that series was only the latest in a long line of appearances as a product spokesman.
Over the years, Mr. Shatner has sought to sell us food products, computers, kerosene heaters, cars, and even a grocery store shopping experience.
Promise (Margarine)
Here, Shatner warns about the dangers of high-cholesterol and explains how Promise Margarine can be healthy part of a low-cholesterol diet.
Loblaws Grocery Chain
Mr. Shatner reports on the low, low prices of frozen food at Loblaw's grocery chain, all while being stalked by an overly aggressive and affectionate penguin mascot.
Commodore VIC-20
In a series of commercials more befitting a futuristic starship captain, Shatner hawks the Commodore VIC-20, a competitor for the Atari-2600 and Intellivision, but also a "real" computer to boot. Shatner opens the first commercial by beaming down into the frame.
Kero-Sun Heaters
A Wrath of Khan (1982) era Shatner warns viewers not to let their "inner space" feel as cold as outer space in this commercial for kerosene heaters.
Western Airlines (with Leonard Nimoy)
Kirk and Spock fly the friendly skies of Western Airlines together in this commercial from 1985.
Oldsmobile Cutlass Supreme
William Shatner's daughter joins him for this commercial, featuring a car tweaked for "the next generation."