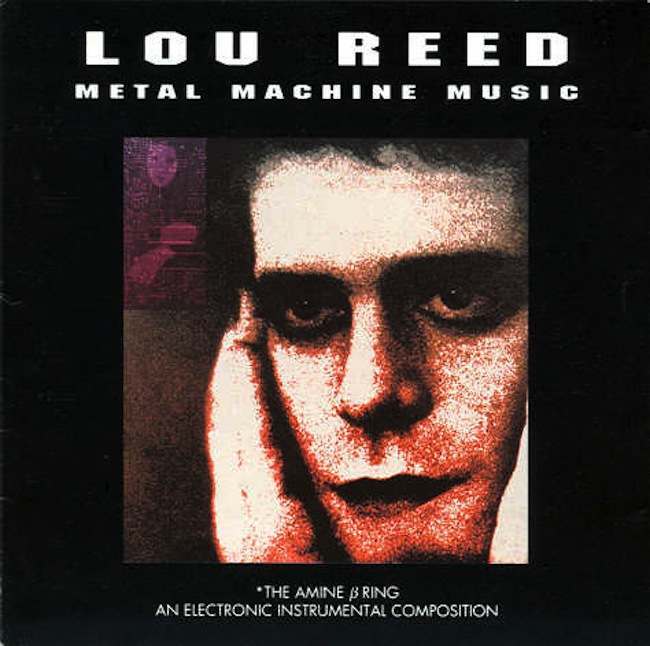 IN 1976, Lester Bangs (Psychotic Reactions and Carburetor Dung) wrote for Creem magazine an article on Metal Machine Music, the Lou Reed album. Like many other writes, he had hangovers:
When you wake up in the morning with the worst hangover of your life, Metal Machine Music is the best medicine. Because when you first arise you're probably so fucked (i.e., still drunk) that is doesn't even really hurt yet (not like it's going to), so you should put this album on immediately, not only to clear all the crap out of your head, but to prepare you for what's in store the rest of the day.

Speaking of clearing out crap, I once had this friend who would say, "I take acid at least every two months & JUST BLOW ALL THE BAD SHIT OUTA MY BRAIN!" So I say the same thing about MMM. Except I take it about once a day, like vitamins.

In his excellent liner notes, Lou asserts that he and the other speedfreaks did not start World Wars I, II, "or the Bay of Pigs, for that matter." And he's right. If everybody took amphetamines, all the time, everybody would understand each other. Either that or never listen or bother with the other son of a bitch, because they'd all be too busy spending three days drawing psychedelic lines around a piece of steno paper until it's totally black, writing eighty-page letters about meaningless occurrences to their mothers, or creating MMM. There would be no more wars, and peace and harmony would reign. Just imagine Gerald Ford on speed- he might manifest some glimmer of personality. Or Ronald Reagan- a blood vessel in his snapping-turtle lips would immediately burst, perhaps ridding us of that cocksucker. As is well known by now, JFK enjoyed regular injections of Meth and vitamins from happy croakers. 'Nuff said. Hey may not have actually accomplished anything (except the Bay of Pigs- wait a minute, Lou hasn't been doing his homework), but he had style and a winning smile.
You want it, don't you? In 1979 Rolling Stone Record Guide's Billy Altman called MMM "a two-disc set consisting of nothing more than ear-wrecking electronic sludge, guaranteed to clear any room of humans in record time."
Now you really want it.
Rolling Stone magazine also compared it to "a night in a bus terminal". 
Paul Morley tells you what to expect:
Containing nothing but Lou's all-time favourite thing – electric guitar and distorted feedback – MMM was 64 minutes of violent, spitting droning split into four vinyl sides of more or less the same cheerless, inert and shrieking length. 
Bangs:
I predict by that time the general public will have grown ears and gotten hip enough to appreciate Metal Machine Music, so this follow-up, which I'm gonna call Triumph of the Will, will be the best-selling LP of all time and those ratfucks in Chicago can suck my asshole along with that little blob Elton John who could use some speed almost as bad as Leslie West but can't have any of mine, because as I think it was Pat Ast said in that fabulous review of Coney Island Baby in the Soho Weekly News 'I have seen rock's future and its name is Lou Reed'"), a double album, you ask? Simple- the two discs are, according to Lou, symbolic of two tits ("There's never more than two," he explained), to signify that this is, albeit mechanized, a very sexy album designed to cut in heavily on the hot Barry White market.
Whoah! get back. You all want one:
Here's Lou, happening: