Je suis Eric… et Matthew
Magna Carta, Nelson's death at Trafalgar, the Battle of Waterloo, Victory in Europe, VJ Day… Some significant anniversaries fall this year, but the one that will always have a place in my heart occurred just 20 years ago, on 25 January 1995 at Selhurst Park Stadium, London SE25.
With one end of the ground knocked down for a new stand, there was a crowd of less than 19,000 packed in for the evening game between Crystal Palace and reigning champions Manchester United.
Things were predictably tight and tense when United's hot-headed French maverick and borderline nut-case Eric Cantona lost patience with the close attention of Palace centre-back Richard Shaw and kicked out in frustration.
At half time, United manager Alex Ferguson had put a direct question to referee Alan Wilkie: 'Why don't you do your fucking job?' This he now did, by showing Cantona a straight red.
What happened next has since entered football folklore.
Matthew Simmons, a Fulham supporter who occasionally visited Selhurst Park, ran down towards the front of the family enclosure to join in the hail of abuse that rained down upon the furious Frenchman. He initially claimed to have shouted 'It's an early bath for you!' although other reported versions include phrases such as 'fuck off' and 'French cunt'.
Whatever the truth, his efforts were rewarded with a couple of punches and a kung-fu kick that surpassed even the legendary martial arts in the Shed at the infamous 1976 Chelsea-Palace FA Cup tie.
Like most people in the ground, I was far away and far too busy insulting Cantona to properly see the ensuing kerfuffle, but we got the gist of it, and there was plenty of humorous speculation later as we made our way to the pub.
It soon became apparent that the atmosphere in the boozer was in marked contrast to that in the drama-queen world of the media. When Sportsnight began on the BBC, we were slightly taken aback to see Des Lynham and Gary Lineker in full 'Queen Mother dies' mode.
Public reaction was mixed, and less dramatic. Eyewitness David Haddock 'did no more' than recount events with his own unique turn of phrase, while an old lady declared it, quite reasonably, to be 'a flick of the minute do, he heard what he said and he flew at him – after all, he's French!'
The media spotlight then fell upon Cantona's target, as details of his swearing, criminal record, and BNP sympathies emerged. Suddenly the 'victim' became the culprit, and Cantona the noble slayer of the racist – better still, racist cockney gobshite.
Revenge came at the FA Cup semi-final a few months later, when Palace fan Paul Nixon was stabbed and hit over the head with brick before dying under the wheels of a coach. Bad blood between the two clubs continues to this day.
More broadly, there were consequences for the game as a whole.
Today, players are escorted from the pitch by a full entourage, and disappear down tented tunnels. They are cordoned off from the public, and even the press.
As for the public – Matthew Simmons once remarked that hurling abuse at a footballer 'is not a criminal offence and certainly does not mean I should be hung, drawn and quartered'. Sadly it IS now a criminal offence. The right to behave 'inappropriately' has been sacrificed by the football family in the name of the family game.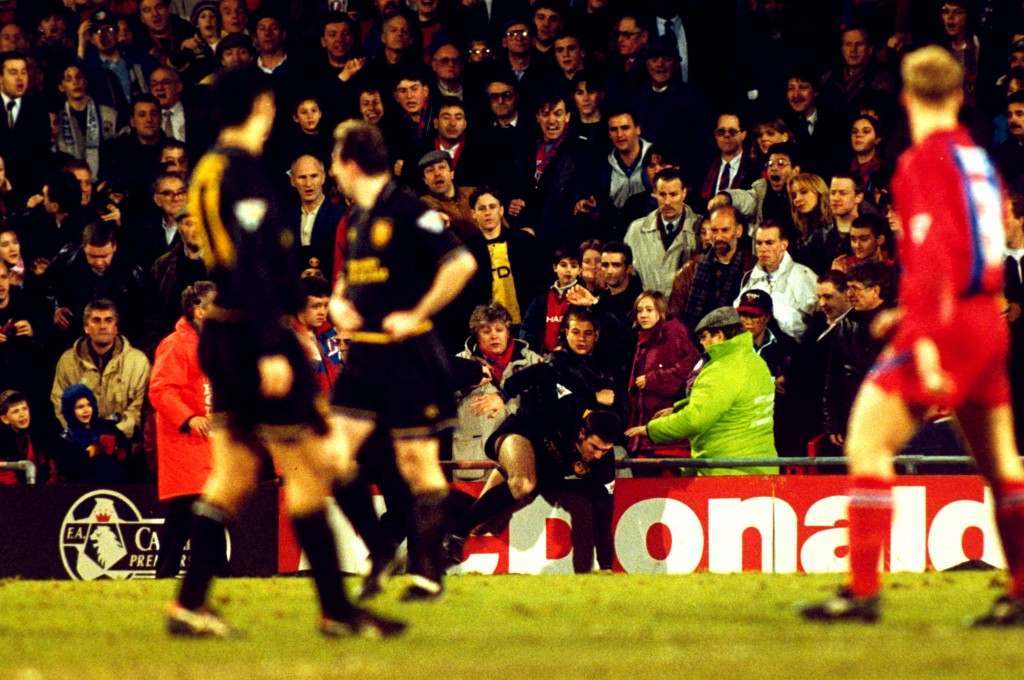 As for myself, I stand by my original stance. Simmons did what thousands of us did that night, and Cantona did what we would love our own players to do. And how many of those who queued up to condemn him would have turned down the chance to have him in their side? Not many, I'll wager.
And for those reasons, for this weekend, Je suis Eric… et Matthew.