A while back we published Whatever Happened to These Retro TV Stars from Your Youth? This time we're focusing on Retro TV girls –  the women and young ladies of the small screen.  Keep in mind, this information is culled from the internet, not investigative journalism (I haven't personally tracked down the original cast of "The Facts of Life"). So, take it with a grain of salt – and, certainly, if you have any updates to their whereabouts, please drop it in a comment.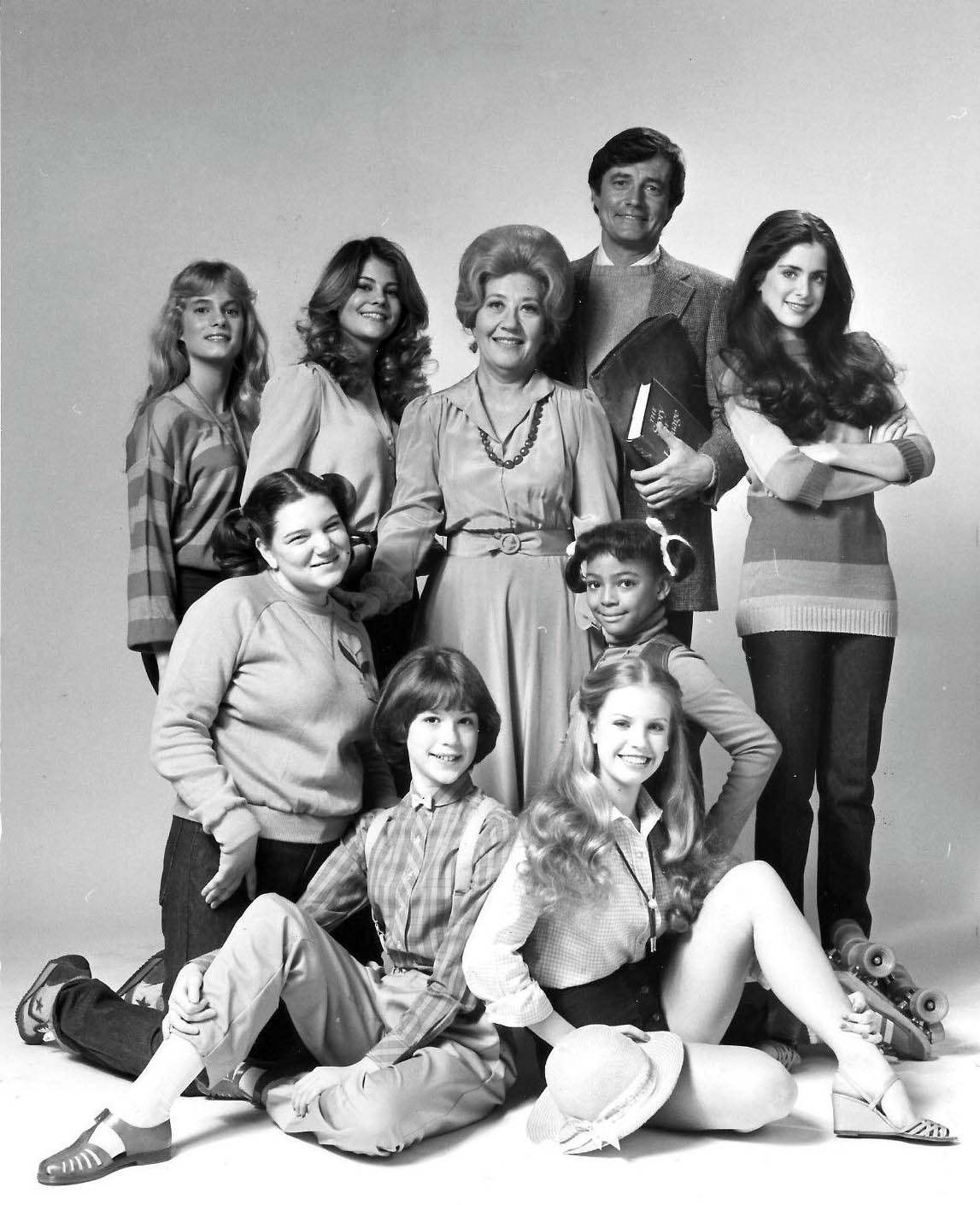 The Four Girls cut after the first season of The Facts of Life:
Felice Schachter (dark haired girl standing on right) played Nancy Olson on The Facts of Life.   She was the first to be hired for the show and the first to be fired when they overhauled the show for the second season.  I remember her best as Scott Baio's girlfriend in Zapped!(1982).  As of 2007, Felice is a special education teacher in New York City.
Julie Piekarski (blonde, sitting front right) played Sue Ann Weaver on The Facts of Life. She could've kept the career running, but she turned down a role in Saturday the 14th (1981) because she refused to go topless (ultimately, no one went topless in this horror spoof).   She tried a stint in entertainment reporting, but settled down as a mom and wife of a St. Louis dentist.
Molly Ringwald (sitting next to Julie on the left) played Molly Parker who was replaced by Nancy McKeon in the second season.  We all know Molly would go on to become a teen icon of the 1980s.  She would eventually retreat from center stage and has sporadically popped up on sitcoms and film (ex. The Secret Life of the American Teenager TV series, and the voice of the Dark Princess on the Rainbow Brite cartoon).
Julie Anne Haddock (blonde, standing far left) played Cindy Webster.  After she was cut from the show, Julie only appeared in a couple sitcom episodes before going off the grid.  She currently is a housewife in California, sings in the church choir and does fundraising.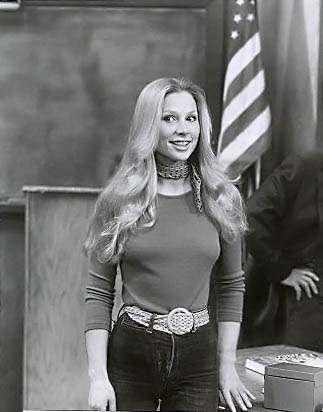 Melanie Haller played Angie, the female sweathog on Welcome Back, Kotter.  Her story is a tragic one:  After her big break on Kotter, Melanie attended a party in Long Island to help make connections and move her acting career forward.  The party was at the home of Roy Radin, a producer who had been around since the vaudeville days.  Hours later, Melanie was found unconscious and bloody on a Manhattan train.
Radin claimed Melanie had participated consensually in sex games at the party; however, one partygoer was imprisoned (for a whopping 30 days) for her assault.  Radin would later be murdered in connection with involvement in the notorious Cotton Club movie… but that is a story for another day.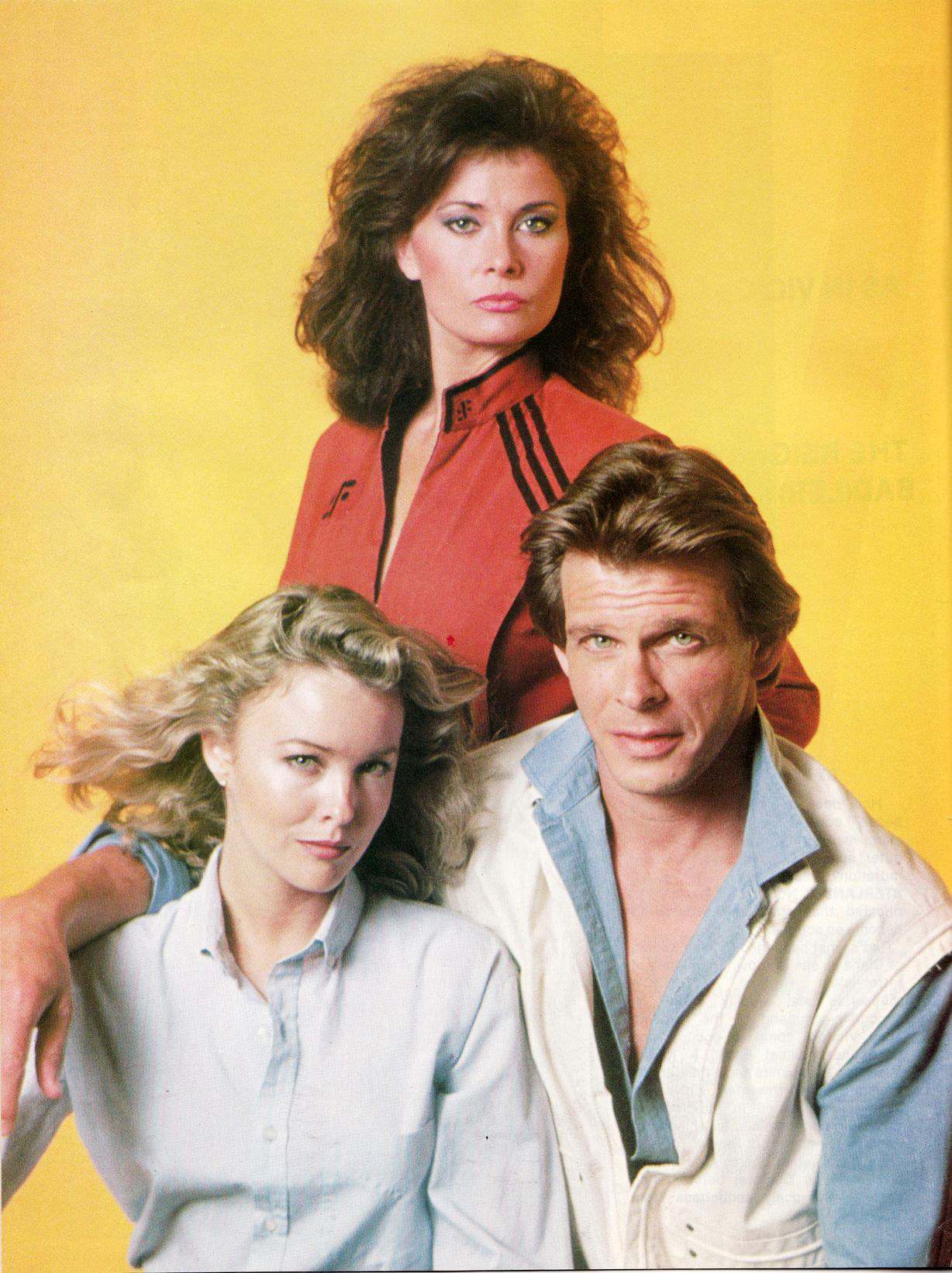 Jane Badler played bad girl Diana (brunette at top) on the sci-fi TV series V (1984-85).  For the remainder of the decade she starred in soaps and landed a role here-and-there in semi-popular series (including a V rehash in 2011).  Currently, she works in Australian nightclubs (including a one-woman show entitled "The Love Goddess: Rita Hayworth").
Fay Grant played Dr. Julie Parrish (blonde at bottom).  She has the dubious distinction of being married to Stephen Collins – the dad on 7th Heaven.  You may recall his recent scandal regarding "inappropriate sexual conduct" with three minors.  I'll let you finish the research on this sad affair – the less said about this, the better.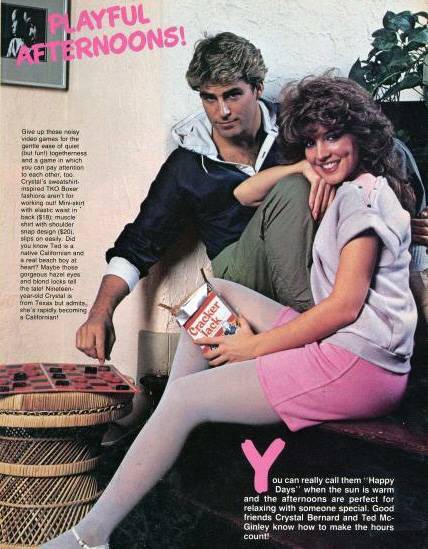 If you watched TV in the 80s and 90s, you remember Crystal Bernard.  She was a main character on Happy Days, It's a Living, and Wings.  Then she sort of disappeared.  Turns out, Crystal released some country and gospel CD's – one having the wonderful title of "Don't Touch Me There".   Besides a rumor that she had a "thing" with Rush Limbaugh, Crystal has been doing just fine, staying fairly busy on stage and in TV movies.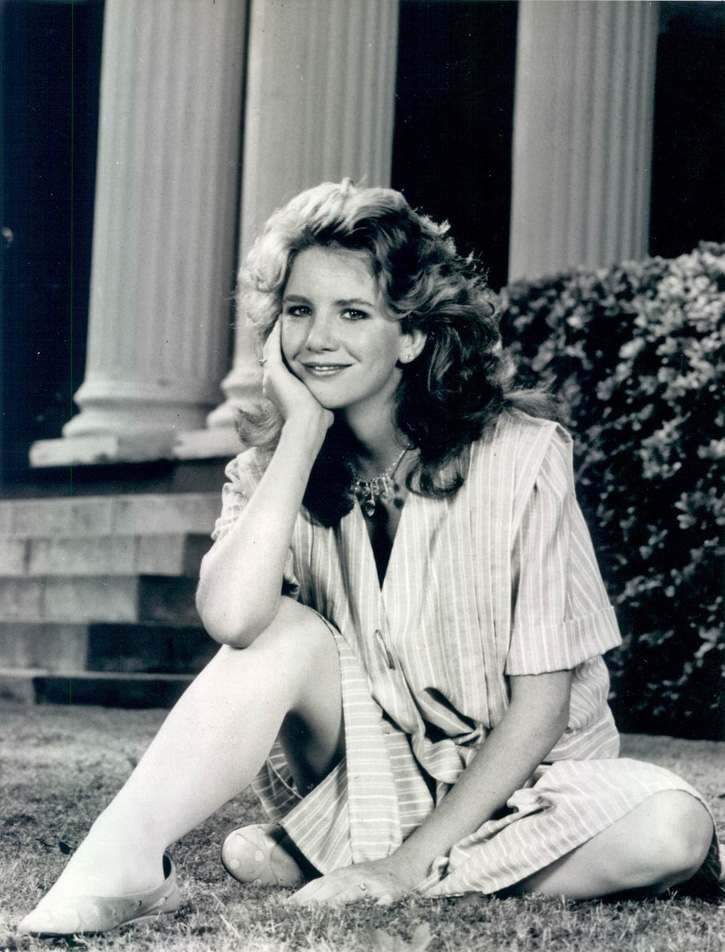 After her amazing run on Little House on the Prairie, Melissa Gilbert could never quite follow up the success on stage or screen, but did earn the honor of being President of the Screen Actors Guild from 2001-2005.  Interestingly, in her first run she beat out Valerie Harper (Rhoda) and on her second election she beat Kent McCord (Adam-12).  She has struggled with drugs and alcohol and has been outspoken against breast implants (having her own removed due to health concerns).  Her main claim to fame after Little House has undoubtedly been her long string of famous husbands and boyfriends which include Rob Lowe, Tom Cruise, John Cusack, Billy Idol,  Bruce Boxleitner (Scarecrow and Mrs. King) and Timothy Busfield (thirtysomething).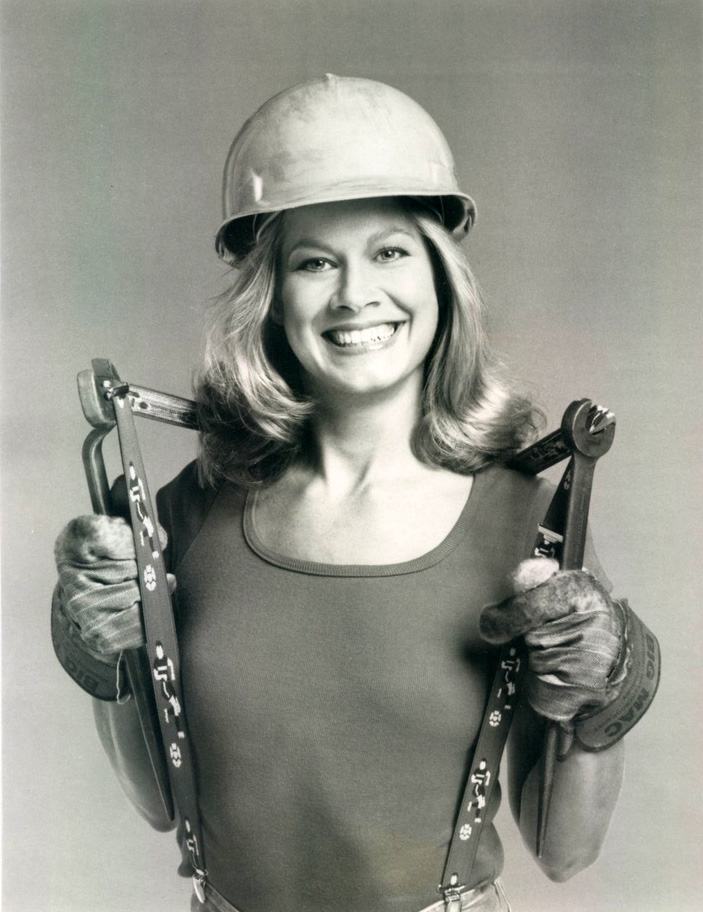 Susan Buckner was the star of When the Whistle Blows, which we discussed on TV Shows That Time Forgot.  Susan almost got the role of Sandy in Grease, but ended up playing the part of Patti the cheerleader instead.  You may remember she got embarrassed by having her dress yanked up, which I suppose would qualify as a Great Moment in Disrobement for Comedic Effect.  She was a synchronized swimmer on The Brady Bunch Variety Hour and dancer for Telly Savalas.  Yet despite this interesting and varied biography, she currently lives a life outside the limelight as a theater teacher at Pinecrest Elementary School in Miami.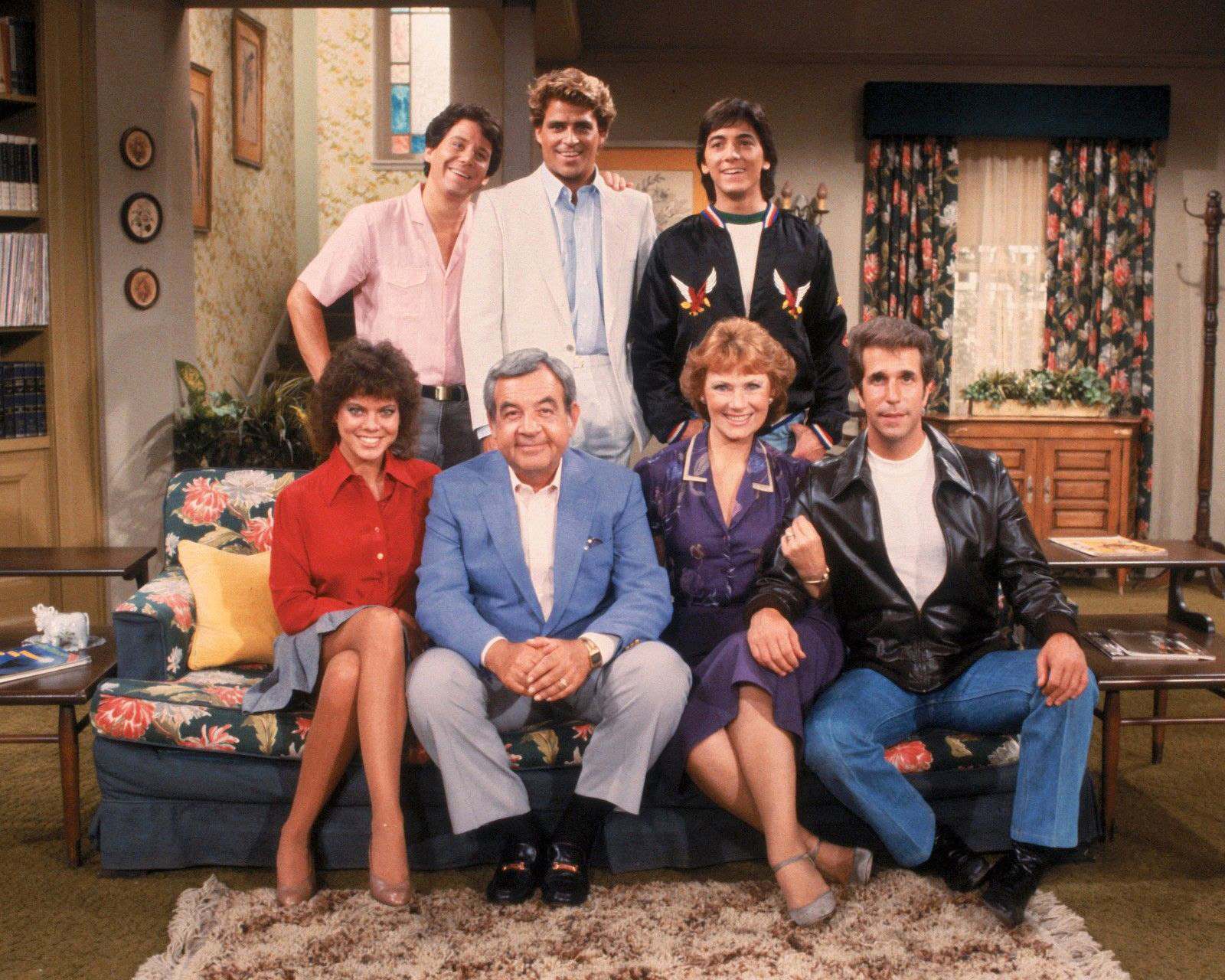 Erin Moran, as we all know, played Joanie Cunningham on Happy Days.  Sadly, after the show ended (and her spinoff Joanie Loves Chachi) things went south.  After unsuccessfully suing CBS (along with a few other co-stars) for merchandising proceeds from Happy Days, she pretty much ended up penniless  with reports that she is currently homeless after being evicted from her trailer.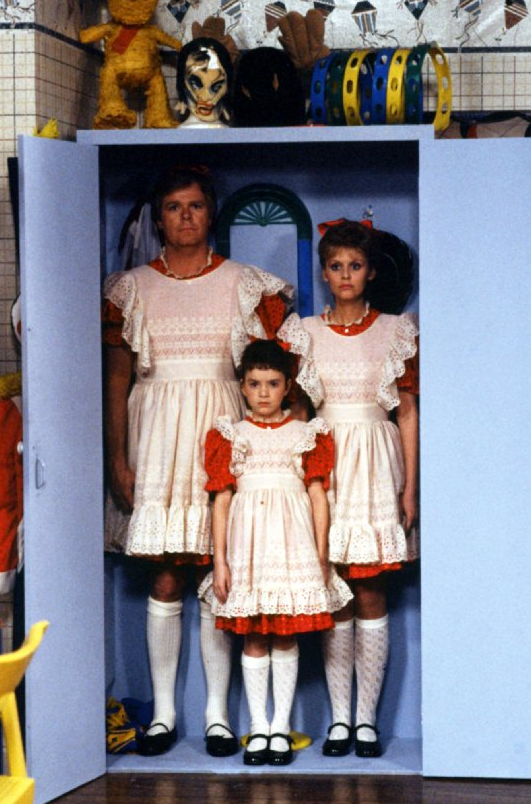 Small Wonder has got to be one of the worst and most bizarre television shows in history.  It truly deserves a story unto itself, but we'll exercise restraint and limit our scope to the two female cast members today.
Tiffany Brissette played Vicki the Robot, and I'm happy to report that, unlike most child stars, she has escaped from Hollywood unscathed.  She went on to earn a degree in psychology, and currently is a nurse in Boulder, Colorado.
The mom, Marla Pennington, had a fairly illustrious television career prior to Small Wonder, playing in everything from The Incredible Hulk to Happy Days.  Small Wonder was her absolute last acting gig.  She's a happy homemaker today, sometimes publishing recipes in Bon Appetite magazine.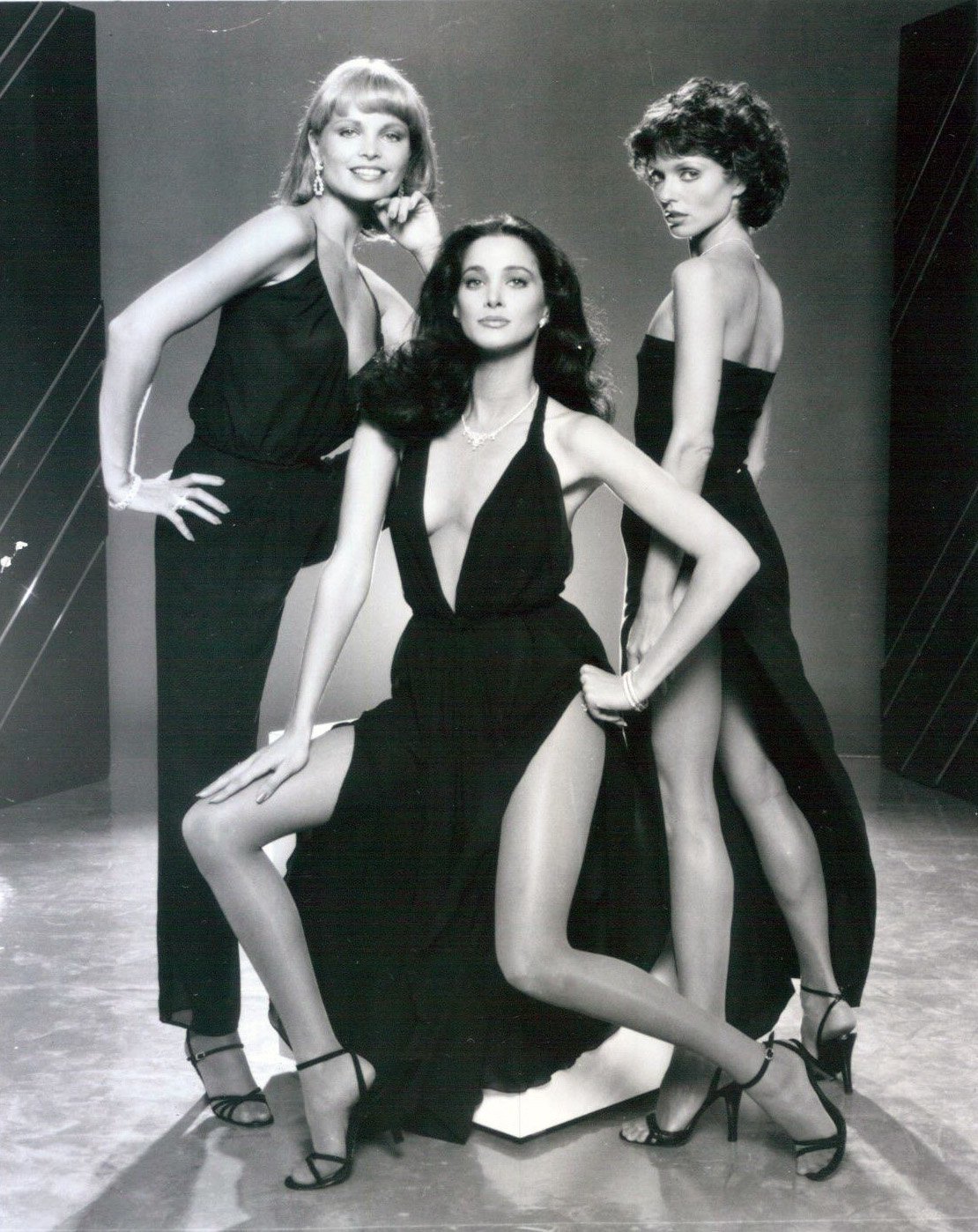 The Cast of Flying High – Remember this 1978 series about 3 stewardesses?
Connie Sellecca (center) spent the 1980s married to Buck Rogers (Gil Gerard) then moved on to the uber-cheesy Jon Tesh, an Entertainment Tonight host and New Age musician. She is a Born-Again Christian.
Kathryn Witt (right) has done precious little since.  She lives and Malibu and has done a handful of parts in the past couple decades.
Pat Klous (left) would become a cruise director aboard The Love Boat.  After that, she more or less dropped of the map.
Well, we could go on all day following up on TV gals from yesteryear, but we'll save them for upcoming articles. Until then, I'll leave you with Pat Klous from her appearance on Battle of the Network Stars racing against Joyce DeWitt (Three's Company).  I have fond memories of her falling in the dunk tank from this episode – but alas, this clip is not to be found.