"From 8 in the morning until 4 the next morning Sammy's is an alcoholic haven for the derelicts whose presence has made the Bowery a universal symbol of poverty and futility. It is also a popular stopping point for prosperous people from uptown who like to see how the other half staggers" – Life, December 4, 1944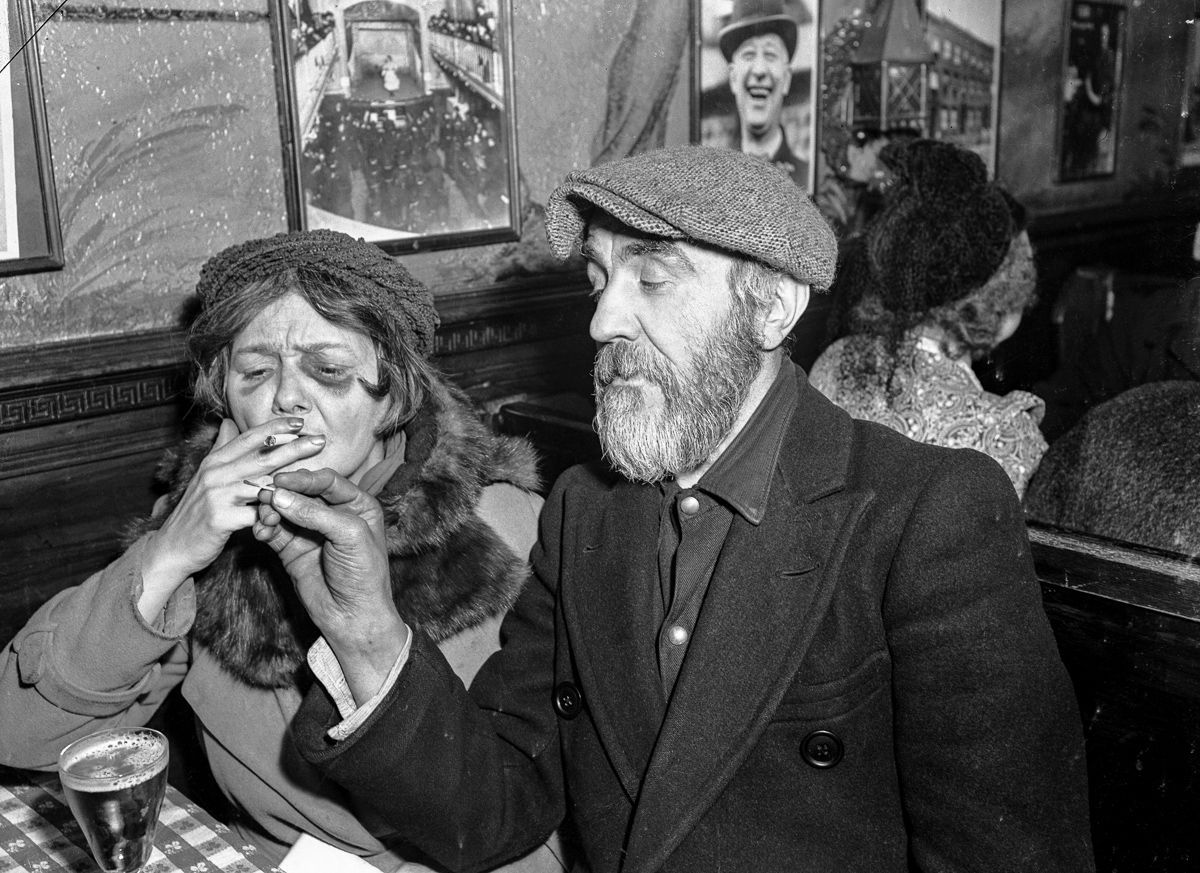 In 1934, the year after Prohibition ended, New York-born Sammy Fuchs (1884 – 1969) opened his bar in The Bowery, the place he'd grown up in. He worked as a busboy waiter and restaurant manager before he poured the first drink at his saloon at 267 Bowery.
The NY Times said the place was a refuge for"drunks and swells, drifters and celebrities, the rich and the forgotten".
It was fabulous.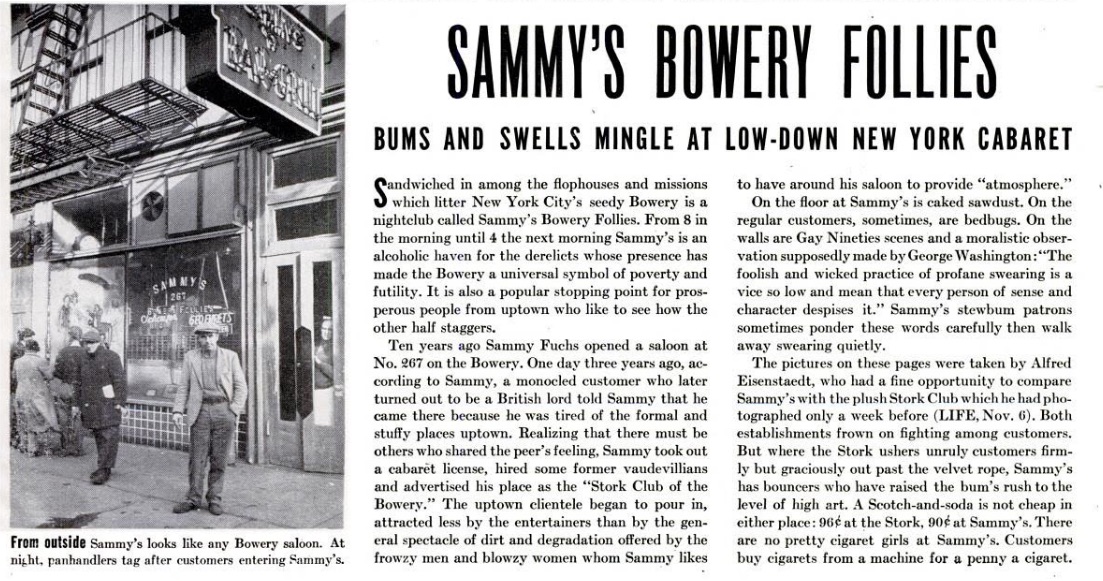 Sammy's friend and loyal customer the photographer Arthur Fellig, aka Weegee (1900-1968), noted in Naked City:
At No. 267 Bowyer, sandwiched between Missions and quarter-a-night flop-houses is Sammy's, the poor man's Stork Club. There's no cigarette girl – a vending machine puts out cigarettes for a penny apiece. There's no hatcheck girl – patrons prefer to dance with their hats and coats on. But there is a lulu of a floor show.

As the customer arrived from uptown in cabs, they are greeted by the usual pan-handlers who don't ask for the usual "got a nickel for a cup of coffee mister", but instead for a dime for a glass of beer… and get it too.

Inside the place is jammed with the uptown crowd mingling with the Bowery crowd and enjoying it.

But towards midnight some old types drop in for a quick one. There is a woman called 'Pruneface', a man called "Horseface"… Ethel, the "Queen of the Bowery", who generally sports a pair of black eyes that nature did not give her, a man with a long white beard, who old-timers say is looking all over the Bowyer for the man who forty years ago stole his wife… They wonder when the two will meet whether  the wife0-stealer will be beaten up or thanked.

While I was there absorbing the atmosphere and drinks, a midget walked in… he was about three and a half feet. I invited him for a drink. He told me that he just arrived from Los Angeles, where he had been working for a Browns & Williams Tobacco Co', walking the streets dressed as a penguin.
 John Strausbaugh adds:
In the early 1940s he got a cabaret license, installed a stage, and hired a troupe of aging or retired vaudevillians to put on nightly shows with a Gay Nineties nostalgia theme – flouncy dresses and plumed hats for the women, straw boaters and striped jackets on the men. There was also always a midget. Weegee took a famous photo of one wearing a diaper and hoisting a beer on New Year's Eve.

Between the local color and the spectacle of old hoofers belting out hits from their youth, Sammy's Bowery Follies was a world-renown destination into the 1960s. Every mayor of New York City made it a point to stop by, as did a young John F. Kennedy. The long list of celebrity entertainers who came there includes Jimmy Durante (a neighborhood kid himself), Rosalind Russell, Rex Harrison, Jayne Mansfield, Marcello Mastroianni, and Brian Jones of the Stones. Woody Allen dropped by to visit with his father, Marty Konigsberg, a jeweler by day and a waiter at Sammy's by night.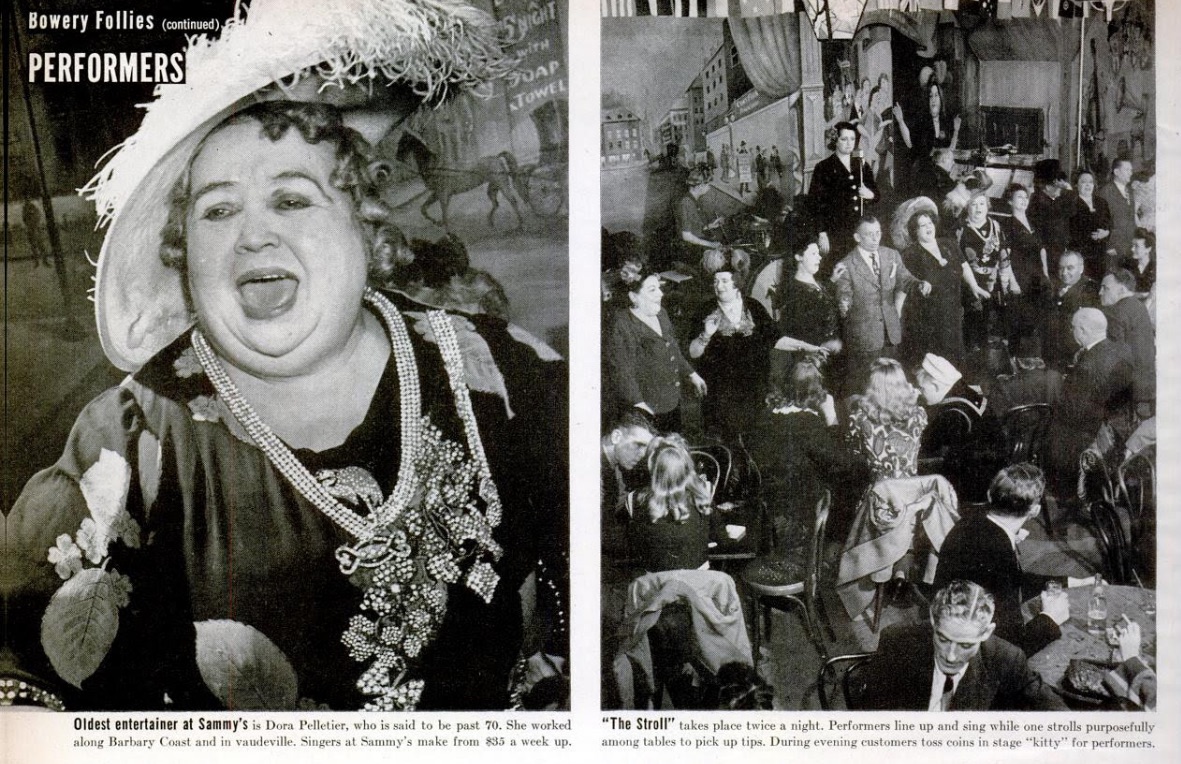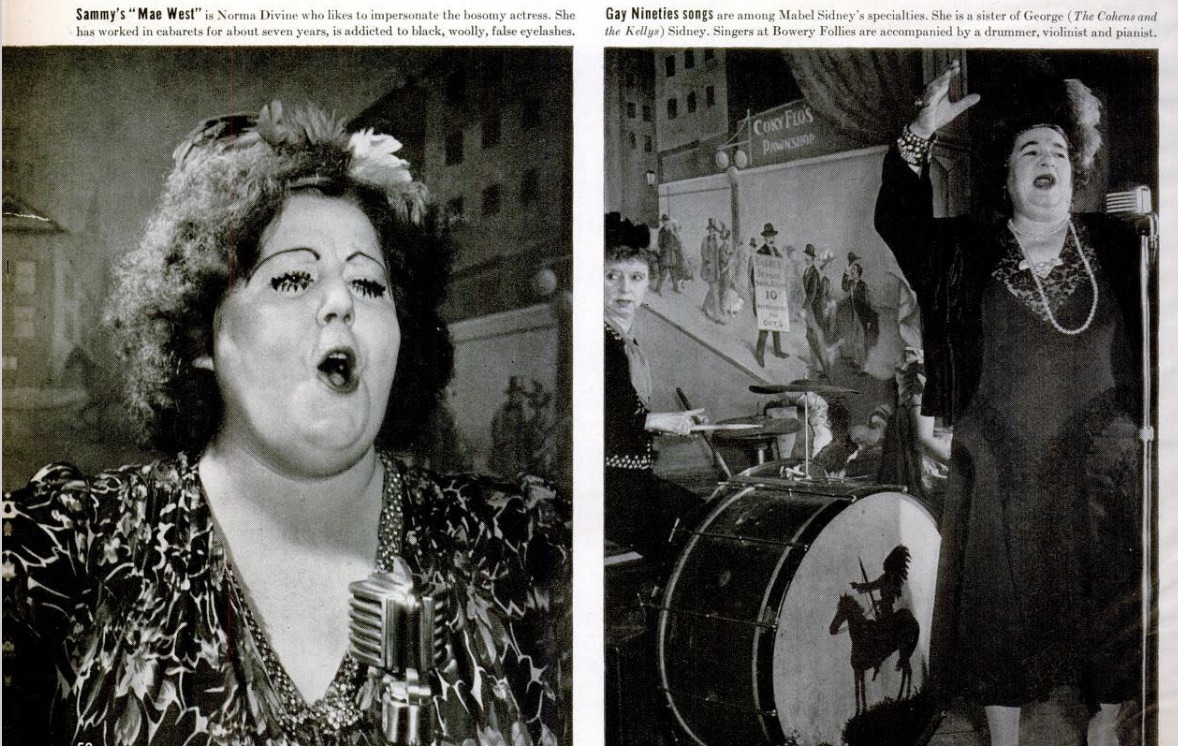 "I got the inspiration from a British lord who once dropped in to get away from his stiff-necked uptown friends… The idea caught on with rich friends who were bored of the glamour circuit."  Sammy Fuchs, 1945
Sammy retains all his original dim-eyed grizzled customers for the 'rescue mission ' atmosphere they lend to the place and because he'd never turn them away.  "They're all escapists," he says. "Each one has some incident in his life that he's trying to forget. They want to drown out all past connections with families or friends, and they can do it only by drink. Sammy often give them money out of his own pocket to buy drinks at the bar. "They prefer to pay for their drinks," Sammy says. "It keeps their self-respect."

…

Sammy's pet charity is paying for the formal burial of late Bowery pals who would otherwise got to Potters Field.

– The Canadian Jewish Chronicle – Jan 26, 1945
…Sammy Fuchs was stabbed in a robbery in 1969 and died later that year of a heart attack. Daily papers around the country ran fond obituaries for "the Mayor of the Bowery." Sammy's wife and family struggled to keep the bar open until Saturday night, September 26, 1970, when 700 patrons crowded in for the closing ceremony.
The NY Times had more on Sammy Fuchs, 'Mayor of the Bowery', and his remarkable bar, reporting on September 27, 1970:
The establishment at 267 Bowery, between Houston and Stanton Streets, was sold to the city last week and closed to make way for a sprawling Cooper Square urban renewal project.

Its once booming business —it catered to 100,000 pa trons a year during World War II and the postwar years —had fallen off sharply in the last few years under the pressures of inflation and television. Its failure was also hastened by the death last year of its founder, owner and star personality, Sammy Fuchs…

For the 25 employees of the Follies—waiters, cooks, bar tenders, musicians and sing ers, many of whom had worked there for 10 to 20 years — the closing meant looking for other jobs or, in a few cases, retirement
Sammy's widow, Bessie Fuchs, had a final word: "Sammy always did all the talking. I was just his wife. He mingled with the biggest and the lowest, and they all loved him."