The cinema magazine Picturegoer was published in the UK between January 1921 and 23 April 1960. Initially very successful, after World War II  however, it found itself competing with new magazines published by Rank Organisation, Odeon Cinemas, and Associated British Cinemas who  replaced it with their own publictions at the cinema kiosks. As a result, Picturegoer, in an attempt to attract new readers, became slightly more sensational in the 1950s with covers featuring cheesecake-style artwork of contemporary models and actresses.
On the whole the cover stars were chosen for their glamorous looks as opposed to any proven acting ability. Flashbak looks back at some of these (mostly) forgotten, actresses that featured on the cover of Picturegoer in the last three years of its publication. Some have disappeared without trace, perhaps burdened by a sexist attitude to their glamorous good looks, others had genuinely tragic lives and died far too young, while a couple went on to have successful acting careers and one is still working today.
Linda Cristal
Out of our Picturegoer cover stars, Linda Cristal, born Marta Victoria Moya Burges in Rosario, Argentina, February 23, 1934, was one of the more successful. In 1947 she and her parents were involved in a terrible road accident after which Cristal was left an orphan. Nine years later her first English-language role, credited as Miss Linda Cristal, was the part of Margarita in the 1956 Western film Comanche, directed by George Sherman and starring Dana Andrews. Although one reviewer on IMDB writes of the movie: "There are so many aspects of this film that are bad, it is difficult to decide where to begin."
In 1960, John Wayne asked her to play the part of Flaca in his epic The Alamo she also starred with James Stewart in the western Two Rode Together. She guest-starred in the 1964 Voyage to the Bottom of the Sea episode "City Beneath the Sea." She semi-retired from the business after that to raise her two children but was coaxed out of retirement when she became the last cast member to be added to the NBC series The High Chaparral. She later appeared in such popular television series as Bonanza, Barnaby Jones and The Love Boat.
Nina Shipman
Daughter of actors Barry and Gwynne Shipman, Nina was born in Los Angeles in August 1938. She had many minor roles in American television series especially in the 1960s including Rawhide and Bonanza.
In March 1960 she was maid of honor at Jill St. John's wedding to Lance Reventlow,the Woolworth heir, Grand-Prix enthusiast, and the last person to see James Dean alive, held at the Royal Suite of the Mark Hopkins Hotel in San Francisco. Nina presented the newlyweds with a pair of gold-plated handcuffs and then, oddly, accompanied both to an undisclosed ski-resort hideaway in the High Sierras for the honeymoon.
In May 1960 she was reported as "living the life of a millionairess since Jill and Lance turned over their Beverly Hills home to Nina and her pal, Susan Crane. They'll be there four months. It has both an indoor and outdoor swimming pool." In June it's
reported that Nina is wearing a beautiful emerald ring. When asked about it being her engagement ring, she replies: "Oh no, this is Jill St. John's present for being her bridesmaid."
These days she will always be remembered in an uncredited role in Hitchcock's Vertigo as the girl mistaken for Madeleine in the museum. She has been married to Don Bremer since December 24, 1975 and previously married to C. Ransom Walrod and Richard Harrington.
https://www.youtube.com/watch?v=gbsW07Z6rWo
Nina Shipman with John Cassavetes in Burke's Law from 1965.
Vanda
Beautiful starlet Vanda Hudson was one of the 'blonde bombshells' of the British cinema in the post-war years. She was born as Wanda Zaleska in Silesia, part of present-day Poland (although some sources say Villefrance, France), in 1937. She moved to Great Britain in 1948 and made her screen debut in 1955 aged in 18 playing 'the girl' in a BBC drama called Miss Patterson starring Ballard Berkeley who would later have lasting fame as the Major in Fawlty Towers.
Her first film appearance was an uncredited part in the World War II drama Seven Thunders (Hugo Fregonese, 1957) starring Stephen Boyd. More small parts followed in the drama Innocent Sinners (Philip Leacock, 1958), the Frankie Vaughan vehicle The Heart of a Man (Herbert Wilcox, 1959) in which she played a character called Cha Cha, and the Oscar nominated drama Libel (Anthony Asquith, 1959) starring Dirk Bogarde. In 1960 Vanda played a supporting part in the comedy Bottoms Up (Mario Zampi, 1960), just credited as Vanda. That year she also appeared in the horror film Circus of Horrors (Sydney Hayers, 1960) starring Anton Diffring and German star Erika Remberg. Vanda plays one of his victims, who meets a particularly gruesome end. Anton Diffring sabotages the knife-thrower's act and the beautiful target girl Magda von Meck (Vanda) is stabbed in the throat.
Vanda Hudson's biggest film role came the following year with her part as Fina in the romance Ticket to Paradise (Francis Searle, 1961), for which she was billed third. More supporting parts followed in the crime films Jungle Street (Charles Saunders, 1961) starring David McCallum and Jill Ireland, and Strip Tease Murder (Ernest Morris, 1961) with Ann Lynn. She then appeared in 'Double Danger' (Roger Jenkins, 1961), the 18th episode of the first season of the legendary mystery TV series The Avengers starring Patrick Macnee as secret agent John Steed.
Vanda played a bit part in the comedy Father Came Too! (Peter Graham Scott, 1964) starring James Robertson Justice. In 1963 she retired to raise her family but in 1967 she was seen in the scandalous Luxemburg production Happening (Marc Boureau, 1967) with André Dumas. Two years later she appeared topless as an aspiring actress in the sex comedy A Promise of Bed (Derek Ford, 1969) with Victor Spinetti. It would be her final film.
Subsequently she ran the restaurant Turpin's in Hampstead, north London. Vanda Hudson died in 2004, aged 70.
A brief view of Vanda Hudson arriving at the National Film Theatre during on the opening night of the London Film Theatre in 1958.
Judi Moyens
Judi Moyens has but one entry in IMDB as 'Servant Girl' in Terence Fisher's 1959 version of Hound of the Baskervilles. In the book The Woman of Hammer Horror, Robert Michael Bobb Cotter writes: '
In her only film, pretty Judi Moyens makes a striking impression as a servant girl for whom Sir Hugo Baskerville plans a fate worse than death for. She escapes and meets actual death at his hands.
https://www.youtube.com/watch?v=1kk_iQy5oPA
Judi can be seen in The Hound of the Baskervilles released in 1959 – the entire movie is on youtube.
Virginia Maskell
The ill-fated Virginia Maskell, born in Shepherd's Bush February 27, 1936, was probably the most accomplished actress amongst our Picturegoer cover stars. After the outbreak of World War II, young Virginia and her family were evacuated to South Africa. She attended drama school back in England and finally broke into the business with TV parts, usually playing demure young women in series such as The Buccaneers and The Adventures of Robin Hood.
She made a minor film debut for director Roy Boulting with Happy Is the Bride (1957), and then began switching between the theatre and the screen. In director Pat Jackson's comedy Virgin Island (US: Our Virgin Island, 1958) she appeared with John Cassavetes and Sidney Poitier. She gained a British Lion contract and appeared in The Man Upstairs (1958) with Richard Attenborough, and as an air-hostess in Jet Storm (1959).
Maskell married Sir Geoffrey Adam Shakerley, 6th Baronet on 3 July 1962. After which she took a break from acting from 1962 to concentrate on her family, although she did appear in the series Danger Man and The Prisoner. The couple had two sons, the first, Nicholas, born in December 1963 but after the birth of her second son in February 1966, Maskell showed signs of post-natal depression. Following the shooting of Interlude in the summer of 1967, she suffered a severe nervous breakdown and was hospitalized at Stoke Mandeville Hospital for six weeks.
On Wednesday, January 24, 1968, she left home in her car and six hours later her husband reported her missing. Police searched woods 700 feet up in the Chiltern Hills after her car was found a mile from her home. Maskell had apparently wandered through the woods for hours before collapsing where the police eventually found her. She was taken to hospital and given emergency treatment for an overdose of barbiturates, and although doctors revived her, she died the following day.
The coroner Dr Pim concluded "I cannot concede it was her intention she should be found alive", and recorded a verdict that she took her own life. Virginia left a suicide note which was not read out at the inquest. According to the coroner , this "consisted of a hasty message of love and despair". The note was written on a scrap of paper torn from a sheet , and the writing was such that he believed she was under the influence of the tablets when she wrote it.
Interlude was released after she died and she won a posthumous National Board of Review award and a BAFTA nomination for her work in the film.
Virginia was an artist and also published poetry:
SUNDAY

The day beats in limbo
Too slow my hand lies across the page
And your burnt form hides its grave talent in the sand

The afternoon breaks promise
Too slow my limbs stretch blind
And your dark words teach other lips to love
Virginia Maskell once said:
I love acting, but I also want to be alive. Publicity is like a prison. If you're not careful, you begin to live according to everyone's idea of how you ought to live. Ambition? To be a big, big star…on the stage.
https://www.youtube.com/watch?v=HiHyi29tjpE
Virginia Maskell can be seen along side Oskar 'Jules et Jim' Werner in Interlude released in 1968 not long after the tragedy of her suicide. The full movie is on youtube.
 Luciana Lovello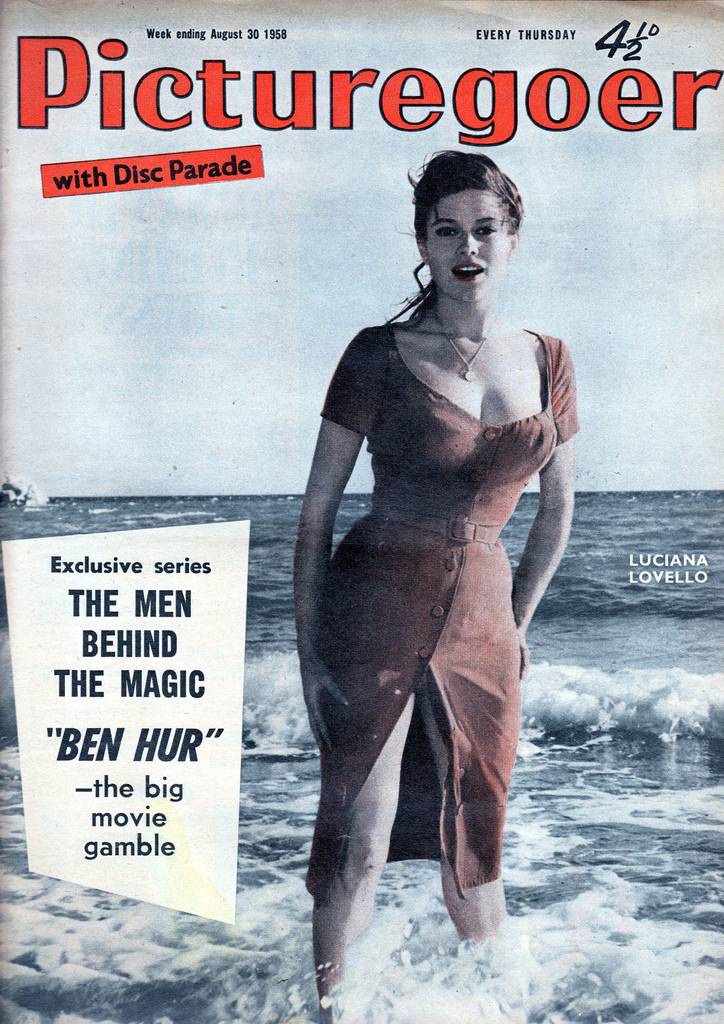 At first Luciana Lovello seemed to have disappeared without trace, but thanks to a comment by Neilio2 (see below) it seems she was far better known as Luciana Paluzzi and, for a Picturegoer cover girl, had a reasonably distinguished career! They have used a publicity shot from Cy Endfield's Sea Fury, released in 1958 and which starred Stanley Baker.
Luciana was born in Rome on 10 June 1958 and her first film was an uncredited walk-on part in Three Coins in the Fountain (1954). She went on to appear in many movies, most of which were made in her native Italy. Paluzzi is nowadays, particularly away from her native Italy, best known for the villainous Fiona Volpe in Thunderball – the Bond film released in 1965. She had initially auditioned for the part of the lead Bond girl, Dominetta "Domino" Petacchi, but after changing the character from an Italian to a Frenchwoman the producers cast Claudine Auger,  renaming the part to Dominique Derval.
Initially unhappy when informed she did not get the part, Paluzzi rejoiced when told her consolatory prize was the part of Volpe, which she said was "more fun to play". Paluzzi later claimed being a Bond girl was a double-edged sword. In the documentary Bond Girls Are Forever, Paluzzi expressed amazement at the level of fame, publicity, and recognition she received from Thunderball; but as a result of being in such an outlandish film, she felt she was taken less seriously as an actress when returning to the Italian film industry. Although this argument wasn't helped by appearing in such movies as Muscle Beach Party and the 1969 sexploitation film 99 Women.
During her career, however, Luciana appeared in 78 different films and TV shows including Man From U.N.C.L.E, Hawaii Five-0 and the Six Million Dollar Man. She retired from acting in 1978.
In 1960, Paluzzi married actor Brett Halsey, who had just left his marriage with Renate Hoy, an actress and Miss Germany of 1954. The two co-starred as a newlywed couple in the film, Return to Peyton Place. The couple had one son, Christian, and after the divorce in 1962 Halsey married Heidi Brühl. In 1980, Luciana Paluzzi married her current husband, American media mogul Michael Jay Solomon, a former president of Warner Bros International Television.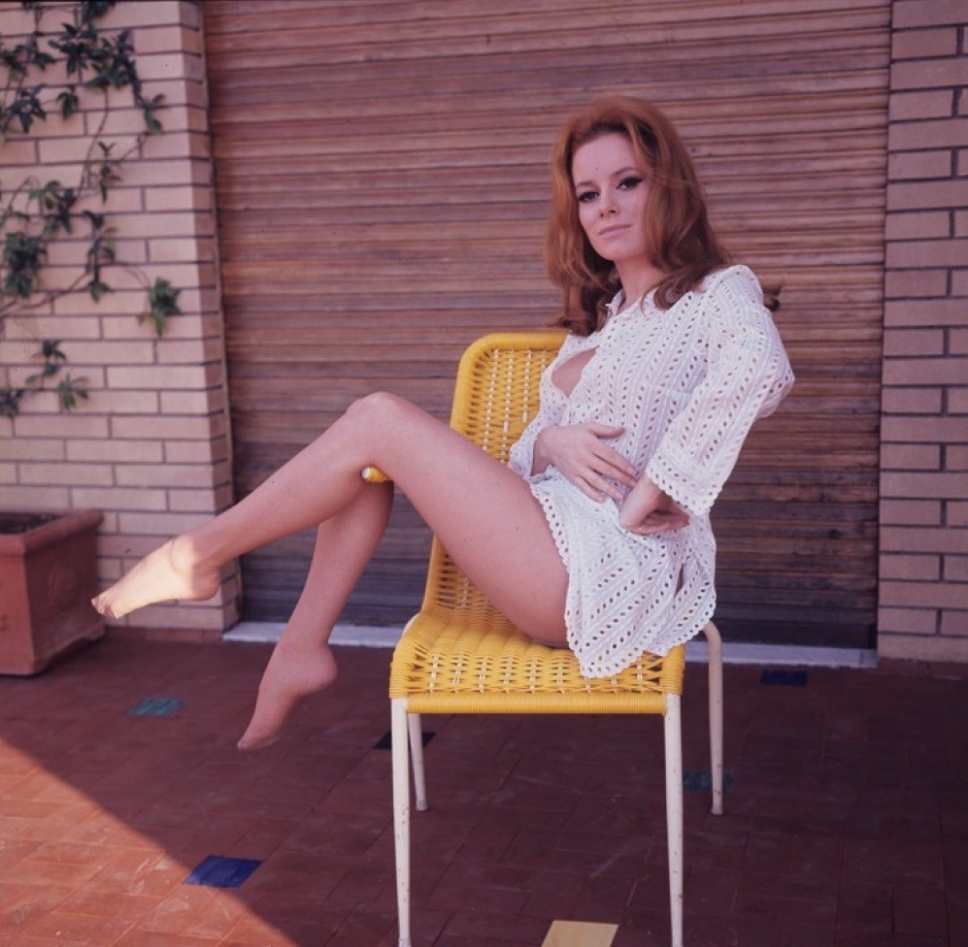 Claire Gordon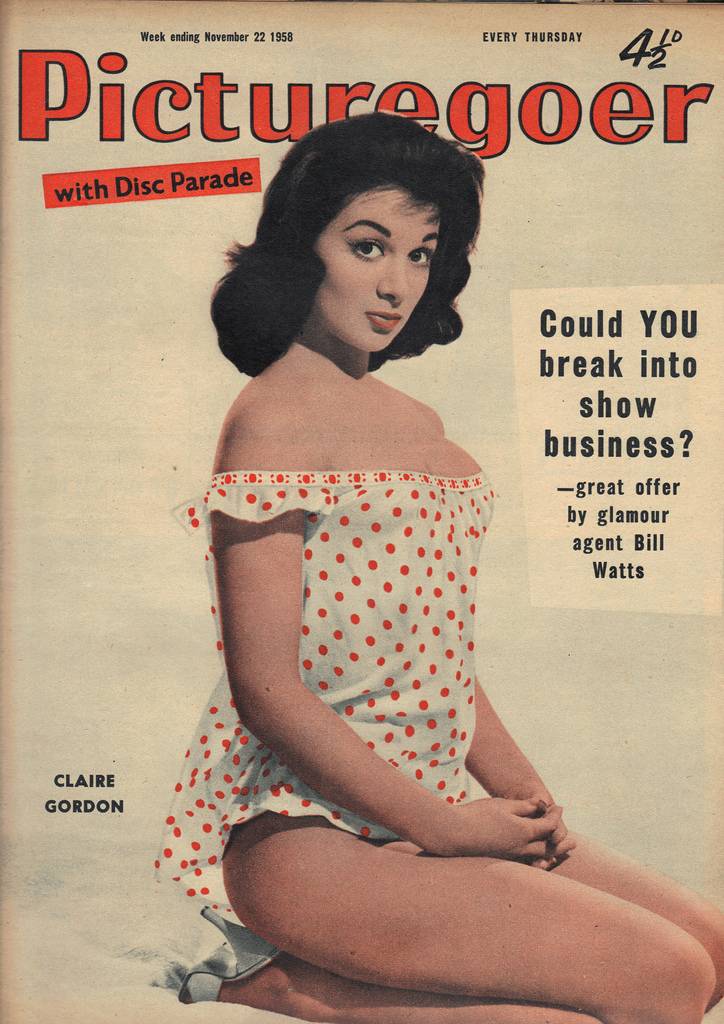 Claire Gordon was born in Cambridge – her father was a doctor and her mother a make-up artist who worked for Max Factor. After being photographed at the Queens Ice Rink, Bayswater, for the cover of the magazine Lilliput, she was signed to a five-year contract with film agent Bill Watts and played a harem girl in the Bernard Bresslaw film I Only Arsked! (1958) which was probably the reason she made the cover of Picturegoer that year. She made her first stage appearance, still aged only seventeen, in Meet the Cousin, which starred Cicely Courtneidge and Jack Hulbert. The show opened at the Lyceum Theatre, Edinburgh, and it was there that she first met her husband-to-be William Donaldson, later better known as Henry Root, who was just starting out as a theatrical producer (he was co-producer of Beyond the Fringe).  She appeared in Beat Girl (1959), in which she was billed as "Britain's answer to Brigitte Bardot", and Konga (1961, aka I Was a Teenage Gorilla).
At Donaldson's request, she appeared as an entirely French-speaking Lady Fifi de Winter in an improvised production of The Three Musketeers with Bruce Lacey and The Alberts, at the Arts Theatre. Donaldson's talent for presenting controversial and often money-losing shows didn't desert him; the show ran for two weeks; and Gordon made theatrical history as, apparently, the first actress to appear entirely naked on stage. ("Watch out for the bath scene; it's a breakthrough", wrote the New Statesman at the time.). She played Honey in the film Beat Girl released in 1960 and appeared in Danger Man the following year.
Gordon married Donaldson on 1 September 1967. Donaldson's biographer later noted that the marriage was "not an easy one". Donaldson called her "Mrs Mouse" and in 1966, after appearing in The Memoirs of Fanny Hill at the Lyric, Hammersmith, she moved into his London flat, renting hers to Scott Walker of the Walker Brothers. In an interview with News of the World she described how, when she went round to collect the rent, she and Walker would lie on the bed and "kiss and fondle – with me always wearing a clingy, silky dress with no bra". Their liaisons are said to have inspired Walker's 1966 song, Archangel. Gordon's obituary in the Daily Telegraph describes her marriage with Donaldson:
They were soon hosting "musical evenings" which, according to one Donaldson obituarist, "became famous for their extravagance and excess and were populated by the eccentric and uninhibited". Donaldson himself described orgies involving call girls, naked DJs and two-way mirrors, though Claire Gordon claimed that their soirées were fairly innocent, their main attraction being bad cabaret acts such as Zelda Plum, "a rather large lady who used to do a striptease with a chinchilla on her head. She frightened the cats". What is known is that members of the drugs squad posing as guests found hash cakes being served, leading to a drugs bust and the couple pleading guilty in court to possession.
By the end of her life, she had been working on her memoirs and a documentary about her experiences while living in Egypt before and after the 2011 revolution. She died in April 2015.
https://www.youtube.com/watch?v=q8jR9cJPw_k
Jose Read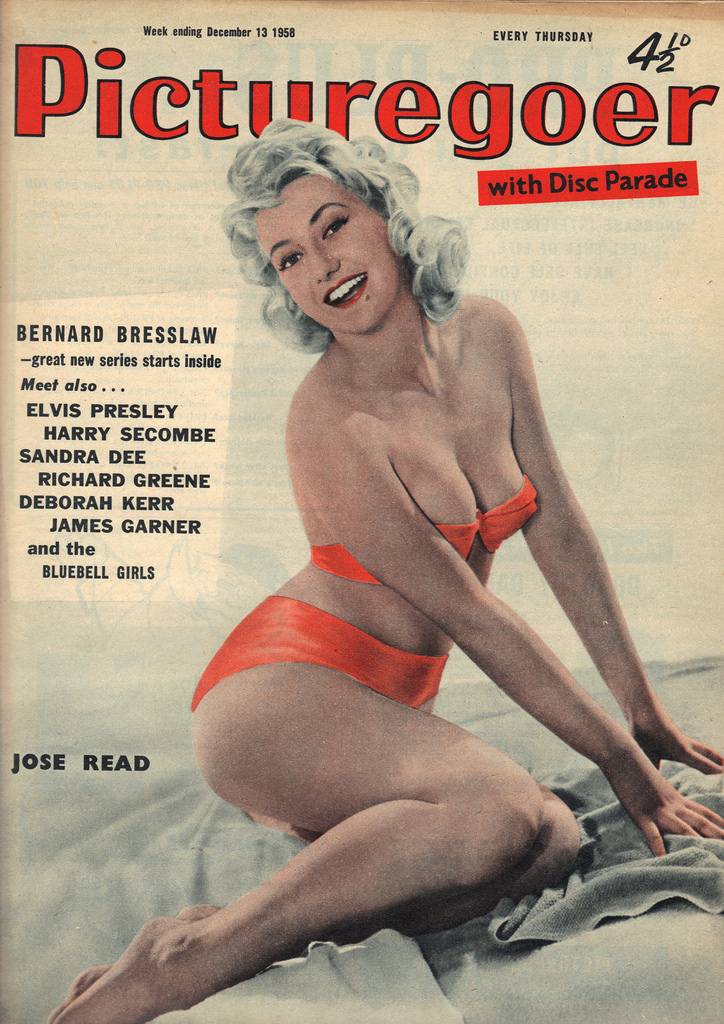 Jose Read was born in 1939 in London, England. She was best known for playing one of the  sixth form girls in  Blue Murder at St. Trinian's (1957) But also had minor roles in Bellweather Nine (1959), and Blackmail Is So Difficult (1959).
Jean Moorehead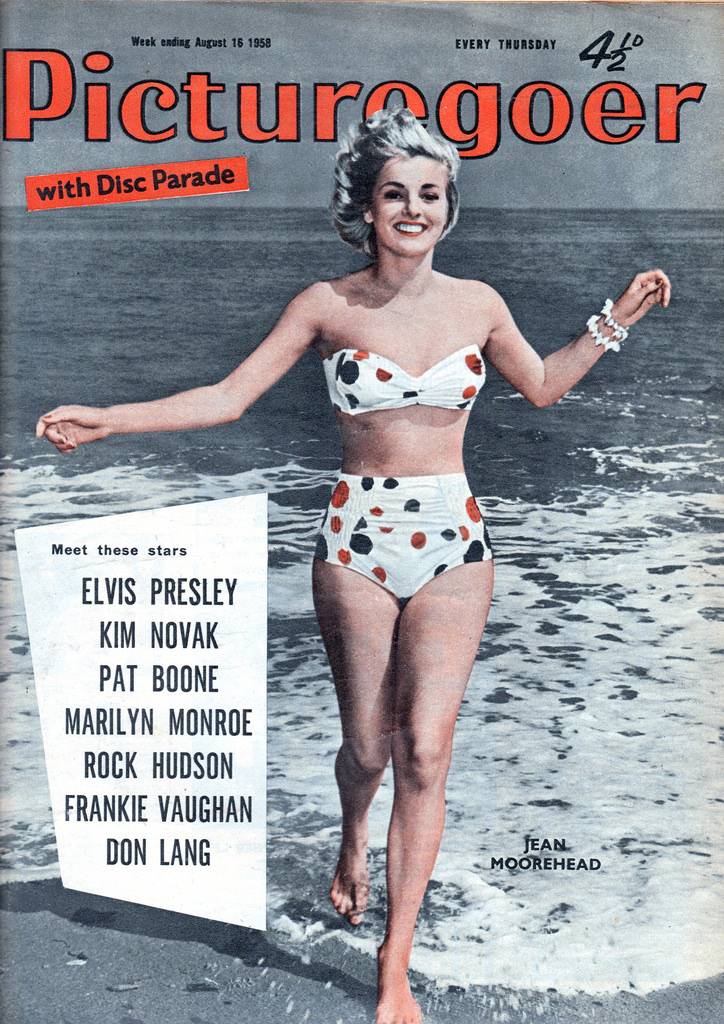 Jean Moorhead (born February 4, 1935) was an American actress and model. Billed under an alternatively spelled surname, Jean Moorehead, she was Playboy magazine's Playmate of the Month for the October 1955 issue. Her centerfold was photographed by Hal Adams.
A former Miss Hollywood, Moorhead acted in movies such as the Ed Wood-scripted The Violent Years (1956), as well a guest spot on the TV Western Death Valley Days (1 episode, 1957). Her last billed performances were in two low-budget 1959 films, Gunmen from Laredo and The Atomic Submarine, with one more (unbilled) appearance in the 1960 Metro-Goldwyn-Mayer musical Bells Are Ringing.
Barbara Nichols
Barbara Nichols was born as Barbara Marie Nickerauer and raised in Queen's New York. She began modelling for pinup magazines in the late 1940s and as a beauty contestant, she was crowned Miss Long Island, Miss Dill Pickle, Miss Mink of 1953 and Miss Welder of 1953 and sometimes known as 'the Dame with the Shapely Frame'.
On Broadway, she appeared in the 1952 revival of Pal Joey (she also appeared in the 1957 film version). IMDB describes her as 'the archetypal brassy, bosomy, Brooklynesque bimbo with a highly distinctive scratchy voice.' Nichols was a popular model in cheesecake magazines of the era and in the mid-1950s, she moved to Hollywood and began appearing regularly in second leads in a number of films including Miracle in the Rain (1956), The King and Four Queens (1956), The Naked and the Dead (1958), The Pajama Game (1957), Sweet Smell of Success (1957), That Kind of Woman (1958), Where the Boys Are (1960)
Nichols was actually genuinely funny and was a frequent guest star on many television series including It's a Great Life, The Jack Benny Television Show, The Twilight Zone (in the episode "Twenty Two)", The Untouchables, The Travels of Jaimie McPheeters, Going My Way, Batman (episodes 35 and 36), Hawaii Five-O, and The Beverly Hillbillies. Her final film was Won Ton Ton, the Dog Who Saved Hollywood in 1976.
A serious automobile accident in Long Island in July 1957 damaged her spleen, and another serious automobile accident in Southern California in the 1960s damaged her liver. In summer 1976 she was rushed to Cedars-Sinai Memorial Hospital in Los Angeles, CA, where she went into a coma. She awoke for several days just before Labor Day, but sank back shortly after. She passed away on October 5, 1976, two months away from what would have been her 48th birthday on December 10.
Barbara Nichols, Jack Benny, Janis Paige, and John Raitt on the 1958 television show Shower Of Stars
Rita Royce
Rita was born in 1934 in Sussex. The highlight of her career was probably appearing on the cover of Picturegoer. She appeared in two films The Chapman Report (1962) and the Norman Wisdom vehicle Follow a Star (1959) both in minor uncredited roles.
Noelle Adam
Noëlle Adam was born on December 24, 1933 in La Rochelle, Charente-Maritime, France. A former ballerina, she had been dancing since age 8. As an actress she's best known for The Band (1970), Neither Seen Nor Recognized (1958) and Beat Girl (1960). She was once wed to actor Sydney Chaplin (son of Charlie and Lita Gray) and much later became the longtime partner of actor/singer Serge Reggiani. Together for almost 20 years, they married in 2003, a year before his death.
In 1962, Noelle was appeared in No Strings at the same time her then-husband was appearing just down the street in Subways Are for Sleeping. Cast as Jeannette, a photographer's assistant, Richard Rodgers actually had the part largely rewritten once he had seen Noelle. She had never sung before so he had her take singing lessons.
Veronica Gray
According to IMDB her career seemed to consist of a bit-part in the TV series 'Whack-O!' in 1960. And that was that.
Pamela Searle
Pamela was Miss England and was the 3rd runner-up in the 1959 Miss Universe contest and after moving to Los Angeles in 1960 appeared in If a Man Answers (1962), Operation Bullshine (1959) and Bells Are Ringing (1960) and many minor roles in TV series in the early 1960s.
Yvonne Monlaur
Yvonne Monlaur was born on December 15, 1939 in Pau, Pyrénées-Atlantiques, France as Yvonne-Thérèse-Marie-Camille Bédat de Monlaur. She starred in the 1958 Italian film Three Strangers in Rome which was amongst Claudia Cardinale's earliest films and appeared in the 1960 horror film Circus of Horrors alongside prominent actors in British film such as Anton Diffring and Donald Pleasence. In 1960, she also starred in the Hammer horror film The Brides of Dracula alongside other noted British actors of the day Peter Cushing and Freda Jackson and in The Terror of the Tongs (1961) with Christopher Lee. After a string of German and Italian films, Monlaur left films to return to Paris where she continues to live.
Mylene Demongeot
Mylène (born Marie-Hélène Demongeot; 29 September 1935) is a French actress with a career spanning six decades. Easily the most successful of our Picturegoer cover stars. She has appeared in 72 films since 1953 and is appearing in French movies to this day. Demongeot gained fame and adulation for her portrayal of Abigail Williams in the Franco-East German production The Crucible (1957), for which she was nominated for BAFTA Awards for Most Promising Newcomer to Film. She also co-starred with David Niven in Otto Preminger's Bonjour Tristesse (1958).
Leila Williams
Two years after she won the Miss Great Britain title, Williams became the first female Blue Peter presenter, co-presenting with Christopher Trace. She left Blue Peter at the start of 1962 when the producer found it difficult to find her something to do. She went on to play small parts in the films Watch Your Stern, Marriage of Convenience and The Beauty Jungle, and returned to Blue Peter for the show's 40th anniversary in 1998.
Williams married Fred Mudd, lead singer of the popular music group The Mudlarks and whilst they were touring in the early 1970s she worked as an assistant manager at a Dorothy Perkins clothing store in Harrow, London and in the early to mid-1960s had their only child Debra. The couple then ran public houses in Kingston-upon-Thames and Surbiton for many years before retiring to Spain. Fred Mudd died there in 2007.
Jackie Lane
Jackie Lane was born as Jocelyn Bolton in Vienna, Austria. in 1937. She is the daughter of a Russian mother, Olga Mironova, and an English father. She was educated in New Rochelle, New York. At the age of 14, she moved to Britain where she trained to be a dancer.
Lane established herself as a popular model in the United Kingdom by the time she was 18, using the pseudonym Jackie Lane. She appeared in several British films beginning in 1955 with a travelogue April in Portugal. As she was confused with another actress named Jackie Lane (known for starring in Doctor Who), when Lane moved to Hollywood in 1964, she began to be credited with her full first name. She was featured in the September 1966 issue of Playboy magazine.[5]
In 1965, she co-starred with Elvis Presley in Tickle Me and later appeared in several roles in Hollywood films, including as "biker chick" Cathy in Hell's Belles in 1969. She also made guest appearances on American television series. She retired in 1971,[4] having married Prince Alfonso of Hohenlohe-Langenburg in Marbella, Spain, in February 1971.
Lane gave birth to her only child, Princess Arriana Theresa Maria von Hohenlohe, in 1975. In 1984, her marriage to Prince Alfonso ended in a divorce in which she received a million-dollar settlement which she apparently claimed that the sum was "not really fitting for a princess".
Thank you to wikipedia and IMDB for much of the information above.