They don't make them like they used to. Not only the films, but the cinemas, too. London was once replete with picture palaces built in Deco and neo-classic fashion in successful bids to stand out on the high street, with many buildings that once housed them like the Brixton Astoria now listed for posterity.
Nowadays cinemas are typically in the middle of carparks and swathed in oven-ready chain restaurants. They're no smoking, the seats are comfortable and the steeply tiered rows seats allow everyone to see.
But the architecture is anodyne. The basics remain – ticket booths, bars, seats and screens.  But they're not the same because cinema is not the same. It takes a unique sort of onanist to pay to watch porn in a Soho basement; and massive home TVs and VR headsets are a real threat to the multiplexes.
These photographs of London cinemas in the 1980s were taken by Peter Marshall as be mooched about the city with his camera.
Jasmine Bingo Club, London Rd, Forest Hill, Lewisham, 1992.
Grade II listed, built as The Capitol Theatre in a Neo-Classical style by cinema architect John Stanley Beard it opened in 1929. It was taken over by Associated British Cinemas (ABC) in 1933 and renamed ABC in 1968, closing in 1973 and staying empty until it became a Mecca Bingo Club in 1978, later becoming the Jasmine Bingo Club. After Jasmine went bust in 1996 it was again empty until it was opened as a Wetherspoon pub, The Capitol in 2001. They closed it in 2014, but failed to sell it and it reopened in 2017. I visited its interior in 2021.
Warehouse, South Bank, 1981
These somewhat brutally plain buildings were somewhere between the roundabout now occupied by the I-Max Cinema close to Waterloo station and the Oxo Tower, probably on Upper Ground, but I cannot positively identify the exact location, though I suspect I walked past them many times. They have either been demolished or converted beyond recognition.

The sign at bottom left simply says 'Please Keep This Entrance Clear' while a smaller one is now largely illegible, and I can only make out the words 'GOODS DEPOT' and 'PLEASE RING BELL'
Mecca Bingo, 161-9, Essex Rd, Islington, 1992
Grade II* listed former Carlton Cinema 1930 by George Coles, became ABC in 1962 and closed in 1972. Converted to Bingo Club which closed in 2007. Used as a place of worship by Resurrection Manifestations as Gracepoint.
Classic Tooting, Fircroft Rd, Upper Tooting Rd, Tooting Bec, Wandsworth, 1990
Built 1910 by Edward A. Stone, Norfolk & Pryor, as The Central Hall Picture Palace. Renamed Central Cinema in 1923 and Classic Cinema in 1936. Closed in 1983, it became a nightclub in 1987.
Brixton Astoria looks in fairly poor shape in this picture, with a notice warning there is a 24 hour dog patrol.

The building opened as a cinema and theatre in 1929, closing in 1972, becoming briefly a rock venue but closing in months. The Rank organisation wanted to demolish it to replace it with a garage and car showroom, but it is Grade II listed. They were using it as a store when I took this picture.

It reopened as a rock venue in 1981, but went bust, was bought for £1 and re-opened it as the Brixton Academy in 1983, becoming a success. Refurbishment in 1995 restored much of its original Art Deco features.
Fuller & Richard, Great Windmill St, Soho, Westminster, 1991
Built in 1904 for the wholesale stationers Fuller & Richards it later became the Panama Club, jazz club and restaurant, and then in 1965 a private cinema club, the Dilly Cineclub, showing sex films – the name from nearby Piccadilly Circus. In 1976 it became a public cinema, the Dilly Cinema showing X-rated films. Taken over by the Cannon Group in 1985 it then became the 6th screen of the Cannon Moulin Cinema and closed a year before I took this picture. Since then it has been converted into offices along with adjoining buildings
Tower Cinema Gateway, Rye Lane, Peckham, Southwark, 1989
In 1989 the lower part of the gateway was obscured by an ugly rectangular wall and you could only see this curve by looking up as you walked through.
The Grand Theatre, St John's Hill, Battersea, Wandsworth, 1989
Grade II listed opened in 1900 as The New Grand Theatre of Varieties music hall. In 1950 it became the Essoldo Cinema, which in 1963 became a Bingo Club until 1979. Closed when I took this picture it became a music venue from 1991-1997 before closing again. Following a failed attempt by Wetherspoons to turn it into a pub it is now again a venue with nightclub, live music and comedy.
Brixton Fridge, Town Hall Parade, Brixton Hill, Brixton, 1991
Built as the Palladium Picture Playhouse, designed by Gilbert Booth it opened in 1913. It was given a new plain modern facade in 1955 and reopened as the Regal, then became the ABC and later the ACE and closed as a cinema in 1981. Opened as a music venue, The Fridge had genuine old fridges fixed to its frontage. It closed in 2011 and later, sans fridges, reopened as The Electric. It retains much of its original internal design.
Bournemouth Rd, Rye Lane, Peckham, Southwark, 1989
The gateway of the Tower Cinema designed by architect H. Courtenay Constantine and opened in 1914 now leads to a car park. The cinema closed in 1956.
Majestic Cinema, Stonhouse St, Clapham, Lambeth, 1989
This is the side entrance of the Majestic Cinema on Clapham High St, designed by John Stanley Beard and opened in 1914. The cinema became a bingo hall and recording studio in 1960 and a nightclub in 1985.
Mecca, Bingo Hall, 468, Hoe St, Walthamstow, Waltham Forest, 1989
Opened as Scala Cinema in 1913, renamed Plaza in 1931. Clowed as the Cameo Cinema in 1963, becoming Mecca Bingo Club, which closed in 1986. Derelict until 2004 is now a Kingsway International Christian Centre.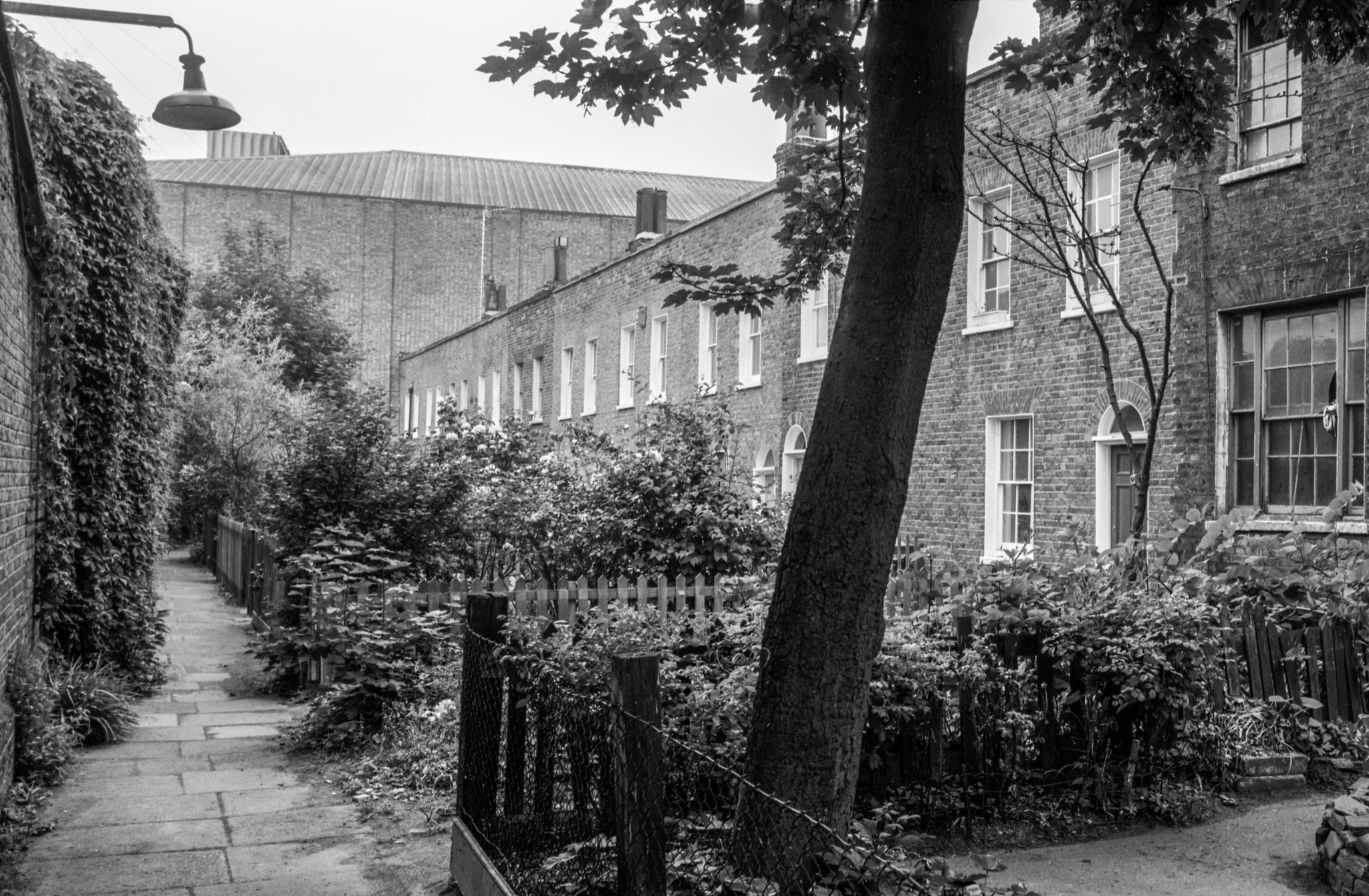 Belle Vue Place, Cleveland Way, Stepney Green, Tower Hamlets, 1986
Now rather hidden away, 1A and 2-11 Bellevue Place are Grade II listed as an early nineteenth century terrace. The large brick building in the background it the Genesis Cinema with its entrance on Mile End Rd.
Mecca Bingo, Essex Road, 1992
Grade II* listed former Carlton Cinema 1930 by George Coles, became ABC in 1962 and closed in 1972. Converted to Bingo Club which closed in 2007. Used as a place of worship by Resurrection Manifestations as Gracepoint.
Former Cinema, 101-3 Brixton Hill, Brixton, Lambeth, 1989
Converted from shops and opened in 1911, the Brixton Hill Cinematograph Theatre went under various names including the Scala, New Royalty and Clifton Cinema before finally closing in 1957. For many years after that it sold camping equipment until around 2005, becoming a restaurant and then the South Beach Bar, an events hall and most recently the The Anointed Ministry International Gospel Centre.
Top Rank Bingo, 474, Caledonian Rd, Lower Holloway, Islington, 1989
Architect Frederick E Tasker, opened in 1937 as Mayfair Cinema, was briefly renamed The Eagle in 1942 but reverted after a popular outcry. Take over by Essoldo in 1952, becoming Essoldo Caledonian Road until 1965. Became Essoldo Bingo Club, later Top Rank Bingo and finally Jasmine Bingo, closing in 1996. Demolished in 1998.
Whitechapel Rd, Whitechapel, Tower Hamlets 1986
Shops on Whitechapel Road. The more ornate at 27 replace an earlier manufacturing stationer which had since 1907 housed the Picture Palace cinema. It was built in 1926-7 for Isaac Woolf Silberstein's restaurant. Its neighbour to the left dates from around 1750, with 19th century alterations.
Granada Brixton, Brighton Terrace, Bernay's Grove, Brixton, Lambeth, 1989
Opened in 1898 as the Empress Theatre, designed by Wylson & Long, it was reconstructed in Art Deco style by Andrew Mather, reopening in 1931 as the New Empress Theatre. It showed films on Sundays when live performances were not allowed. It closed as a theatre in 1957 and after alterations opened a month later as a cinema. Granada Brixton became a Bingo Club in 1967 and when this closed was used as a furniture store. It was demolished in 1992 and the rather ugly Pavilion Mansions built on the site.
By Peter Marshall.