Anyone who has opened a Playboy magazine from the 1960s-70s will recognize the "What sort of man" advertising campaign.  These self-promotions appeared in every issue for many-a-year, terminating before the 1980s arrived.  Each advert was a full page consisting of (a) a photograph of a studly male being admired by the ladies and (2) text explaining why they are such awesome consumers – why companies should be lining up to put adverts in Playboy to target these jetsetting big-spenders.
Let's travel from year to year, starting in 1965 and go through 1974, and take note of the different portrayals of the idealized Playboy male reader.  The fashions change, but one thing always stays the same: the Playboy reader is always the object of desire for any nearby foxes.
Take note of the theme here: you'll see it time and again.  A suave, dapper guy who obviously has plenty of disposable income (insert sound of advertisers drooling and slobbering) is being eyed by random babes.  Sometimes he's accompanied by a dame, sometimes he's flying solo…. but not for long.
A notice to all wine merchants: advertising in Playboy, and you will be reaching millions of studly connoisseurs like the gentlemen above: "his resources permit him to pour for pleasure more often than most".
In about a decade, things will get skanky thanks to Playboy's presumption that they needed to hike up the smut in order to compete with Hustler, Penthouse and their ilk. At least for now, it's pure class.
Can you even imagine sitting in the bleachers of a college football game openly reading a Playboy?… and girls not finding it the least bit off putting? Thanks to Playboy's aforementioned disregard for class (or was it thanks to America's heightened conservative?) this would not be acceptable today – not by a mile.
Back when riding without a helmet on a public beach wasn't a felony.
This bears no resemblance whatsoever to air travel today.  Scores of sexy women, a buffet, plenty of room to lounge, and no one had to go through security to get there… no wonder everyone's smiling.
She's just innocently holding his tube. Nothing phallic going on here.  Nothing at all.
Only 1/2 of all non-readers would like to travel around the world?  Who would elect to stay put over globetrotting if given the choice?  I'm a tad suspicious of the "Psychographic Profile" source.
Is it just me, or did this Playboy reader look like a priest at first glance?
Are we to believe these two ladies are enamoured by this joker missing his putt?  And, of course, they're carrying tennis rackets, because the golf course was men-only in those days.
One wonders if these Playboy readers are oblivious to the constant staring from female bystanders. Or did it become oppressively uncomfortable to be constantly scanned like a piece of meat.  This poor fellow is just trying to show a gentleman some carpet swatches, but can't even do that without feeling like he's being undressed from afar.
Fact: Playboy tops all magazines in men under 35 who are heavy users of shampoo and deodorant.
Conspicuous cleavage placement alert.
Beware of the chick by the fondue pot: she is engaging in some heavy eyeboning.
This man is obviously stoned out of his mind.
What sort of man reads Playboy? The kind that owns an ungodly amount of fur.  Yes, his neighbors seem to be fine in sweaters and a light shawl; but he covers himself and his lady in an almost comical depth of fur.
Again, nothing phallic going on here.  Just holding a cylinder is all.
Only in the 1970s could rafting spontaneously erupt into a porno.  And there's an extra lady – whatever will she do?
When Tom Selleck isn't on a "unique sports adventure" he's "sitting down to solve a tough corporate problem."  Uh-huh.  Sure he is.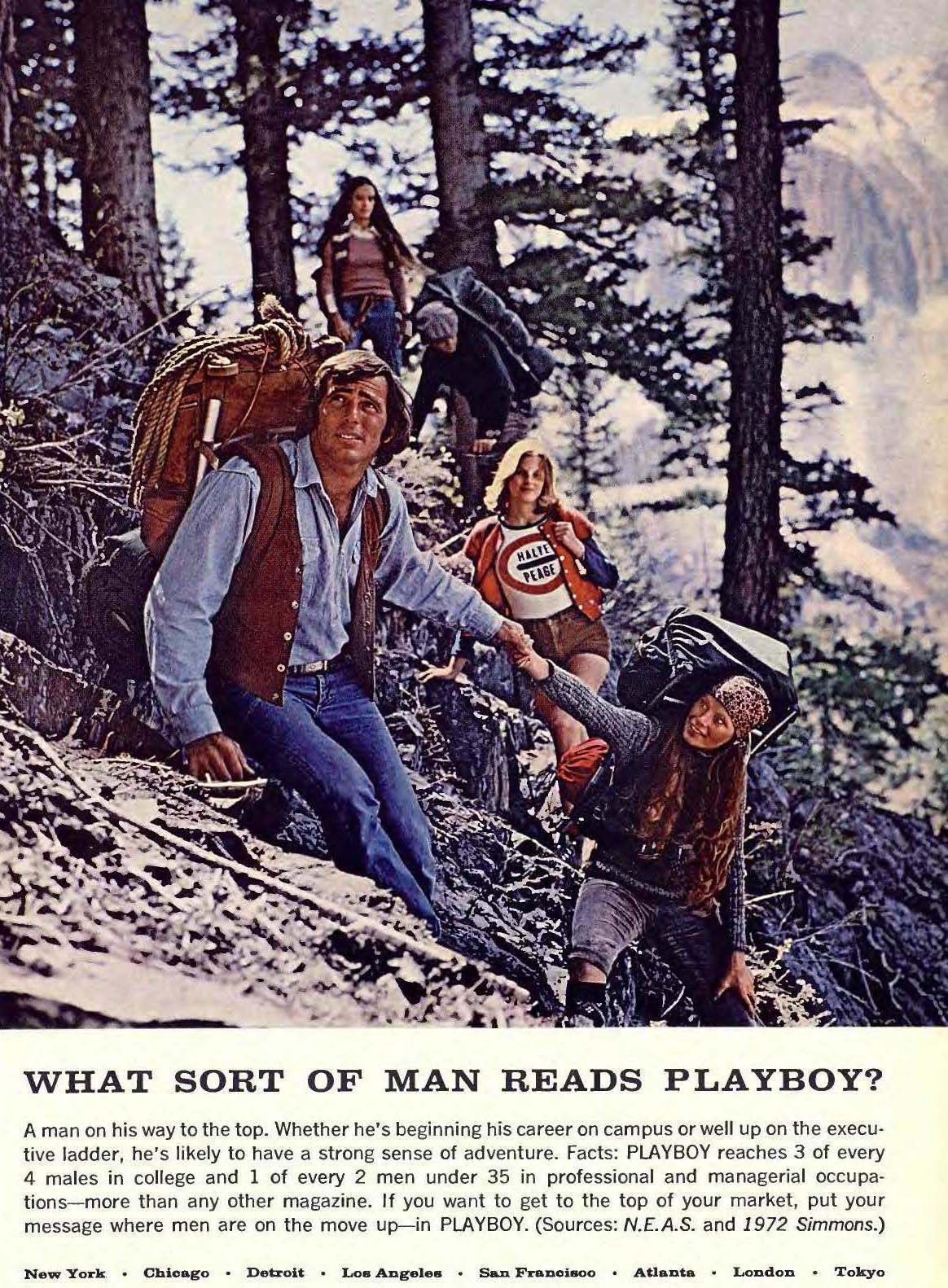 e.
This fellow looks a bit terrified by what's atop that mountain.  What could it be?  Perhaps he sees the 1980s, when his 70s world of rampant sex without consequence would come to an abrupt end.  That, or maybe he sees a bear.
Just like in the previous 1971 Sellek beach advert, the woman from afar who is eyeboning the Playboy reader has a boyfriend who's head is turned away from the camera.  There's something to this.  Nothing is by accident on Madison Avenue.
It looks like he's hitting on a little girl.  One of the creepiest  of the "what sort of man" adverts.
Compare this to the 1970 golf "what sort of man" advert.  What a difference four years makes.
One babe is never enough for the Playboy reader.  Even out catching tiny fish, he's got to have at least two gals to meet all his shagging needs.
The so-called "butt cut" wasn't a very flattering look for men.
An "individual income of $15,000 plus" today will get you a cardboard box under a bridge.  (sigh)
The Playboy reader of 1974 looks a lot like Leonard Nimoy.  Points for the Fertility Goddess photobomb.
The guy in the background has the right idea: chug-a-lug while pouring some in your girlfriend's cup.  For once the background player "out-cools" the Playboy reader up front.
This is the same crew as in the last advert – the first time the "what sort of man" adverts double dipped.  A sign of the end perhaps.  By 1976 these adverts would be no more.
ALERT!  There's a black man in a "what sort of man advert"!  Surely there's been some kind of mistake!
Oh, hold on a minute.  He's a waiter .   False alarm.
Like I've said before – there's nothing phallic at all about this photograph.  He's just showing her his "pottery".  Get your mind out of the gutter.