The Crazy Gang: The British pop film that defiend an era.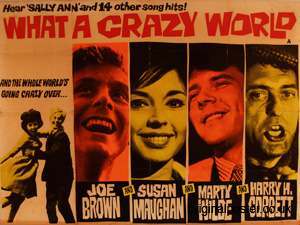 If the first Beatles film A Hard Day's Night hadn't exploded on the cinema screens in 1964, then What A Crazy World might nowadays be cherished as a classic slice of nostalgia from the early days of the British pop scene, with its cheery tunes and cheeky working-class comedy.
It all started with a song written by Alan Klein, creator of the cult album Well At Least It's British and later a member of the rather eccentric New Vaudeville Band, in which he appeared as 'Tristram, Seventh Earl of Cricklewood'.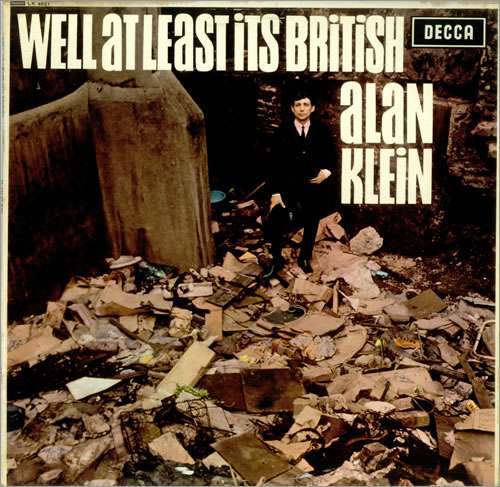 The song was a conscious attempt to break from the American idiom, which was slavishly copied by the UK pop scene at the time, and to create a sort of up-to-date version of George Formby – albeit in the cockney vernacular. It was performed by stalwart Brit rocker Joe Brown, who hated singing cockney songs, but did so anyway…
The song begat a stage musical (written by Klein) and then a film version, in which Joe was joined by another big star of the day, Marty Wilde. (The play was revived in the mid-Seventies, when it gave a young 'Raymond' Winstone his stage debut. (For further details see here.)
In the film the opening credits set the scene nicely, and feature a new souped-up rendition of the theme song.
From then on it's a series of vignettes about London life that are a far cry from the chirpy chimneysweeps of the contemporaneous Mary Poppins.
There's I Sure Know A Lot About Love – an ode to misspent youth and missed classes that surely owes a debt to Johnny Cash's Straight A's In Love…
There's the Shameless clan, a generation early, in Oh, What a Family…
A Layabout's Lament laments how the local labour exchange is 'getting like a UN Assembly meeting' what wiv all vem foreigners comin' over 'ere…
Wasn't It A Handsome Punch-up lives up to its name most pleasingly, with its knives, bottles and knuckledusters. In fact, to quote the song itself, 'now we're dying for another one.'
You might be thinking that these songs remind you of a certain north London duo, much given to this kind of thing…
You'd have a point, too. Maybe that's why Chas Hodges did his own version of the title song. And did it, we think, rather well…
What A Crazy World is available on DVD here.