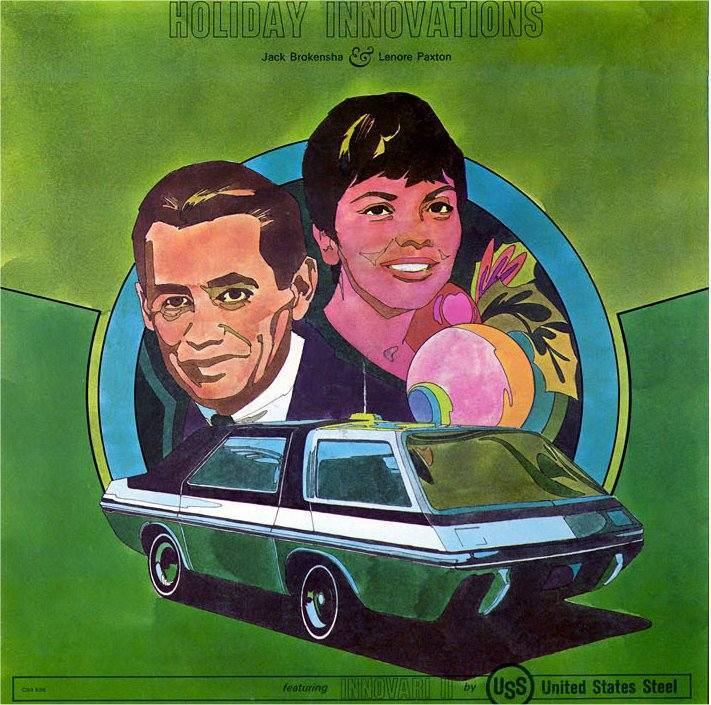 Nothing says Christmas like a horse drawn sleigh concept car sports wagon. This holiday album was promotional material for this 1969 space age gas guzzler produced by U.S. Steel. PCL Linkdump said it best: "it looks like a hearse that might take George Jetson to his final resting place".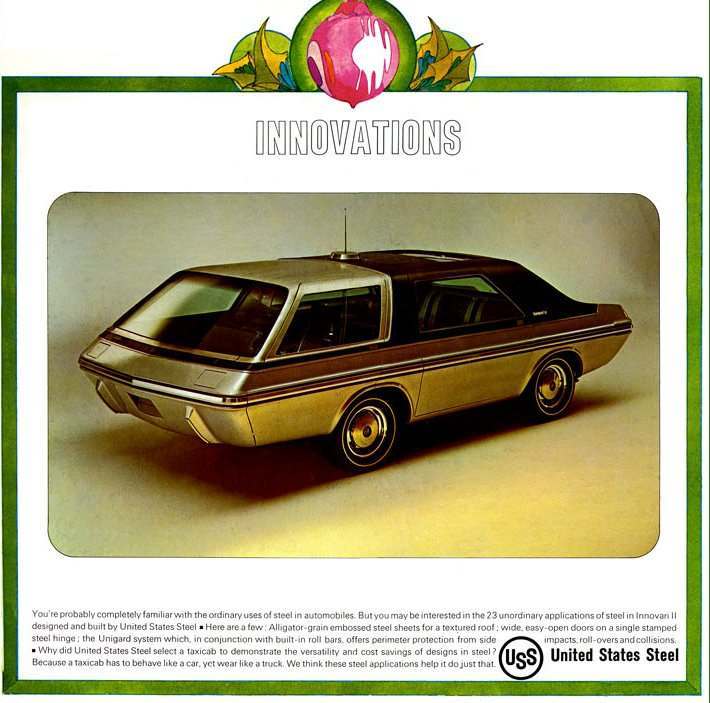 It was, of course, the tricky second album to the hit Innovari Steel Blue (1967).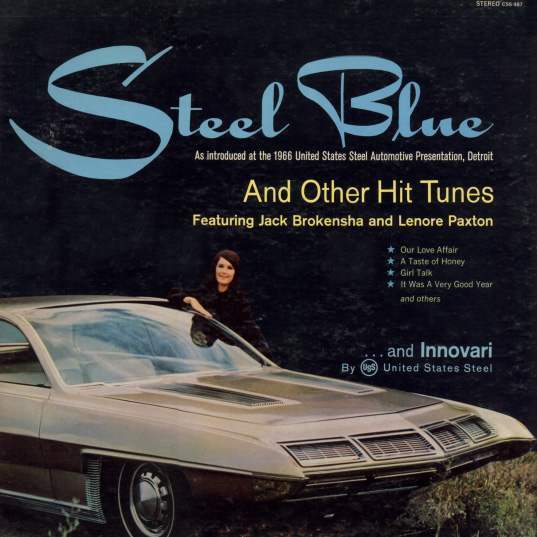 The Innovari brochure boasted:
First we created some complex automotive designs. Then we solved each design problem with a practical use of steel. Result? The Innovari. Even though you won't see this experimental sports station wagon on the road, every steel innovation that went into it has a practical application today.

Transparent Stainless Steel covers the tail lights, instrument panel and a section of the inside door panel. The Stainless Steel is photoelectrically etched with perforations so small they're almost invisible. It looks solid until backlighted, then the Stainless Steel is transparent. The cantilevered rear seat is a bench type modification of the torsion bar concept introduced earlier by U. S. Steel. This means fewer parts.

Touch a button and the Innovari doors open on a single stamped steel hinge. The door and quarter inner panels are USS Embossed Carbon Steel that match the interior soft trim. U. S. Steel has 18 different patterns of Embossed Steel on the market. For beauty and durability, the roof panel, door panel insert, fender mouldings and exhaust stacks are USS Stainless Steel.
The tyres were not made of steel, but you just know they tried to make that happen.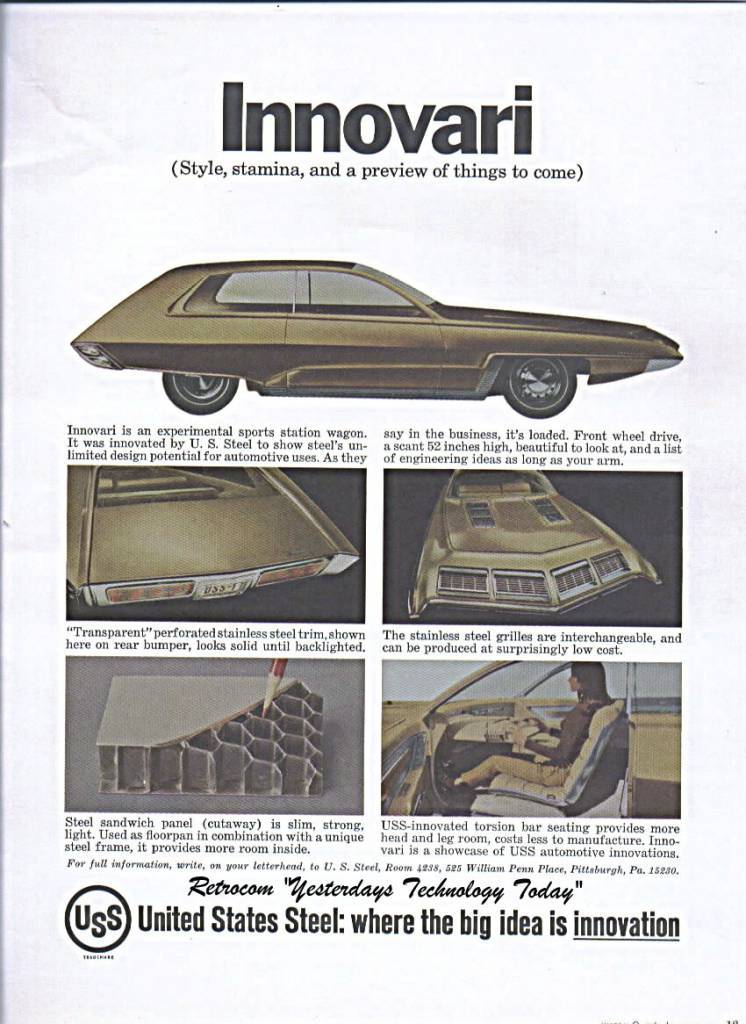 And so to Innovari 2. No need for a reverse gear with the car that looks like its going two ways at once.
As for the album, side 1 is actually quite good – very jazzy and hep. Here's one of the best versions of "We Three Kings" I've heard in a long time. Give it a chance- it takes a minute to get peppy, and it's worth the wait. Just imagine yourself cruising in your own Innovari II listening to these snappy holiday vibes!
Music was by John Joseph Brokensha and Lenore Paxton.
A1 –Jack Brokensha Little Drummer Boy
A2 –Jack Brokensha We Three Kings
A3 –Jack Brokensha Do You Hear What I Hear?
A4 –Jack Brokensha O'Hannukah
A5 –Jack Brokensha Engulfed Cathedral (Composed By – Claude Debussy)

B1 –Lenore Paxton Joy To The World
B2 –Lenore Paxton Little Drummer Boy
B3 –Lenore Paxton Frosty The Snowman
B4 –Lenore Paxton What Child Is This?
B5 –Lenore Paxton I Saw Three Ships
B6 –Lenore Paxton Christmas Waltz
B7 –Lenore Paxton Sleigh Ride
B8 –Lenore Paxton The Twelve Days Of Christmas
B9 –Lenore Paxton The Christmas Song
B10 –Lenore Paxton Santa Claus Is Coming To Town
B11 –Lenore Paxton Deck The Halls
B12 –Lenore Paxton Trimming The Tree At Christmas (Lyrics By – Loretta Balowski; Music By – Lenore Paxton)
B13 –Lenore Paxton Angels We Have Heard On High
B14 –Lenore Paxton Hark The Harold Angels Sing
B15 –Lenore Paxton Have Yourself A Merry Little Christmas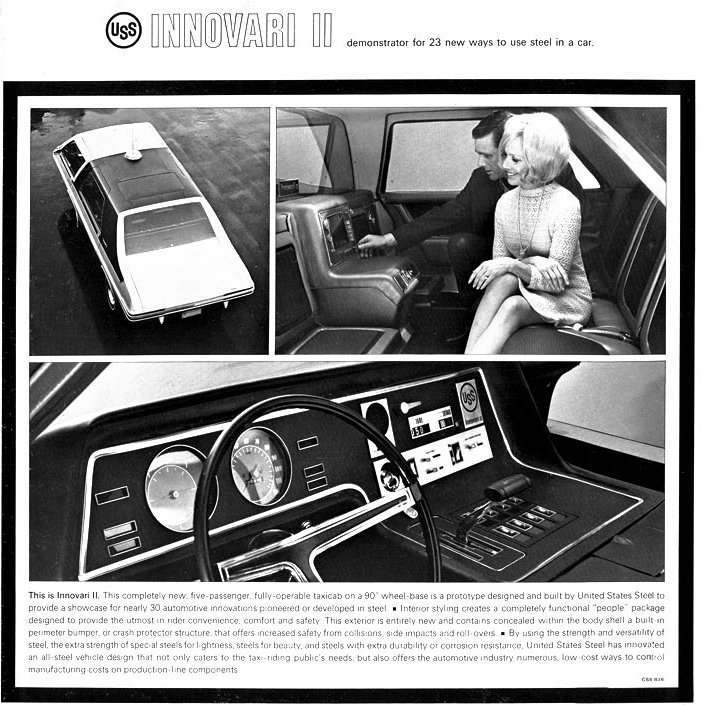 This was a car with its own theme tune and 23 new and exciting steel-based functions, like the steel sun-visor to "protect your head",