1. JANE FONDA – BARBARELLA (1968)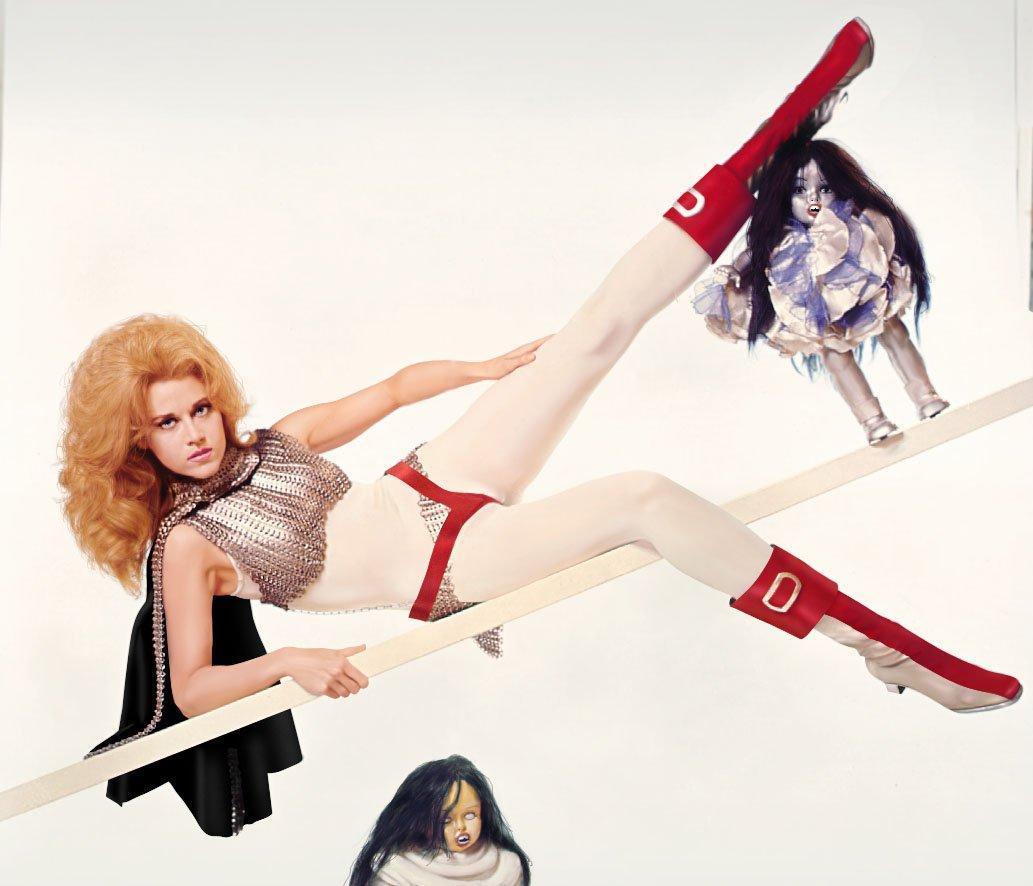 Roger Vadim brought a comic book to life… and we all know what the ladies look like in comic books: buxom and scantily dressed. Whether it's Wonder Woman or She-Hulk, if it's a female, it's going to get male comic book readers all hot and bothered. Plus, Vadim was no slouch at delivering the goods in the eye candy department. This was Fonda in her prime, and the camera leers at her every curve throughout the film. This was a movie more about Fonda's anatomy than anything else…. and audiences are quite alright with that.
2. LINDA HARRISON – PLANET OF THE APES (AND SEQUELS)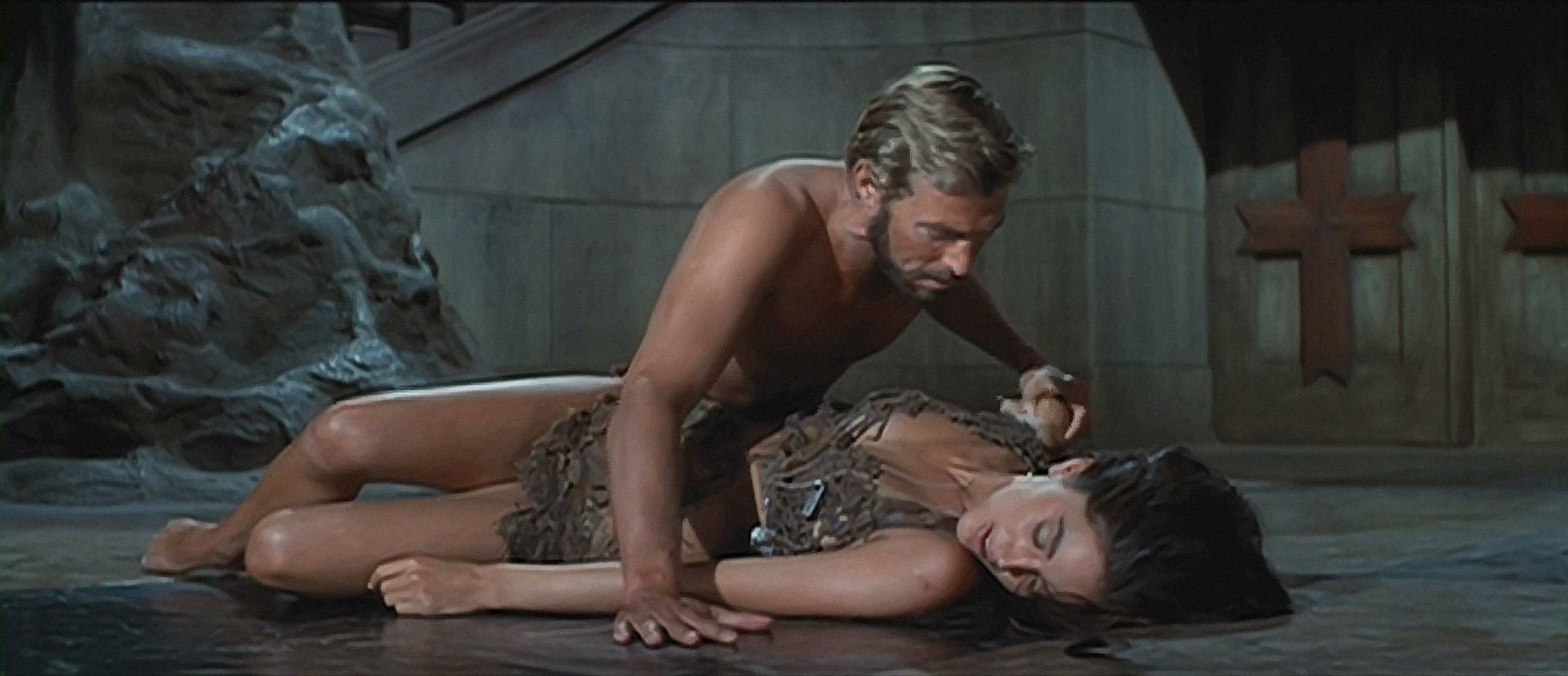 Sure, Linda probably got the job as Nova because she was sleeping with the head of the studio (Darryl Zanuck) at the time. But, let's face it, playing a mute didn't require much in the way of acting chops, and she sure fit nicely into the animal skins.
3. ERIN GREY – BUCK ROGERS IN THE 25TH CENTURY (TV)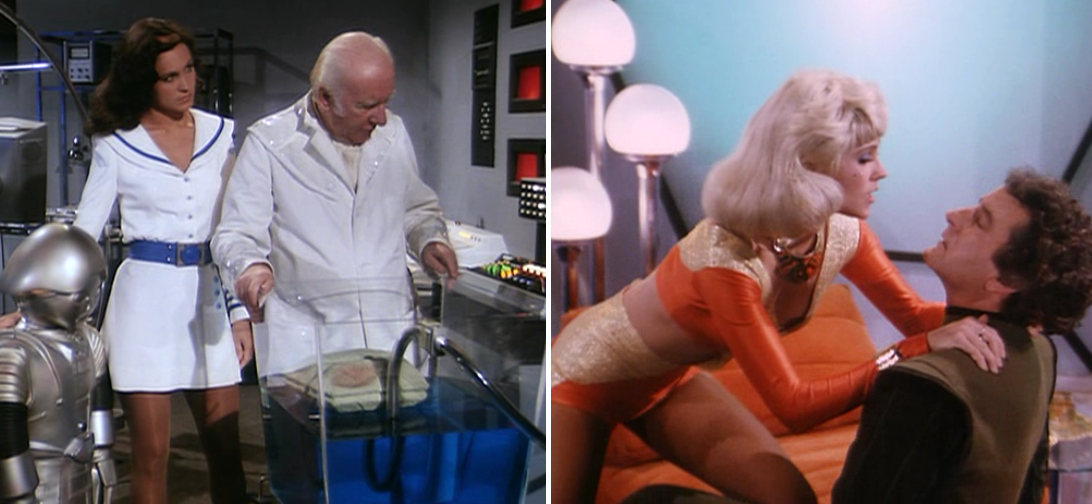 What child of the 70s didn't spend their Thursday evenings in a state of mad lust for Colonel Wilma Deering?
4. JENNY AGUTTER – LOGAN'S RUN (1976)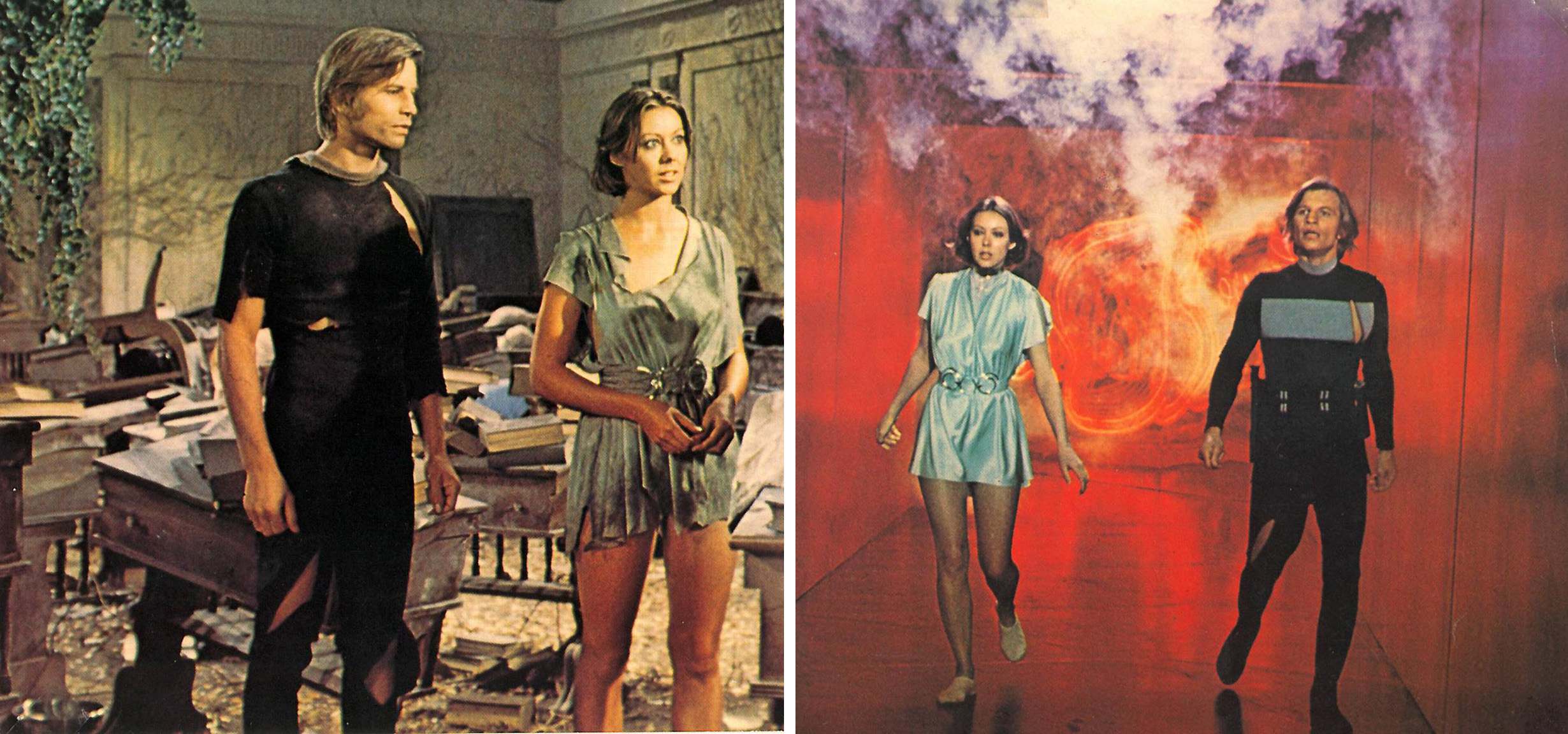 Agutter as Jessica delivers an epic performance. And by "epic" I don't mean the tired cliche we've all grown to hate. I mean Legendary, of Homeric proportions, majestic…. something a bard should write poems about and pass them down the generations. You get my drift.
5. CARRIE FISHER – RETURN OF THE JEDI (1983)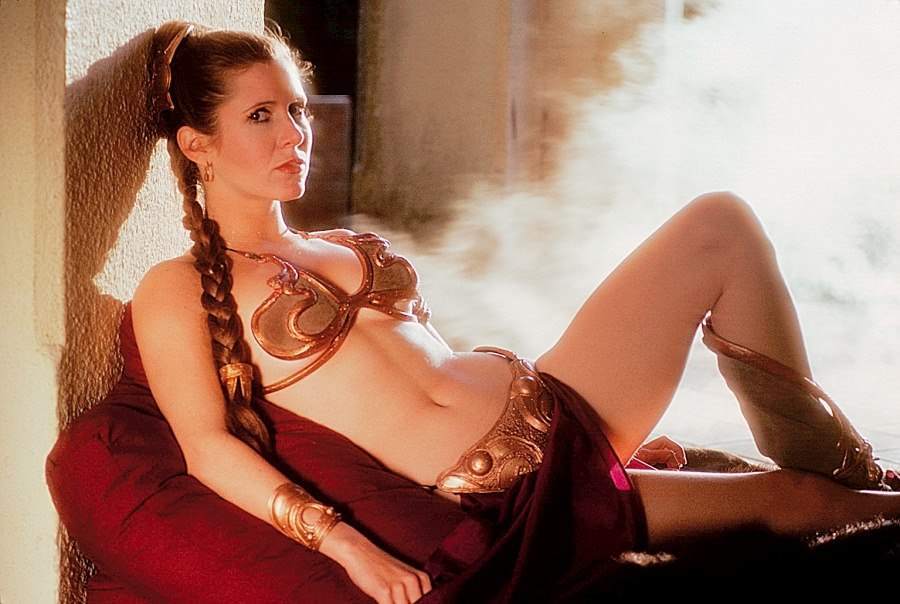 Jabba the Hut wasn't the only one enjoying Leia in a metal bikini. Youngsters across this great land suffered intense overheating from the sight of it…. only Lando remained cool.
6. LOUIS JAMESON – DOCTOR WHO (TV)

The Doctor has had many companions, but only one of them came to work each day dressed in skimpy animal skins. Leela wins for best companion based solely on wardrobe (or lack thereof).
7. CAROLINE MUNRO – STARCRASH (1979)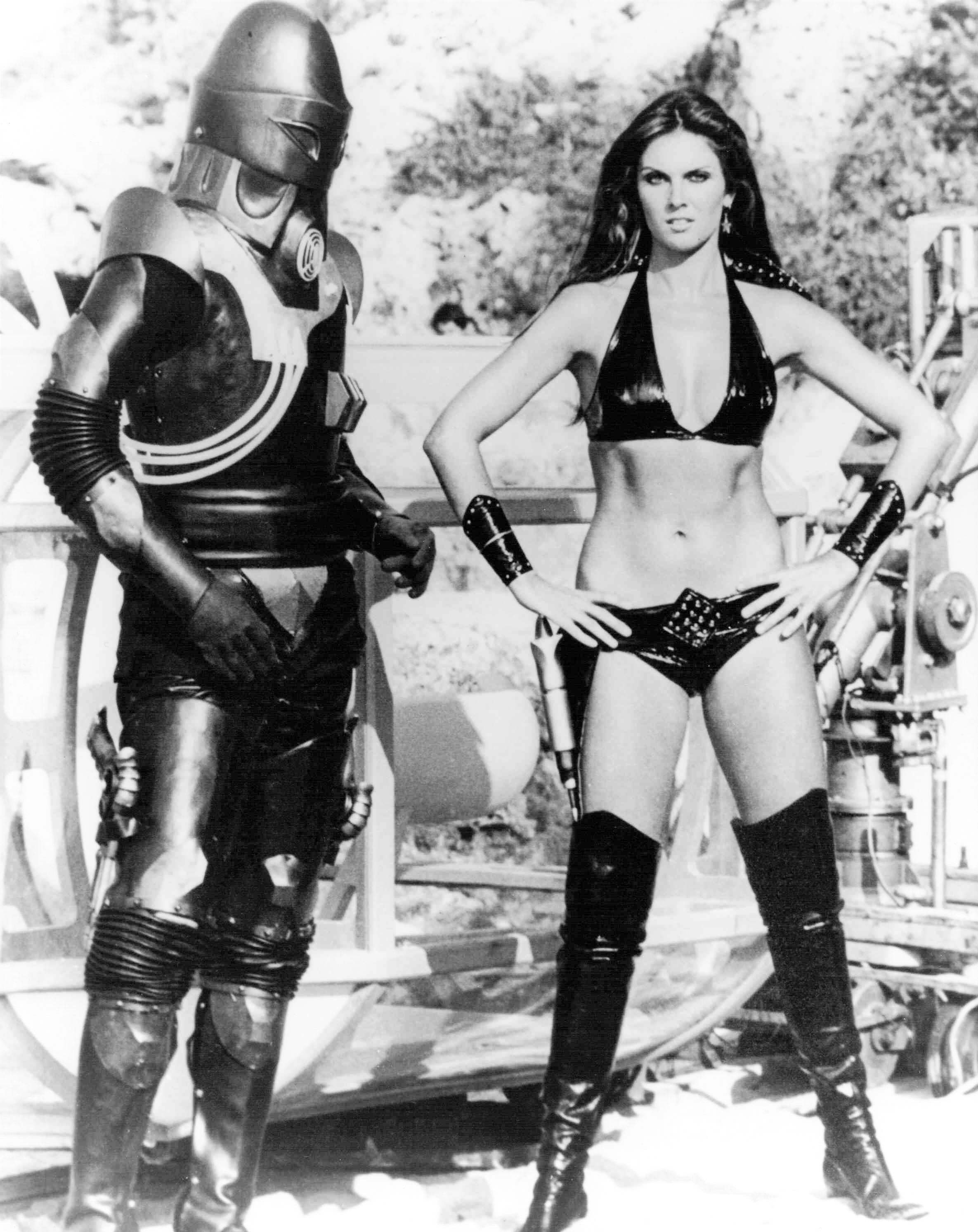 The lovely Carolyn spends the film wearing what Sean Connery wore in Zardoz. Maybe I have gender bias, but it looks a lot better on Carolyn.
8. NICHELLE NICHOLS – STAR TREK (TV)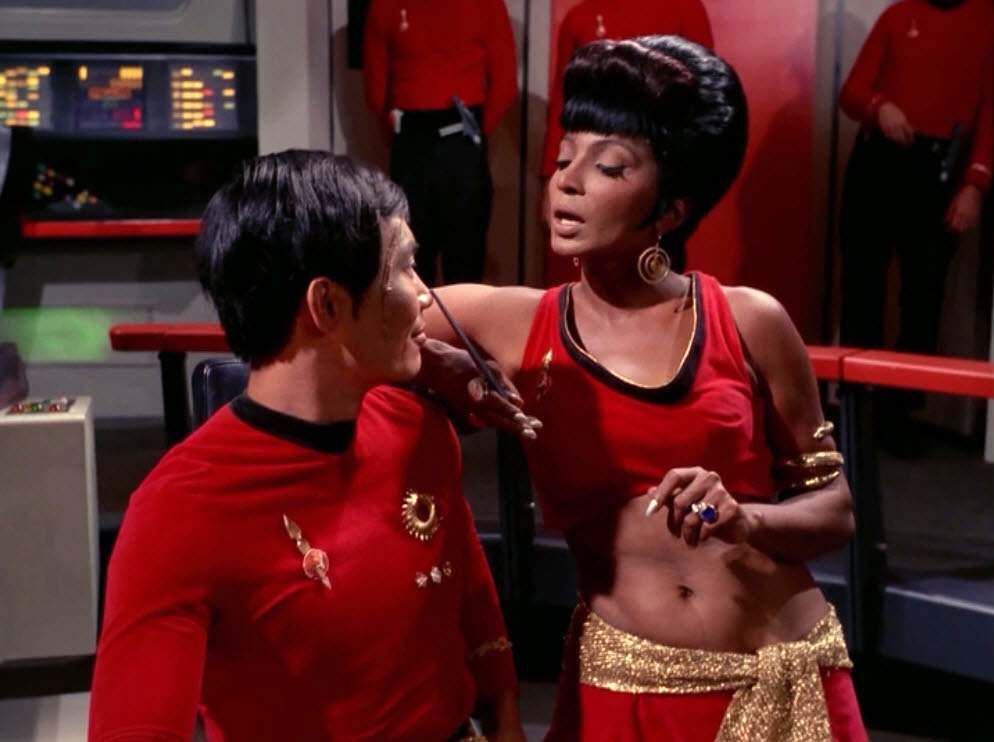 Nichols was discovered by jazz legend Duke Ellington in her mid-teens, and toured with both Ellington and Lionel Hampton as a lead singer and dancer before her big acting break in Star Trek as Uhura. Interestingly, Nichelle Nichols had considered leaving the Star Trek franchise after the first season. Fed up with the racist harassment, culminating with her learning that studio executives were withholding her fan mail, she submitted her resignation. She withdrew it when Dr. Martin Luther King, Jr. personally convinced her that her role was too important a cultural breakthrough to leave.
9. GABRIELLE DRAKE – UFO (TV)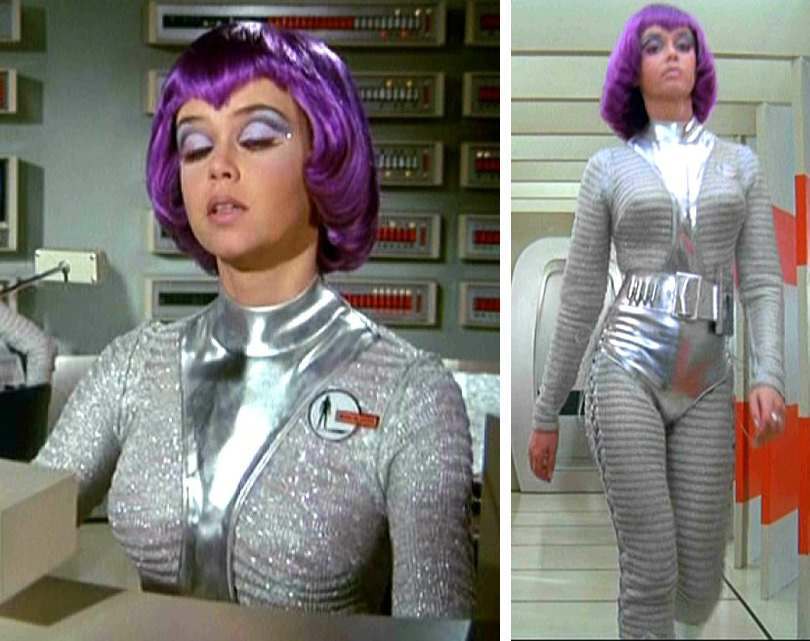 You can't have an all-time sci-fi babe list and not include a Moon Maiden. There would be rioting in the streets.
10. DOROTHY STRATTEN –GALAXINA (1980)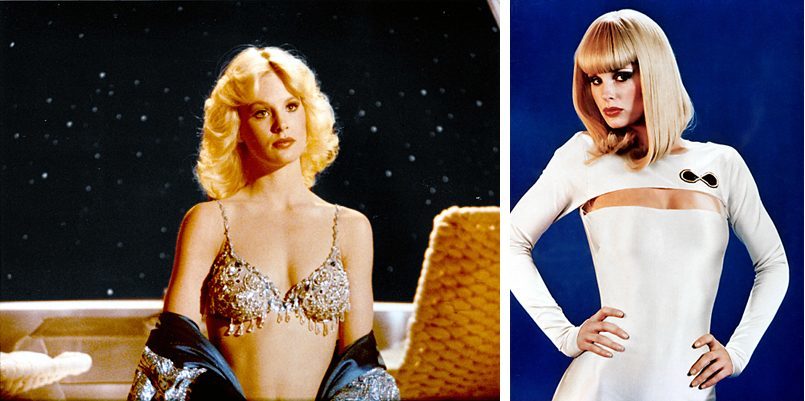 Yes, Galaxina was a devastating disappointment, and yes, there's precious little to see of Dorothy in it. But it's Dorothy Stratten, so it gets to cut in line. Plus, Dorothy had a double sci-fi whammy as Miss Cosmos on Buck Rogers in the 25th Century.
11. DEANNA LUND – LAND OF THE GIANTS (TV)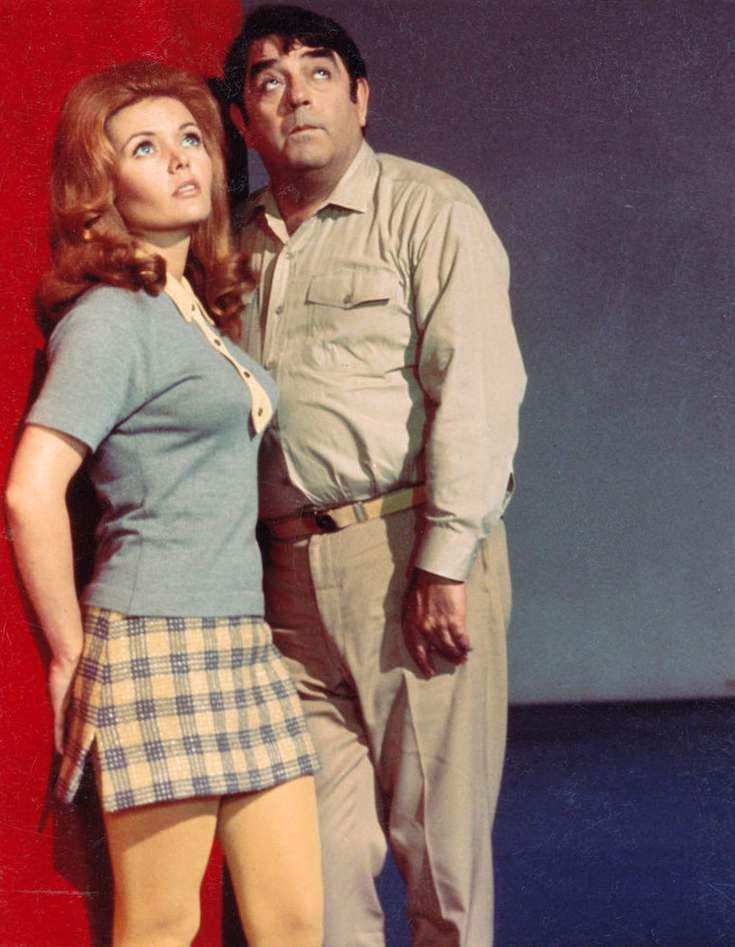 Deanna Lund played a robot in the camp classic Dr. Goldfoot and the Bikini Machine (1965) and the Riddler's girlfriend, Anna Gram, in the Batman TV series (1967). She also appeared briefly in the Frank Sinatra film Tony Rome (1967). However, she is best known for her role as Valerie Scott in the amazing Irwin Allen sci-fi TV show Land of the Giants (1968-70). Deanna Lund ended up marrying a co-star of Land of the Giants, Don Matheson. Matheson was a Korean War vet who had won both a Bronze Star and Purple Heart. They ended up divorcing in the 1970's, and in a shocking (and revolting) turn of events, Deanna began dating Larry King in the 1990's! Blecch!
12. MATHILDA MAY – LIFEFORCE (1985)

This Tobe Hooper (Texas Chainsaw Massacre) has gone on to some notoriety over the years, achieving what might be called cult status due to a singular reason: the continuous unabated nudity of the space vampire. From her discovery in space in some cryogenic cube to her awakening in England to the climactic end, Mathilda's wardrobe budget cost was $0.00.
13. CATHERINE SCHELL – SPACE:1999 (TV)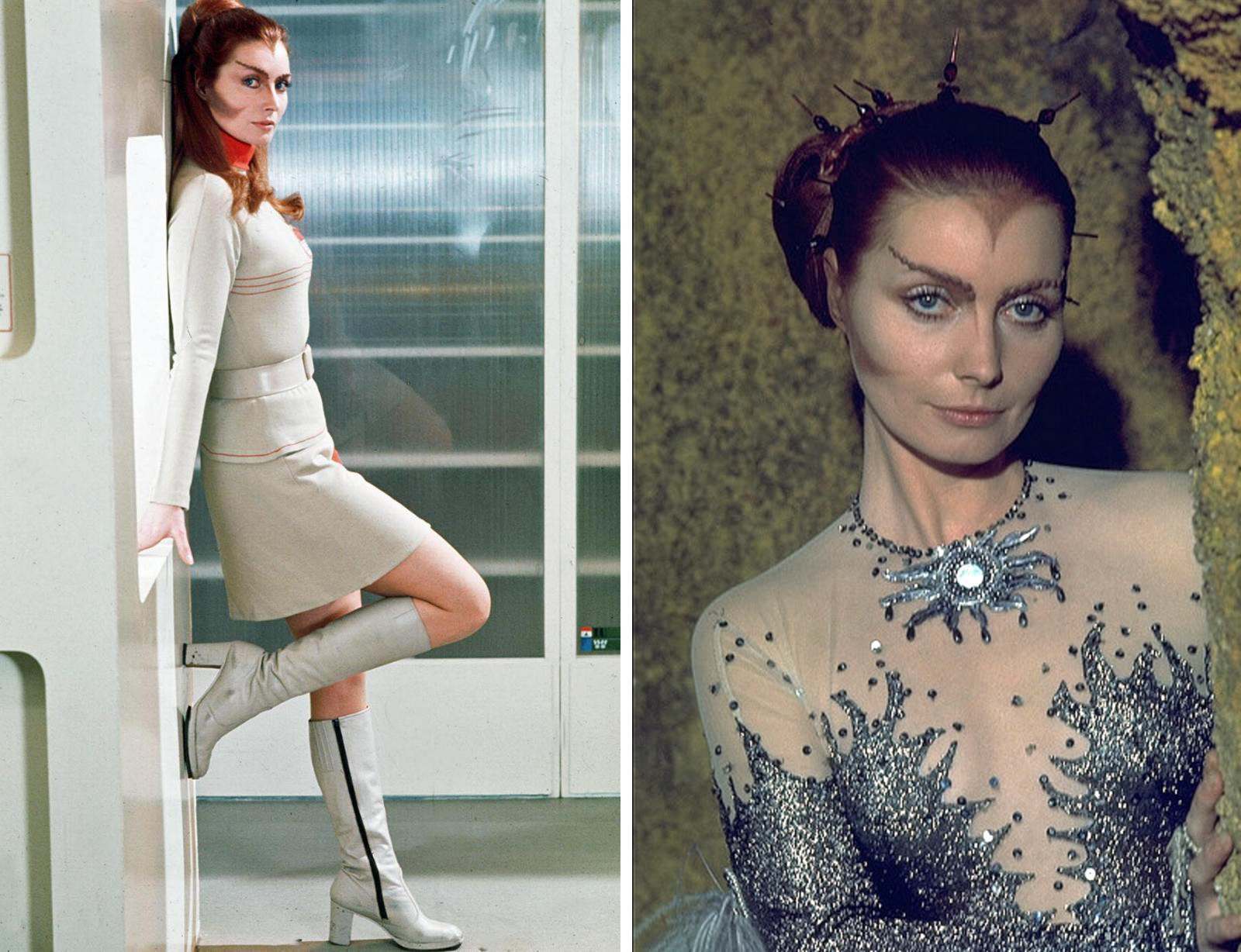 I could do without the Spock-like eyebrows, but this former Hammer babe brought some mojo to the second season of Space:1999.
14. KELLY LEBROCK – WEIRD SCIENCE (1985)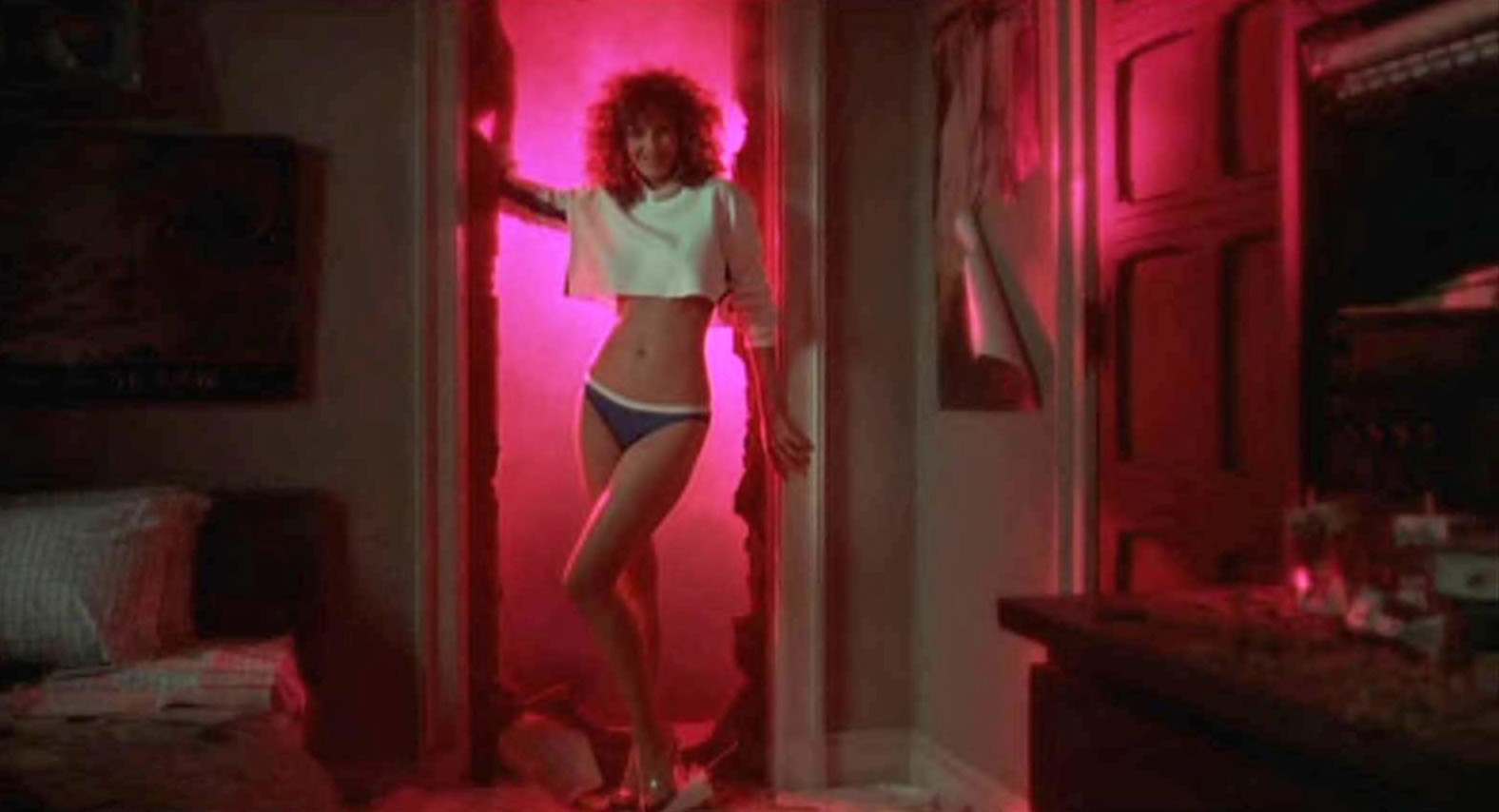 Thank you Garry and Wyatt for "making a girl… actually making a girl… like Frankenstein… except cuter."
15. TRACI LORDS – NOT OF THIS EARTH (1988)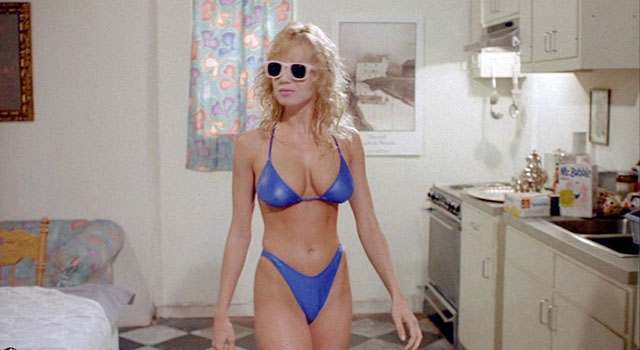 Make no mistake: this is not a good movie. Even judged from a purely T&A perspective, it still falls short. But it's Traci Lords big leap to the mainstream from porn, so it deserves some love. I've never seen the original 1957 Roger Corman film – something tells me they're similar in name only.
16. FARRAH FAWCETT – SATURN 3 (1980)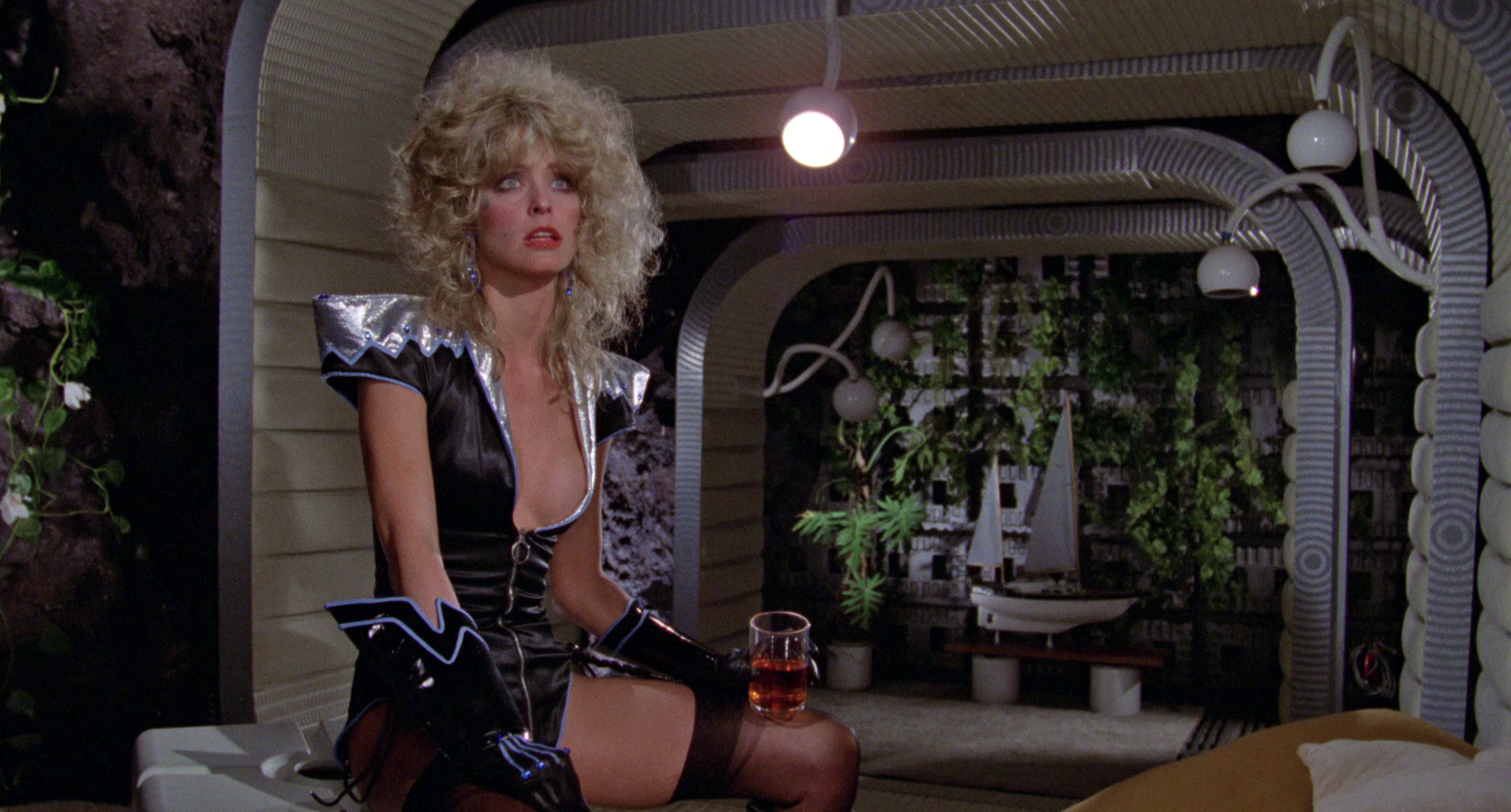 You've got to understand that Farrah was larger than life in 1980. Not in a forced-manufactured Lady Gaga kind of way, but in a genuine "Good Lord, Farrah makes me sweat profusely!" kind of way. To learn that she was topless for even a microsecond was epic news from sea to shining sea. The movie itself was only so-so, but did it really matter?
17. CYB AND PATRICIA BARNSTABLE – QUARK (TV)


The Barnstables played Betty I and Betty II on the short lived TV series Quark, a show that had everything going for it: (1) science fiction was the rage thanks to Star Wars, (2) the writer was none other than Buck Henry and (3) it featured the smoking hot former Doublemint Twins. There was only one problem – the show just wasn't very funny (Not a good quality in a comedy). The show was cancelled after only 7 episodes.
18. OLIVIA NEWTON-JOHN – TOOMORROW (1970)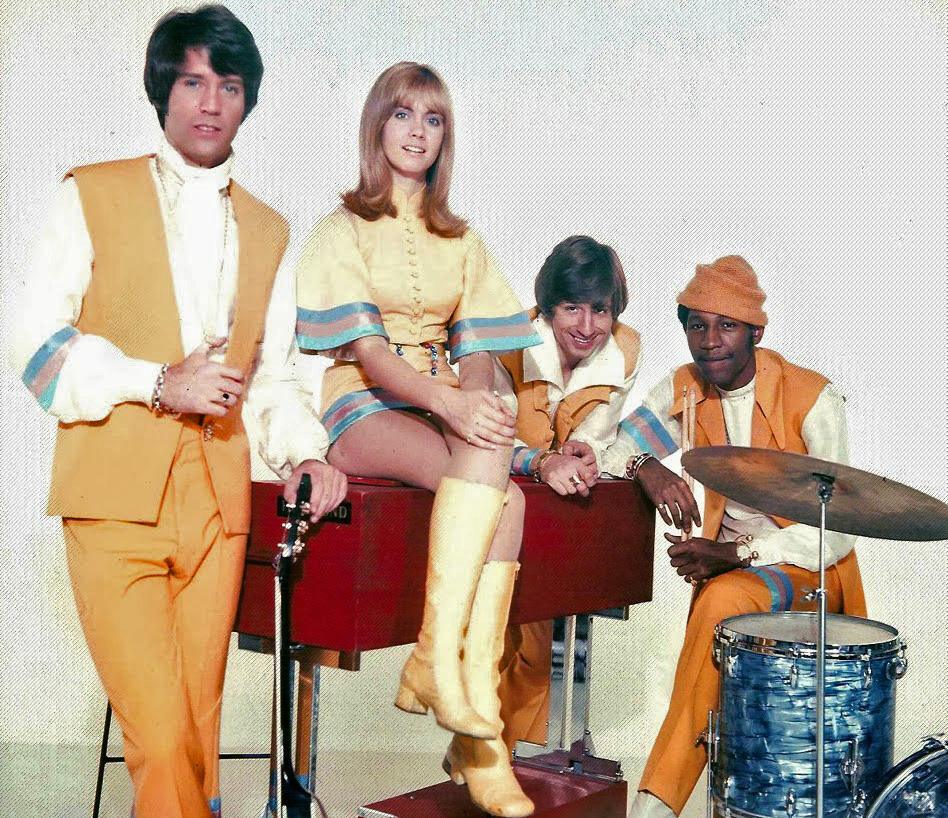 Olivia's band gets a special instrument called a "tonaliser" which causes an extraterrestrial to abduct the group, and have them entertain the Alphoid population….. oh, just never mind the plot and enjoy ONJ in hotpants and miniskirts throughout.
19. HEATHER MENZIES – LOGAN'S RUN (TV)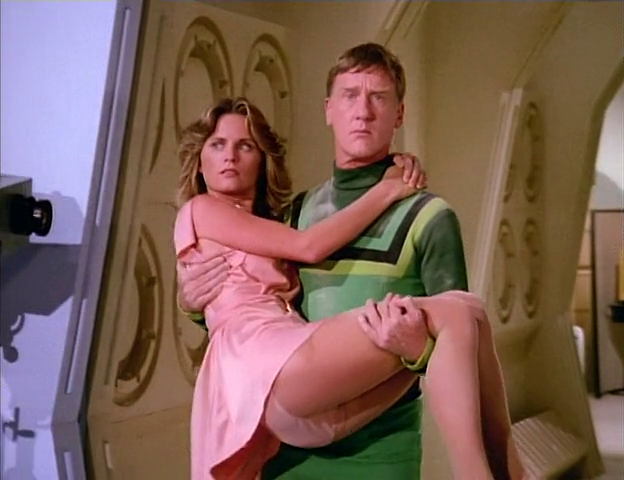 Menzies was, of course, a Von Trapp girl first in The Sound of Music, well before this series began. Plus, she had a number of movies and TV appearances under her belt (including Piranha), a Playboy spread, and was married to Robert Urich prior to the 1977 pilot.
20. SYBIL DANNING – BATTLE BEYOND THE STARS (1980)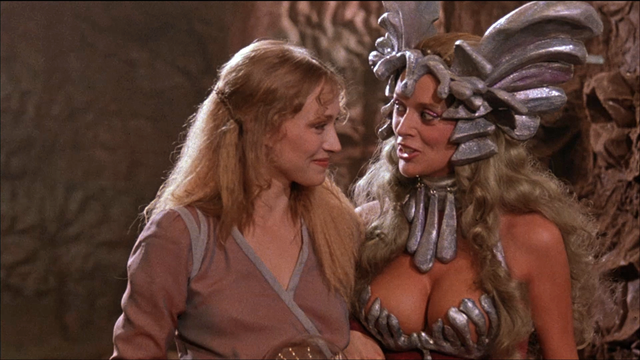 That's Darlanne Fluegel on the left, but the one we're concerned with is warrior queen, Sybil Danning, whose costumes seem to have a difficult time containing her. This Roger Corman flick is a blast to watch, possibly due in part to a screenplay by John Sayles (Eight Men Out) and special effects by James Cameron (Titanic, Avatar, Piranha II)…. oh, and Sybil's boobs.
21. NICOLA BRYANT – DOCTOR WHO (TV)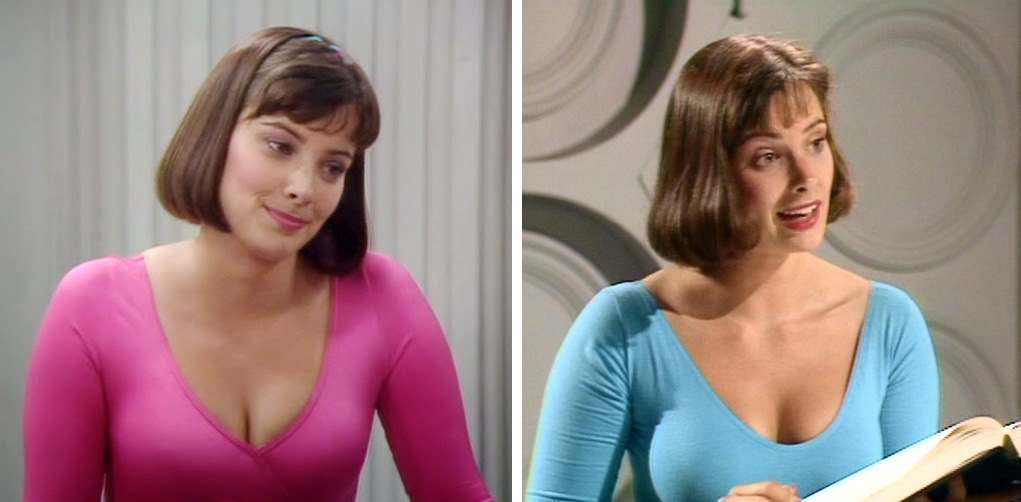 Peri Brown was a companion to the Fifth and Sixth Doctors. She was a botany student , but wasn't known for her vast knowledge of plants – but rather her cleavage accentuating clothing. People criticized Nicola for it…. those people are douche bags.
22. MELODY ANDERSON – FLASH GORDON (1980)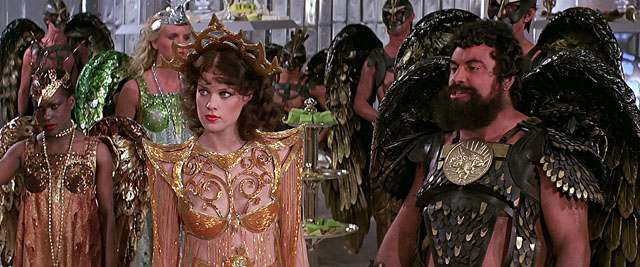 Melody an original Victoria's Secret catalog model, then a co-star on Manimal… but it was her role as Dale Arden in Flash Gordon that she's perhaps best known. From the film Ted (2012):
"Flash Gordon was the most important figure of our formative years. He taught us right from wrong, good from evil. And that the word 'acting' apparently has an extremely broad definition."
23. SIGOURNEY WEAVER – ALIEN (AND SEQUELS)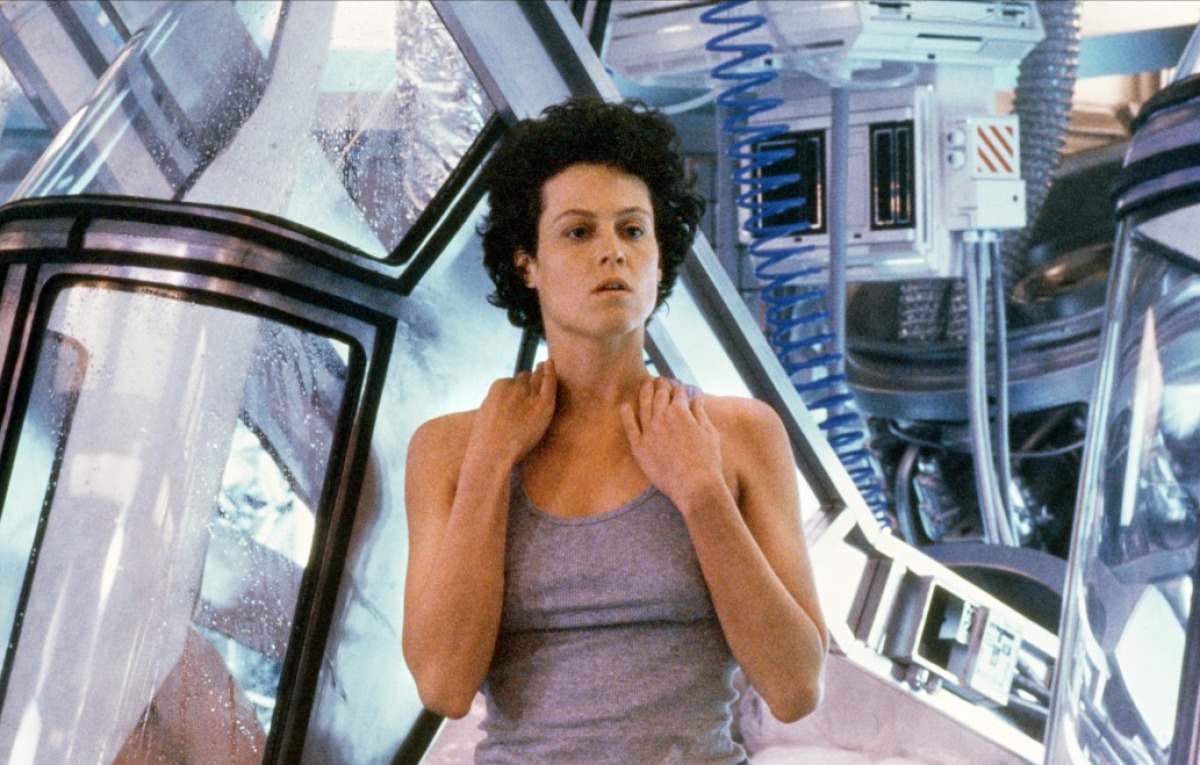 While most sci-fi ladies fall into the "space kitten" category, it's nice to have some badass representation as well. Although, speaking of kittens, Stephen King has stated (in Danse Macabre) that her character (Ripley) was one of the worst examples of anti-feminism in cinema, since she risked everything to go back for the kitty cat.  I'd disagree, but point taken.
24. GRACE LEE WHITNEY – STAR TREK (TV)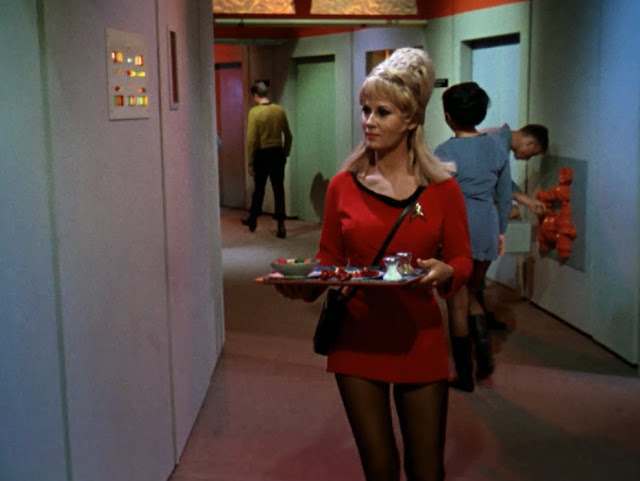 Yeoman Janice Rand was cut from the show before the first season ended – and the reasons for it remain unclear. It's known that Whitney was struggling with alcoholism at the time; but it's also been said that there were budgetary cuts. When it was determined that Kirk was not to be a one-woman guy, her value as a love interest went bye-bye, and subsequently so did her job.
For more on Star Trek babes visit this article and become an expert.
25. DARYL HANNAH AND JOANNA CASSIDY – BLADE RUNNER (1982)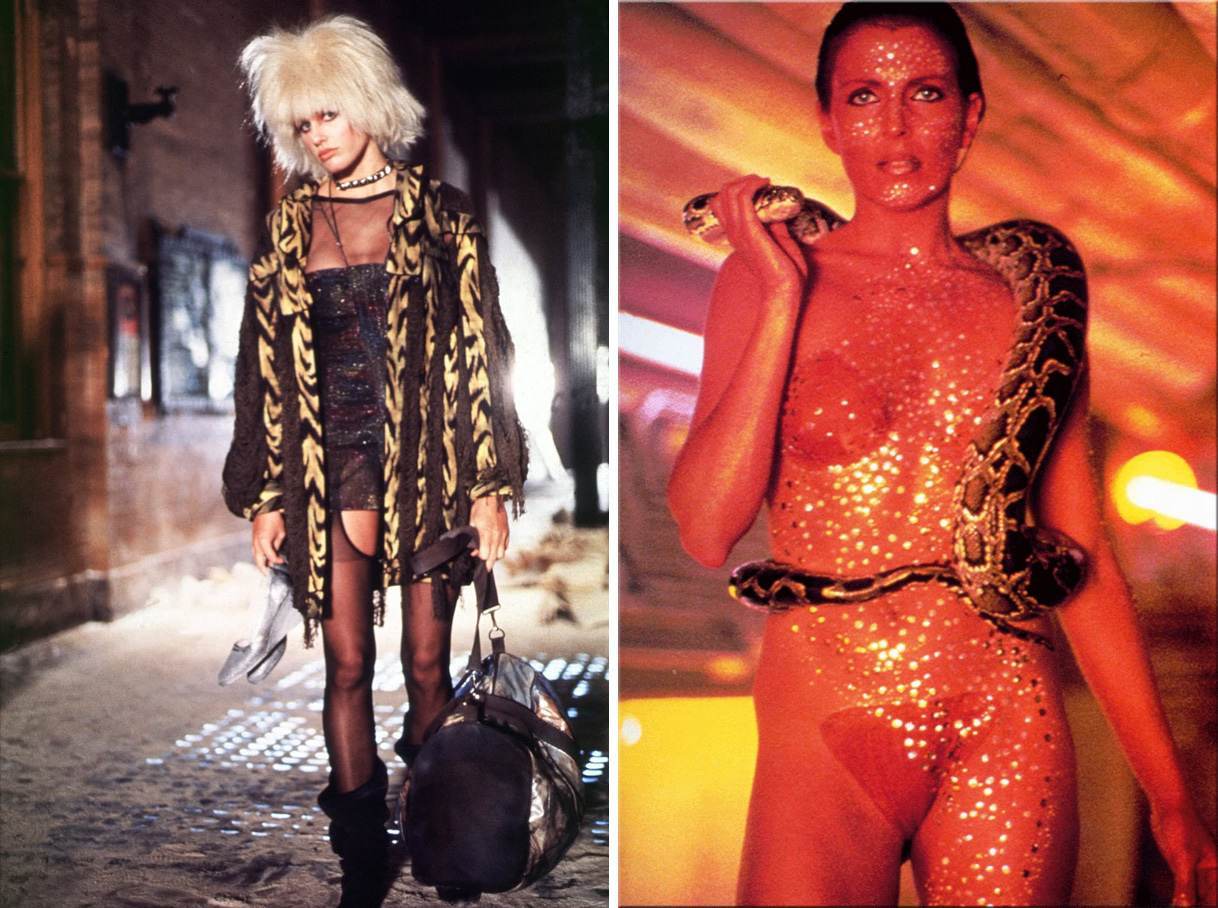 (Yes, I declare a tie) Daryl as a smoking hot replicant was nice, but who expected television mainstay Joanna Cassidy to appear as a topless android? I liken it to seeing Meredith Baxter-Birney showing up as a naked android in Starship Troopers (It never happened, but I can dream can't I?)
26. BARBARA BACH – THE HUMANOID (1979)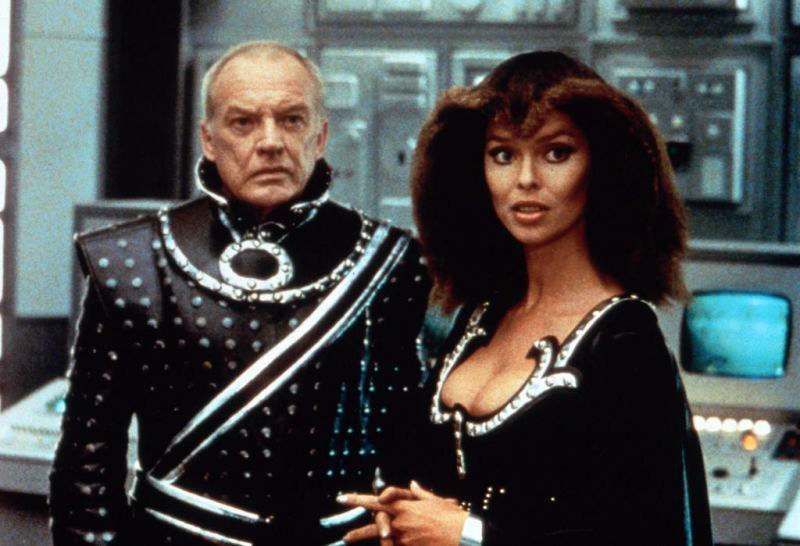 Barbara Bach is Lady Agatha in this insane Italian movie directed by Aldo Lado.
27. ROXANNE KERNOHAN – CRITTERS 2 (1988)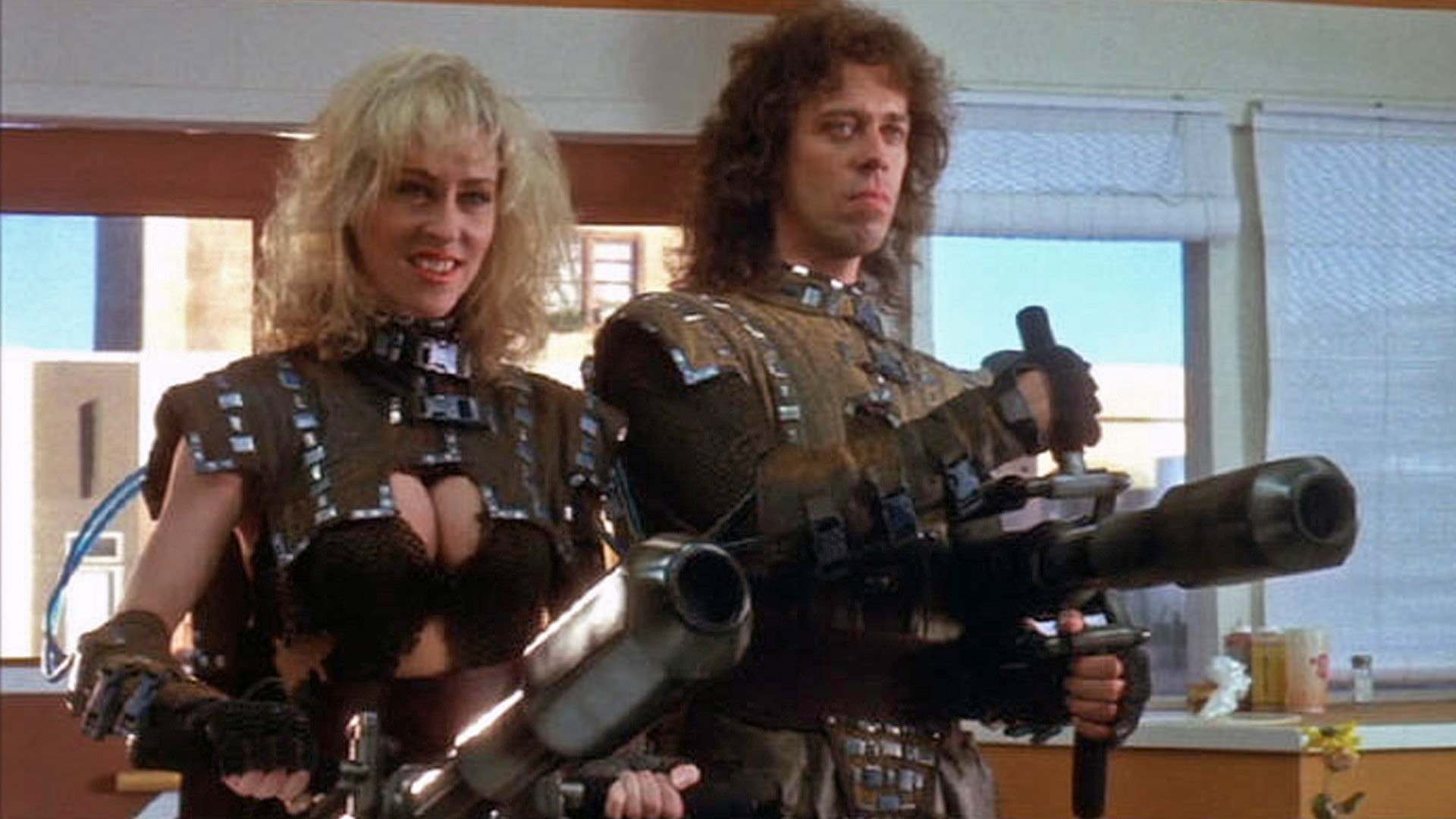 Roxanne transforms from a creepy chain-mail clad male alien into a topless chick alien. Why? Don't ask so many questions.
28. SANDY BROOKE – STAR SLAMMER (1987)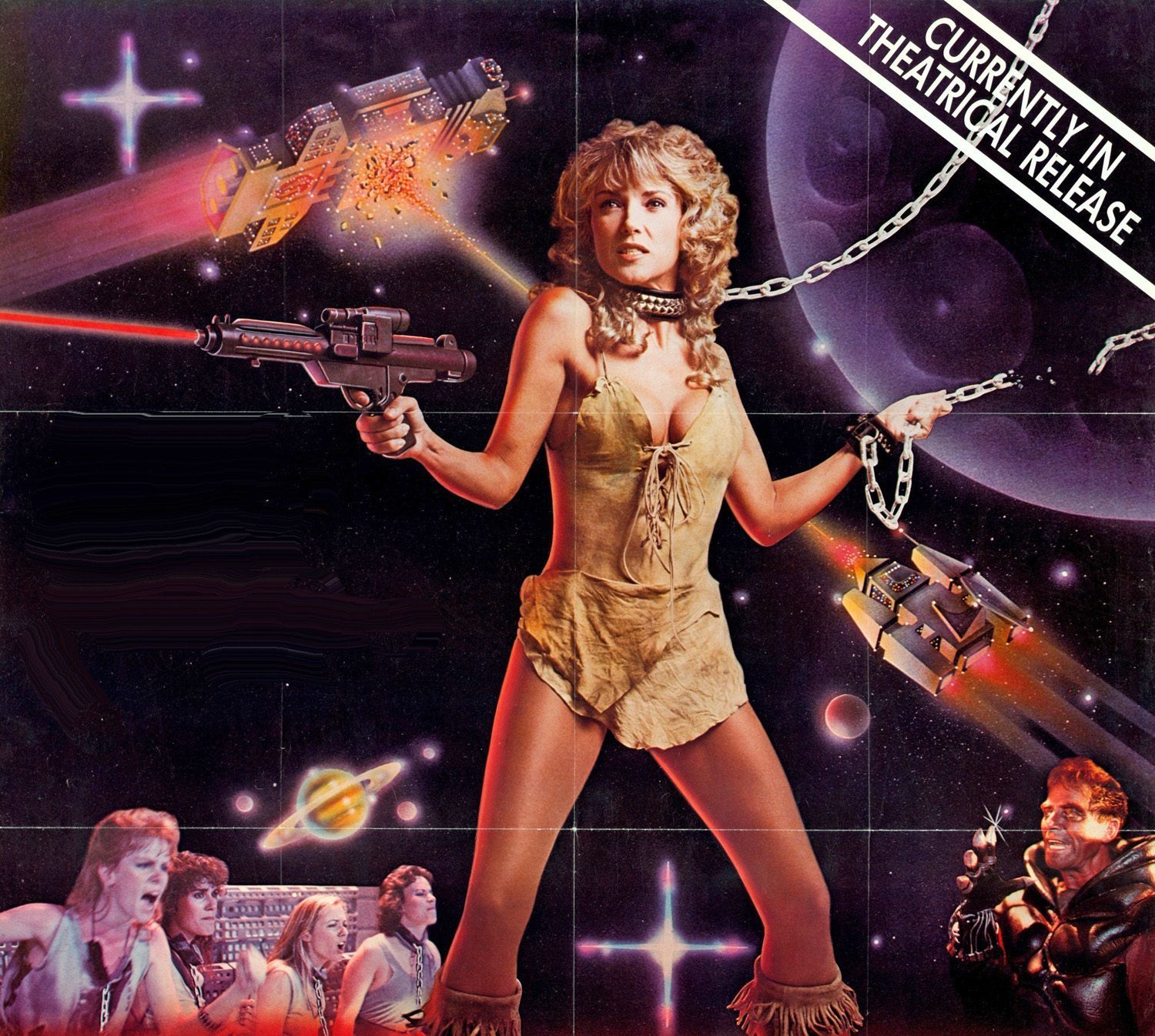 The women-in-prison Star Wars combo should have been a recipe for success. Unfortunately, the director didn't give it the ol' Russ Myers try, and instead kept things rather tame and dull. Still, Sandy Brooke does what she can, and for that, she deserves a place on this hallowed list.
29. MARKIE POST – BUCK ROGERS IN THE 25TH CENTURY (TV)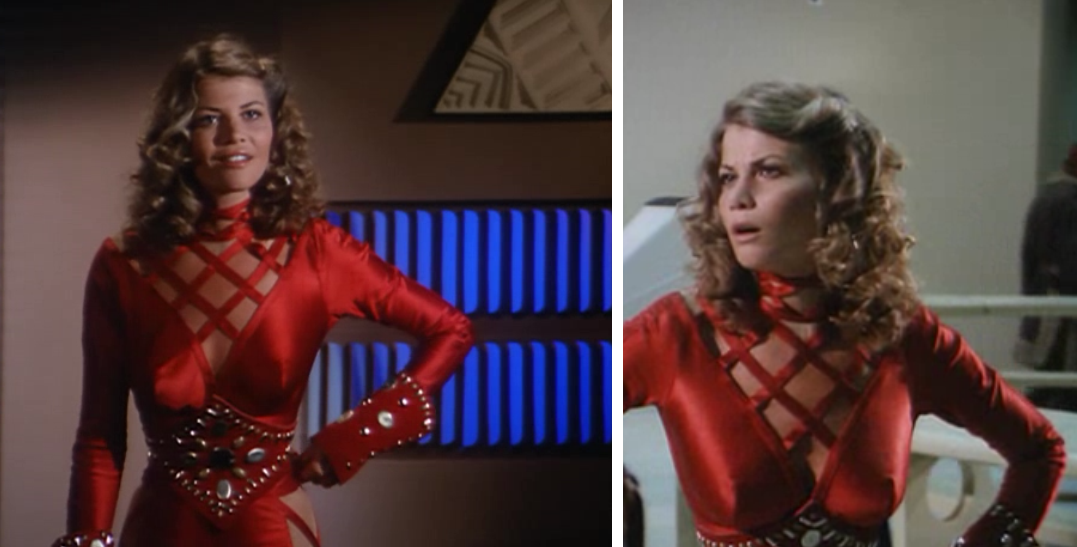 She's the daughter of a world renown physicist Richard F. Post, and is best known for her roles on The Fall Guy and Night Court…. but my heart belongs to her role as Joella Cameron in episodes: "Plot to Kill a City", Part 1 & 2.
30. KIM BASINGER – MY STEPMOTHER IS AN ALIEN (1988)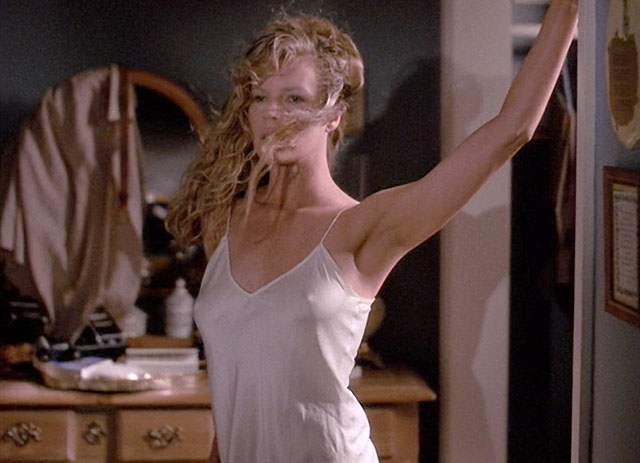 Family friendly fare featuring Basinger flaunting a fantastic femalien figure.
31. JUDY GEESON – INSEMiNOID (1981)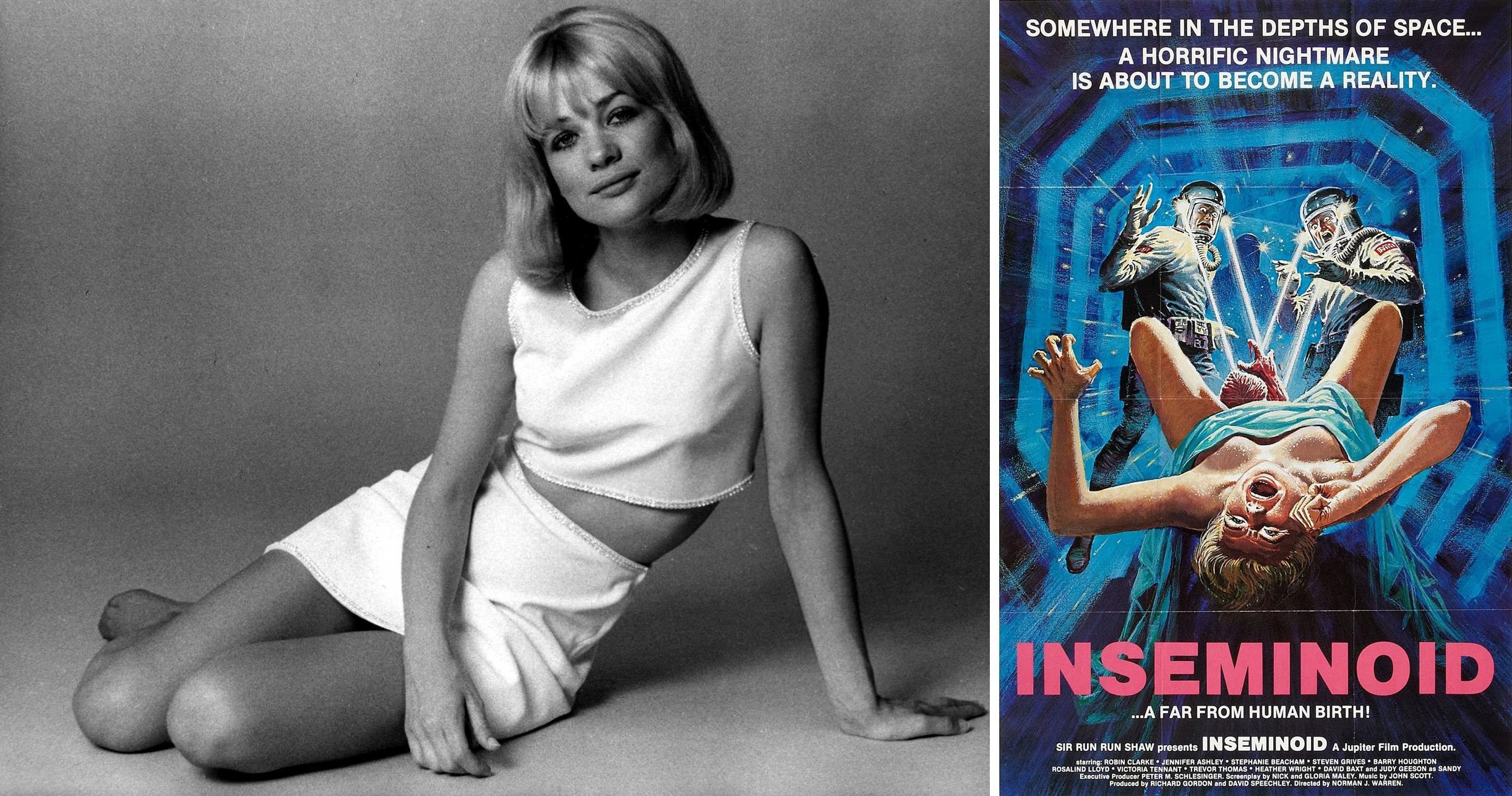 This British production didn't do so well theatrically in the States (perhaps due to being seen as an Alien knockoff); however, its VHS release was a different story. Perhaps due to its batshit crazy cover, it became somewhat of a cult favorite at the video store. Unfortunately, it's not as campy and depraved as you'd think, and Judy delivers a damn good performance (and requisite nude scene).
32. AYESHA BROUGH – UFO (TV)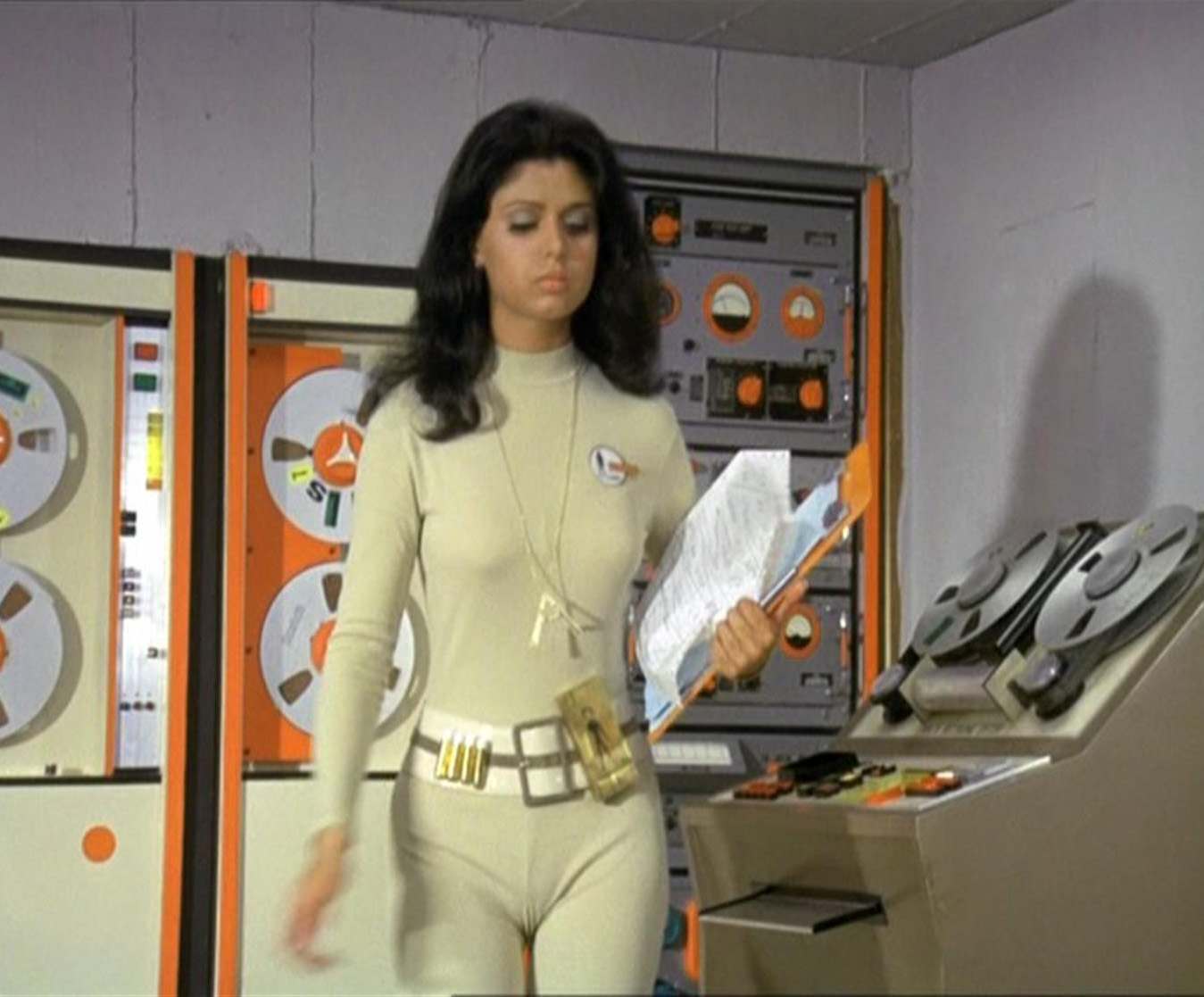 I don't remember her doing much more than coming in and out of Straker's office, saying nothing…. but the form fitting uniform left an impression upon a generation of 70s youngsters. And by "impression" I mean "strange tingling feelings, like you get when you're climbing up the rope in gym class".
33. ANGELIQUE PETTYJOHN – STAR TREK (TV)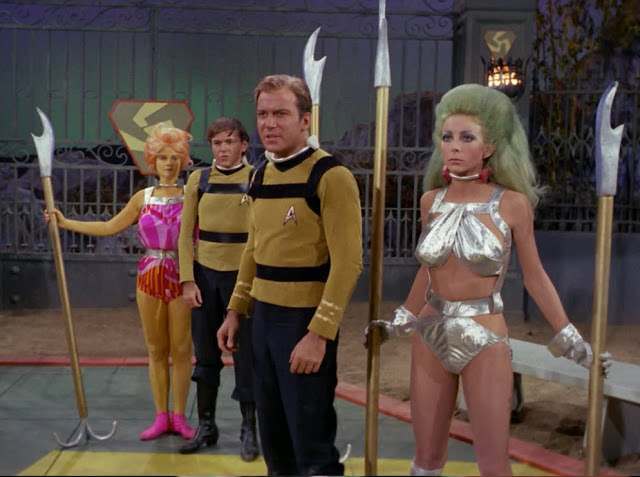 We could easily glut this list with the many, many babes of the original Star Trek. Instead, we'll just add one more – Shahna from the episode "The Gamesters of Triskelion" (Season 2, Episode 16). Due in no small part to the revealing costume, Shahna became quite the cult figure in later years.
34. RAQUEL WELCH – FANTASTIC VOYAGE (1966)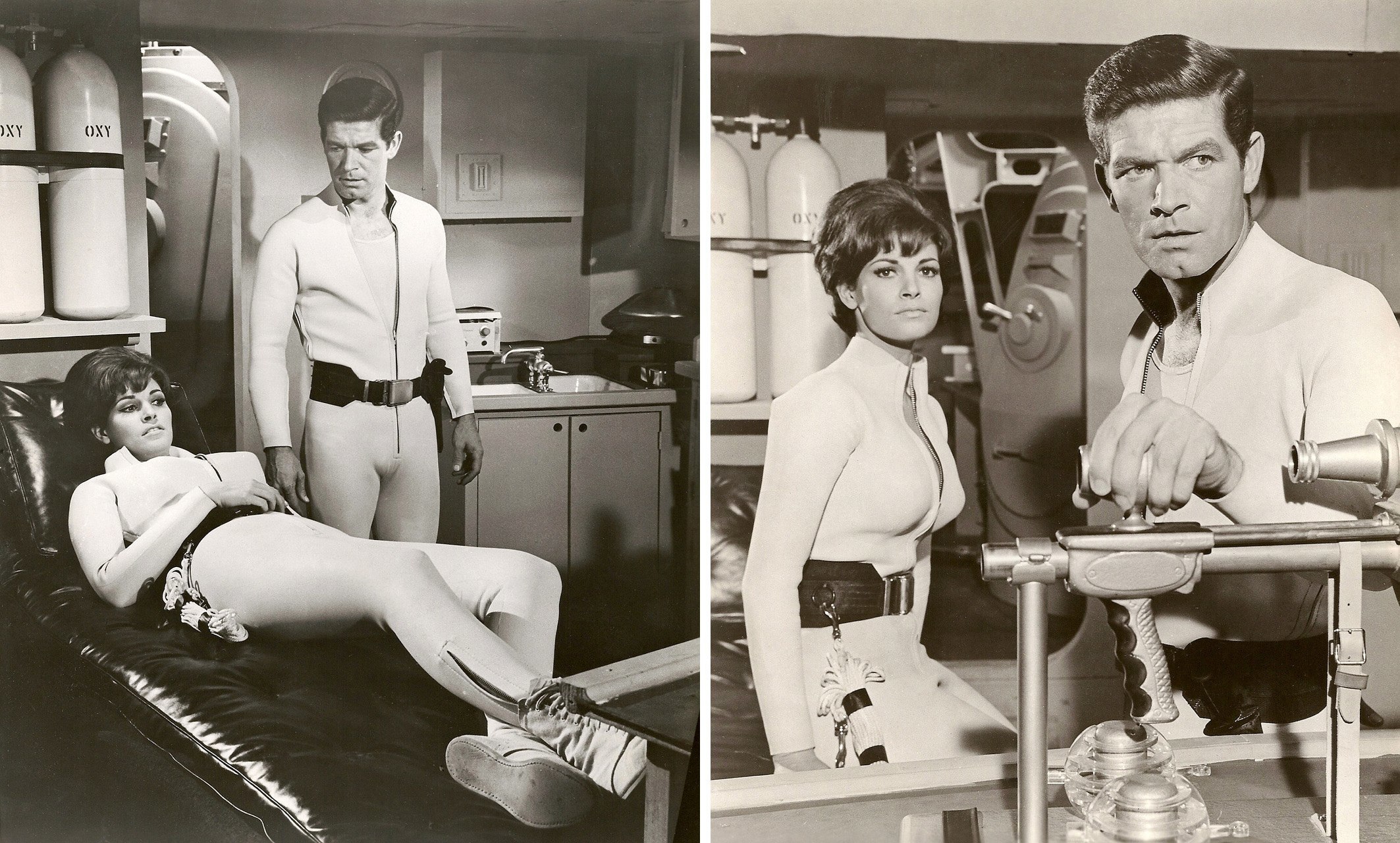 Despite her tight unitard, the filmmakers didn't utilize Raquel's assets as they could have (see "One Million Years BC"); they might as well have hired Shirley Booth to play Cora. What a pity.
35. PERSIS KHAMBATTA – STAR TREK THE MOTION PICTURE (1979)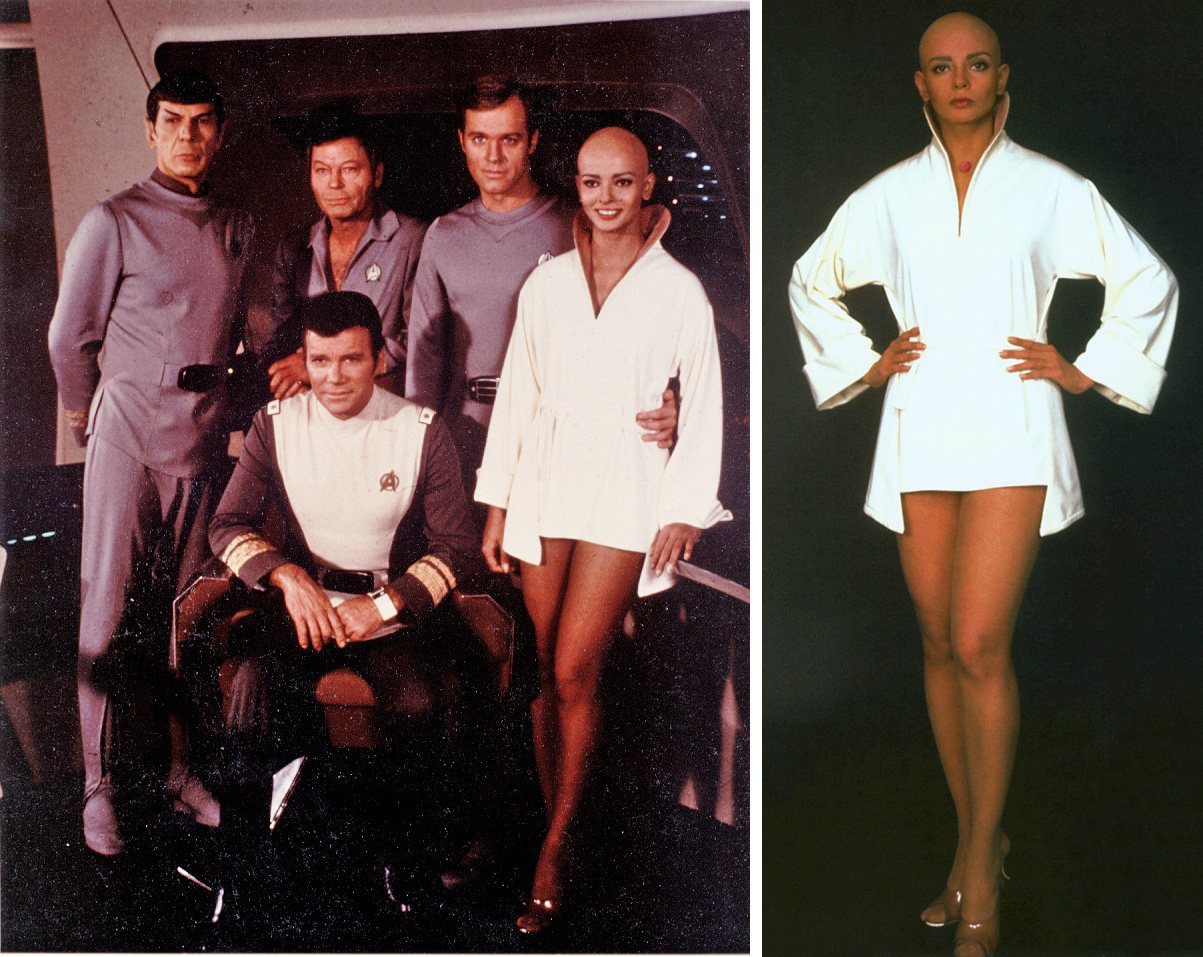 This former Miss India (1965) continued the grand Star Trek tradition of wearing short skirts as the bald Deltan navigator Lieutenant Ilia.
36. WANDA VENTHAM – UFO (TV)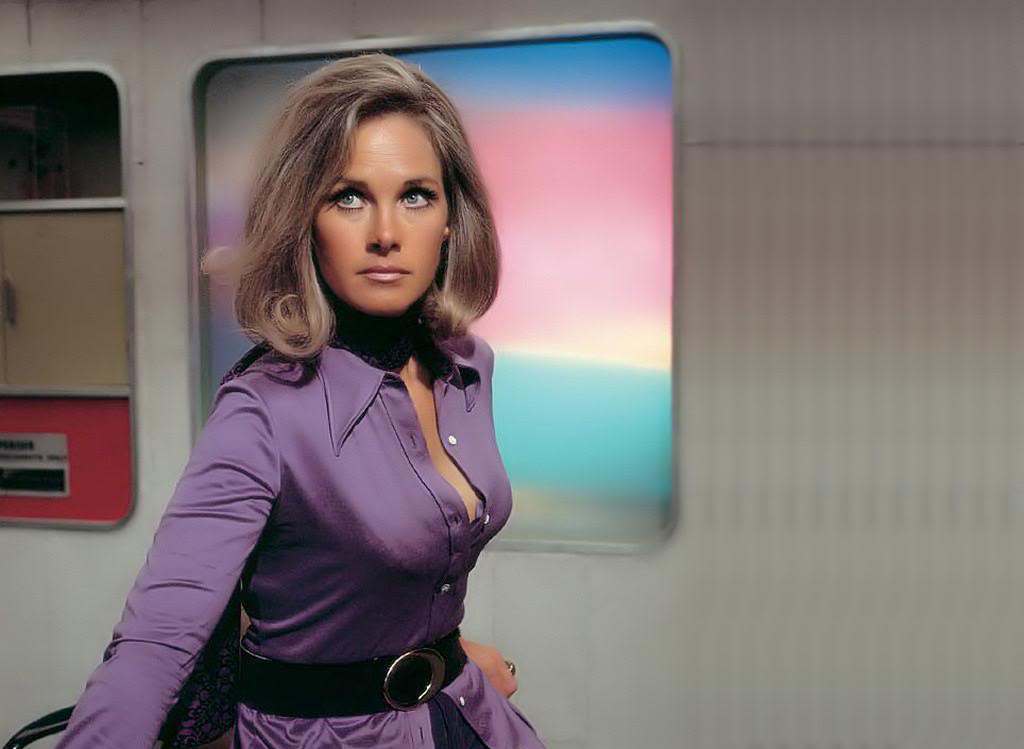 Colonel Virginia Lake gets a place on this list… despite being mom to Benedict Cumberbatch.
37. ELLEN BARKIN – ADVENTURES OF BUCKAROO BONZAI (1984)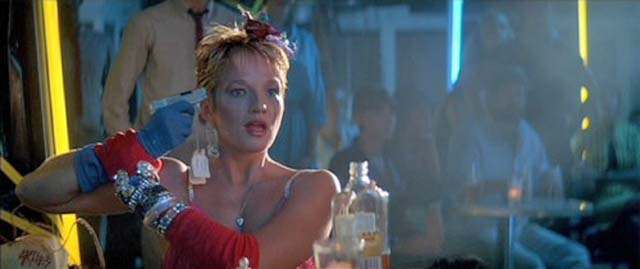 Barkin's character could have been much more memorable had she gone the sleazy route as she did in, say, Siesta. Instead, it's a fairly milquetoast role that fills the #37 slot; however, the movie is so damn good, everything is elevated.
38. KIMBERLY BECK – BUCK ROGERS IN THE 25TH CENTURY (TV)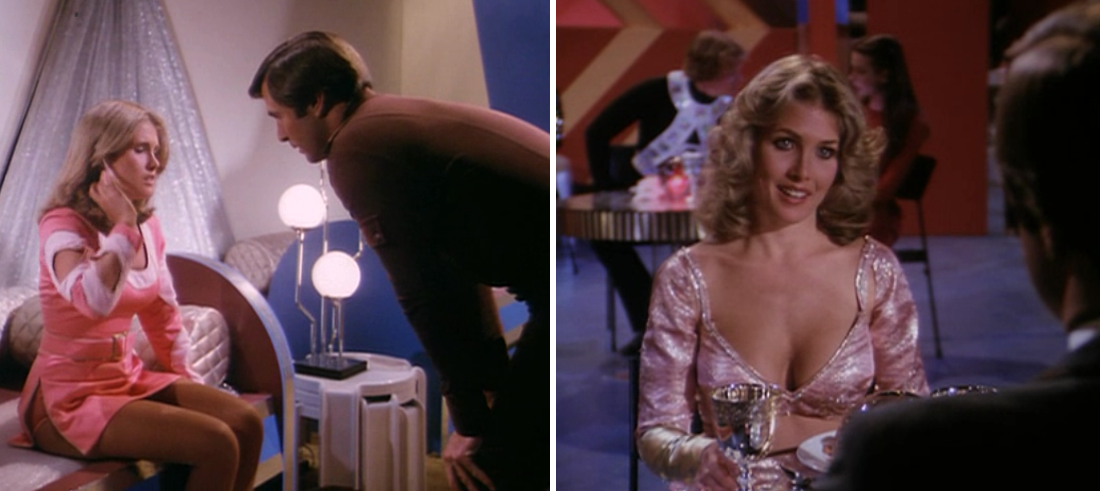 Kimberly Beck played Allison Michaels in the episode "Cruise Ship to the Stars". Kimberly is a fairly well known "Final Girl" for her appearances in several slasher movies, namely Friday the 13th: The Final Chapter (1984) as Corey Feldman's older sister.
39. KELLI MARONEY – NIGHT OF THE COMET (1984)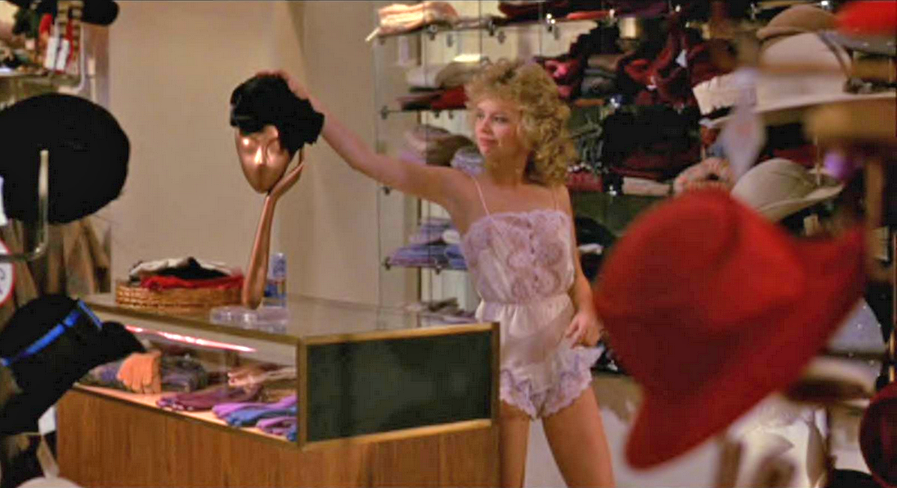 Her sister (Catherine Mary Stewart) may have been hotter, but Kelly wore the better outfits. This film is a reminder of what can be done on a shoestring budget with a good idea and plenty of enthusiasm.
40. MELANIE GRIFFITH – CHERRY 2000 (1987)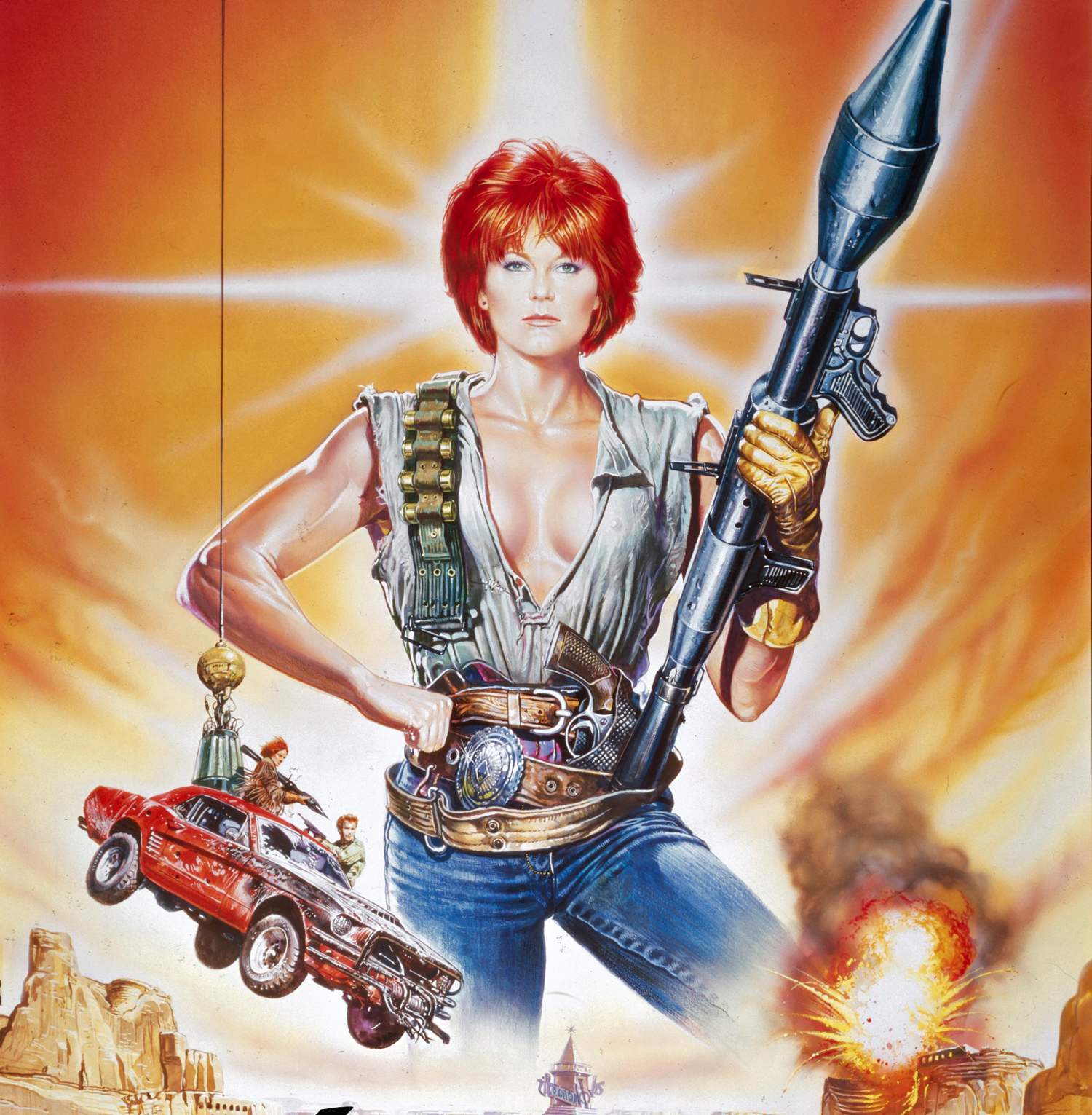 A promising title, android sex slaves, and Ms. Griffith – so much potential. (sigh)
41. LAURA ANTONELLI – DR. GOLDFOOT AND THE GIRL BOMBS (1966)


According to legendary B-Movie producer Samuel Z. Arkoff, the reason the film failed lies in the fact that Laura Antonelli refused to get naked. As the story goes, Arkoff's nephew was on the set, fell in love with Antonelli and convinced her to not take her clothes off.
In one memorable scene (pictured above), Antonelli's character is kidnapped and replaced by an identical "Girl Bomb" (i.e. Fembot). Fabian's, once prudish girlfriend is now a Fembot nympho in disguise. But, like all Girl Bombs, they are not long for this world.
42. BARBARA BAIN – SPACE 1999 (TV)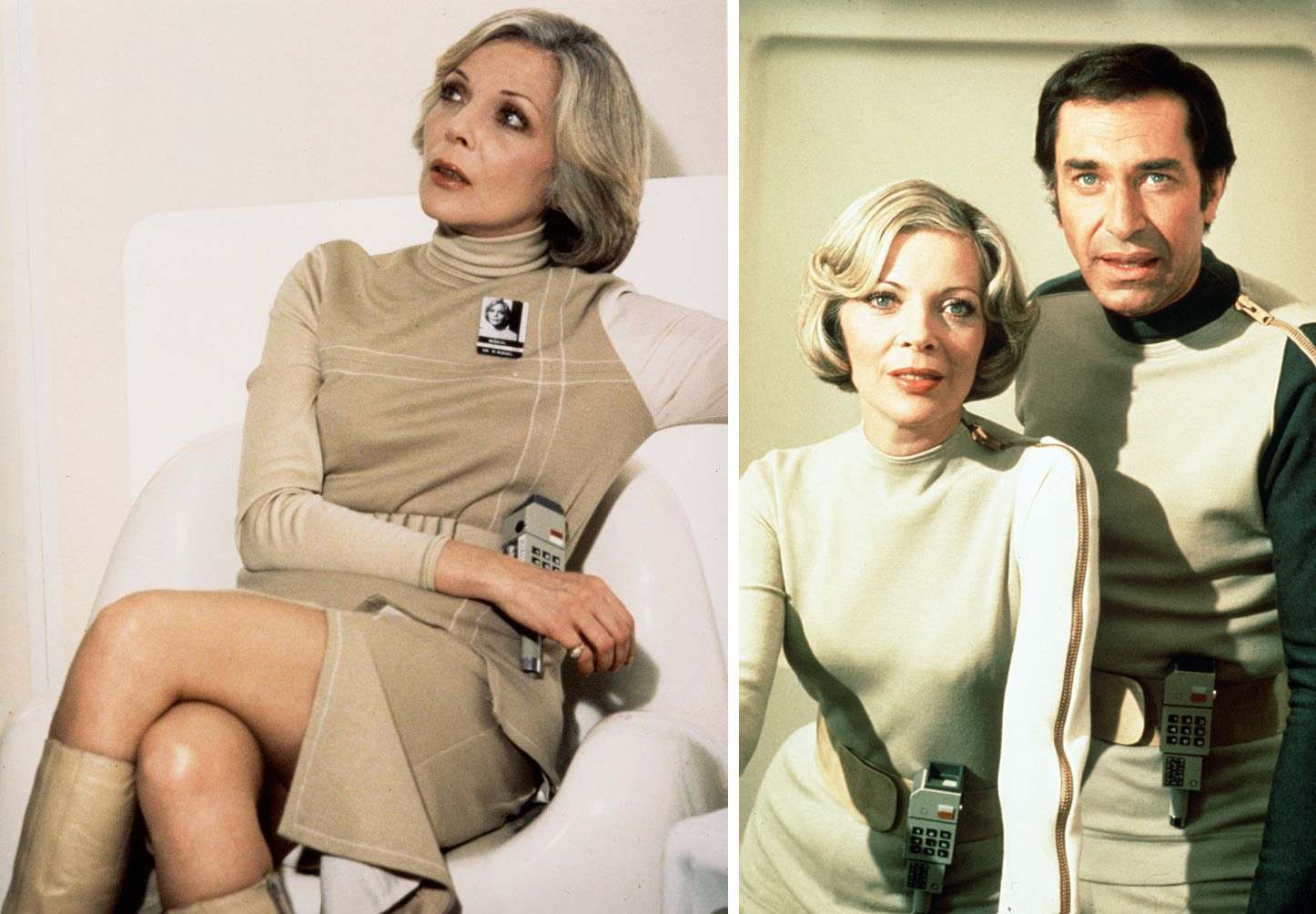 If it weren't for those damnably awful outfits they wore on this show, Babs might've ranked higher. Anderson sci-fi shows usually followed the Star Trek credo of "less is more" when it came to female wardrobe – not this time.
43. KATHY IRELAND – ALIEN FROM L.A. (1988)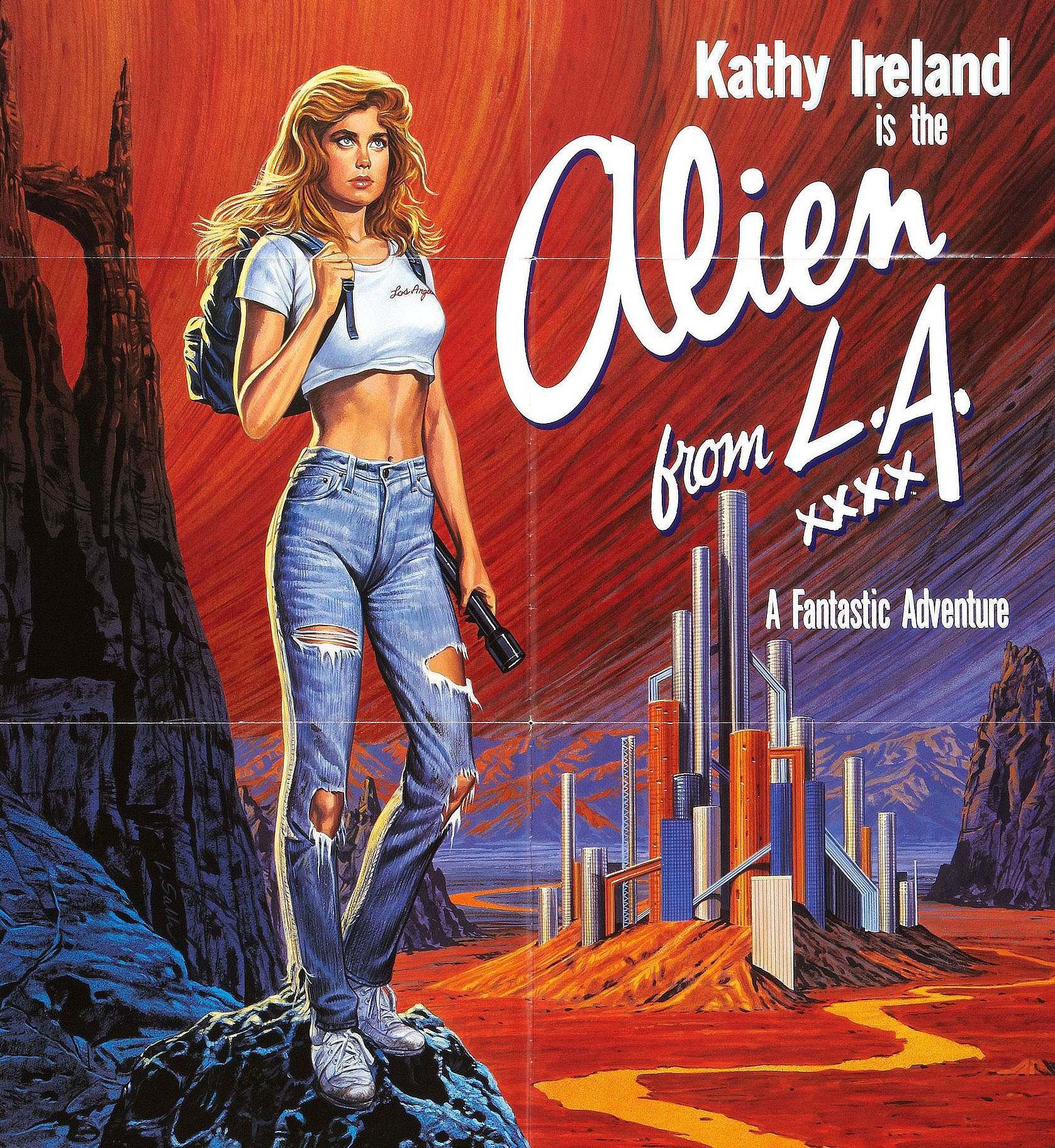 So forgettable it may lead to other memory loss as well. I've not only forgotten this movie, but the entire month afterward has been automatically deposited into my mental recycle bin.
44. SARAH SUTTON – DOCTOR WHO (TV)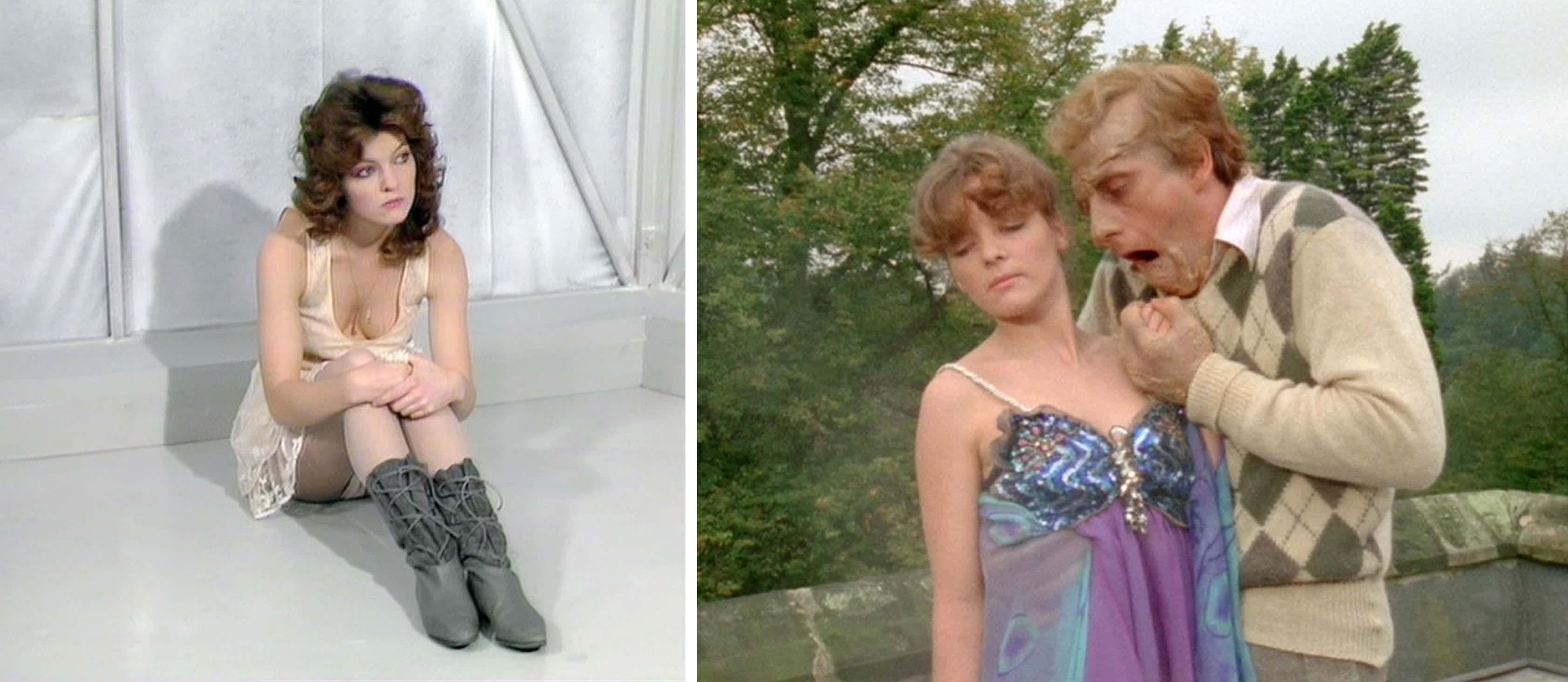 Sarah (as the Doctor's companion, Nyssa) earns a spot on the list due to her famous removal of her skirt in her final episode "Terminus". The script said it was because she was feverish, but Sarah has said it was a departing gesture to her fans. And the fans were appreciative.
45. MORGAN BRITTANY – BUCK ROGERS IN THE 25TH CENTURY (TV)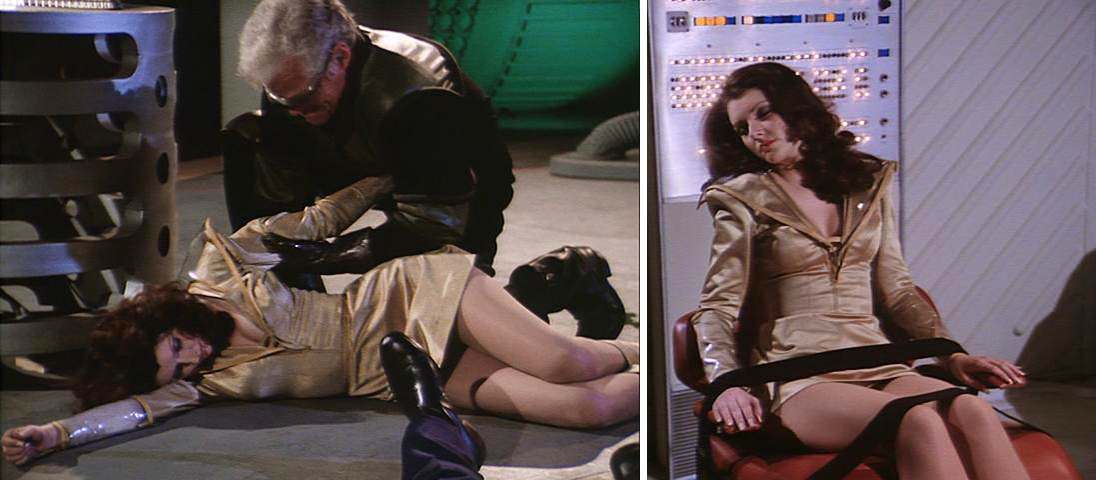 Morgan was a regular on Dallas as the character who (fans will remember) made an attempt to murder Bobby Ewing; however, she played one helluva damsel-in-distress on an episode of Buck (as Raylyn Derren, Episode: "Happy Birthday, Buck").
As with Star Trek and Doctor Who, we could fill this list full of Buck Rogers girls. We'll exercise restraint and stop here (despite the fact that Pamela Hensley's Princess Ardala gets the shaft).
46. KENDRA KIRCHNER – ANDROID (1983)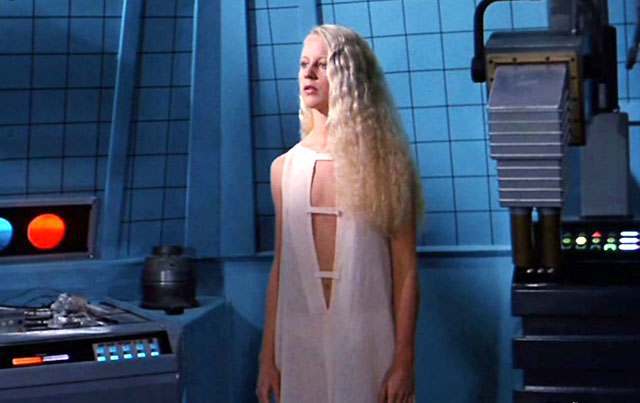 Klaus Kinski is a rabid Teutonic madman…. and I'm not talking about his character – I'm referring to the real life actor. Thankfully, his cyborg sex slave is there to calm his spirits.
47. CARLA PETERSON – SPACE THING (1968)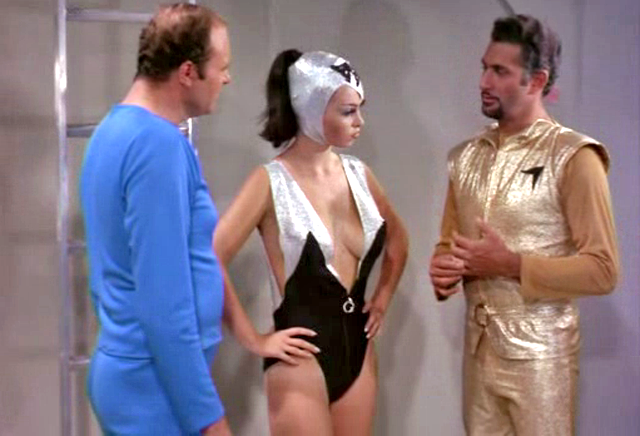 They turned the camp factor up to 11 on this one, folks…. but it's beautifully unintentional. This is low budget sci-fi sexploitation distilled and purified of any pesky talented actors or engaging story. Not exactly a family friendly film, but if you can appreciate grade Z science fiction with a healthy dose of gratuitous adult content, this is right up your alley.
48. MARTA KRISTEN – LOST IN SPACE (TV)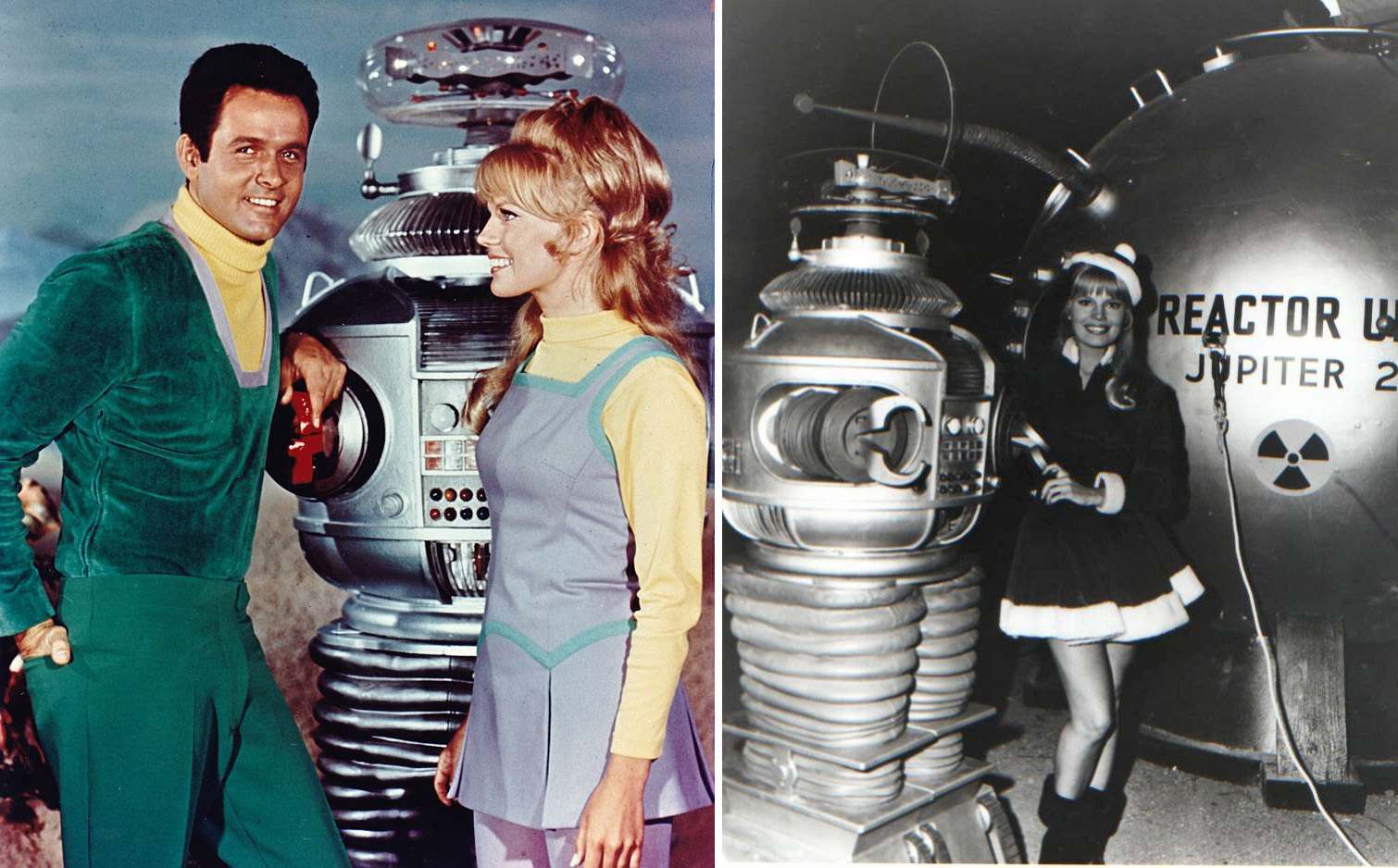 After being the mermaid in Beach Blanket Bingo (1965), Scandinavian born Kristen landed a plum role in the Irwin Allen sci-fi program Lost in Space. Unfortunately, it wasn't all it was cracked up to be for Kristen, who was barely on screen, with precious few lines per episode.
49. SALLY KNYVETTE – BLAKE'S 7 (TV)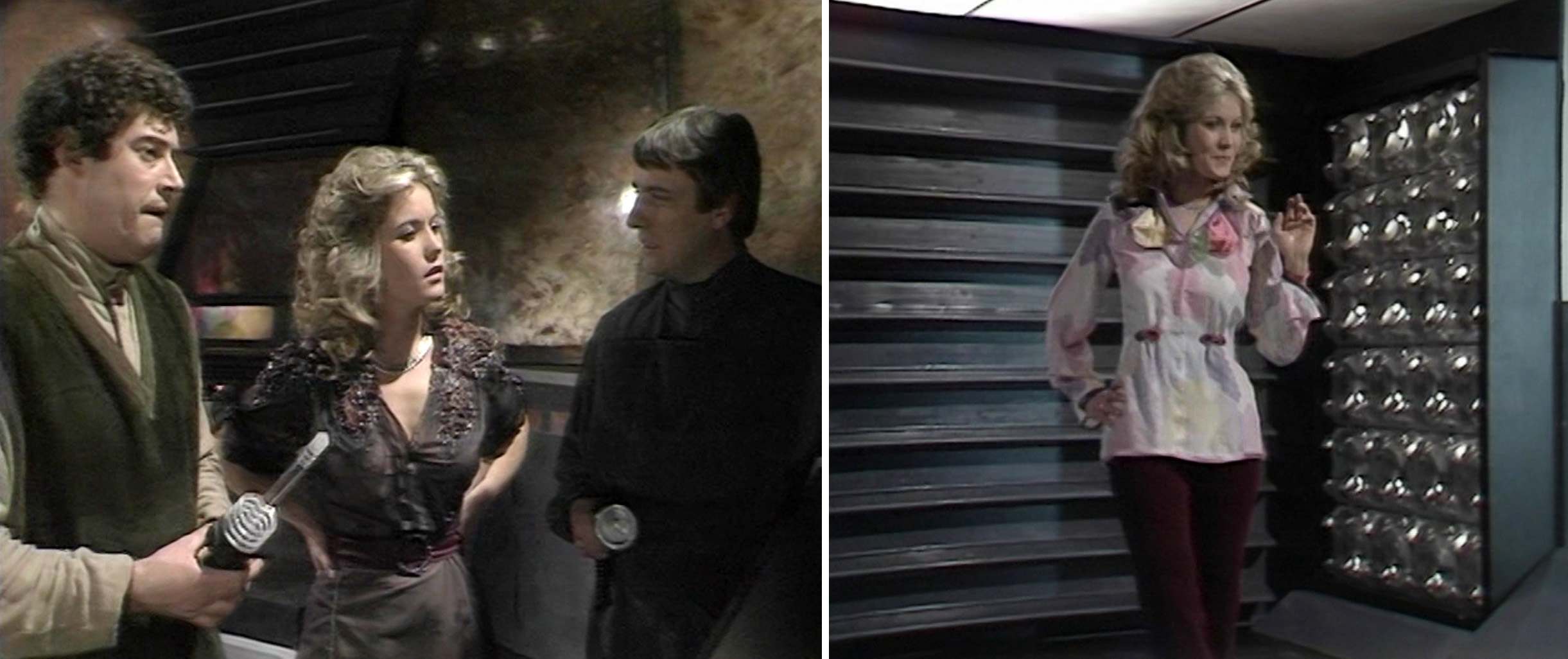 Sally has since complained that her role as Jenna "started off as this really exciting, intergalactic space pirate, but then she became a sort of housewife on the Liberator". That may be true, but sexy Sally wore some kickin' duds and sported a hairstyle that took "feathered" to another level.
50. YUTTE STENSGAARD – ZETA ONE (1969)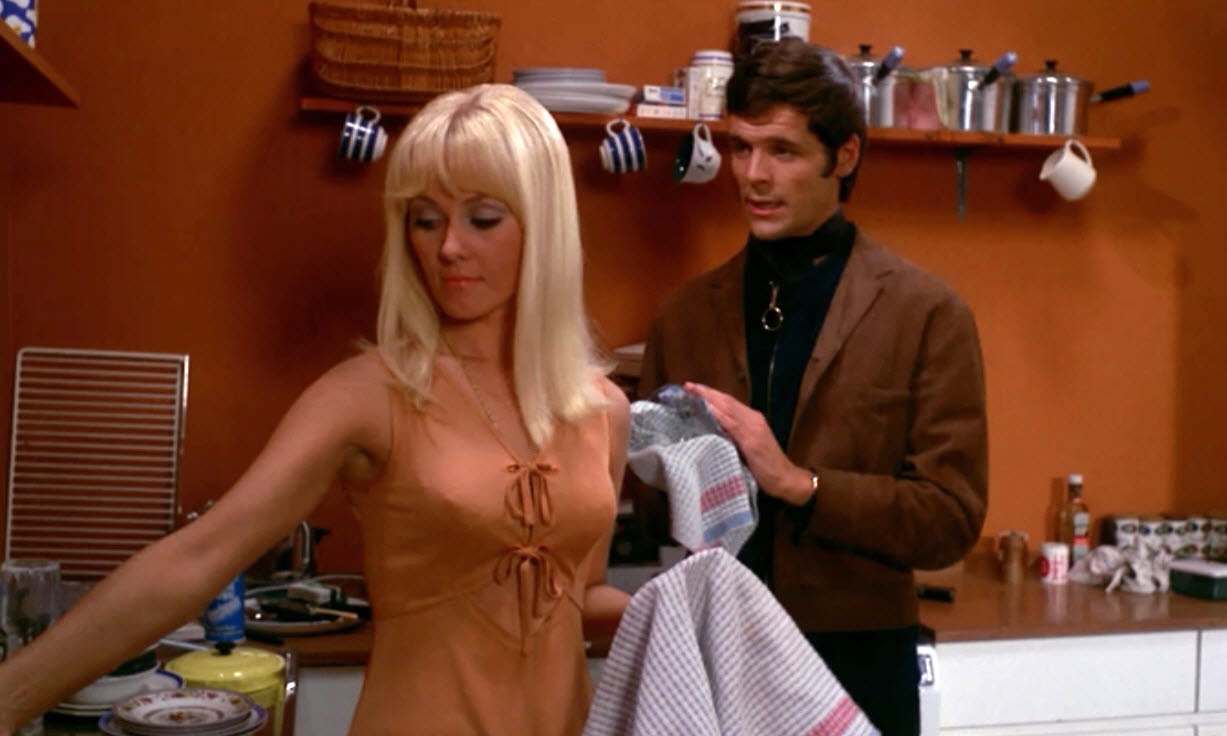 Remember Yutte? She was in Hammer's Lust for a Vampire among other things. She's in this film described by IMDb as being about "a race of topless, large-breasted women from the planet Angvia, in another dimension, who come to earth to kidnap women to repopulate their planet." Sounds almost perfect doesn't it? It's actually mind-numbingly dull, with only one memorable scene at the end where Yutte checks the oven stark naked…. Yep. That's the highlight of the move: a naked woman checking the oven.
Well, that gets us to 50.  I'd love to hear of suggestions and glaring omissions!.