An appearance on TV show Saturday Night Live has been a career defining moment for a number of musicians. Sinead O'Connor famously ripped up a photograph of the Pope to draw attention to abuse by the Catholic Church, and found herself on the receiving end of threats of violence and protests. On December 17 1977,  it was the turn of Elvis Costello and The Attractions to offend all the right people. When the Sex Pistols were unable to appear on the show as planned, Costello got the call.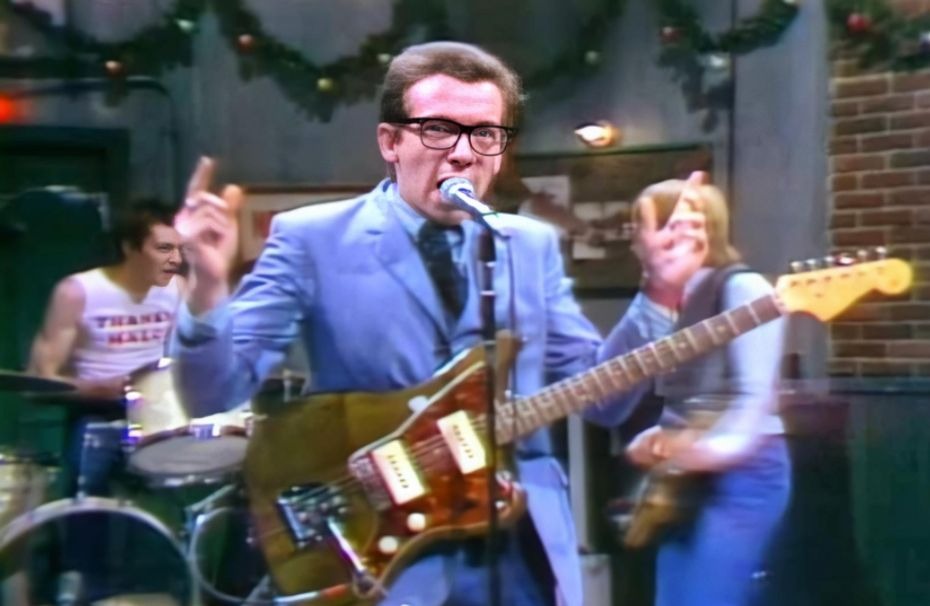 Elvis and the band would play Less Than Zero from their recent album My Aim Is True. The song is about the despicable former British Union of Fascists leader Oswald Mosley. In the liner notes to the Rhino edition of the album, Costello writes:
"Less Than Zero was a song I had written after seeing the despicable Oswald Mosley being interviewed on BBC television. The former leader of the British Union of Fascists seemed unrepentant about his poisonous actions of the 1930s. The song was more of a slandering fantasy than a reasoned argument."
On his first visit to the United States, Costello found that American audiences didn't understand the song, writing in his 2015 autobiography, Unfaithful Music and Disappearing Ink: "I'm not sure if anyone in Cleveland had ever heard of Oswald Mosley or gave a damn about him when we played Less Than Zero that night. It was just some rock and roll music with a fashionable-sounding title."
So here was Costello and his band playing that song on SNL. And not long after it had begun. Costello stopped it. "I'm sorry, ladies and gentlemen," he said, "but there's no reason to do this song here." Instead, Costello and the band gave full throat to Radio Radio, a song that takes aim at the commercialization of radio and corporate broadcasting.
I wanna bite the hand that feeds me
I wanna bite that hand so badly
I want to make them wish they'd never seen me
– Radio Radio, Elvis Costello
It wasn't until 1989 that Costello was invited to appear again on Saturday Night Live. in 1999, as part of the show's 25th anniversary celebrations, Costello recalled hat 1977 show by bursting onstage while the Beastie Boys were playing Sabotage and telling them to stop. He and the Beasties then launched into Radio Radio:
"They've run that clip forever," Costello told Details magazine, "and every time anybody does anything outrageous on that show, I get name-checked. But I was copying Jimi Hendrix. Hendrix had done the same thing on the Lulu Show, when he went into an unscheduled number. I remember seeing it and going, 'What the hell's going on?'" You can see that performance here in: Hey Lulu: The Stoned Performance That Got Jimi Hendrix Banned By The BBC.