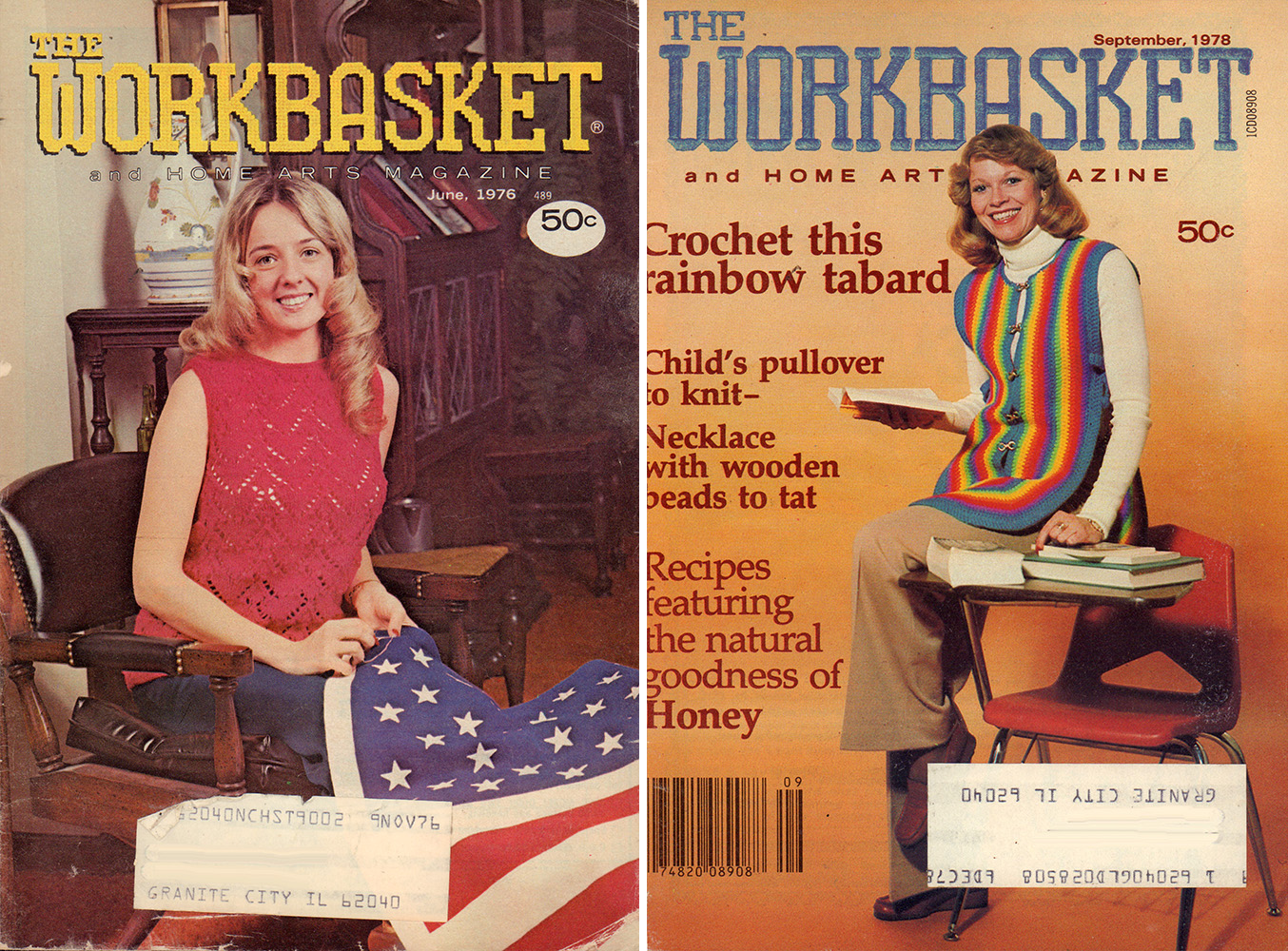 I saw them sitting on a flea-market shelf – about fifty issues of a magazine called Workbasket.  Each issue was small (Reader's Digest size) with no more than 50 pages, and contained a few full-color pages of the featured "fashions" for do-it-yourself needlecraft.  Admittedly, they're not particularly impressive at first glance.
But as I looked through them, I became captivated by the fashion pages – they obviously weren't taken by a professional photographer, and the models were clearly not professional either.   Add to that, the fashions themselves were the most mediocre, uninspired clothing I'd ever seen.  Sure, sometimes they'd cross the line into truly tragic eyesores; but, mostly it was just garden-variety seventies blah… which is what makes them so awesome.  When it came to DIY clothing, this is the sort of ugly attire you'd actually see back in the day; not your polished high-fashions in glossy magazines.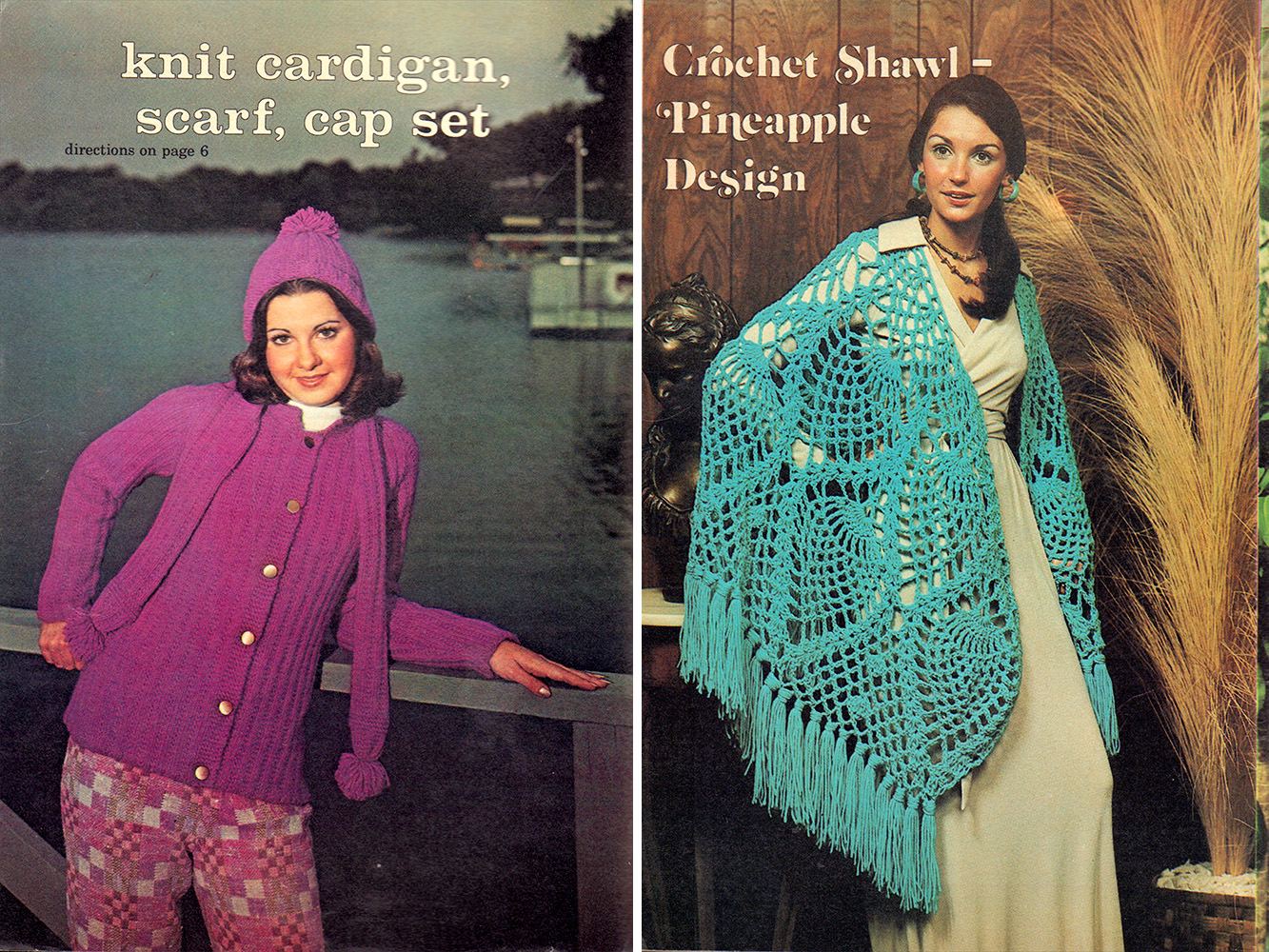 Workbasket was the type of magazine your grandmother, who lived in eastern Tennessee or amid the cornfields of rural Ohio, would own.  She'd make you a birthday sweater from the guide and you'd act appreciative (but you wouldn't be caught dead in it at school).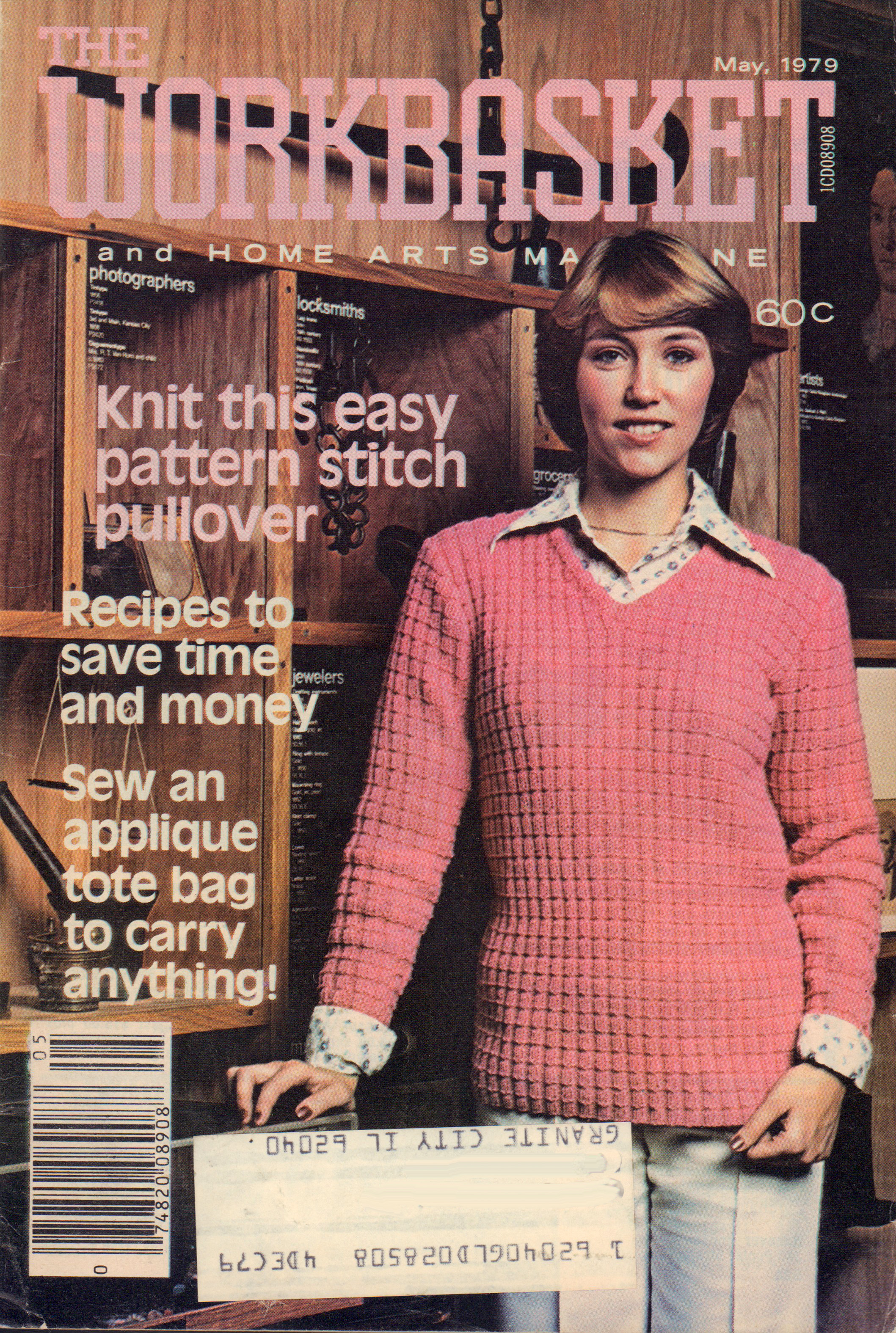 The magazine began in October 1935.  Five thousand lucky women received a postcard invitation to join "Aunt Ellen's Needlework Club."  Fast forward to 1966, and the magazine could boast 1.5 million readers! The magazine lasted for 61 years, with its last issue published in 1996.
Needless to say, I purchased that dusty stack of 1970s Workbaskets sitting lonely and unwanted on that flea market shelf – and I have lovingly scanned the full-color pages for your viewing pleasure.  Be prepared to be unimpressed.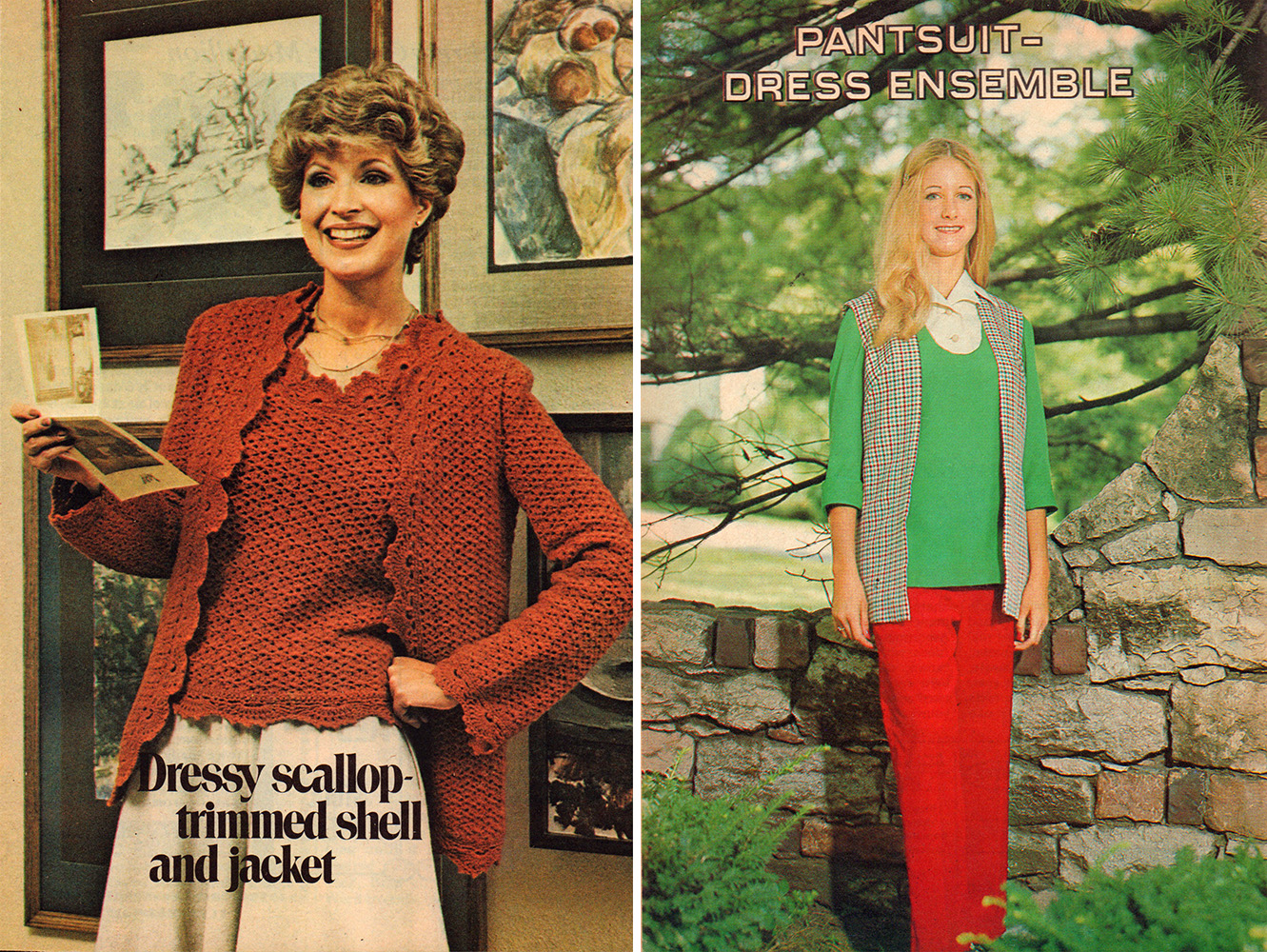 A "pantsuit dress-ensemble" that even Jan Brady can't pretend to love.  This is the smile of someone in the midst of deep regret.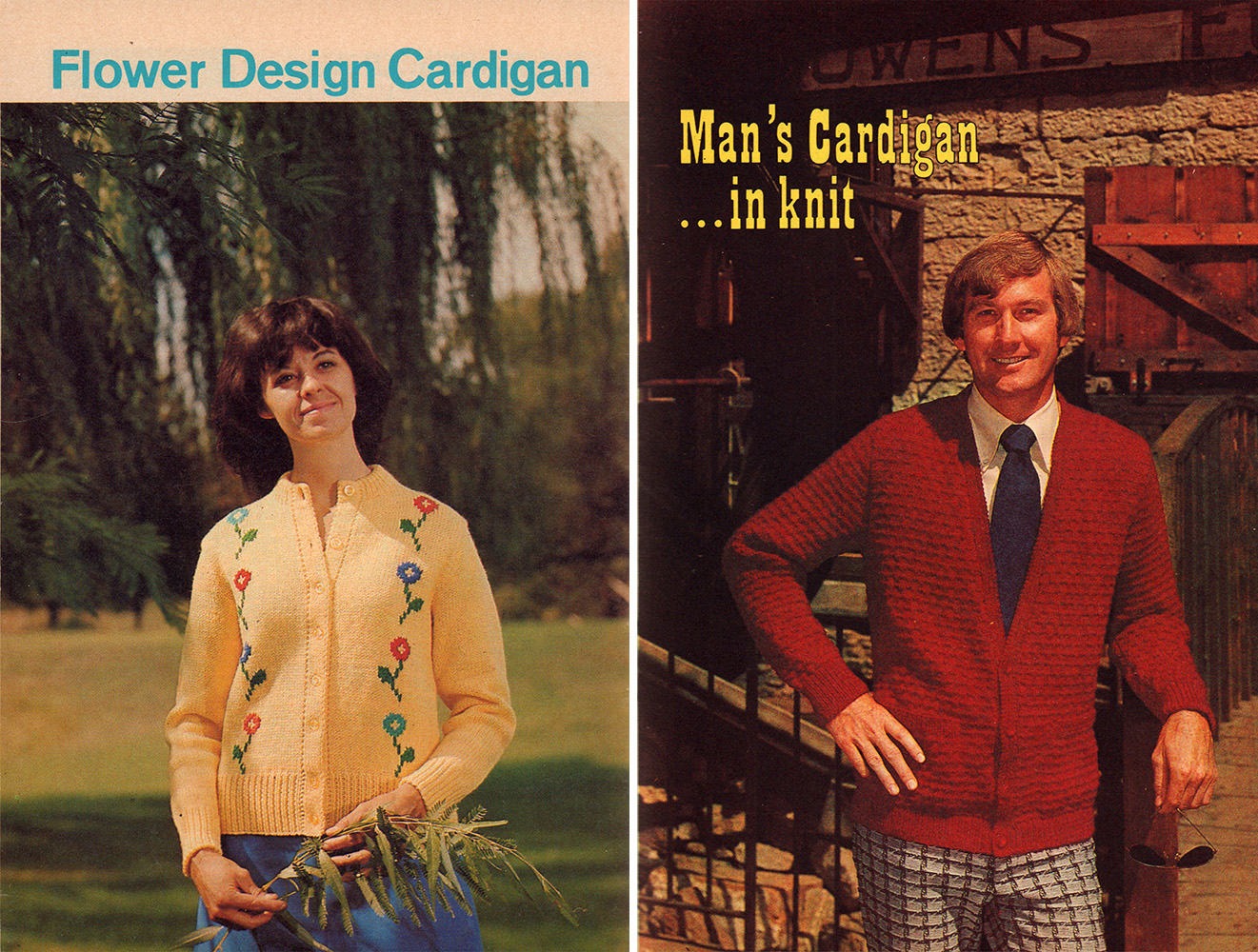 They say fashion is cyclical…. I'm still waiting for plaid slacks to make a comeback.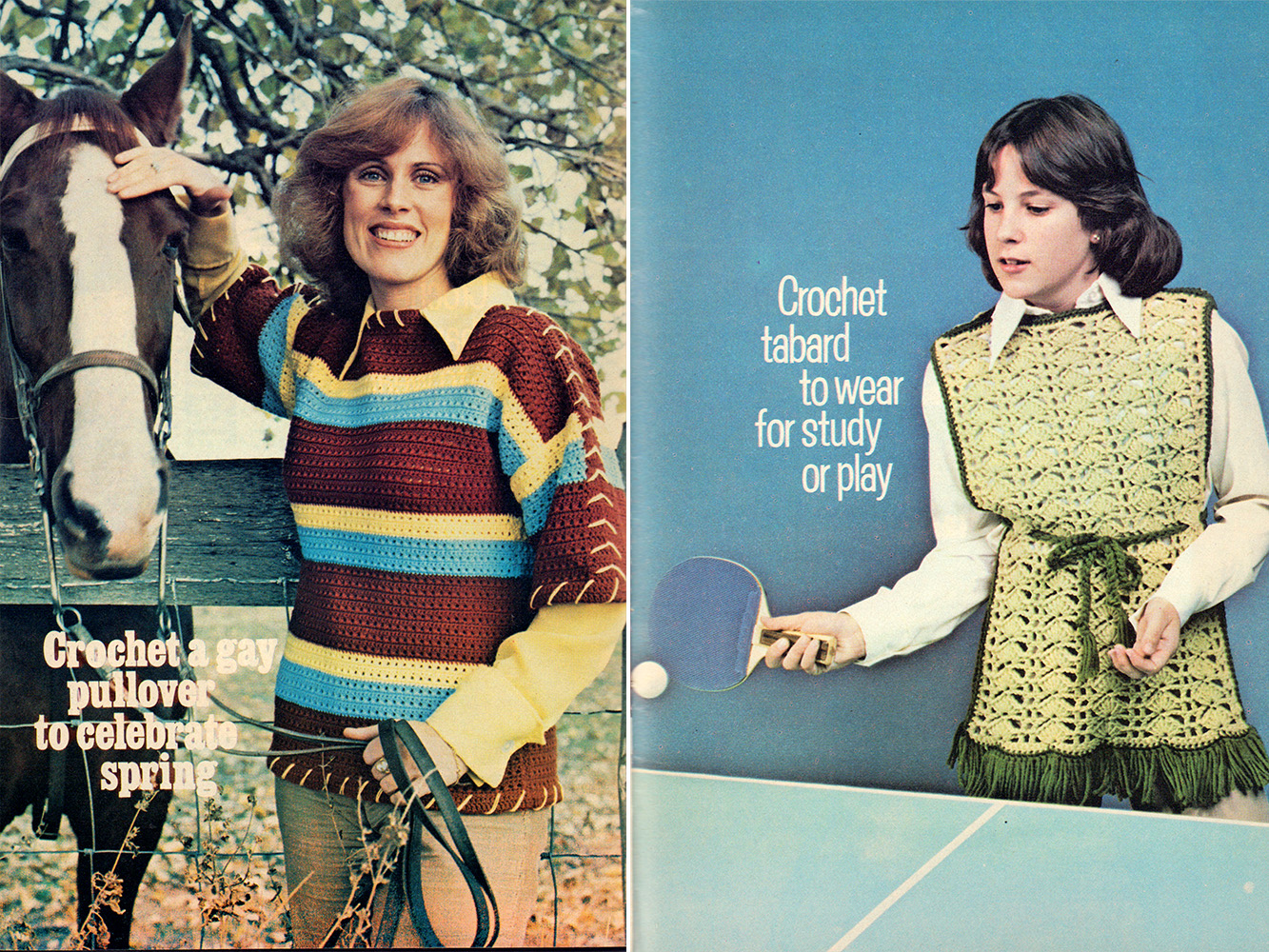 The "gay pullover" is fine… but that tabard!  If pray this poor kid didn't have to wear that to school.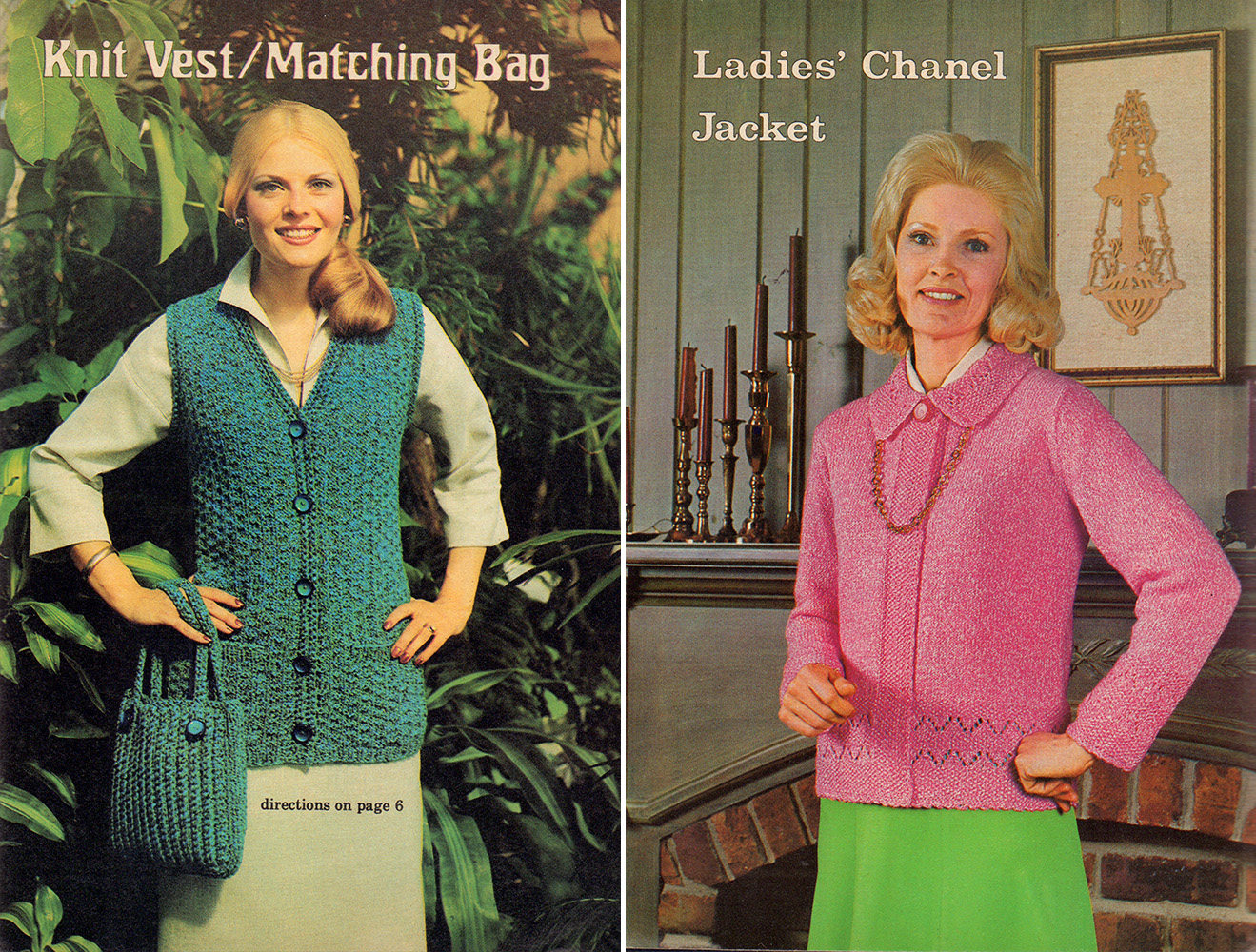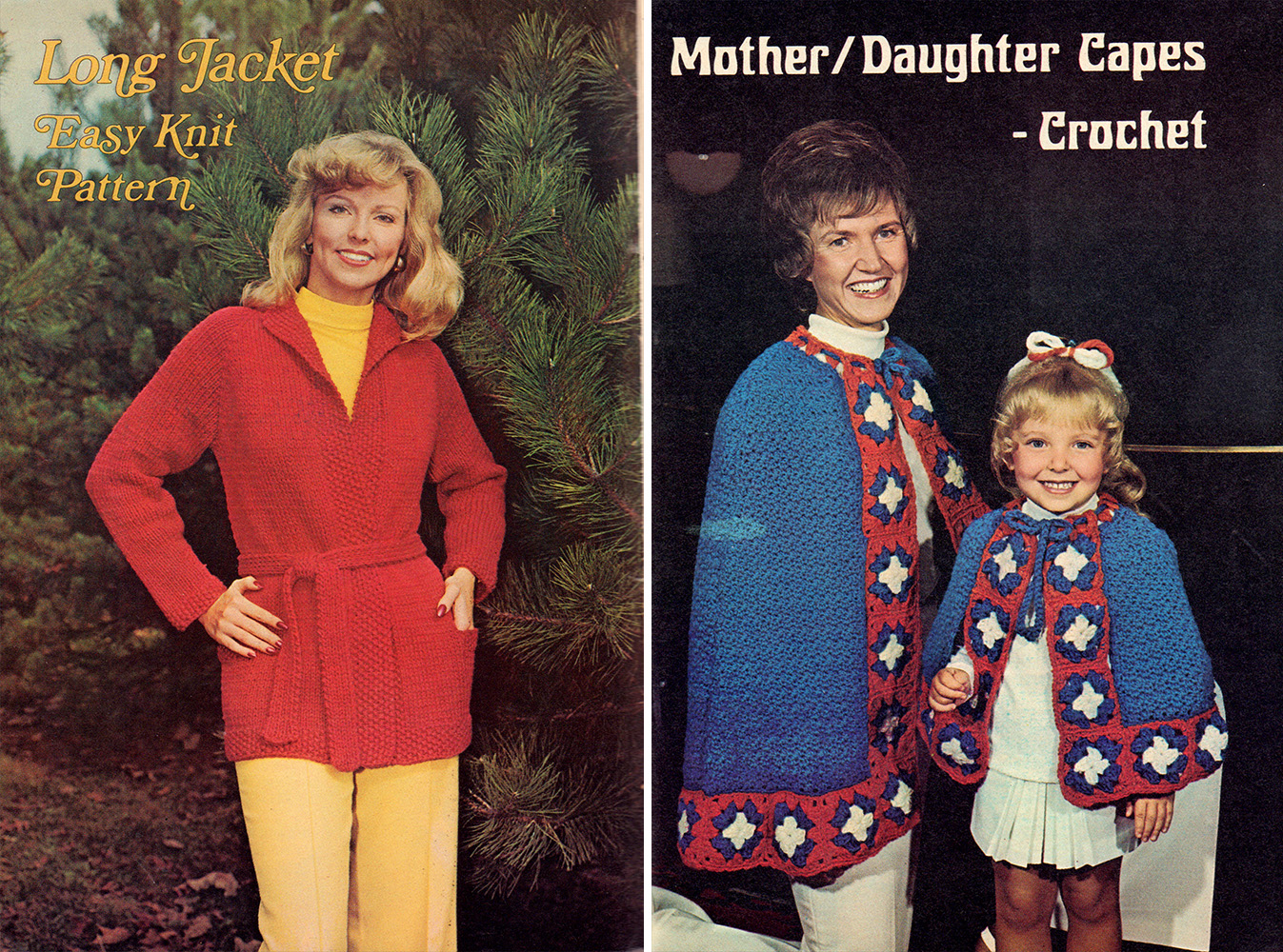 (L) The ketchup and mustard color-combo is never a good idea, (R) I presume mother-daughter crime-fighting superheroes?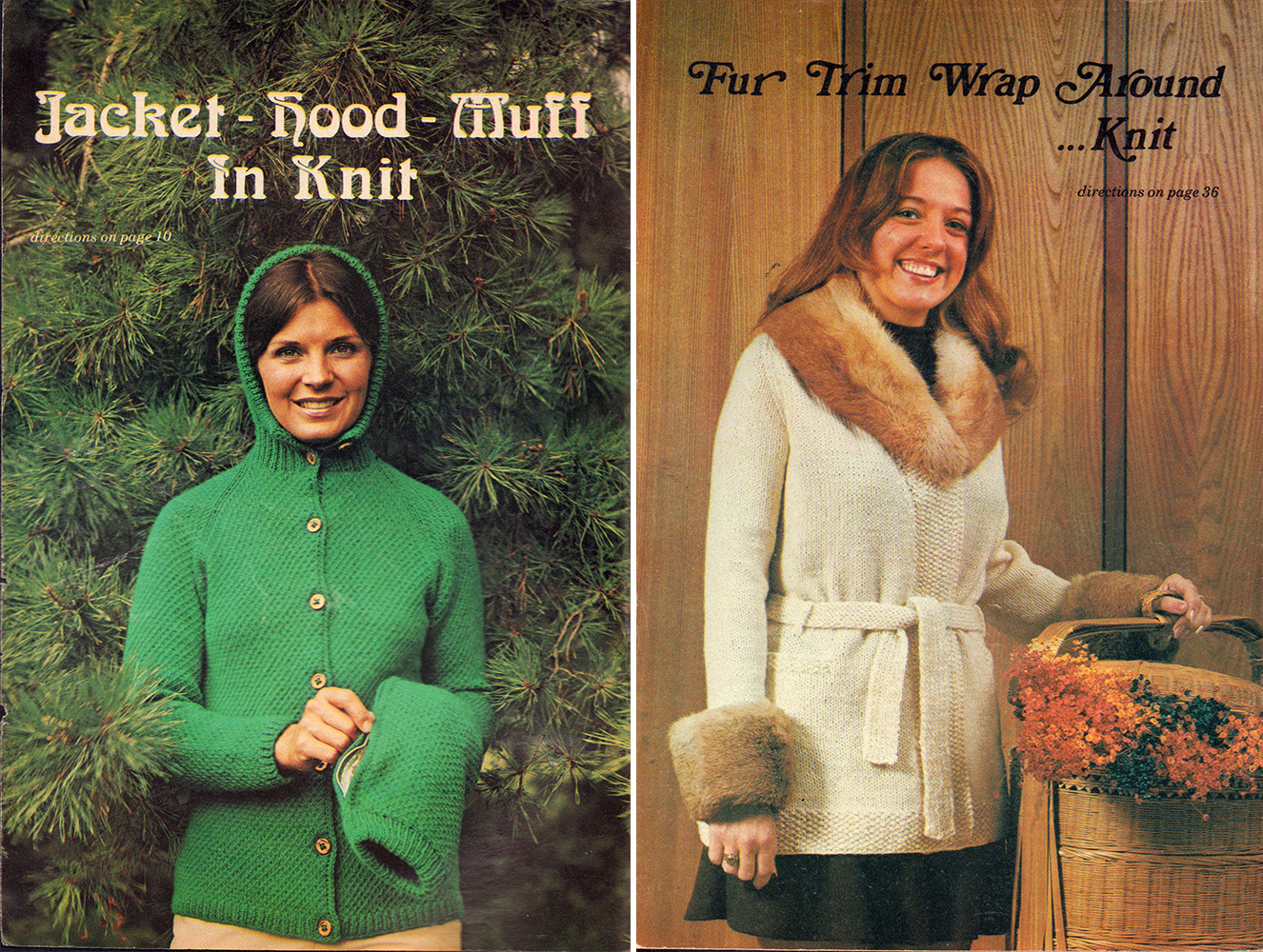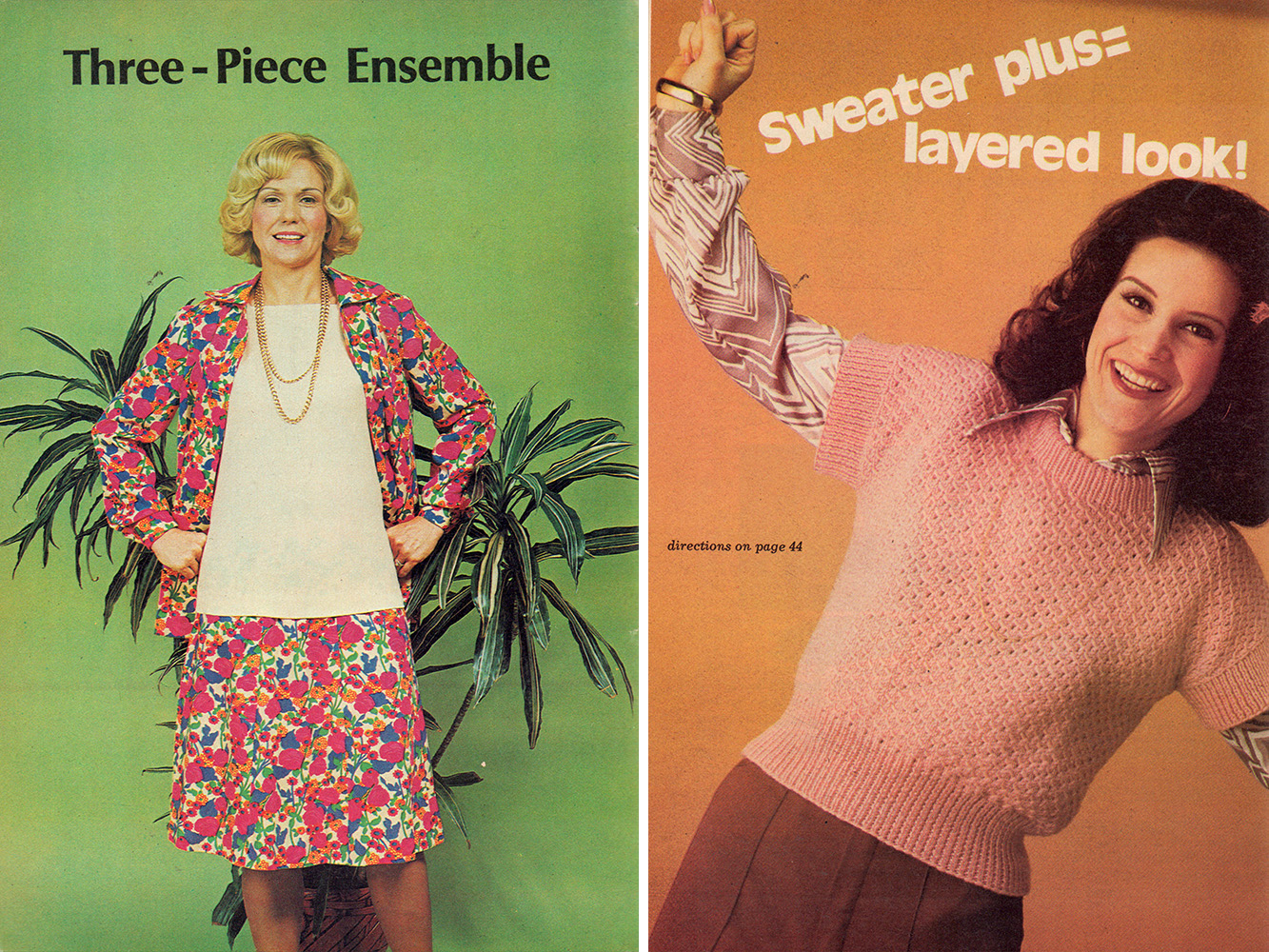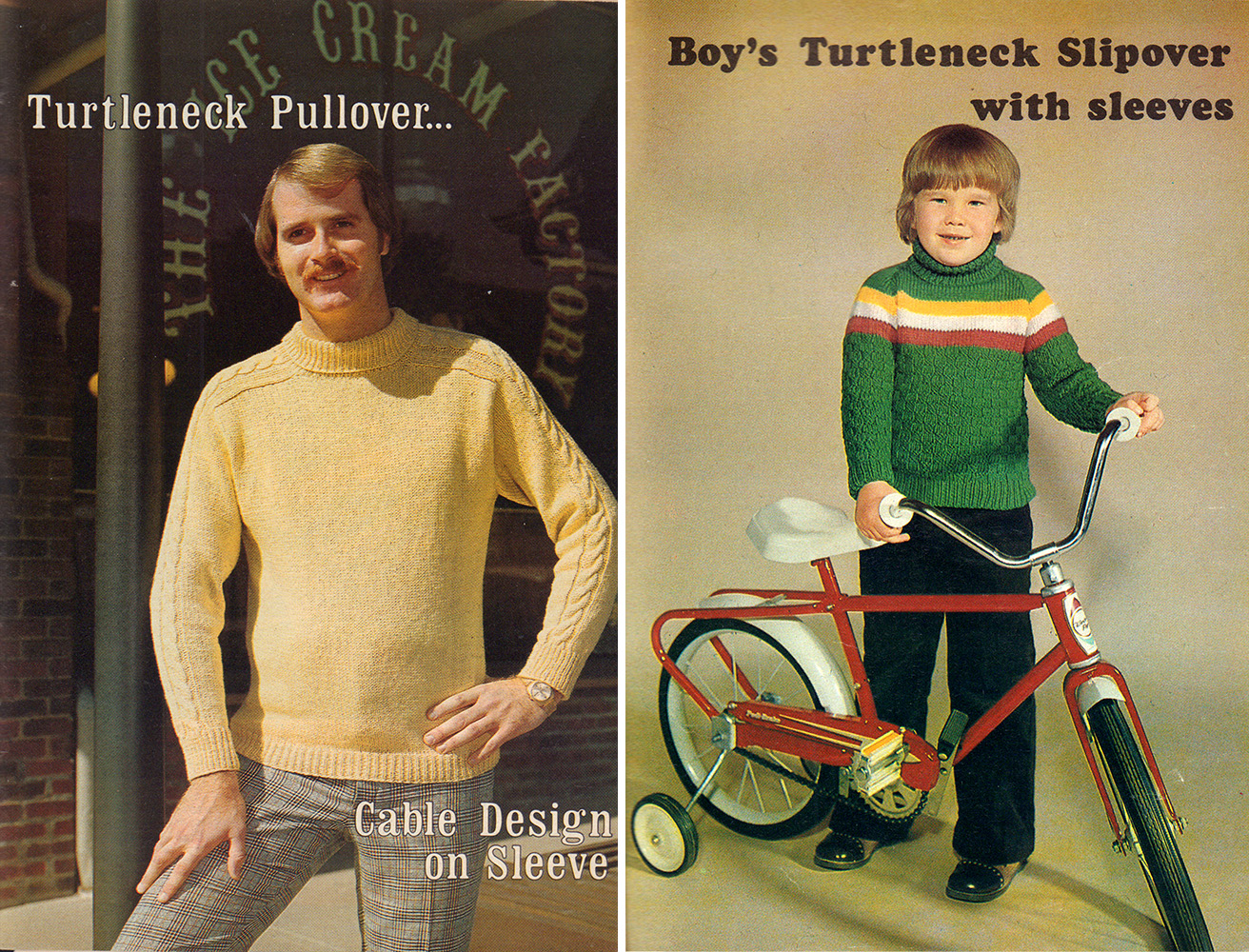 I always feel bad for the kids in these pictures; at least the adults are old enough to consent.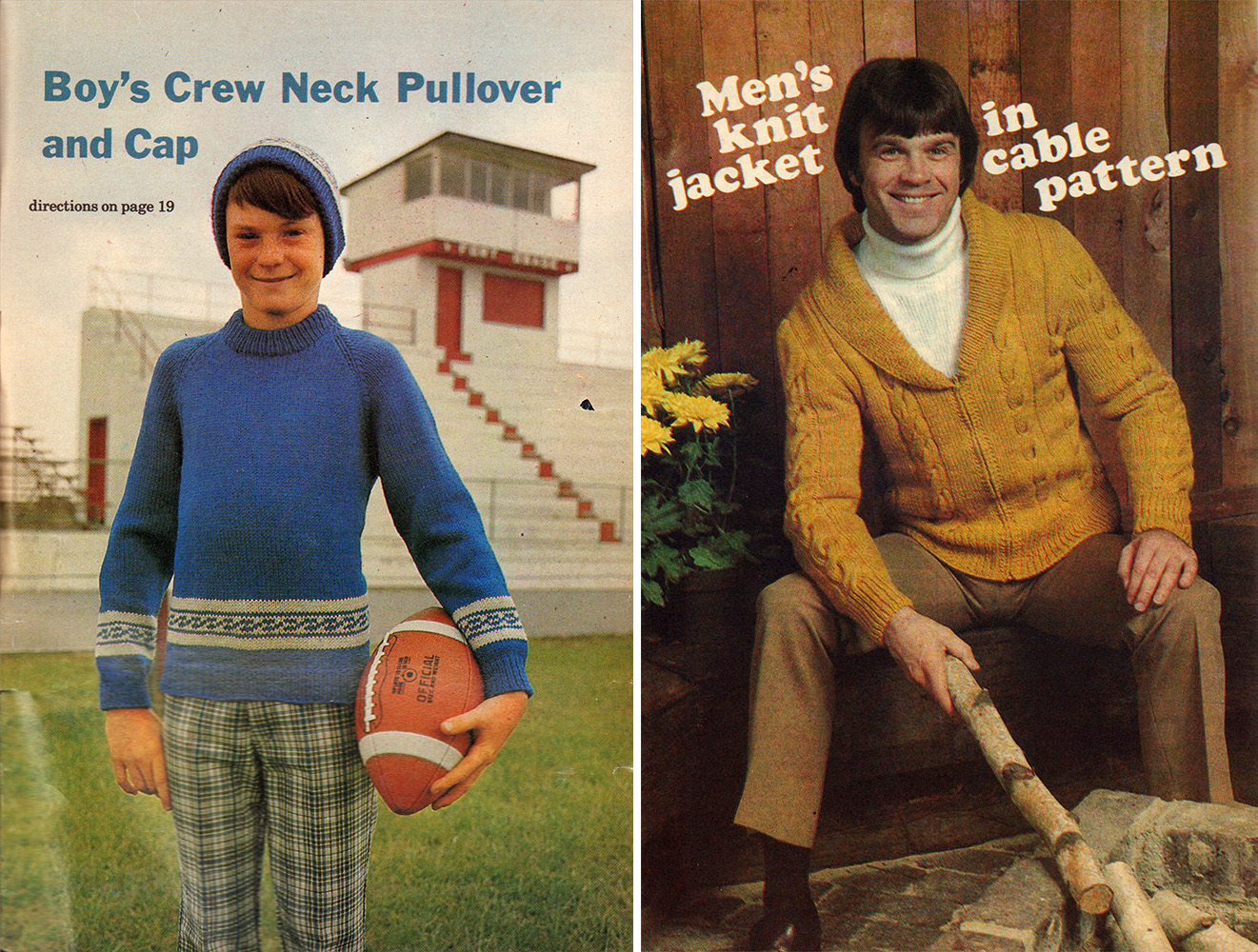 Our guy by the fireplace, manspreading with log in hand, is ready for action.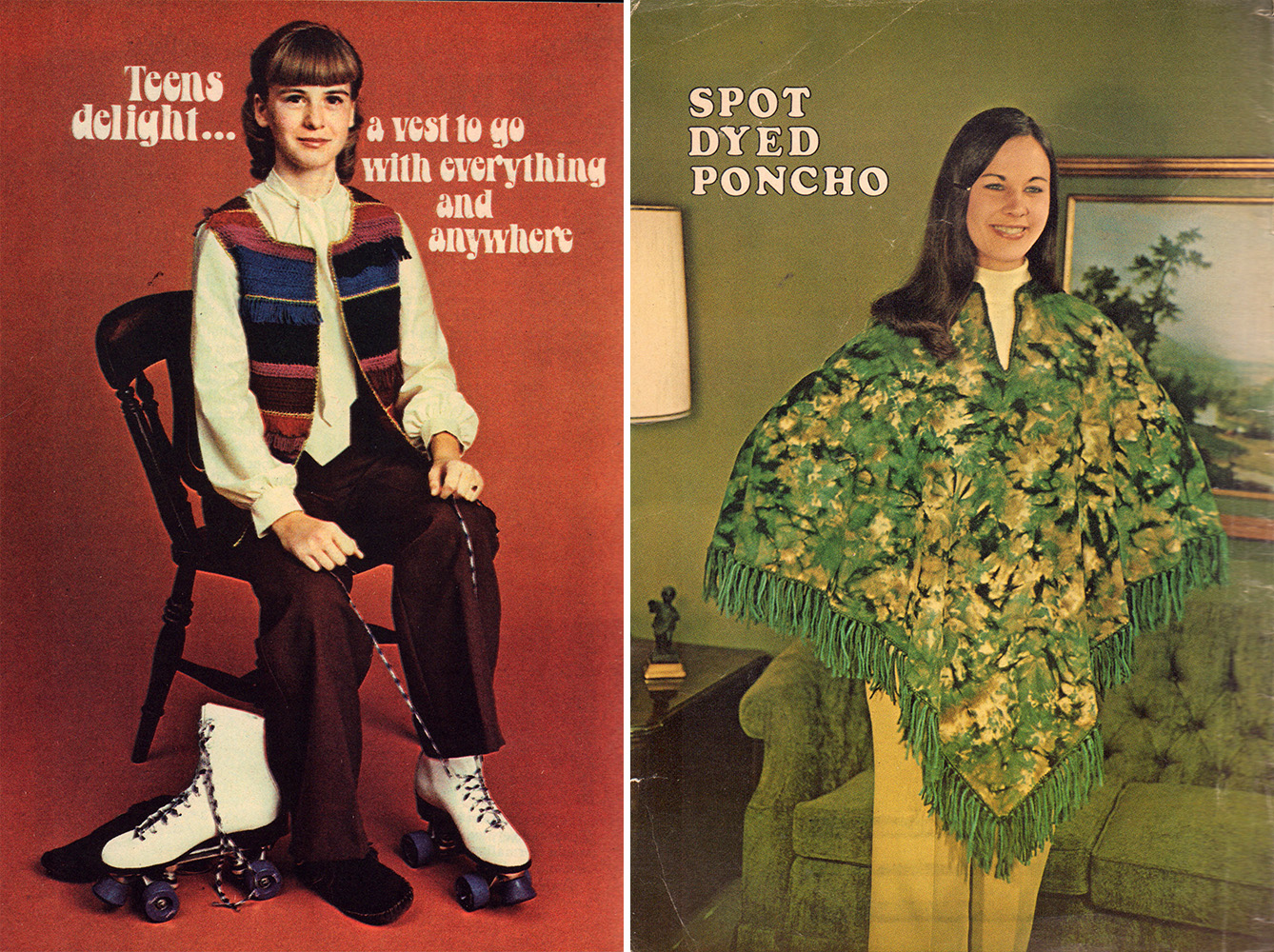 Roller girl's vest is nice, but I think "Teens Delight" may be a stretch.  Also, a poncho which can act as camouflage in any seventies living room.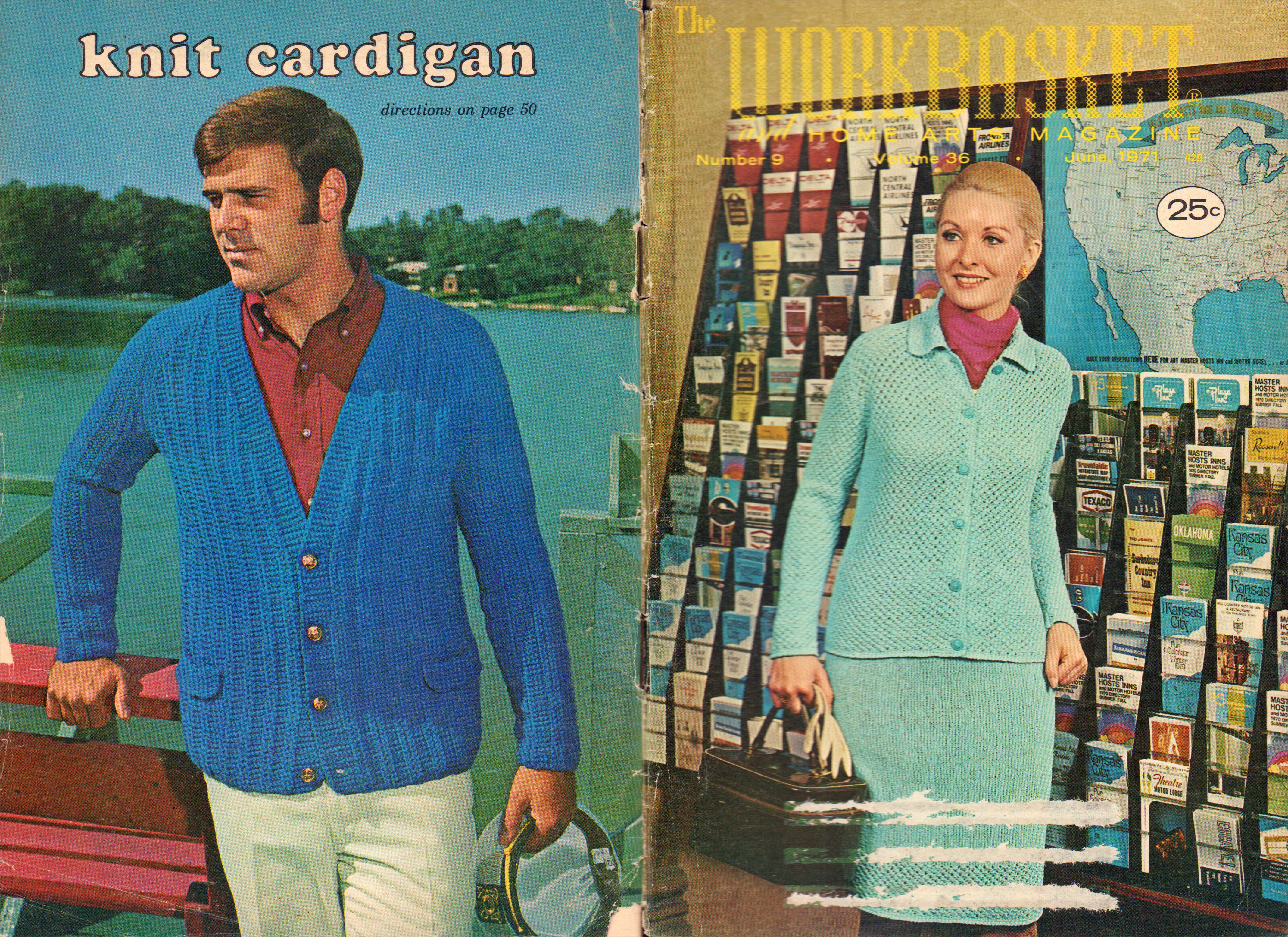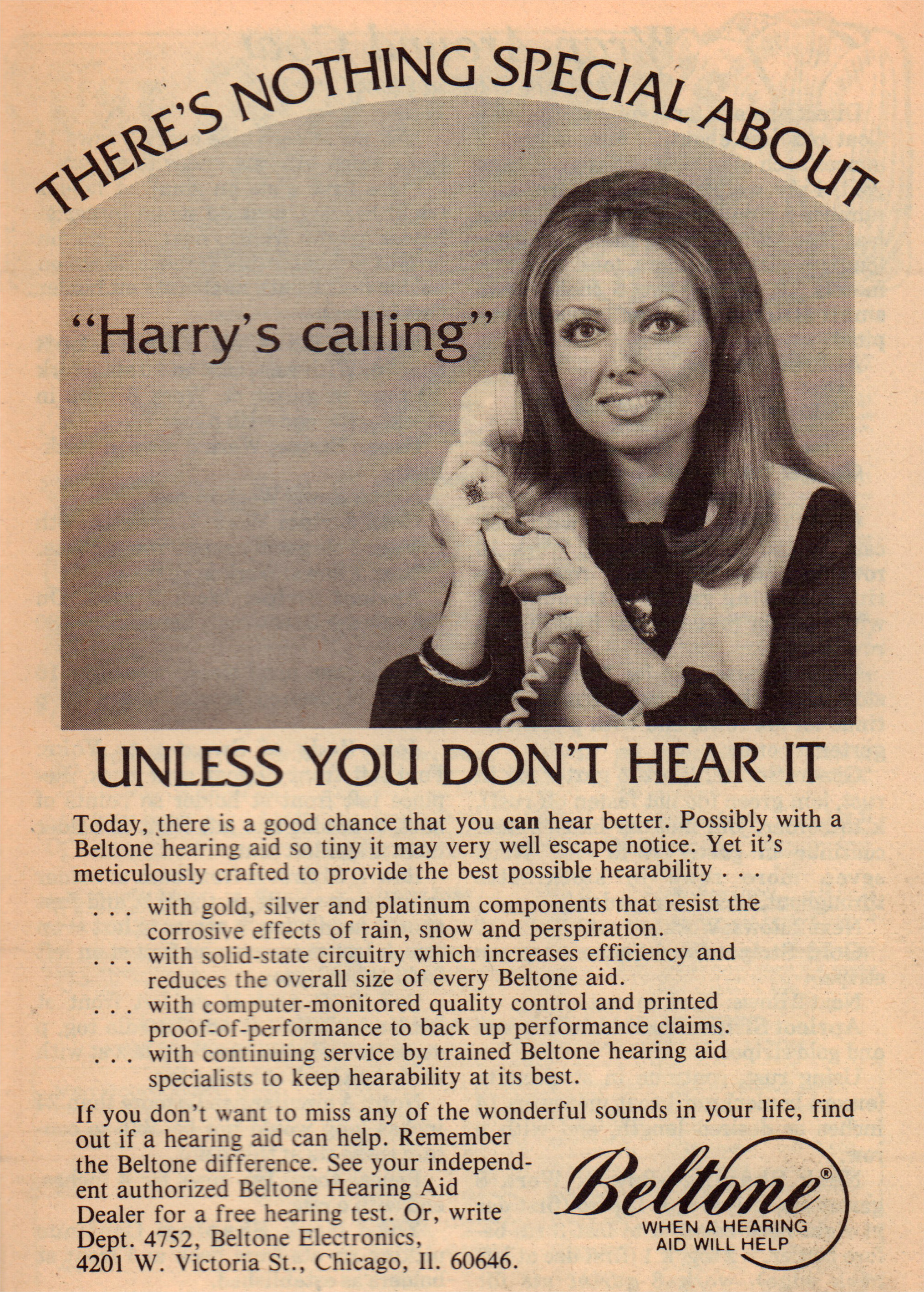 Here's an example of an advertisement in Workbasket, a magazine chock full of ads for hearing-aids, orthopedic shoes, and La-Z-Boy recliners.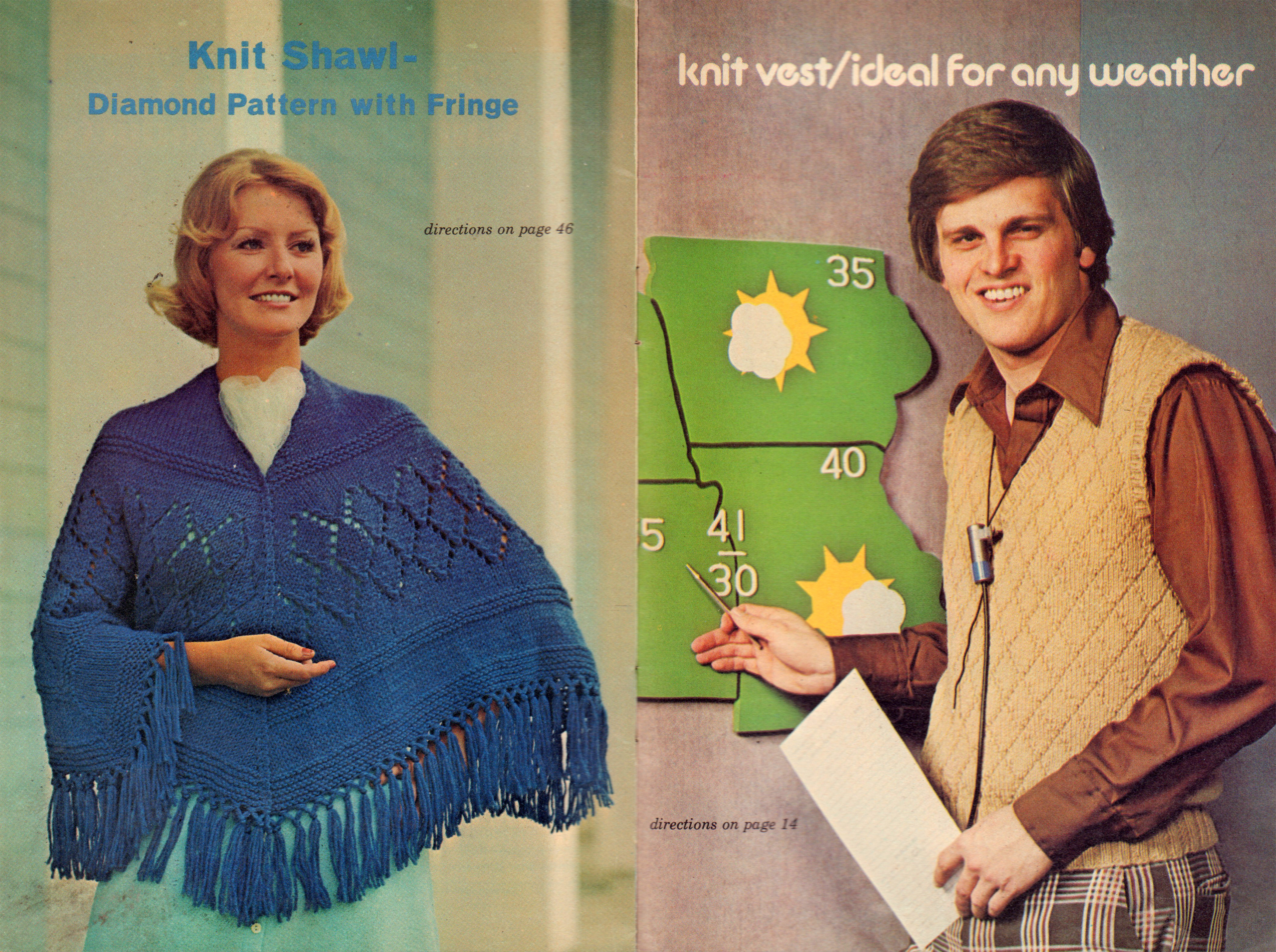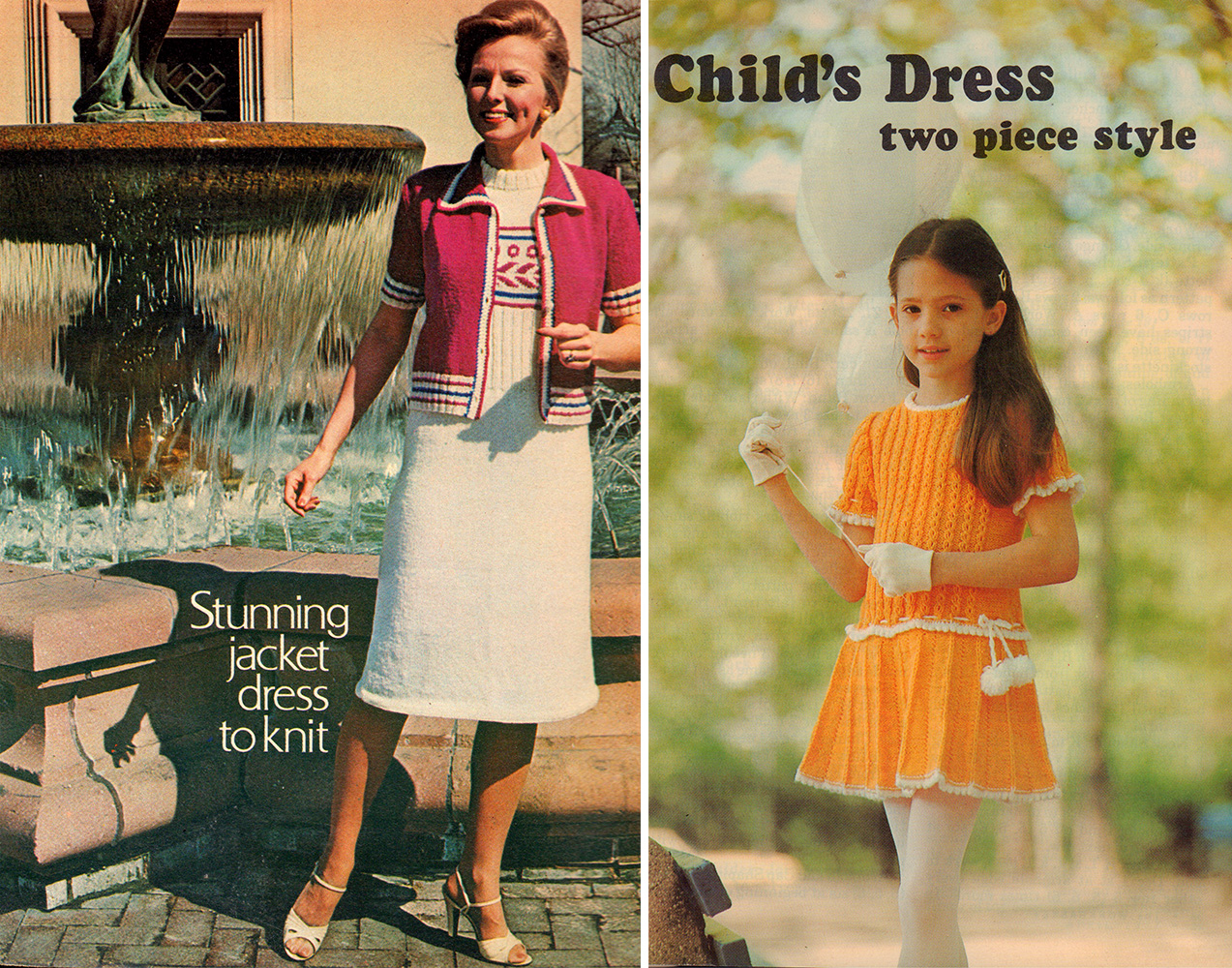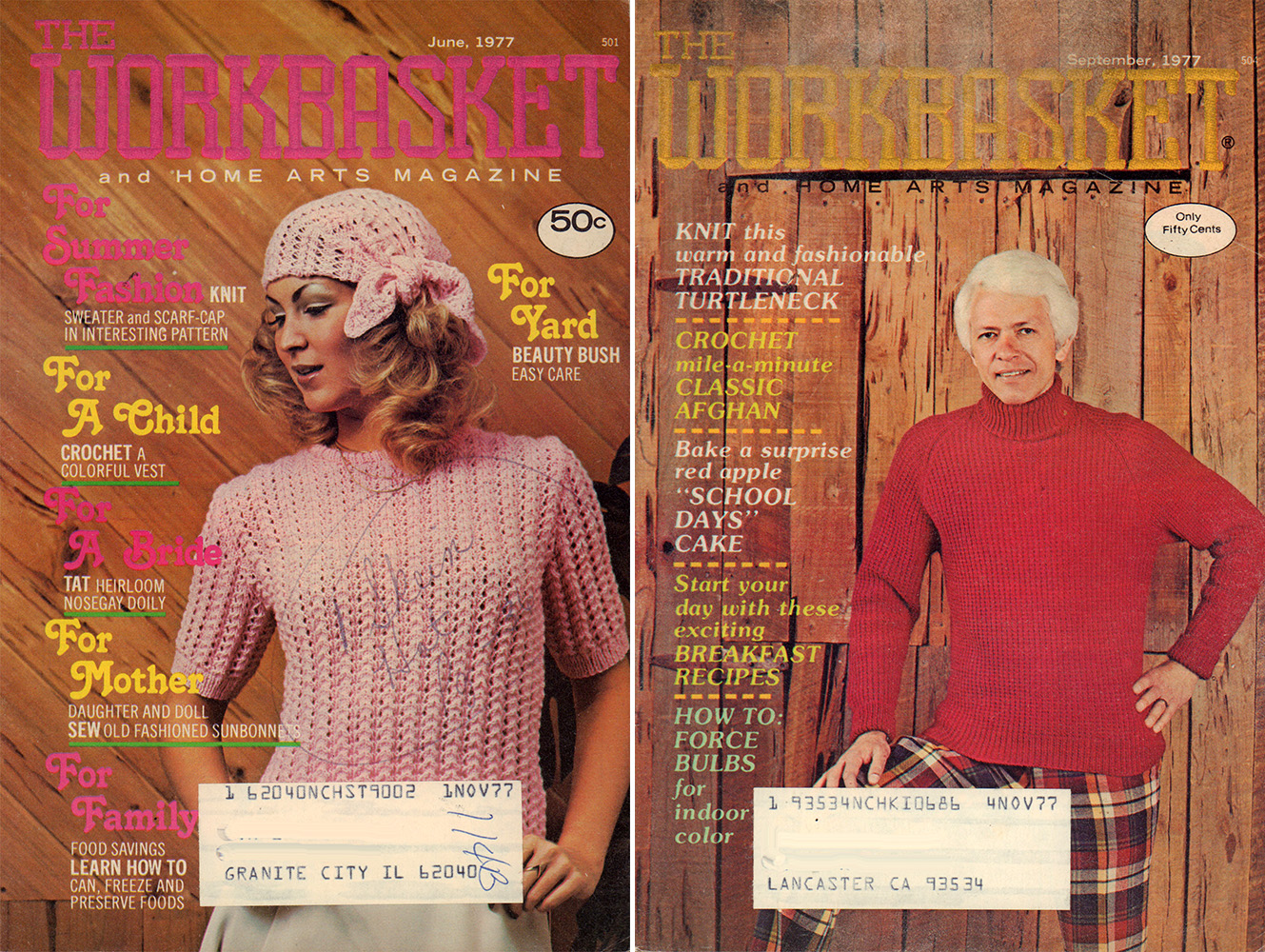 While Cosmo and other popular fashion magazine covers were emblazoned with intentionally risque and "edgy" puffs , we have the most wholesome cover lines imaginable on Workbasket: "Bake a surprise red apple school days cake".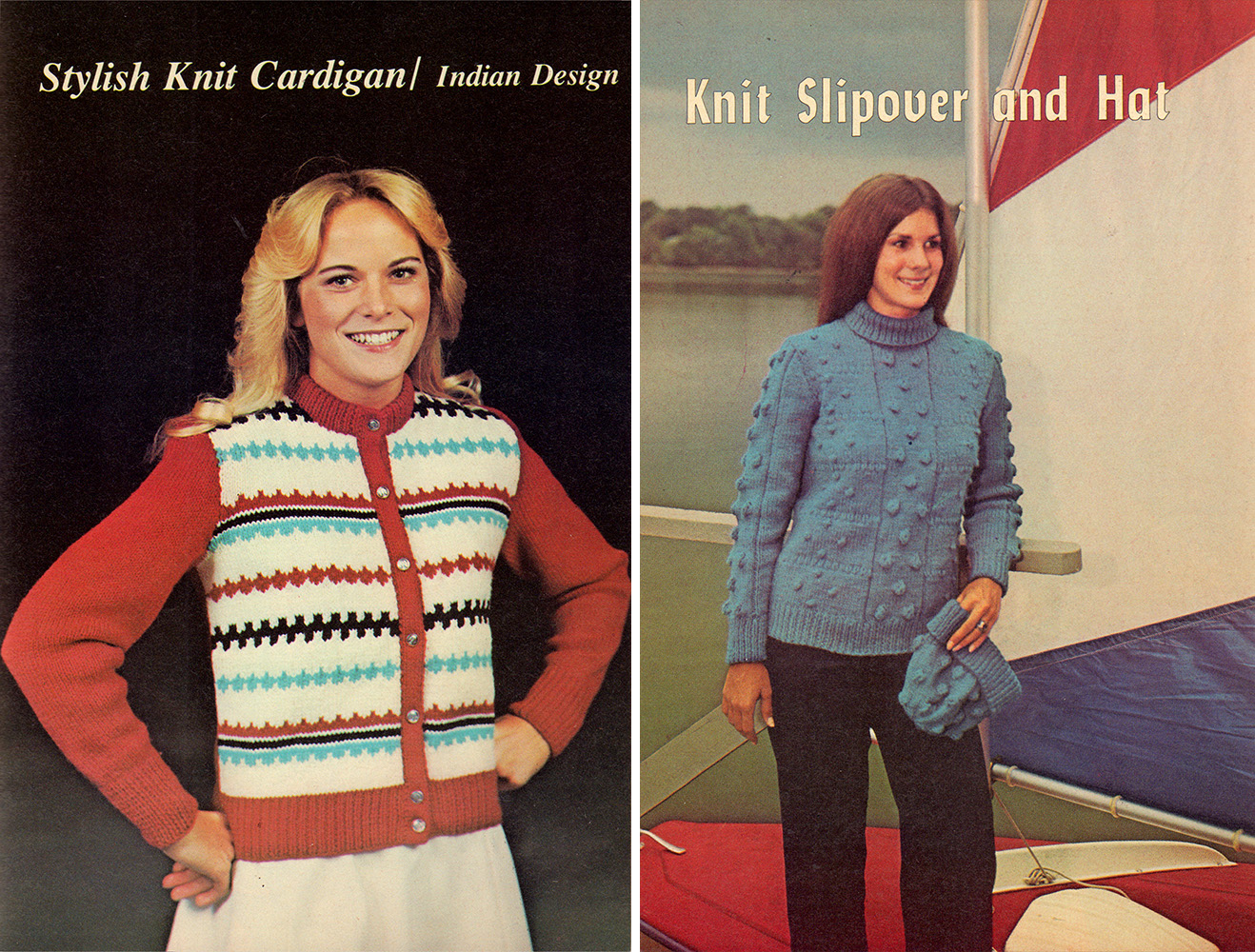 It looks like her blue sweater and hat have the mumps.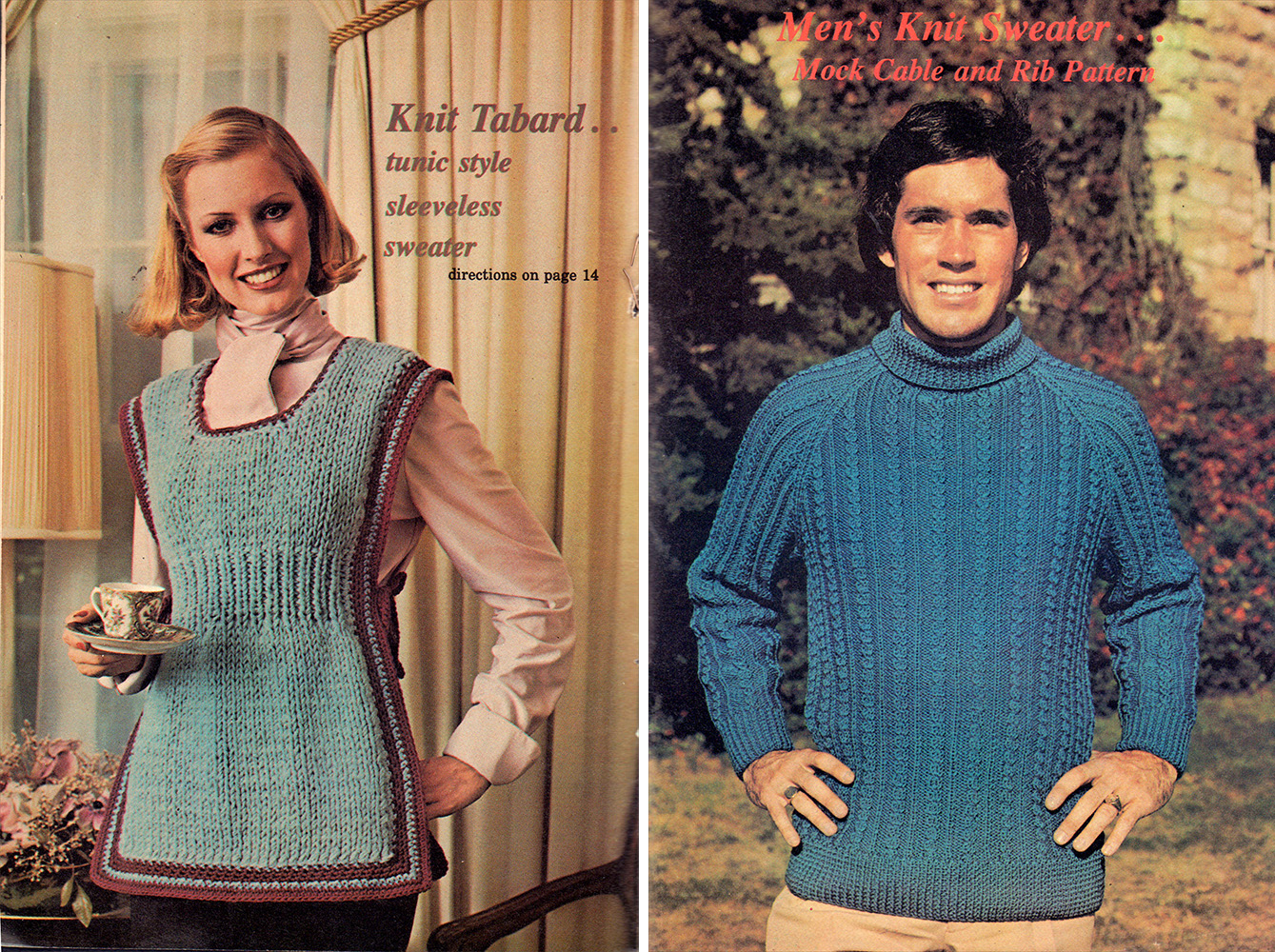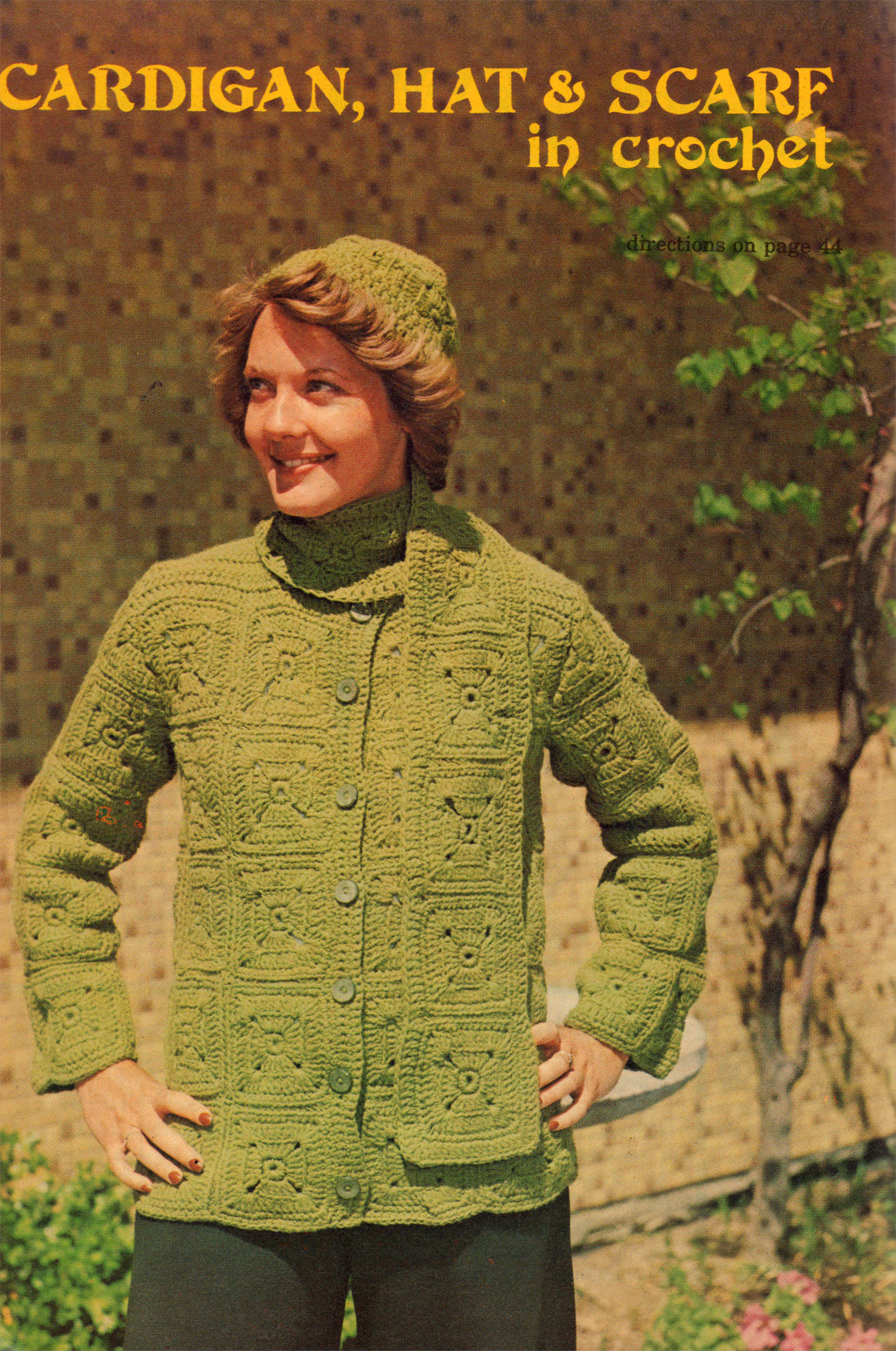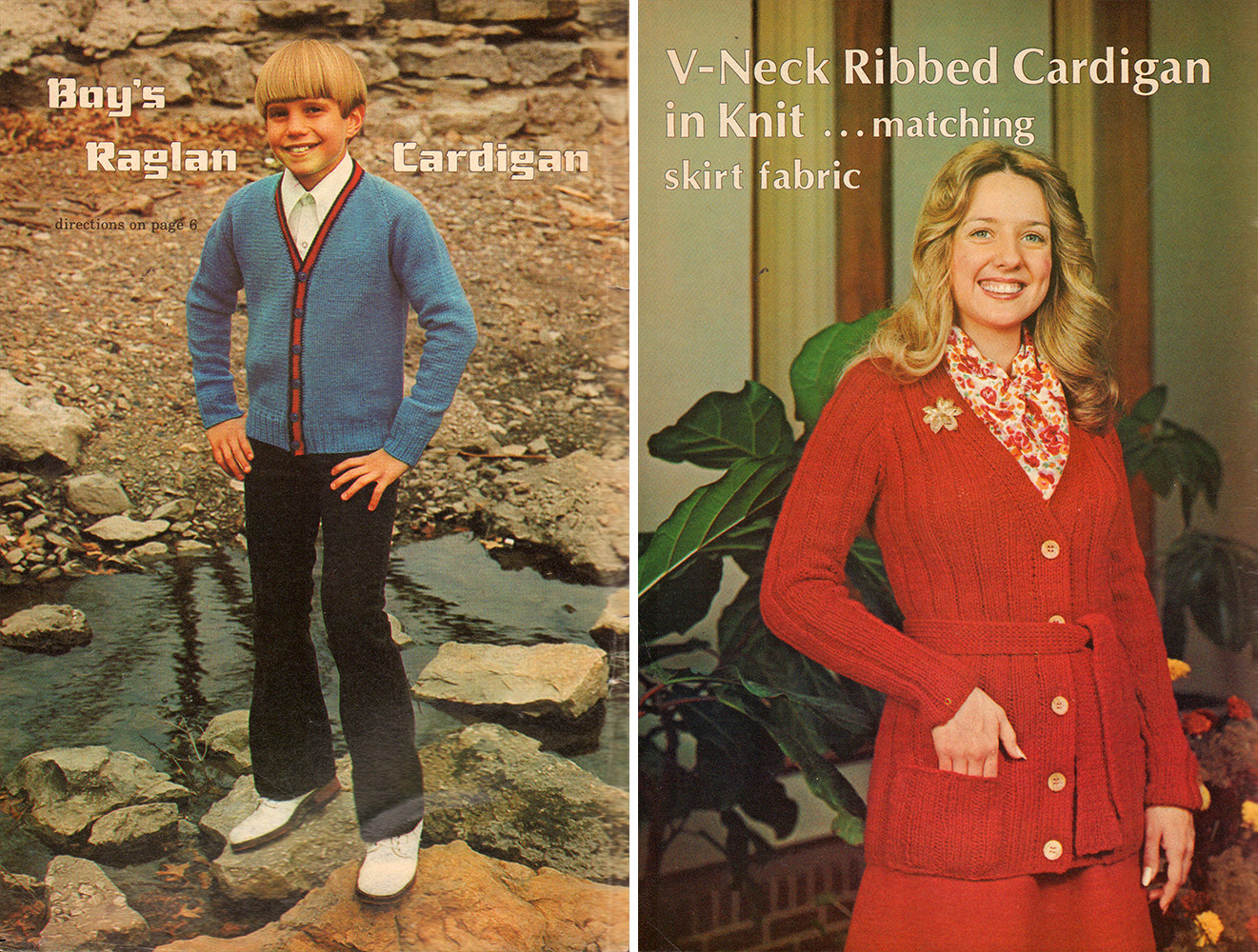 I sure hope he didn't get those fancy white Sunday shoes muddy; dad might put a stop to his burgeoning modeling career.