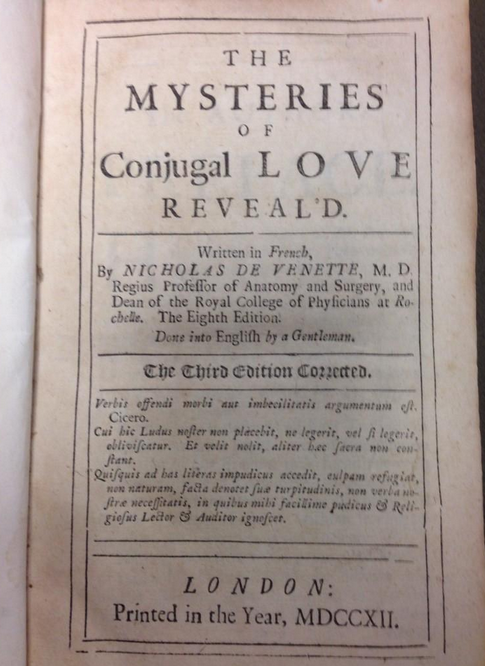 John Overholt, Curator of Early Modern Books and Manuscripts for Houghton Library at Harvard, brings to the modern reader The Mysteries of Conjugal Love Revealed, an 18th century sex manual written by a French doctor named Nicolas De Venette. He also wrote The Art of Pruing Fruit Tress, naturally.
Dangerous Minds has a few choice extracts:
We call the principle part of the Man's Privaties the Virile Member, which the Ancients ranked among the number of their Gods under the Name of Falscines, to teach us what Empire it has acquir'd in the World: For no Charms or Enlightenments can equal it. If perchance a Woman perceives it thro' some slight unfolding of the Garments, her Heart is at the same Instant inflam'd with a Passion, that is with Difficulty assuaged.
….
The Privy parts of a Woman, by some called Nature, because all Men owe their Origin to them, are the cause of most of our Sorrows, as well as our Pleasures; and I dare say, that all Disorders, that every happen'd in the World, or do happen in this our time, spring form the same source.
….
There is a part above the [Nympha?], longer more or less than half a Finger, called by Anatomists Clitoris,which I may justly term the Fury and Rage of Love. There Nature has plac'd the fear of Pleasure and Lust, as it has, on the other hand, in the Glans of Man. There is has plac'd those excessive Ticklings, and there is Leachery and Lasciviousnes establish'd;
….
But 'tis certain that Women have Testicles, spermatick Vessels and Seed, because they sometimes pollute themselves; and their Testicles, which are hollow instead of being solid, as Men's are, contain several small Cellules, wherein a Humor is kept, that spurts up in the Face of those that cut them.
….
As soon as the Fancy is touched, and the small Fibres of the Brain shaken by the Thoughts of Love, there is an internal Sweat in our Privy Parts, and the Spirits which rush thither with Precipitation, force out a limpid Liquor of the Prostate which prepares the Conduit for the Passage of the Seed. But when one is join'd amorously to a Woman, the 2 small Bladders, most ready for evacuation, empty
….
Chapter 6: What Hour of the Day one ought to kiss one's Wife.
….
Via John Overholt and Harvard Library