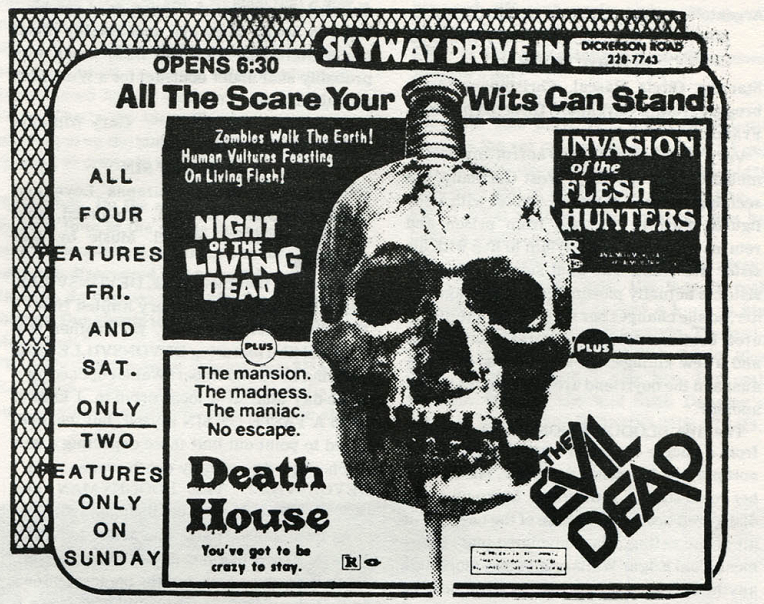 It's Saturday morning 1976. You're eating a bowl of Frankenberry in your Spiderman footie pajamas at the breakfast table. Mom's cleaning up the kitchen while dad peruses the morning paper, hitting the sports section first. Then he decides to check what's playing at the local cineplex, so he turns to the movie section, and this is what he sees…
Yes, folks, week after week, day after day, adverts like these ran in your local newspaper. I imagine today there'd be a public outcry against it, but back then it didn't seem to raise an eyebrow. Dad just kept sipping his coffee and looking for a good movie to go see…. not even flinching.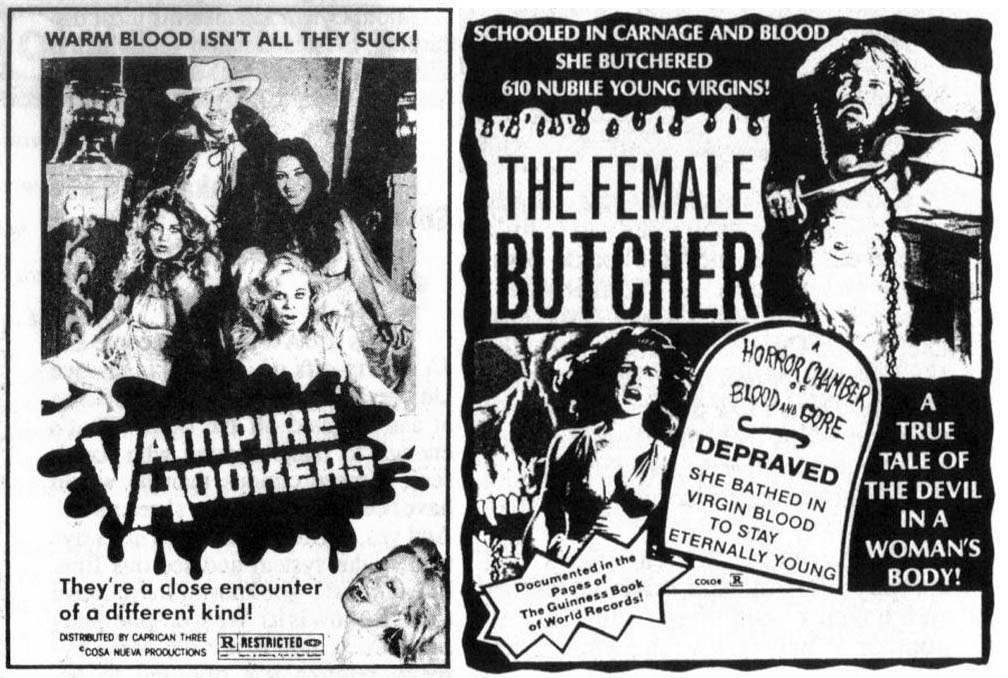 Why? I think it was a combination of two reasons: (1) Boomers were used to shock tactics used to promote horror and sci-fi films – they were doing it when they were children. Mom and dad realized it was all in good fun. (2) With real-life gorefests via the nightly news from Vietnam, a little bit of thrills and chills at the moviehouse seemed pretty harmless.
IMHO they're absolutely harmless. What's more, they were fun as hell. Sure, these B-movie horror features were generally pretty lousy, but what I really miss is all the crazy promotions theaters used to use to get butts in the seats. Check out the giveaway in the movie promo above… a free mystic potion – I'M THERE!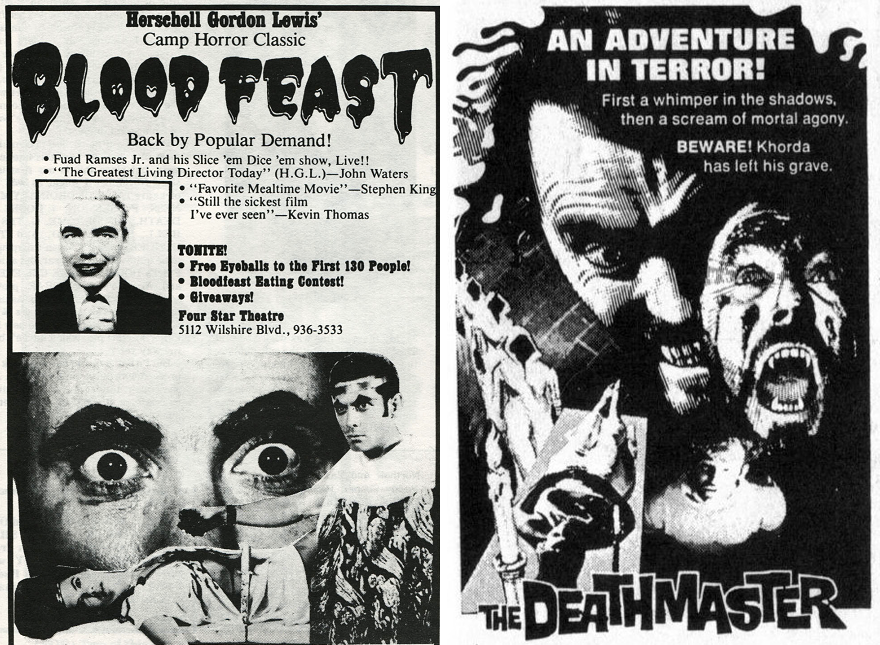 Speaking of fun promotions, an early 1980s rerun of Blood Feast (above) is giving away free eyeballs to the first 130 people!
Free Rasputin beard? I am so there it's not even funny.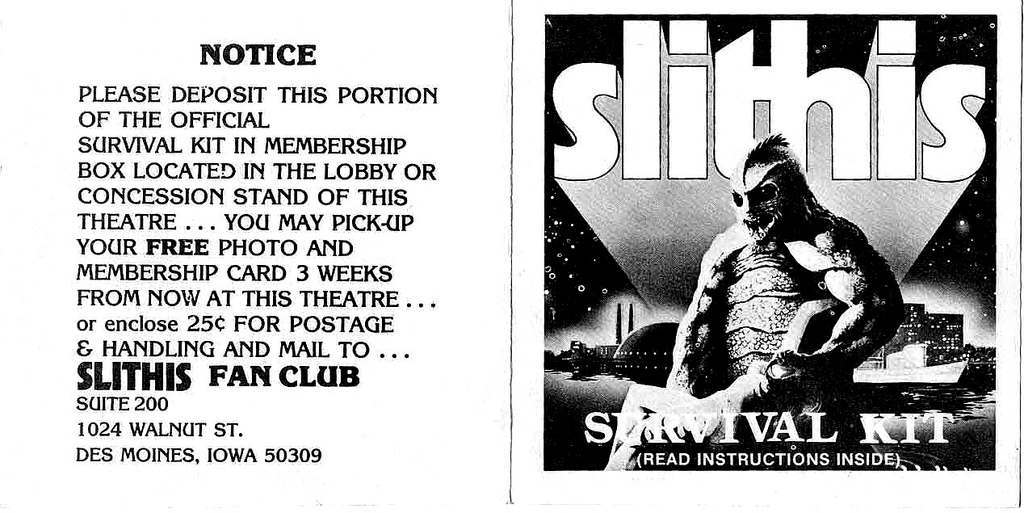 This survival kit was distributed at the theater. I wonder how many Slithis fan club members are still out there?
I wonder if anyone actually ever won the five grand with their essay on whether this chick was a ghoul or girl. Somehow I doubt it.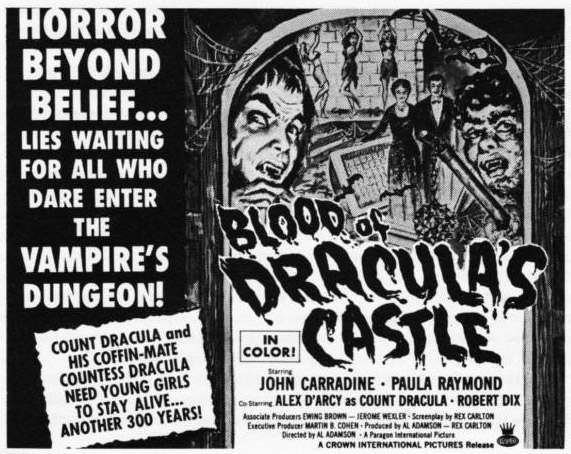 I'll say this in regards to horror film advertising in newspapers – what it lacked in terms of a canvas (it was small and B&W), it made up for in sensationalism. The art was certainly compromised versus the nice technicolor canvas of the movie poster; however, the unassuming newspaper spot was often license to go buck wild. These are every bit as fun to peruse as are the posters.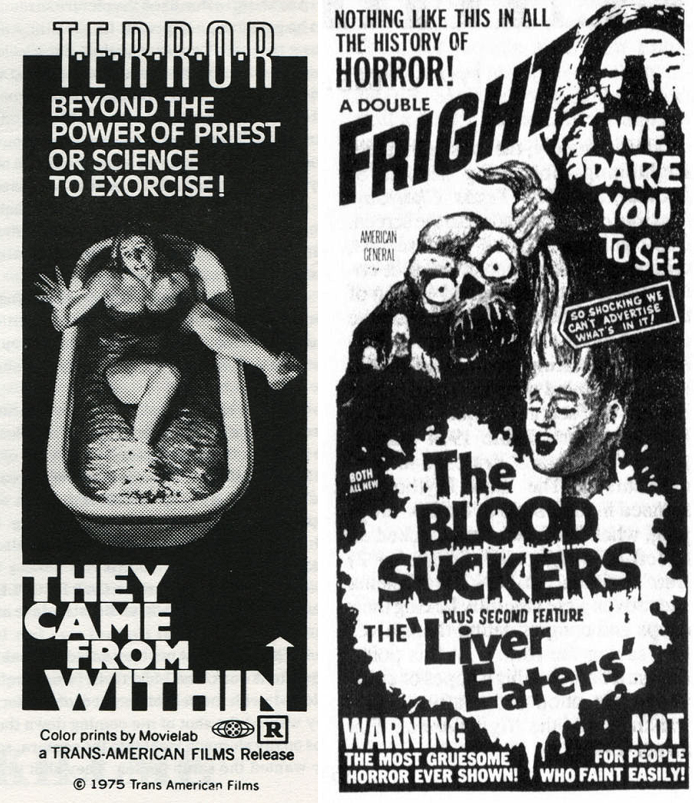 (L) It Came From Within (AKA Shivers): As Roger Ebert put it then, "…and if the movie finally doesn't quite live up to its beginnings, it's still better than a movie called 'They Came from Within' has any right to be."
(R) "The Liver Eaters" actually doesn't sound so bad.  I enjoy a good liver now and again.  Look for the sequel: "The Pot Roast Eaters".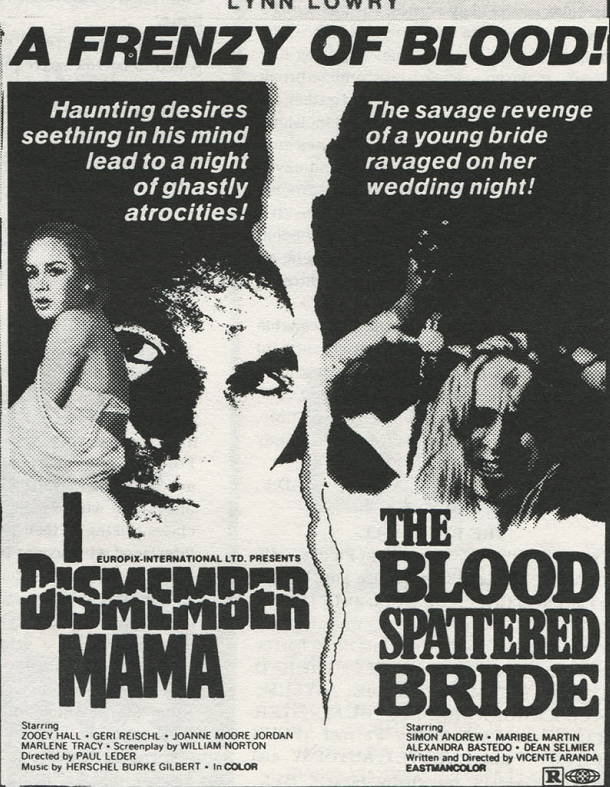 A great way to fill theaters was to offer a double bill. Who could resist this "frenzy of blood" pictured above?
You've got to realize too that these movies were in town one week and gone the next. These weren't big budget bonanzas starring Tom Hanks which had to recoup millions upon millions of dollars. An attention grabbing newspaper ad was all that was needed to sell enough tickets to make a profit.
Plus, back then you didn't have to take out a second mortgage to go see a movie – it was extremely cheap. So, if the movie stunk, it was really no big deal.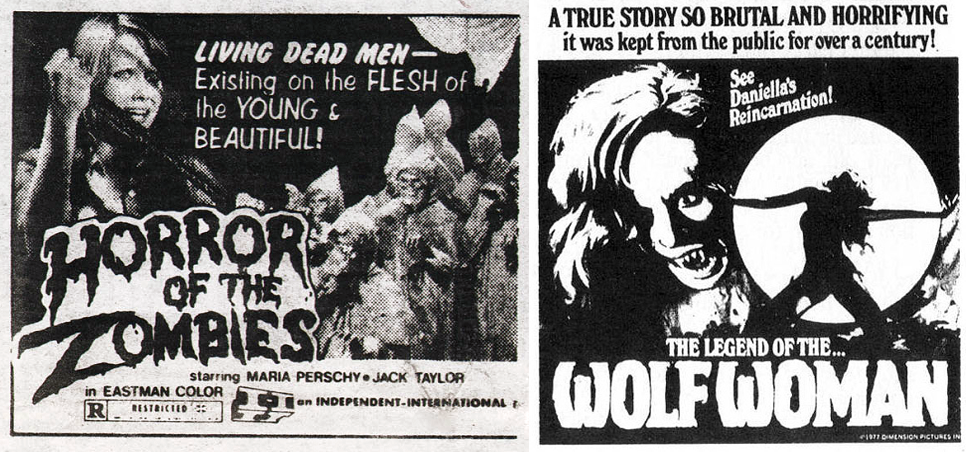 A lot of these films were European in origin, so there was no production costs whatsoever. Just slap an English title on it, dub it, buy the newspaper ads, and pay a pittance for the rights, and PRESTO you've got yourself an easy profit! For example, The Horror of the Zombies above was actually Armanda De Ossorio's 'Ghost Galleon'
Best of all are the great taglines and outrageous claims…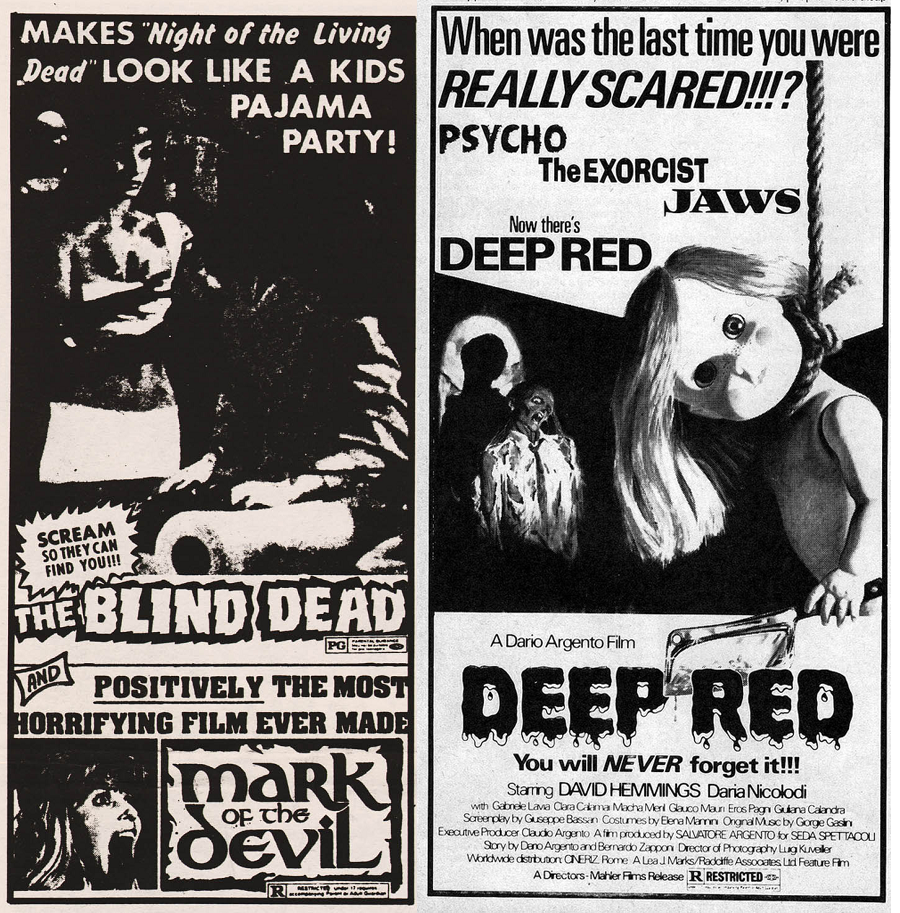 I LOVE the tag on the advertisement above: "Makes Night of the Living Dead look like a kids pajama party!" What a ballsy claim… and then next one claims to simply be the most horrifying film ever made. Something tells me they may have been exaggerating a little bit.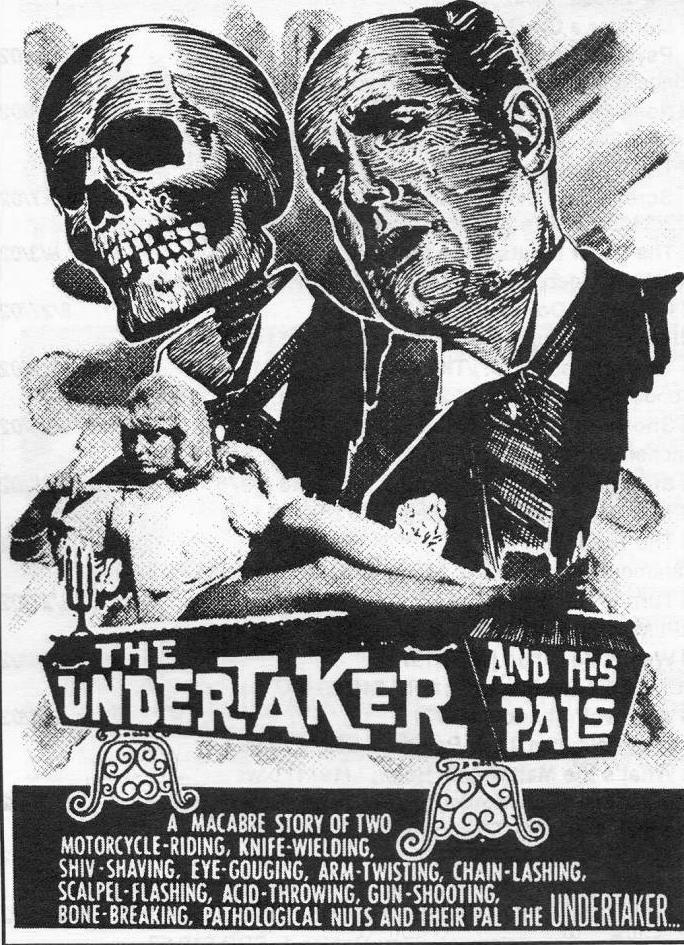 Is this the best tagline you've ever read? "….shiv-shaving, eye gouging, arm twisting, chain lashing…"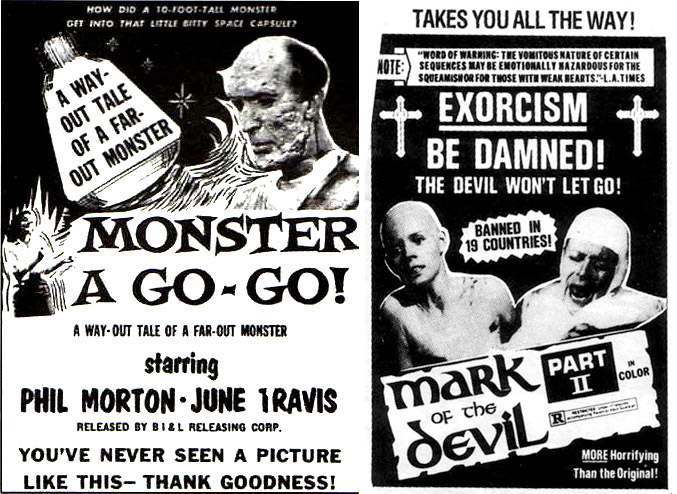 Is it just me or did we just have two back to back movie ads (The Undertaker and Monster-a-Go-Go) featuring guys that could pass for Robert Duvall?
The LA Times actually warns viewers about Mark of the Devil's "vomitous nature"…. and it was banned in exactly 19 countries!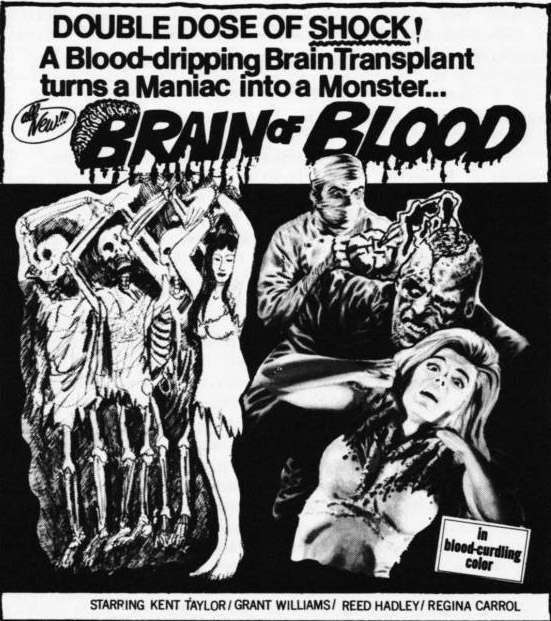 Personally, I'd rather be a "monster" than a "maniac". So, as far as I'm concerned, the transplant was a success!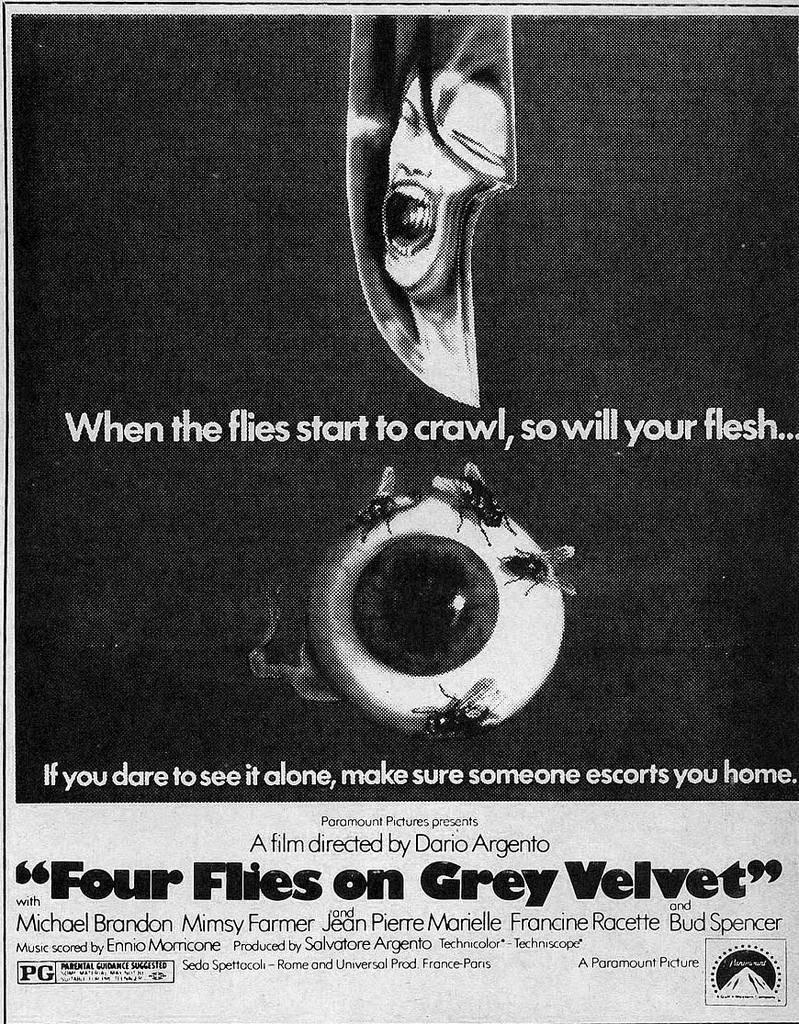 Rated PG…. are you kidding me? It's been a while since I've seen this, but I seem to recall a topless scene and a woman's decapitated head rolling on the ground.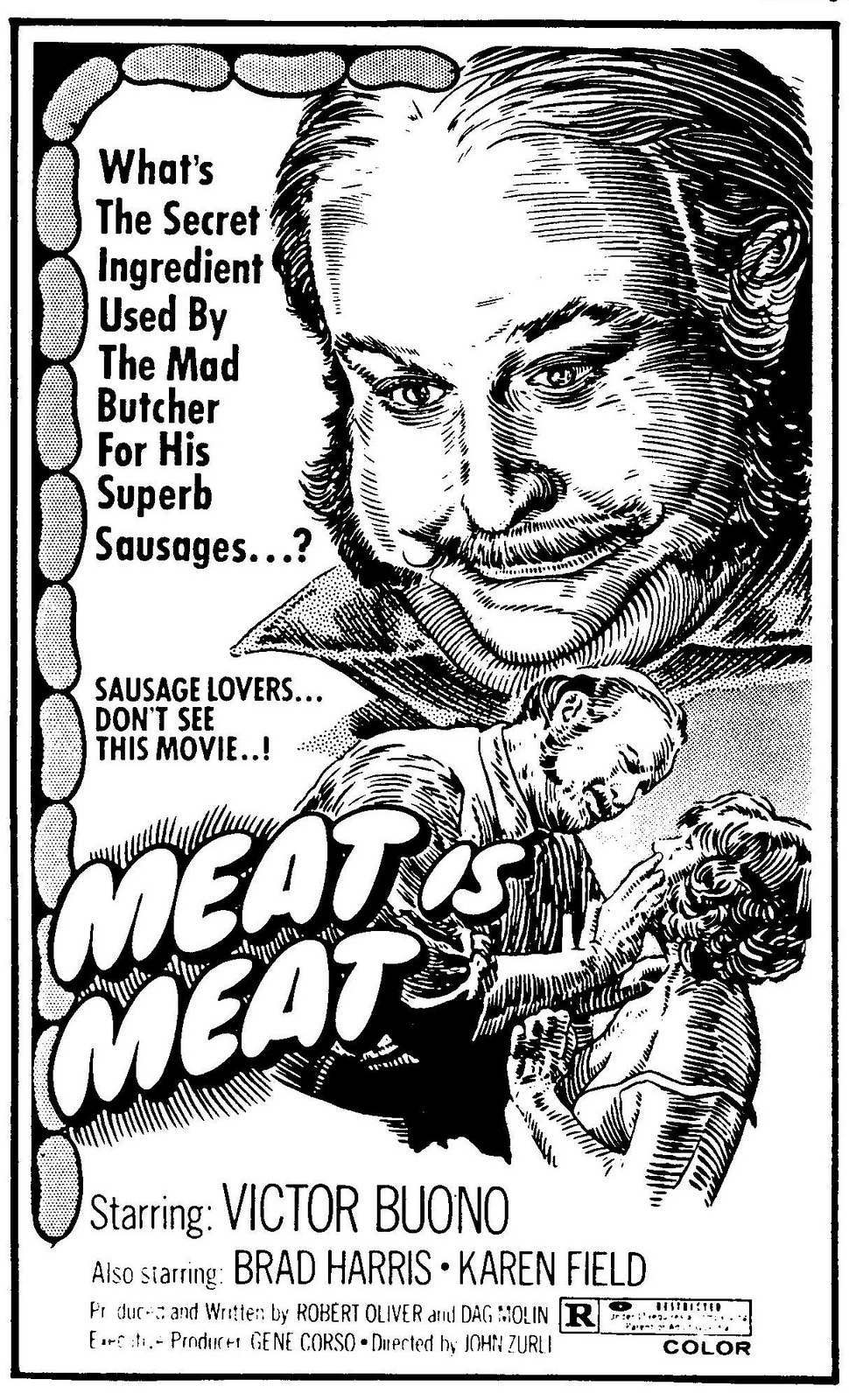 Whoever said "Meat Is Meat" has never seen the making of a McRib.
The horror movie newspaper ad is most definitely a lost art, especially considering the fact that newspapers themselves are about go bye-bye. Thus, we say goodbye to both the horror movie newspaper ads, as well as the newspapers themselves. Adieu.