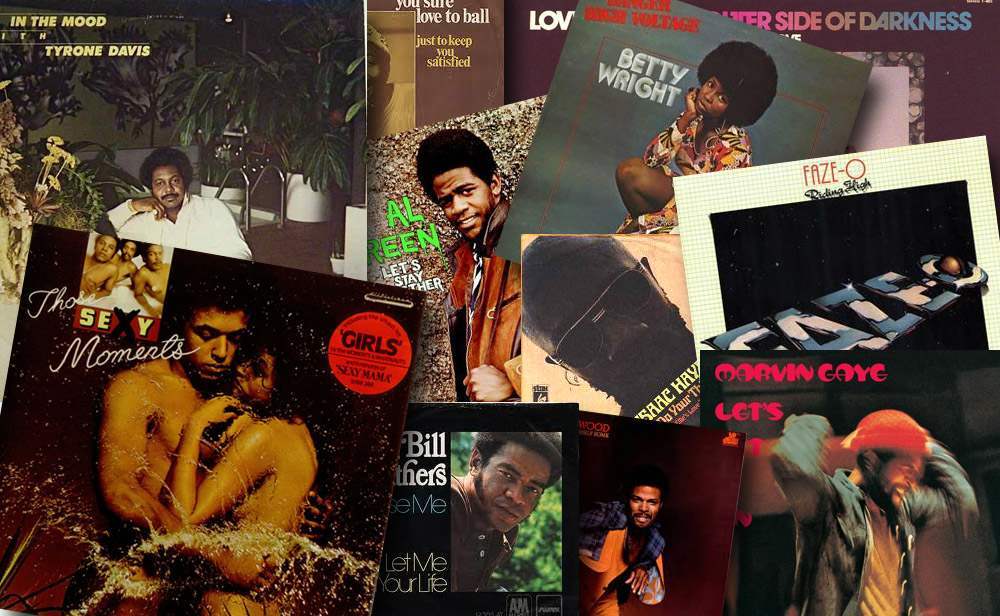 THE Seventies brand of soul music was wonderfully varied. Sometimes it was political with unflinching testimonials of the ghetto. Then it could shift gears into some funk that made you want to get up and dance. And then there were those songs that were designed for a single purpose – sweet, sweet lovemaking. This is a list of the best in that domain. Dim the lights, open a bottle, and enjoy….
1. "Let's Stay Together" by Al Green
I, I'm so in love with you
Whatever you want to do is all right with me
'Cause you make me feel so brand new
And I want to spend my life with you
The mind reels at the thought of how many children would not exist were it not for this song. Once the needle hit the groove, and you hear that first slow, smooth line, it is officially off to the races. Make no mistake, this isn't the booty slappin' music of today – this is for sweet, sweet lovemaking.
2. "I'm Gonna Love You Just A Little More Baby" by Barry White
Barry White is a Sexual Necromancer… a Pornomancer, if you will, and this is his incantation. Resistance is futile. If a man and woman are left alone in a room with this song on a record player, they will have sex. I don't care their marital status, socio-economic background, religious affiliation… it doesn't matter. Hot, sweaty, sex will happen.
3. "Let's Get It On" by Marvin Gaye
Don't you know how sweet and wonderful life can be?
I'm askin' you baby to get it on with me
This isn't trite "Bow Chicka Wow Wow" porno music; this is a heartfelt appeal to get in a woman's pants. And Marvin's argument is very compelling.
4. "Love To Love You Baby" by Donna Summer
With its explicit moaning and groaning, this song transcends simple sexytime music… this full audio penetration.
5. "I Want'a Do Something Freaky To You" by Leon Haywood
Your love looks like a mountain
And I'd love to slide down into your canyon
In the valley of love
Younger listeners will recognize the beat heavily sampled in Dr. Dre's "Nuthin' but a 'G' Thang". Old school listeners remember the sleazy original by Pimp Casanova, Leon Haywood.
6. "Do Your Thing" by Isaac Hayes
If you feel like you wanna make love
Under the stars above
Love on, love on
Shaft may have been a bad mother— SHUT YOUR MOUTH! – but it's not a love song. This Isaac Hayes groove is the very definition. In fact, Hayes pretty much commands it – to do otherwise would just be wrong.
7. "Use Me" by Bill Withers
I and I wanna spread the news
That if it feels this good getting used
Oh you just keep on using me until you use me up
Who knew the man behind "Lean on Me" could produce such a sexed up jam? Another great song about being happily mistreated (because the sex is so damn exceptional) is Millie Jackson's "Hurts So Good". Never has being treated like crap sounded so worth it.
8. "Turn Off The Lights" by Teddy Pendergrass
Let's take a shower, shower together
I'll wash your body and you'll wash mine, yeah
Rub me down in some hot oils, baby, yeah
And I'll do the same thing to you
Hide your Styx Greatest Hits, it's time for grownups to have sex… and Teddy is going to explain in intricate detail just how it's done.
9. "Riding High" by Faze O
Have a dry cloth handy, this cosmic funk has such a sexual vibe your speakers may sweat. (Do what you will with the moistened cloth afterwards.
10. "Stairway To Heaven" by the O'jays
Here we go
Climbing the stairway to heaven
Here we go
Walking the road of ecstasy
This isn't a Led Zeppelin cover; which is fortunate because Baby Making Music with Tolkien references would be kind of disconcerting.
11. "Can't Get Enough Of Your Love, Babe" by Barry White
Yes, Mr. White is on this list twice. However, with a voice like his and with his skills at turning a melody into a mating call, he's probably not on this list enough.
12. "Always and Forever" – Heatwave
The brothers in Heatwave were obviously experts in the ways of love. This song is like Viagra in audio form.
13. "You're On My Mind" by Rose Royce
From the Car Wash (1976) soundtrack; this was the love theme between TC and Mona (Franklin Ajaye and Tracy Reed). Do not play this song at your place of work as it has been known to cause random acts of fornication. Mistakes will be made.
14. "Sexy Mama" by the Moments
I wanna open up them love gates
To my heaven
This afternoon I know you'll like me
By tonight you're gonna love me

I think in just a moment
There's gonna be a love explosion
Go head and let your jones
Get good and funky, ooh
One of the more explicit entries on this list, The Moments lay down an old-school sex jam not suitable for minors.
15. "Love Jones" by Brighter Side Of Darkness
At the 30 second mark, get ready for an epic spoken-word booty lament that is truly in a class by itself.
And the need is so strong
It's almost like that of a junkie
In other words, baby
I just got to have you
16. "You Sure Love To Ball" by Marvin Gaye
Saturday Night Live's Ladies' Man once said all he needed was a bottle of Courvoisier and some Lou Rawls to get excited. I think, with Marvin Gaye, there's no alcohol required.
17. "Tonight Is The Night" – Betty Wright
A deflowering has never sounded so sweet. Betty describes in detail the moments leading up to the magic moment; her man has been "so patient", but "tonight is the night that you make me a woman."
18. "In The Mood" by Tyrone Davis
Come here baby
Girl, I wanna make sweet love to you
Honey sugar, it ain't no telling what I'm gonna do
What a feeling, feeling good feeling like I never felt
Just like ice-cream, and honey my love is gonna make you melt
This paean to laying pipe was recorded in 1979, and, thus, Seventies Baby Making Music was at an end. A new generation of smooth operators would arrive with their own style. But the 80s brand, epitomized by Luther Vandross, lost that soulful (and slightly sleazy) edge that made the previous decade's so damn good.