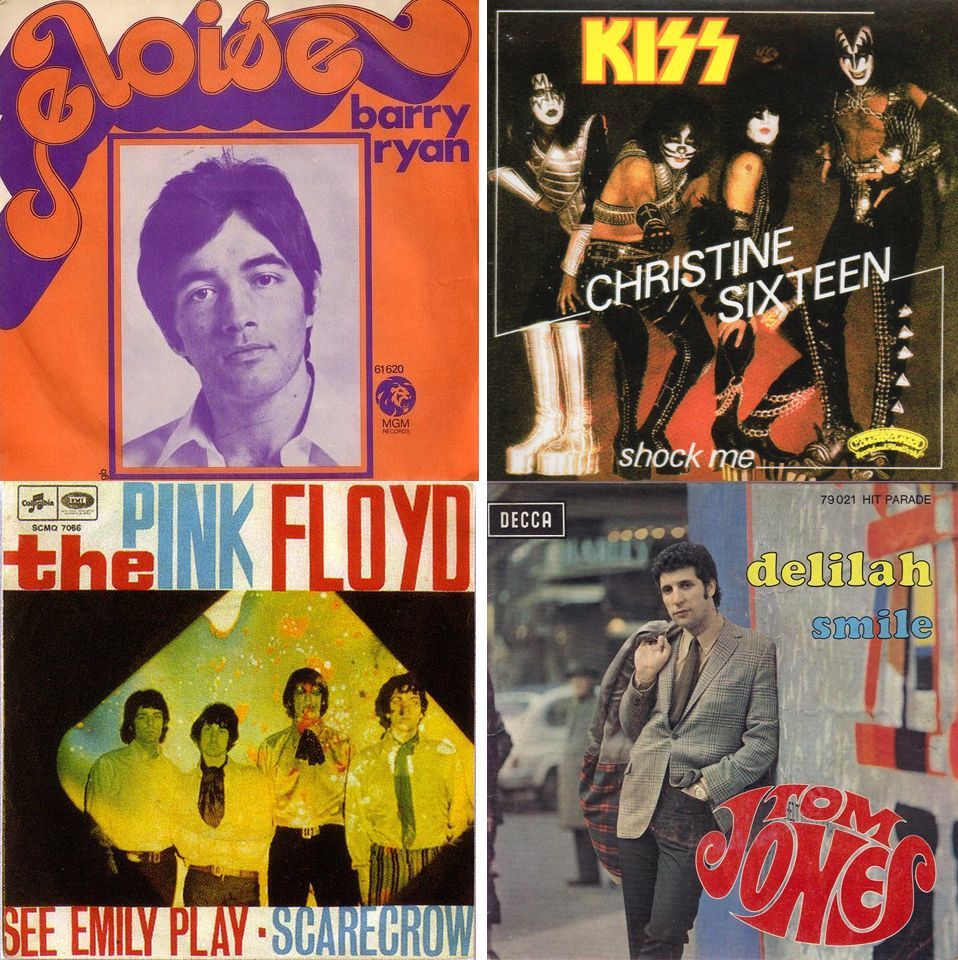 Naming a song after a woman has, over the years, become the biggest music cliché ever; however, there's been a ton of great ones, and is thereby prime fodder for music lists. So, here's the rules:
(1) The song has to have a female's name in the title, but not necessarily be about a female. In other words, "Lola" by The Kinks is about a male transvestite and "Martha My Dear" by The Beatles is about a sheep dog; neither about a chick, but both qualify.

(2) It has to be the first name. Thus, "Mrs. Robinson" by Simon & Garfunkle doesn't count. Also, it can only have a girl's name, not a boy's; so, "Jack and Diane" by John Cougar wouldn't count.

And, finally (3) this is Flashbak, so we're not looking at songs from the 1990s on up to the present.   Now, let's go!…
1. Eleanor Rigby – The Beatles
Back before orchestration within a pop song was still fresh, McCartney unleashes this sweeping tale of isolation. Like Lady Madonna, another of Paul's female sob stories, there's not much humor in it. And here we are about 5 decades past, and it's every bit as poignant and amazing.
2. Cecilia – Simon & Garfunkel
3. Suite Judy Blue Eyes – Crosby, Stills and Nash
4. Martha My Dear – The Beatles
5. Along Comes Mary – The Association
Is it about the dreaded marijuana plant? Who knows, but their odd introduction for a live performance has me leaning towards "yes".
6. Lola – The Kinks
The true gender of Lola has been under debate for years, but the riff and building energy is a rock masterpiece regardless.
7. Brandy (You're a Fine Girl) – Looking Glass
Yes, it's the very definition of a One Hit Wonder, but this is pop nugget gold – an example of a melody is both catchy and wonderfully melodic. Who doesn't get a lift when this comes on the radio?
8. Mandy – Barry Manilow
For my take on Mr. Manilow, see Guilty Pleasures: 5 Musicians Of The 70s You're Supposed To Hate (But Secretly Love)
9. My Sharona – The Knack
10. For Emily, Whenever I May Find Her – Simon & Garfunkel

11. Aimee – Pure Prairie League
12. Michelle – The Beatles
13. Beth – KISS
To a 70s kid, the Destroyer album was rock's greatest gift. It had its anthem (Detroit Rock City), its Knights in Satan's Service spectacle (God of Thunder) and this ballad sung by the raspy voiced drummer. To the skeptic, it's saccharine fluff, to the initiated, it's forever a classic.
14. Gloria – Them
15. A Rose for Emily – The Zombies
Unlike the Faulkner novel, it's not about necrophilia. What it is about, I suppose is anyone's guess. A brilliant piece of baroque pop.
16. Ruby (Don't Take Your Love to Town) – Kenny Rogers
One of the most depressing songs on the list. He's injured from the waist down from Vietnam, but Ruby just has to get laid. Don't go to town, Ruby!
17. Billie Jean – Michael Jackson
18. Lovely Rita – The Beatles
19. Layla – Derek and the Dominos
Nobody wants to hear 67 minutes of multiple guitarists playing slide at the same time…. Unless it's just this damn good.
20. Sarah Smile – Hall and Oates
21. Sheena is a Punk Rocker – The Ramones
22. Rhiannon – Fleetwood Mac
23. Josie – Steely Dan
Is there a better crafted pop song on this list? Becker and Fagan were precision engineers.
24. Help Me, Rhonda – The Beach Boys
25. Cara-Lin – The Strangeloves

26. Sally G -Paul McCartney
27. Melissa – The Allman Brothers
28. Lucille – Kenny Rogers
C'mon, sing it with me: "You picked a fine time to leave me Lucille, four hungry children and a crop in the field…"
29. Peg- Steely Dan
30. Aubrey – Bread
31. Lucy in the Sky with Diamonds – The Beatles
32. Come on Eileen – Dexy's Midnight Runners

33. The Wind Cries Mary – Jimi Hendrix and the Experience
34. Rosanna – Toto
A tribute to Rosanna Arquette – sadly, she wasn't impressed.
35. See Emily Play – Pink Floyd

36. Lucille – Little Richard
37. Fanny (Be Tender with My Love) – Bee Gees

38. Roxanne- The Police
39. Matilda Mother – Pink Floyd
When they weren't singing about Hobbits, satanic felines and interstellar journeys, they were singing about the verses from Hilaire Belloc's Cautionary Tales. Is there a better example of unbridled creativity than early Floyd?
40. Sweet Jane – Velvet Underground
41. Victoria – The Kinks

42. Wendy – Beach Boys
43. Sweet Caroline – Neil Diamond
44. My Cherie Amour – Stevie Wonder
45. Jennifer Juniper – Donovan
46. (Love Song) For Annie – Kaleidoscope
47. Maggie Mae – Rod Stewart
A great song made even greater by a mandolin coda (not by Jeff Beck).
48. My Maria – BW Stephenson
49. Angie – The Rolling Stones
50. Valerie – The Monkees

51. Angie Baby – Helen Reddy
One of the strangest, cryptic songs ever written. Angie lives in a dream world, then is visited by a man with "evil on his mind", and he's sucked into her stereo…. Wh-what?
52. Peggy Sue – Buddy Holly
53. Candida – Tony Orlando and Dawn
Stephen King listed his top 20 songs for Entertainment Weekly and had the balls to list this song at #15. (What did he put at #1 you ask? Answer:"Tube Snake Boogie" by ZZ Top – go figure)
54. Bernadette – The Four Tops
55. Annie's Song – John Denver
56. Charlena – Ruben and the Jets
57. Fannie Mae – Buster Brown
From the film American graffiti (also features Wolfman Jack. What's not to love?
58. Jennie Lee – Shuggie Otis
Just repeat to yourself that not everything entering your auditory canal needs to have been a big hit. Sometimes you have to jump off the fairway and hunt around in the rough because the hidden gems often are the sweetest.
59. Jessica – Allman Brothers

60. Linda Lu – Ray Sharpe
61. Sheila – Tommy Roe
You can tell Tommy was a huge Buddy Holly fan. Written when he was only 14.
62. Darling Nikki – Prince and the Revolution
63. Sheila Take a Bow – The Smiths
64. Mary Ann – Link Wray
65. Rosalie – The Searchers
66. Barbara Ann – The Beach Boys
67. Sylvia's Mother – Dr. Hook

68. Ophelia – The Band
69. Mary Lou – Buddy Knox
70. Suzie Q – Dale Hawkins
Pure badass. I'll take it over the later Creedence version.

71. She Sheila – The Producers
From MTV New Year's Eve Rock & Roll Ball – 12/31/82

72. Rio – Duran Duran
73. Candy-O – The Cars
74. Emily – Frank Sinatra
75. Jolene – Dolly Parton
76. Sara – Fleetwood Mac
77. Windy – The Association
78. Wake Up Little Susie – The Everly Brothers
79. Barbara Ann – The Beach Boys
80. Elvira – The Oak Ridge Boys

81. Amanda – Waylon Jennings
82. Carrie Ann – The Hollies
83. Think of Laura – Christopher Cross
84. Christine 16- KISS

85. Delilah – Tom Jones
86. Sherry – Frankie Valli & The Four Seasons
87. Eleanor – The Turtles
88. Sad Lisa – Cat Stevens
89. Nadine – Chuck Berry

90. Mustang Sally – Wilson Pickett
91. Jamie's Cryin' – Van Halen
92. Caroline – Status Quo
93. Oh! Ma Jolie Sarah – Johnny Halliday
94. Denise – Randy & The Rainbows
95. Rosie – Joan Armatrading
96. Alice Long – Tommy Boyce and Bobby Hart
97. Pamela – Toto
98. Sorry Suzanne – The Hollies

99. Jeanette – The English Beat (UK The Beat)

100. Eloise – Barry Ryan

101. Runaround Sue – Dion & The Belmonts
102. Alice's Restaurant – Arlo Guthrie
103. Lady Samantha – Orange Bicycle
An early Elton John – Bernie Taupin composition. Certainly not great, but there's hints of what's to come.
104. Sweet Lorraine – Uriah Heep
105. Charlotte the Harlot – Iron Maiden
106. Jenny Artichoke – Kaleidoscope
107. Suzy Creamcheese – Frank Zappa
108. Izabella – Jimi Hendrix
109. Oh, Candy – Cheap Trick

110. Anna (El Negro Zumbon) – Esquivel
111. Ballade de Melody Nelson – Serge Gainsbourg
112. Roberta – Billy Joel
113. Cinderella – Sonics
114. Tracy- Cuff Links
115. Hello Mabel – The Bonzo Dog Band
116. Sweet Rosie Jones – Buck Owens

117. 867-5309/Jenny – Tommy Tutone
118. Daisy Mae – The Seeds
119. Jennifer Tomkins – Street People
120. Jennifer Eccles – The Hollies

121. Margorine – Tinkerbells Fairydust
122. Hallo Susie – Amen Corner
You may prefer The Move's greetings to Susie, but I'm partial to this one.
123. Fade Away Maureen – Cherry Smash
124. Sara Wells – Stone Circus
125. Caroline Goodbye – Colin Blunstone
This song by ex-Zombie Blunstone is a perfect example of why you shouldn't concentrate on the order of this list. An argument could be made that this should be at number one, and I wouldn't argue with it.