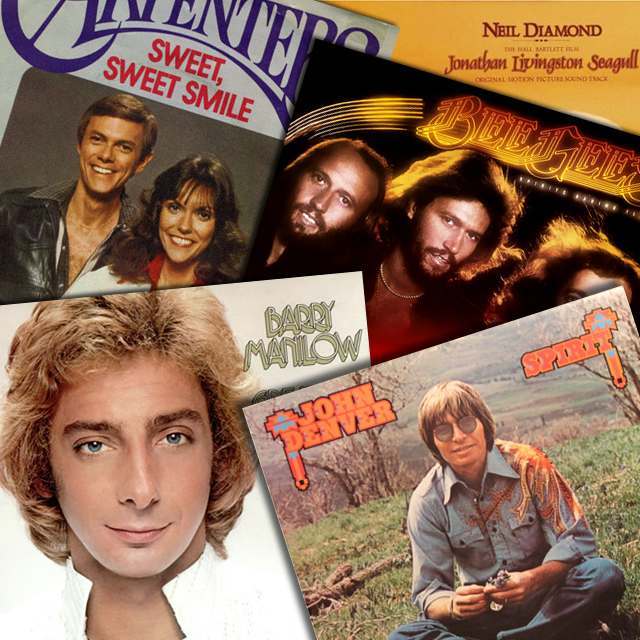 1. The Carpenters
Everyone remembers that scene in Tommy Boy where Farley and Spade declare their distaste for The Carpenters. After all, The Carpenters are "lame". Only the biggest loser would actually like The Carpenters.
Fast forward a bit, and they're singing their little hearts out to "Superstar"….
The fact is, The Carpenters are awesome. I'll admit it. I'll also admit to 4 others… but don't let me stand alone. Join me in pronouncing once-and-for-all that it's "okay" to love these artists. Don't carry these secrets with you any longer. Shout it from the rooftops. Your soul shall be cleansed.
2. Barry Manilow
In similar fashion to  Tommy Boy, there's a scene of sweet release in Family Guy. After a news report on Barry Manilow airs, the gang at the bar vigorously denounces the singer, but can't contain their shameful secret for long. Within moments, all four giddily come out of the Manilow closet…
They end up drifting into Manilow's "Ready to Take a Chance Again", as well they should. Manilow rules.
3. John Denver
I remember when the Silver Fox (Charlie Rich) protested John Denver's award at the CMA's by literally lighting the ballot on fire on live television.
The incident made Rich look like a drunken douchebag, but the damage had been done; Denver had been publicly denounced. He wasn't accepted in the country genre, and he definitely had no friends in the rock world. Denver's cool points equaled zero.
Yet, all this derision was unfounded. Denver wrote about the Earth and an appreciation for the natural world better than anyone. While most bands of the Seventies were singing about f***ing, Denver was singing about the inner peace one only can find deep in the woods.
Sure, he didn't look as cool as Ritchie Blackmoore twirling his guitar or Robert Plant thrusting his junk every which way… but must we always have the twirling and the thrusting? Sometimes it's okay to just take the rock theatrics down a peg, and just stand there and sing your songs.
4. Bee Gees
I think we may have reached a point in our society where it's okay to admit to liking the Bee Gees. However, for a couple decades after the fall of disco, you didn't dare. In fact, Barry Gibb had to literally go undercover to write his music. You didn't know Kenny Rogers ("Islands in the Stream") or Dionne Warwick ("Heartbreaker") were singing Gibb tunes, but they were. The Bee Gees were, frankly, too reviled to dare release these songs.
But, damn, Barry effing OWNED the late Seventies…
Starting in 1976, when Gibb discovered his flair for the falsetto on "Nights on Broadway" it was off to the motherf***ing races. He gave a few gems to his brother Andy ("I Just Want to Be Your Everything") then the trio released "Jive Talking" and a string of hits that would continue unabated until 1980. The Gibb's made the Billboard charts their bitch for about 4 straight years.
Barry was a hitmaker for everyone: With Streisand ("Guilty"), Samantha Sang ("Emotion"), Yvonne Elliman ("If I Can't Have You"), Frankie Valli (The theme song for Grease) and Andy ("(Our Love) Don't Throw It All Away", "Shadow Dancing", and "(Love Is) Thicker Than Water").
Add in the hits he recorded with the Bee Gees, and it's truly astounding. In 1978, the Bee Gees owned 5 of the US Top 10 (a chart dominance not seen since The Beatles in '64), and Barry became the only person to ever record 4 consecutive US number one hits.
Then came the disco backlash and the Brothers Gibb were the prime casualties. True, their massive Sgt. Pepper fail didn't do them any favors, but the venom they received was undeserved. They were the poster boys of disco, and disco was considered an embarrassment for many years to come.
Well, I say "no longer".
5. Neil Diamond
Poor Neil has never been cool. But like Manilow, he had a following in the 70s almost exclusively consisting of white thirtysomething females, which certainly didn't add to his street cred. Wear a Neil Diamond concert shirt to school, and expect to be punched repeatedly in the nuts. Schoolmates didn't take kindly to public expressions of Diamond fandom.
Diamond's early hits were respectable enough "I'm a Believer" and "A Little Bit Me, A Little Bit You" became hits for the Monkees, and Diamond followed them up with count'em 10 number one hits in the US. "Cracklin' Rosie", "Cherry, Cherry", "Sweet Caroline", "Song Sung Blue", "Red Red Wine" and "Solitary Man" are all stellar.
The problem is, Diamond jumped the shark. Somewhere along the way, he started dressing like Liberace and attracting hordes of housewives to his concerts. A cheesy duet with Streisand ("You Don't Bring Me Flowers") followed up by the cheesiest song ever recorded, "America" just made matters worse. Then the nail in the coffin: the song inspired by the movie, E.T. There was simply no going back….
Good God, that is awful. But just as Vegas Elvis shouldn't cloud our memory of early Elvis, I won't let Sequined Jacket Wearing Diamond cloud his early work. I will wear my Neil Diamond concert tee with pride. Viva la Diamond!