"Please, God, let him telephone me now. Dear God, let him call me now. I won't ask anything else of You, truly I won't. It isn't very much to ask. It would be so little to You, God, such a little, little thing. Only let him telephone now. Please, God. Please, please, please" – the opening to Dorothy Parker's A Telephone Call

 
On February 11, 1951, American actress Tallulah Bankhead entertained listeners to NBC's radio variety program The Big Show with her reading of A Telephone Call, Dorothy Parker's short story of a woman preoccupied with a lover's phone call she fears will never come. She stares at the phone. She talks to God. She watches the clock. She is infatuated with the man we never see (let alone hear) and the technology she hopes will give her what she craves.
In 1958, Bell told us 'You're Never Alone With a Telephone'. But you can be all the more lonely if it never rings.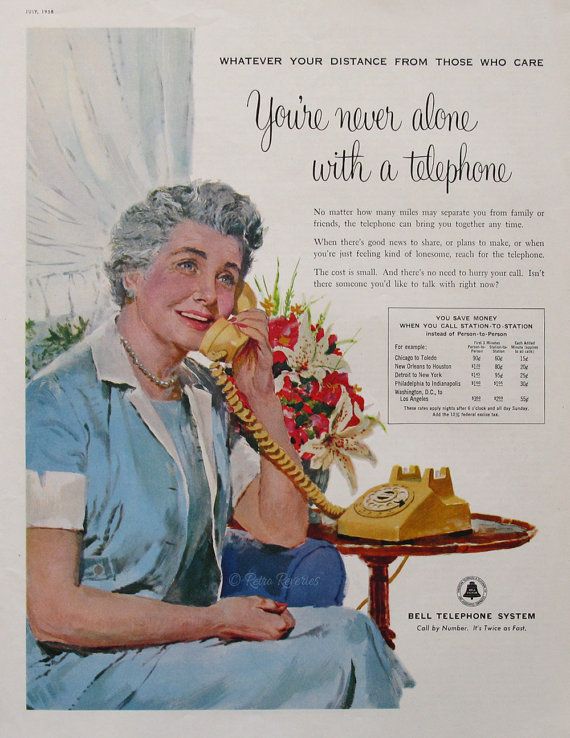 Technology progresses but some things never change.
I think he must still like me a little. He couldn't have called me "darling" twice today, if he didn't still like me a little. It isn't all gone, if he still likes me a little; even if it's only a little, little bit. You see, God, if You would just let him telephone me, I wouldn't have to ask You anything more. I would be sweet to him, I would be gay, I would be just the way I used to be, and then he would love me again. And then I would never have to ask You for anything more. Don't You see, God? So won't You please let him telephone me? Won't You please, please, please?
Soon she resolves to seize the initiative. She will call him. What harm a quick buzz, a Facebook prod, an instant message, an email, a text?
It would be so easy to telephone him. Then I'd know. Maybe it wouldn't be a foolish thing to do. Maybe he wouldn't mind. Maybe he'd like it. Maybe he has been trying to get me. Sometimes people try and try to get you on the telephone, and they say the number doesn't answer. I'm not just saying that to help myself; that really happens. You know that really happens, God. Oh, God, keep me away from that telephone. Keep me away. Let me still have just a little bit of pride. I think I'm going to need it, God. I think it will be all I'll have.