Seventy years ago in 1951 an ex-squadron leader called Phipps who at the time in charge of publicity for the upcoming Festival of Britain rang a former RAF friend, Group Captain Pickard, who was the managing director of Mecca (then a small catering and leisure group), and told him that he needed ideas to add glamour and 'razzamatazz' to the festival. 'My man Morley will come up with something,' Pickard replied.  A few days later, over lunch at the Savoy, Eric Morley whose official title was the publicity sales manager and who was already responsible for coming up with Come Dancing for the BBC in 1949 and who went on to popularise Bingo, suggested a Miss World Festival Bikini Girl contest. Squadron Leader Phipps thought this was a splendid idea and it all went ahead.
A Swedish woman called Kiki Hakansson won the first prize of £1,000 and the competition was seen as a great success.
When Miss Universe was launched in America the following year Eric Morley was especially "narked" and managed to persuade Mecca to make Miss World an annual event, with the proviso that bikinis were now to be banned. An odd decision for Morley, as only a year previously he had said, 'Even a girl with big hips can be made to look good in a bikini.' For the new Miss World contests he described the kind of young women he was looking for: 'Girls between 17 and 25, ideally five foot seven, eight or nine stone, waist 22–24′′, hips 35–36′′, no more no less, a lovely face, good teeth, plenty of hair, and perfectly shaped legs from front and back – carefully checked for such defects as slightly knocked knees.'
At its peak in 1970, Miss World was shown pretty well all over the world and in the UK was one of the most popular programmes for the entire year. It also made a huge amount of money for charity. Morley and his wife Julia, who joined him as organiser of the show in 1970, maintained strict discipline among the contestants who were not allowed to be married and what were called 'traditional family values' were rigorously enforced.
It was 1970 that spelled the beginning of the end of the contest despite never being more popular. The competition was almost half way through when about fifty women and a few men started throwing flour bombs, stink bombs and tomatoes at the stage while yelling, 'We are liberationists!' and 'Ban this disgraceful cattle market!' Leaflets were thrown all around, one of which showed a naked man tattooed with the slogan 'Morley is a Pimp'. Bob Hope, who was due to crown Miss World and was performing a routine when the protest started, quickly tried to flee the stage as the missiles flew by. He was hampered by Julia Morley, the wife of the organiser Eric Morley, who grabbed hold of his ankle in a desperate attempt to stop him leaving. Mr Morley got hold of Hope's microphone and yelled, 'Give the girls a chance!' It took only a few minutes for the police to restore order but in that short while the women's movement had in one fell swoop established itself in the country's consciousness, and in many ways the Miss World contest never really recovered. Historically the Royal Albert Hall was an apt place to hold a feminist protest: there had been over twenty suffragette rallies at the Royal Albert Hall between 1908 and 1918, making the venue an important part of the fight in the women's suffrage movement.
Meanwhile a clearly shocked Hope was persuaded by Eric Morley to get back on the stage where, for once not reading from idiot boards, he said, 'A nice conditioning course for the Vietnam!' and then continued, 'These things can't go on much longer. They're going to have to get paid off sooner or later. Someone upstairs will see to that. Anybody who wants to interrupt something as beautiful as this must be on some kind of dope.'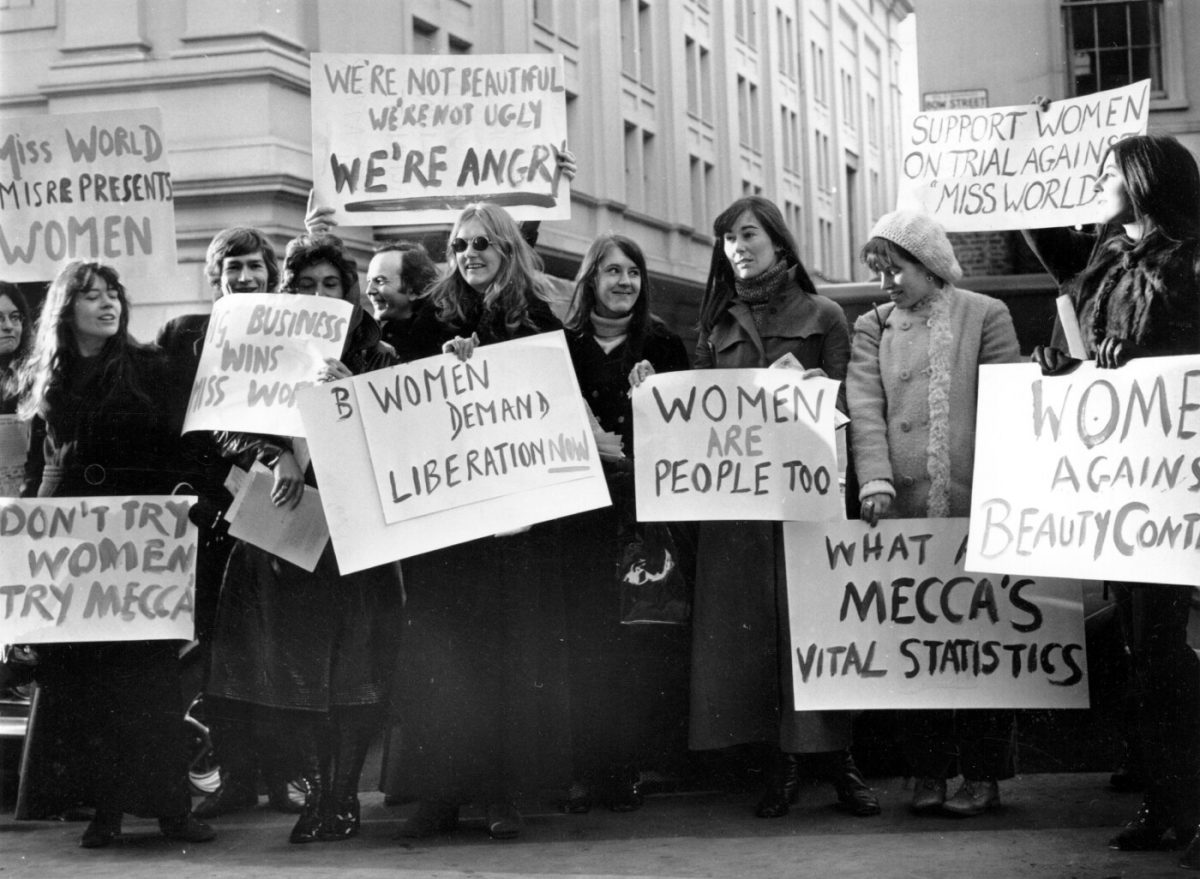 There was another protest about the 1970 Miss World contest – this time a collective disapproval of the result. After the contest had come to an end many of the audience gathered outside the Royal Albert Hall and started chanting 'Swe-den, Swe-den'. The BBC also received numerous phone calls complaining that the contest had been rigged. Four of the judges, it later came to light, had given first place to the Swedish entrant, a twenty-year-old model called Maj Christel Johansson, although, rather oddly, she only came fourth overall. Miss Grenada, the eventual victor, only got two first-place votes from the judges. Was it more than a coincidence that one of the judges, a Sir Eric Gairy, was the Premier of Grenada?
Miss Sweden, who was the favourite to win before the contest, probably didn't help her cause when two days earlier she had denounced the Miss World event, saying that she would have walked out if she wasn't under contract to the organisers: 'I don't even want to win. I was warned the contest was like a cattle market and I'm inclined to agree. I feel just like a puppet.'6 Jennifer Hosten was far better at toeing the Miss World party line: 'I do not really know enough about what they were demonstrating against, all I know is that it has been a wonderful experience competing for the Miss World title.'
In 1969 Eric Morley had become the managing director of Mecca but he also became a director of Grand Metropolitan Hotels. Grand Metropolitan took over Mecca a few months before the 1970 Miss World competition.  Four days after the contest, the protests about the result were still dragging on and Julia Morley, although insisting that no vote-rigging had occurred, resigned from her post as organising director saying, 'Perhaps I was just not the right person to organise the contest. I have had enough.' Luckily for Julia Morley, her husband ran the Miss World organisation and after the fuss had died down she was reinstated a few days later. In one way or another, the Miss World competition never really recovered from the various protests at the 1970 contest and the BBC withdrew from televising the event ten years later.