Fashions in 1966 were poised perfectly between two extremes – the conservative era before, and the batshit crazy 1970s. You end up with a harmony of elegance with counter-culture. Here are a few fashion spreads magazines from that year, proclaiming the "in styles" of '66. I've included not only the pictures, but some of the text, because mid-Sixties fashion descriptions are half the fun. Enjoy!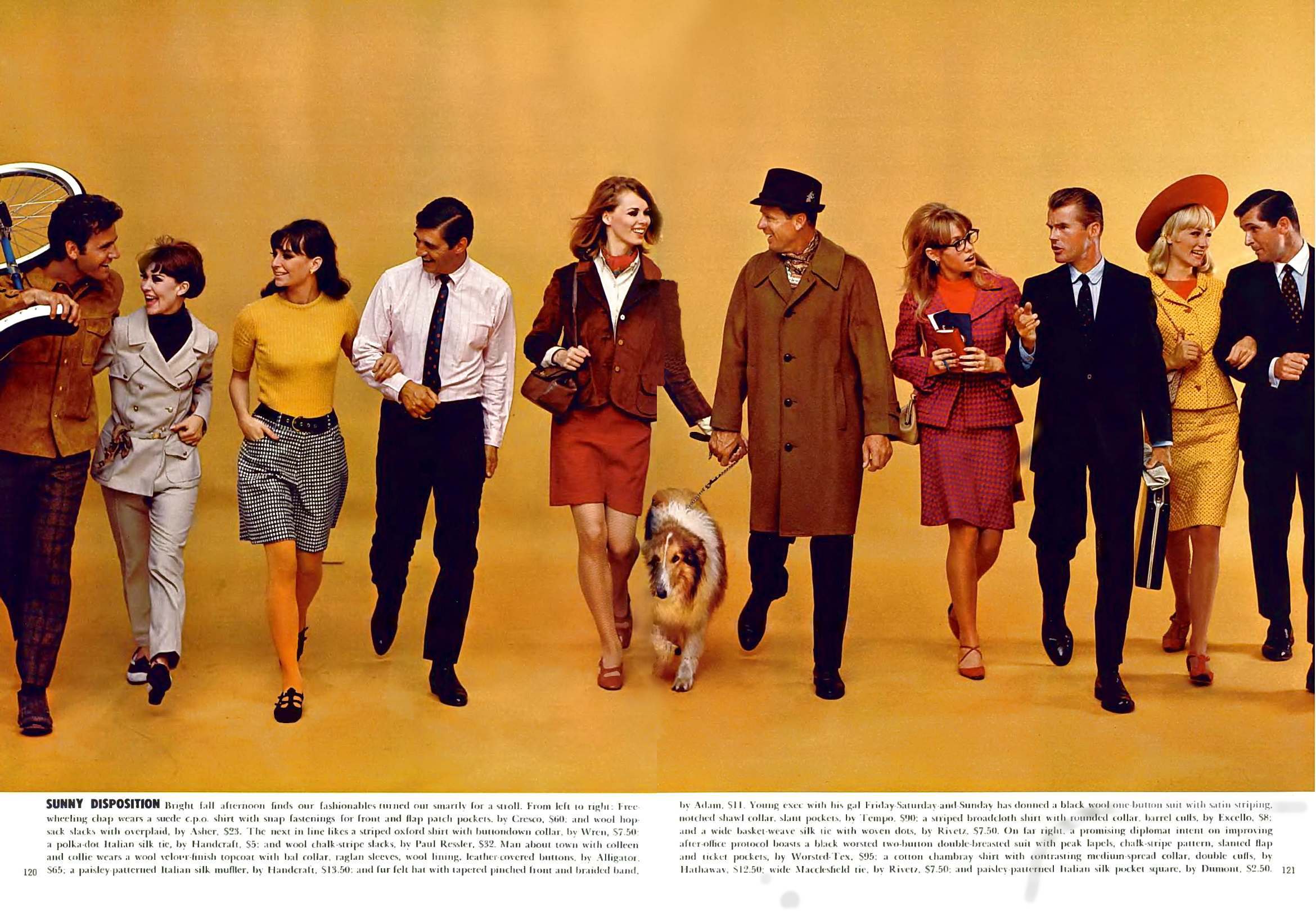 "Bright fall afternoon finds our fashionables turned out smartly for a stroll.  From left to right:  Free wheeling chap wears a suede c.p.o. shirt with snap fastenings…."  and the description for the guy with the briefcase "Young exec with his gal Friday, Saturday and Sunday has donned a black wool one button suit …" and, finally, on the far right: "a promising diplomat intent on improving after-office protocol boasts a black worsted two=button double-breasted suit with peak lapels…"
"Out for a gusty autumn romp, our sartorial pace-setters are putting their right fashion foot forward.  From left to right: Fellow toting beauty and the brut wears a Mod-influenced Dacron and wool three-button dinner jacket…." and "Casual lad at center making a grandstand play cottons to ca cotton corduroy three-button sports jacket…. Cheerleader hip-hoorays for sueded leather double-breasted trench coat with rull removable belt….. Our unlonesome end man is decked out in a double-knit cashmere cardigan by Jantzen…."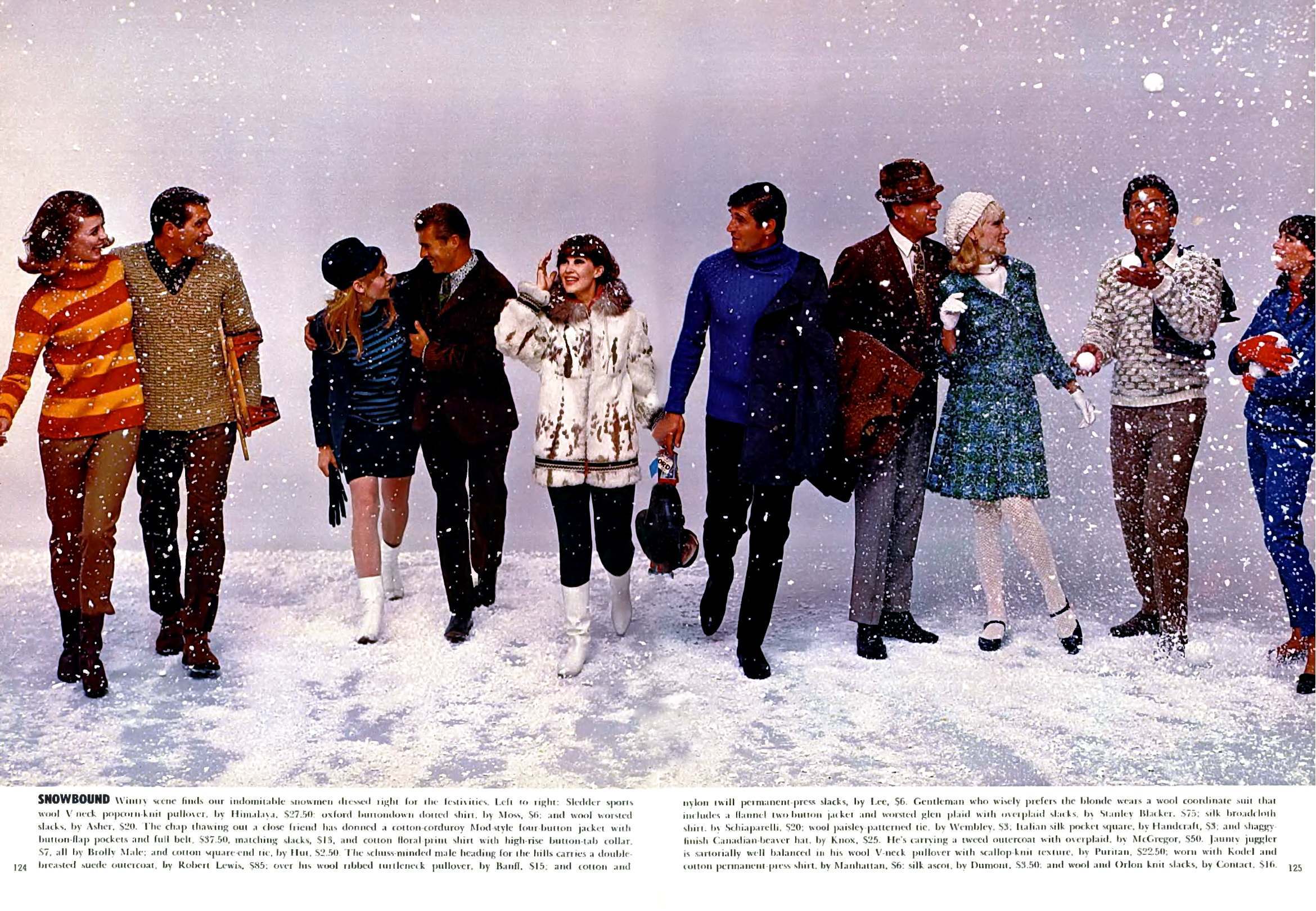 "Winter scene finds our indomitable snowmen dressed right for the festivities… Gentleman who wisely prefers the blonde wears a wool coordinate suit that includes a flannel two-button jacket….. Jaunty juggler is sartorially well balanced in his wool V-neck pullover with scallop-knit texture."
Left: "The right sparkle for this sylvan scene is provided by the yellow-and-blue microskirt in stretch velour with matching top, perfect for observing natural treasures."
Right: "With fabled British nonchalance, a micro-maid marches through the troublesome traffic in Trafalgar Square in her see-through auto stopper of blue-and-white knit cotton."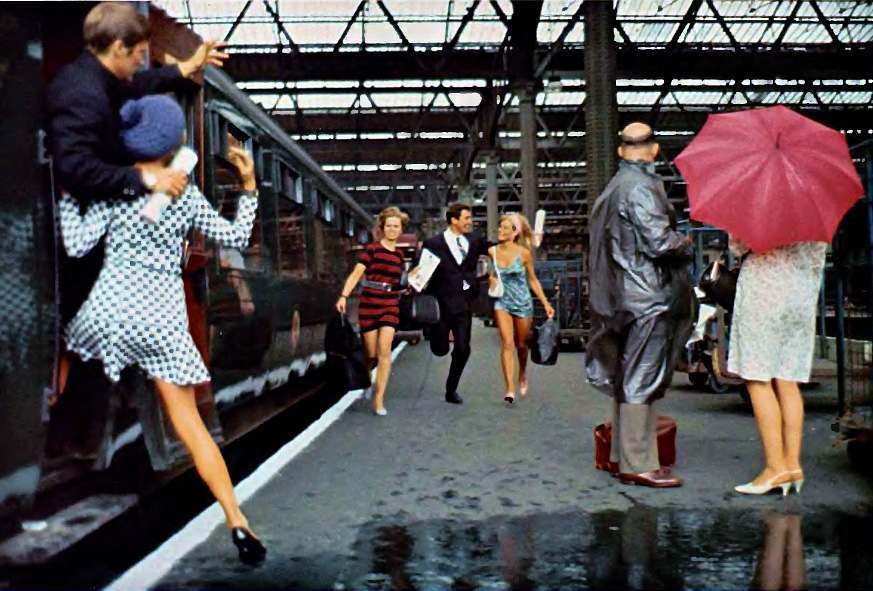 "The hurried miss hastening to meet the train at Waterloo Stations has plenty of free play for her legs in her high and low cut blue flowered dress for the lightest of traveling…. Keeping pace with her is the dolly in the red-and-black striped cotton knit dress…."
Left: "'Nothing at All' is all that shields the burnished blonde poised at dockside from the rays of the sun.  'Nothing at All' is the apropos appellation given her nibbed wool dress in the disquieting shade of 'poison green' fashioned by Rudi Gernreich, who pioneered exposure in public when he premiered the topless bathing suit in the simmering summer of 1964.
Right: "The nuder look has been sustained by members of the younger generation who are unwilling to return to the duller and more decorous styles of the past"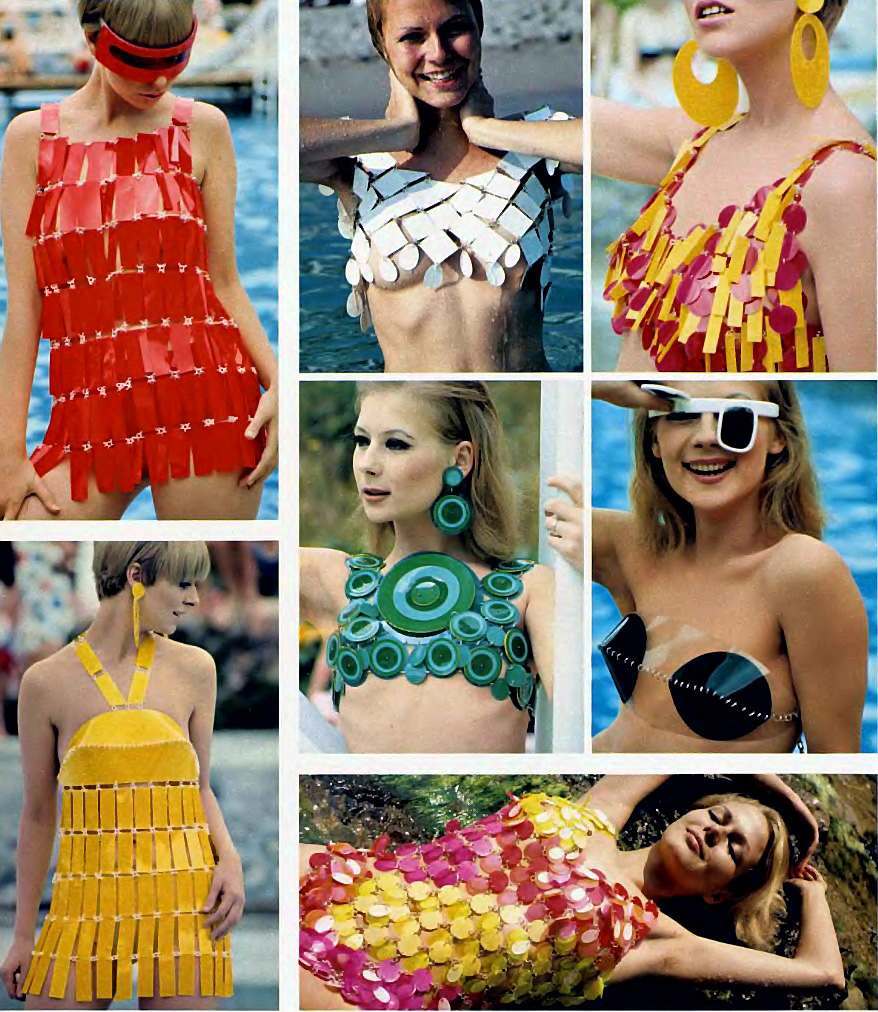 "Paco Rabanne's starkly geometrical plastic swimsuits employ contemporary materials with a classic simplicity, conjuring up timeless images.  Rabanne's modern male-female approach is most apparent in air-conditioned outfit, above right, designed to show and shield a fair lady.  The girl in the center wears a bolero of disks emblazoned with concentric circles, suggesting the armor of Attic warriors.  The lass on her left, peering through one of Poco's opulent optics, shielded by breastplates that further delineate a common interest of ancient and modern times…"
"With eye-pleasing eclecticism, the purveyors of the nude look have sought inspiration from other cultures, and in so doing have discovered strikingly similar fashions for the display of feminine charms. "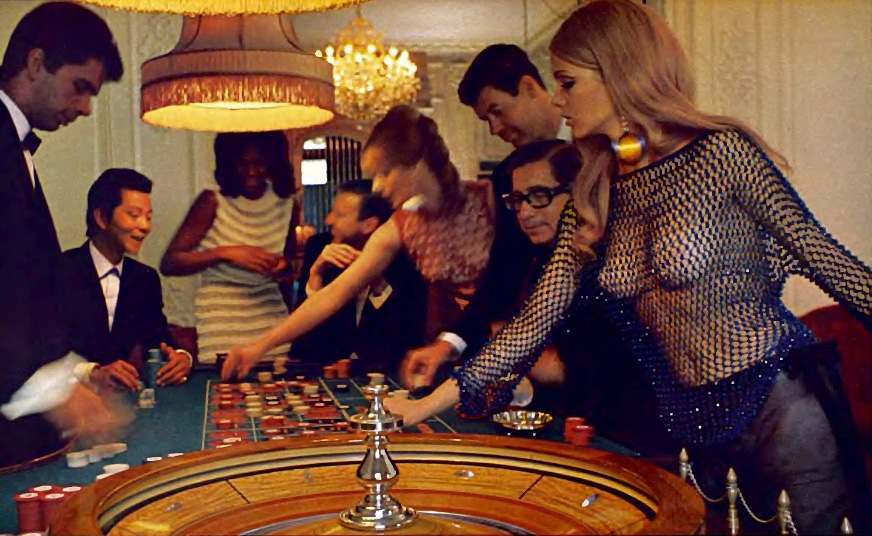 "At the Pair of Shoes Gambling Club in London, well-appointed wheel watcher has the right number with a blue beaded blouse and black organza trousers…"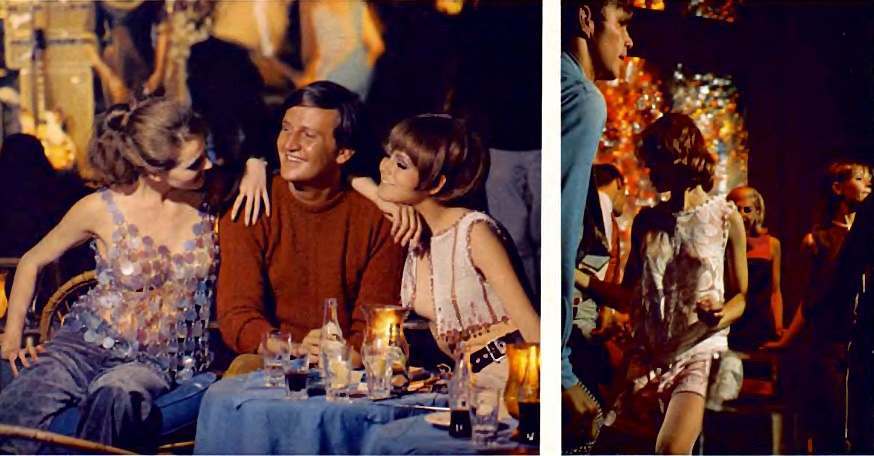 "The owner of Club Valbonne in Cannes is flanked at one of his tables by a pair of curvilinear customers in original tops by Paco Rabanne…" at right "The girl in the white lace culotte dress, frugging the night away at Chicago's Le Bison Discotheque, and her date can thank Oleg Cassini for this inviting design."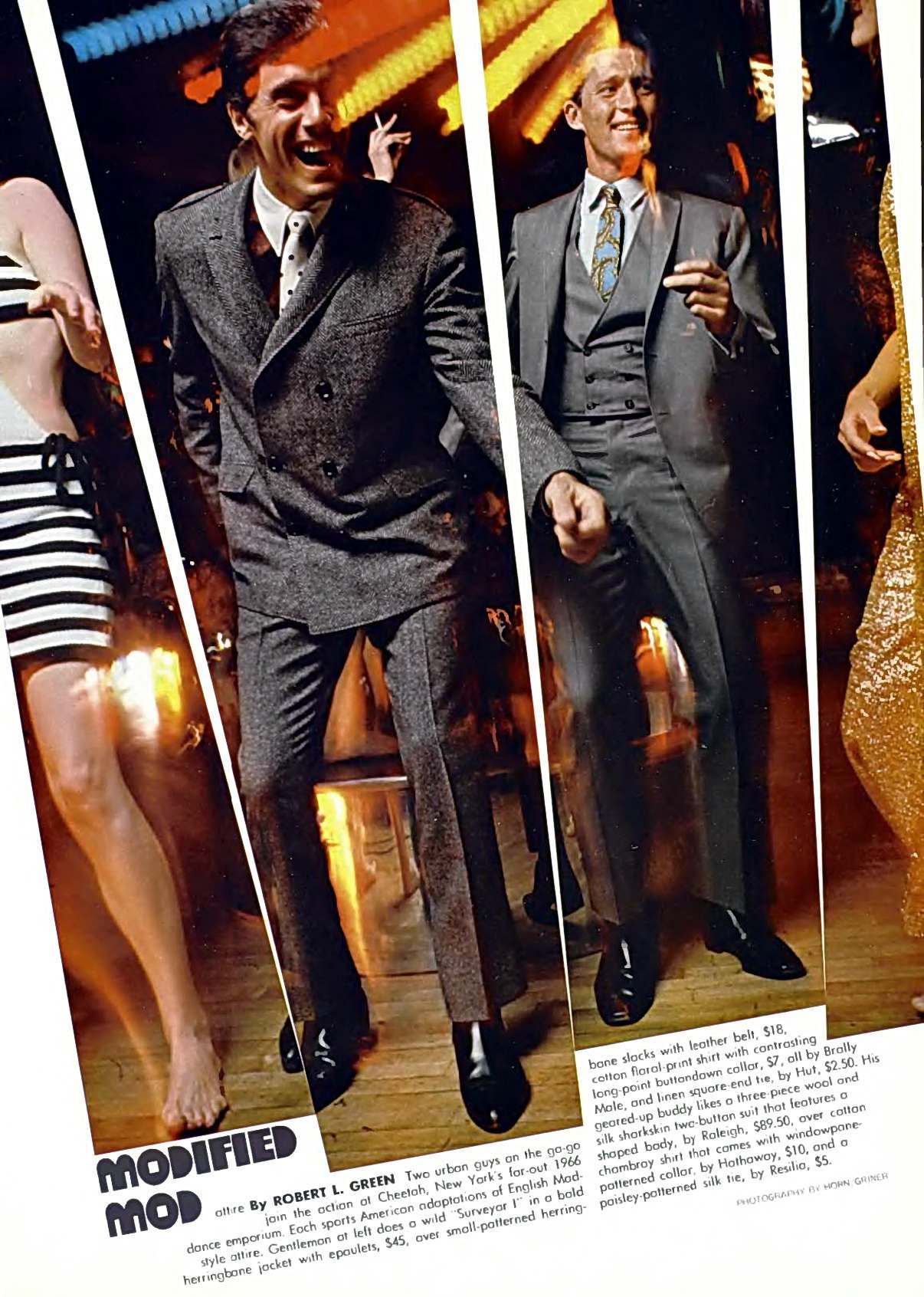 "Two urban guys on the go-go join the action at Cheetah, New York's far-out 1966 dance emporium.  Each sports American adaptations of English Mod-style attire…."