We all know that airlines frequently used their stewardesses as a lure to get men aboard.  But the "sex sells" approach didn't end there.  TWA, Braniff, Pan-Am, Delta, et al. used any means necessary to get passengers (predominately men) to choose their airline.  And "any means necessary" basically meant the tried-and-true sex-sells approach.  Indeed, Southwest Airlines literally used the motto "sex sells seats". Here are just a few examples…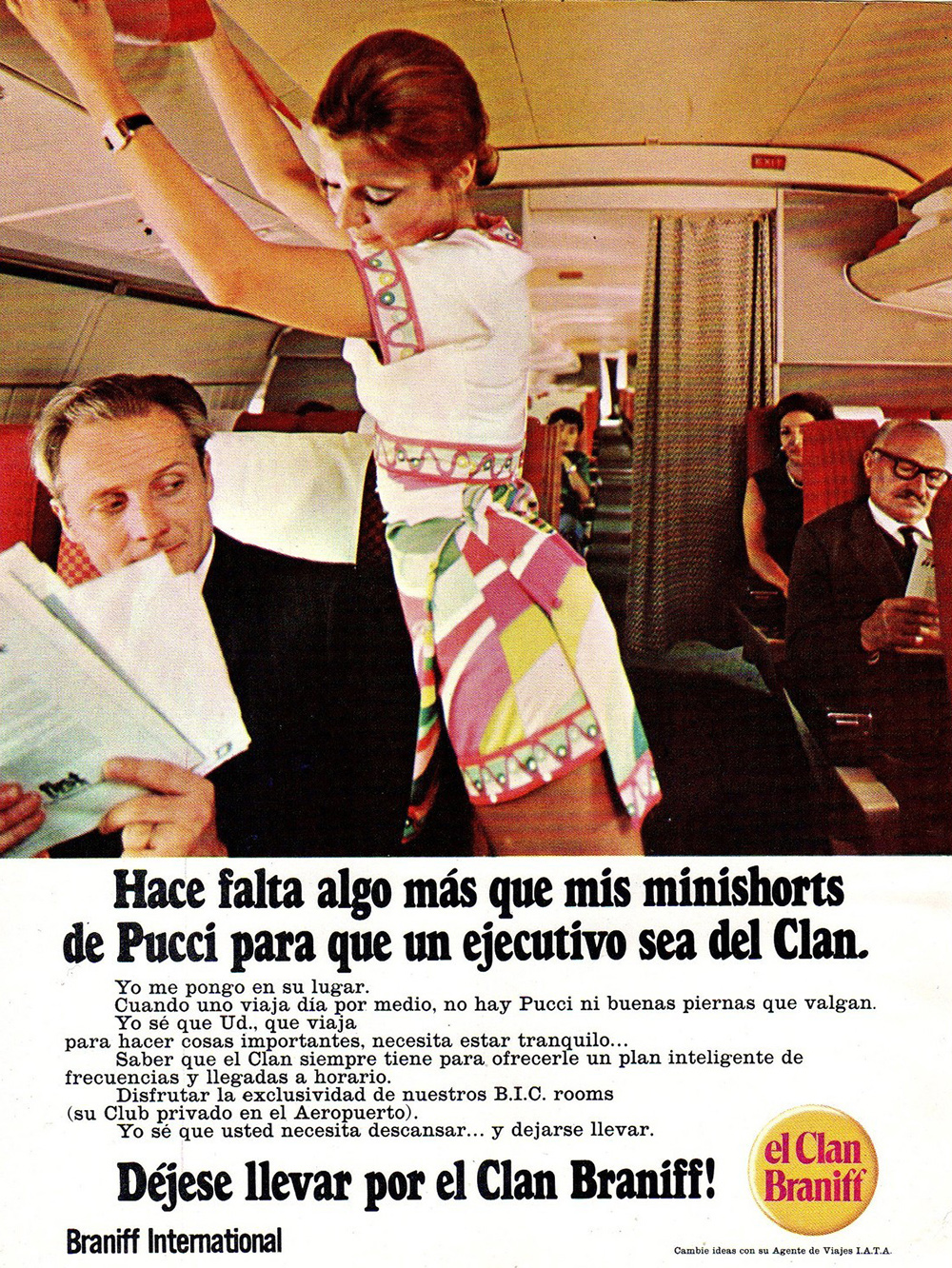 I don't speak Spanish, but this translates to roughly – "It takes more than my minishorts to get this business guy to fly Braniff".  In other words, there's lots of amenities on Braniff, but we're going to point out the primary one – the stewardess' legs all up in your face.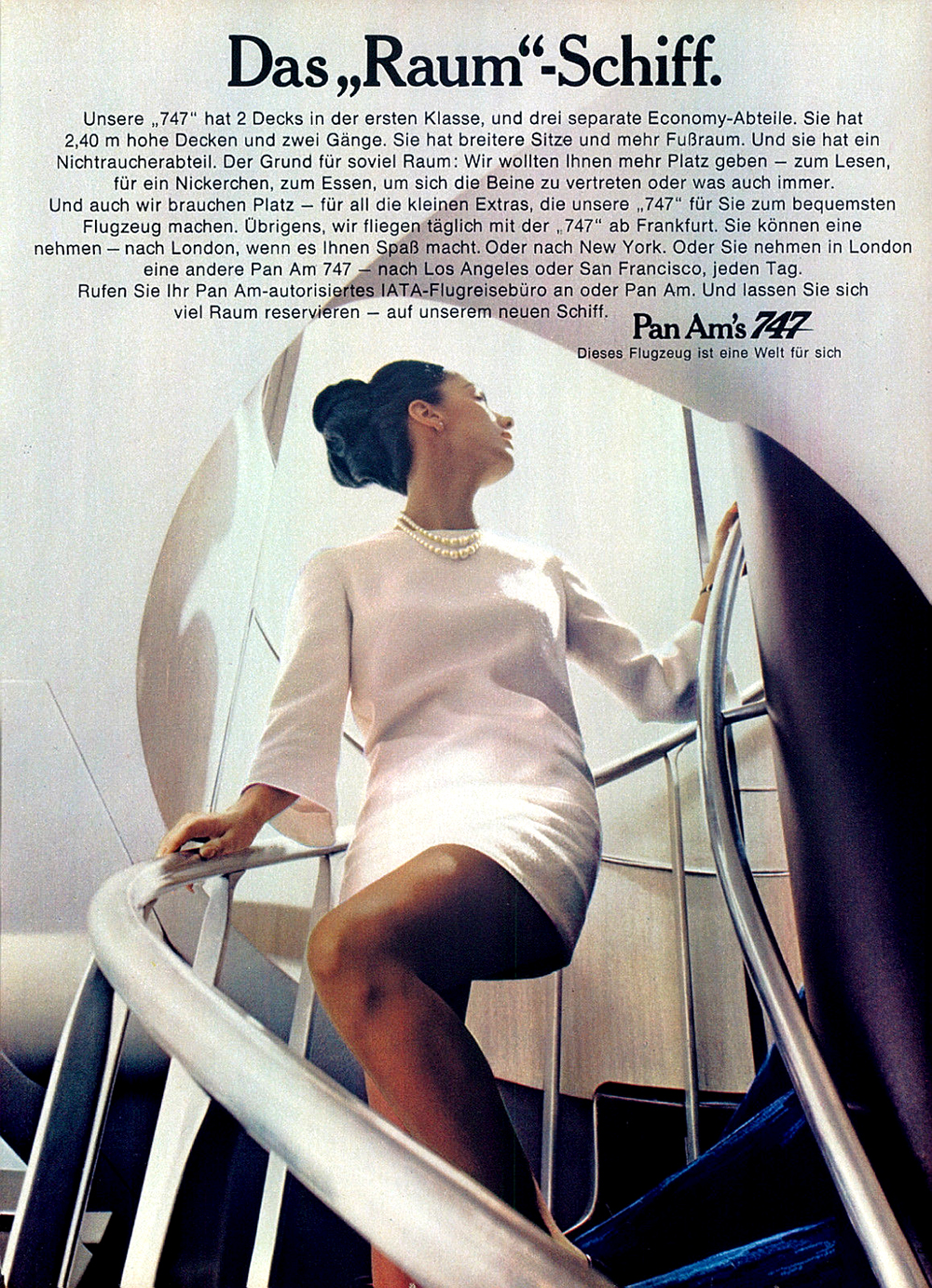 German Pan-Am advertisement which conveniently chooses to use an upward view of a miniskirted lass descending a staircase.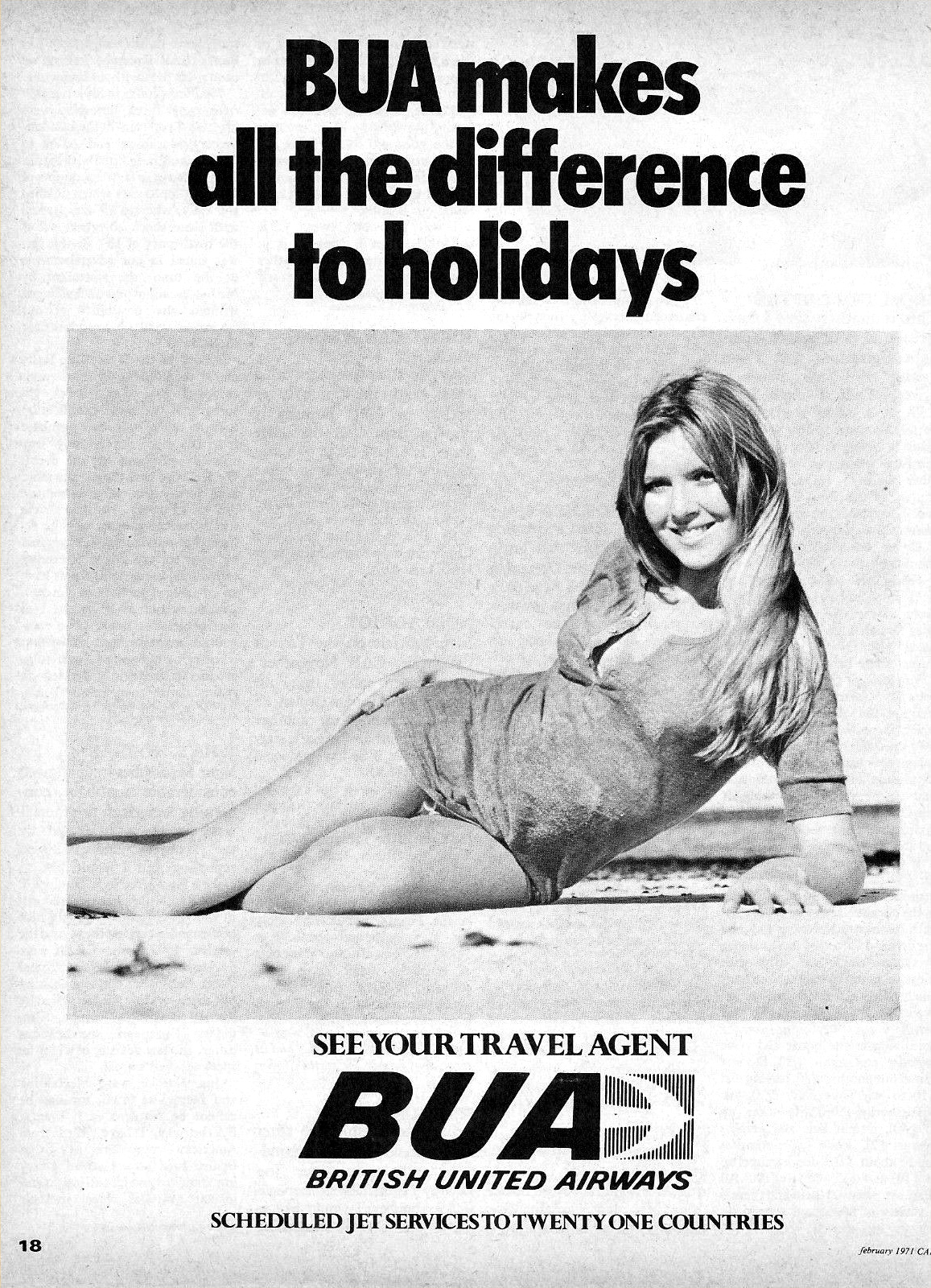 This British United Airways advertisement from 1971 doesn't even try to be sly about it.  They just slap a picture of a sexy girl on a beach and tell us to see a travel agent. I respect the simplicity – why play around with crafty innuendo, when this is really all you need.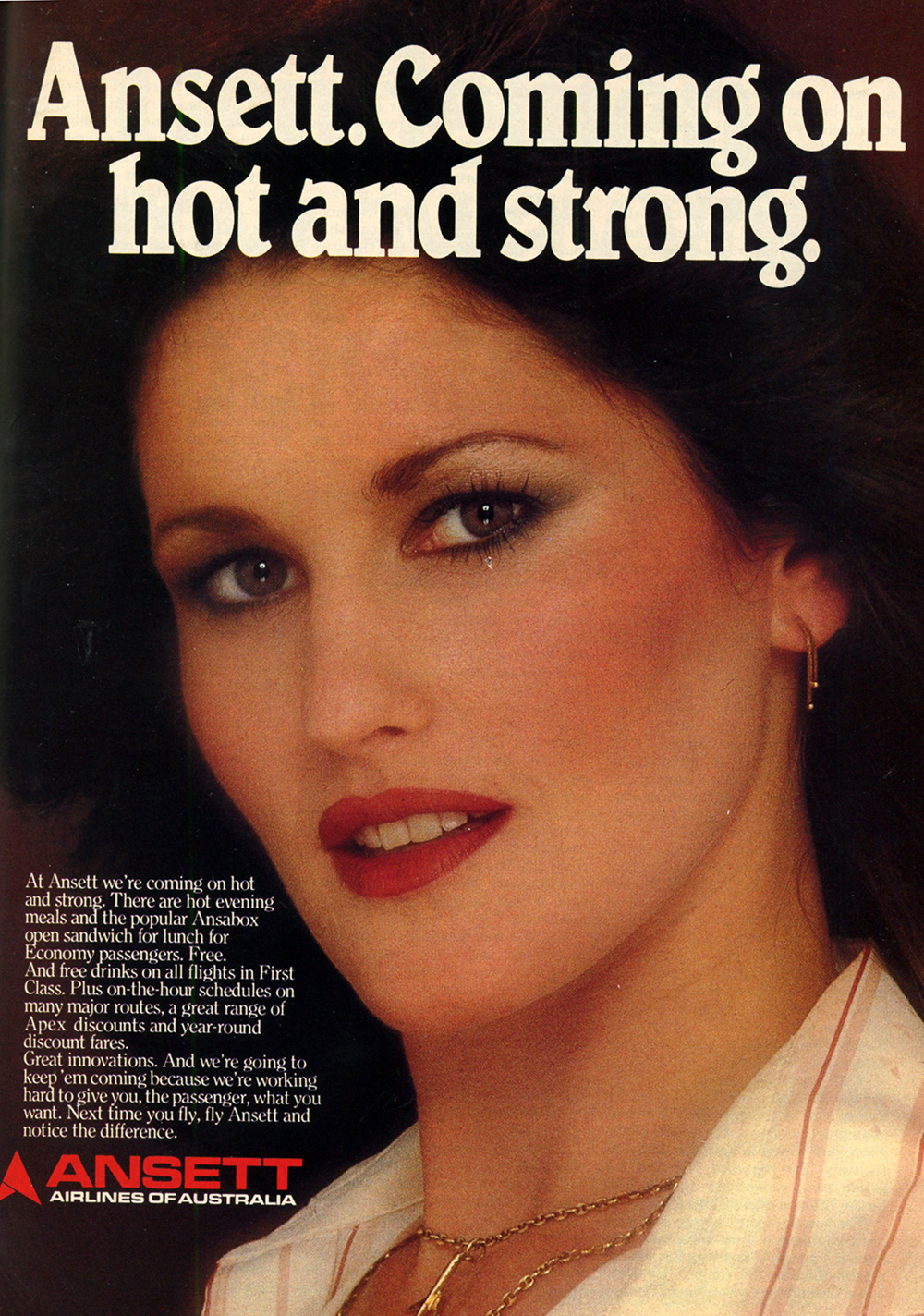 Ansett Airlines says they're "coming on hot and strong"… what you don't realize is that they're referring to their open-faced hot sandwiches (free even for economy seats).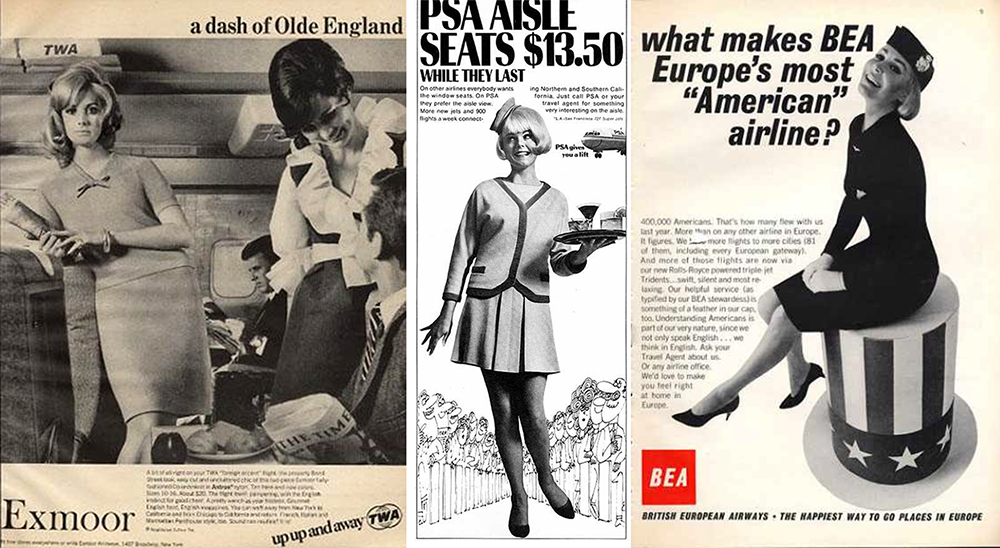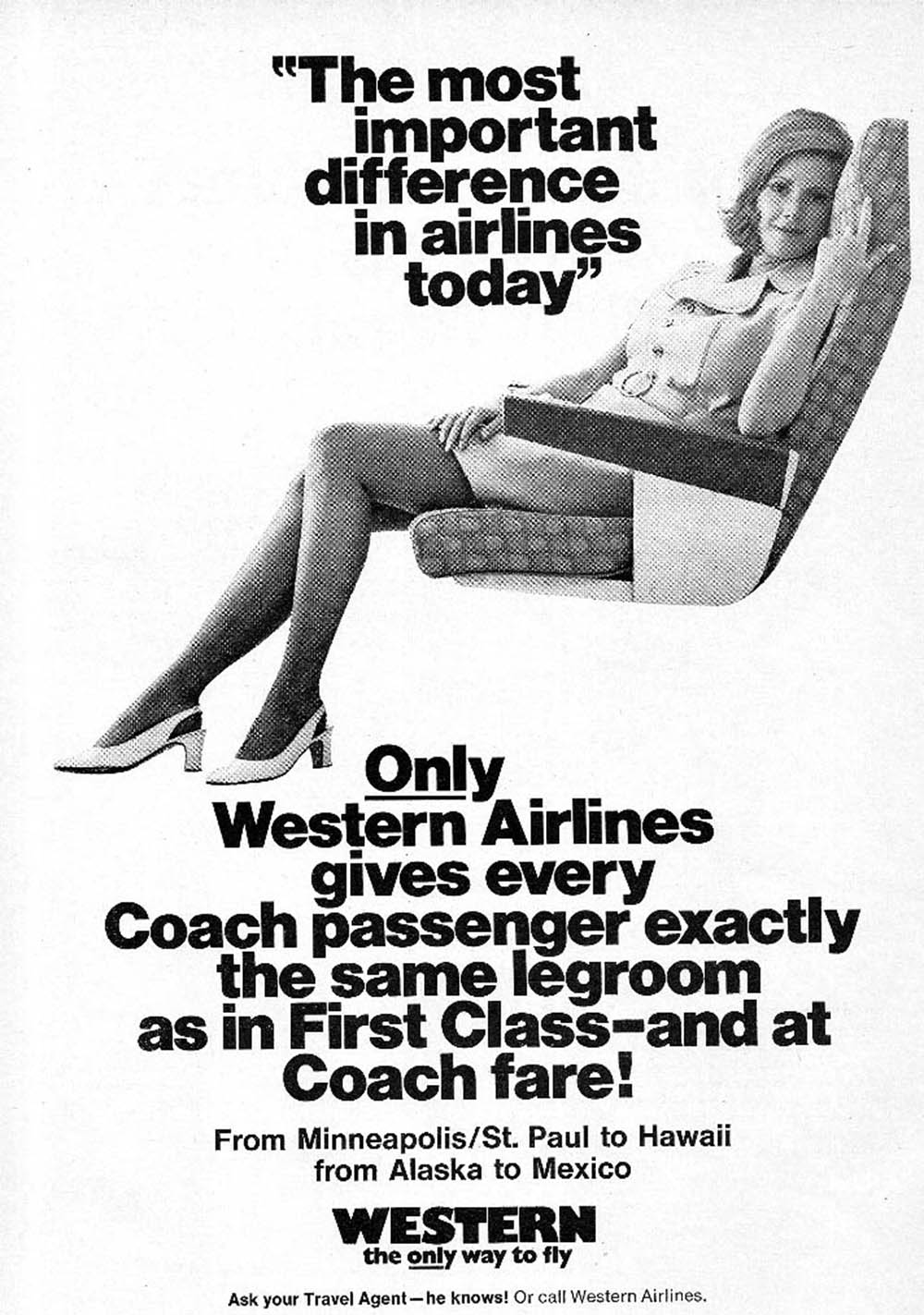 I'm impressed that Western offered the same leg room for coach as first class… and even more impressed by their visual aids.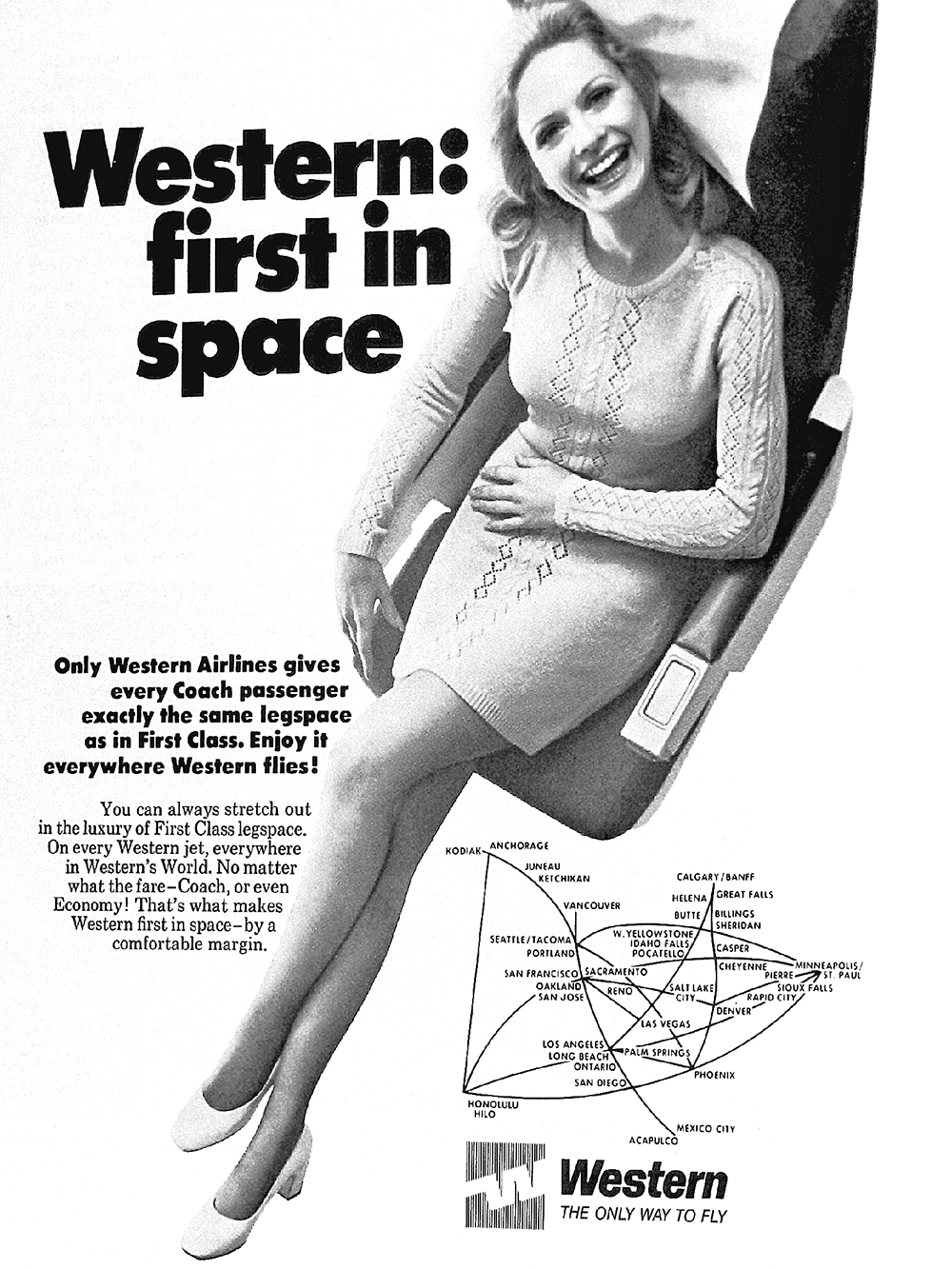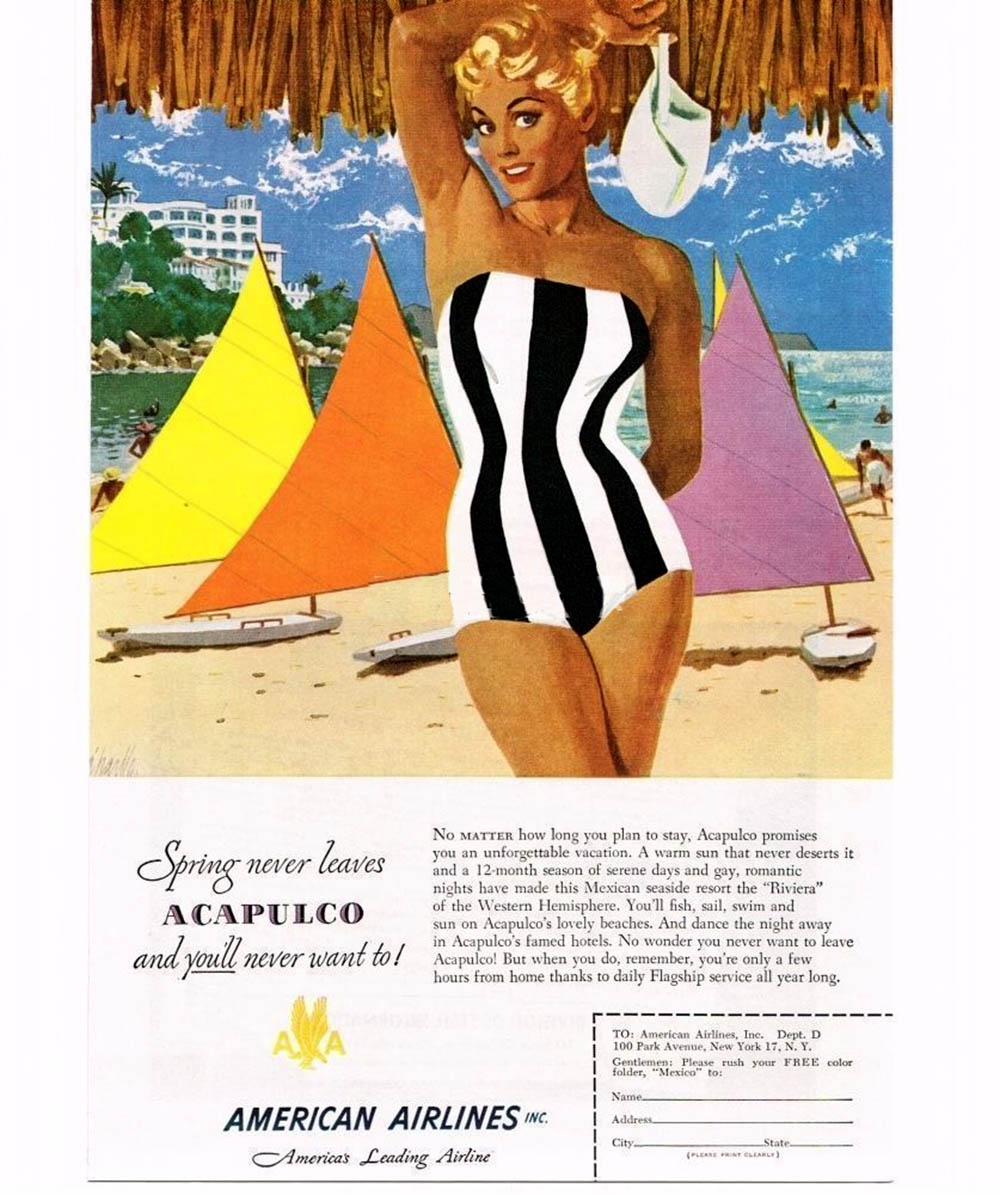 American Airlines – 1953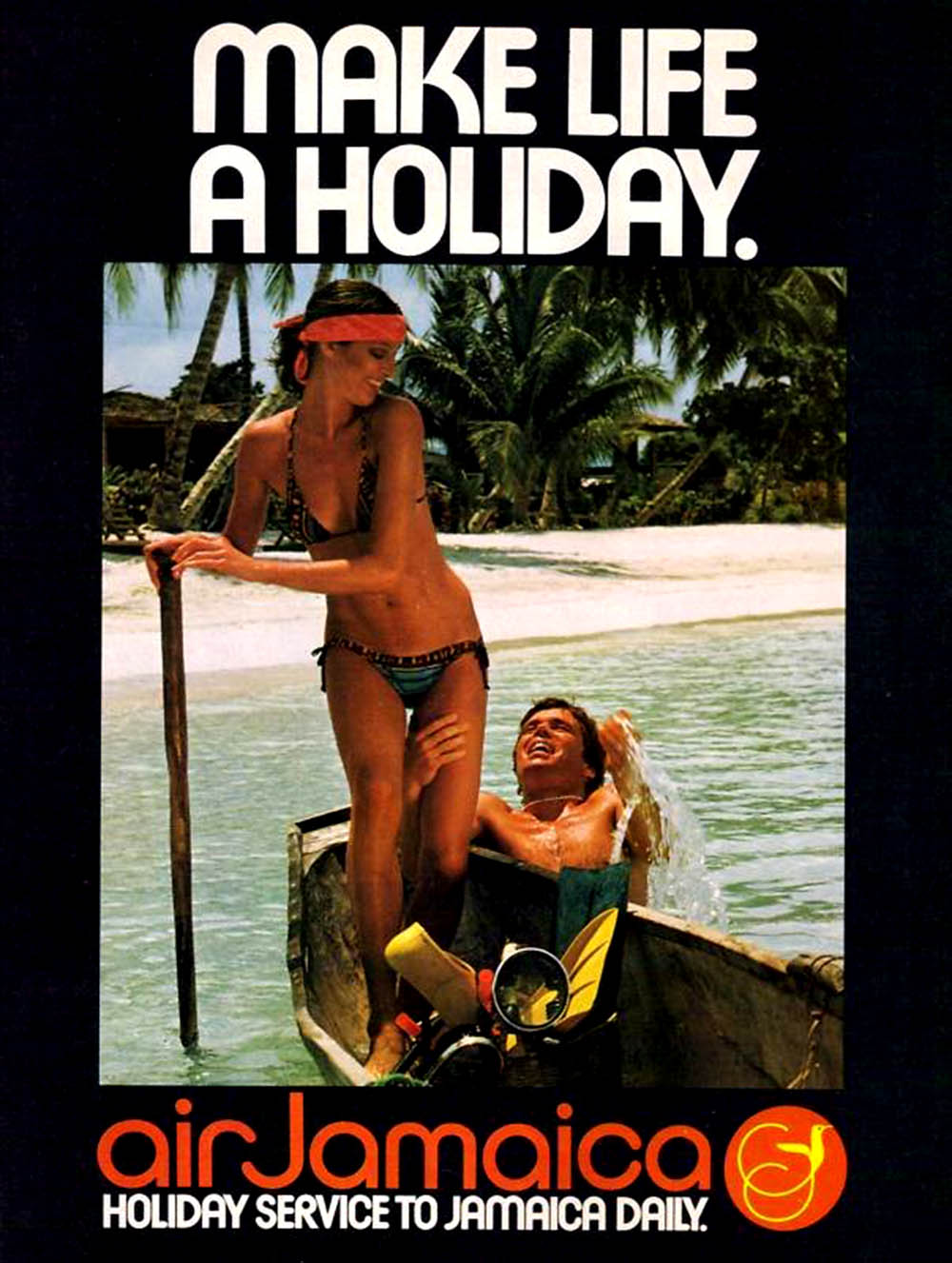 Gee, I wonder what demographic is being targeted by this Air Jamaica advertisement?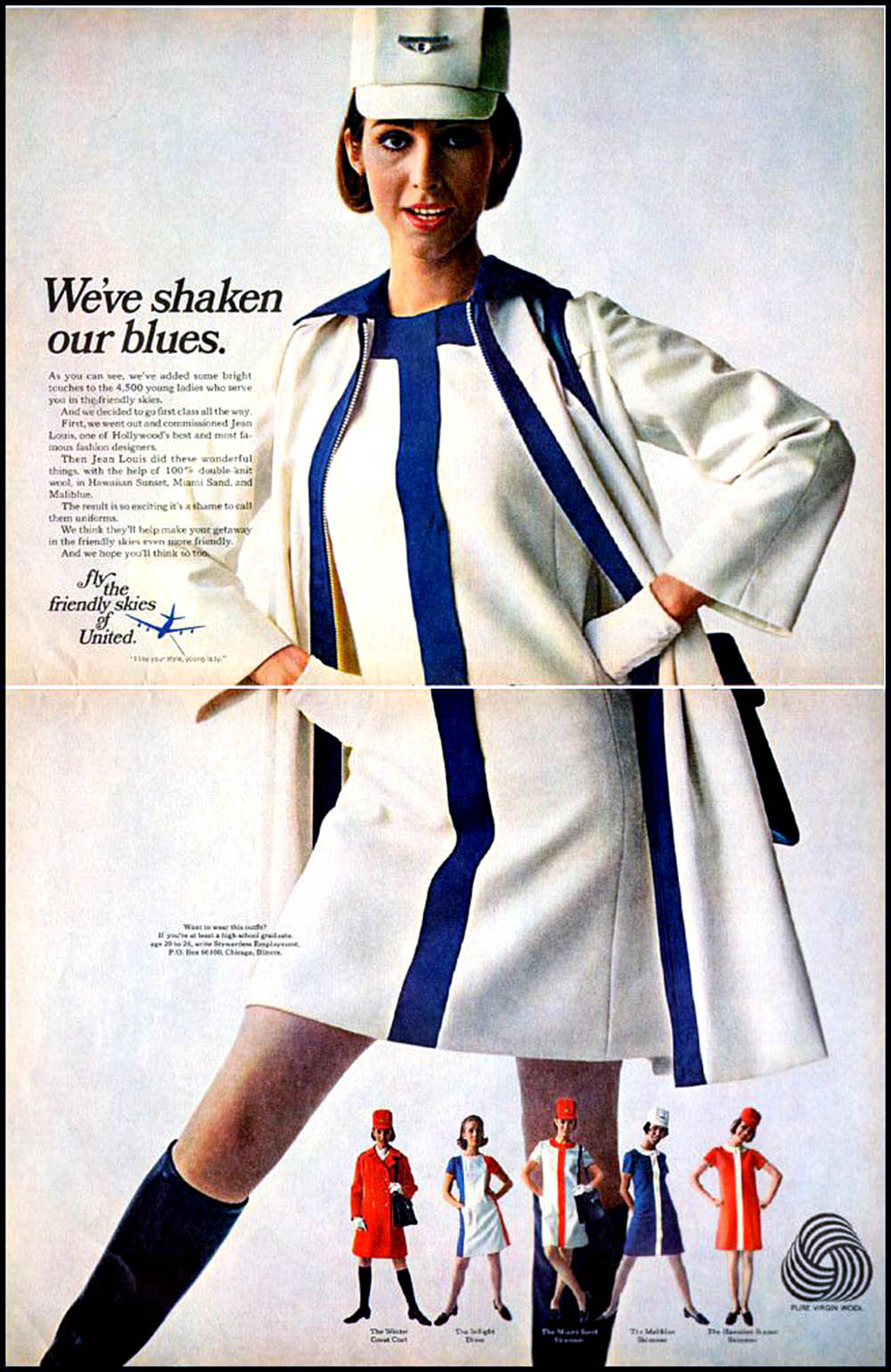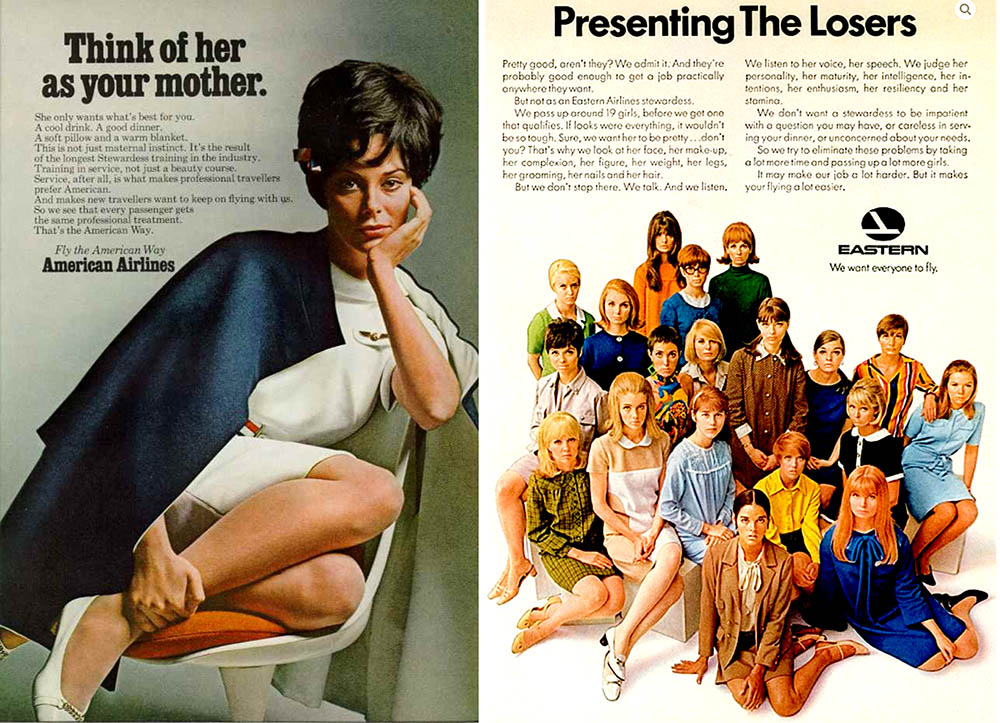 This American Airlines is often used as an example of "sexist" advertising.  But, as you can see, it was by no means exceptional.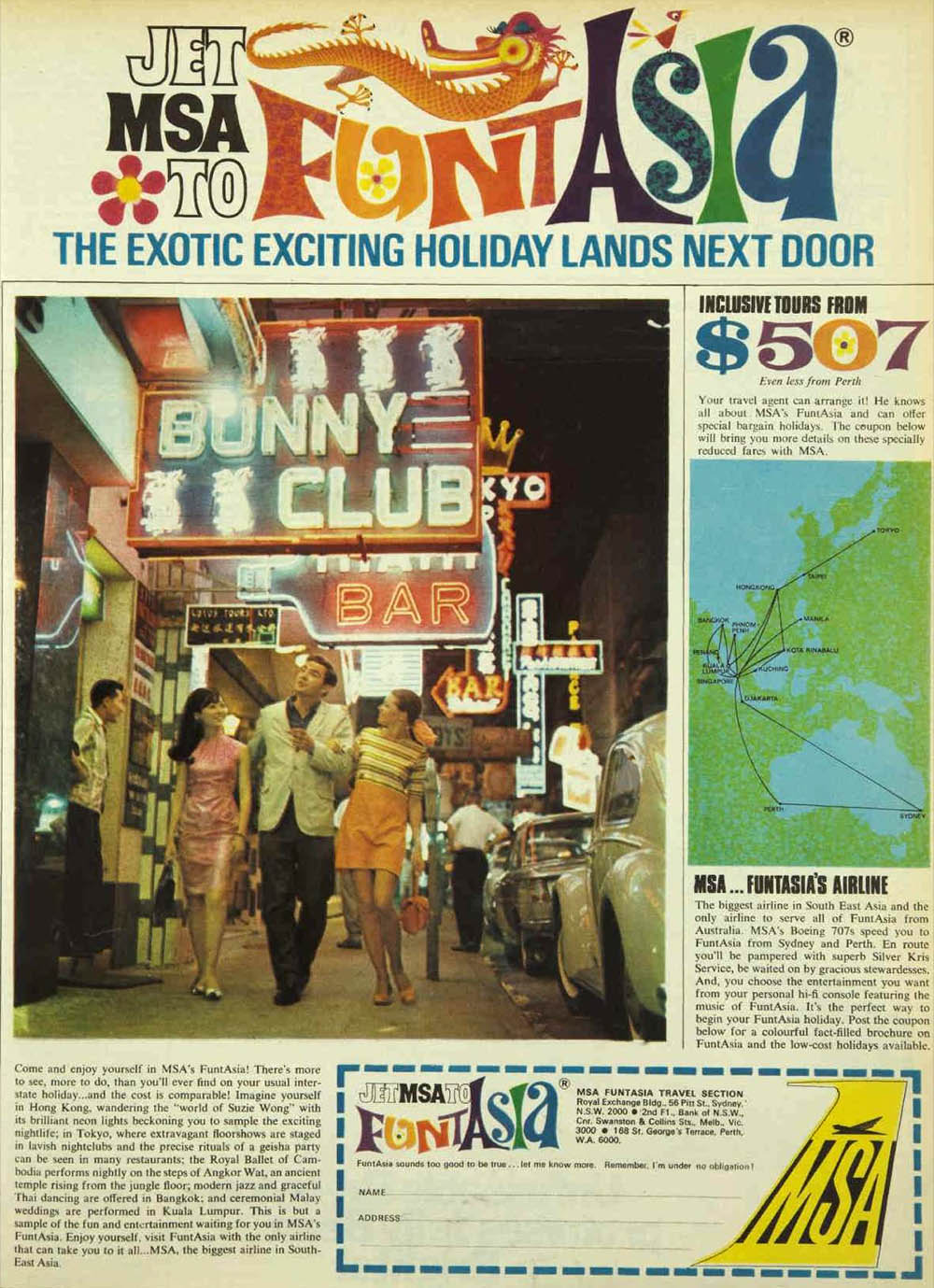 Malaysia–Singapore Airlines (MSA) isn't just selling you on seeing Asia… MSA is selling you on the Bunny Club and other exotic delights.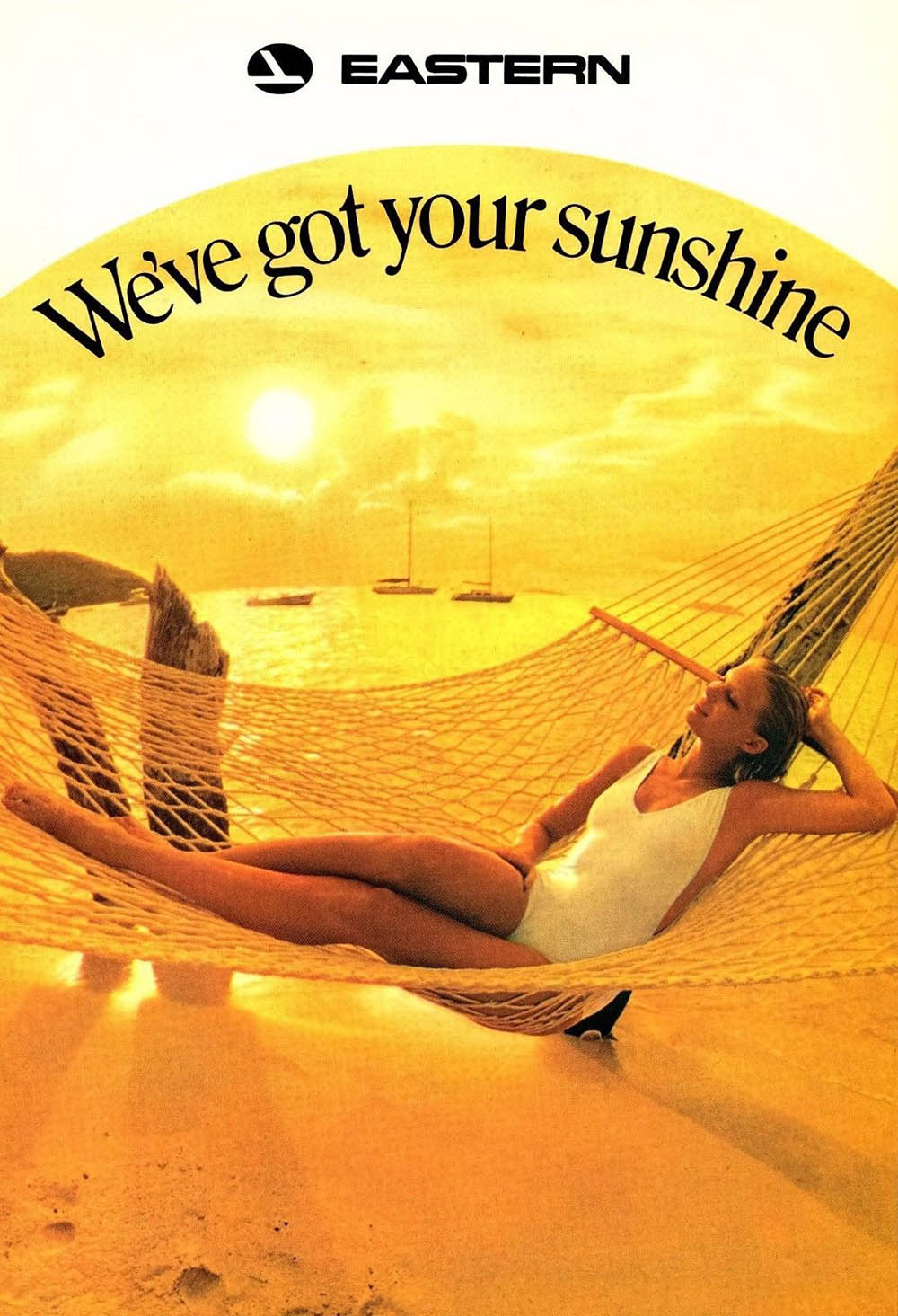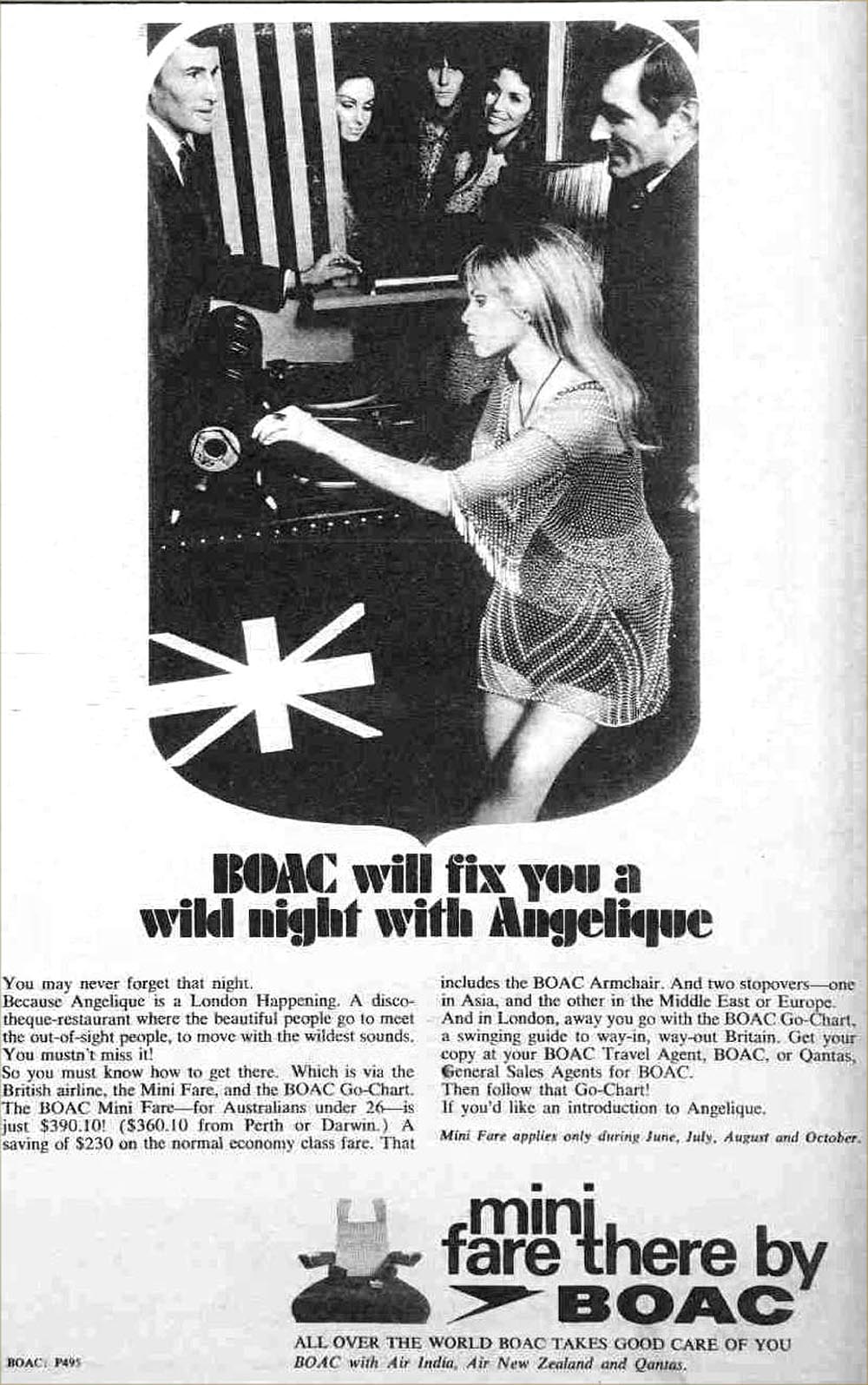 This 1968 British Overseas Airways Corporation (BOAC) ad may be the most overt and disingenuous. "The BOAC will fix you a wild night with Angelique."  Of course, Angelique isn't a British bird in a mini, but rather a restaurant-nightclub.  Still, the promise of hooking up with a chick from Swingin' London is in full effect.
Below, the BOAC are at it again in 1966 saying, "You can dare the bikini you wouldn't wear back home."  I think it's a safe bet more than one man bought a ticket to investigate the truth to this claim.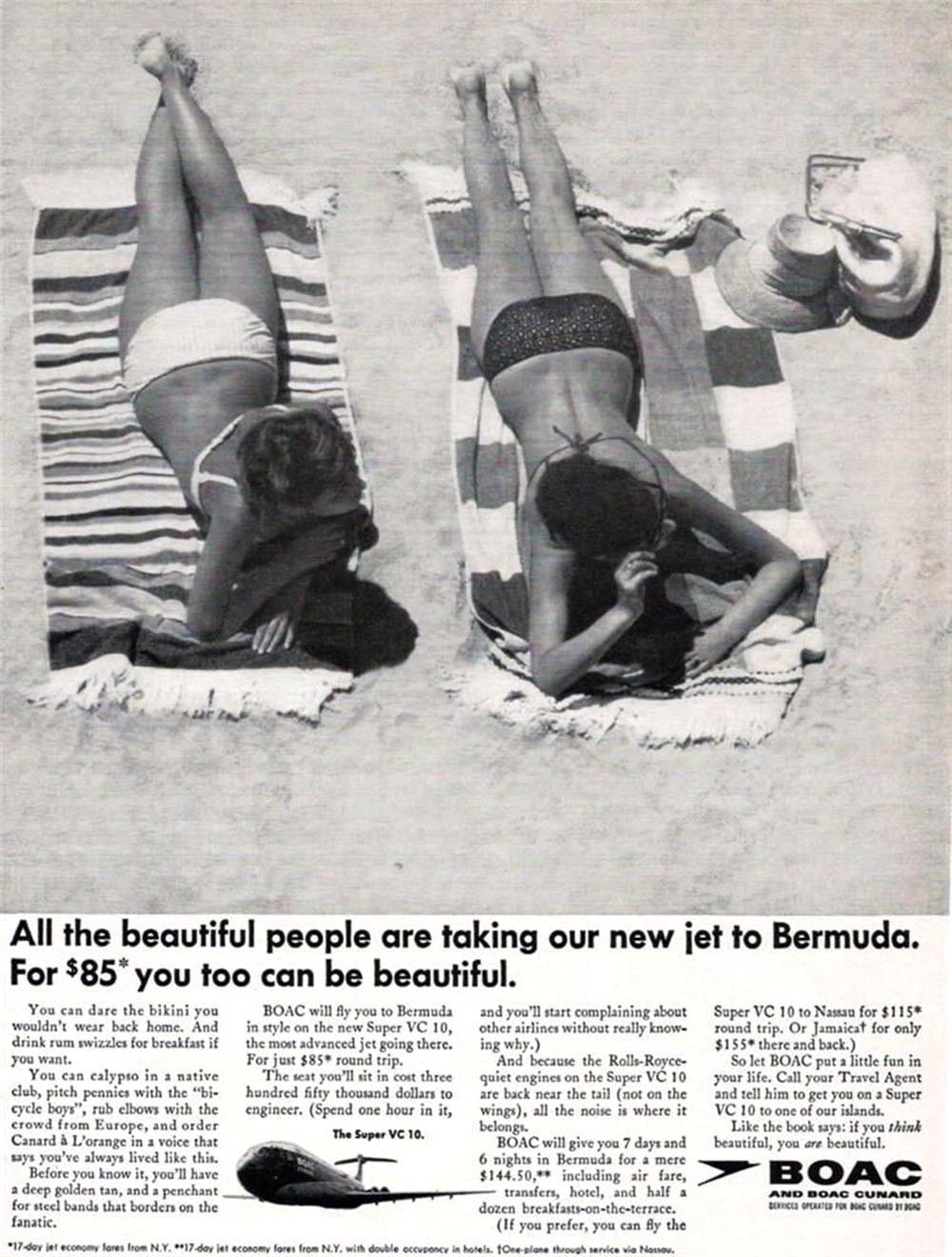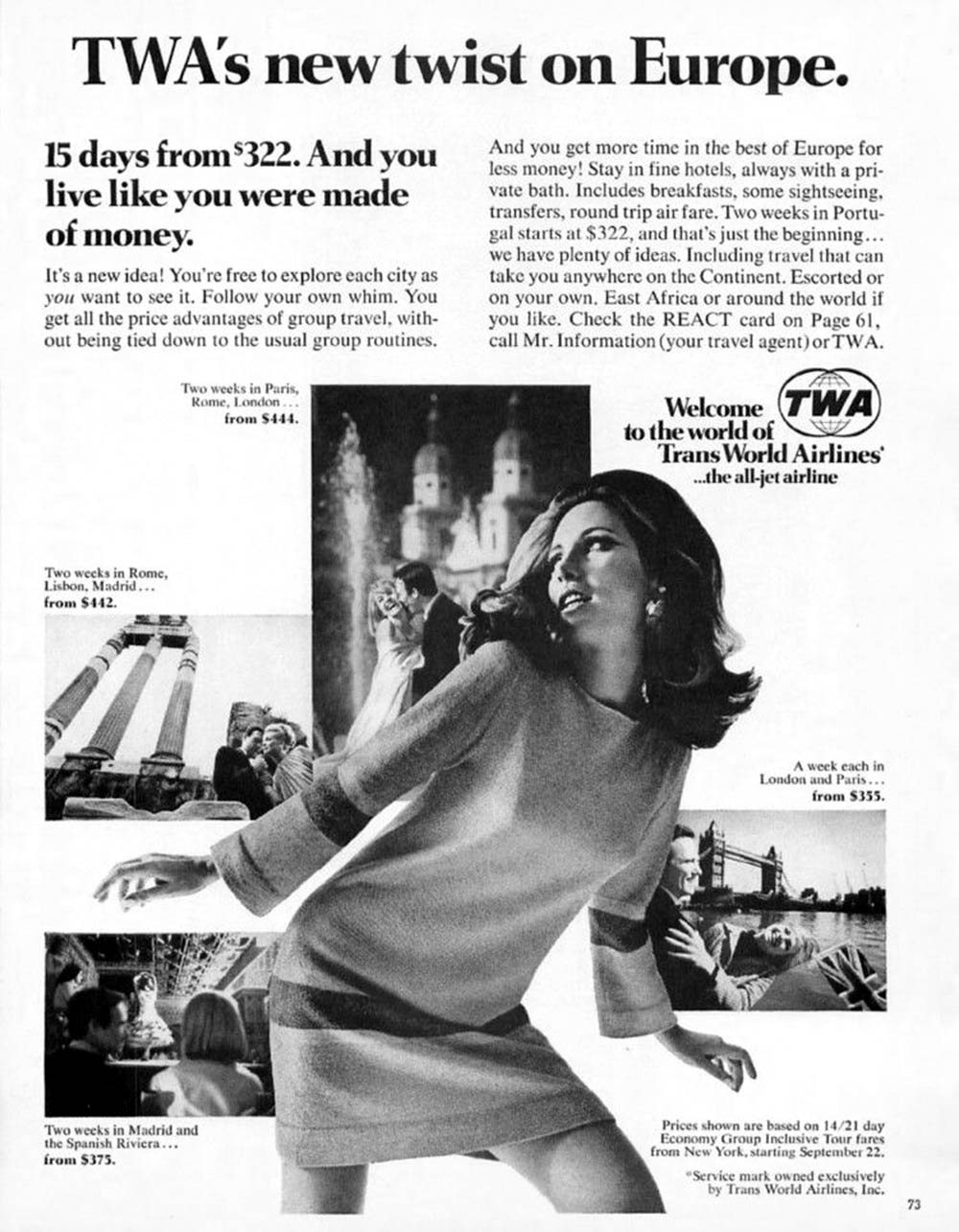 Of all the wonders of Europe, this 1967 TWA ad chooses to focus on a chick in a miniskirt.  They really knew their audience.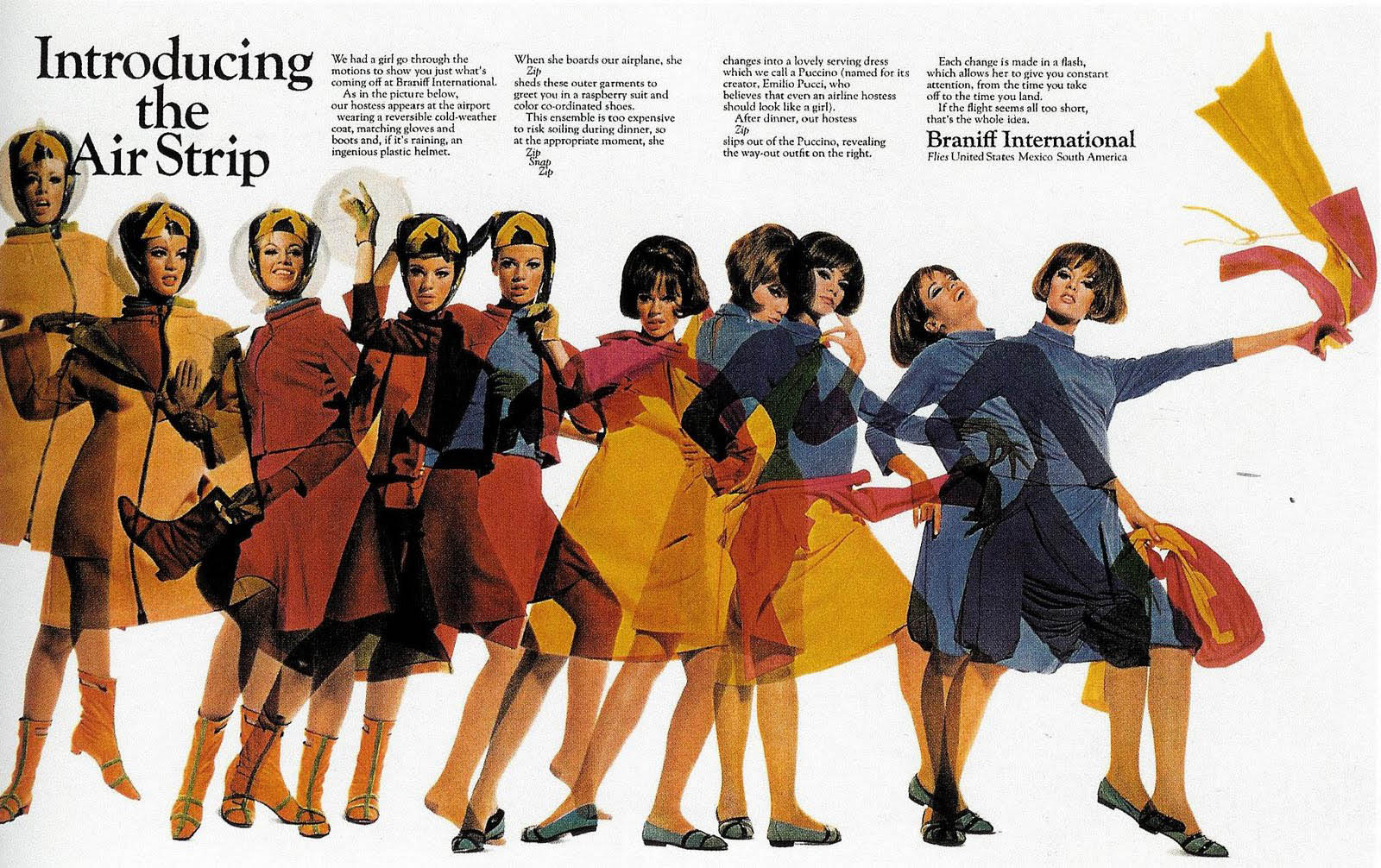 Braniff had a TV commercial to accompany their "Air Strip" ads: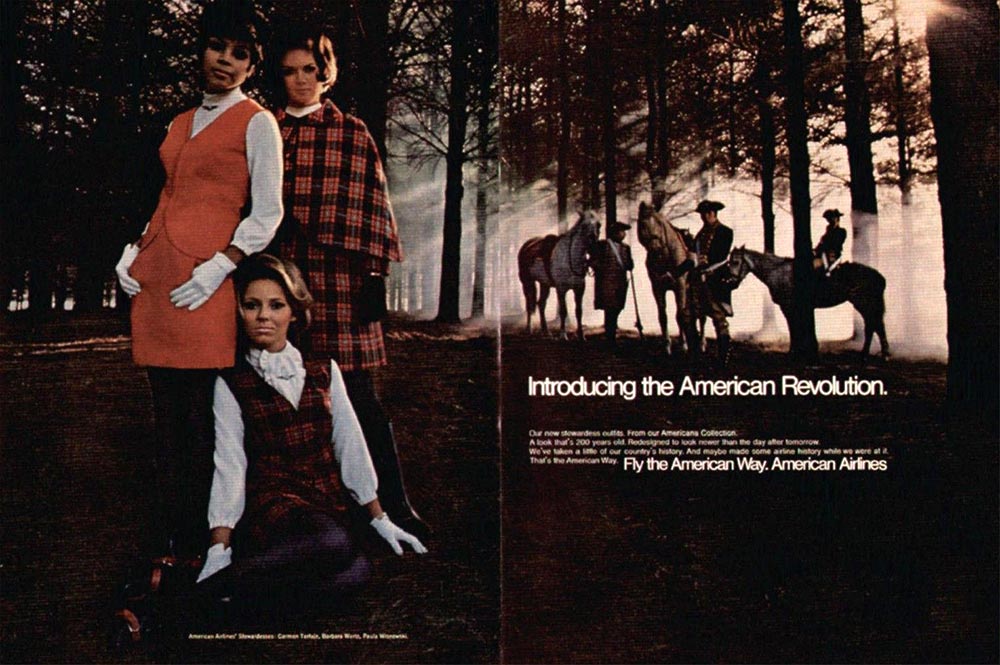 1969 – American Airlines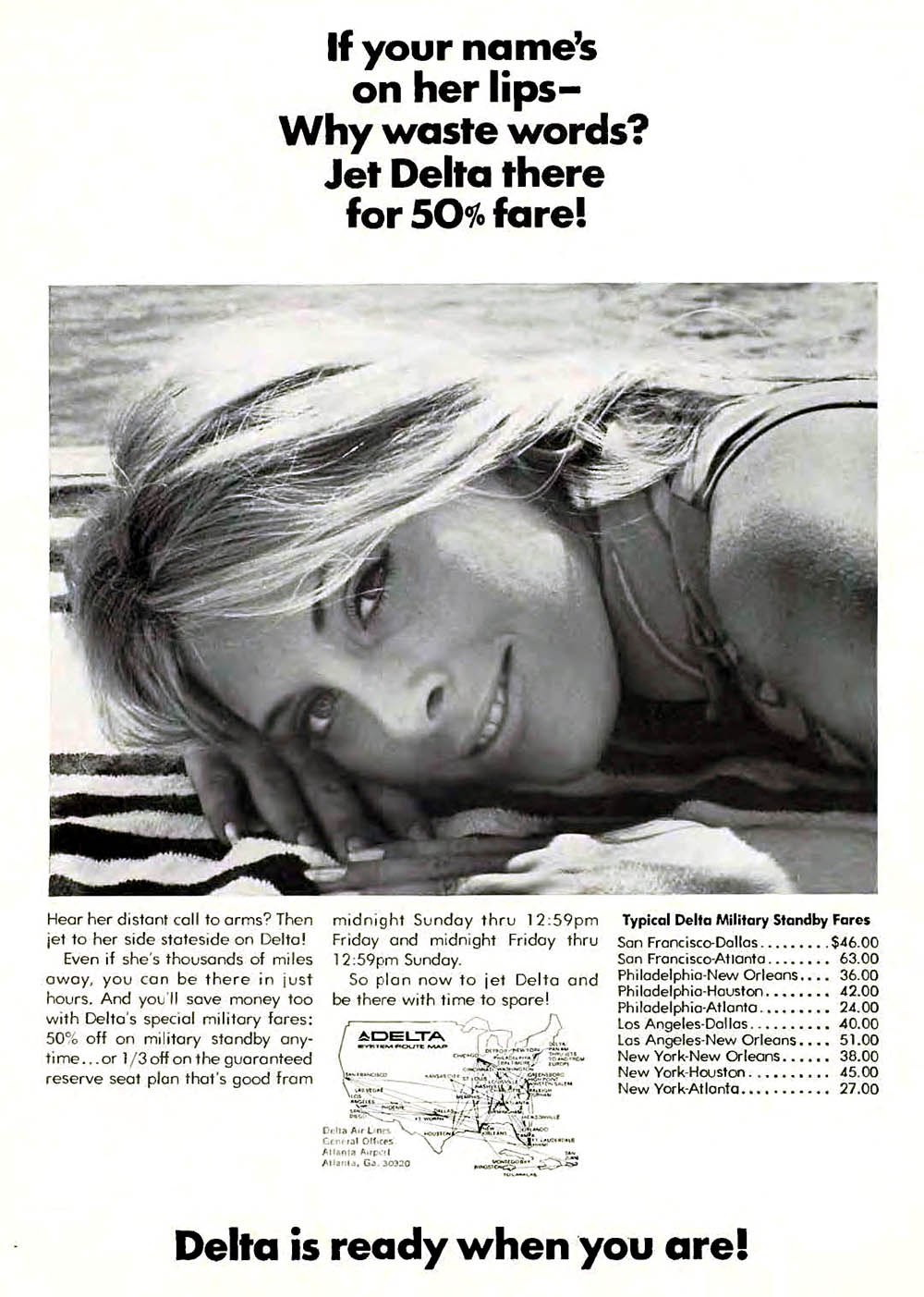 "Hear her distant call to arms? Then jet to her side stateside on Delta!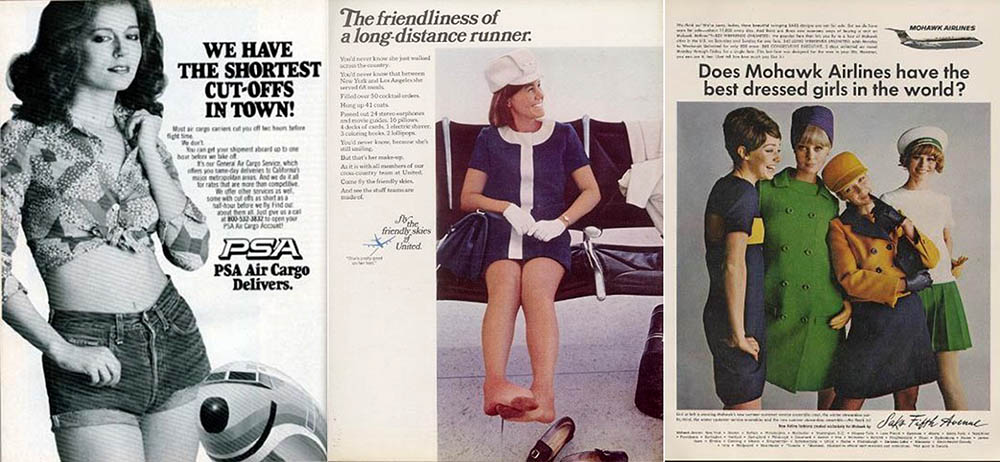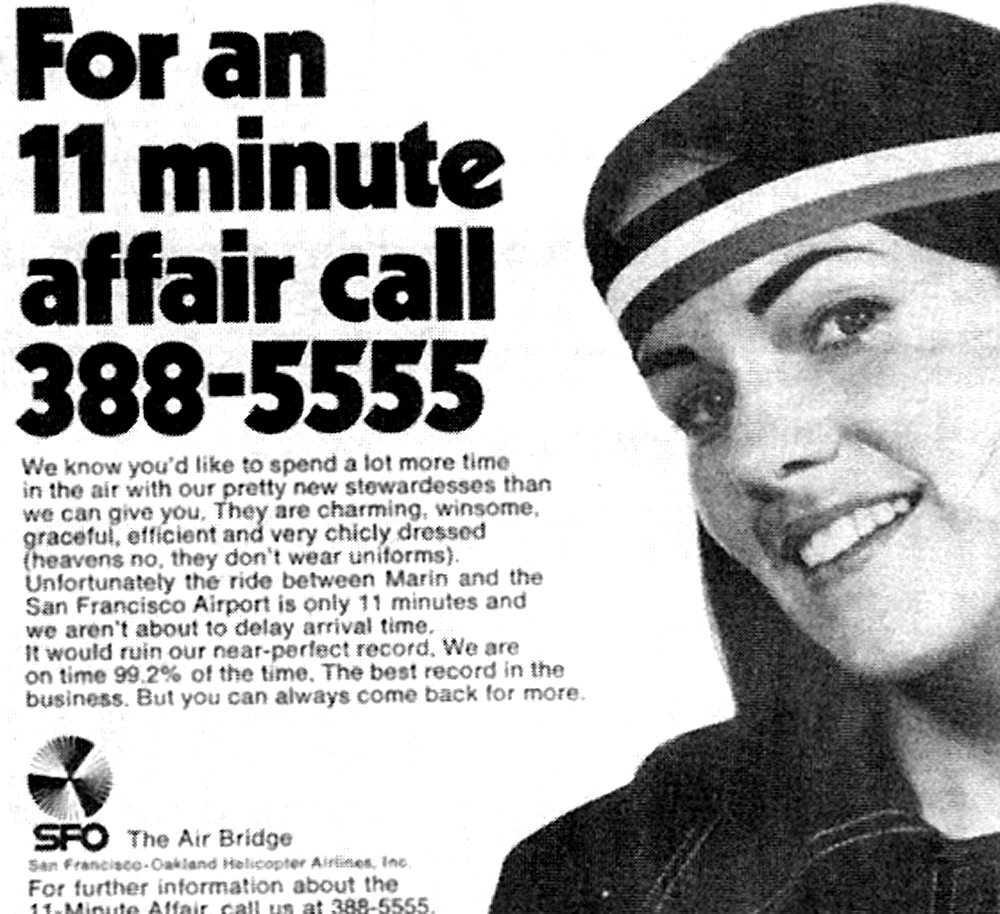 This little newspaper ad may be my favorite.  Not only because it's so blatant with its "sex sells" approach, but because it's not even an airplane airline – it's a helicopter airline!
"We know you'd like to spend a lot more time in the air with our pretty new stewardesses than we can give you. They are charming, winsome, graceful, efficient and very chicly dressed (heavens no, they don't wear uniforms)…."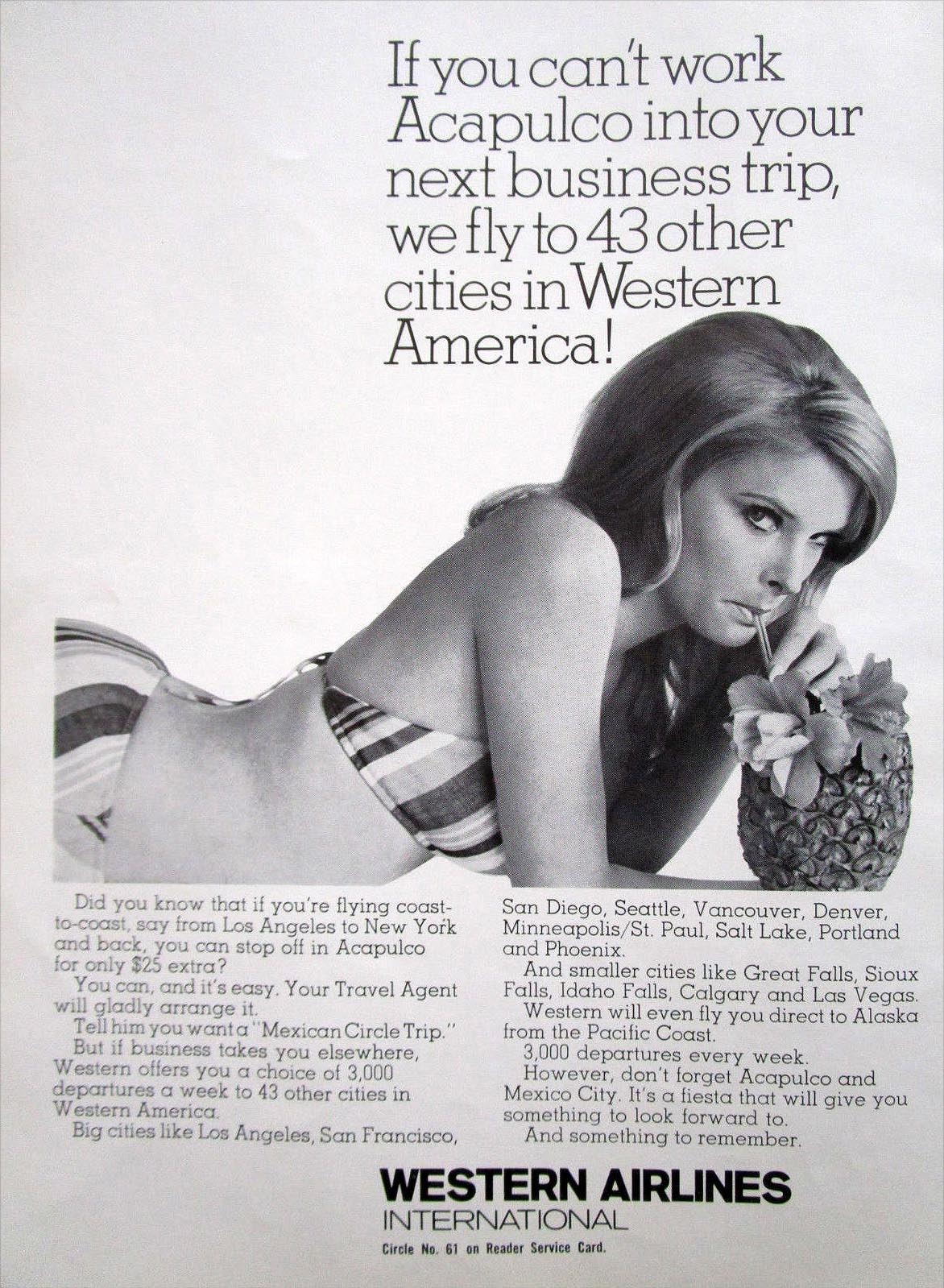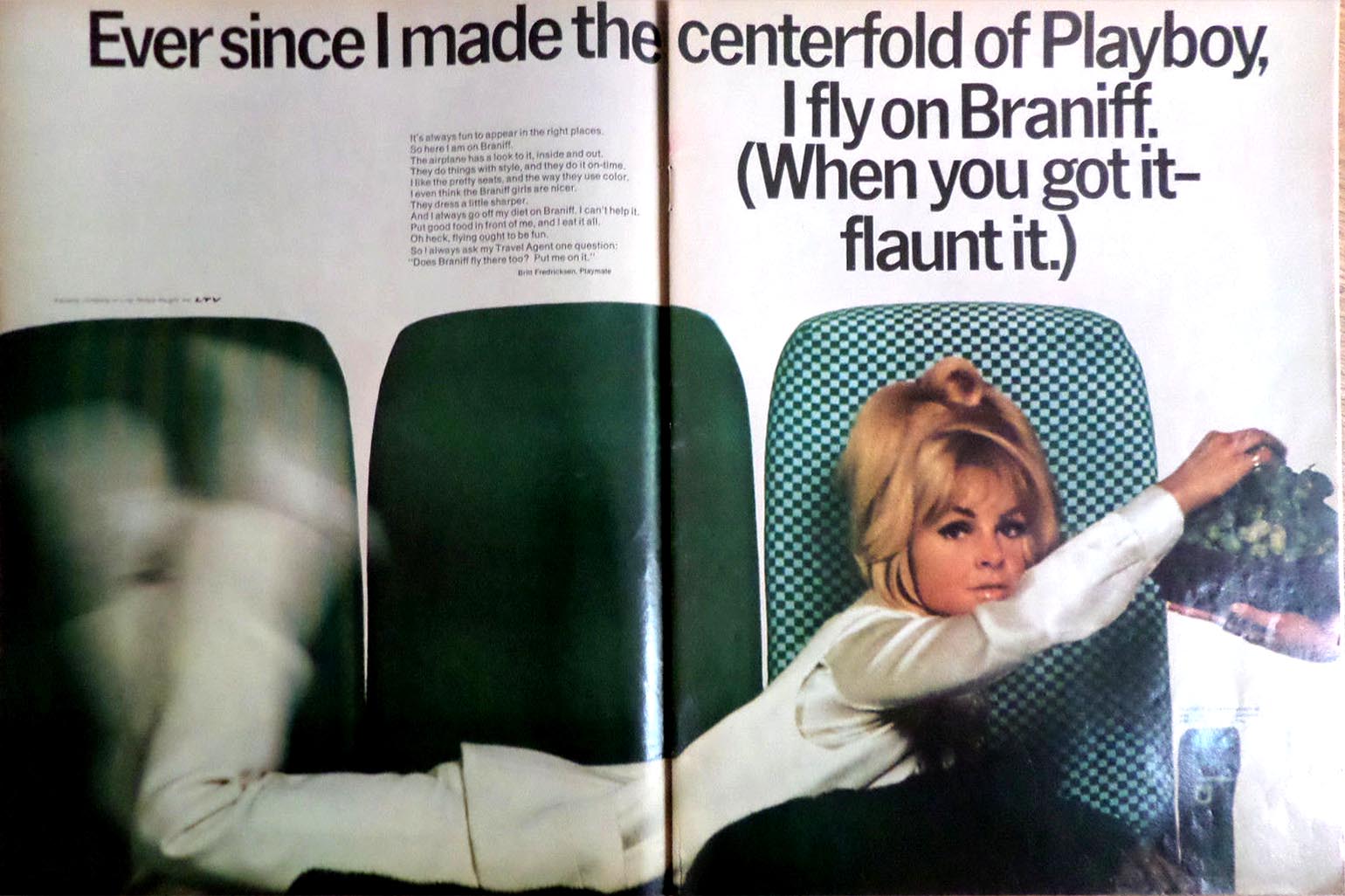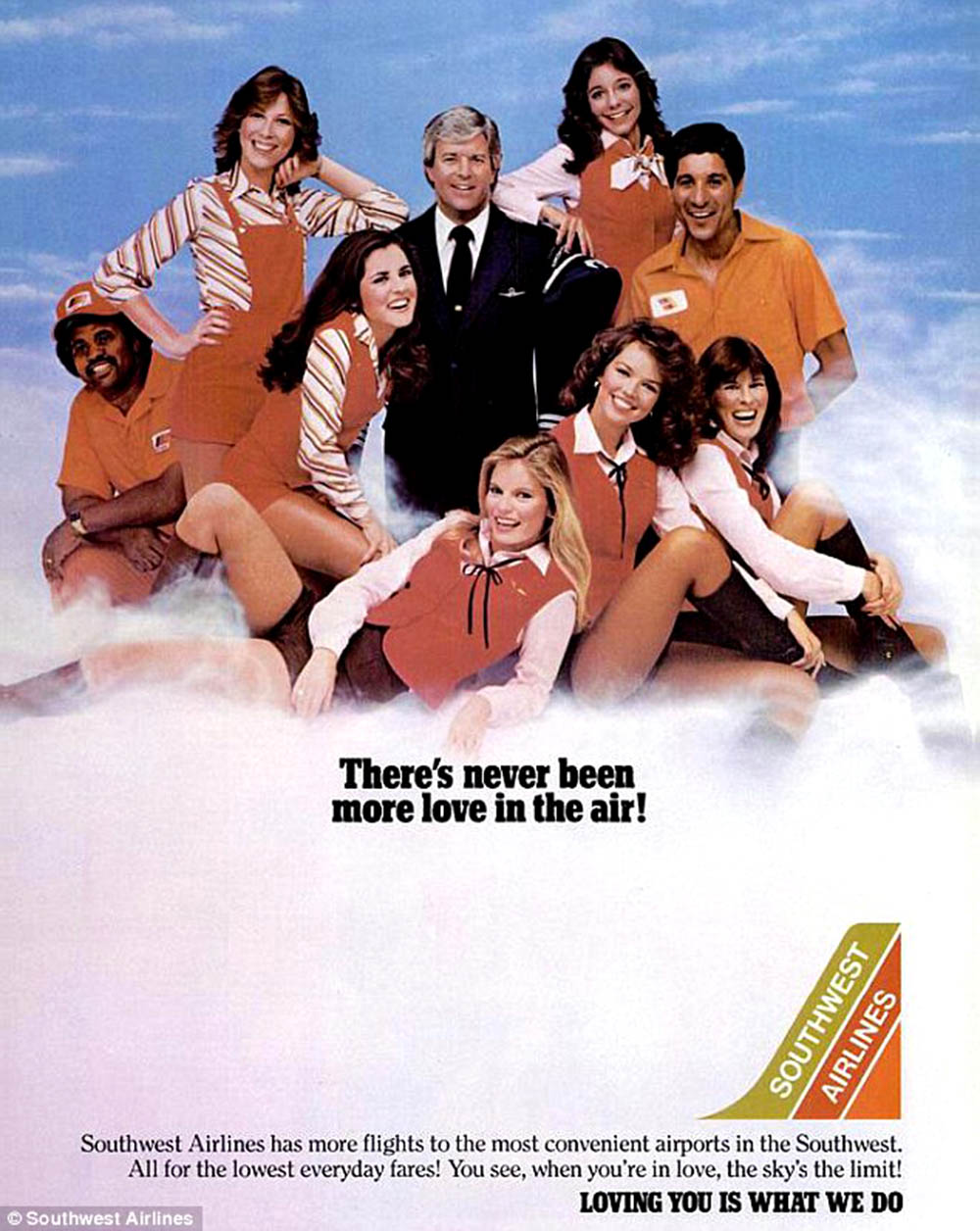 I fly Southwest a good bit. If I saw one of their flight attendants coming down the aisle in hotpants and go-go boots, I think I'd choke on my free peanuts. Here's a Southwest commercial circa 1972: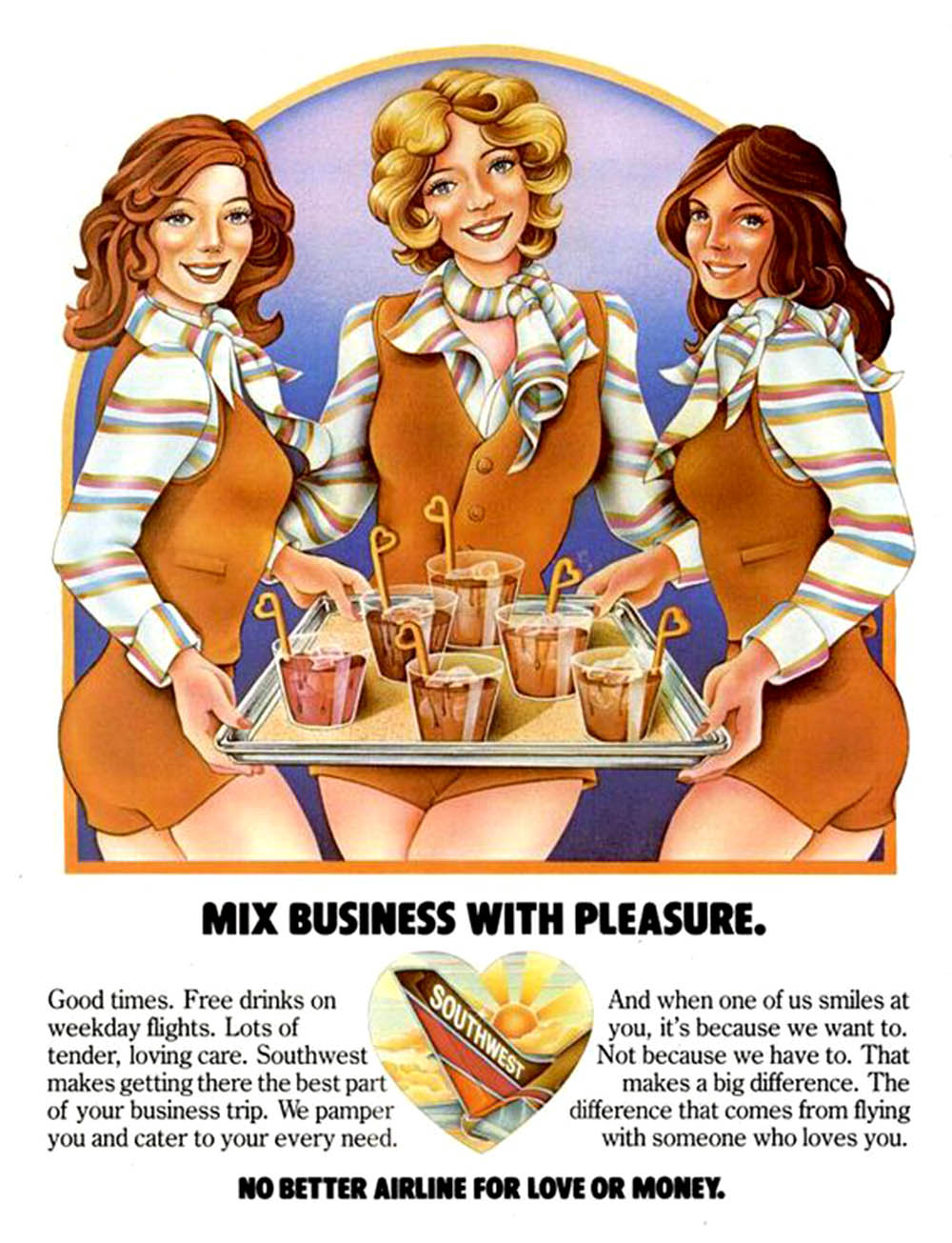 For more stewardesses in advertising see: The Air Stewardess in Advertising 1934-1989
Also: Enchanted Elsewhere: Selling Sex and Hedonism in Retro Travel Advertising