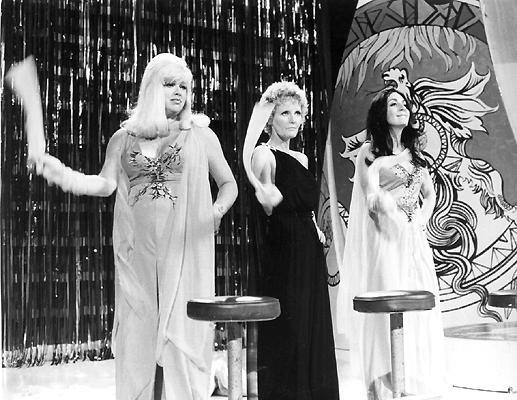 IT'S hard to explain how peculiar TV was in the 1970s. Better to show you kids what the olds had to watch.
On November 16, 1974, Petula Clarke starred in The Sound of Petula. . .The Tale of a Scorpio, Petula sang about people born under the Scorpio star sign.
Special guests were Scorpios: London-born singer and Broadway player Georgia Brown and actress Diana Dors.
Brown had scored her big break playing Nancy in the original production of Lionel Bart's musical, Oliver!. 
Other than being a Bafta-nominated actress and singer, Brown's other notable achievement was that on 9 February 1964 she had appeared on The Ed Sullivan Show with 18-year old Davy Jones (pre-Monkees), sharing the bill with the Beatles, then making their premiere US appearance on the show.
Bart was a friend of of Dors. It's been alleged he took copious amounts of cocaine at the Sunningdale home of the "British Marilyn Monroe". Whether he partook of Dors' infamous sex parties is not documented. Dors' son recalled:
"My Dad [Alan Lake] used to get drunk with Richard Harris and Oliver Reed. I'd come back from school and they'd all still be in the living room talking rubbish with the room smelling of cigarettes and alcohol. Lionel Bart had a cocaine habit, so he'd get trashed. I remember him coming out of the loo with cocaine all down his sleeve and Oliver Reed and Dad having sword fights on the lawn."
Dors and Clark went way back. They had both starred in the Ealing Studios film Dance Hall :
* Co-scripted by Diana Morgan, the sole woman admitted by Ealing boss Michael Balcon to his elite creative team, it looks at the world from the point of view of four young working-class women (Natasha Parry, Petula Clark, Jane Hylton and Diana Dors). They live in council flats, work in the same west London factory, and find romance and an escape from their drab lives at the local dance hall. Except for the middle-class accents, the film presents an honest, down-to-earth portrait of Britain in the postwar age of austerity.
All lov-erly stuff. And of its time.
But it's the weirdness of Scorpio we're hear to see.
But – yes, another but – before that a quick aside. Dors knew Adam Ant, starring as the Fairy God mother in Adam and The Ants mega hit Prince Charming.
The band's Prince Charming album featured the song Scorpios.
There's a gang in every town
I say the rules be turned around
Listen here, from one who knows
Be fearless just like the Scorpio

Pretty, look young be fearless
Like the Scorpio
Pretty look young, be fearless
Like the Scorpio, the Scorpio, the Scorpio

Black's the color watch the claws
With nails as sharp as Diana Dors
Watching us is stopping you
From cruising Ugly Avenue
And Dors had claws. She would host sex parties, allegedly recording the married great and good cavorting with starlets and prostitutes on secret cameras. Max Clifford, the great source of tabloid kiss 'n' tell stories , was a guest. You can read more about them here.
Fancy looking around Dors' mansion in Sunningdale? TV presenter Russell Harty, Adam Ant and Tom O'Connor were there to celebrate the opening of her new swimming pool.
The Independent profiled O'Connor:
In 1988, though, this former teacher and devout, married Catholic was reported to have fallen in love with an 18-year-old prostitute. The allegations were splashed all over the papers, and the gameshow host issued writs against three of them, before ultimately dropping each one.

"You certainly find out who your friends are when something like that happens," he said at the time.
British TV really was this peculiar:
In this 1971 episode of Michael Parkinson's BBC chatshow, Dors is with Kenneth Williams and Desmond Morris. 
And so to the apogee of the weirdness.  If anyone can name all the Scorpio faces on the big spinning boards, there might be a prize.
Here's one to get you started. It's Jimmy Savile: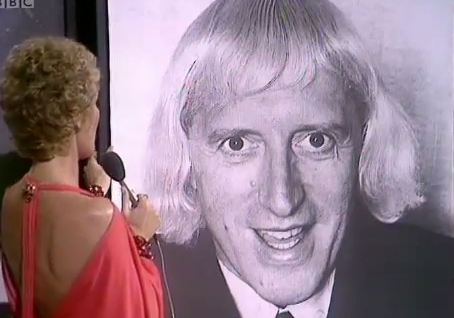 Take it away, Petula Clark….