In April 1972, Cosmopolitan magazine revealed what Britain's 40 most eligible bachelors wanted in a wife. Appearing in the magazine's second ever British issue, "WHAT I WANT IN A WIFE" is a wonderful and telling slice of British history and pop culture. That a fair number of the personalities interviewed were gay adds more interest.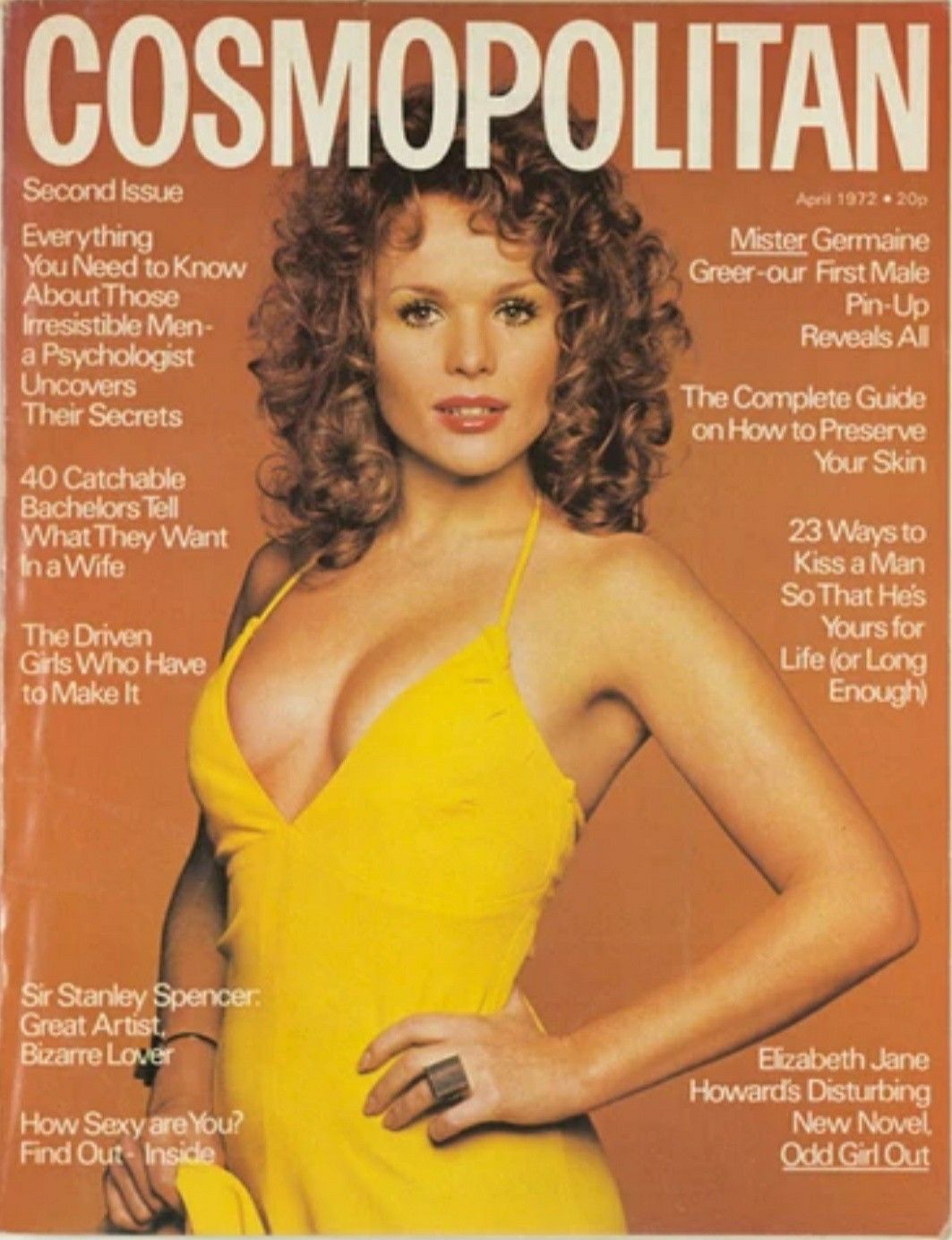 "I'll know my ideal woman when I meet her," says Ian McKellen. "She'll love the theatre, but not be an actress. She'll love to argue, but won't insist on winning. She'll be beautiful, generous, stylish – all without trying. An aristocrat without a title." where can she be found. "She doesn't exist," says Ian.
You can't blame them for playing along. The Sexual Offences Act 1967 decriminalised sex between two men over 21 and 'in private'. It did not extend to the Merchant Navy or the Armed Forces, or Scotland, Northern Ireland, the Channel Islands or the Isle of Man, where sex between two men remained illegal until 1980 (Scotland) and 1982 (Northern Ireland). Only in 2000 was the age of consent reduced to 16, in line with heterosexual love. Same sex marriage became legal in the UK on 29 March 2014.
So much for the background. And so to the story and the many questions Cosmo wanted answering:
What do Britain's most eligible bachelors look for in a wife? Are they switched on by physical perfection, do they look for a definite personality type or is it simply a question of chemistry? We've tracked down forty very desirable men – single when they talked to us – and while we can't give you their telephone numbers, we can tell you what would turn them on to marriage, although we couldn't possibly agree with some of their views. Could it be you they've been waiting for?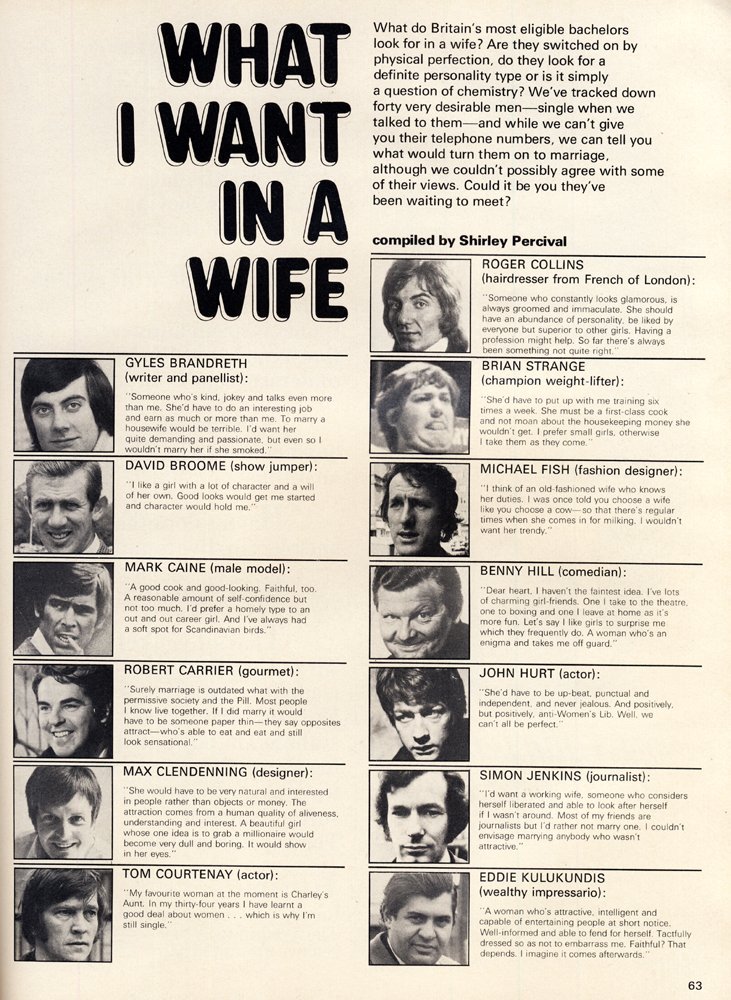 What happened next?
Gyles Brandreth – married Michèle Brown later that year. They have three lovely children. And many unfortunate sweaters.
David Broome  – married Elizabeth Fletcher in 1976.
Mark Caine – no news
Robert Carrier – (November 10, 1923 – June 27, 2006). Did not marry.
Max Clendenning – Moved in with his partner, Ralph Adron.
Tom Courtenay – married to actress Cheryl Kennedy from 1973 to 1982. In 1988, he married Isabel Crossley, a stage manager at the Royal Exchange Theatre in Manchester
Roger Collins – no news
Brian Strange – no news
Michael Fish – never married.
Benny Hill – (21 January 1924 – 20 April 1992). Hill never married nor had children; he proposed to two women, but neither accepted.
John Hurt – In 1962, Hurt married actress Annette Robertson. The marriage ended in 1964. In 1967, he began his longest relationship, with French model Marie-Lise Volpeliere-Pierrot, sister of fashion photographer Jean-Claude Volpeliere-Pierrot. The couple had planned to get married after 15 years together, when events took a tragic turn on 26 January 1983; Hurt and Volpeliere-Pierrot went horse riding early in the morning near their house in Ascott-under-Wychwood, Oxfordshire. Volpeliere-Pierrot was thrown off her horse and injured. She went into a coma and died later that day. In September 1984, Hurt married his old friend, American actress Donna Peacock, at a local Register Office. The couple moved to Kenya but divorced in January 1990. On 24 January 1990, Hurt married American production assistant Joan Dalton, whom he had met while filming Scandal.This marriage ended in 1996 and was followed with a seven-year relationship with Dublin-born presenter and writer Sarah Owens. The couple moved to County Wicklow, where they settled close to their friends, director John Boorman and Claddagh Records founder and Guinness heir Garech Browne. In July 2002, the couple separated. In March 2005, Hurt married his fourth wife, advertising film producer Anwen Rees-Meyers.
Simon Jenkins –  Jenkins married the American actress Gayle Hunnicutt in 1978; the couple had one son. They separated in 2008 and have since divorced. He married Hannah Kaye in 2014.
Eddie Kulukundis – married English actress Susan Hampshire in 1981.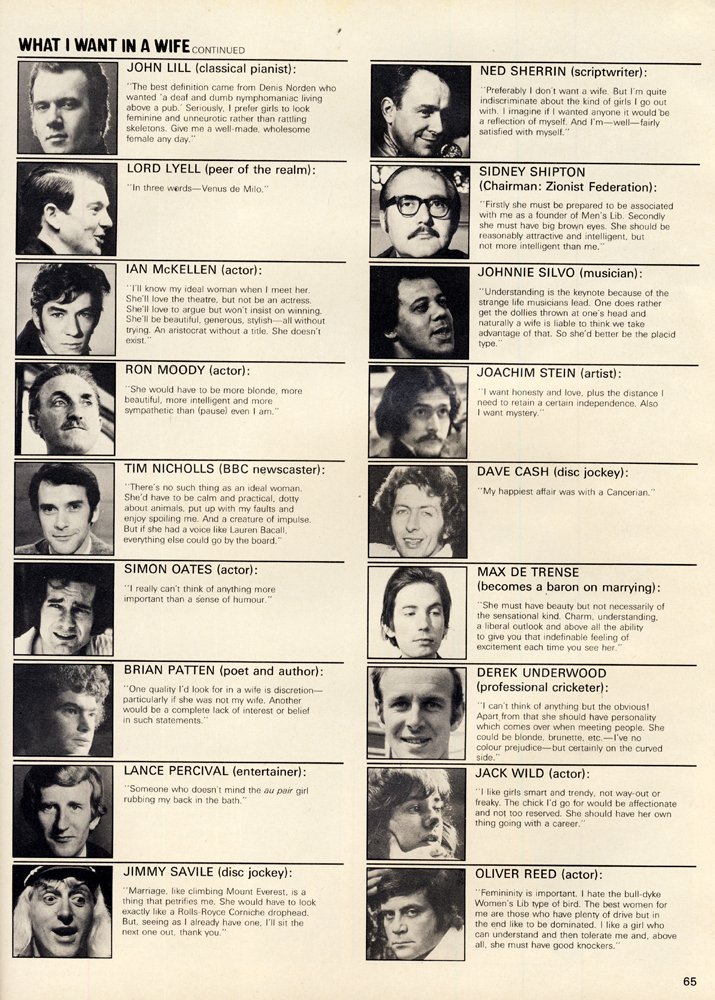 John Lill – never married.
Lord Lyell – (6 December 1938 – 30 August 2010). Married Susan.
Ian McKellen –  In 1988, Sir Ian McKellen came out on the UK's BBC Radio in response to the government's proposed Section 28 in the British Parliament. Section 28 of the Local Government Act 1988 stated that a local authority "shall not intentionally promote homosexuality or publish material with the intention of promoting homosexuality" or "promote the teaching in any maintained school of the acceptability of homosexuality as a pretended family relationship".
Ron Moody – (8 January 1924 – 11 June 2015)  Moody married a Pilates teacher, Therese Blackbourn, in 1985.
Tim Nicholls – no news.
Simon Oates – (6 January 1932 – 20 May 2009). Married Jaki Eastoe.
Brian Patten – no news.
Lance Percival – (26 July 1933 – 6 January 2015). Married and divorced – both once.
Jimmy Savile –  (31 October 1926 – 29 October 2011). After his death Sir Jimmy – a knight of the realm and Papal knight – was exposed as a prolific child abuser and rapist. Never married.
Ned Sherrin – (18 February 1931 – 1 October 2007). He was a patron of the London Gay Symphony Orchestra. Never married.
Sidney Shipton – (July 25, 1929 – January 12, 2008). Married Judith.
Johnnie Silvo – no news.
Joachim Stein – no news
Dave Cash – (July 18 1942 – October 21 2016). Married three times. His first marriage, to Dawn in 1968, was short-lived, and in 1973 he married the actress Monica Evans, best known for playing Cecily Pigeon in the stage and film versions of Neil Simon's comedy The Odd Couple. They divorced in 2010 and the following year he married Sara Davies, who worked on his Radio Kent show as "Emily Email" on account of her role answering listeners' queries.
Max De Trense – no news.
Jack Wild – (30 September 1952 – 1 March 2006). He married his childhood sweetheart, Gaynor Jones.
Oliver Reed – (13 February 1938 – 2 May 1999). In 1959–1960, Reed married Kate Byrne. The couple had one son, Mark, before their divorce in 1969. While filming his part of Bill Sikes in Oliver!, he met Jacquie Daryl, a classically trained dancer who was also in the film. They became lovers and subsequently had a daughter named Sarah. In 1985, he married Josephine Burge, to whom he was still married at the time of his death.

John Bentley – (2 December 1916 – 13 August 2009). John married twice. He had a son Roger by his first wife, Joyce Barrett, in 1946 and following divorce in 1955 was married to his second wife Patricia in 2003 after a longstanding relationship
Earl of Lichfield – (25 April 1939 – 11 November 2005). On 8 March 1975 Lichfield married Lady Leonora Grosvenor, elder daughter of the 5th Duke of Westminster and Viola, Duchess of Westminster. They were divorced in 1986. The Countess of Lichfield retained her title.
Georgie Fame – In 1972, Fame married Nicolette (née Harrison), Marchioness of Londonderry, the former wife of the 9th Marquess. Lady Londonderry already had given birth to one of Fame's children during her marriage to the marquess; the child, Tristan, bore the courtesy title Viscount Castlereagh and was believed to be heir to the marquisate. When tests determined that the child was actually Fame's, the Londonderrys divorced. Nicolette Powell died on 13 August 1993, after jumping off the Clifton Suspension Bridge. Fame said that they had stayed happily married because of her "charm, beauty, forbearance and understanding".
John Pitman – no news
Victor Behrens – no news
Karl Green – married.
Michael Whittacker – married.
Peter Wyngarde – in the early 1950s he was married briefly to the actress Dorinda Stevens.
John Peel – (30 August 1939 – 25 October 2004) . Married Shirley Anne Milburn (1965–1973, divorced) and Sheila Gilhooly in 1974.