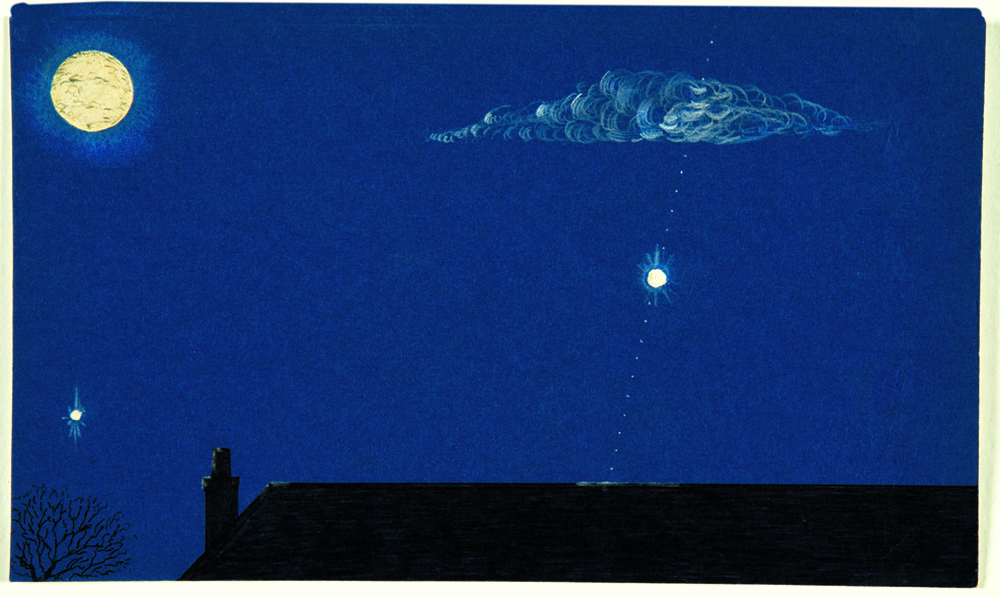 Created in 1962, the UK's Ministry of Defence maintained a UFO Desk until 2009. By then the department had recorded around 11,000 sightings of unidentified flying objects. Spotters wrote in with their tales of sightings. They sent photographs, letters, drawings and paintings.
The project ended not because alien abductors and holidaymakers from galaxies far, far away decided they'd seen enough and stopped visiting or had managed to fully take over planet Earth. It was something much more mundane to do with budgets. Well, so they say. It cost around £45,000 a year to run the desk, roughly the same cost as an SUV car or the annual wage of a housekeeper in London's Kensington.
And this is where State secrecy meets the people's right to know the truth. The massed 'evidence' was released in 2007 to counter "the maze of rumour and frequently ill-informed speculation" that surrounded the Ministry's role in extraterrestrials. The Ministry had been inundated with UFO-related requests under Britain's Freedom of Information Act.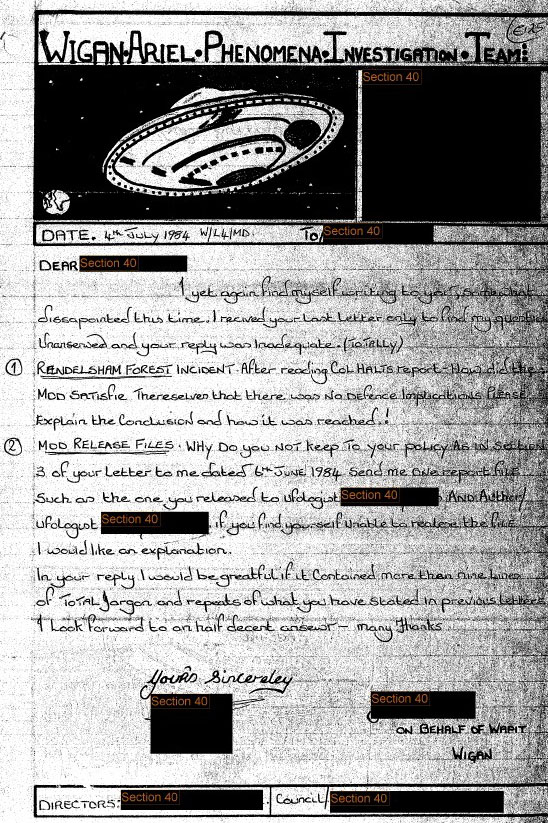 One letter was sent to the prime minister in 2008:
"Dear Gordon Brown, Do you believe the British people have the right to know if our world has been contacted by alien civilisations?"
Another sent to Her Majesty the Queen complained that the British government "continues to refuse to reveal the truth behind their files and reports of unidentified flying objects".
Those letters, and many others like them, were handed to RAF Air Command in High Wycombe.
And now they are in the public realm. Reams of pages of once secret documents were scanned and added to the UK's National Archive at Kew, London. Some information was "redacted", ostensibly to remove names and addresses of people who'd reported sightings and any "secret" information that might harm national security if released. Those of a conspiratorial bent will focus on the missing parts.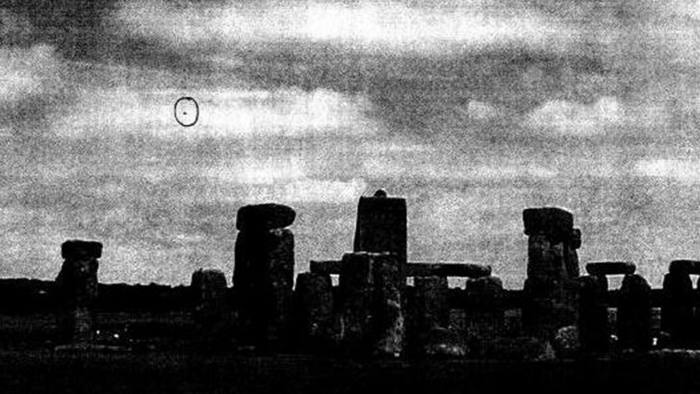 By what do they check for, those men from the Ministry?
"We only check the sightings from the perspective of making sure that our military airspace has not been breached, and we pretty much never have airspace breaches," a Defence Ministry spokeswoman told the New York Times in 2008.
Well, so said the man on condition of anonymity.
In 1959, Swiss psychotherapist Carl Jung (July 26, 1875 – June 6, 1961, Küsnacht) wrote in Flying Saucers: A Modern Myth of Things Seen in the Skies that UFO sighting were a "widespread myth". Was he right?
The UFO Sightings: The Solway Spaceman & Other Evidence
The snapshot above is magical and otherworldly. The little girl holds a bunch of flowers in a meadow as a figure in a silvery suit stands behind her. Taken by a Carlisle fireman Jim Templeton, that's Elizabeth, his five-year-old daughter, on a family day out in May 1964 to Burgh Marsh overlooking the Solway Firth in northern Cumbria, England.
Jim saw nothing un unusual when he took the picture. It was only later he thought it odd. When he collected the processed film and the shop assistant said, "That's a marvellous photograph, but it's rather spoilt by the big man behind her!"
Jim was surprised by what he saw. Had the image been moderated? Was it a trick? To check, Jim sent the negatives to Kodak and the Cumbrian police. Both said the image was genuine. It had not been tampered with.
The media picked up the story. And one day Jim was visited by two men dressed in black suits and bowler hats. Tintin's Thompson Twins meets Hollywood's Men In Black had arrived in a pristine black Jaguar car. They wanted to know where the photograph of the figure now dubbed the 'Solway Spaceman' had been taken. The mysterious duo referred to each other by numbers – "9" and "11" – and said they were from "The Ministry".
"It is up to you to draw your own conclusions," said Jim. "I am sure someone out there knows what it was and where it was from."
Dr David Clarke, a writer on UFOs who compiled these images from the National Archive and more for a book, met the Templetons during his research. In 2014, he told the BBC that the spaceman could have been Elizabeth's mum, Annie, which might sound weirder than weird, until he explained:
"One of the other stills [taken that day] shows Jim's wife who, according to him, was standing behind him when he took the photo of Elizabeth. I think for some reason his wife walked into the shot and he didn't see her because with that particular make of camera you could only see 70% of what was in the shot through the viewfinder."
Annie, he suggests, was standing with her back to the camera. The photograph was over-exposed, making her blue dress appear white.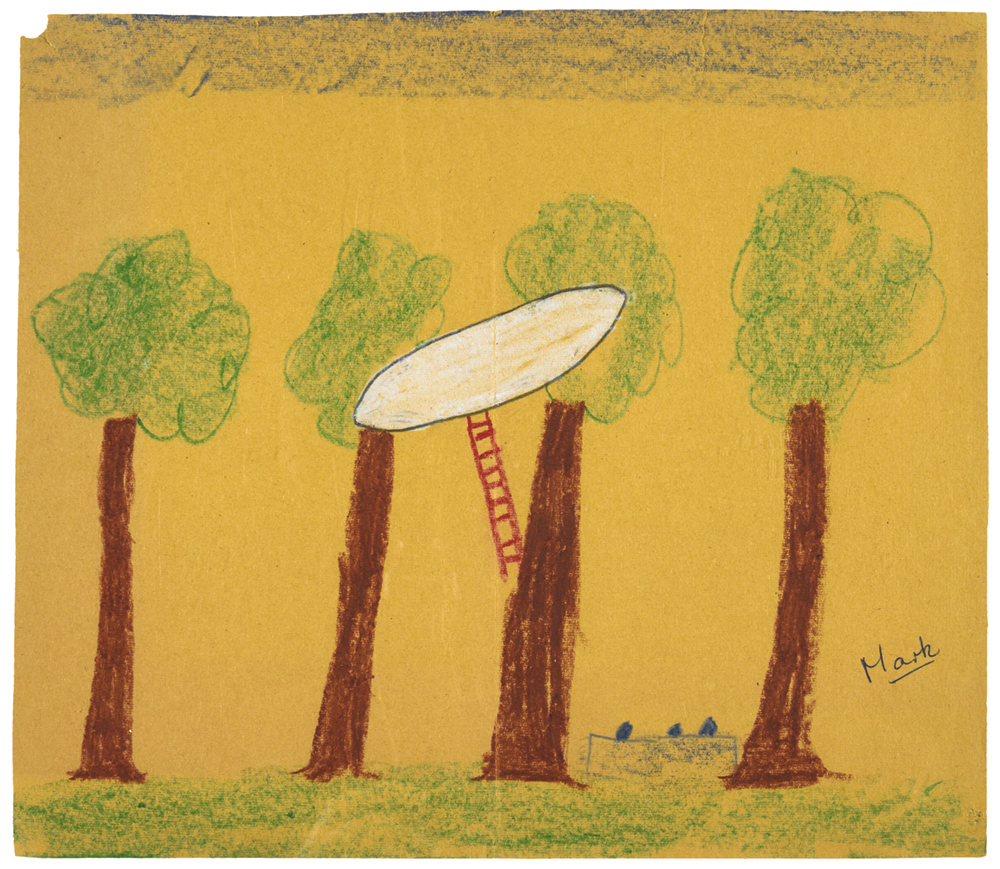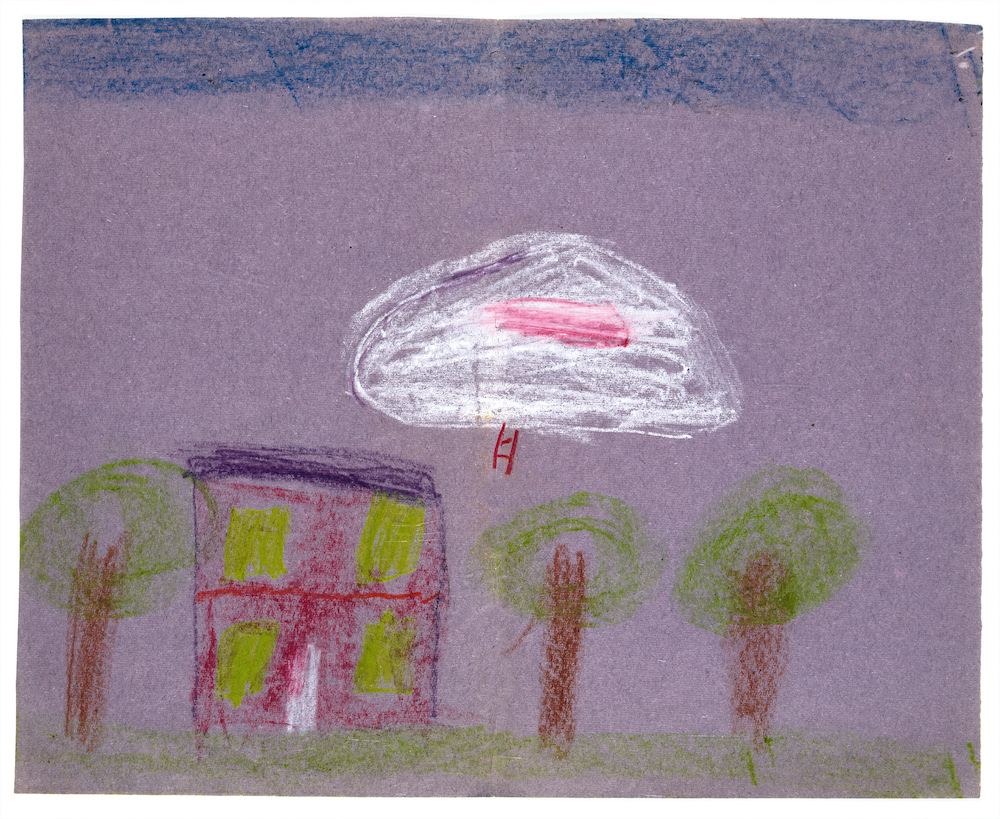 In February 1977,  a number of pupils at Broad Haven Primary School, Wales, told their teachers a flying saucer had landed in the playground at lunchtime. And more… A tall man dressed in a silver spacesuit had got out and stood beside the UFO.
It was one of a wave of sightings in the area in 1977 – dubbed the Dyfed Triangle.
David Davies was 10 at the time.  "I was a natural born sceptic so after the bell rang I decided to go to the area that the children said they had seen it," he told the BBC in 2017. He'd seen a silver "cigar-shaped" craft with a "dome covering the middle third".
"My sighting only lasted a couple of seconds. It popped up and then went back behind a tree." He looked on "more in awe and wonderment", although he admitted he had "a strange desire to run away".
Class teacher Mrs Morgan later said: "I saw it too, you know. It was real! When they went, a little whirlwind of dust came across the playground. It was almost as if they were saying goodbye."
That same October, ten children at Upton Priory Junior School in Macclesfield, England, spotted an elliptical object hovering in trees beside the playground. And in the blink of an eye, it vanished.  Their teacher asked them to draw what they'd seen, separating them to ensure that no copying took place. The drawings were handed to PC Jones of Cheshire Police, who sent them to Air Traffic Control at Preston and the Ministry of Defence. He said, "There is a remarkable similarity in these sketches with regard to the UFO and its location between two trees."
Staying in 1977, a spotter drew a sketch of a UFO leaving Saturn ringed planet en route to Stockport.
"At approx. 1 am on June 26 I observed [a] UFO hovering low above and near to flats in which I live. I observed the UFO from inside the flat… This object was blacked out except for a flashing spark-like white light. I intercepted the UFO using telepathy, upon doing so the [it] took immediate evasive action. I have reason to believe the object to be Soviet, although the UFO did acknowledge telepathic transmission by transmitting ring type mental picture similar to those used by UFOs identified as Drep spacecraft—indicating [a] UFO from planet Saturn."
In October 981, a man in Leeds wrote to the Ministry:
"At about 2.45 on the morning of October 15 I was driving south along the A1 near RAF Leeming when what I can only describe as a UFO nearly landed on the A1 just in front of me. As I was driving I had noticed a red light in the sky getting nearer and nearer very quickly. At first I thought it must be a plane but as it got closer I was startled to see what appeared to be a flying parallelogram with red and white lights set diagonally. I then saw two white lights as it tilted … I dipped my headlights, it just hovered [and] getting a bit startled, I put the car headlights on, it very slowly veered to its right, my left, directly overhead at very low height and vanished in a field behind some trees."
The driver heard no noise. Wing Commander Barrett of RAF Leeming said there was no military aircraft flying in the vicinity of Leeming at the time.
In the late 1990s, the UK was abuzz with stories of crop circles. In November 1998 a man in Oxfordshire wrote to the Secretariat Air Staff 2 (the UFO desk):
"I have developed contact with these craft and their energy forces but unfortunately the designs I am perceiving are too complex for me to draw … these include anti-gravitational fields that allow the craft to access time." In her response the desk officer, Kerry Philpott, said, "There is no evidence to suggest that crop circles are caused by anything of military concern and the MoD does not, therefore, investigate reported sightings or carry out any research into them."
This letter is from a correspondent in Warley, West Midlands, addressed to the MoD, dated June 9, 1994:
"Over the past 40 years I have sighted many UFOs all of which I have found both interesting and puzzling … Of course over this period of time I have formed an opinion as to the origin of [these] objects." The letter was accompanied by two drawings, one depicting an object sighted over Smethwick in August 1954 that "appeared to be all of one piece as if cast instead of built…

"There are others including ball of light objects, one of which gave a fantastic display of speed … but for now I would be obliged if you would study my reports and let me have an answer."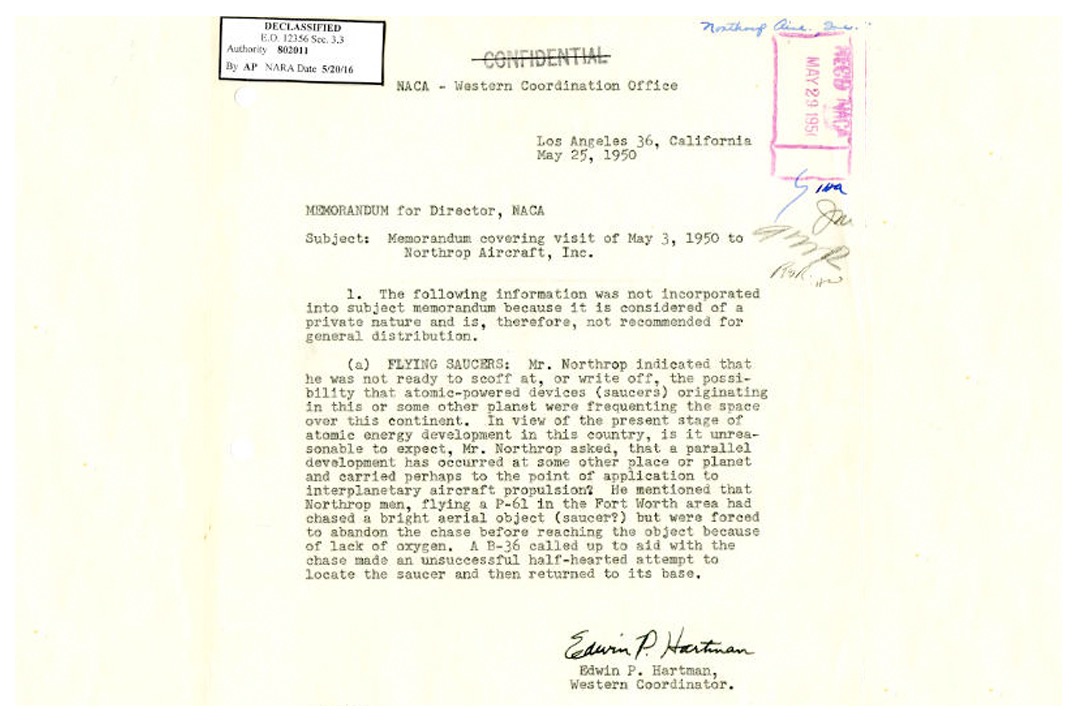 UFO sightings went all the way to the top.
In 1979, the House of Lords debated the matter. William Francis Brinsley Le Poer Trench, 8th Earl of Clancarty, 7th Marquess of Heusden (18 September 1911 – 18 May 1995) was keen on the topic.
From 1956 to 1959 Clancarty edited the Flying Saucer Review and founded the International Unidentified Object Observer Corps.
In 1967, he founded Contact International, serving as its first president. He was vice-president of the British UFO Research Association (BUFORA) and an honorary life member of the now Ancient Astronauts Society which supported the ideas put forward by Erich von Däniken in his 1968 book Chariots of the Gods?.
In 1975 he succeeded to the earldom on the death of his half-brother, affording him a seat in the British Parliament. He used his new position to found a UFO Study Group at the House of Lords, introducing Flying Saucer Review to its library and pushing for the declassification of UFO data.
Four years later he organised a debate in the House of Lords on UFOs.
"I should like to tell your lords about some of the sightings I have seen," said the Earl of Halsbury, "beginning at the age of 6, when I saw an angel."
Lord Gainford had seen a "bright white ball with a touch of red followed by a white cone" at a New Year's Eve party in Scotland. Some children had also seen it. And they "had been drinking soft drinks".
The Earl of Kimberley thought the people had been kept in the dark:
It has been reported that the United States and the USSR signed a pact in 1971 to swop UFO information, but the pact stated that they were to keep the rest of the world in the dark. I believe that the pact was signed so that neither super-Power would make mistakes about UFOs being atomic missiles. I am also led to understand that quite recently the three United States balloonists who crossed the Atlantic were followed for up to 12 1257hours by UFOs but were ordered by United States Government agents not to discuss them.
Lead image: UFO spotted 18 January 1975, near Birmingham, England. The object was identified as satellites Zond 4 and Cosmos 460.
Reaad on in Dr David Clarke's The UFO Files.
Via: National Archives.