During the production of Elton John biopic Rocketman there were plans for a scene set in London's groundbreaking pop-art boutique Mr Freedom in the early 70s. This was to set up the central character's visual transformation during visits to the store under the influence of its charismatic founder and frontman, the late, lamented Tommy Roberts (6 February 1942 – 10 December 2012).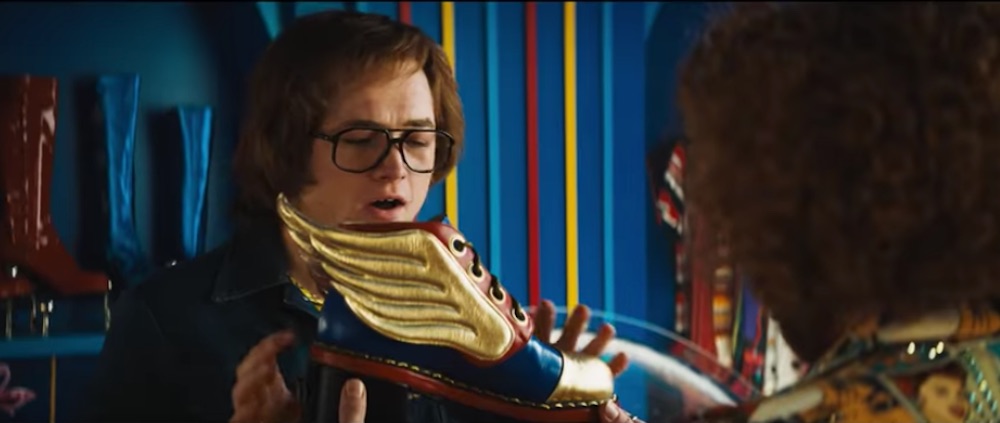 It's in the nature of film production that projects undergo many changes before the final cut, and Rocketman now presents a blink-and-you'll-miss-it encounter with a hairy character representing Roberts brandishing a pair of winged boots based on those designed for Mr Freedom by Jim O'Connor.
Elements of the boot design have been altered, while the boutique set contains traces of the interiors for both the first Mr Freedom (at 430 King's Road and realised by Electric Colour Company) and the second (in Kensington Church Street and designed by Jon Wealleans).
In real life, John acquired around a dozen pair of the winged boots in various colourways, and also wore many other Mr Freedom designs.
All of this and more is documented in my 2012 book Mr Freedom: Tommy Roberts – British Design Hero, which is now out of print and fetching eye-watering prices, as you can see here.
And here is Kii Arens' excellent video for Elton John and Taron Egerton's single: