Meredith Hunter was the 18-year-old stabbed to death by a Hell's Angel at The Rolling Stones' Altamont Free Concert on December 6 1969.
The Altamont Free Concert took place just four months after Woodstock. This time peace and love did not win out. But they might have done.
Michael Azerrad sets the pre-show scene:
…a scene at a helipad on a pier on San Francisco Bay. The Grateful Dead are there, cavorting in zonked-out hippie fashion, waiting for an overdue helicopter. Jagger comes sweeping in, surveys the unruly scene. and says with amused disbelief to no one in particular, "What is going on?" He gets the lay of the land from a chuckling and ultra-mellow Jerry Garcia, attired in an outtasite lavender wool poncho, and chats warmly with Ian Stewart. The vibe is sweet and playful.

The chopper won't arrive until 2:00. "Right, film people, let's do something!" Jagger proclaims. "We've got ten minutes." He pulls some hippie chick aside and imperiously directs the cameraman (probably Albert Maysles) to go "Tighter tighter tighter tighter tighter tighter" on her face, adorned with a groovy beaded headband and massive square shades. He plants a kiss on her forehead and steps away. Then he orders Charlie, poor, long-suffering Charlie, "Do the same thing as I did. Kiss the young lady, please."

Watts demurs. "Love is much more of a deeper thing than that," he replies, with mock hauteur, although he clearly kind of means it too. "It's not flippant, to be thrown away on celluloid. No."
Jagger laughs at his disobedient drummer. "OK," he says sheepishly, straight to camera, "we cut."

And then they headed off to Altamont.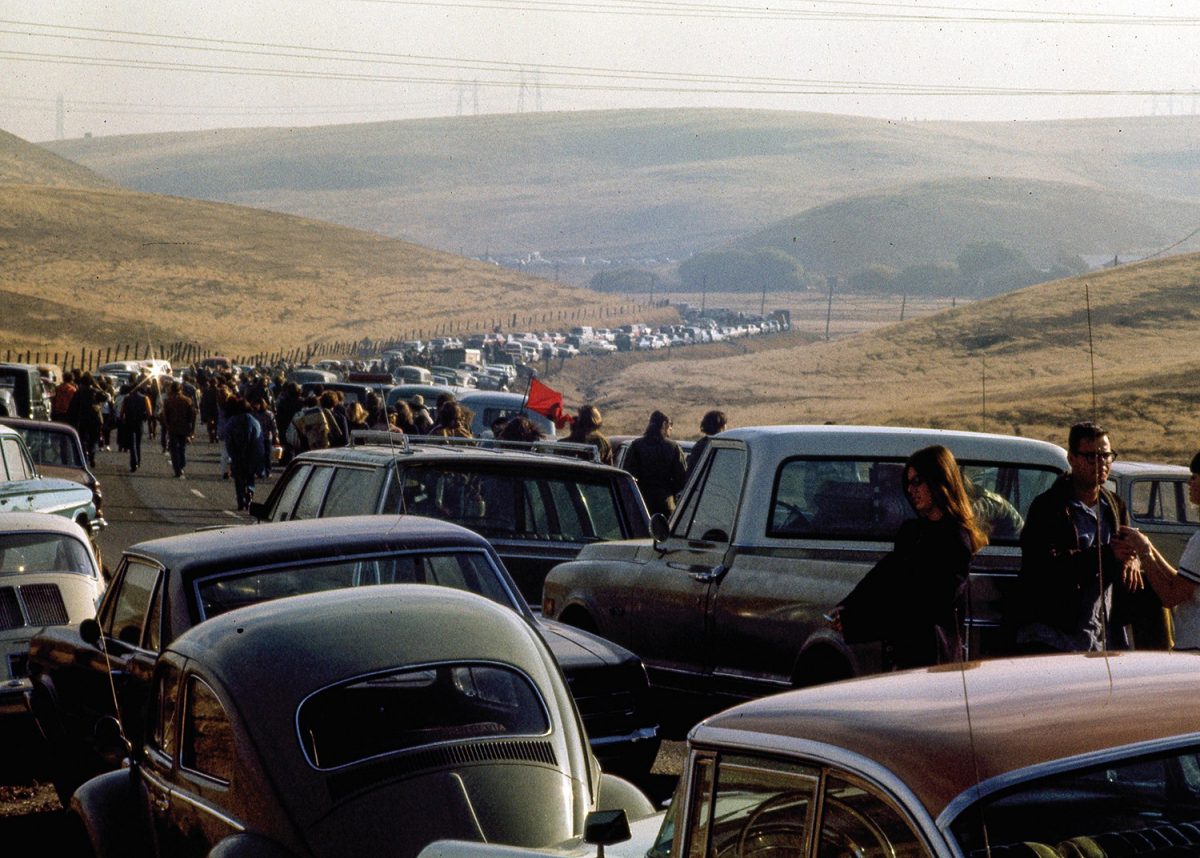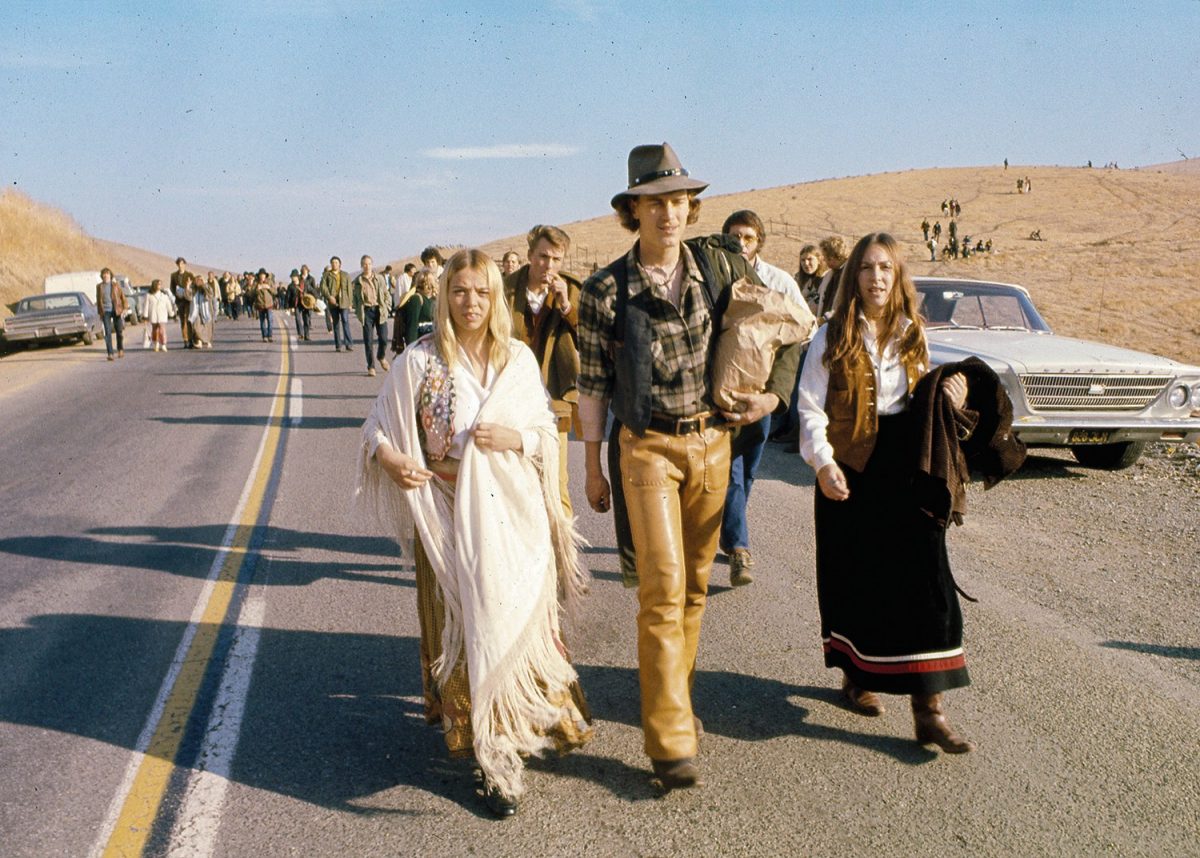 The killing at the Altamont Speedway in northern California was caught on camera. Meredith was killed as the Stones played, the horror recorded on Gimme Shelter
, David and Albert Maysles's documentary. (One not filmed by George Lucas because his camera broke.)
The story goes that the Angles were hired by headline act The Grateful Dead for "security". But Angels big shot Sonny Barger says this is untrue. He says he and his gang were told they could drink all the beer they wanted if they kept punters off the lower stage. Others say the Stones hired the Angels to protect them, and maybe also some of the other acts, like Santana, Jefferson Airplane and Crosby, Stills, Nash and Young.
When violence broke out, Keith Richards was unprepared:
"The violence just in front of the stage was incredible. Looking back I don't think it was a good idea to have Hell's Angels there. But we had them at the suggestion of the Grateful Dead. The trouble is it's a problem for us either way. If you don't have them to work for you as stewards, they come anyway and cause trouble. But to be fair, out of the whole 300 Angels working as stewards, the vast majority did what they were supposed to do, which was to regulate the crowds as much as possible without causing any trouble. But there were about 10 or 20 who were completely out of their minds — trying to drive their motorcycles through the middle of the crowds. Really, the difference between the open air show we held here in Hyde Park and the one there is amazing. I think it illustrates the difference between the two countries. In Hyde Park everybody had a good time, and there was no trouble. You can put half a million young English people together and they won't start killing each other. That's the difference."
Utter balls, of course. But Richards was playing to the home crowd.
Violence had already marred the event. A Hell's Angel had knocked out Jefferson Airplane's Marty Balin. Someone punched Jagger.The Angels hurled cans of beer at the crowd. They had hit people with pool queues. They were unarmed innocents. But Meredith Hunter was packing a double-barrelled gun.
Hunter was black. Was it a racist crime? Did the breathing presence of Hunters' white girlfriend Patty Bredahoff antagonise the Angels? Or was it the big gun that riled them?
Alan Passaro, 21, was the Angel arrested and charged with murder. The judge ruled that the death penalty remained an option. Did that alter the trial's outcome? You can send a murderer down for years and sleep at night; but sending a man to his death requires a different mind set.
Passaro never went to prison. They jury agreed with the defence that he'd acted in self-defence. To stab a man to death in self-defence takes some defending. To stab him five times is thoroughly defensive. But Hunter had also been badly beaten about the body and head.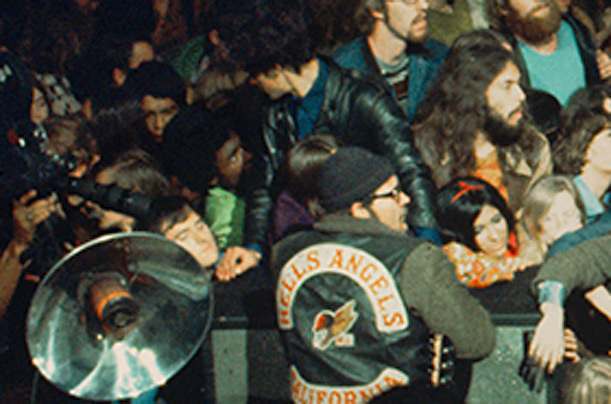 The police listed five stab wounds on Hunter's back of the body, nine on the head, and two on the neck. On his arm were needle-marks, consistent with the finding of 1.0 MG% of methamphetamine in the urine and 0.1 MG% of amphetamine in the liver.
Passaro, who had a  history of crime, was found dead in 1985 with $10,000 in his pockets.
Barger was there:
"I didn't see the stabbing of Meredith Hunter but I remember him. Hunter had a loud green suit on and really stuck out from the crowd. When he rushed the stage and pulled out a huge black gun, the rest of what went down happened pretty fast. Jagger was singing Under My Thumb when the Hell's Angels bravely moved quickly toward the gunman. Once we jumped off the stage, that's when I heard the gun go off. All I know is that Hunter was up on the stage, got knocked off; a gun was flashed and fired. Then he was stabbed. He was close to the stage when we stopped him. By the time I got to Hunter he had already been stabbed. We picked him up and passed him over to the medics.

"Meredith had shot a Hell's Angel. Since the guy he shot was a fugitive at the time, we couldn't take him to a doctor or an emergency ward. It was just a flesh wound anyway."
Barger had more to say on KSAN, San Francisco's underground FM station:
"We were told if we showed up, we could sit on the stage and drink some beer that the Stones' managers had brought us, you know. And I'm bum kicked about the whole thing. I didn't like what happened there. We were told we were supposed to sit on the stage and keep people off, and a little back, if we could. We parked where we were told we were supposed to park. Mostly, a little bit to the side of the stage so that people who were there didn't have to move back too far.

"Personally, I was there to sit on the stage and listen and drink this beer that we were promised. I didn't go there to fight. I went there to have a good time and sit on the stage. Finally, the Stones come out and they start playing. Everybody's having a good, good time. All of a sudden, someone down in front, where this one bike, right directly in front, was, is yelling. I myself jumped down there and the wiring has shorted out somewhere. The bike had caught fire. The people were packed right up to the stage. So I told them to back up so we can get this fire out. Nobody'd back up. Some other Angels caught what was happening and came off the stage, and when they did, people started backing up.

"Now I ain't saying anything about no Angel hit anybody. I know some of them hit people. But they moved them people back out of the way of the bike. And we got the fire put out. In the process, you know what, some people got hit. And you know what? Some of them people were like maybe them Friday-nighters that got that front row, I don't know, but they didn't want to give up that spot even to put that fire out. And when they come back fightin', they got thumped. And a lot of time there was six or seven Angels on one guy, and a lot of times there wasn't. After that happened, we got the fire out. And everything was cool. The people moved back in again."

"Now I don't know if you think we pay fifty dollars for them things, or steal them, or pay a lot for them, or what. But most people that's got a good Harley chopper got a few grand invested in it. Ain't nobody gonna kick my motorcycle. And they might think because they're in a crowd of 300,000 people that they can do it and get away with it. But when you're standing there looking at something that's your life, and everything you got is invested in that thing, and you love that thing better than you love anything in the world, and you see a guy kick it, you know who he is. And if you got to go through fifty people to get to him, you're gonna get to him.

"We moved them people to save that bike. And, after that, they tried to destroy our bikes, and we're not gonna stand for it. And that made it personal…You know what? I'm a violent cat when I got to be. But I don't really want to be. But there ain't nobody gonna take anything I got and try to destroy it. Mick Jagger, he put it all on the Angels.

"Look, I ain't no cop. I ain't never going to ever pretend to be a cop. I didn't go there to police nothing. They told me if I could sit on the edge of the stage so nobody would climb over me, I could drink beer until the show was over. That's what I went there to do…I'm no peace creep, by any sense of the word, and if a cat don't want to fight with me, don't want to hassle with me, I want to be his friend. If he don't want to be my friend, then out of sight, don't even talk to me. But if he don't want to be my friend and he's gonna get in my face, I'm gonna hurt him, or he's gonna hurt me. And you know what? It doesn't really matter if he hurts me, because I've been hurt before. And I've been hurt by experts. Over the years, though, I've learned how to get up and do it again."
As for the show, here is how Robert Hatch, writing about Gimme Shelter in The Nation, saw Mick Jagger:
"He hits the crowd with his pelvis, flings his scarf around his shoulders, jabs nervously at his flowing hair, mouths like a woman in heat, jerks with an aggressive, staccato beat that is as explicit as an anatomy chart. The ambiguity of his sex, the spectacle of raper and victim in one body, threw the witnesses into convulsions of excitement."
Meredith Hunter was not the only fan to lose his life at the show. Two were killed by hit-and-run car accidents and one by drowning in an irrigation canal.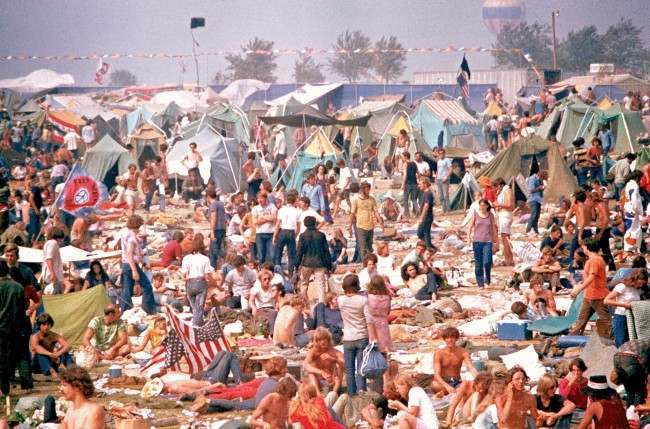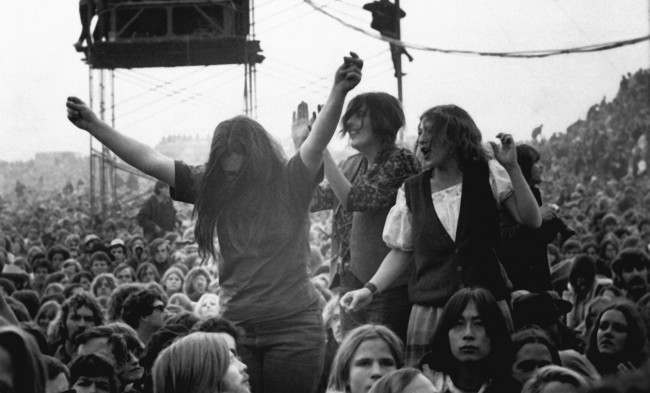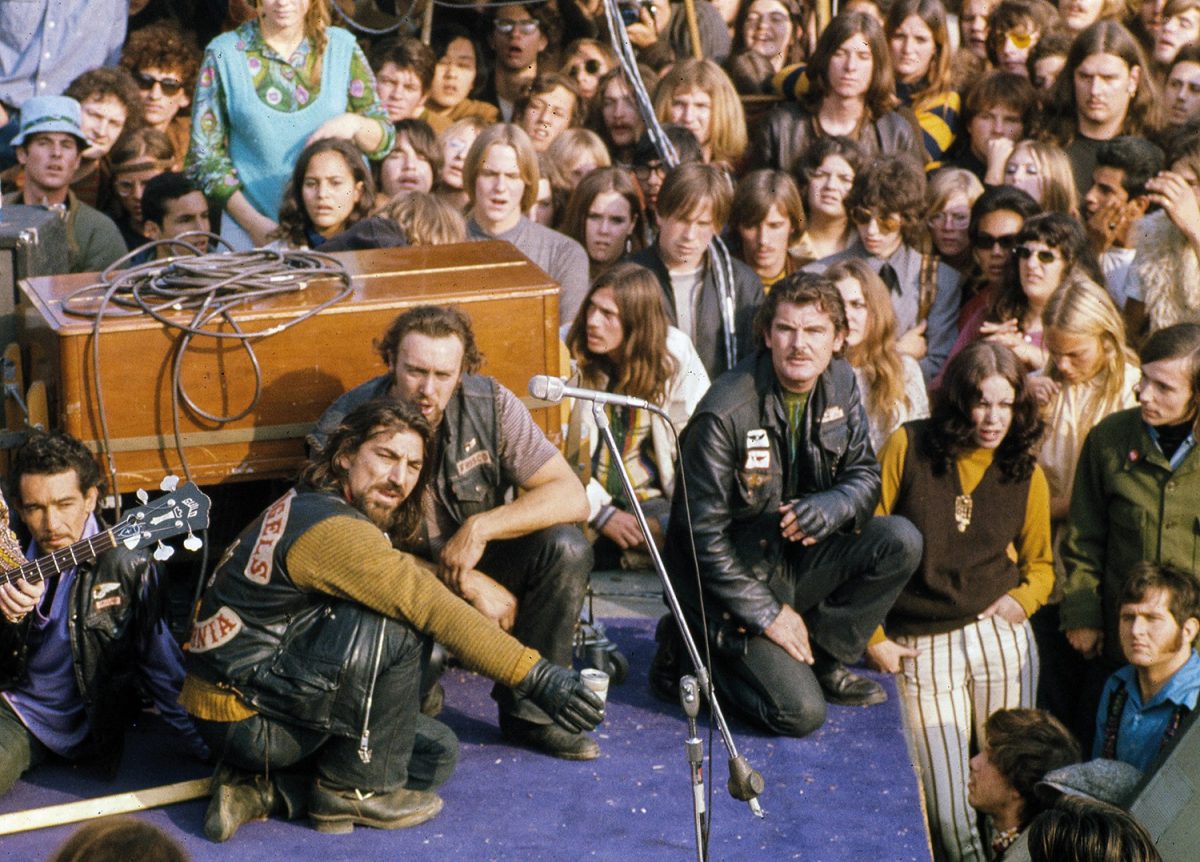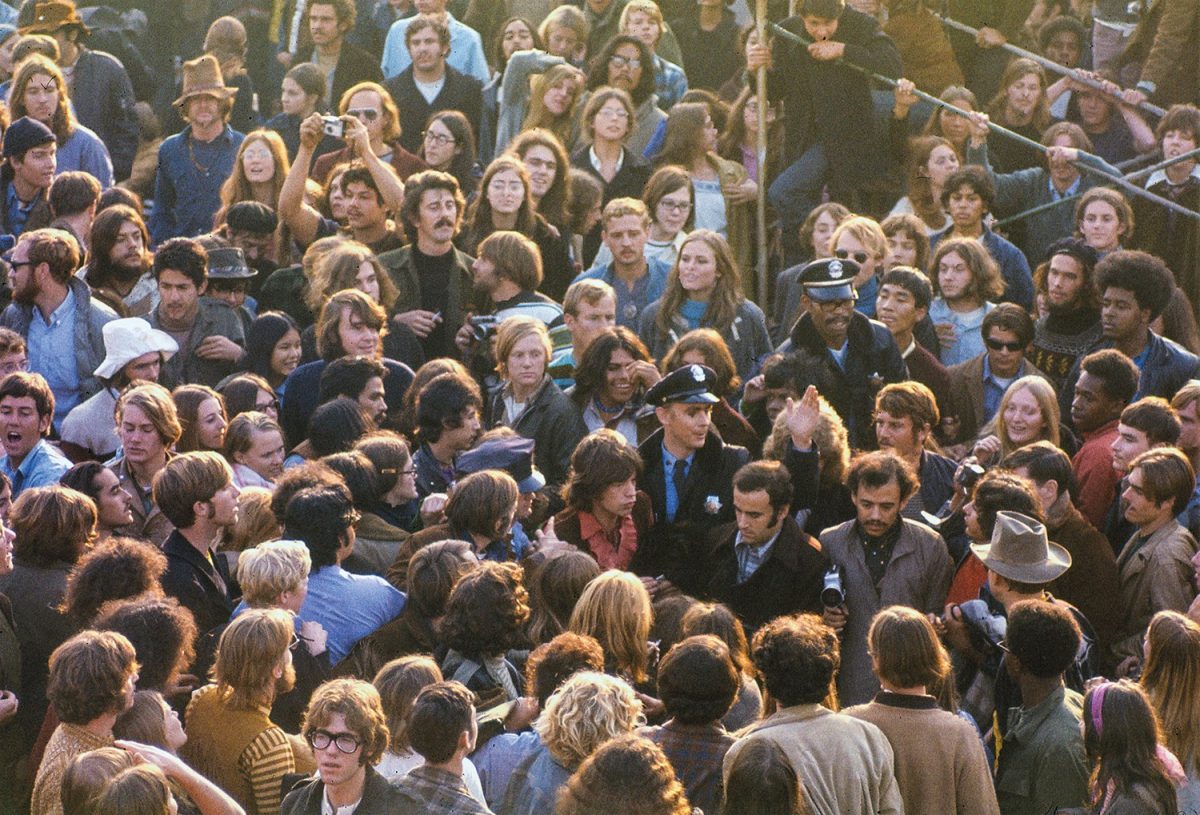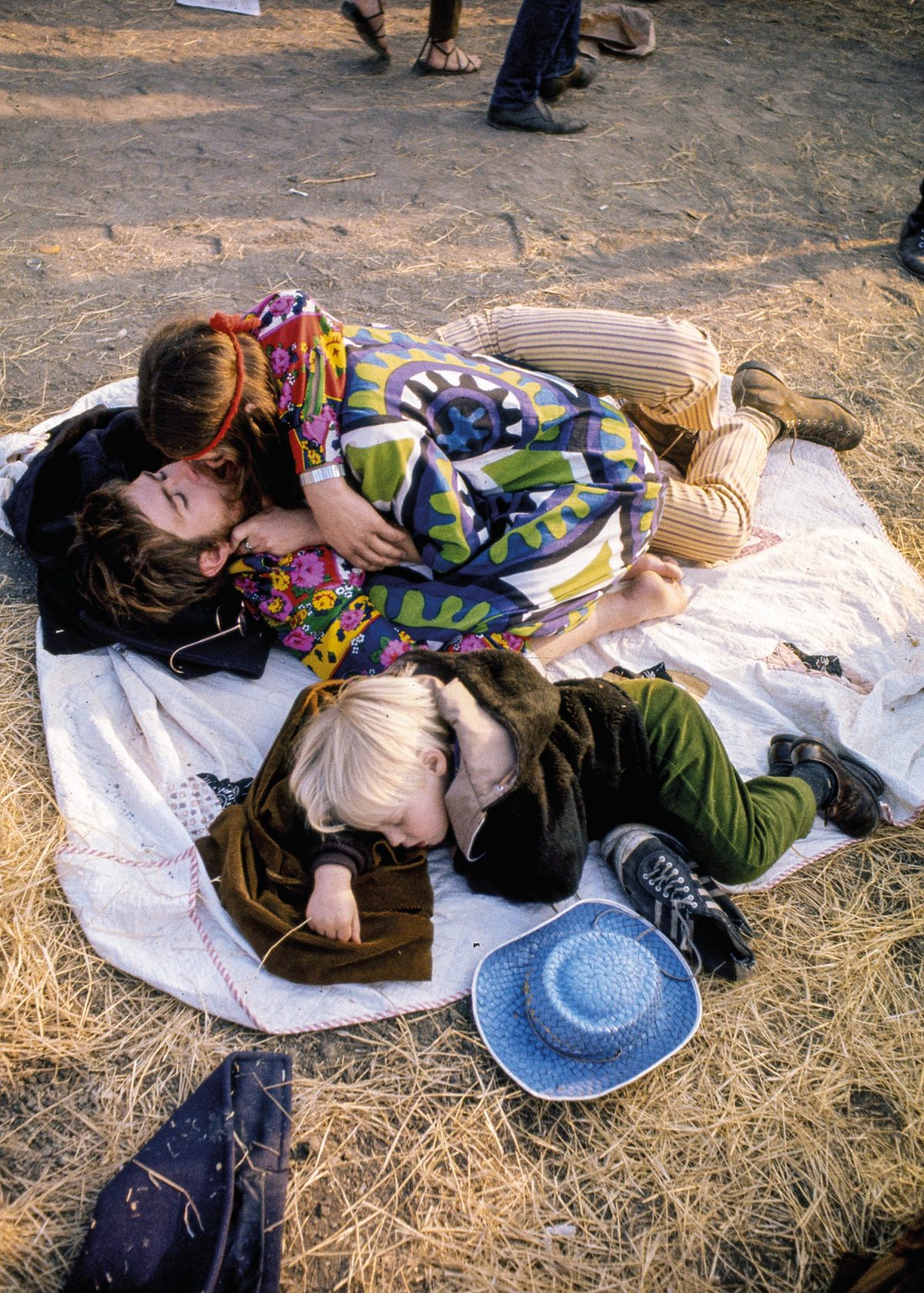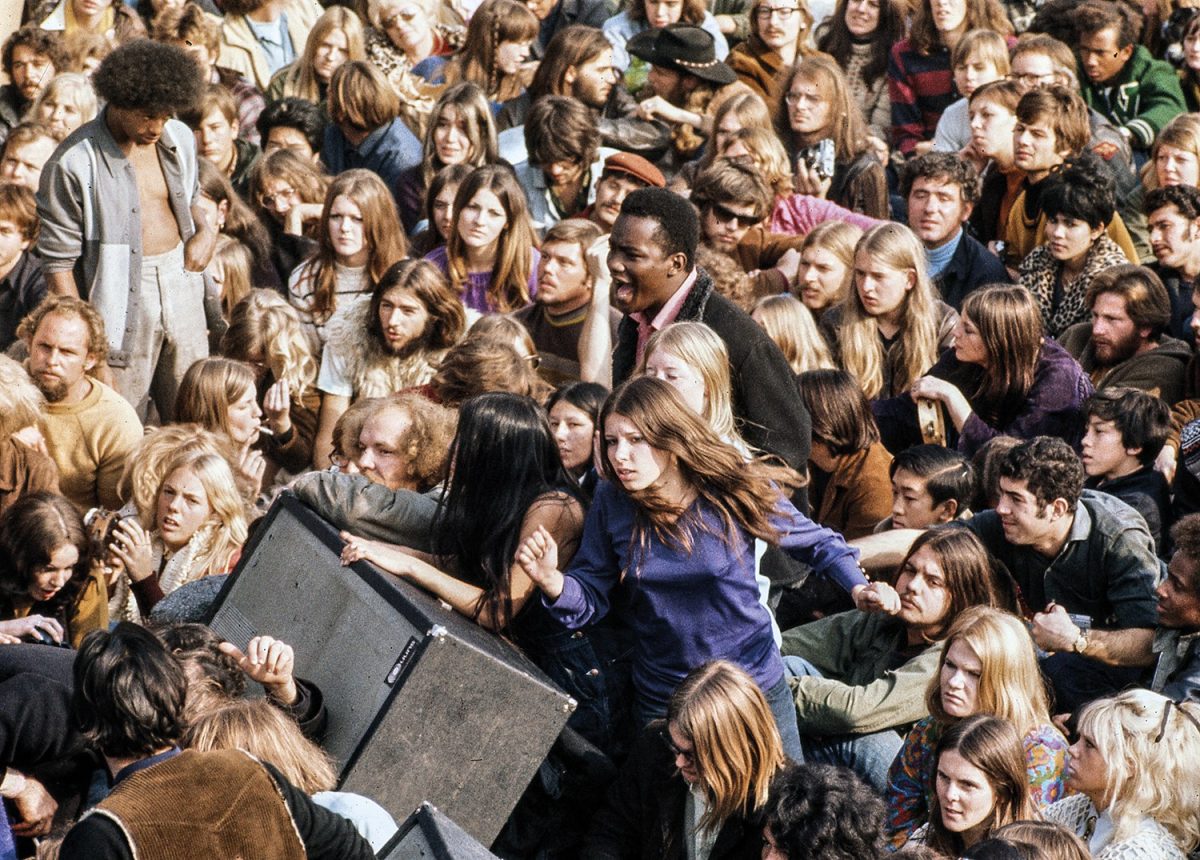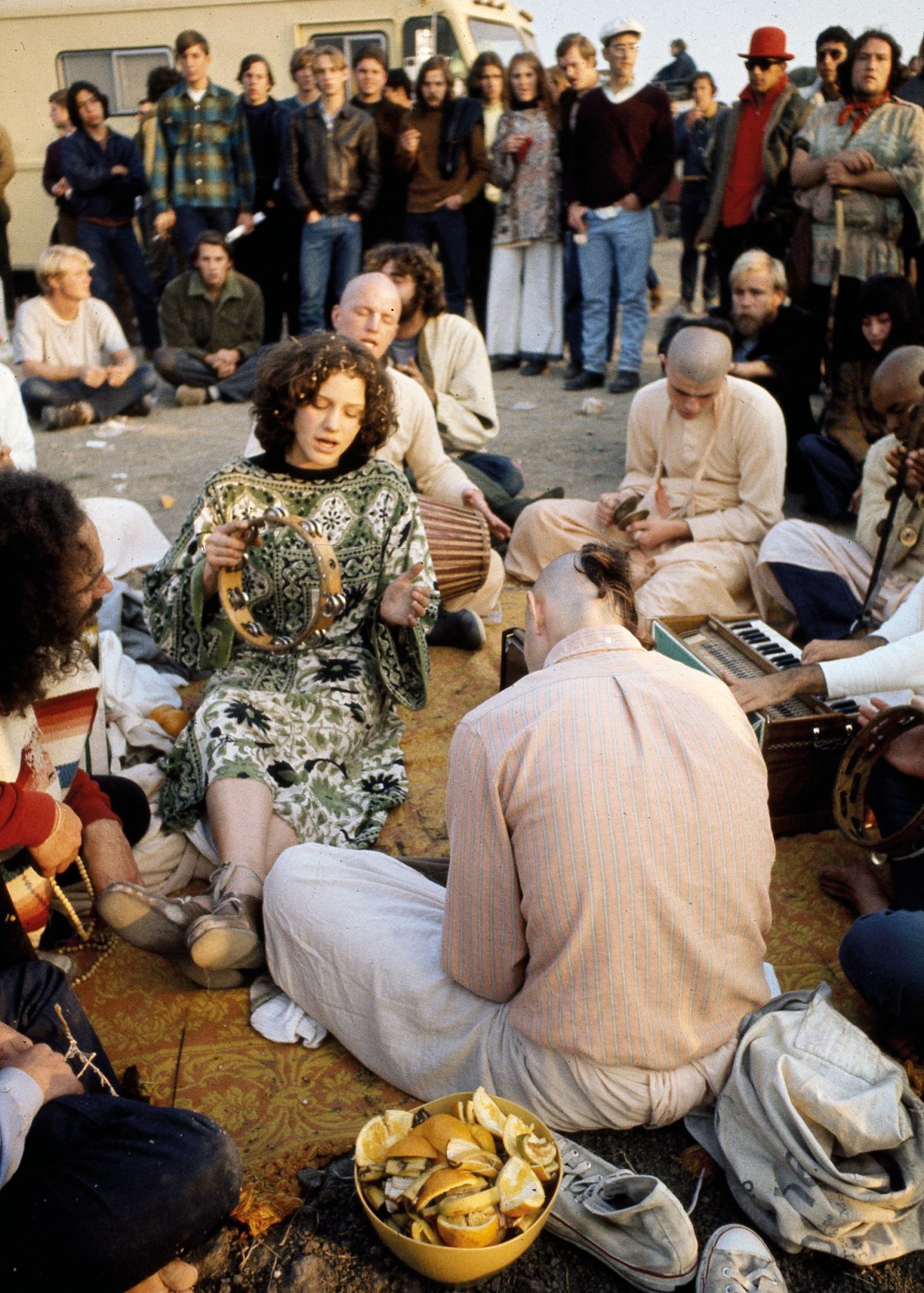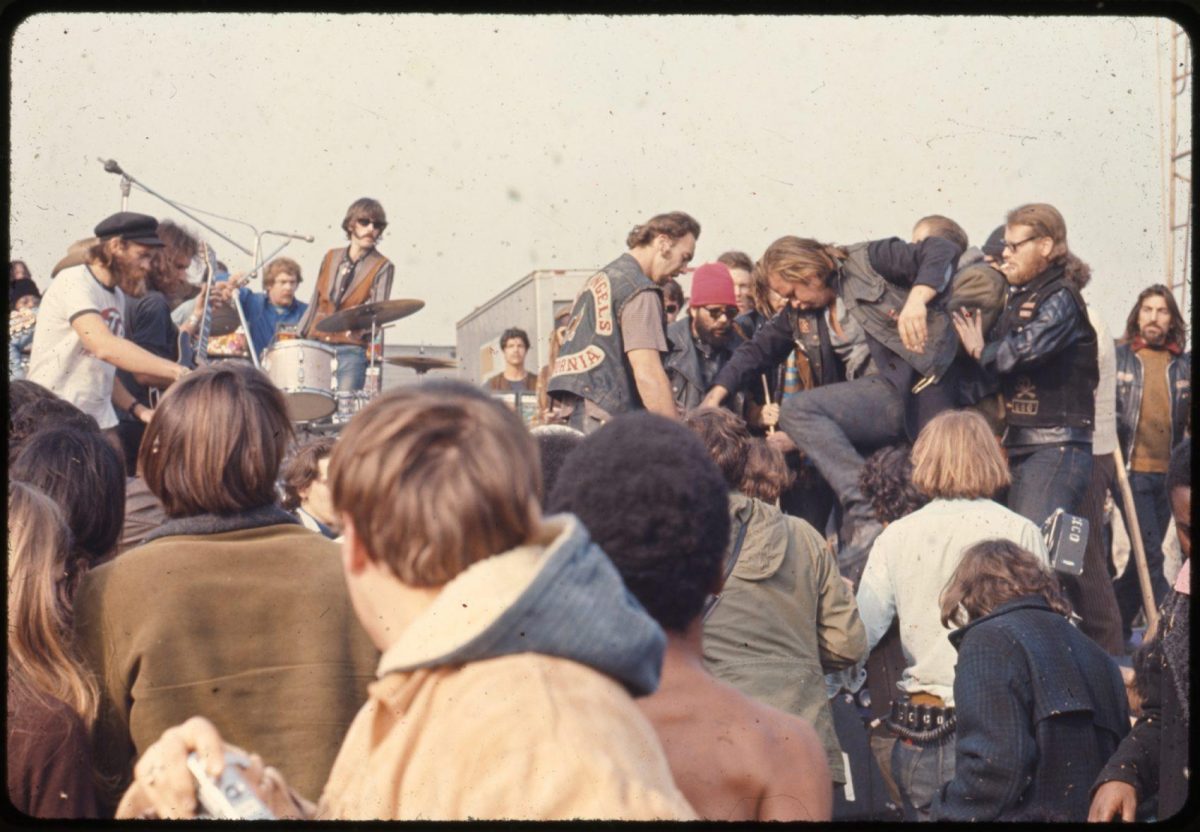 Via: Beth Bagby, New Hampshire Public Radio : More: Bill Owens: Altamont 1969 ; Joel Selvin : Altamont: The Rolling Stones, The Hells Angels And The Inside Story Of Rock's Darkest Day.