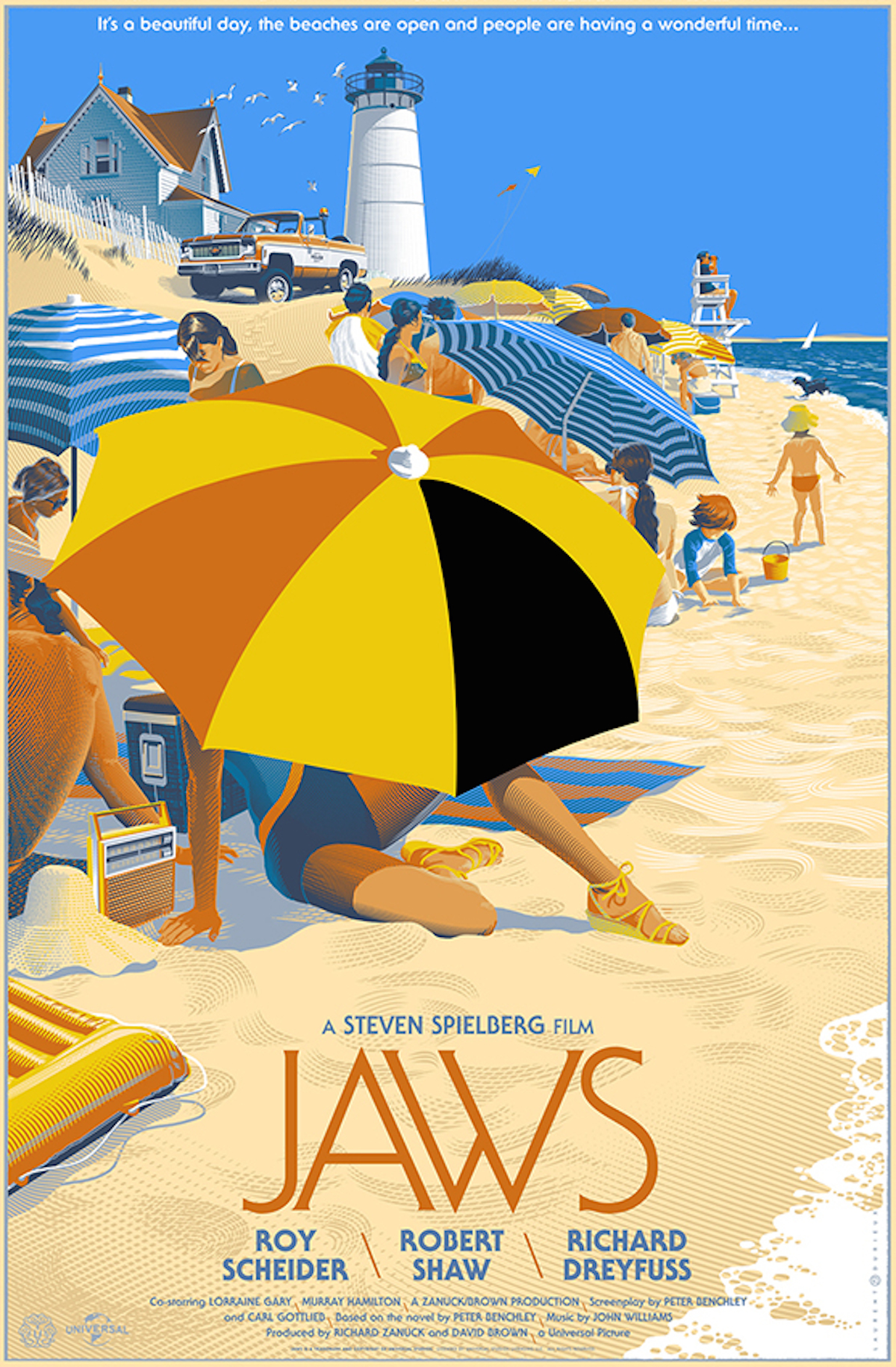 Laurent Durieux doesn't actually live in a retro-futuristic world imagined by H.G. Wells and designed by Raymond Loewy, but looking at his screenprints of the past few years, you'd be forgiven for thinking he does. In Durieux's world, gigantic robots tower over forests populated by mythical beasts such as Bigfoot and King Kong; city skies are thick with airships shaped like Snoopy, while Buck Rodgers-like vehicles whiz by on slender monorails; and movie monsters are portrayed as sensitive creatures, victims of their grotesqueries rather than revenge-fueled fiends.
Though he's spent two decades as a designer and teacher, the 42-year-old Brussels illustrator and graphic artist was only recently discovered in the United States, thanks to a number of high-profile awards and marquee commissions, including a 2013 screenprint of "Jaws" (above), which caught the eye of the film's director, Steven Spielberg. The climb from relative obscurity began, though, in 2011, when Durieux (pronounced 'durio') was named one of the world's 200 Best Illustrators by the influential international advertising magazine Lürzer's Archive. That year, his short animated film, "Hellville," was selected for screening at several prestigious film festivals.
Durieux's career really took off in 2012, when Los Angeles-based print publisher Dark Hall Mansion commissioned him to create two Snoopy-themed Giclee prints, each with a variant edition, for Valentine's Day. That project was quickly followed by a pair of screenprinted posters, also for DHM, based on the 1956 Japanese manga series "Tetsujin 28-go," which follows the adventures of a boy and his remote-control robot—U.S. adults of a certain age may remember this Japanese title as the 1960s cartoon series "Gigantor."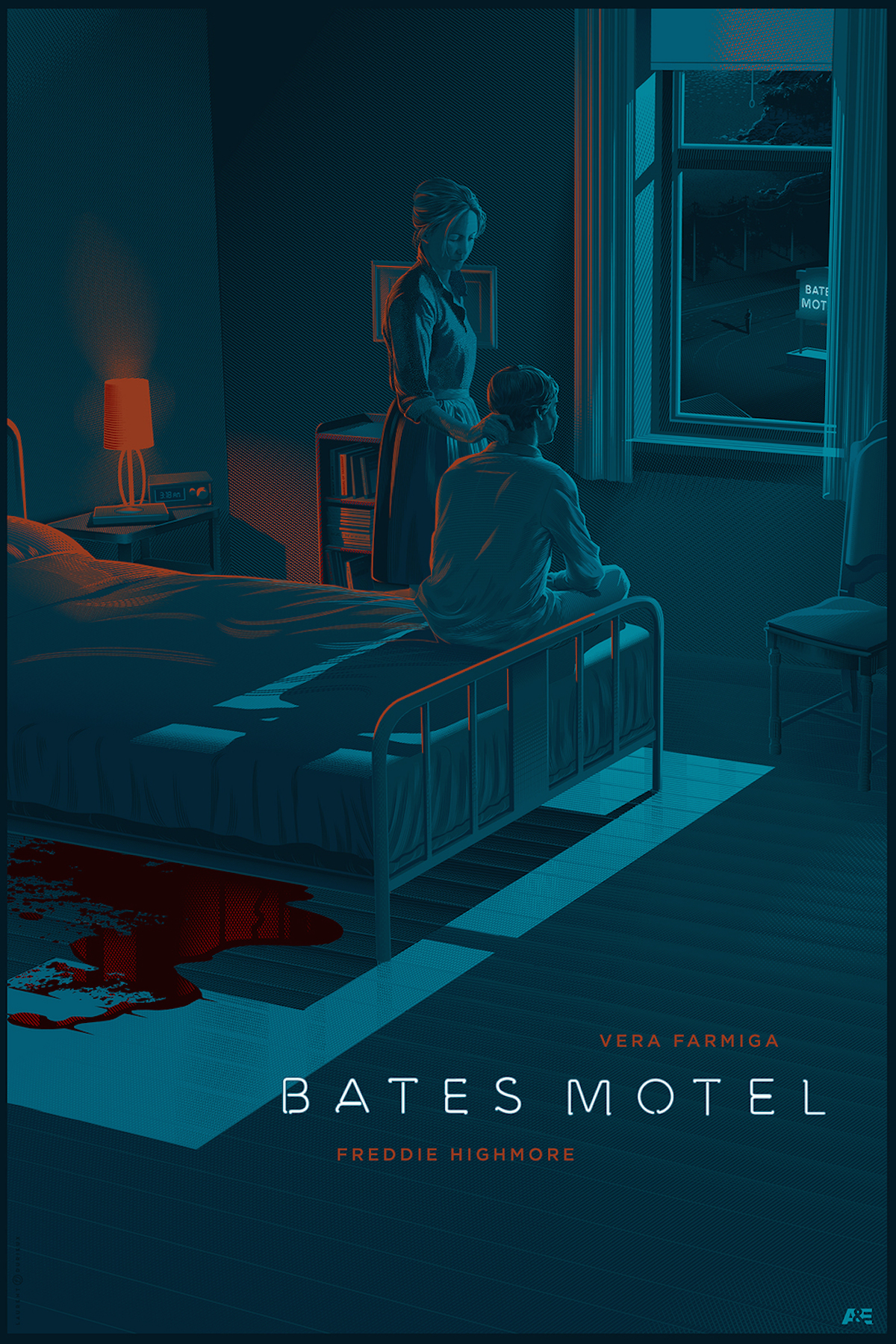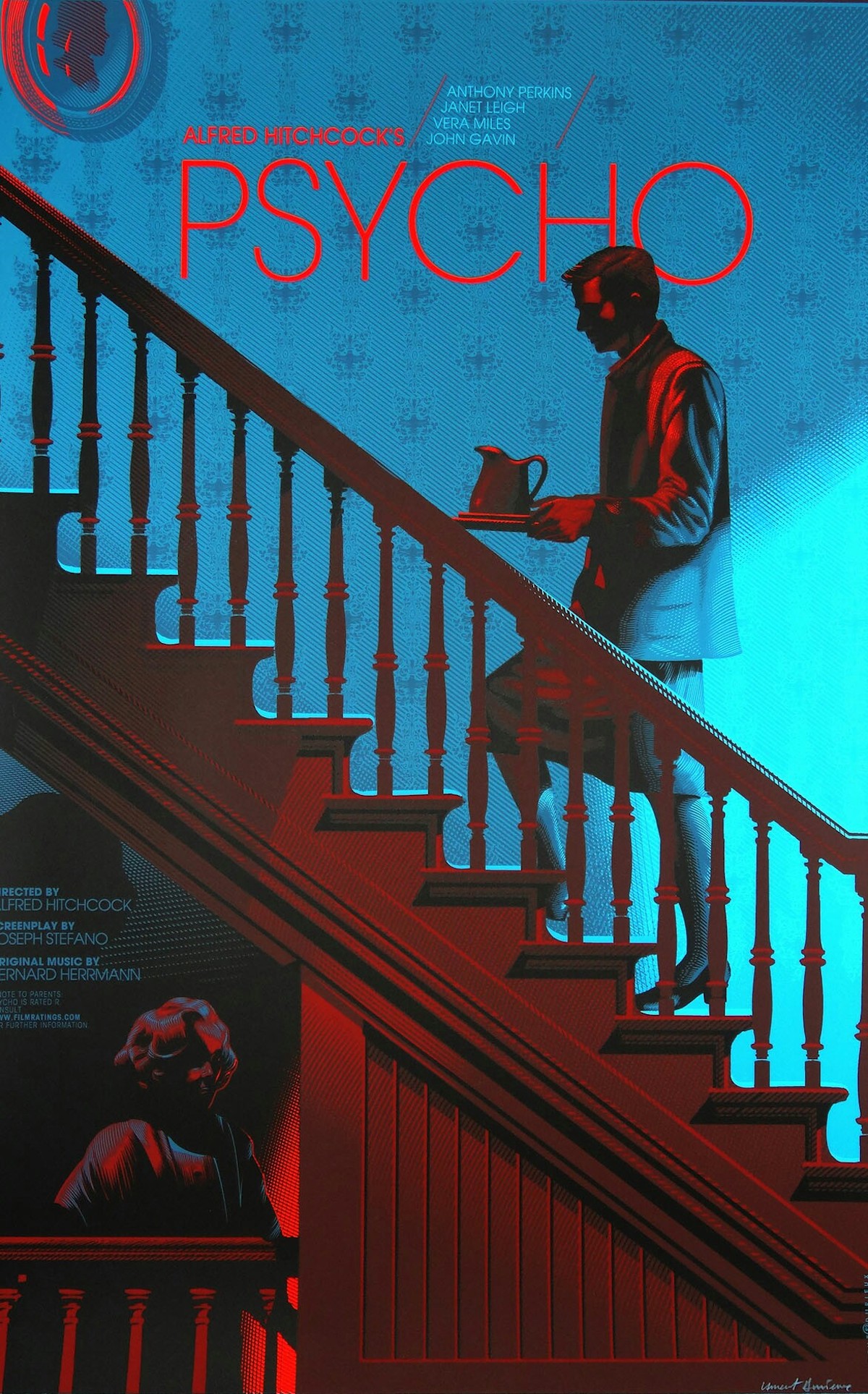 All this activity did not go unnoticed by contemporary movie-poster publisher Mondo, which released its first Durieuxs—a screenprint for Brad Bird's 1999 animated feature, "The Iron Giant," as well as an image of "King Kong"—in May of 2012. More Mondo prints followed in the fall for a show called "The Universal Monsters" at Mondo's Austin, Texas, gallery. For that exhibition, Durieux contributed five pieces, including a quartet of moody and romantic designs for such Universal Studios horror classics as "Frankenstein" and "The Mummy." As with most Mondo posters, and all of Mondo's Durieuxs, those screenprints sold out almost immediately.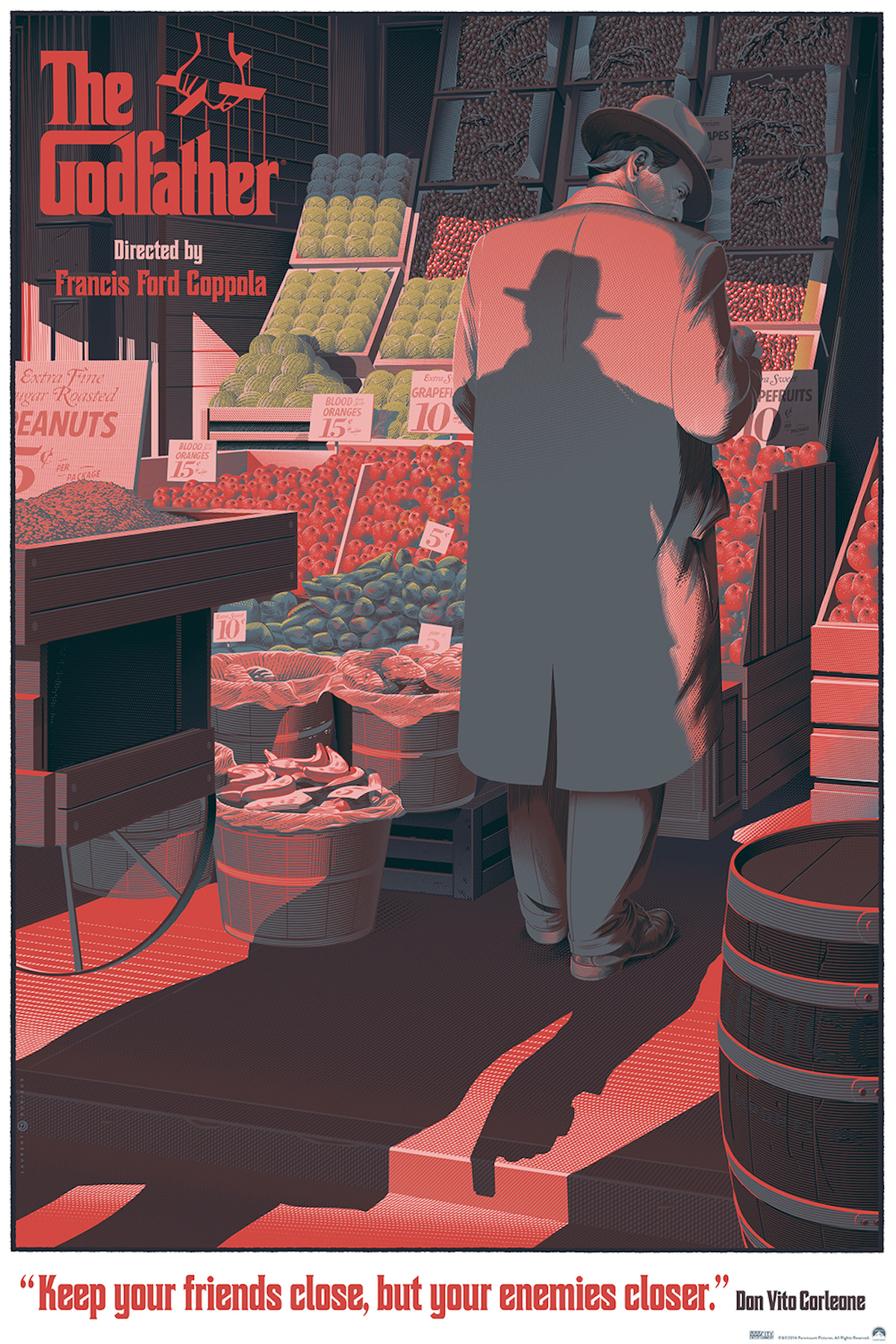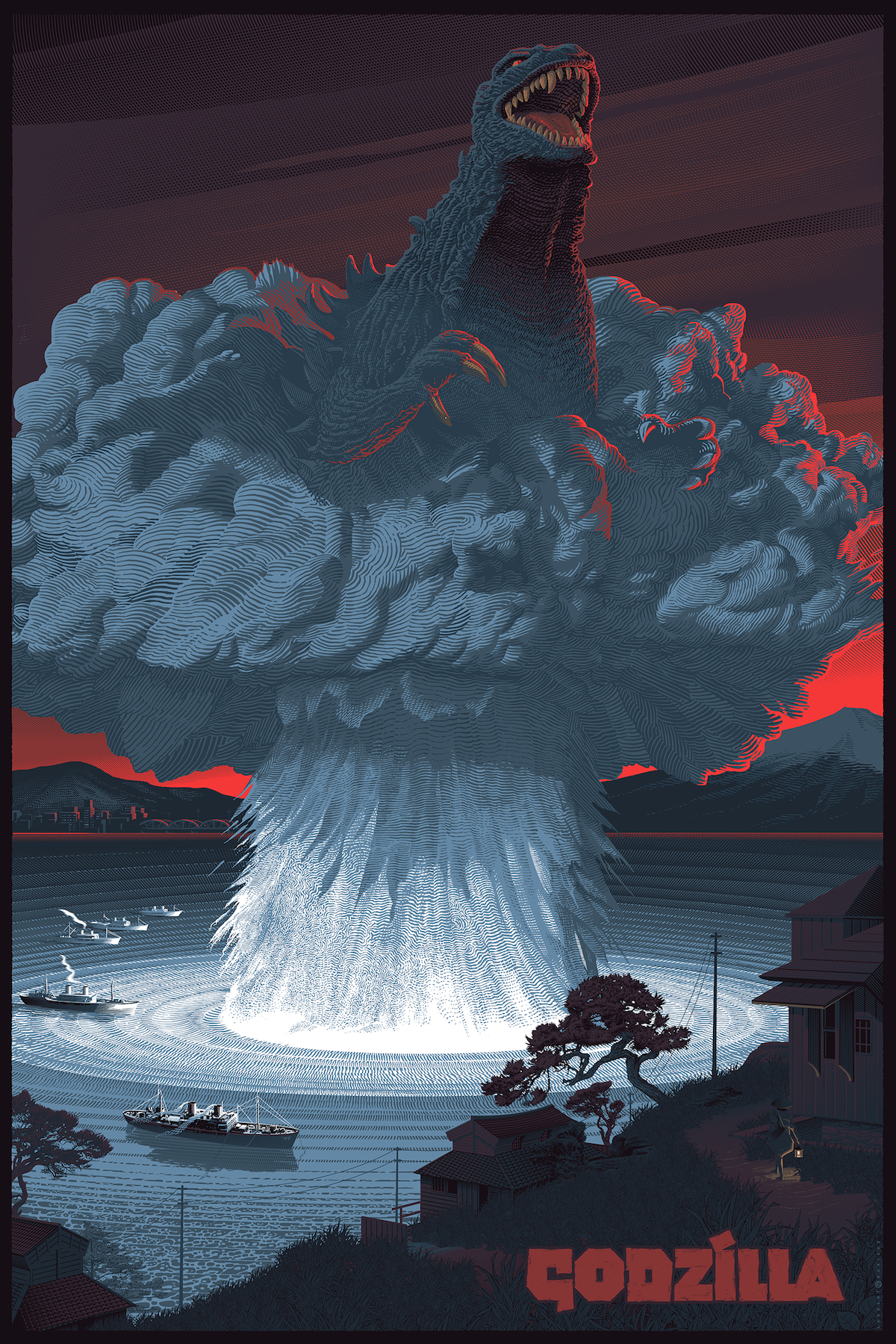 This year, 2013, has gotten off to an equally rousing start, beginning with the January release of a poster for Steven Spielberg's 1975 thriller "Jaws." Reportedly, the director himself liked Durieux's design so much, he ordered 25 copies to give as gifts to his closest friends. Thanks to the buzz that followed Durieux's "Jaws" (prices for prints from the original edition of 525, which cost $60 each, are now hovering around $200), anticipation is building among collectors, who are hoping a new Durieux will be included in Mondo's annual Oscars drop during the Academy Awards broadcast on February 24, 2013.
According to Durieux, who communicates with the non-French-speaking world through his twin brother, Jack (who also does the lettering on many of Durieux's posters), the "Jaws" poster that has brought him so much attention and acclaim almost didn't happen. "When Mitch Putnam and Rob Jones from Mondo called me up and asked me to do it," he says, "my gut feeling was to say no. I didn't think there was any way one could do a better job than the original poster and book cover by Roger Kastel. So I decided not to go for the sharp-toothed-monster-attacking-the-boat sort of thing, but to play with the contrast between what we see in the poster and what we know is going to happen. Spielberg always said that what saved his movie was the fact that Bruce, the mechanical shark, wasn't working properly, so most of the scenes don't have a shark in them. The movie became Hitchcockian—you didn't see it but you knew it was there, and that's what scared us. So I tried to emulate that with my sweet, sunny, postcard-looking poster. The menace is there without being there."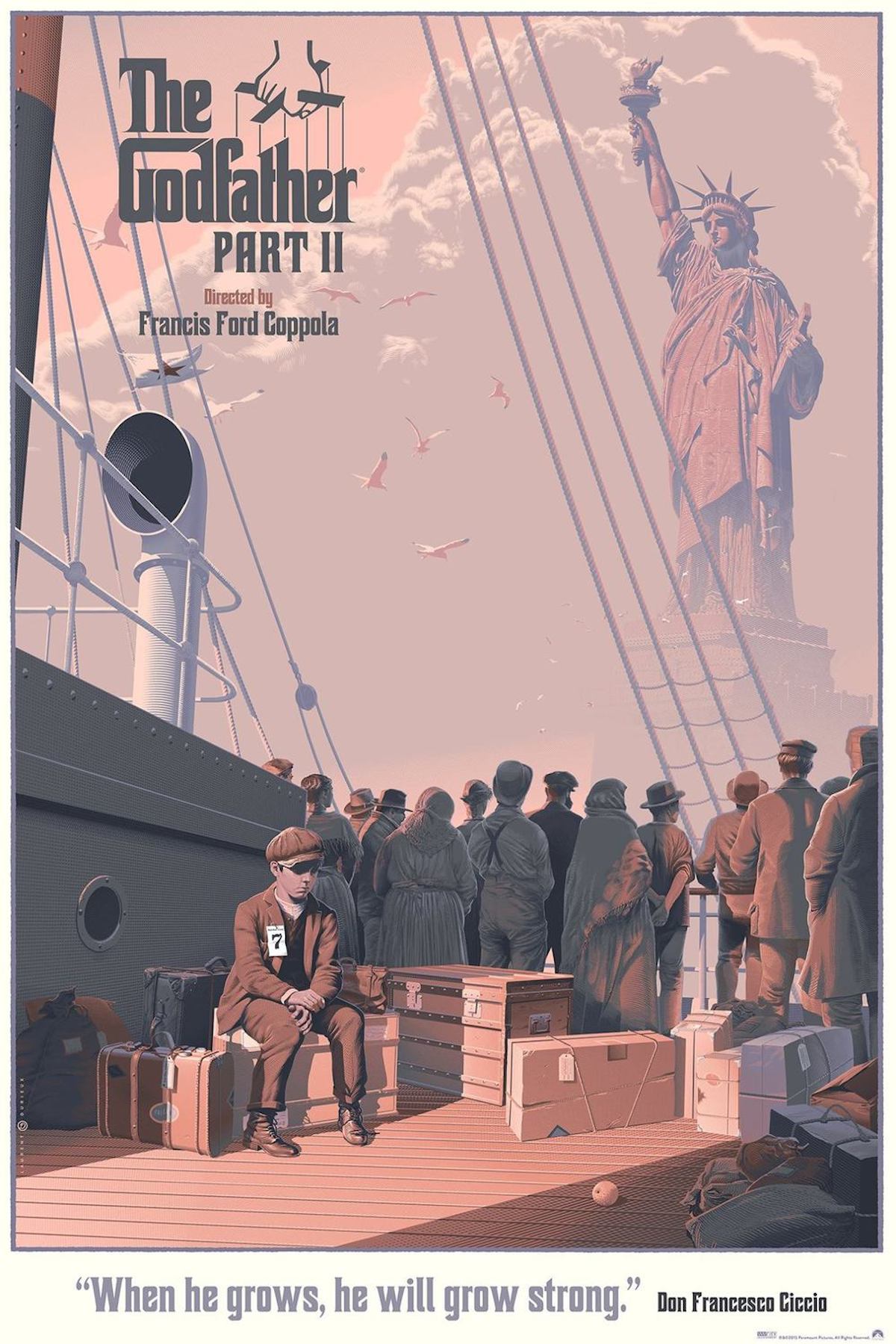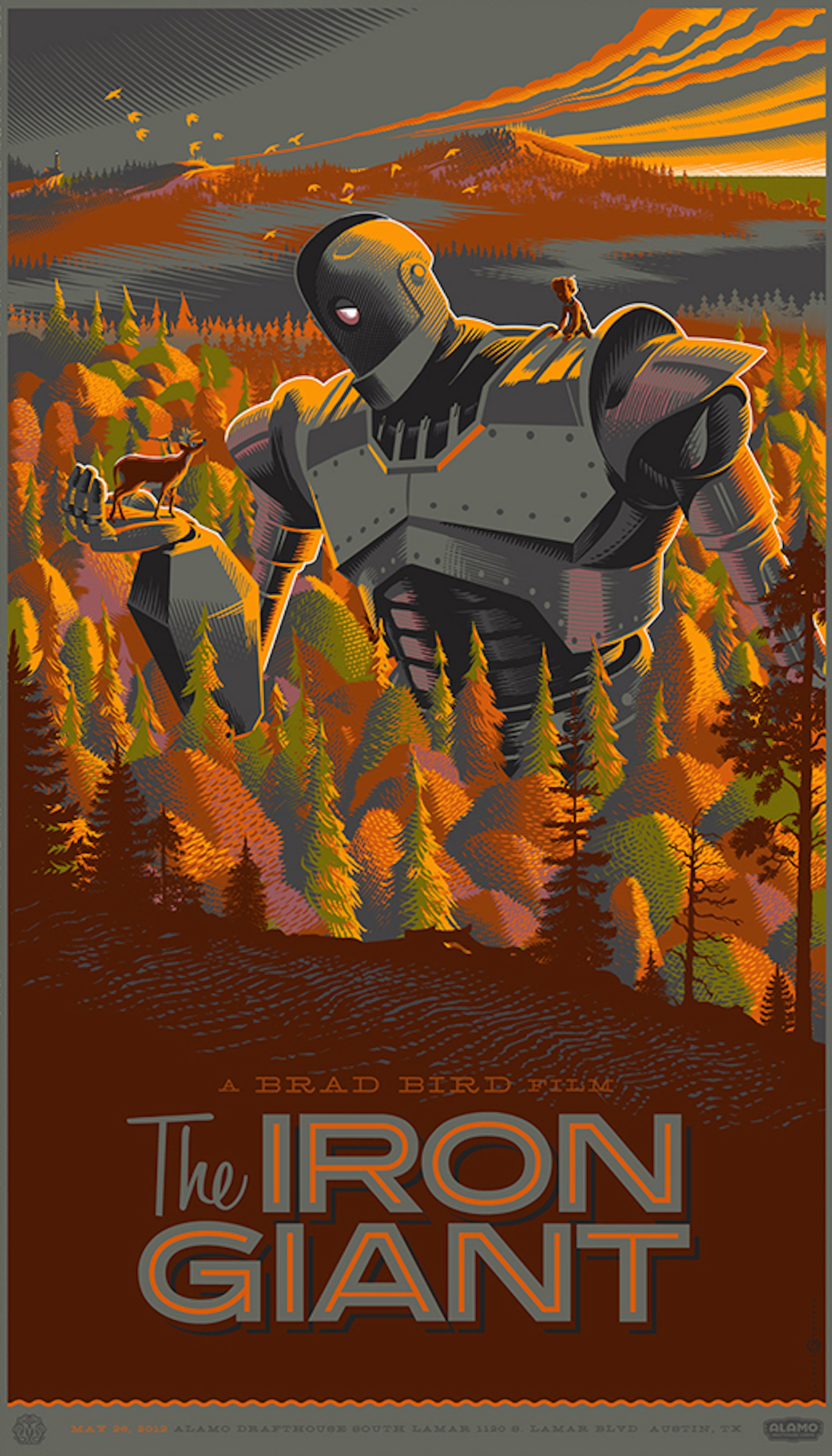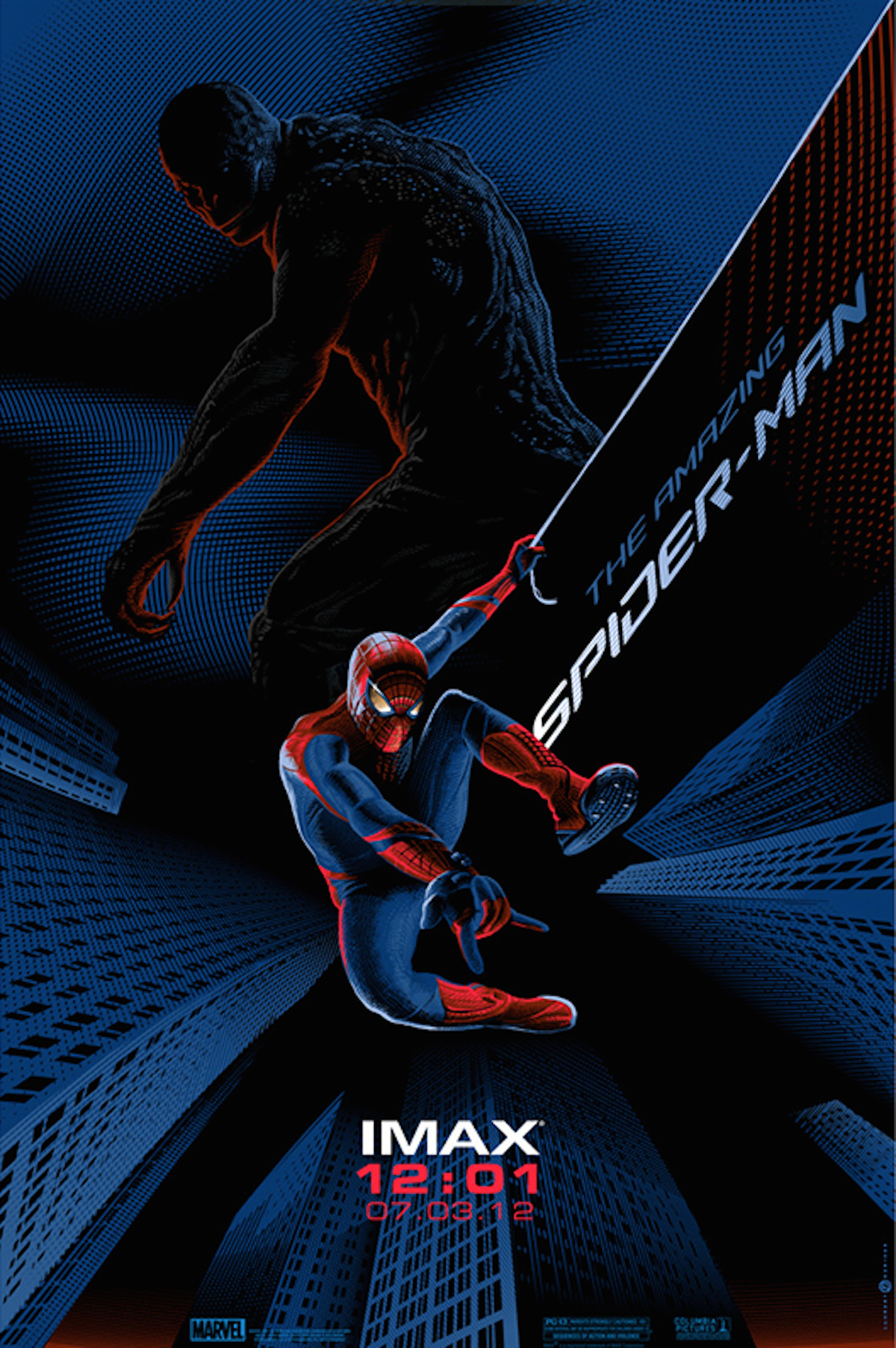 In fact, Durieux grew up amid one of the planet's most notorious larger-than-life unseen presences in the town of Waterloo, where French Emperor Napoleon Bonaparte went down to defeat in 1815. The youngest of five siblings (okay, technically, Laurent is several seconds older than Jack), Durieux was one of those kids who just always drew, from as early as the age of six. Much to Laurent's consternation, Jack drew, too. "Jack had been complimented by our school teacher on one of his drawings," Laurent recalls. "I didn't like that at all. So I thought, 'I'll show them.' I guess I'm the twin that doesn't like being dominated."
By the age of 11 or 12, Durieux encountered his first major mentor, illustrator Jean Giraud, who drew comic books under a number of pen names, including Moebius. "Jean Giraud and his alter ego, Moebius, had a huge impact on my life as an illustrator," Durieux says. "He's the reason I started to draw seriously. It was like with Jack, you know? I wanted to do better than him. Of course, it was naive of me to think I could ever be compared to such a tremendous talent, but still, that's what motivated me back then."
Moebius comic books such as "Métal Hurlant" and "L'Incal" are notable for their almost obsessive attention to detail, as well as their novel approaches to storytelling, typified by a dialogue-free series called "Arzach." Though Durieux's imagery is generally cheerier than anything in "Arzach," that series did teach him the importance of telling stories without relying on dialogue, which is usually the task of movie posters and character-driven screenprints. "'Arzach' was a big influence, for sure," Durieux confirms, "and 'Métal Hurlant' was my Bible. I used to trace Moebius's 'L'Incal' strips when I was about 11 years old," he adds, freely admitting to a common technique used by many young artists to force muscle memory into their impressionable hands. "That's pretty much how I learned to draw."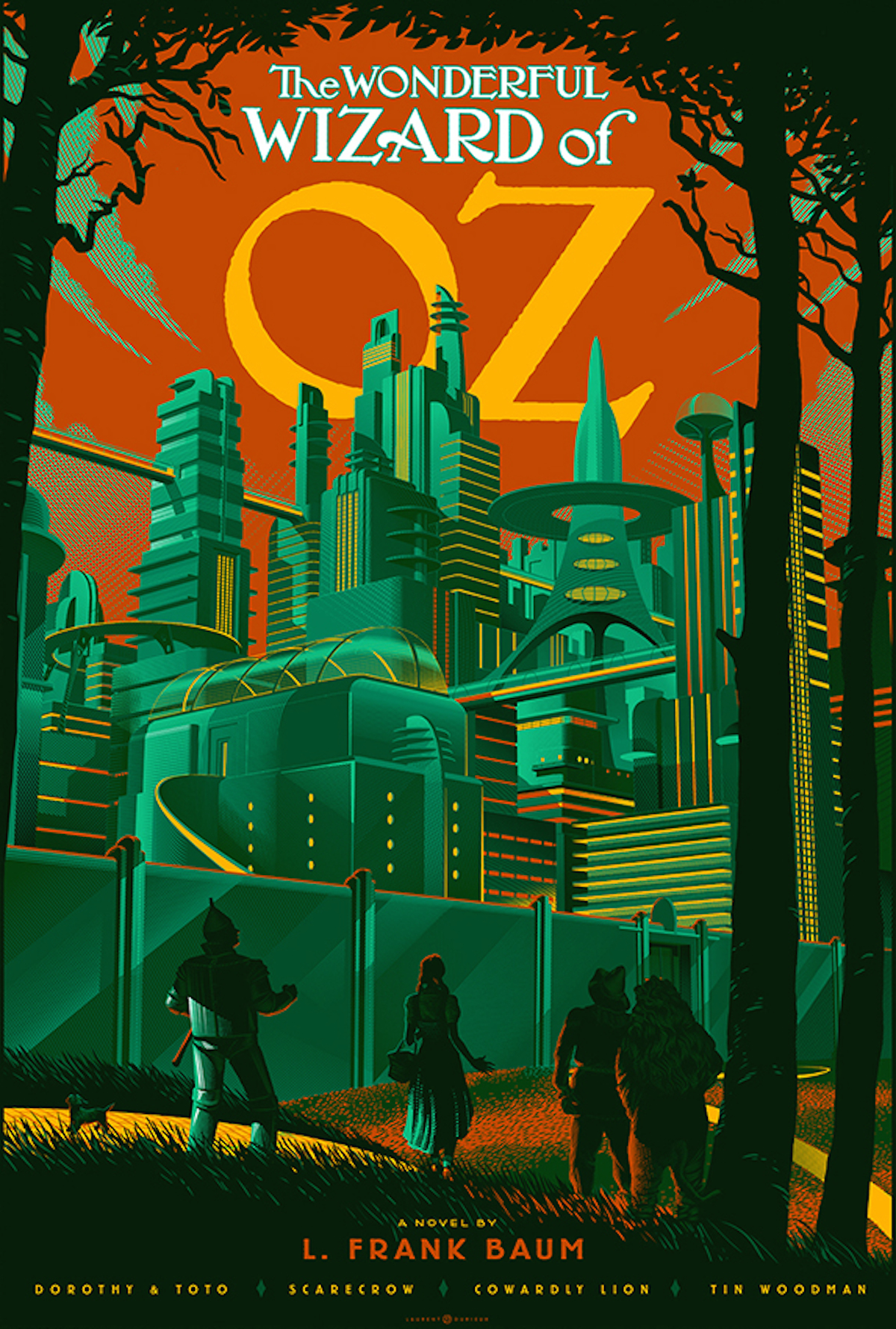 Before Giraud died in 2012, Durieux had the opportunity to meet his hero, but not "properly," as he puts it. "I did shake his hand a few times, but I was so intimidated, I couldn't say a word. I don't really regret it, though. Someone once said 'Never meet your heroes, they are bound to disappoint.' That's what helps me live with it, I guess." Today, Durieux says, "there's not a line I draw without thinking of Jean Giraud. His passing deeply saddened me and, like many others, I feel sort of like an orphan now. I know this is pretty extreme, but I don't even go into comic book stores anymore."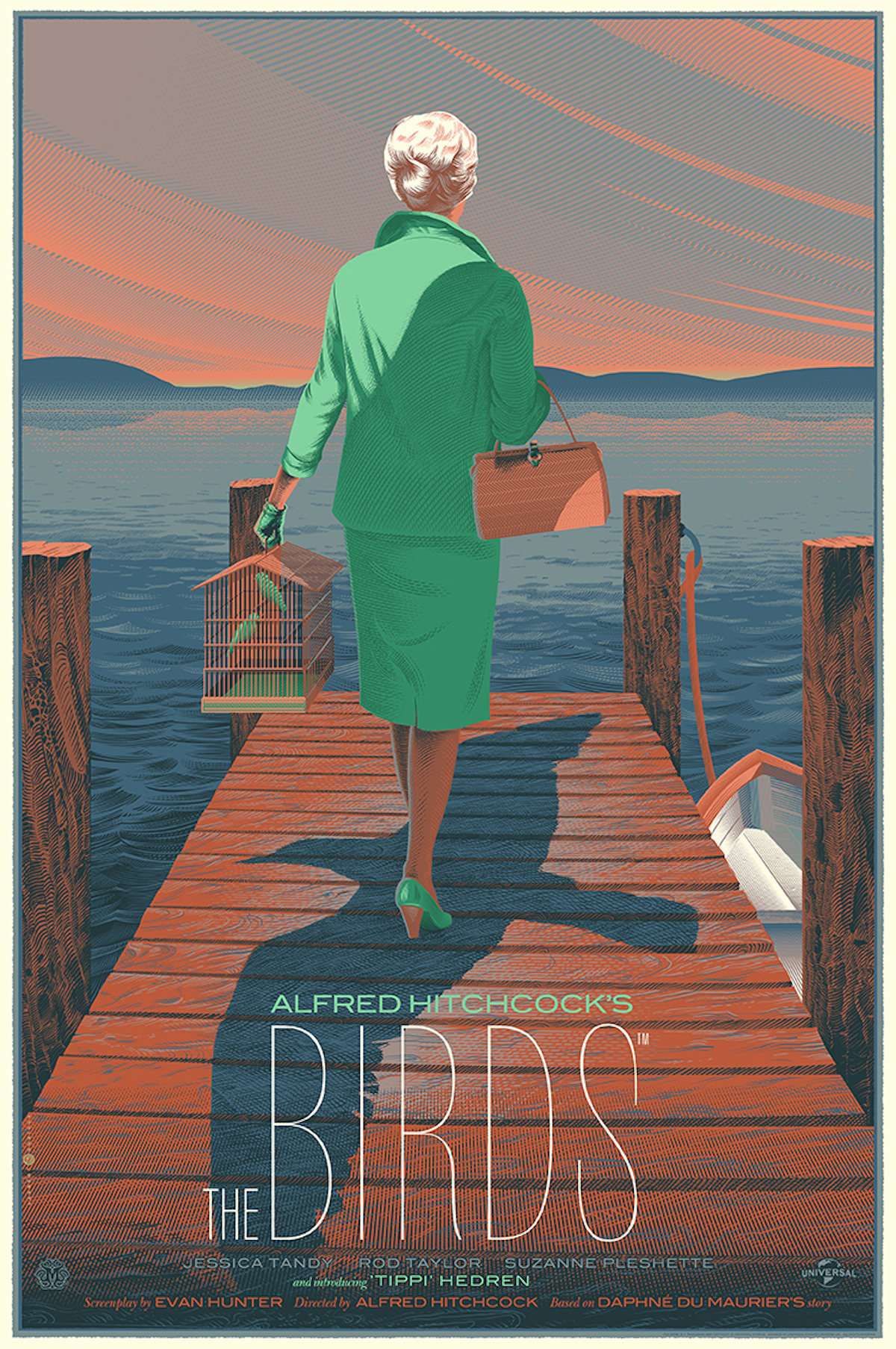 In 1988, at the age of 18, Durieux began his formal studies in Graphic Communication at l'Ecole Nationale Superieure des Arts Visuels de la Cambre, where he met his second great mentor, Luc Van Malderen, whose bold, almost building-block style could not be more different from Giraud's. "It's a different approach altogether," Durieux says of Malderen's work. "He is essentially an artist who tries to represent industrial architecture and space in a very graphic and sometimes almost abstract way. His use of color is amazing. Funny enough, his body of work mostly consists of screenprints, but artistically, that's just about the only thing we have in common. But he taught me one essential thing: Only the result matters, how you get there is irrelevant."
The place Durieux was headed was somewhere in the retro-future, a world conjured by the likes of H.G. Wells, Georges Méliès, and Jules Verne, but populated by outsize cultural icons, from Bigfoot and King Kong to advertising mascots for Esso gasoline and Bob's Big Boy hamburgers. Durieux seems to gravitate to larger-than-life subjects, as if to imbue his images with a child's world view. "Believe it or not, I hadn't noticed this," he says, "but you're right, I only draw big things! I'm gonna have to start doing images with small things now or people will start thinking it's a gimmick. On the other hand, I've always preferred Sequoias to bonsai trees."
Durieux also enjoys being counterintuitive with subjects. His Universal Monsters, for example, are romantic, tender, even sentimental. "'The Mummy' is a love story," he says, "not a horror movie. 'Frankenstein' is so sad and tragic—that scene with the flowers and the little girl gets me every time. 'Dracula' is also a romantic character. As for 'The Wolf Man,' again, I see him more as a victim than a scary monster."
Most of Durieux's images, whether they are based on movie monsters, Charlie Brown characters, or streamlined emerald skyscrapers in the Land of Oz, begin as pencil sketches. "Once I'm satisfied with the general idea," he says, "I start drawing on the computer. I used to do everything by hand, but I couldn't get the sort of details and nuances I get working in digital. Once the digital drawing is finished, I do the shadings and, most importantly, I get rid of all the black outlines. When you get rid of that outline, the comic-book feel, of which I'm so enamored, disappears, and the image suddenly becomes something else."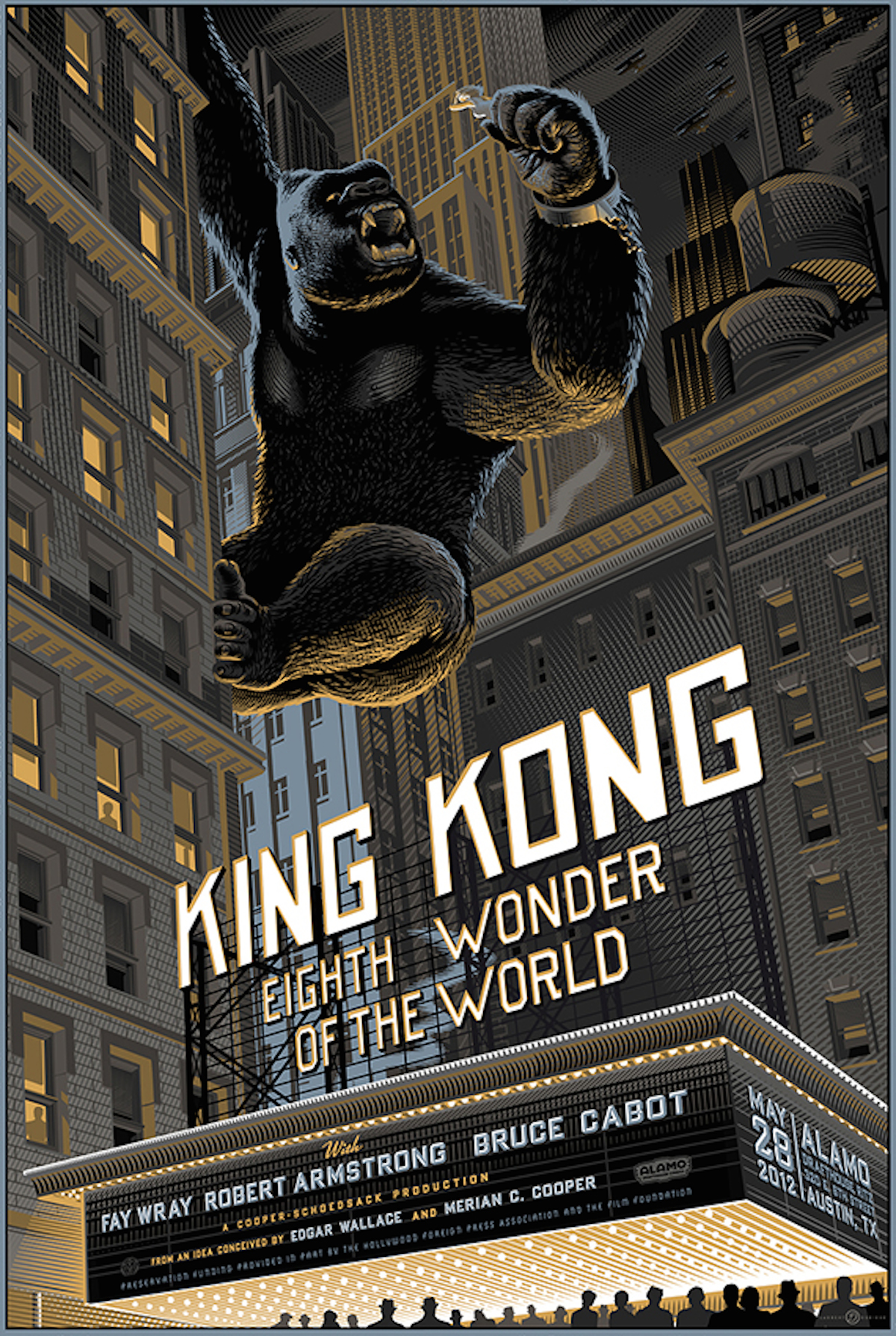 Compared to his other work for Mondo and Dark Hall Mansion, "Jaws" probably struck many of his new fans as a great big something else, resembling a mid-20th century travel poster more than anything that might be printed to advertise a film about a man-eating shark (the only reference to the creature is a black section of beach umbrella that resembles a shark's fin). But after news of the Spielberg purchase got out, interest in Durieux's "Jaws" went crazy, and prices for the rest of his work rose, too. Though undoubtedly flattered by the attention, Durieux did not realize how opportunistic some contemporary movie-poster collectors could be. When one tried to resell, or flip, a rare artist's proof of "Jaws" for $775 (it was one of only 20 screenprints actually signed and embossed by the artist), Jack Durieux publicly berated the seller for gouging and the auction was withdrawn.
Spielberg's "Jaws" prints are from the numbered, unsigned edition of 525, which means the billionaire director doesn't even have the artist's autograph ("He couldn't afford it!" Durieux laughs). But that doesn't mean Durieux wouldn't like to have Spielberg's famous scrawl on a scrap of paper. "I am a huge fan, obviously," Durieux says. "Who isn't, right? So yeah, I'd like to have his autograph, maybe on a note that reads, 'Nice poster, man, but where's the damn shark!'"
Read more from Ben at Collectors Weekly. We recommend: Hippie Daredevils, Psychedelic Rock Posters and When Pianos Fell From the Sky.