World-renowned Northern Irish photographer, Bobbie Hanvey, captured some of The Troubles' most defining and devastating moments. Bobbie is lauded as much for these photographs as he is for his iconic portraits of figures like Seamus Heaney, Gerry Adams, Brian Friel, and Ian Paisley.
In Reconstructions – The Troubles in Photographs and Words, these photographs take on even greater resonance when set in context by Bobbie's eldest son, singer-songwriter and poet, Steafán Hanvey. Inspired by the photographs, he often witnessed coming to life in the darkroom, Steafán's memories of a childhood less ordinary are presented in a lyric poetry filled with startling imagery and insights that capture the wit, cadences, anguish, and dreams of the people of Northern Ireland.
Reconstructions daringly conflates the public and the private, and acts as a timely reminder of just how futile and unnecessary internecine conflict really is. But most of all, Bobbie and Steafán, father and son, have produced a book that is a testament to the strength and resilience of ordinary people living through extraordinary times.
Portals to a past.
Critically-acclaimed performer Steafán Hanvey puts pen to paper to  'reconstruct' his early life and times in Northern Ireland through his father's award-winning photographs of the Troubles.
Two years back, my da emailed me a black-and white photograph he'd found in the National Archive of Ireland, of Main Street in Brookeborough, his home village in Co. Fermanagh, at the turn of the Twentieth Century. I used to spend my holidays down at my Granny Hanvey's in the same village. No sooner had I received the photo than I had  written a poem about my stays with Granny Hanvey. Within twenty minutes, I'd sent it back to my da. I was aware that I had a collection of memories that would have been very similar to his own as a child. Perhaps I was trying to impress upon him our shared experience. Happily, he reacted positively and the idea for Reconstructions, my first collection of poetry, was born.

My da conceived these photographs and I hope that my words, responses and memories do them and their taker – my fathographer – the justice they deserve. I also hope that in my presentation of each 'reconstruction'that I have afforded the less-fortunate – those who lost their lives, and those who were hurt and are hurting still – their due respect.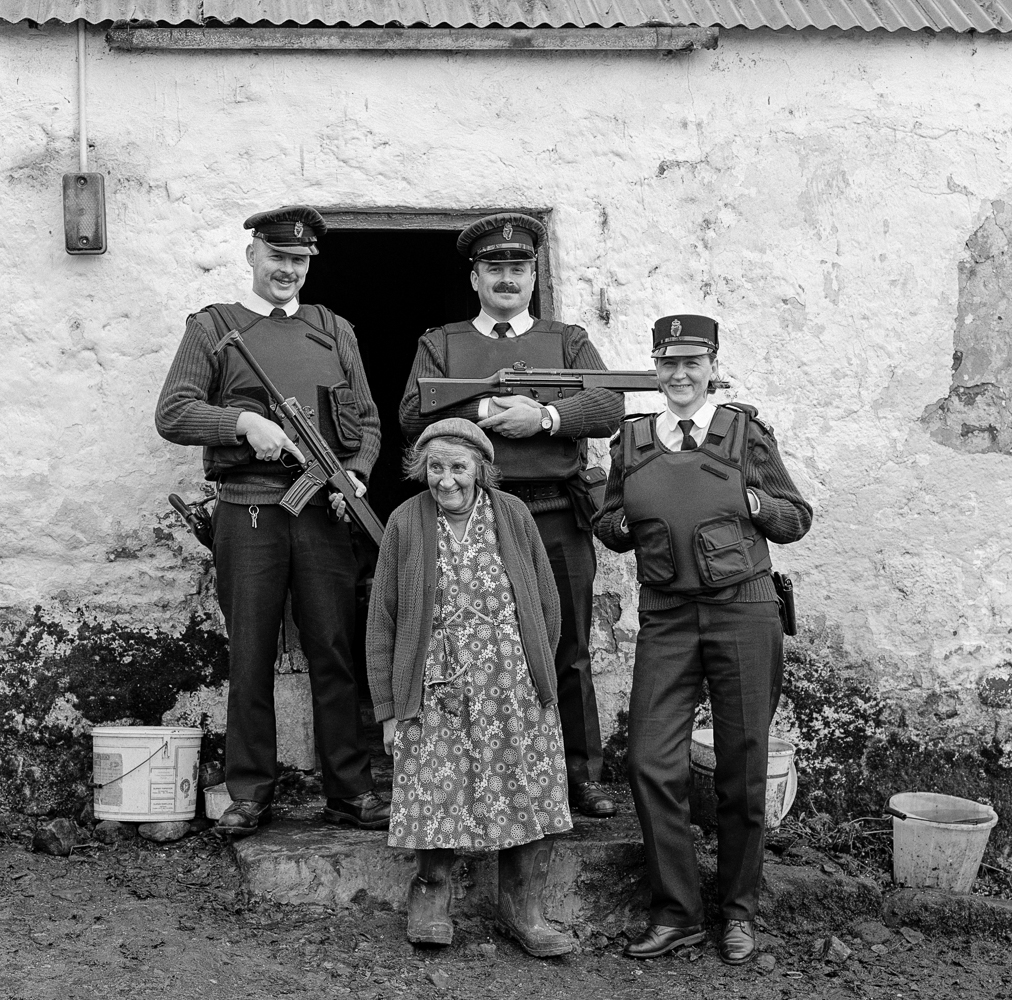 Gotcha!

Cops gate-crashing a period-drama,
three buckets betray her predilection.
If not for the smiles, it could be the Famine:
Headline: 'Defaulter caught mid-eviction.'

Seeing bad in good takes toil and talent.
Lifted for crimes against 'normality',
grossly diligent, dilly-dalliance,
no lime-slaked act goes unpunished, clearly.

As hunters gather, displaying their prey,
too small for her boots, below her station,
pouring her widow's mite into her day.
While you frame props and sense of occasion,
prepping whitewash for no one else but her,
the giver of perpetual succour.
Gotcha! – This sonnet was written to the photograph.
The lady in the photograph is Sarah Primrose, 'caught' posing with an RUC neighbourhood-watch patrol from the Clogher station in Co. Tyrone.
Sarah lived on a farm off the beaten track. These officers kept an eye on her.
She had no electricity or piped water.
She's got mischief in her eyes; everyone is smiling, but her glint and demeanour suggest she knows something we and they don't, as if to say: 'What's all the fuss about?'
Sarah has since died.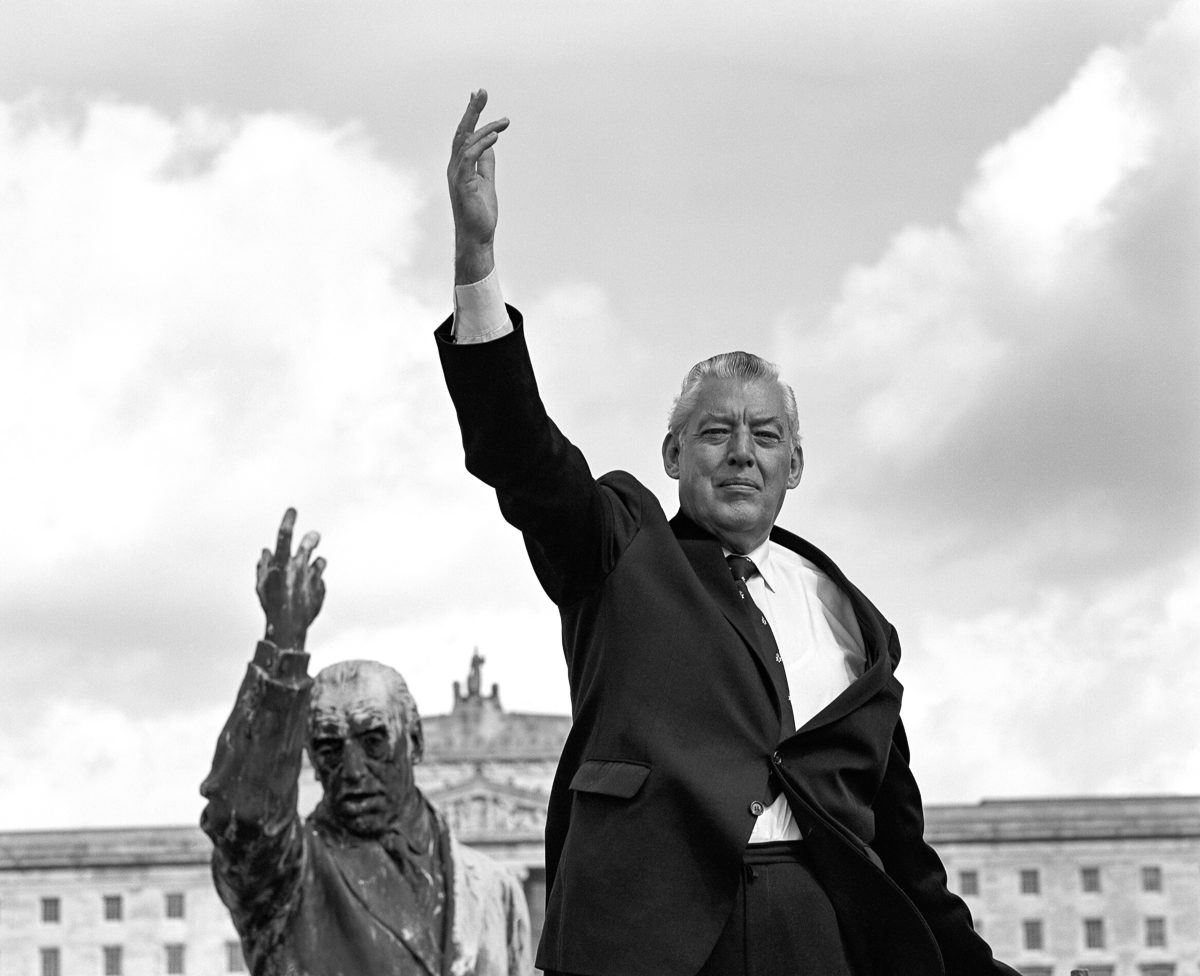 This photograph was taken in 1985 at Lord Edward Carson's Statue, Stormont, Northern Ireland. The man operating Paisley's lift was on terra firma and when it suddenly shuddered, Paisley looked down and said: 'I wonder who's stamping that man's card!' Then the wind got into Paisley's eye and he said to my da: 'Hold on, my friend, till I get this water out of my eye.' So, out came the hanky and all was good, and my father shouted over: 'Dr Paisley, I hope it's not holy water!' and, without missing a beat, Paisley retorted: 'Yes, it is!' before spelling out: 'W-H-O-L-L-Y.' It's easy in hindsight to recognise this as being the golden age of Unionism and that Paisley needed an iconic photograph going forward and that my da handed it to him on a platter. Ian Paisley Jr told my da that it was his father's favourite photograph of himself, which, as flattering as that must be, it's not surprising, given that it tapped into the moment in the way that it had.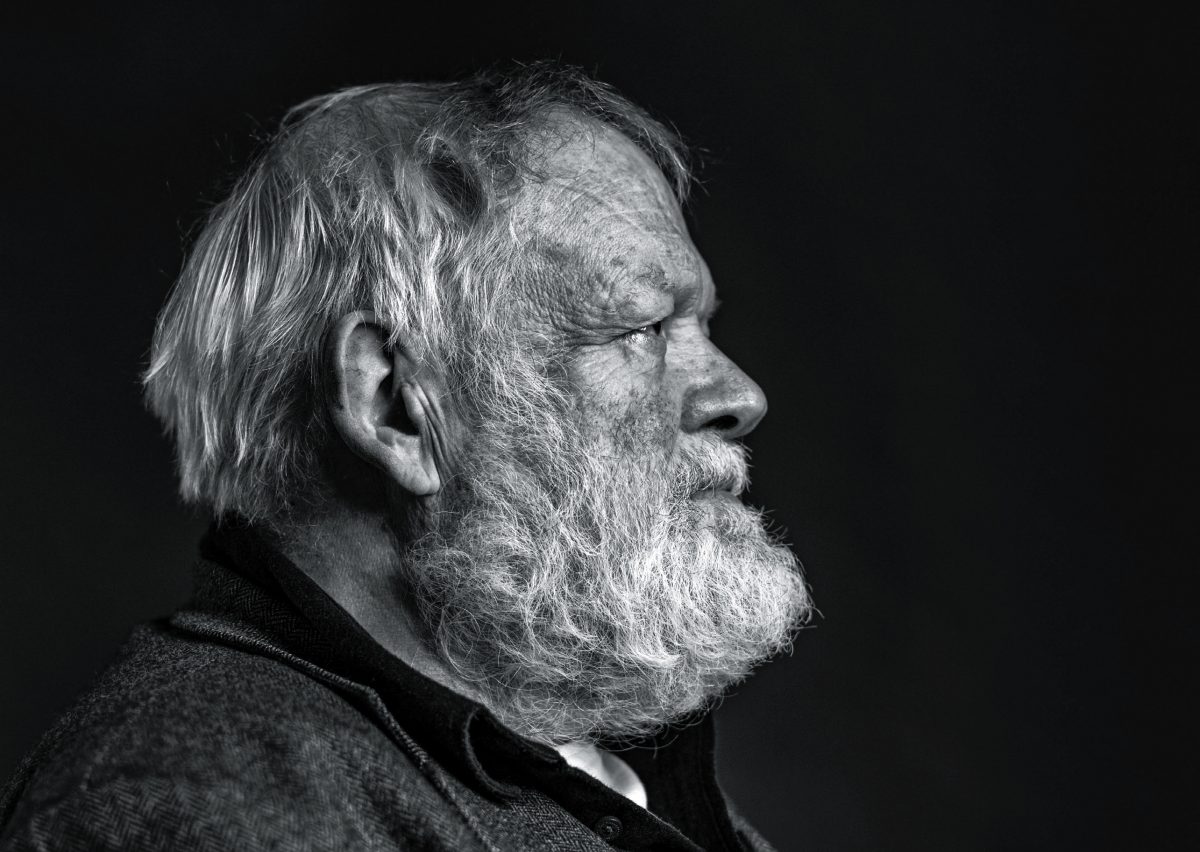 " Longley's Lists" STEAFAN HANVEY from Reconstructions The Troubles in Photographs and Words by Steafán Hanvey.
A side-profile of Michael Longley, CBE, and Ireland Professor of Poetry (2007–10). This is one of my favourite photographs of one of my favourite poets. It would put you in mind of a side-profile mugshot or police line-up. Michael, lifted for crimes against the 'Lists Act!' He is a visionary, seeing, eyes fixed on futures.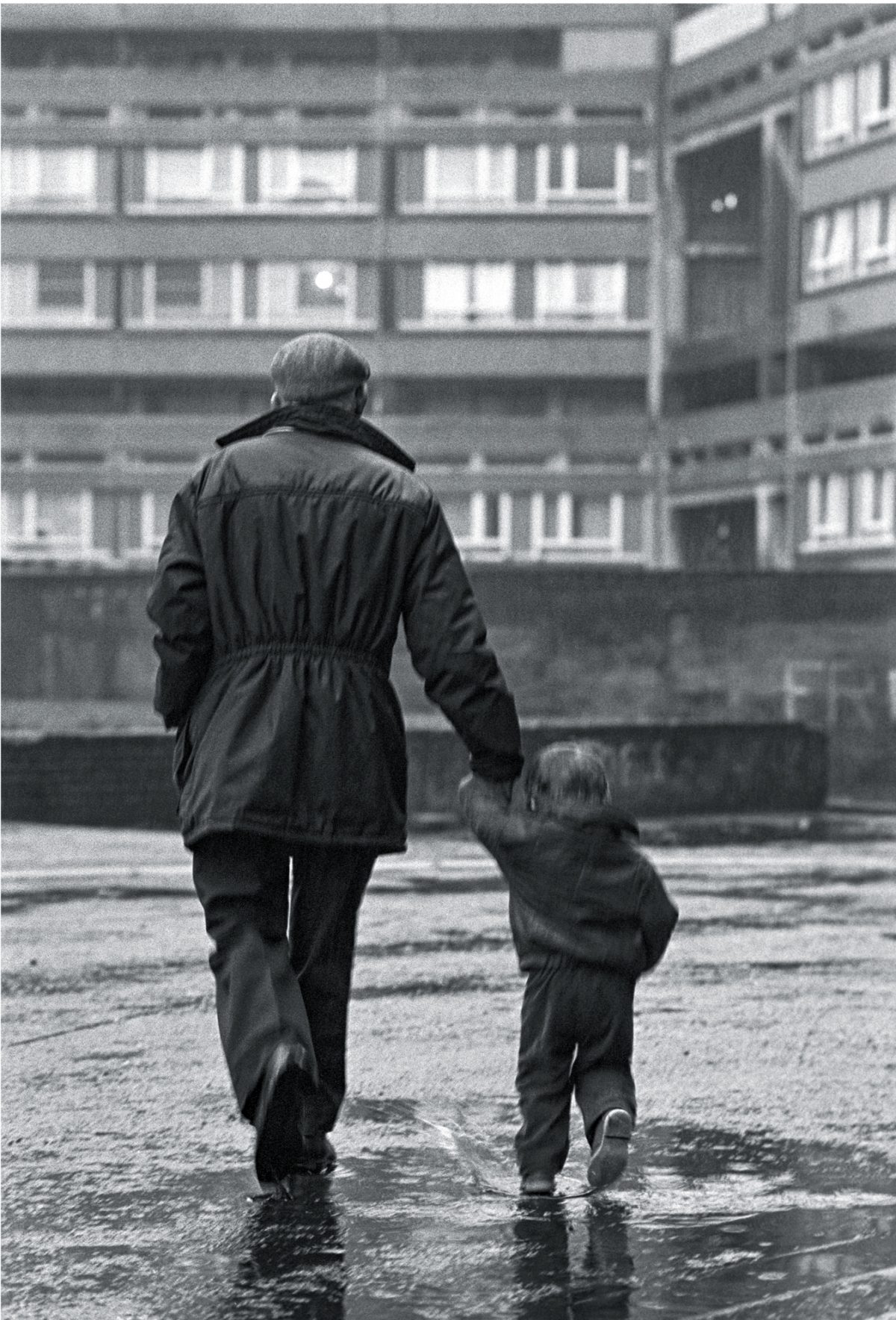 "Late Developer" – STEAFAN HANVEY from Reconstructions The Troubles in Photographs and Words by Steafán Hanvey.
When I was in America touring Look Behind You! and Nuclear Family, a lady approached me one night and asked if the photograph of the father holding the boy's hand was me and my Da, and when I said it wasn't, she – without missing a beat – replied: 'Well honey, you're in America now, so from now on, that's you and your father!'
The man and child in the photograph are walking through the notorious Divis Flats complex in Belfast. In this instance, the poem was written first and the photograph curated as an accompaniment. I like the symmetry of the subjects' stride, and how their intimacy contrasts with the implacable, modernist facade of the flats and the dark concrete walls. That splash made by the child also appeals to me, as no matter what's going on around you in the adult world, puddles are still for splashing. I also like how the boy – like all kids holding a parent's hand – seems to be lagging behind, scurrying, caught between the need to keep up and the need to do childish things.
The poem was inspired by nights spent watching my father work under the red light, particularly when we lived in Irish Street, Downpatrick, where I spent the first nine years of my life. I can still smell the strangely comforting yet pungent combination of cigarette smoke and chemicals. These days, he develops mostly in Lightroom, the photo-developing software. Darkroom during The Troubles, Lightroom in times of peace. Fitting.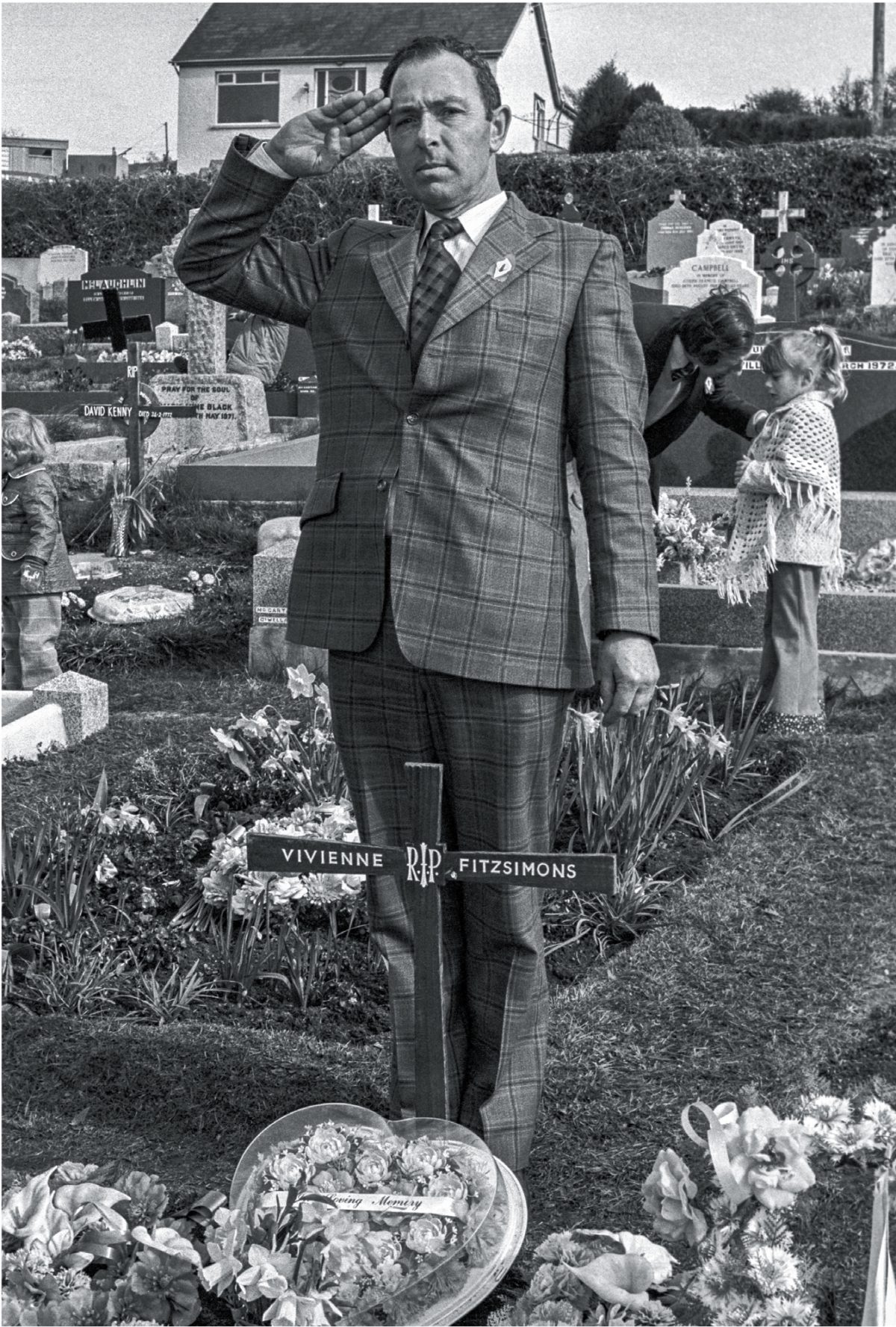 This piece was written to the photograph of Frank Fitzsimons saluting his daughter, Vivienne, at her funeral in Downpatrick, February 1973. Vivienne was killed by a bomb that she and Leo O'Hanlon were allegedly collecting or moving at Castleward, Co. Down. Both were members of the IRA.
17 (Cause to Grieve)

Here stands a father,
saluting the soldier
in his daughter.
All seventeen years of her.
Sixteen Christmases.
The unthinkable has
stopped with him,
and such doors don't get
un-knocked, un-darkened.

At 17, the only thing I was sure of
was that I wasn't sure of anything;
the only thing I would have died for
was a record deal.

Confronted by the
unnatural order of things,
he tucks her in
for the last time.
Is he suspending grief
with faux-composure,

saving his father's face
for a less public place?
Or has death made his heart
as cold and hard as the grave-stone
that surrounds her?
Are there shadows of doubt
to outwit when he meets his sleep
and prays for the gift
of temporary relief?
Must they blacken his slumber,
denying him respite?

At 17, the only thing I was sure of
was that I wasn't sure of anything;
the only thing I would have died for
was a record deal.

Like the kern of old,
she died in the woods,
the bomb, a premature thud
among the branches.

No doubt, the dream in her heart
was a nightmare for others.
She died for it, regardless.
Can belief present in life
become disbelief in death?
That's the thing about not being here: sacrifice is forever crystallised
by a choice, in a moment.

At 17, the only thing I was sure of
was that I wasn't sure of anything;
the only thing I would have died for
was a record deal.

She lived just around the corner from me.
I was but seven months old
when she left home for the last time.
A walk out our front doors
would've given us different views
of the barracks.
I have nothing in the vicinity
of survivor's guilt,

but can't help imagining what life
might have brought her,
had she not been prepared
to die for something.

I determined to live for everything,
and still to this day
have to stop myself
from wondering
what she would make
of the tangibles:
the peace without ease,
the Stormont Dissembly,
interface gates,
street-signs in Irish,
and the relocation of a barracks.

At 17, the only thing I was sure of
was that I wasn't sure of anything;
the only thing I would have died for
was a record deal.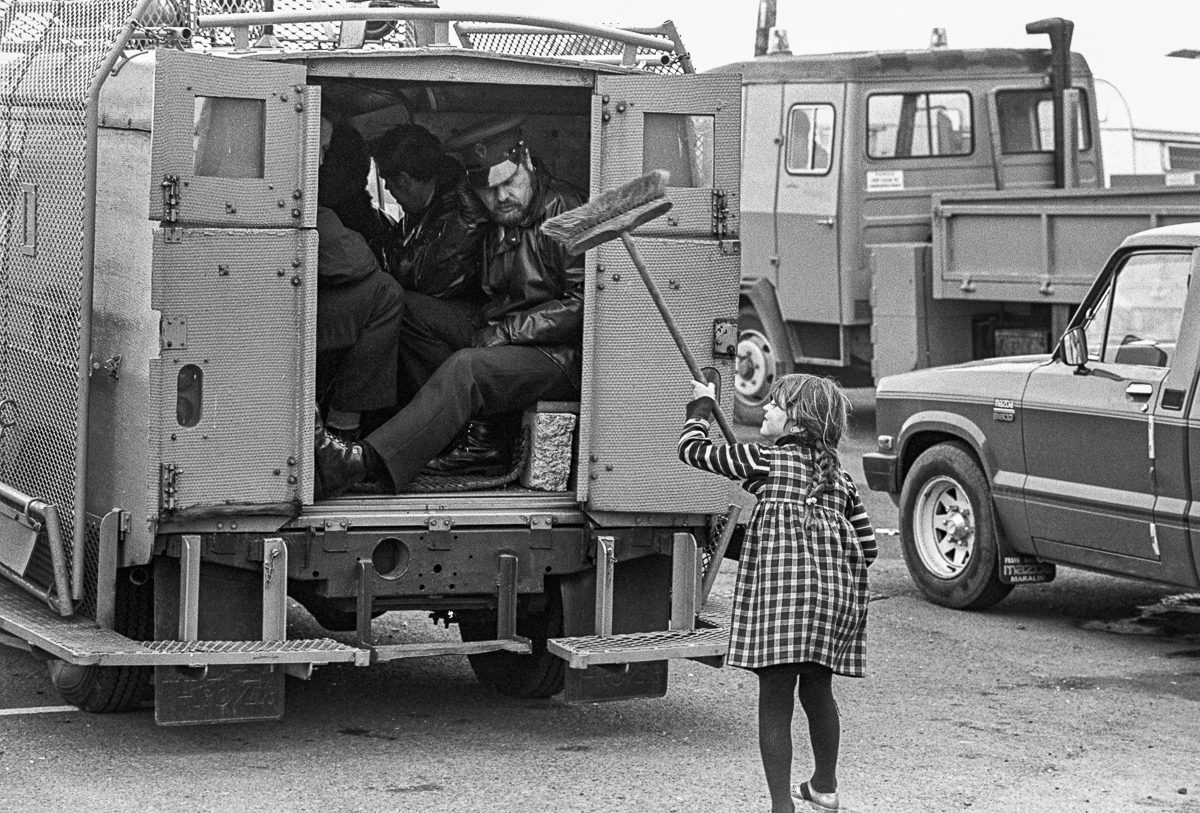 Trigger Treat
Our family had just moved from Irish Street to Church Street when I decided to introduce myself to some neighbours armed with divilment and party-poppers. Another of my nine lives was used up on this night and it must have put years on my mother!
There's a lightness about this photograph, just as there was to my step as I went out trick-or-treating on the Eve of All Hallows, back when. The little girl is a member
of the Travelling Community, and is waving a brush at an RUC officer who had been on the night-shift and appears to have fallen asleep; he is apparently unaware of the attempted brushing. The police had been called to try and move the Travellers on from the Superite car park in Downpatrick. Somewhat ironically, in this photo, the little girl was mirroring what had been happening to her community by shaking the brush at the seemingly jaded R.U.C. man. This photograph's caption at the time wasn't 'Power-nap', but 'Brush with the Law'.
'Cumann na mBan' literally translates fromthe Irish language as 'council of women', but the organisation itself habitually refers to itself in English as the 'Irishwomen's Council'. Most outsiders would simply recognise it for what it is – at least in its incarnation in Northern Ireland, though maybe not in the Republic of Ireland – as a paramilitary Women's Brigade.
Reconstructions, the Troubles in Photographs and Words
is Steafán's first collection of poems, and is published by Merrion Press, priced €19.95
AUDIOBOOK format: Reconstructions, the Troubles in Photographs and Words,
Available on iTunes and Amazon, priced £8.99 and £9.99 respectively.
Photographs: Bobbie Hanvey Photographic Archives, John J. Burns Library, Boston College, Courtesy of the Trustees of Boston College.
Reconstructions is a wondrous outburst. Steafán Hanvey's poems are an unrestrained response to the work of his father, the great Irish photographer Bobbie Hanvey. They are bold improvisations on his themes of conflict and community. These heartfelt refractions find their own shape.They are nobly dishevelled, and they cry out to be read.' – Michael Longley
Steafán Hanvey's album Nuclear Family has just been reissued in the USA and Canada yesterday through INgrooves.