THERE have been thousands of boxed games (board games and their ilk) published over the years. For your convenience, we've pulled together twenty of the most peculiar (in no particular order).  Don't say you weren't warned.
1. GAY MONOPOLY (1983)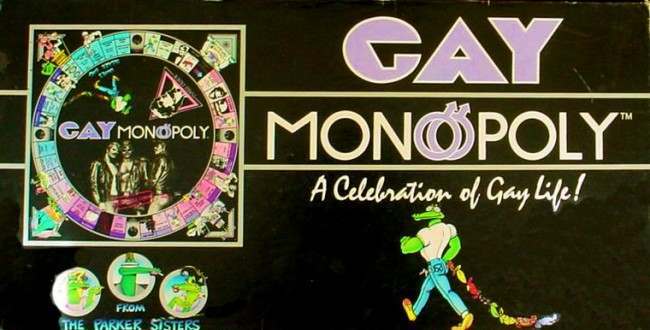 Alas, "The Parker Sisters" company was sued by Parker Brothers, and is subsequently with us no more.  Thankfully, copies of their games still remain, including this gay themed Monopoly game featuring such real estate options as Castro Street and bath houses.  In the place of the familiar boot and iron is a stiletto heel and blow-dryer.  Naturally, there are $3.00 bills.
2. LET'S BE SAFE (1986)
As a kid, can you think of anything more miserable than playing this game? A sampling of the cards:
"A stranger offers you a ride in his dirty black van. Go back five spaces and pick a Therapy Card."
"Your kite is stuck in a power line.  Lose a limb – and a turn."
3. INTERN (1979)
Urine filled bag not included.
4. SLIME MONSTER GAME (1976)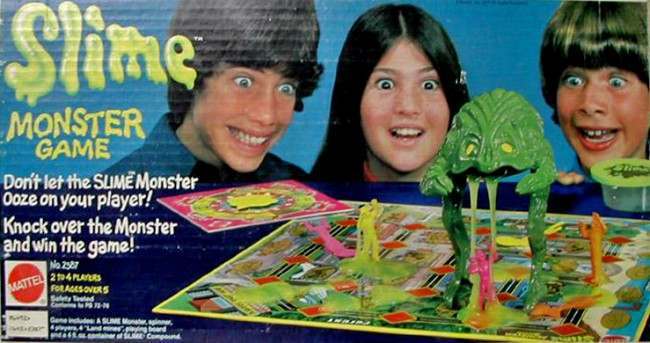 The game itself might not be too bad; it's the cover that inspires shock and awe.  What's going on beneath that game table to incite such expressions of fear (?), joy (?)… I can't quite tell.
5. FEELEY MEELEY (1967)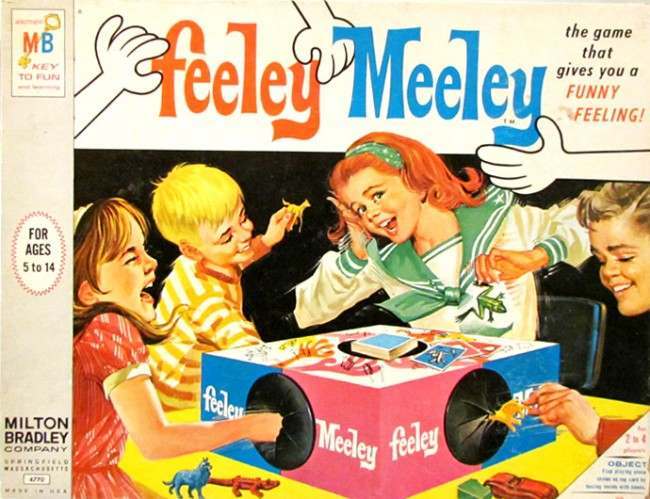 Perhaps it's just my jaded 2014 brain that sees something wildly disturbing in this game.  But as soon as I become resolute that this is all just innocent fun, I take a look at the Japanese version, and my mind is right back in the sewer.
As a sort of obscure reference, I can't help but be reminded of the Gom Jabbar in Dune…. Let's hope this box doesn't come equipped with a needle tipped with "meta-cyanide".
6. SURFBOARD (c. 1965)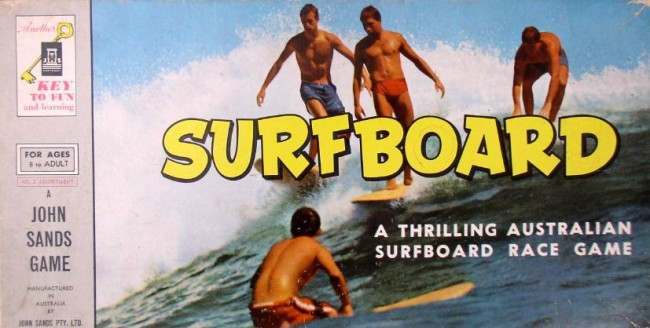 Should be called "Killing Innocents with Your Surfboard".  The object of the game evidently is to gang up on lone surfers and straight up murder their ass.  Homicidal fun for the whole family.
7. GROUP LOOP (1978)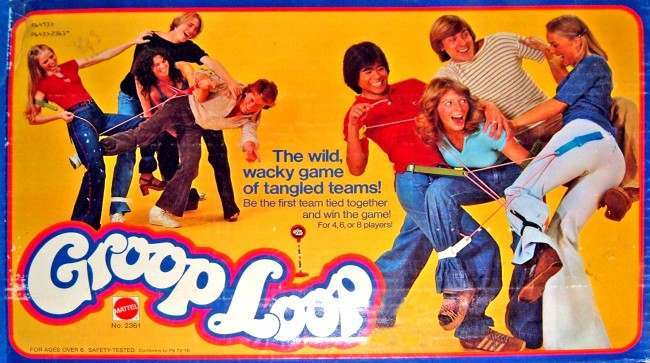 "For Ages of Over 6" – It's never too early to inculcate an appetite for light bondage.  Should be called "Grope Loop".  God I miss the seventies.
8. SWIVEL (1972)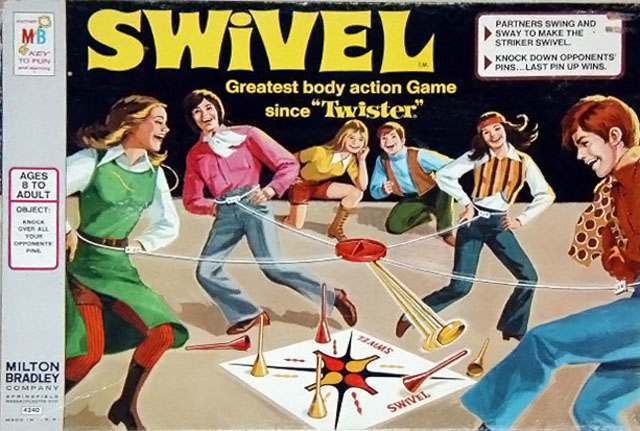 Akin to Group Loop, this one also inspires randy horseplay.  However, this one requires mod neckwear for men.
9. HIGH-GAMMON (1975)
Do her parents have to chaperone so closely?  It's just an innocent board game.  Although, I do detect an air of sexual tension, and I presume players must be high (absinthe is optional).
10. PRESS UPS (1974)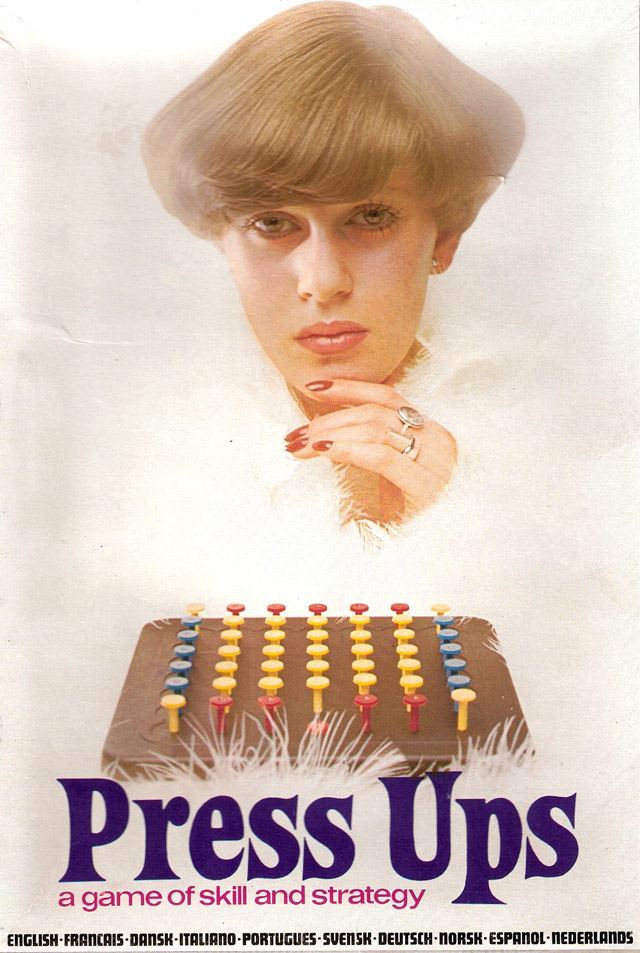 Earns a place on this list for having the least appropriate game title, as you press DOWN the pegs.  (The only time anything is pressed up is to reset the game.)
11. PINKY LEE AND THE RUNAWAY FRANKFURTERS (1954)
I wonder what Sigmund Freud would have to say about this game.
12. BIG FOOT (1977)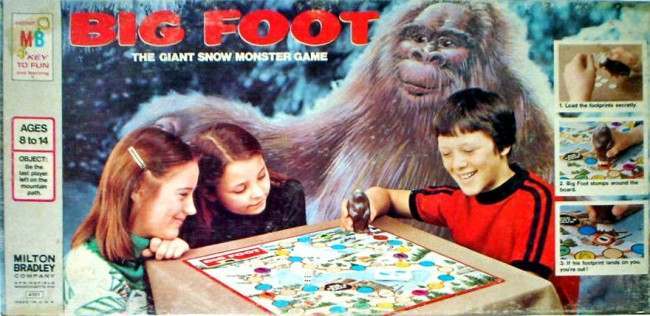 The name of the game is to avoid being killed by Bigfoot – which means this creature is not friendly…. which means that the Bigfoot on the cover is obviously going to eat these children.
13. FUNNY FINGER (1968)
The less said about this one the better.
14. KRESKIN'S ESP (1967)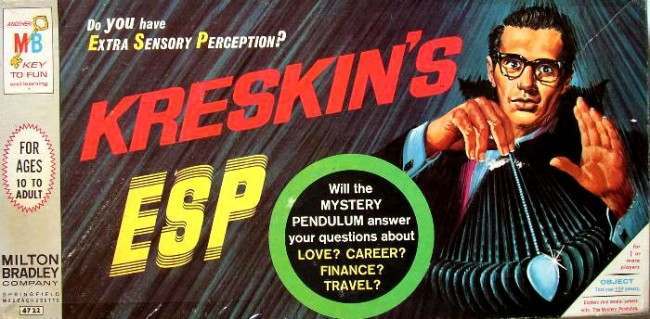 From the box:
Imagine the fun! Alone, or with a friend, or with a whole party of people, players can reveal their innermost thoughts on love, politics, or any other subject. Kreskin's ESP game will give you the opportunity to reveal your ESP powers and explore the outer frontiers of the human mind in two scientifically proven ways.
Disclaimer: Given that ESP does not exist, gameplay is thereby impossible.  No refunds.
15. FOXY (1977)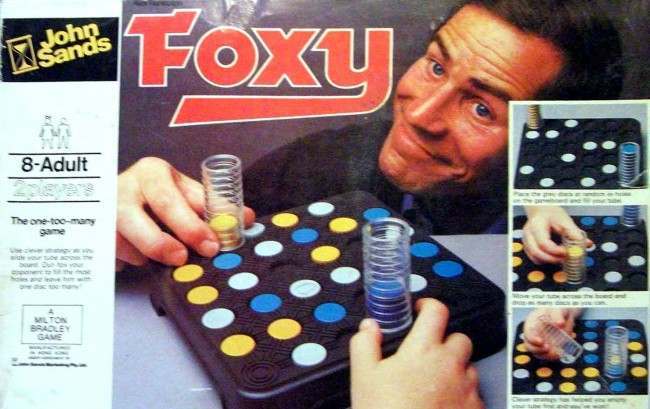 Somebody get this man a booster seat.
16. SMOKERS WILD (1978)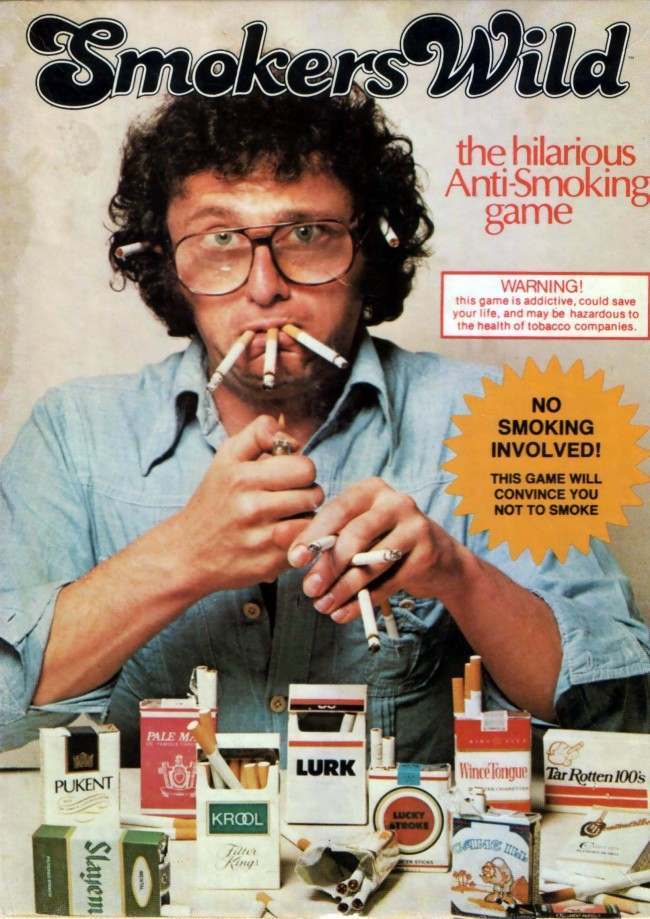 Plainly, a terrible idea for a board game.  "Your lung cancer is in remission, move ahead three spaces".
A few years later, the same company brought you an anti-drinking game…
DRINKERS WILD (1981)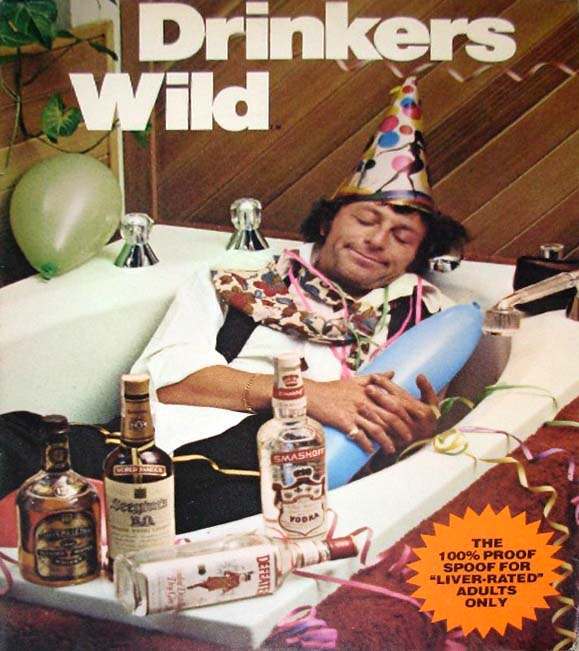 Obviously, not to be played alongside this game…
CHUG A LUG (1969)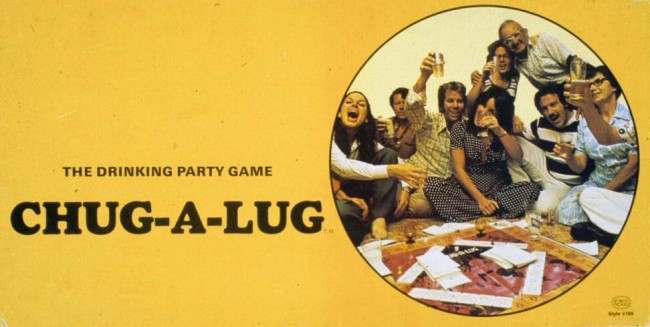 17. SKIRRID (1977)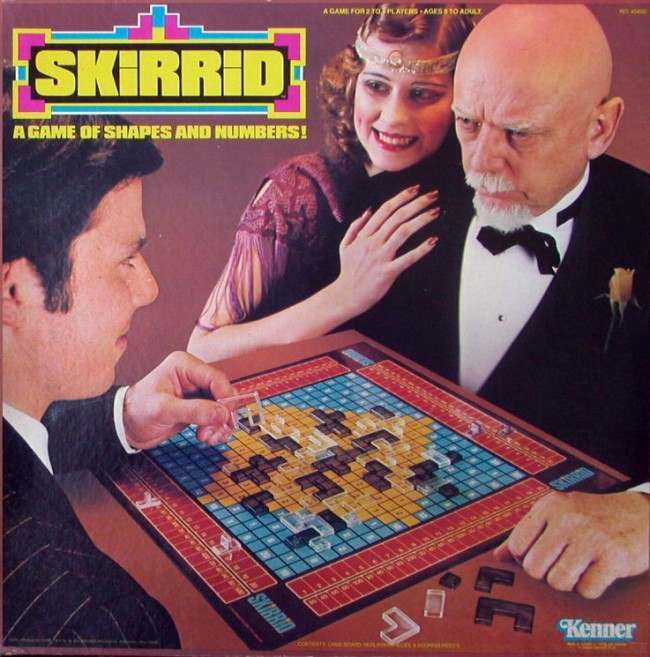 What exactly is the backstory here?  There seems to be a lot at stake, and the older gentleman is obviously pleasuring this woman with his right hand… otherwise, I am at a loss.
18. THE BACKBONE (1983)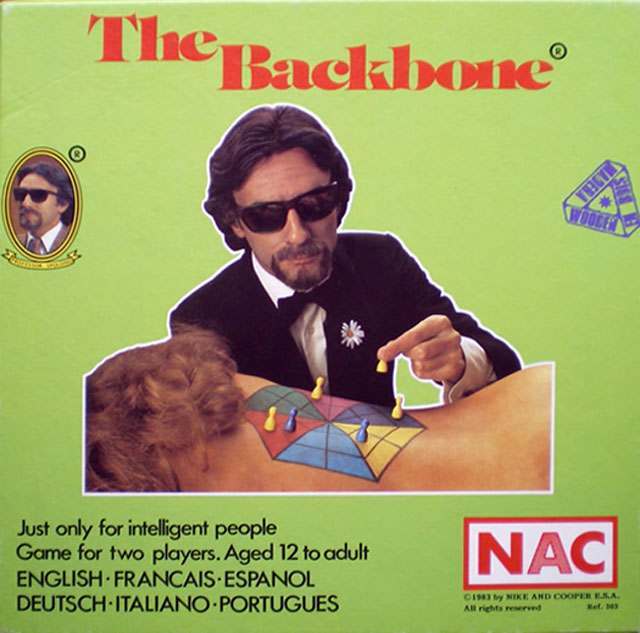 "Just only for intelligent people."  (Whoever wrote that is disqualified from playing.)
The only drawback to the game is that it may be difficult to find a lady willing to strip nude and get on all fours to become your game board.  Especially difficult for 12 year olds.
19. AD LIB (1970)
Originally marketed towards swingers and called "Seducing Your Babysitter", the producers made some last minute adjustments to appeal to a wider audience.
20. SPIN THE BOTTLE (1968)
The very idea of playing Spin the Bottle with my family curdles the blood.  However, I understand this is a "new" way to play, so I'm willing to overlook any possible incestuous overtones.  Yet, many questions remain:
Why does the man wear a wedding ring, but the woman does not?
What the hell are the two preteens doing in the background?
And lastly, does anyone reading this have a belt they can spare?  The poor lad on the bottom left is in dire need of one.